How Much to Paint a Room?
What will this cost guide cover?
We'll consider how much it would set you back to buy the supplies needed to paint a room DIY and explore additional topics, such as the pros & cons of different paint types and what the labour expenses are in particular.
Redecorating your house by painting a wall, or walls, is a perfect way to improve the look and feel of your home.
But firstly, what is the average cost to paint a room?
The average cost to paint a room is £260 to £270 and usually takes 1-2 days.
Let's calculate the costs by room size...
It would cost approximately £180 to £190 to paint a small 10m² surface area, £260 to £270 to paint a 15m2 area, or £520 to £530 to have a larger 30m2 wall area painted.
For a large surface area of 60m2, painting would cost about £1000 to £1020 in total. Depending on the size, to have single wall paint may cost £65 to £265.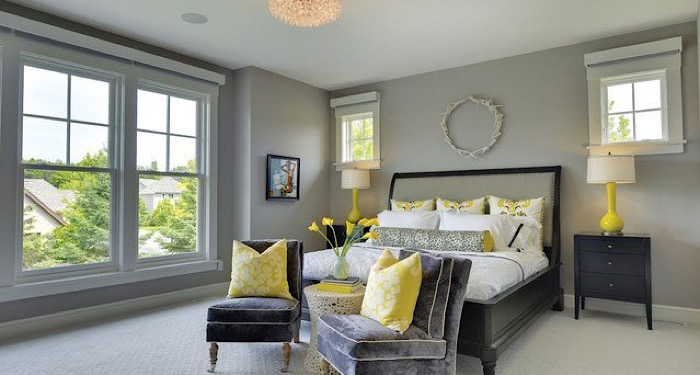 How much should you budget for?
You'll need to budget for around £105 to £505 to paint two walls. The painting a wall cost for three walls will set you back roughly £170 to £770 and for four walls, painting costs anywhere from £185 to £1010.
Another great reason to paint a room is that it's easily affordable, won't take too long to do and will also increase the value of your property.
What can change the cost of painting?
Other cost factors are the type of walls and paint used. Some paint products cost more than others and different walls may require specific approaches depending on their qualities. The longer the work takes, the more it will cost, specifically in relation to the labour costs.
In addition, the number of tradespeople and level of access can also have an effect on the overall fee. More than likely, you'll choose to hire one painter but for a large job, you could cut down on time by hiring a second labourer. However, this would double your hourly labour expenses.
What about the location of your property?
Where you live is also influential when it comes to the cost of having a room painted. Painters & decorators charge different rates across the nation with places like the southeast and London especially, featuring higher rates< than the national average.
On the contrary, regions such as the north of England, Scotland, and Northern Ireland feature lower rates than the rest of the country on average.
Room Painting Prices
This table shows an estimate of what you can expect to pay:
| Wall Area | Labour Cost | Supply Costs | Total Cost |
| --- | --- | --- | --- |
| 10m2 | £160 | £20 to £30 | £180 to £190 |
| 15m2 | £240 | £20 to £30 | £260 to £270 |
| 30m2 | £480 | £40 to £60 | £520 to £540 |
| 60m2 | £960 | £40 to £60 | £1000 to £1020 |
Painting Prices by Number of Walls
Wall Area
No. of Walls
Labour Cost
Supply Costs
Total Cost
10m2
1
£50
£20 to £30
£70 to £80
2
£80
£20 to £30
£100 to £160
3
£130
£20 to £30
£150 to £160
4
£160
£20 to £30
£180 to £190
15m2
1
£190
£20 to £30
£210 to £220
2
£210
£20 to £30
£230 to £240
3
£225
£20 to £30
£245 to £255
4
£240
£20 to £30
£260 to £270
30m2
1
£240
£40 to £60
£280 to £300
2
£360
£40 to £60
£400 to £420
3
£440
£40 to £60
£480 to £500
4
£480
£40 to £60
£520 to £540
60m2
1
£480
£40 to £60
£520 to £540
2
£650
£40 to £60
£690 to £710
3
£800
£40 to £60
£840 to £860
4
£960
£40 to £60
£1000 to £1020
What Are the Supply Costs of a Room Painting?
The cost of supplies excludes the labour cost for painting a room. This section is particularly relevant if you intend to paint a room DIY. A five litre paint can should be sufficient to coat a surface area of 30 to 35m2 twice.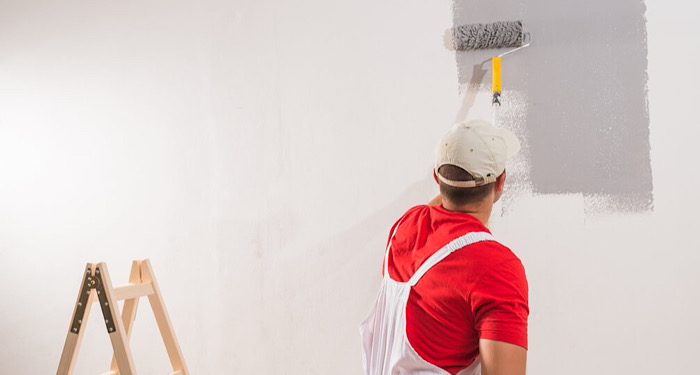 In most cases a 5l paint product will cost about £20 to £30 so should two paint cans be needed (which would normally be the case), you can look at the supply costs landing around £40 to £60.
The price can rise significantly depending on the size of the room or/and number of walls that need to be painted and the quality/brand of the paint. If you choose to paint a room yourself, it's important that you choose the best paint.
Supply Costs of Painting a Room
| Wall Area | Supply Costs |
| --- | --- |
| 10m2 | £20 to £30 |
| 15m2 | £20 to £30 |
| 30m2 | £40 to £60 |
| 60m2 | £40 to £60 |
What Are the Additional Costs of Painting a Room?
There are a range of extra costs which may apply when having a room painted. In this section, we'll break down these expenses; consider what is involved and how much they would likely add to your overall bill.
Minimum Fee
Painters want to ensure that any job is worth their time. As a result, most painters charge a minimum fee regardless of how much work is involved.
You can expect a painter to charge a minimum labour fee of £20 to £40 as this is the hourly rate. It could be significantly higher depending on where you are located however.
Type of Paint
There are a range of paint products to choose from. Some are water-based, while others are oil-based. Popular paint finishes include matte, satin, and gloss.
As for individual products, there are many budget paints available for around £2 to £3 per litre, while the more established brands sell paint for between £5 and £20 per litre, if not more.
Size of Room
The room area will in effect influence the labour and supply costs, since the size of the room will broadly correlate with the surface area of the walls.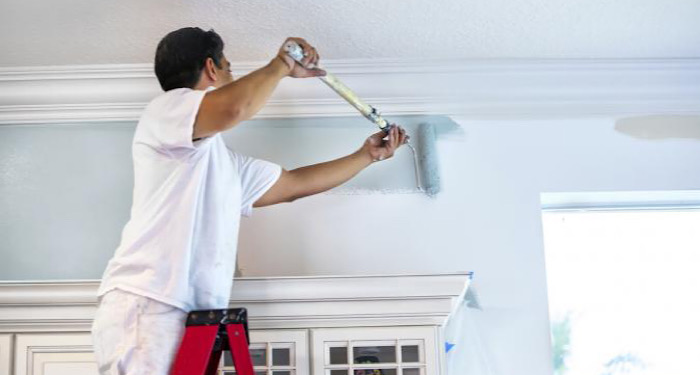 Room Type
Though it's important to clear the room as much as possible before painting begins, some rooms will offer more ease of access than others, even at this point. For instance, a living room could be cleared to a greater extent than say a kitchen where many appliances and fittings would remain fixed in place.
Number of Tradespeople
It may be possible to request two painters if you wanted to have the job done faster. On the other hand, the contractor/company you hire may decide by themselves that it is a two person job.
Either way, this would of course double your labour expenses although it should cut the timeframe of the work roughly in half. Whether this will save you money overall or not will depend on how well the painters work together.
Duration
Ease of access, the type of room, and the extent of the work will all shape how long the painting will take. This duration in turn will determine the labour cost with a single paint charging about £20 to £40 per hour.
Stripping Wallpaper and Prepping
If you choose to have old wallpaper removed, this may add about 40-45% to your final bill depending on the extent of the work. This job will also involve the wall being prepared before the paint work get underway.
Painting the Woodwork
Though painting a room may usually be limited to its walls and ceiling, it's possible to have all of its woodwork painted too. This could potentially double the cost of having a room painted but it will depend on how much woodwork there is in proportion to the walls and ceiling, and how time consuming this element of the job will be.
Tradesmen Costs for Room Painting
Let's now take a closer look at the labour costs of having a room painted. As mentioned, you'll pay roughly £20 to £40 an hour in labour expenses + supply costs. In this section, we'll consider how much the labour charges will be depending on where you live.
In London, a painter may charge up to £40 to £60 per hour. Much of the southeast of England is relatively pricey although most painters outside of the London do not charge as much. In Newcastle, the price may land between £15 and £20 per hour.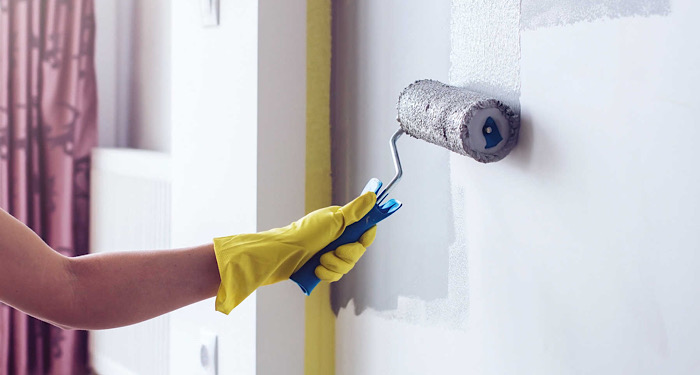 Similar prices apply throughout most of North England. Expect a charge of around £15 to £20 an hour in Glasgow. These are just a few examples. To find out specific prices for your area, try Googling 'cost of painter near me'.
How Long Does It Take to Paint a Room?
The duration of this job will vary significantly depending on a range of different factors but with all other things being equal, it should take one working day or less to have a 10m² wall area painted.
To paint a 15m² surface will last about one to two days. In the case of a 30m² area, expect the job to take about three days in total and the duration would increase to about six working days if a large 60m² area needed to be painted.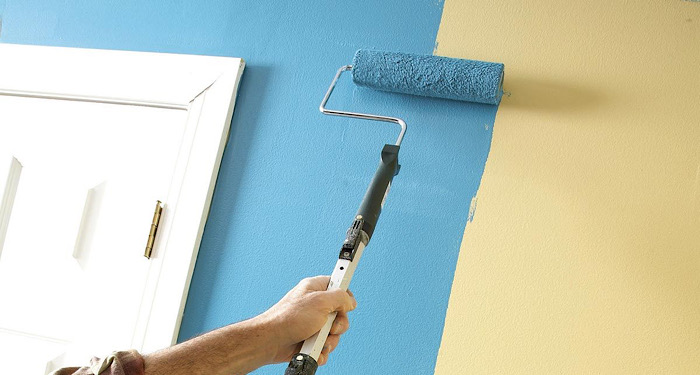 Other time-affecting factors include ease of access, whether any additional work is required, and if the work is performed by a professional or undertaken as a DIY job. It may take an extra day or two, if you wanted the room's woodwork to be painted too.
The same added timeframe applies for stripping wallpaper and prepping the walls prior to painting.
Duration of Painting a Room by Wall Surface Area
| Wall Area | Duration of Work |
| --- | --- |
| 10m2 | 0.5 to 1 days |
| 15m2 | 1-2 days |
| 30m2 | 2-4 days |
| 60m2 | 5-7 days |
Types of Paint
When it comes to having your walls painted, there are several different types of paint you should consider. The contractor you've hired may have a good idea as to what paint would be most suitable for your room or they may have a standard paint type ready to go for most of their work.
However, if you have the option of choosing the paint they'll use or you intend to paint the room yourself, the following subsections will prove especially helpful.
Matte Paint Cost
One of the most popular types of paint is matte. It's often employed if a surface is uneven, although it may be used on smooth surfaces too. Matte paint provides the flattest looking finish out of the range of paint types.
The ability of a matte painted surface to scatter light uniformly means that there will be no reflection and the entire surface area will be evenly lit.
In essence, matte can conceal any imperfections of the wall, ceiling, or any other surfaces that you'd like to paint with this product type.
However, matte accumulates dirt and grime relatively easily when being applied. Further, it takes plenty of work to apply matte effectively.
Rooms that are susceptible to becoming messy such as a kitchen or bathroom are not that suitable for matte painting. Matte paints are generally the cheapest and cost about £5 to £8 per litre.
Pros:
One of the cheapest options
Very popular
Flattest look
Scatters light evenly across surfaces
Cons:
Can gather grime/dirt when applied
Not suitable for mess-prone rooms
Involves a lot of work
Satin Paint Cost
This popular paint finish provides a smooth, silky appearance. Notably, satin finish paint when applied correctly will retain its pearlesque aesthetic. In contrast to a matte finish, satin painted surfaces can be washed if they become grimy. It's also well suited to high traffic areas.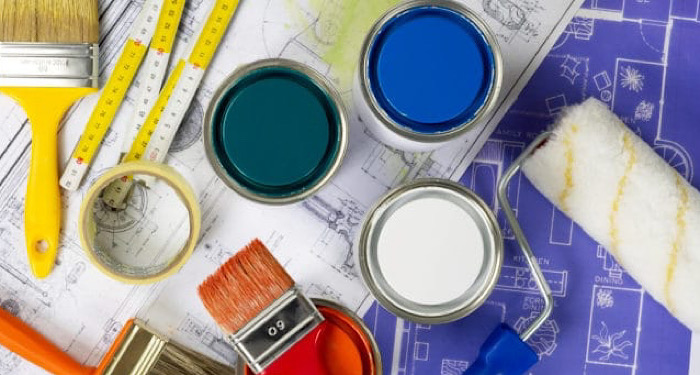 One clear disadvantage of satin is that if an area needs to be repainted, the risk is high that the contrast between new paint strokes and old ones will become evident.
Therefore, when applying satin finish paint for touch up work or repainting, it's vital that you take time to ensure that it matches the brush strokes of the initial paint job. On average, satin paint costs £8 to £16 per litre.
Pros:
Smooth, silky appearance
Pearly aesthetic
Satin painted surfaces may be washed
Easier to apply than matte paint
Cons:
More expensive than matte paints
Careful attention needed for repainting
Gloss Paint Cost
A glossy paint contrasts matte, as it allows light to focus on specific areas of the wall, making it clear to the viewer where the light is coming from. Gloss paint features a reflective sheet made of acrylic or oil, designed to give it its shining quality.
This type of paint is also long-lasting, designed to cope with humid rooms, can be cleaned with ease, and is well suited to bathrooms and kitchens in particular. However, unlike matte paint, gloss will not hide the flaws of the painted surface.
A sander may be needed to smoothen out the walls in order to avoid an unimpressive final look. Gloss paint generally costs about £12 to £25 per litre.
Pros:
Can focus light if this is your preference
Durable
Suitable for bathrooms and kitchens
Easy to clean
Cons:
Does not hide surface flaws
Sander may be required to smoothen out surface
Can be expensive
Eggshell Paint Cost
A similar finish to satin is that of eggshell. It provides a slightly gentler sheen than a flat finish. Eggshell is seen as being one gear above a flat finish. It offers plenty of stain resistance and surfaces painted with this finish may be cleaned using a wet rag/towel.
Eggshell paint is suitable for bathrooms, kitchens, and any high-traffic areas of the home. Eggshell paint tends to cost between £8 and £21 per litre.
Pros:
More decorative
Stain-resistant
Can be washed
Cons:
Semi-Gloss Paint Cost
If you'd rather something subtler than a high gloss finish, consider using a semi-gloss paint. Though it may lack some of the glamour of high gloss paint, many homeowners have turned to a semi-gloss finish so that the reflectivity and brightness of the surface is not overly-domineering.
This finish has bright and reflective properties all the same. Beyond that, semi-gloss paint is long-lasting and incredibly resistant to grime, grease, and moisture.
With that said, any imperfections or unevenness in the painted surface will remain visible after application. As with satin and eggshell paints, it is difficult and sometimes entirely unfeasible to touch up a semi-gloss painted surface. This type of wall paint costs about £9 to £18 per litre.
Pros:
Durable
Reflective and bright
Not as overwhelming as a high gloss paint
Grime, grease, and moisture-resistant
Not too costly
Cons:
Not easy to touch up
Imperfections remain visible after painting
Benefits of Painting
There are a whole host of advantages to painting a room. Let's break down some of the top examples.
Improves Appearance
The clearest benefit of having a room painted is that it will provide it with a new lease of life. On the one hand, you may want to achieve a new aesthetic for the room by removing wallpaper or have it painted with a new colour.
However, even if you are happy with the existing room colours, it may have worn down over time and discoloured, in which case, repainting the walls could revitalise the room.
Adds Home Value
Painting a room, such that it significantly enhances the aesthetic, may add a few percent to the value of your home. However, the more subtle the changes, the less likely it is to make a meaningful difference to your home's worth.
Durability
A high quality paint product will be longer lasting than a cheaper product. Further, certain paint types (i.e. gloss and semi-gloss) are more durable than others. By choosing the right type and brand of paint, you can prolong the duration before the room will need to be painted again.
Increases Resilience
With a decent paint product and the right type chosen, you could make your room's surface more resilient. For instance, gloss and semi-gloss paints are highly resistant to moisture.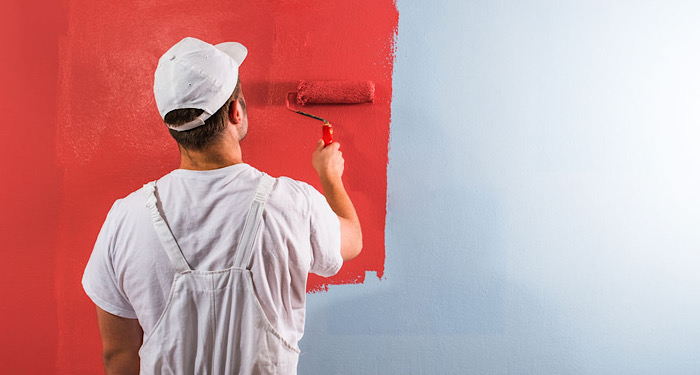 Semi-gloss is also great at preventing a buildup of grime and grease. For a good stain-resistant option, you should go with an eggshell paint.
How Much Does It Cost to Remove Paint from Walls?
You may choose to have paint removed from a room as you'd prefer to have wallpaper fitted. Alternatively, it may need to be cleared entirely before new paint can be added, particularly if it is an entirely different colour/paint type.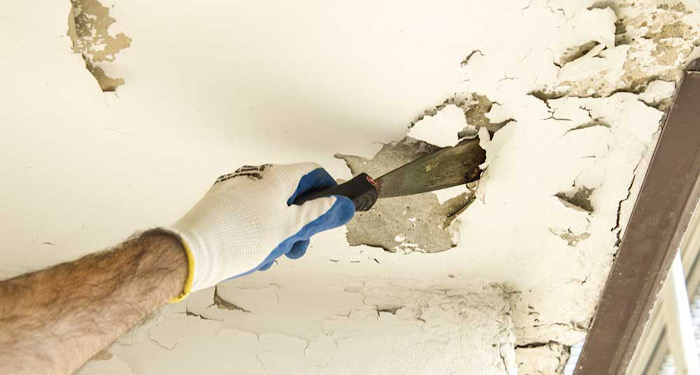 Depending on the method used, it will likely cost between £100 and £150 to have paint stripped from a wall by a professional.
The price could rise to several hundred pounds for a larger room, however. Should you choose to undertake this work DIY, expect the necessary supplies (if you do not already have them) to cost about £25 to £50.
FAQs
Q: How much paint do I need?
A: A 5 litre can of paint will be sufficient to paint two coats on a 30 to 35m² surface area or a 60 to 70m² area with a single coat. You'll need to use the following equation to work out how many 5l cans of paint you'd need:
The wall surface area x 2 divided by 60 = Number of 5l paint cans required.
Here are some other options:
The wall surface area x 2 divided by 30 = Number of 2.5l paint cans required.
The wall surface area x 2 divided by 12 = Number of 1l paint cans required.
If you find that the amount of paint you expect to have is only a little more than the amount needed, you should consider buying an extra can of paint, even if a small one.
Q: What wall painting method is the best?
A: There are three main approaches to painting; brushing, spraying, and rolling. Some prefer to use paint pads, however. A roller is generally the best method for painting a room but it can vary depending on the type of surfaces.
If you intend to paint a room DIY, you should check if the manufacturer has any specific recommendations. If in doubt, consult a professional.
Q: How long before a room should be repainted?
A: On average, you should repaint a wall every five to seven years, or whenever it appears necessary.
Q: What type of paint lasts the longest?
A: The most durable paint finishes are gloss and semi-gloss.
Q: How long does it take to paint an average room?
A: Approximately 1-2 days.
Sources