How Much Does It Cost to Hire a Plasterer?
This article will go through plastering expenses, the benefits of hiring a professional plasterer, and why hiring dealers from Rated People provides you with the assurance that you will be pleased with the outcomes.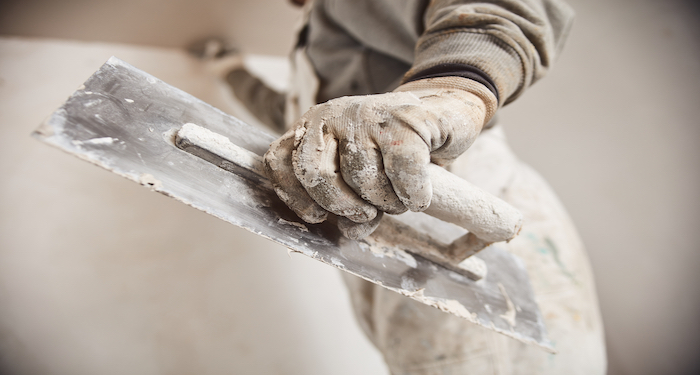 The size of the area to be plastered, whether it's a single wall in a tiny room or multiple rooms and ceilings in a huge house, is the most important factor in determining the cost of plastering work.
Before estimating how long the task would take and how much material will be required, plasterers will measure the job and consider any relevant aspects.
Plasterer fees vary depending on the professional's level of expertise and where they live in the country. Plasterers in London and South-eastern England can charge up to 20% more than those in other parts of the country. The price of materials varies depending on their quality and quantity.
Replastering, which entails removing old plaster if necessary, establishing a new basis, skimming the surface, and finishing up, will be far less expensive than a full plastering project, which entails removing old plaster, constructing a new base, skimming the surface, and finishing up.
The cost of plastering will, of course, be determined by the amount and difficulty of the work to be done. A patch repair, for example, may cost between £70 - £130, whilst an over skim could cost between £150 - £200 depending on the size of the wall, whereas a full plastering job could cost twice as much.
Before VAT and other fees, a simple skimming job in a medium-sized room would cost roughly £400 - £500, while a full plastering work would cost around £700 - £800. London is likely to have greater prices than the rest of the country.
Because of the skills and complexity involved, plastering a ceiling is more expensive than plastering a wall. A thorough plastering work for a small room's ceiling can cost anywhere from £250 - £600 or more for a larger room. You may need a specialist ceiling plasterer for this work.
External rendering costs vary greatly depending on the size of the project; for example, a normal render and finish of a small building, such as a cottage, may cost roughly £2,000-£3,000, whilst a large property, such as a separate four-bedroom farmhouse, might cost £5,000-£8,000 or more.
Plasterer Prices
The cost to hire a plasterer will be shown in the table below:
| Job | Cost |
| --- | --- |
| Patch repair | £70 - £130 |
| Skimming | £100 - £200 |
| Small room | £400 - £500 |
| Medium-sized room | £500 - £700 |
| Full plastering work | £700 - £800 |
| Plastering a ceiling | £250 - £730 |
| External rendering | £2,000 - £3,000 |
| Four-bedroom farmhouse | £5,000 - £8,000 |
What are the Supply Costs of Plasterer Jobs?
Here we will go through the supply costs of plastering without any labour or additional costs. Therefore, if you are looking to DIY a plastering job in your home, you will find out what you need and the average cost of the materials/tools required.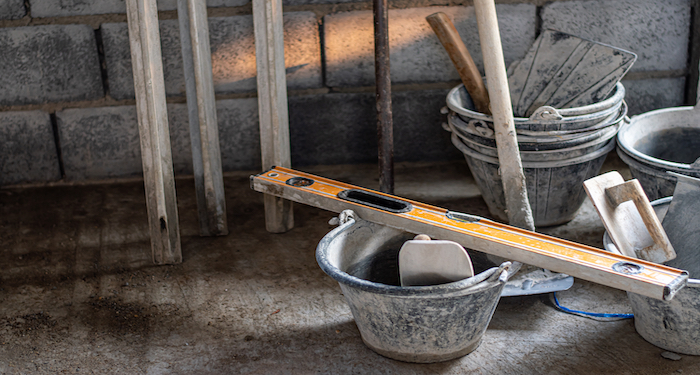 In terms of tools, most plasterers will use a trusty hammer which usually costs between £15 - £50.
They will also need a handsaw to cut the materials down to the perfect size. These cost around £5 - £20. A spackle knife which is good for scraping the excess of the wall to make the job smooth, will cost £2 - £25.
A bucket will cost £5 - £15. A utility knife costs around £8 - £20. A paddle mixer to fix the plaster together will cost £30 - £70.
A bucket trowel costs £6 - £15. A hawk to apply the plaster costs £7 - £23, and a trowel usually costs £4 - £16. A step ladder usually costs £20 - £30.
Acoustic plasterboards will cost between £5 - £15; moisture resistant plasterboards would cost between £5 and £10, and insulated plasterboard will cost between £5 - £15.
In comparison, the cost of plaster per m2 for fire-resistant plasterboards ranges from £5 - £20.
Plaster costs will cost around £6 - £20. Undercoat plaster will likely cost between £0.70 - £1.20 per kg, finishing plaster will cost between £0.20 - £0.90 per kg, and bonding agents will cost between £15 - £25 for 5 litres.
The table below will show the prices of supply costs for plastering jobs.
| Materials/Tools | Cost |
| --- | --- |
| Hammer | £15 - £50 |
| Handsaw | £5 - £20 |
| Spackle knife | £2 - £25 |
| Bucket | £5 - £15 |
| Utility knife | £8 - £20 |
| Paddle mixer | £30 - £70 |
| Bucket trowel | £6 - £15 |
| Hawk | £7 - £23 |
| Trowel | £4 - £16 |
| Step ladder | £20 - £30 |
| Acoustic plasterboard | £5 - £15 |
| Moisture resistant plasterboards | £5 - £10 |
| Insulated plasterboard | £5 - £15 |
| Fire-resistant plasterboards | £5 - £20 per m2 |
| Plaster | £6 - £20 |
| Undercoat | £0.70 - £1.20 per kg |
| Finishing plaster | £0.20 - £0.90 per kg |
| Bonding agents | £15 - £25 |
What are the Additional Costs of Plasterer Jobs?
When having rooms plastered by the end of it, you may end up paying for additional costs as hidden prices may be included. Here we will discuss the different additional costs that could add to the total price.
Painting and Decorating
After a plastering job, you are left with dull brown walls as it is the colour of the plaster. Therefore, you may wish to pay for someone to paint or decorate your home.
For varied projects, you must consider the price of interior painting. The average cost of painting a room is between £180 - £600.
You'll also need to include in the expense of painting and decorating other fixtures, such as skirting boards, which range from £180 - £350, and window painting, which costs between £400 - £1500.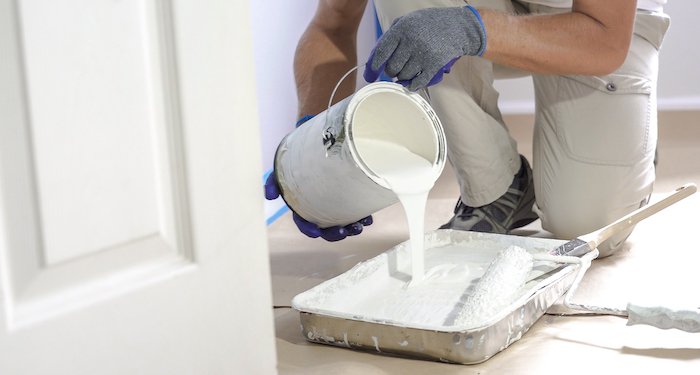 Other services include painting doors, which costs between £220 - £1600 and re-painting kitchen cabinets, which costs between £600 - £1000.
Wallpapering is another substantial decorating cost, with prices ranging from £180 - £600 to strip and hang the wallpaper, while internal cladding costs between £1500 - £2500.
Another important item to consider is the cost of a tradesman. For significant decorating works such as painting or wallpapering many rooms, a usual quote for hiring a painter and decorator is from £100 - £300 per day.
They may simply charge £15 - £40 per hour for smaller painting jobs like painting door frames and kitchen cupboards.
Because many tradespeople charge for their time, knowing how long a task will take to establish the ultimate pricing is also vital. If you're only having a tiny bedroom painted, it should only take a day to finish; but, if you need any wallpaper or paint removed, you'll need to add another day.
It can take five days to redecorate a two-bedroom terraced house, seven days to redecorate a three-bedroom semi-detached property, and up to fourteen days to redecorate a five-bedroom detached house.
Painting kitchen cabinets, for example, can take as little as three days for a small kitchen and up to five days for a large kitchen. Other chores, such as painting skirting boards, can take one to two days, whereas painting a door frame can take as little as three to five hours.
New Skirting Boards
Once the plastering job is completed, you may be left with a slight mess. Therefore, some people have new skirting boards installed to clean the room. For a professional to supply and install new skirting boards, the cost ranges from £6 - £15 per square metre.
The price will vary based on the kind you select, as there are several options available, including pine, primed MDF, ogee skirting, real oak, and others.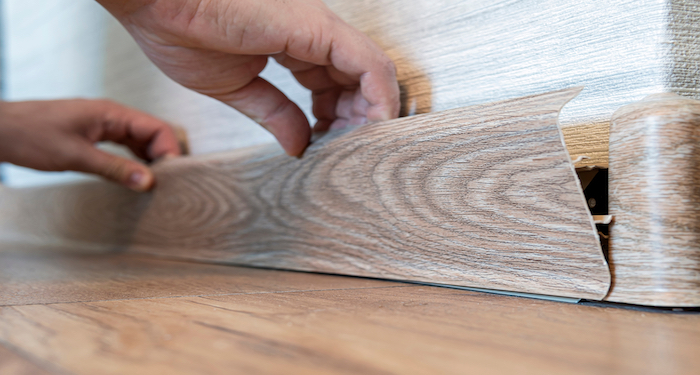 Installing new skirting boards is expected to cost between £300 and £500. You should expect to pay more if you require the skirting boards to be painted or if a room full of furniture must be cleared before work can begin.
Installing a New Floor
The average cost of flooring installation is between £400 and £1000 in most circumstances. The cost of installing new flooring, on the other hand, may vary depending on the type of flooring you choose and the size of the rooms.
One of the highest costs to consider is the cost of labour, as floor installers charge varying prices for different types of flooring. The cost of labour might range from £40 to £600.
Another key factor to consider when installing a new floor is how long it will take, affecting the ultimate cost. It can take anything from 6 hours to 4 days.
Skip Hire
If the plastering job is big, then in most cases, there will be a lot of waste to get rid of; therefore, hiring a skip might be added to the overall cost.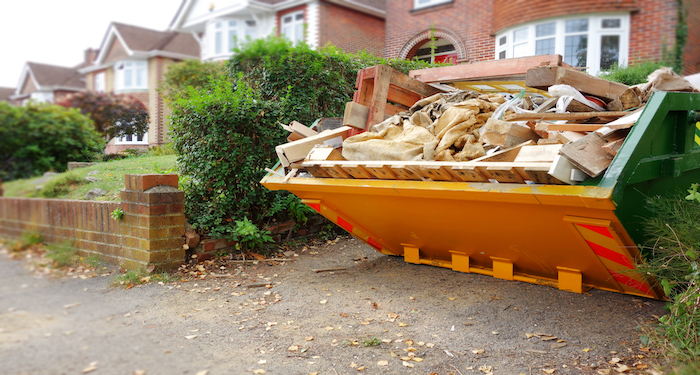 The typical cost of hiring a 2-yard skip is £70 to £100, with a 4-yard skip costing £100 to £160 and a 6-yard skip costing £120 to £190.
An 8-yard dumpster costs around £150 to £370, a 10-yard skip costs £180 to £410, and a 12-yard skip costs £220 to £450.
A 14-yard skip will cost between £230 and £460, a 16-yard skip between £240 and £480, an 18-yard skip between £280 and £500, and a roll-on roll-off skip between £300 and £500.
Scaffolding Hire Costs
For external work, stair work, and high areas, you will sometimes need to hire scaffolding for safety. Therefore, this can be added to the overall cost.
The cost of erecting a scaffold tower ranges from £200 to £300. Scaffolding a chimney will cost between £450 and £550, £800 to £1000 for scaffolding on three sides of a semi-detached house, or £600 to £700 for scaffolding on three sides of a detached cottage.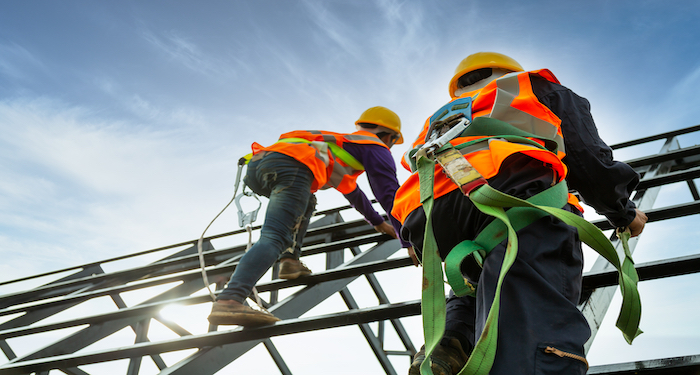 The type and size of scaffolding, the number of tradespeople engaged, the convenience of access, and the location of your property are all factors that determine the cost of hiring scaffolding.
The duration of the rental mostly determines scaffolding rental fees. However, the labour costs of putting it up and taking it down are a substantial part of the cost.
Setting up a scaffolding tower to fix lower hip tiles would cost around £230 to £270 in labour. Scaffolding bridge for a conservatory would cost roughly £430 to £470 in labour rates, while scaffolding at the front of a property for roofing would cost around £400 to £450.
Wall Condition
The state of your walls will also influence the ultimate cost, as walls with major damage may require repair before plastering, which will cost extra. However, if your walls are in decent shape, you should expect to spend the lowest possible amount.
Ease of Access
Plasterers will consider the amount of access to the area they are plastering when pricing a job, particularly when working on a property with high ceilings. This will make the process more difficult, and they will charge more to compensate for the difficulty.
Size of Area
Plasterers typically charge between £6 - £10 per square metre, so the larger the wall, the more you'll pay. You should measure the height and width of your wall and multiply it by the cost to get a more accurate price.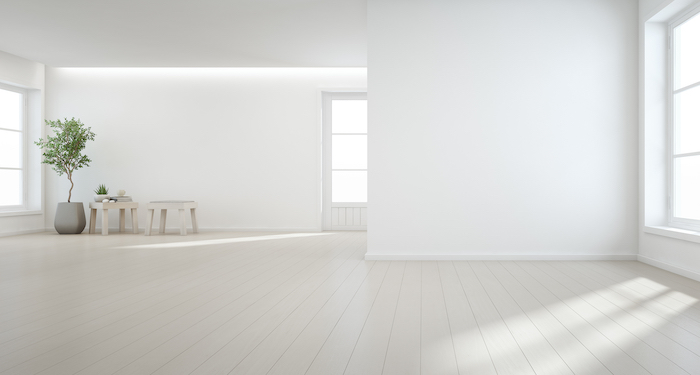 Number of Walls
Another key consideration is the number of walls that need to be plastered, as the more space that must be worked on, the more expensive it will be.
For example, if you only need one wall plastered, you should budget between £150 and £300, whereas a complete room with four walls may cost between £190 and £600.
Type of Plaster
The type of plaster you pick may impact the cost of plastering your interior walls. Undercoat plaster, for example, is often priced at £0.30 to £0.60 per kg, whereas topcoats are typically priced at £0.25 to £1 per kg.
Tradesmen Costs for Plaster Jobs
When hiring a local plasterer, you are also paying them and the materials, tools, and additional costs. So, how much does a plasterer cost? Here we will break down plasterer prices without the materials or other costs.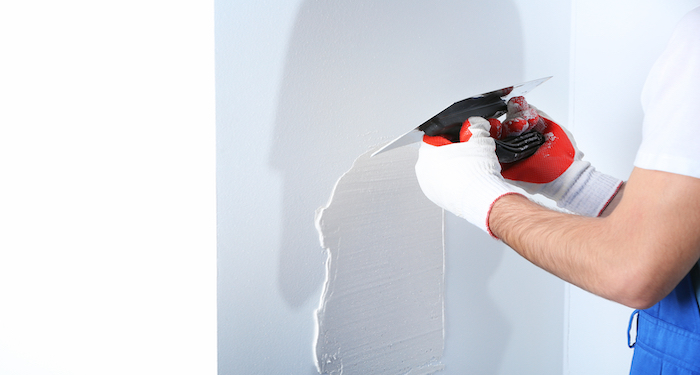 Plasterers typically charge between £6 and £10 per square metre of wall space, plus a daily fee of £100 to £150. These costs will, of course, vary depending on how long the job takes, which is normally around one day for a minor repair and up to 2 days for plastering and skimming a wall.
Some plasterers may charge a plasterer daily rate that varies depending on where you reside; for example, plasterers in London charge roughly £200 per day, whilst craftsmen in the surrounding areas charge around £140 to £160 per day. The plasterer cost per day can vary depending on their level of expertise.
Some plasterers will charge a plasterer hourly rate. Plasterers in the United Kingdom typically earn roughly £15 per hour to replaster an entire room. If you only need one or two walls plastered, they may charge as little as £10 per hour, whereas a large room may cost up to £20 per hour.
The typical plasterer income is roughly £31,000 per year, but this varies depending on how much work they obtain and their level of expertise. A plasterer with regular work and at least five years of experience can earn up to £40,000 per year, whereas someone with less work and expertise can earn £28,000 per year.
How Long Do Plasterer Jobs Take?
Here, we will discuss the different durations that it takes to plaster. This section will discuss how long it takes to plaster a single wall, the ceiling, and tiny patch repair work.
We'll also go through some of the other elements that can affect how long it takes to finish plastering work in this section.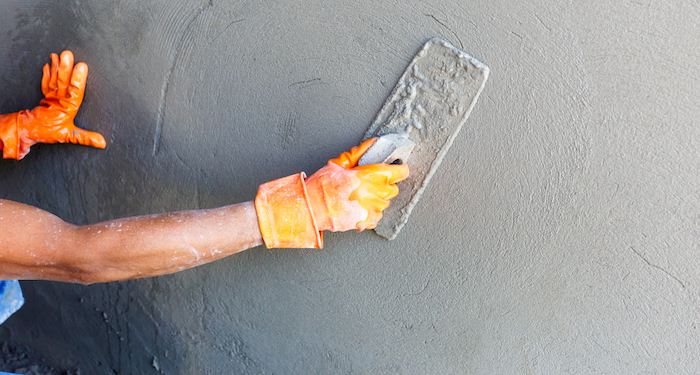 To plaster, a single wall usually takes 3 – 4 hours to complete, but to plaster, a whole room on average takes 1 – 2 days, and to plaster two rooms normally takes 2 – 4 days as it is a bigger job. Plaster a ceiling, and it usually takes 8 – 12 hours. To skim a whole room takes 1 – 2 days. And for small patch repairs, it normally only takes 2 – 3 hours.
The size of the area that requires plastering, the state of the area, and whether plasterboards are needed are all factors that might affect how long a plastering work takes. You must also evaluate whether simply skimming is required, any waste removal jobs that may be required, and your location in the United Kingdom.
The table below will show how long it takes to plaster a wall.
| Job | Timescale |
| --- | --- |
| Plaster a single wall | 3 – 4 hours |
| Plaster a whole room | 1 – 2 days |
| Plaster two rooms | 2 – 4 days |
| Plaster a ceiling | 8 – 12 hours |
| Skim a whole room | 1 – 2 days |
| Small patch repairs | 2 – 3 hours |
If you want to paint your freshly plastered walls, you must wait until they are totally dry. Most paints will seal the wall's surface to some extent, keeping any moisture contained within the wall, and this can result in moist areas, mould, and efflorescence in some circumstances (salting).
You should wait 5-6 days for patch repairs if there is only a thin plaster coating. Because plaster on plasterboard dries quickly, you should wait 10-14 days before adding a mist coat to complete walls. Wait 14-21 days for a wall with two or three layers of plaster (often referred to as backing plaster).
If the property is damp, there is a lot of moisture in the air, or the job is done in the winter, the drying time should be increased by around 50%.
The table below will show how long you should wait for the plaster to be completely dry.
| Job | Duration to Dry |
| --- | --- |
| Small patch repairs | 5 – 6 days |
| Adding a mist coat | 14 – 21 days |
| Backing plaster | 10 – 14 days |
Types of Plaster Jobs
Plaster is a type of construction material used on both interior and exterior walls. Plastering internal walls aims to cover any rough or uneven parts and prepare the surface for paint or wallpaper. It is now well recognised as the most widely used wall preparation material for preventing water damage and damp problems. Here, we'll go over the many types of plastering projects available.
Skimming Cost
Skimming is a plastering technique in which a thin coat of plaster is applied to the walls to create a smooth surface. The skim plaster is used to cover the plasterboard or cover an existing plaster finish. The 'ideal skimmed finish' is difficult to accomplish; it necessitates the use of a qualified professional with years of plastering experience.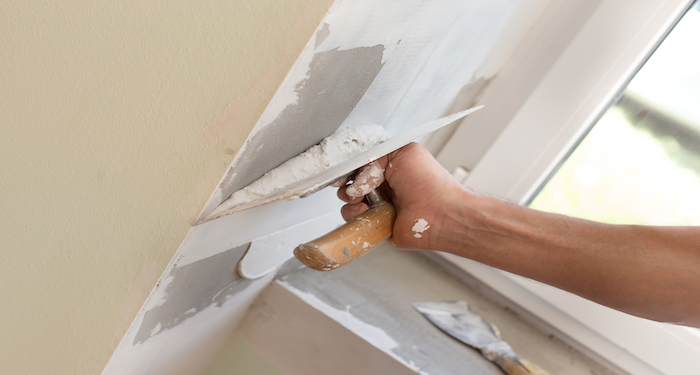 If an existing plaster wall is in good shape, it is unlikely to need to be skimmed. You can either paint or decorate directly on the plasterboard or finish with a layer of skim plaster if you've affixed plasterboard or drylining. The skim is preferred because it produces a better finish.
Skimming a wall is identical to plastering a wall, except it creates a smooth final layer that can subsequently be painted. The cost of materials is slightly lower, but labour costs are the same. Thus a single wall will cost roughly £150 to £200.
Dry Wall Cost
Drywall consists of large chunks of pre-rendered material that can directly adhere to the wall. It's like wallpapering rather than painting the design on the wall.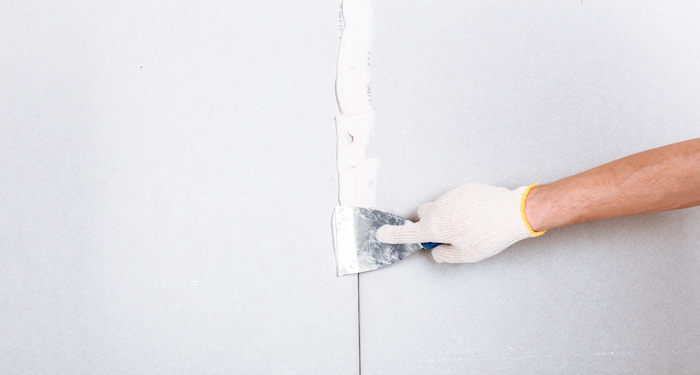 Even while you'll need to apply a couple more coats to the drywall – one to fill in any gaps that may have been made, a skim coat to cover it, and paint to give it colour - it's still a lot more convenient than wet plaster. The key benefit is that it can be prepared quickly and easily with minimal mess. As a result, labour costs may be significantly reduced.
The typical cost of drywalling a standard 12-foot square room (materials and labour included) is between £540 and £920, depending on the thickness of the panel and the finish desired, with the bonus of not having to wait for the plaster to cure before painting the walls.
To receive the greatest price for drywalling your home, request at least three bids.
Taping and Jointing
Covering and reinforcing the gaps between sheets of plasterboard on a wall or ceiling is known as taping and jointing.
This process is used to prepare a wall for decoration and is an alternative to skim coating, which involves applying a thin layer of plaster to the whole surface of the plasterboard.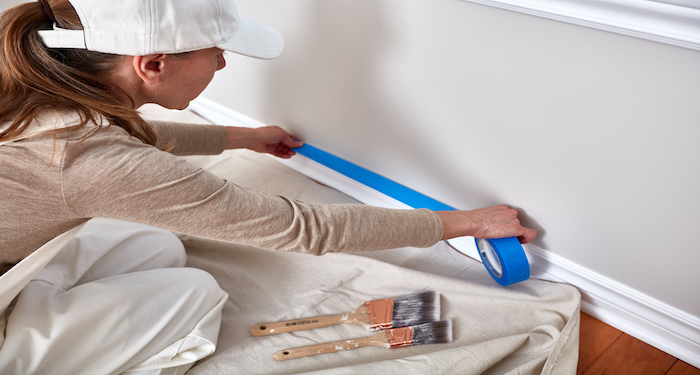 Joint tape is used to bridge the spaces between sheets of plasterboard during the taping and jointing process. The tape is embedded in a jointing compound to reinforce the plasterboard joints and prevent future fractures, sometimes known as 'mud.'
After that, a couple more layers of jointing compound are applied with a knife or trowel to create a smooth surface ready for painting or wallpapering. To mix the jointing compound into the wall, feather a plasterboard joint.
The plasterboard that has been taped and joined does not receive a final coat of plaster. As a result, it's critical to blend the jointing compound into the wall's surface to guarantee that the seams are level with the plasterboard's surface.
Rendering Cost
Exterior House Rendering is the technique of a plasterer applying an external wall covering by hand and tools to protect the bricks or blocks from which the structure is constructed.
It is usually painted or coated with a wall coating to preserve the render surface from cracks or erosion. This will usually require a specialist external plasterer.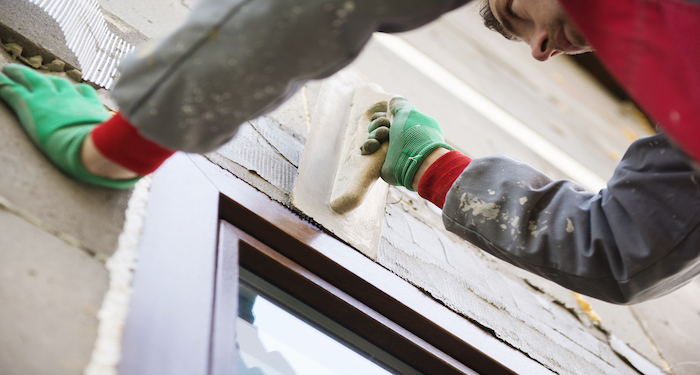 If your properties outside walls are covered in render, regular maintenance is essential to prevent cracking and damp penetration through the render and into the house.
With so many masonry paints on the market, it's important to think about more than just the colours; the finishing texture, weatherproof rating, and the number of layers necessary need to be addressed. All these elements can lower or raise the ultimate job cost.
Exterior masonry paint costs £10 to £25 per m2 on average. For a tiny two-bedroom semi-detached house of 80m2, the paint alone would cost between £800 and £2,000.
Sand and Cement Plaster Cost
Cement plaster is manufactured by combining cement, sand, and water in a 1:4 cement-to-sand ratio. Depending on the surface to be plastered, the thickness of the plaster might range from 12 to 20 millilitres. Plasticisers are sometimes added to the plaster to protect the walls from parasites.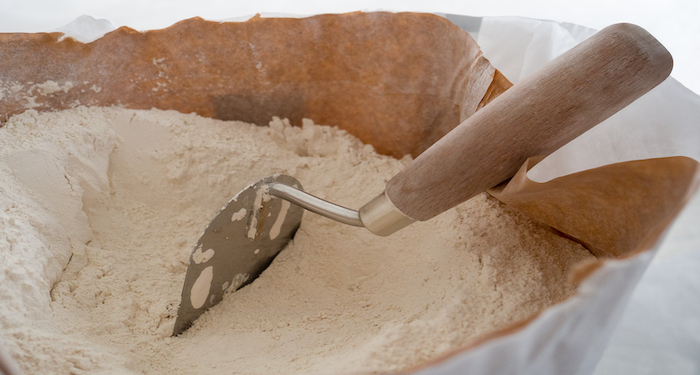 When it comes to plastering exterior walls, cement plaster is the ideal option because it is moisture-resistant and will protect the wall from both climate change and pollutants. Furthermore, cement plaster's endurance makes it an excellent choice for internal plastering. The walls, particularly the hollow-concrete blocks, are strengthened by cement.
Plasterers will take between 4 and 6 days to complete, for £2,100 to £3,000.
FAQs
Q: What qualifications does a plasterer need?
A: To become a plasterer, you might take a variety of paths. A college course, an apprenticeship, or on-the-job training can all help you get the certifications you need.
You should investigate these options to see which one is best for you. Although some of these possibilities will mention qualification criteria, many employers are looking for employees who are motivated, eager to learn, and can follow directions.
You may need a Construction Skills Certification Scheme (CSCS) card to work on a construction site.
Q: How do you find a good plasterer?
A: When it comes to finding the appropriate plasterer, there are a few things to consider.
First, arm yourself with some fundamental knowledge.
Find out how each artisan plans to prepare for your project and how they intend to complete it.
Choose someone with a wide range of experience.
See what past customers had to say.
Inquire about credentials.
Obtain a thorough quote from each tradesperson you're thinking about hiring.
Never pay in full right away!
Q: Do plasterers need insurance?
A: Whether you work as a Plasterer for a company or as a self-employed individual, you'll need specialised insurance to protect your livelihood.
Frequently, a policy with various coverage options, such as public liability, employer's liability, property damage coverage, and professional indemnity, will be required.
Q: What is the role of a plasterer?
A: Internal walls and ceilings are smoothed or given a decorative finish by plasterers, and external walls are also rendered and finished by them. To provide a room with a fresh vibe, restore damage, or bring a place back to life, a plasterer is required in most new buildings and many remodelling jobs.
Q: What skills does a plasterer need?
Excellent coordination of the hands and eyes
Practical skills — you should be able to work with your hands and tools.
Strength in the upper body
Physical endurance
Ability to operate under pressure and meet deadlines
Ability to work as part of a team
Good attention to detail Interpersonal skills, as you will be dealing with clients regularly
Confidence with numbers – you must calculate the areas of the walls, ceilings, and floors, as well as the volume of materials required.
talent to create art (particularly for decorative jobs and fibrous plastering)
Sources