Introduction to Man Caves
At one point or another, we've all dreamed about our perfect 'Man Cave' and exactly what would be in it if only we had the time, space and money. Many people believe that it's not an option for them for the aforementioned reasons, but a man cave can be put together quite cheaply, and you don't need a massive amount of space.
All you need is a little space, inside or outside, for you to escape to when you need a minute to yourself and spend some time doing what you enjoy.
This article provides a complete guide into man caves ideas, tips on how to construct them and how to use whatever space you have available. If you already have an idea on what you want your man cave to look like, hopefully, this article provides the inspiration you need to get started.
What is a Man Cave?
A man cave is a little place for you to make your own. Some people turn them into small bars, others into music studios, some prefer gaming man caves and, to be honest, the possibilities are endless. It all depends on what you want it to look like and contain.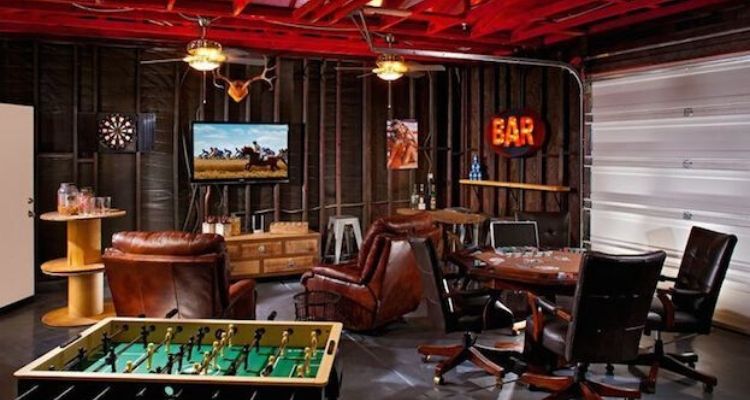 The rise in popularity of man caves can be narrowed back to a few things. Firstly, drinking at the pub is no longer the cheap option, so having your own bar to invite a few friends to is often cheaper and more convenient for everyone, plus there are no last orders when you're the landlord!
Secondly, the products on the market make it really easy to build your own man cave without breaking the bank. Lastly, it provides a place to escape to when you need to.
The pressures of modern life are as present as they've ever been, and we all know that sometimes we just need a minute to ourselves. Your own man cave provides that place of comfort for when you need to take a break. You can literally use your man cave however you like.
Man Cave Bar Ideas
One of the most popular man caves takes the form of a bar. There are thousands of variations on the bar concept, but the main concept is a small place with a small bar, a few seats and an activity. We're going to break down the main styles below: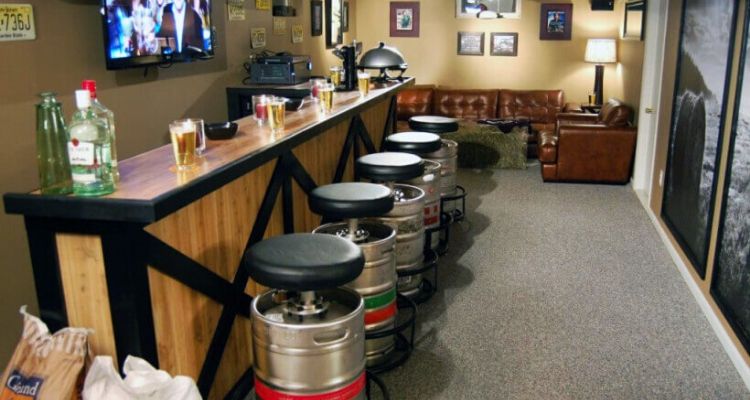 Built-in Bar
The clue is in the name with this one, but a built-in bar is exactly that. Now, built-in bars are more commonly installed in garages or sheds, unless you benefit from a huge house with many rooms. Sheds and garages are used mostly because you don't have to lose a room in your house, the noise won't bother anyone else, and it's kept out the way a little.
The location is completely up to the creator but consider what you want to have in your bar. Most commonly people construct a wooden bar big enough for one or two people that mirror that of a real bar in a pub but scaled down to suit the space available.
You can purchase spirit optics to fix to the wall, and you can even pick up genuine draught beer pumps for around £100.
You can pick up second-hand beer fridges to go underneath the bar for less than £50, which are ideal for cans, bottles, mixers and soft drinks.
Next, think about seating. A good space-saving option is to have pub-style seating along a wall to remove the need for chairs, but if that isn't an option opt for stools and round tables. This way, you can easily create a bar with space for 4 guests in a really small space. Perfect for nights in the pub at a fraction of the price and no queuing at the bar.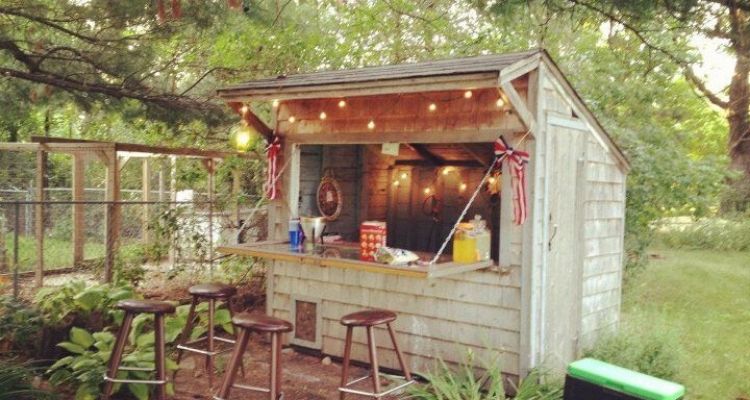 Portable Bar
If you're really stuck for space or want to use your existing man cave that doesn't have a bar, as a bar, then a portable bar is the solution. A portable bar is basically a bar on wheels that can collapse down and be stored away.
With a portable bar, you won't be able to take advantage of fridges and beer pumps, but if spirits or shorts are your tipple, this won't bother you in the slightest.
You can use your portable bar for parties, special occasions, BBQ's and any other time you can find a reason to get your friends round and have a good drink!
Sports Bar
There's nothing like a Saturday afternoon in the pub watching the football with your friends and having a few beers. With a man cave sports bar, you can bring that feeling home with you. A sports bar often takes the form of a built-in bar, but with the added amenities of TV's with any sport, you can find on them!
You can pick up small flat-screen TV's suitable for a small bar for less than £100, and they are very easily fixed to walls or even the corner of your bar for easy viewing for everyone.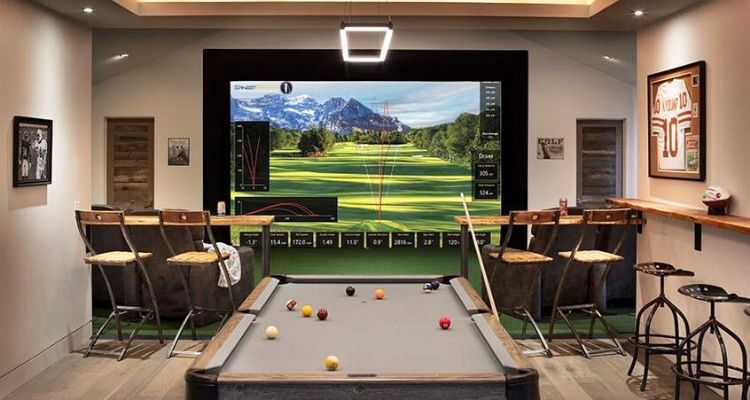 If you have the space available, why not install a dartboard or a pool table for those slow sports days. Second-hand pool tables can be found at a fraction of their price brand new, and a full darts set up can be attained for less than £50.
Drop Down Tail Gate Bar
A fairly new product to the market is a drop-down tailgate bar. They are invaluable to garden parties and BBQ's, but they're also a great facility for when you want to sit in the evening sun and have some time to yourself with a nice drink. They're not that expensive, and you can secure one for a few hundred pounds.
The below option is a much more subtle option which can be installed in any room of the house, meaning you're never far away from your favourite tipple. It's a shallow cabinet-like structure that fixes to the wall and bottles and glasses are placed securely inside. If you've built a quiet reading room, for example, it's a great way to turn it into a multi-use room.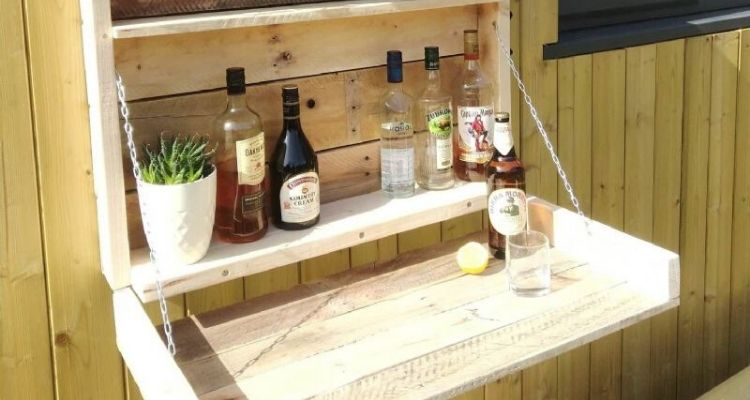 Beer Fridge
If you have other ideas for your man cave that doesn't include the installation of a built-in bar, why not just install a beer fridge. They're often a similar size to a microwave and can be subtlety included anywhere for when you want to treat yourself to a cold one.
Game Room Man Cave Ideas
We've already touched on how you can turn your sports bar into a somewhat of a game room too, but a man cave designed solely for this can be so much more effective and enjoyable. A game room is simply a man cave that includes all of your favourite games to play.
As with everything, what you can install depends on the space you have available. If you only have a small outhouse, it's unlikely that you'll have space for a full-size snooker table, but you would certainly have plenty of room for a dartboard and a Foosball table. Below is a list of popular games found in a game room man cave:
Pool Table
Snooker Table
Dart Board
Board Games
Shuffleboard
Foosball Table
Ping Pong Table
Pinball Machines
Brain Teasers
Chess
You know better than anyone what you'll enjoy playing in your man cave, so be inventive and see what works. It's a good idea to measure the space before deciding on what to purchase and consider the playing room required around it.
Also, consider what you want the room to look like. Maybe you want posters, art, photos of good memories or simply nice wallpaper. Think about what type of thing you'd like to relax in and go from there.
Music Man Cave Ideas
A music man cave is very versatile when thinking about what it could contain. Do you prefer to listen or make music? Do you want to invite people into space or not? A music man cave is used as either a recording studio, a place to relax and listen to your favourite music or both. They are often draped and decorated with hanging guitars, gig posters, vinyl records and ticket stubs. But, what can you find inside a music man cave? Here are some ideas:
Sound Systems – This will probably be the most important aspect of the room. Some people opt for the classic Hi-Fi systems which benefit from lots of outputs, good music quality and newer designs are really sleek. However, they do take up a good amount of space, so bear that in mind.

A lot of people prefer wireless sound systems that connect your devices via Bluetooth. They have great sound quality, are generally smaller and if you don't want a record player, are probably better options.


Record Player – Vinyl is making a famous comeback. In an age where we receive everything wirelessly and via the cloud, we find ourselves longing for the feel of something in our hands. Records are a fantastic way to celebrate your favourite bands, artists and albums from throughout time.

They look wonderful, sound authentic and serve as much of a purpose in decoration as they do in entertainment. A record player may be integral to the look and enjoyment of your music man cave.


DJ Decks – Mixing decks are popular amongst many genres of music and if this is your thing, you'll want to invest in some for your man cave. Modern versions can be bought without the need for external record players and take up little room.


Instruments – If you're a guitarist, you're probably never as relaxed as when you kick back and play some music. Playing instruments are relaxing, enjoyable and look great around your man cave. There are many fixings to hang guitars, amps and other instruments safely around your space and are a great addition.


Recording Equipment – If you're into making music as well as listening to it, you're going to need some recording equipment. Technology has come on so much in recent years that you can have a professional recording studio from the comfort of your own home.

All you need is a laptop, software and microphones, although you may want to invest in some soundproofing materials too. Don't worry, these can be found quite easily and cheaply online and will only add to the musical décor. More recently podcasting has risen to prevalence in the market, so if that's your thing, you can use your recording studio to record more than music!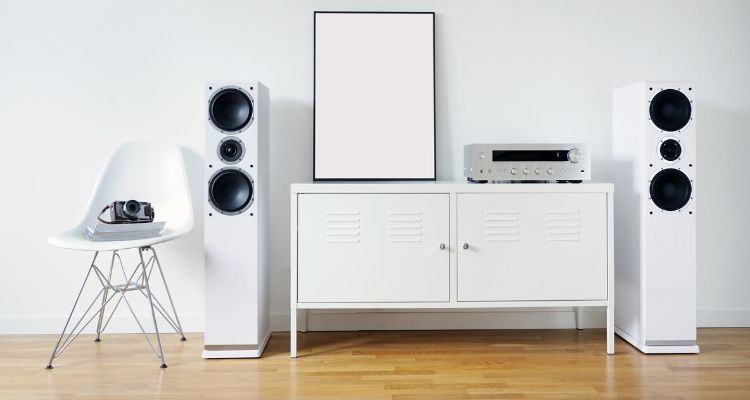 Log Cabin Man Cave Ideas
One of the newer products on the market are log cabins that fit inside your garden or yard and are seemingly built for those of us looking for the perfect man cave. Now, a log cabin man cave isn't a theme itself, but it's the ideal structure to transform into anything you want it to be. They aren't cheap to purchase, but they are extremely impressive and versatile.
There's a picture below of a typical log cabin, but they come in a variety of shapes, sizes and variations. You can either tackle the construction yourself to build your man cave from the ground up or hand the reigns over to a builder who will have it up in no time. Log cabins are usually placed into the following categories and range in price from £700-£8,000 depending on size, features and material thickness:
Log Cabin Sheds – These cabins have sections for storage like your normal shed would have, while still providing ample space for your man cave. They provide a strong structure and good security, meaning you can safely and comfortably leave your furnishings in there.


Small Log Cabins – These are ideal for those with limited space, or for those that want only a small space to relax in. A small log cabin is cheap, but still structurally strong and are perfect for quiet reading and relaxing spaces.


Log Cabin Summerhouses – These are often the most expensive log cabins as they provide a higher level of luxury than the others and could quite literally be used to live in, in those summer months. Strong, secure and spacious, if you want a big bar for all your friends and family, this may be your solution.
Log cabin man caves are perfect to keep noise away from the house and it removes the need to commit a room of the house to your man cave. Long-term they are easy to maintain, cheap enough to buy and construct and you really will have your own space in this world all to yourself.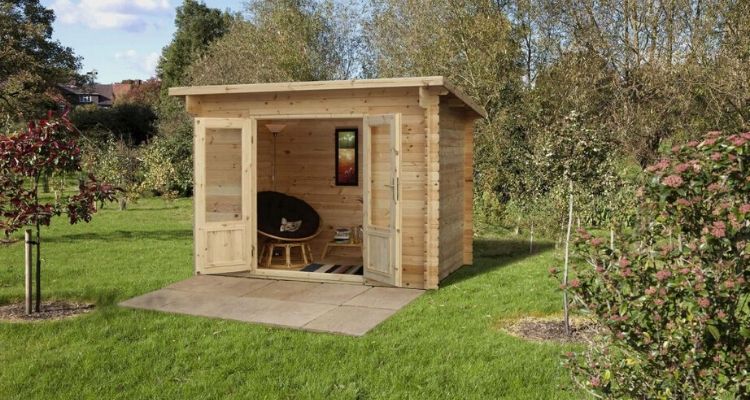 Sports Fan Man Cave Ideas
Not to be confused with the sports bar, a sports man cave is the top choice for sports lovers (obviously). If you love sitting down in the peace and re-watching your favourite sporting moments, taking a trip down memory lane by looking at old tickets and programmes or even admiring your most reassured memorabilia, then this one is for you.
Of course, an obvious choice for many is to combine the best of the sports bar with this to produce a sports bar full of memories, but if the bar doesn't interest you, here are some other things to fill your man cave with:
TV – Kick back in your man cave, surrounded by the best pieces of sporting history and watch the 1999 Champions League final and relive the elation and drama. TV's with amazing quality can be bought at really cheap prices nowadays and the same goes for TV units and fixings.


Sports Channels – What's a TV without good channels? You can get really cheap subscriptions to online services and channels that are dedicated to showing replays of huge sporting moments in history. Also, sports clubs tend to have their own that you can get for as little as £5 per month.


Sports Memorabilia – People treasure old tickets, programmes, shirts, balls and many other sporting pieces. In your sports man cave you can put them all on display and relive the good memories every day.


Bar - Okay, we're going back to the bar! You can install a portable bar or a fixed one depending on your space. Invite a few friends over, enjoy a beer out the fridge and relive your favourite moments.
Cinema Man Cave Ideas
Everyone dreams of a cinema room. Leather recliners, 200inch screen, popcorn machine and your favourite movies. 10 years ago, this type of luxury was reserved by the rich and famous, but not anymore. More and more people are building spaces just like these in their homes and gardens every day. Here's how:
Spaces – You may actually have a room perfect for this in your home, especially as the whole family can enjoy it, but if not a garage or log cabin can be just as effective. Just make sure there's ample space, blinds or curtains over the windows, and it's warm enough to use in the winter! Of course, portable heaters can be bought at very low prices.


Seating – Leather chairs may be your dream, so start bargain hunting! Reclining leather chairs can be found on selling sites second-hand for no more than £50. Install them in rows in your space, and you can even put them on wooden blocks to raise ones in the second or third-row cinema style! If you're not too bothered about recliners, why not opt for comfortable bean bags instead!


Movie Systems – The obvious choice here is an enormous TV; however, they are heavy, costly and there are better options available. Projectors are really popular at the moment, and you can pick up a quality HD projector from £150+. You'll need a solid white wall or projector screen at one end, but you can install the projector on the ceiling for the best possible results. A lot of them have Wi-Fi access, but if not, you can connect casting devices to them and stream movies and TV that way.


Sound Systems – The majority of projectors have their own quality sound systems installed, however, if you're doesn't, you can purchase a soundbar or surround sound system from £100. These systems connect with a thin optical lead that can easily be kept out the way. Get creative with your space and your sound options to produce the best cinema experience for your man cave.


Snacks – If you look on sites like Amazon, you'll find an abundance of popcorn machines, hot dog warmers and other cinema snack machines. They're often cheaper than £20 and are really fun.


Décor – Why not design your cinema man cave like a cinema? Install lights that can be dimmed when the movie is about to start, play trailers before the movie, small LED lights on the floor and stick some movie posters on the walls. If you visit a cinema, they will often give you old posters of movies that are no longer being shown.


Cinema man caves are extremely popular and its little wonder why. You can even use them for watching family videos or big sporting finals and events.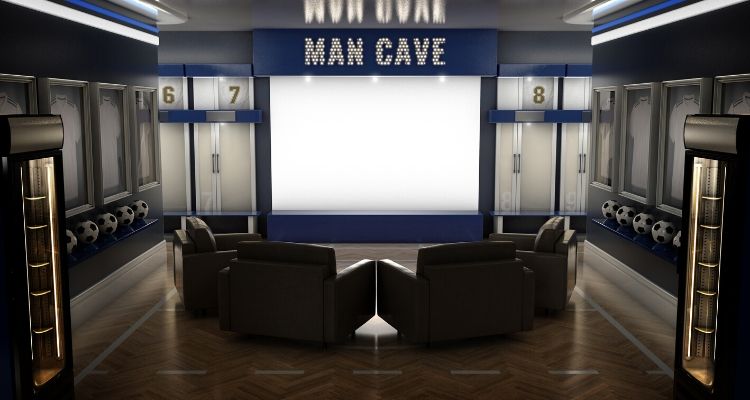 Video Game Man Cave Ideas
Video games are taking the world by storm, and the advancements in VR are only fuelling their popularity more. The beauty of a video game man cave is that it doesn't require tons of space. If you have a room in your house that is used for clutter only or a garage that doesn't have much of a use, make that your own! We wouldn't suggest placing a huge number of expensive consoles, games and accessories in an outdoor shed unless it's properly secured and insulated.
You can decorate the room with old game consoles, games and posters, you can even pick up old game memorabilia from stores to place around your man cave. Similar to the cinema, game stores may give you old posters and promotional materials for free if you ask nicely and maybe buy something at the same time! But, what can you find inside a video game man cave?
TV's and Consoles – An obvious one to start, but a good projector or TV is essential to your video gaming epicentre. If you're going to use a TV, it's probably better to fix it to a wall to make the most of floor space. If you have a big collection of consoles, why not store them on bookshelves to show them off, plus they're always on hand if you feel like a retro gaming experience.


Simulators and VR – If you have a VR or simulation device, why not make space in the middle of the room for using it, safely away from any consoles, TV's and decorations. The last thing you want is to accidentally trash your man cave after an animated game of VR boxing! You can also install fixings on the wall to hang your VR headsets and accessories to keep them safe and tidy when you're not playing with them.


Gaming PC's and Laptops – If you're more into gaming computers over consoles, why not set yourself up with the ultimate gaming station. You can pick up a sturdy desk really cheaply. You can still decorate it with your favourite gaming pieces, and it can be your own little gaming utopia.


Gaming Chairs – If you're going to be spending a lot of time gaming, you need to be comfortable. So, invest in a comfortable and study gaming chair if you're going to be sat at a desk, or a quality sofa or chair if your console gaming. You know which you prefer, so shop around and find a good deal on one!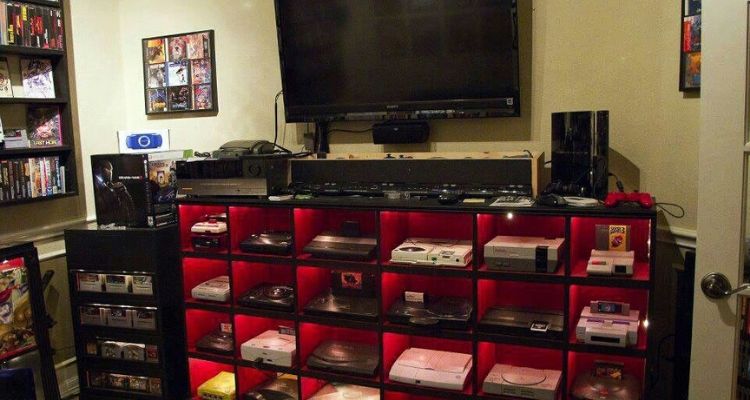 Shed Man Cave Ideas
Similar to log cabins, sheds can be utilised as a man cave really effectively. As always, you may be limited on what you can utilise it for, dependant on space, but even the smallest shed can fit a comfortable chair and some good books or music. If you benefit from a large shed, start building that bar!
If you don't have a shed already but are considering building one for your man cave, go right ahead. Think about where you're going to place it, however, and for what you'll use it for. Don't install a shed with a low roof if you want to turn it into a bar, or don't hide it away in the shade if you want to read in the sun.
Sheds are perfect for staying out the way and not having to worry about disturbing the rest of the house with noise, they're cheap to build and can be secured and insulated easily and cheaply. But you should consider the security aspect of the bar. It's very unlikely, but it is possible that your man cave could attract burglaries, so take the correct precautions.
Firstly, make sure windows are double glazed if possible, or if not, have vibration alarms on them. Secondly, ensure doors close securely and have good solid locks on them. Next, install motion detector alarms inside to scare off any unwanted company. These alarms can be purchased for around £20 and are worth every penny, even just for the peace of mind. Lastly, CCTV is no longer that expensive, so consider installing a camera on the doors of your shed, its proven to reduce the chance of burglaries by 60%.
Garage Man Cave Ideas
In our opinion, garages make for the best man caves. They are much more safe, secure and insulated than sheds, and are usually much larger. They are still attached to the home in many cases but are still detached enough to reduce noise. They are also incredibly versatile in terms of what you can install. Cinema rooms, games rooms and bars are the most popular with garage man caves and it's easy to see why.
Garden Man Cave Ideas
Garden man caves are somewhat of a left-turn from the other styles, considering they're outdoors and don't have walls! If you don't have spare rooms, sheds or garages to build a man cave in, why not make your own space in the garden. Here's how:
Decking – Decking can be built in your garden for a pretty low cost and you can insert garden furniture, stools, tables and anything else that you and some friends can gather round and have fun.


Hot Tubs – Now that you have some decking, why not install a hot tub? Again, hot tubs these days can actually be purchased for no more than £300 and are worth their weight in gold. You can buy gazebos and canopy's that sit over the hot tub, providing cover so you can enjoy your hot tub in the rain or shine.


Bars – We've already shown you the options and benefits of bars in gardens and outdoor spaces and they are perfect for outdoor man caves. Installing a simple drop down shed bar on your decking brings the space together perfectly and it means you can enjoy a beer in the hot tub!


Outdoor Heating and Lighting – Tall outdoor heaters are powered on the same gas cylinders that power outdoor grills, so why not place one in your garden man cave for when evening beers stretch into darkness? Lighting is an easy problem to fix, you can pick up powerful lights for less than £20 that are also solar powered, or you can get creative and install lights into the decking. Why not add some fairy lights to your bar and canopy too?
Your man cave spaces are all determined on what you enjoy, what you have at your disposal and how you use the space. Sit down and plan out some options first and see what outcomes you come up with. Man caves are perfect space for you, your family and your friends to come and relax with you, if you invite them that is!
FAQs
Q: What's the purpose of a man cave?
A: A man cave can add more space to your home as well as giving you room to pursue a much-loved hobby. If you want someone to unwind, a man cave is a prefect space to do that in too.
Q: Can you have an outdoor man cave?
A: Yes, you can create an outdoor man cave in your garden area or create an outdoor man cave in a garden shed or log cabin (depending on your budget).
Q: Can a man cave help with mental health?
A: Having your own space to unwind and relax in can help with mental health and wellbeing. You can tailor a man cave to your specific needs and make it your own.
Q: Can you build a man cave on a budget?
A: Yes, a man cave can be built and created on any budget and doesn't have to be expensive. You can still create a great man cave cheaply.
Sources