How Much Does a Porch Cost?
Why is a new porch a good idea?
A new porch is a brilliant addition to your home. It offers you more security, more space, and of course, porches add another layer to the look of your home from the outside.
What are porches mostly used for?
It's most commonly used to store things like shoe and coat racks, keeping them off of chairs and stairs, and porches also let in a ton of natural light.
Is it a good idea to build a porch DIY?
While a porch is a very worthwhile investment for your home, it can be very time-consuming, so it's best to enlist the services of professionals instead of attempting the job yourself.
The best thing about hiring a professional is that they can sit down and explore all of the options with you, offering design suggestions and providing very close estimates on costs and timescales.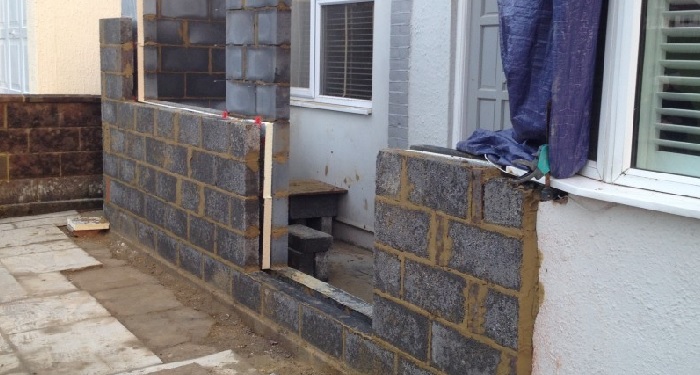 Of course, you'll want your porch to be built with the same décor as the rest of your home, so that it naturally blends in with the current style and doesn't stand out like an imposter.
A building professional will advise you on how you can achieve that and what materials, colours and styles will blend in perfectly with your home.
There are many cost-affecting factors to consider, which we will delve deeper into to help you understand exactly what sort of budget you'll need to have this work done.
So what are the average costs of new porches?
The average cost to have a new porch installed is between £3,000 and £5,000, and it will take between one and two weeks to complete the job.
Porch Prices
To help you out with the average costs of new porch installations, we've provided this table:
| Porch Type | Average Cost | Duration |
| --- | --- | --- |
| uPVC Lean-to Porch | £2,000-£3,000 | 1-2 weeks |
| uPVC Roof Gable porch | £2,000-£3,000 | 1-2 weeks |
| Brick porch | £3,000-£4,000 | 1-2 weeks |
| uPVC Edwardian porch | £2,500-£3,500 | 1-2 weeks |
| Flat gable roof porch | £3,000-£4,000 | 1-2 weeks |
| Aluminium porch | £2,500-£3,500 | 3-5 days |
What are the Supply Costs of a Porch Build?
As you can see from the table above, there are a few different porch styles, meaning there are a few different materials you can use to build them. The most common materials are uPVC, timber and bricks, so we're going to focus on the material cost of these three and the extra materials required.
Most people will leave the purchasing of materials to their fitter as there are so many different aspects, sizes and fittings to get right.
But if you feel confident enough after a discussion with the fitter to purchase the materials yourself, you could find that you save more money as you will have much more time to shop around for deals and discounts.
However, please ensure that you have a thorough discussion with the fitter first, as the last thing you want is to find that you've purchased the wrong materials or that you have the measurements wrong!
uPVC Porch
Unplasticized Polyvinyl Chloride, or uPVC as it's more commonly known, is a cost-effective and durable substitute for painted timber. It has a ton of benefits from its low maintenance to its cost, and it's becoming a very popular option for homes across the UK.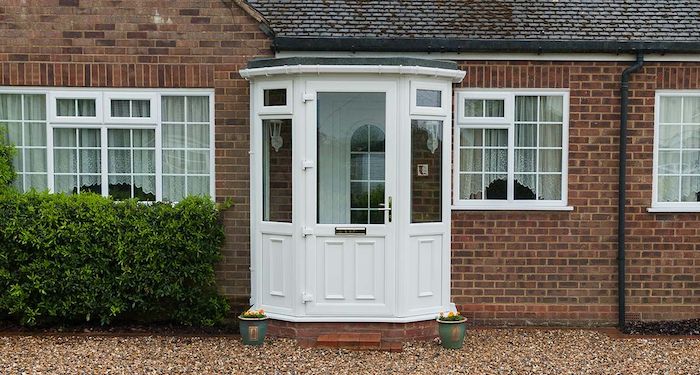 Now, for the porch structure, uPVC will cost you around £300-£500 per square metre for materials, which is very reasonable for a new porch. Of course, these prices will differ depending on the quality of materials you choose and where you purchase them from.
As we mentioned earlier, it can pay off to check a few different stores first before purchasing the materials.
Timber Porch
Timber can be used in a few different styles, but with the rise in uPVC, its most commonly found in flat gable roof porches. These are charming little porches with a pointed roof, despite the 'flat' name.
The materials for this are a little more expensive at between £500-£900, depending on the wood you choose.
As we have mentioned, the popularity of uPVC has seen a reduction in timber porches, but they are wonderful additions if you are comfortable with the price.
Brick Porch
Brick porches are more expensive again, but they look like more permanent parts of your home, which can be the selling point for many. The materials for a brick porch cost anywhere from £1,500 to £2,000, which is much higher than both uPVC and timber.
However, a fitter will be able to give you a very accurate quotation when they can view your property by working out the number of bricks you need to complete the job, along with options for windows, doors and floors.
What are the Additional Costs of Building a Porch?
There are certain additional costs or jobs that are commonly associated with new porch installations. While they may not be mandatory in any way, they are still worth considering if you have the budget available to get the most out of your home.
New Driveway
A new driveway coupled with the addition of a new porch can completely transform your homes aesthetics and add an incredible amount of value to it. New driveways are also faster to install than you may think, depending on your chosen material.
When deciding on a new driveway, there are a few things to consider with the first being material. Popular choices for this are gravel, concrete, paving and tarmac. Each of these materials requires a different installation method and incur different costs, but each is very affordable.
The other thing to consider, which will also help you work out an average cost for the work, is how large a space you have to install a driveway. A typical one-car driveway will require 15m2 of space, while a two-car driveway will require 25m2 or more.
We're going to give you the average prices of all of the popular driveway materials, but per square metre, so it's a good idea to measure up the space to find out how much you're likely to pay.
Concrete driveways cost between £60-£80 per square metre, gravel costs £30-£50 per square metre, paving costs £80-£100 per square metre and tarmac is around £40-£70 per square metre.
So, the cheapest option is gravel, but if you're looking for a smooth driveway, you'd be better served with the tarmac option.
It's all down to personal preference, but any of these driveways will transform the look of your home and only push the value up higher.
CCTV Security System
Feeling safe in our homes is crucial, and sometimes the addition of CCTV can be a real relief, not to mention a big deterrent to any unwanted visitors. The best thing about CCTV is that it has improved technologically so much over time, that CCTV is affordable for any budget.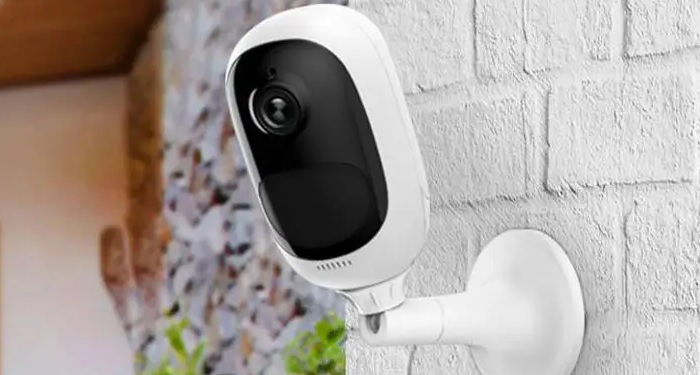 Of course, top of the range wireless equipment that features motion detection and night vision is toward the more costly end of the spectrum, easy to install and good quality wired systems can be found for less than £100!
You can pick up a CCTV system from several online retailers and in any DIY store, and they range greatly in price from £90-£500 depending on the technology, number of cameras and brand, but any CCTV is a great addition to your home.
Planning Permission
Planning permission can be tricky, but in general, you don't need planning permission for a new porch installation, however, there are some caveats to that rule.
Firstly, if your home is a listed building, you will need planning permission before you can have any alterations or additions made to your home.
If your home isn't a listed building, you don't need planning permission unless the total floor area exceeds 3 square metres, the height of the porch exceeds 3 square metres or if the porch is within 2m of a public footpath, road or boundary.
If you find you need planning permission, householder applications for extensions are £262, which is payable upon submitting your planning permission to your local authority.
Tradesmen Costs for Porch Installation
The cost of labour for your porch installation is a far trickier thing to work out than any additional costs or supplies, and it usually involves getting quotations from different contractors.
Now, your main fitter will guide you through this and possibly even offer to do this for you by sub-contracting to firms or tradespeople that they commonly work with.
The problem is you will need a price from a builder or fitter to erect your porch structure, a window fitter to install the windows and doors, an electrician to install a porch light and possible a plug socket if you want one, and possibly a floorer depending on what type of floor you are opting for.
As this can get quite confusing, we've provided a table below to show the average costs of these tradesmen, but first, it's important to know how these figures can be affected by certain factors.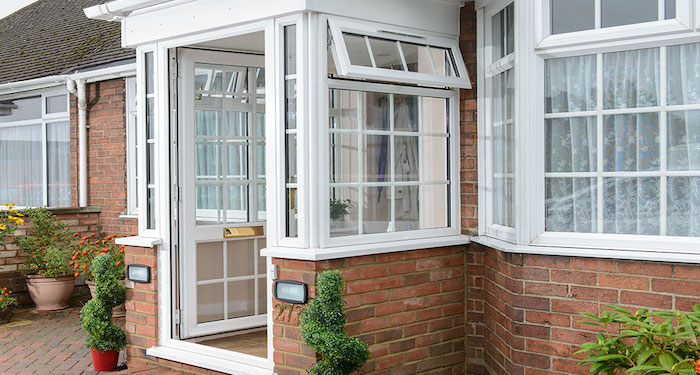 The location of your home is the biggest factor on cost with tradesmen and contractors, and big cities like London and Birmingham naturally attract higher rates for labour due to cost of living in those areas and the dense population.
Contractors in these high-density areas are far more in demand than anywhere else, meaning they can charge higher prices, however, due to the cost of living in these areas, they're not much better off than any other contractor in a quieter area.
In contrast, tradespeople in small towns and villages have to be very competitive on price in order to win jobs from the smaller customer base, so that's why the rates are so far apart.
A good rule of thumb is to take the higher rate as a guide if you live in a main city and the lower rate if you live somewhere rural or quiet.
How Long Does It Take to Build a Porch?
The building of porches generally takes between one and two weeks; however, aluminium porches take less than a week. There are a few stages to install a new porch, which makes the entire job quite lengthy.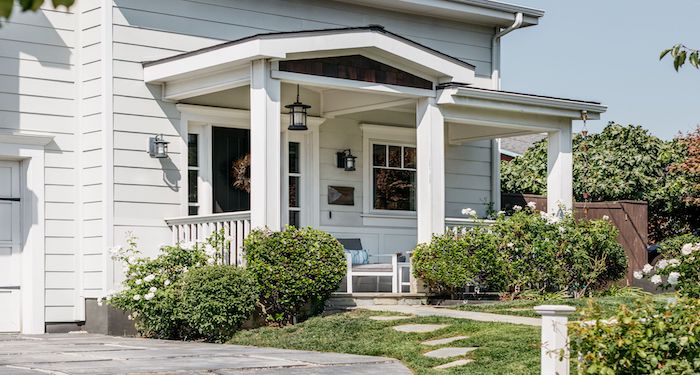 Although it is an exterior addition, this shouldn't cause you too much trouble and shouldn't affect your home life during the installation!
To help you get a better understanding of the process of building a porch, we've broken it down into a list of seven key steps below with some timeframes associated with them:
The foundations will be laid first, including all of the necessary excavations and preparation work to ensure that the porch will be structurally sound once erected. This usually takes a day or two.
A damp-proof membrane is added next to avoid any moisture invading the porch, causing damp issues that are very tough to combat in a porch. This should only take a day to complete.
The sub-floor is installed next to provide the floor to your porch. Later, the flooring will be added and waterproofed fully, but this is the sub-floor on which the porch will be installed.
The porch is then erected, lining up with the sub-floor and damp-proof membrane. At this point, any doors and windows will be installed, along with any necessary electrics.
The roof will come next, as the porch is now fully erected and acts as the support for the roof which again is aligned with the damp-proof membrane and fully waterproofed and sealed.
Guttering is added around the roof to stop any water sitting atop the roof and causing leaks and damages.
Finishing touches are then added, which are mostly cosmetic to your requests!
The job can be completed in as quick as one week, providing that everything goes perfectly to plan, but this is rarely the case, and somewhere around ten days is usually a good aiming point.
Choosing a Porch
Here is a list of popular porch types and their prices:
uPVC Porch Costs
uPVC porches are certainly the most popular options these days, with affordable costs, fairly simple erections and a whole host of practical benefits.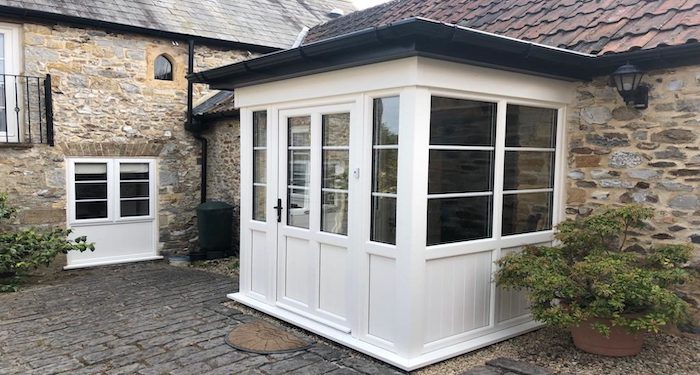 uPVC is incredibly durable to any weather conditions; it requires almost no maintenance, and it's much cheaper than other options.
You could argue that it lacks much character, as many uPVC porches look very similar, but the practical benefits far outweigh the desire for a unique structure.
Depending on the style, you can expect £2,000-£3,500.
Lean-to Porch Costs
A lean-to porch is very easy to distinguish as it juts out from the home with a single down-sloping roof and a door to the side.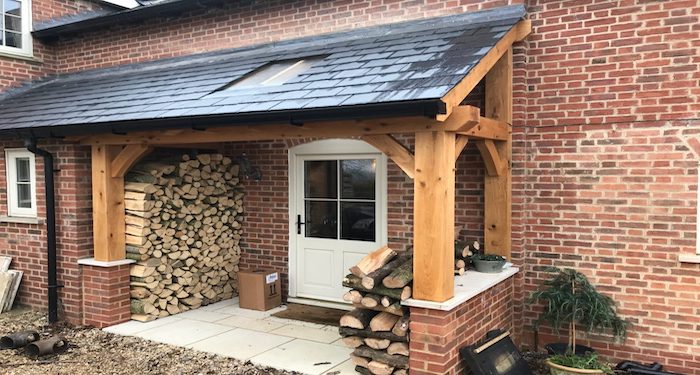 Generally, they're not very large structures, and they offer another layer of security and a place to leave coats and shoes.
Despite their small size, they are very handy, and many homes have lean-to porches. They can be made from uPVC or timber, so they're incredibly versatile.
A lean-to porch will cost about £2,000-£3,000.
Aluminium Porch Costs
Aluminium porches are almost completely glass, with an aluminium frame that makes up a rectangle over your front door.
Again, they aren't very big spaces, but they offer a little extra storage for umbrellas, coats and shoes.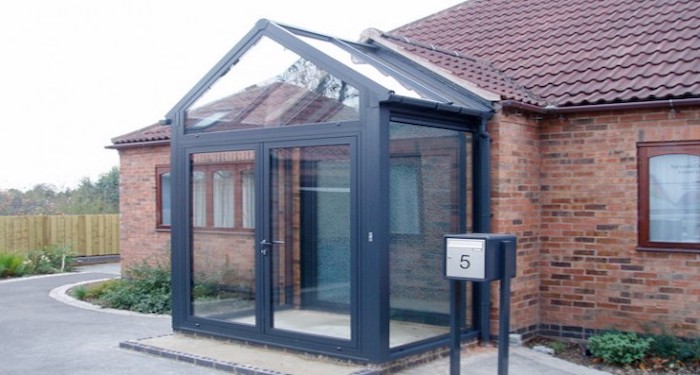 They are quick to erect in just 3-5 days, but they aren't much cheaper than other porches due to the amount of glass.
They are also nearly impossible to repair if they get damaged, and you will need to replace the porch entirely if this happens.
Aluminium porchs cost between £2,500-£3,500.
Edwardian/Victorian Porch Costs
Edwardian and Victorian porches are very similar in which they have pointed rooves and extend to a small square in front of your front door.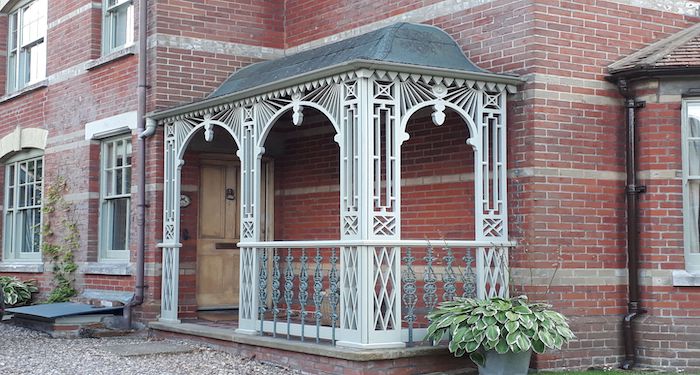 They're made from timber and are more commonly found in more traditional homes. While they aren't very popular for new porch erections, they certainly serve a purpose for a more rustic look if you wanted that particular style.
These porches will typically cost £2,500-£3,500.
Brick Porch Costs
Brick porches look like very permanent fixtures to your home, with sturdy front doors and a good amount of space inside.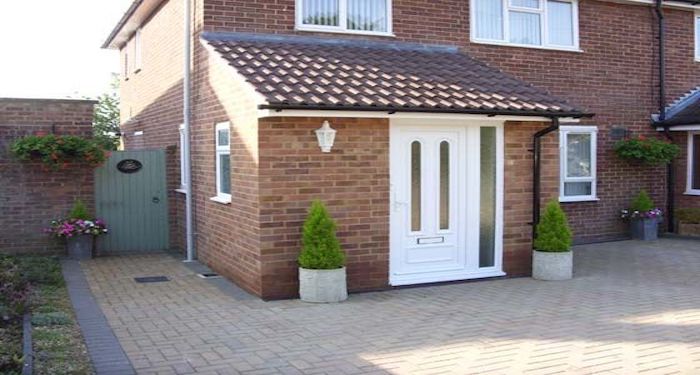 If your home isn't bricked, it may look peculiar without a rendering added to it, but if your home does have that rustic brickwork, this is the perfect porch solution for you.
A brick porch will cost £3,000-£4,000 overall.
Benefits of a Porch
Here are a few benefits you can experience:
Aesthetically Pleasing
A porch can add a ton of value to your home, and it simply makes your home look bigger, more unique and more high quality.
It's such a small, simple addition, but it really does make a world of difference just to the curb appeal.
If you're looking to sell your home soon, check out house prices of similar sold homes with and without a porch to see if the investment is worth it!
Practical
A porch provides several practical elements to your home, from an increase in natural light to additional storage.
It may seem like a small benefit, but the ability to keep coats, shoes, umbrellas and all those outdoor items separate in your porch can make a ton of difference with keeping your home neat and tidy.
Plus, the kids don't have an excuse for running around the house in dirty shoes!
Security
A porch basically doubles the security amount to your home, with not one but two doors protecting you.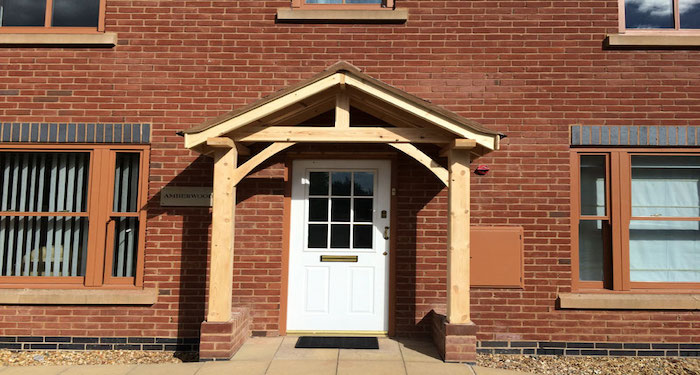 Add to this a simple security light and CCTV system, and your house is too hot to handle. Several case studies demonstrate how much of a deterrent these additions are to burglars, so it's worth considering.
How Much Does It Cost to Remove a Porch?
If you're looking to have your old porch removed before installing a new one, you should expect to pay a professional anything from £300-£500 including waste removal for the job.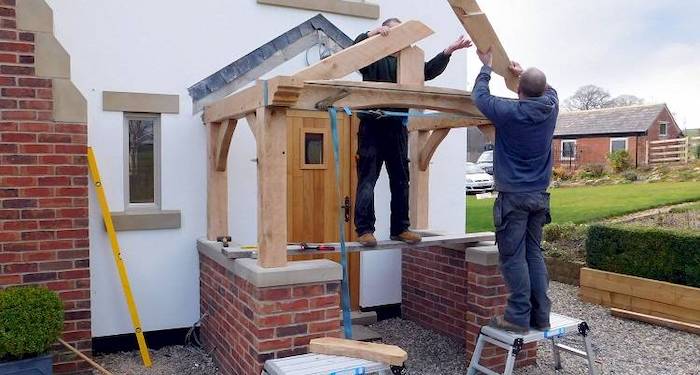 It should only take around 3-4 hours based on the complexity of the porch, but it's probably not a job you'd want to attempt yourself as it can be quite easy to damage your home in the process.
FAQs
Q: Can you tile a porch roof?
A: You can tile a porch roof, and if your home is tiled, it's probably the best option. There are a ton of tiling options for your porch, so check them out with fitter when planning your porch.
Q: Can you build a porch with a toilet?
A: You can build a porch with a toilet, but 3 square metres may not be enough space to do so, so you would need to apply for planning permission first.
While it's an odd place to put a toilet, it can be done, but you would need to pay around £300-£500 for a plumber and about £200-£400 in materials, depending on which toilet and sink you opted for.
You'd also need to pay £262 for the planning permission submission.
Q: What is the typical size of a porch?
A: Typically, porches are no more than 3 square metres due to planning permission rules, but they can be as small as you need them to be.
Q: How much value will a porch add to my home?
A: It's hard to determine specifically how much value a porch can add to your home, as it varies from region to region.
If you attempt to shoehorn a porch into a space that probably doesn't need one, it won't add a ton of value, but if it makes sense in the layout of your home, it can make it more attractive to buyers and therefore you can raise the asking price in turn.
Q: What is the best style of porch?
A: It all depends on the layout and style of your home, but the numbers don't lie, and uPVC porches have been significantly more popular than other styles of the past few years.
Sources