How Much Does New Flooring Cost?
Let's get straight in to it...
In most cases, the average flooring installation cost will be between £400 and £1000.
However, the cost of installing new flooring will vary depending on the type of flooring that you want to install and the size of the room(s).
Flooring Installation Prices
For a more accurate installation price, have a look at the table below.
This calculates approximate floor installation prices for many different types of flooring:
| Floor material | Small (10m2) | Medium (16m2) | Large (25m2) |
| --- | --- | --- | --- |
| Carpet | £90 - £360 | £140 - £580 | £230 - £900 |
| Laminate | £170 - £320 | £270 - £500 | £430 - £800 |
| Hardwood | £550 - £700 | £880 - £1120 | £1380 - £1750 |
| Vinyl | £90 - £180 | £140 - £290 | £230 - £450 |
| Linoleum | £210 - £300 | £340 - £480 | £530 - £750 |
| Tiles | £400 - £550 | £640 - £880 | £1000 - £1380 |
| Karndean | £600 - £950 | £960 - £1520 | £1500 - £2380 |
| Parquet | £200 - £1000 | £320 - £1600 | £500 - £2500 |
What are the Supply Costs for Flooring?
If you have a low budget in mind and wish to save money, you may want to consider installing your new flooring on a DIY basis. Before doing this, you need to understand the supply costs which are set out in the table below.
| Floor material | Cost per m2 |
| --- | --- |
| Carpet | £5 - £30 |
| Laminate | £7 - £25 |
| Hardwood | £35 - £45 |
| Vinyl | £6 - £14 |
| Linoleum | £18 - £26 |
| Tiles | £20 - £30 |
| Karndean | £50 - £80 |
| Parquet | £15 - £80 |
Types of Flooring Cost
There are various flooring options available, so it can be hard to decide which option is the best for you. To help you with your decision, here is a breakdown of the advantages and disadvantages of different types of flooring and their costs.
Carpet Fitting Costs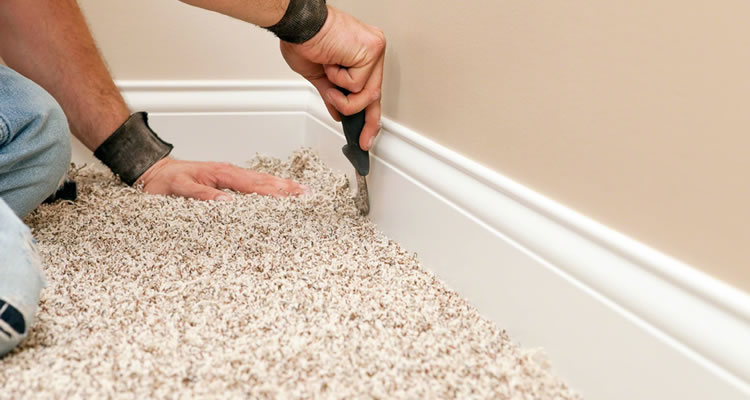 Carpet is a textile flooring which is normally made up of wool, nylon, or polyester and the average cost of carpet is around £90 to £900.
One of the main advantages of installing carpet is that it offers comfort underfoot and helps to create a warm and cosy aesthetic. It is also one of the most inexpensive options and hides dirt well in comparison to other flooring options.
A downside of carpet is that it is fairly easy to rip or burn, so it may need to be maintained or repaired regularly, therefore it is not worthwhile if you have children or pets. You may also need to have it professionally cleaned to remove any stubborn stains which can be quite costly.
Laminate Flooring Installation Costs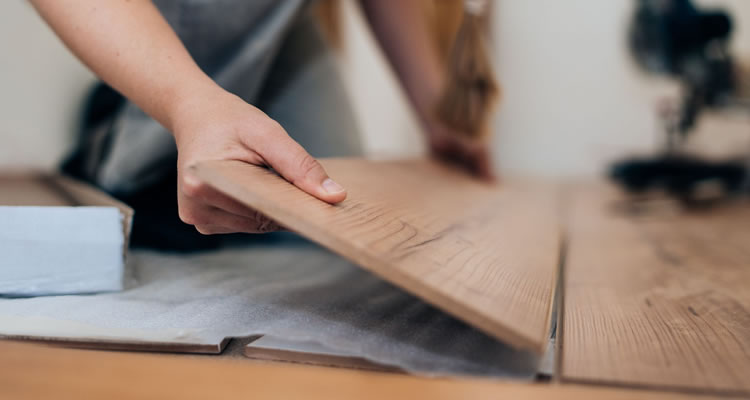 Laminate flooring is a contemporary synthetic floor solution which imitates more expensive floor options such as wood and stone. The cost to install laminate flooring tends to range from £170 to £800.
In comparison to other floor materials, the cost to lay laminate flooring is much more affordable and is normally utilised by people with a low budget who are looking for a wood aesthetic. Although, in contrast to wood, it does not fade when exposed to sunlight as it one of the most robust and long-lasting materials available.
Some people do not like the fake-looking aesthetic of laminate and instead prefer the real thing. It is also not easy to repair, as it cannot be sanded, so you may need to replace planks or the entire floor if there is any significant damage.
Hardwood Flooring Installation Costs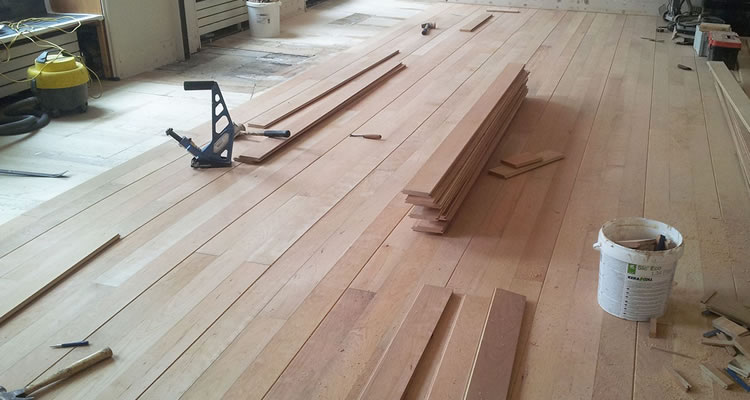 Hardwood flooring is made up of different types of solid wood including white oak, maple, beech, red cedar and more. The cost to fit wooden flooring is around £550 to £1750.
Most homeowners prefer hardwood flooring to laminate as it is the real thing and offers a beautiful aesthetic. It is also very easy to repair especially if you have scratches as the wood can be sanded and refinished.
While it is easy to repair, it is susceptible to scratches and damage caused by water which can lead to rotting. Therefore, it is not ideal for areas with heavy foot traffic as this will increase the damage and the hardwood flooring cost.
Vinyl Flooring Installation Costs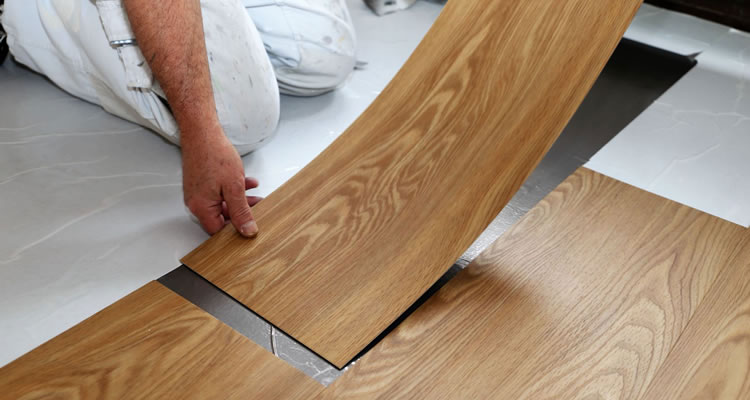 Vinyl is similar to laminate flooring; however, it actually contains all synthetic materials including fibreglass, PVC vinyl and plasticiser. The average vinyl flooring fitting cost ranges from £90 to £450.
One of the biggest selling points is that it is extremely resistant to moisture so is perfect for bathrooms, kitchen or other damp areas. It is also extremely easy to clean, as you can use any cleaning tool without the risk of damage.
A downside of installing vinyl is that the colour can fade and discolour over time if exposed to a high level of UV. If you want to change your floor from vinyl that it can be hard to remove, especially if it is glued down.
Tile Flooring Installation Costs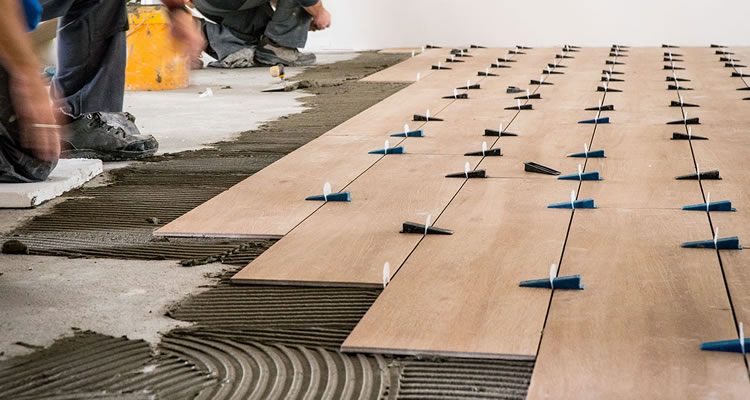 Tiles are usually made of porcelain or ceramic and are normally used for flooring in bathrooms or kitchens. Tiling installation is typically priced at £400 to £1380.
The great thing about tiles is that they are extremely easy to maintain and clean, and they are also water-resistant which is why they work so well in damp areas. They are also extremely durable and offer excellent value for money, as they are affordable and long-lasting.
Some of the downsides of installing a tile floor include the coldness underfoot, which may be worse in the winter. They can also be slippery so it may not be the best option if you have children, as it does not provide much cushion during falls.
Karndean Flooring Installation Costs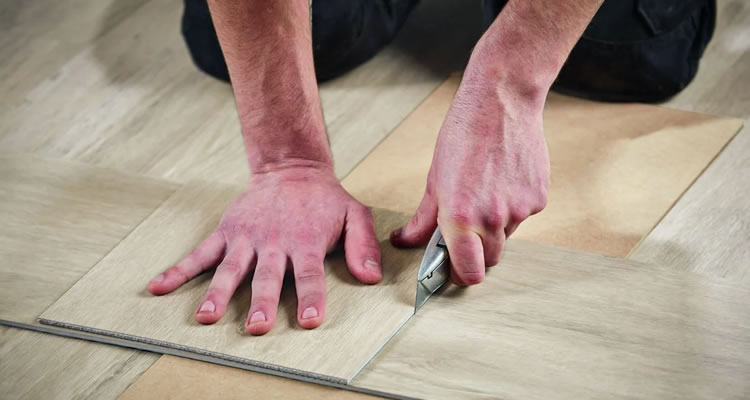 Karndean is a type of vinyl flooring which has five layers including two layers of PVC backing, a high definition printed photograph, a clear PVC embossed layer, and protective coating made of polyurethane. The average cost to fit karndean flooring is around £600 to £2400.
An advantage of Karndean flooring is that its five layers offer a level of resilience that is unmatched with other flooring options. The textured surface also enables it to improve grip which will prevent slips and accidents.
Karndean does not offer as many options as other types of flooring, so you may not get the design you want. It is also one of the most expensive options and can be hard to install, so DIY installation is not typical.
Parquet Flooring Installation Cost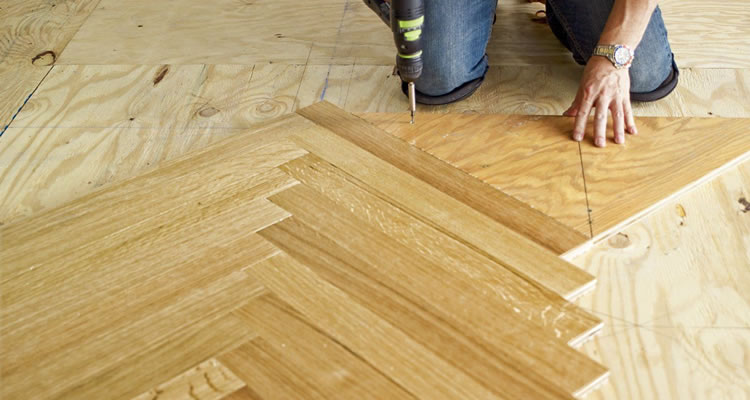 Parquet is a type of real wood flooring which is installed in a tile-shaped pattern. A typical parquet flooring installation costs from £200 to £2500.
Similar to typical hardwood flooring it offers a natural aesthetic which can completely transform the look of your property. This can add value, especially if it is located in a central living space such as the living room or dining room.
A downside of parquet floor is that it is susceptible to damage such as discolouration if located in direct sunlight, as well as scratching from furniture. To ensure it maintains its original aesthetic it will need to be sealed and refinished regularly.
What are the Additional Costs of Flooring?
There are several other costs you need to consider when installing brand new flooring, including the following:
Screeding Cost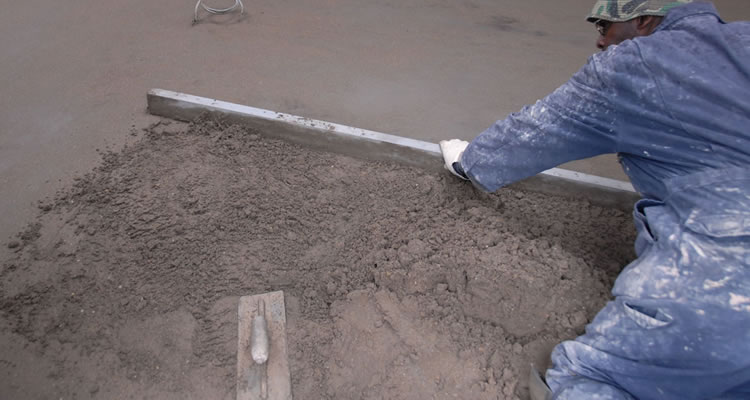 Before installing a new floor, the professional you hire will assess your floor to ensure it is in good condition. If they find that it is not level or the sub-floor is not intact, then they may need to apply screed to the floor. This normally costs around £10 to £16 per square metre, and the job itself simply involves mixing and applying cement, aggregate and water to the base of the floor to form a robust sub-floor.
Underfloor Heating Costs
Another common job that is performing during flooring installation is fitting underfloor heating. This is an advanced heating system which is installed under the floor level, which helps to heat up the room.
There are two types of underfloor heating – wet and dry – the first is connected to heat pipes which pump water through the floor and costs around £90 to £190 per square metre. The cost of a dry underfloor heating system ranges from £40 to £80 per square metre, and instead of water it has electric mats or wires which are connected to the main power supply.
New Skirting Board Costs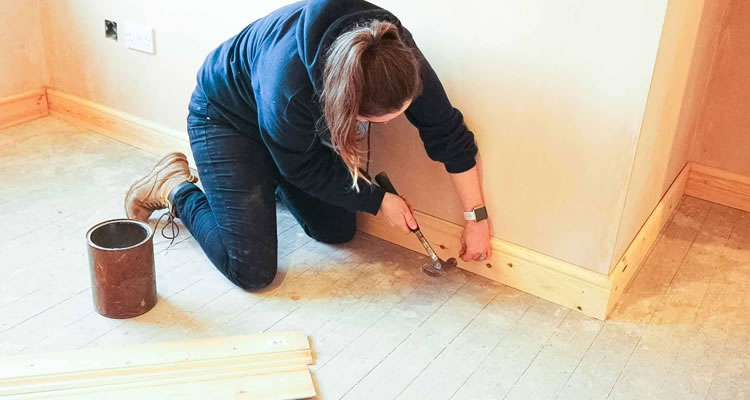 When ripping up old flooring and replacing it with a brand-new floor, you may also want to consider having new skirting boards fitted to enhance the look of your floor.
The cost of new skirting boards ranges from £6 to £15 per square metre for a professional to supply and install skirtings. The price will vary depending on the type you choose, as there are a number of options including pine, primed MDF, ogee skirting, real oak and more.
New Underlay Costs
One of the most important elements of floor installation is underlay as this what provides support and structure to your floor. You may need to have a new underlayment installed between your subfloor and main floor, which will cost around £5 to £15 per square metre.
Tradesmen Costs for Installing Flooring
One of the most important cost factors you need to consider is the price of labour, as floor installers tend to charge different rates for certain flooring types. To help you understand the tradesmen costs for installing brand new flooring, here is a price breakdown of the different floor materials.
| Floor material | Small (10m) | Medium (16m2) | Large (25m2) |
| --- | --- | --- | --- |
| Carpet | £40 - £60 | £64 - £96 | £100 - £150 |
| Laminate | £70 - £100 | £112 - £160 | £175 - £250 |
| Hardwood | £200 - £250 | £320 - £400 | £500 - £625 |
| Vinyl | £30 - £40 | £50 - £60 | £80 - £100 |
| Linoleum | £30 - £40 | £50 - £60 | £80 - £100 |
| Tiles | £200 - £250 | £320 - £400 | £500 - £625 |
| Karndean | £100 - £150 | £160 - £240 | £250 - £375 |
| Parquet | £50 - £200 | £80 - £320 | £125 - £500 |
Flooring Maintenance Costs
To ensure your new floor is long-lasting, you should consider the following maintenance costs.
Carpet Maintenance Costs
If you have a carpet installed in your living room, then you may notice some indentations caused by heavy foot traffic or furniture when rearranging a room. To prevent damage to your carpet, you should maintain it as often as possible. The best way to get rid of furniture footprints is by steaming the carpet. This can be completed by a professional which will cost around £20 to £50 per room, or you can do it yourself with a steam iron, although you need to be extra careful to avoid burning the carpet.
Laminate Maintenance Costs
After a while your laminate flooring may lose its shine, so to restore it you may want to hire a professional to apply a seal to your floor, which will add to your laminate flooring cost. To save money, you could consider DIY sealing by purchasing a laminate floor sealant for around £3 to £7 per bottle. This will not only enhance the aesthetic of your floor, but it will also protect it from scratches and scuffs.
Hardwood Maintenance Costs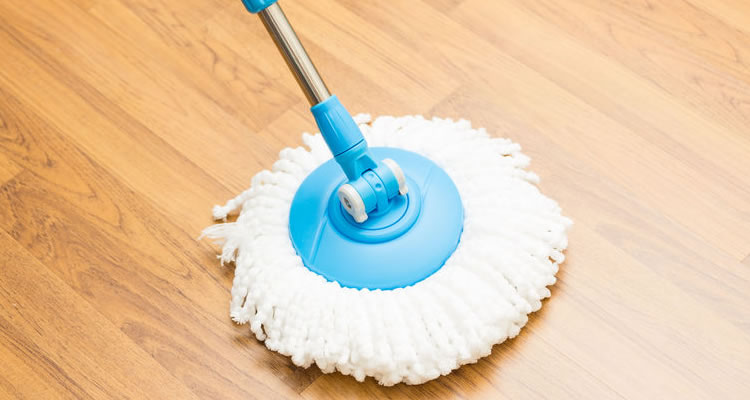 To enhance the look of your hardwood while also protecting it, you should consider applying a wood stain, which will, of course, add to your oak flooring cost. This is normally priced at £6 per square metre plus £100 to £200 in labour. By applying a stain to your hardwood, you can change up the colour scheme while also ensuring your flooring is shielded from spillages and knocks.
Vinyl Maintenance Costs
If you have had vinyl flooring, such as Karndean, for several years, you may notice that some of your tiles have become loose. This may be caused by water or dirt entering the tile seams. To prevent them from lifting, you should apply a sealant to fuse the tiles together, which should cost around £4 to £9 per litre.
Tile Maintenance Costs
The best way to maintain your tiles is by performing deep cleans at least twice a year. This includes cleaning the surface of the tiles with a heavy-duty solution which may cost around £8 per litre. You should also maintain the tile grout using a grout whitener, which normally starts from £3 per bottle.
Floor Cleaning Cost
Cleaning your floor is extremely important, as it helps to avoid damage caused by stains, spills or any other marks. To help you clean your floor properly, take a look at the following guide for different types of flooring.
Carpet Cleaning Costs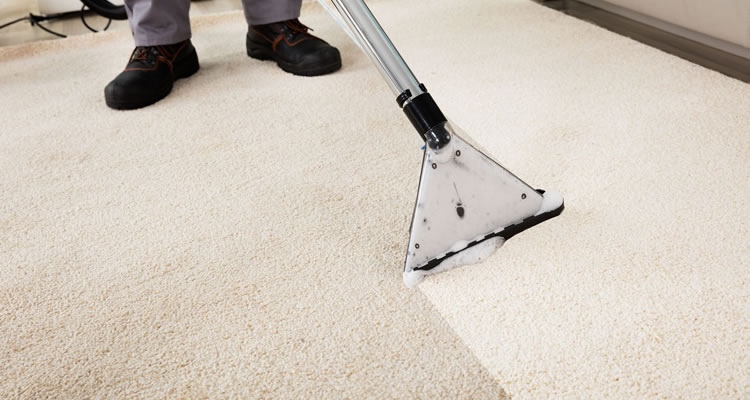 It is important to clean your carpet regularly, which includes vacuuming and removing any stains straight away. You should also perform an in-depth clean once a year to remove any stubborn stains and enhance the look of your carpet. You can hire a professional carpet cleaning company to do this, which normally ranges from £20 for a small bedroom and up to £40 for a large front room.
Laminate Cleaning Costs
It is important to clean your laminate floor regularly, as this type of floor is not waterproof, so if you spill anything it needs to be wiped up straight away with a damp cloth. You should also avoid using harsh cleaners and instead use a laminate-friendly cleaner which normally costs around £1 to £4 per bottle.
Hardwood Cleaning Costs
To remove any dust and debris from your hardwood floor, you should try to vacuum it regularly and use a damp mop to remove any stubborn stains. To ensure they are removed, you should use mix a hardwood-friendly solution with warm water. The average cost of hardwood cleaners is around £1 to £7.
Vinyl Cleaning Costs
You should take great care when cleaning a vinyl floor, especially right after installation as it will still be settling in. If anything spills on your floor, then this should be cleaned up immediately with a damp cloth. For stubborn stains, you should use a vinyl floor cleaner which you can purchase from your local DIY store for £7 to £14 per litre.
Tile Cleaning Costs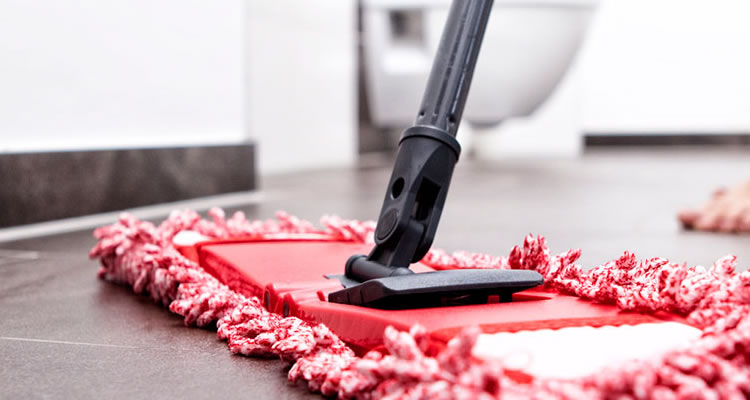 To prevent a build-up of mildew and dirt, you should try to clean your tiles regularly with warm water and a mild tile cleaning solution which you can purchase for around £2 to £6 per bottle.
Flooring Repair Cost
Over time your flooring may be more susceptible to damage. In some cases, flooring can be repaired which may cost a significant amount depending on the type of flooring you have and the extent of the damage. To help you understand the costs, here is a breakdown of the different types of repairs for various flooring types.
Carpet Repair Costs
If you have had your carpet for a long time, you may start to notice damage such as rips or burns that may be able to be repaired. Common repairs include re-tufting, which is the process of removing damaged carpet tufts, preparing the area and installing identical carpet material. This normally costs around £60 to £70 for a professional company to repair your carpet.
Laminate Repair Costs
If you have any scratches on your laminate flooring, then you can contact the trader or company who fitted your flooring and ask for a repair kit that matches your floor. The cost of laminate flooring repair kits a £4 to £7 per kit. While you can do this yourself, you may have to hire a professional for a bigger job such as replacing a laminate floor plank, although you should only do this if the floor is significantly damaged.
Hardwood Repair Costs
To protect your hardwood floor and remove stains or dents, you should consider having it sanded and refinished. The wooden flooring cost for repairs is around £25 per m2 plus £100 per day in labour costs. This will replenish the look of your hardwood flooring while also removing any imperfections.
Vinyl Repair Costs
Over time you may find some scratches on your vinyl floor which look unsightly. To repair scratches yourself, you can purchase a vinyl floor repair kit for around £12 to £15. Before buying a kit, it is important you choose a product that matches the colour of your existing flooring.
Tile Repair Costs
If you notice that any of your tiles are loose, this may be caused by failed grout. You can either replace the grout yourself or hire a professional tiler who will charge around £18 to £20 per hour to fix grout or even replace broken tiles if need be.
How Long Does It Take to Install Flooring?
Another important element to consider when having a new floor installed is how long it takes, as this will also determine the final cost. The below table sets out the time frames for different types of flooring
| Floor material | Small (10m2) | Medium (16m2) | Large (25m2) |
| --- | --- | --- | --- |
| Carpet | 6 hours – 1 day | 1 – 2 days | 2 – 3 days |
| Laminate | 3 – 6 hours | 6 hours – 1 day | 1 – 2 days |
| Hardwood | 1 – 2 days | 2 – 3 days | 3 – 4 days |
| Vinyl | 5 hours – 1 days | 1 – 2 days | 2 – 3 days |
| Linoleum | 5 hours – 1 days | 1 – 2 days | 2 – 3 days |
| Tiles | 4 hours – 1 day | 1 – 2 days | 2 - 3 days |
| Karndean | 1 – 2 days | 2 – 3 days | 3 – 4 days |
| Parquet | 1 – 2 days | 2 – 3 days | 3 – 4 days |
How Much Does It Cost to Remove Flooring?
If you want to replace your floor, then you will need to remove your old flooring first. The cost of removal will vary depending on the type of floor you have, for instance, a carpenter will charge around £13 per hour to remove laminate flooring. To remove carpet, you should expect to pay around £1 to £4 per square metre, while the wood flooring cost is around £2 per square metre.
These costs may also include waste removal, although, if not you may have to pay around £70 to £180 for professionals to take your old flooring away.
FAQs
Q: What is karndean flooring?
A: Karndean is a type of luxury vinyl flooring which features five textured including a HD photographic layer, A PVC clear embossed wear layer, two pieces of PVC backing and a polyurethane protective coating. This type of flooring is not only highly durable due to its multiple layers but is also extremely flexible and can be used for almost any flooring application.
Q: How much flooring do I need?
A: The amount of flooring you need will depend on the size of your room, so you will need to measure it before ordering anything. To measure your floor properly, you will need to establish the length and width of the room and calculate the size of the room in square metres.
Q: How thick is vinyl flooring?
A: Vinyl flooring is available in various thicknesses ranging from 2mm to 8mm, although some options are much thicker. When purchasing vinyl flooring it is important to remember that the thickness of the floor has nothing to do with its durability, and instead focus on the actual materials.
Q: How much extra flooring should I order?
A: When ordering flooring, you may want to consider ordering more than you need, should any damage occur, and you need it to be prepared with the same material. Flooring experts advise that you should purchase 10% more flooring if your space is less than 100 square metres or 7% more for living areas larger than 100 square metres.
Q: Can flooring be installed over carpet?
A: Most professional floor installers will rip out the old flooring before installing the new one, however, if you want to save money it is possible to install laminate flooring over carpet. However, before the installation, the tradesman will check if the carpet's thickness is less than 1/4 inches, because if not the carpet will need to be lifted.
Sources