How Much to Hang a Door?
So, you're in the process of replacing or hanging new doors and need some cost advice?
Typically, the cost of hanging an internal door will vary depending on the type of door you choose.
What will this article cover, exactly?
This article will delve into door hanging costs for different door types, supply and labour costs, door maintenance, removing a door and even the cost of pet flap installation.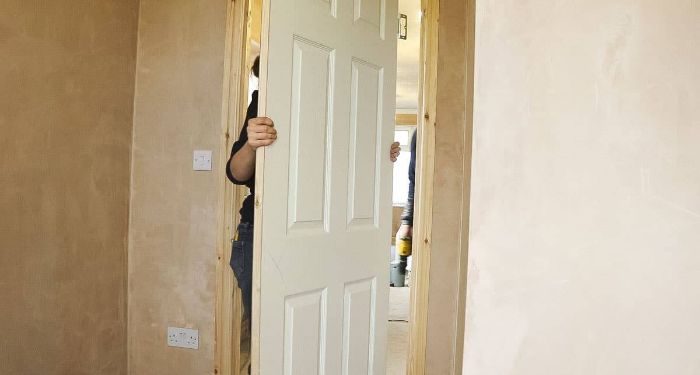 Some are suited to lower budgets which start at around £40, while more luxurious options are available which cost up to £3800.
Here are some popular internal door options:
Bi-fold Doors
Bi-fold doors are unique doors designed to exude class and style.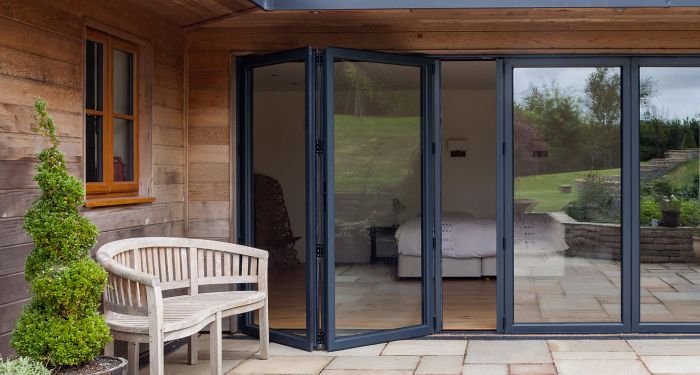 For this reason, they are considered one of the most expensive kinds of entries in the world today. These doors are large, with double thickness for extra security.
Their cost starts from £2450 and can get as high as £2,600.
If you're looking for the best bi-fold doors check out our review article to find out the best bi-fold doors available.
Flush Doors
Flush doors are another kind of structural door. Unlike the bi-fold units, these doors are smoother in design, less intricate, and as such, they cost less.
We use such doors for internal purposes since they're less elaborate. their range begins from £70-£140.
Panel Doors
Doors with panels are often used as internal doors. The typical interior door is made from either pressed hardboard or wood and is designed in many ways for the buyer's taste.
The cost of this swinging door begins at £90 and goes as high as £150.
Cottage Doors
Cottage doors, depending on the style and condition of their frames, are priced differently. These decorative doors are used in most houses for a more traditional feel.
Due to the particular nature and the artistry used in the creation, they are priced £40-£45, per unit, with installation being priced at £140- £550 per door.
Ledged Doors
The average installation cost for all ledged doors is slightly higher than the typical door. This is because of how they're built, and the craft level required.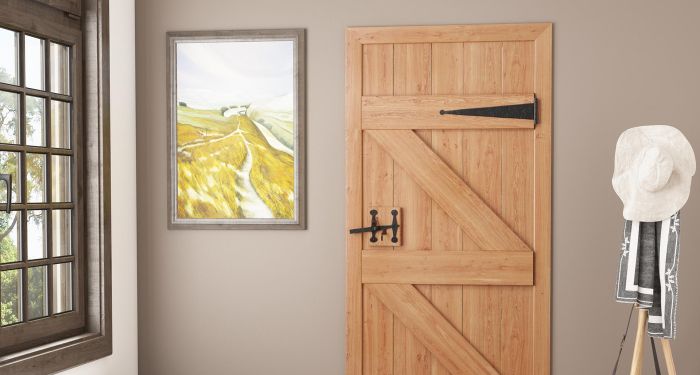 If you wish to install some ledged doors in your home, be willing to invest £2200-£3800 for the total cost, per door.
Hanging Door Prices
The costs in the table below include the supply cost of the door too:
| DOOR TYPE | PRICE |
| --- | --- |
| Bi-fold doors | £2450-£2600 |
| Flush doors | £70-£140 |
| Panel doors | £90-£150 |
| Cottage doors | £140-£550 |
| Ledged doors | £220-£800 |
What are the Supply Costs for Door Hanging?
The supply cost of any product refers to the charge placed on its purchase per unit.
From doors to roof materials to door handles, each unit comes at a price, which is determined by the manufacturers.
When searching for a supplier for your doors, it is best to find a salesperson near you, since it helps reduce your transport cost.
Bi-fold Door Supply Costs
If you ever consider using bi-fold doors in your home, you should be ready to put a lot of money aside for their supply, installation, and maintenance.
These classic doors have, over the years, increased in demand due to trends and changing times. In recent times, however, the demand has reduced and, in turn, the prices too.
A typical bi-fold door now costs between £1800-£4500. What was once a luxury is now affordable to all of us.
If you'd like to know the installation and labour costs of installing different types of patio doors, check out our patio doors cost guide.
Flush Door Supply Costs
All doors that are termed flush are usually very inexpensive. Per unit, a flush door can cost between £96 and £200, depending on where you make your purchase.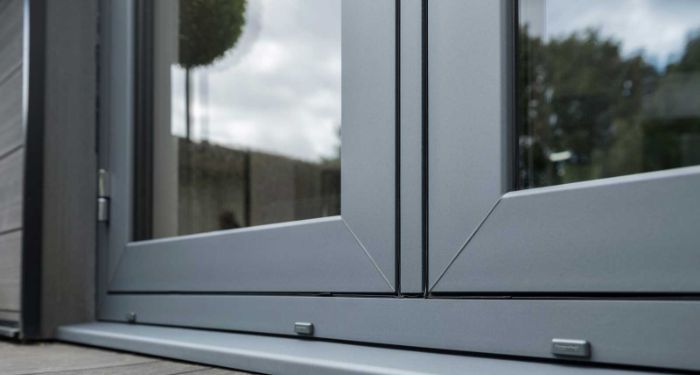 These doors are available in large quantities all over the UK, which is why they don't cost so much.
Panel Door Supply Costs
The supply costs of a panel door only, without installation and the absence of labour costs is also very cheap for many.
Their supply costs begin from £250 and can go as high as £280, for the PVC version. The timber and composite panel doors cost more, with a range of £1,500 to £2,000.
Cottage Door Supply Costs
Necessary supply costs for cottage doors cost £250 to £550 per unit.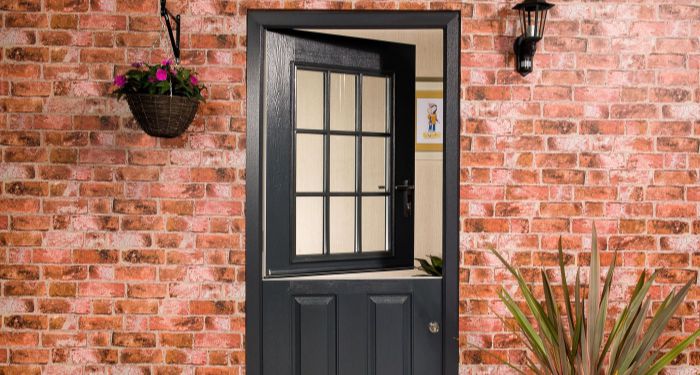 These doors come with new hinges, knobs, and other hardware, which is why their price is higher than the typical hanging door.
For custom cottage doors, the price goes higher, with a range between £500 and £2,000.
Ledged Door Supply Costs
Ledged doors are beautiful internal doors often made from the best wood in the world. With a choice like oak in the picture, it comes as no surprise that heir supply costs reach the roof.
A typical ledged roof has its supply cost staring from £129 to about £550 per door.
Fully-finished Door Supply Costs
A fully-finished door once already made comes with a supply cost ranging between £500 and £750.
Still, if you wish to have custom-built doors, you should be prepared to invest approximately £850-£1,200 for the entire customization process.
Unfinished Door Supply Costs
Unfinished doors are those that don't have any coating or finish on them. These are used mostly indoors due to their low susceptibility to bad weather.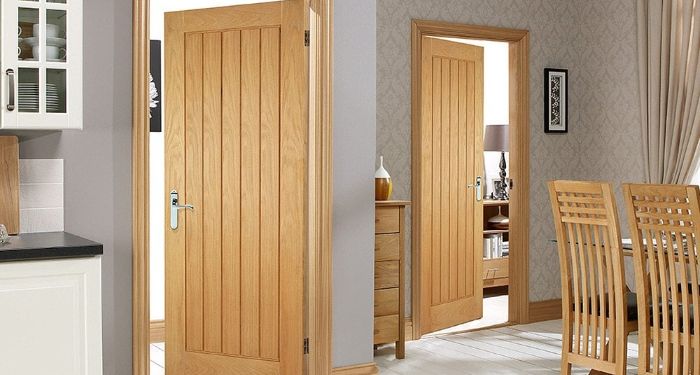 The supply cost of unfinished doors is between £85-£500, and this depends on the chosen material, size, and transportation.
Primed Door Supply Costs
The primed door is your answer if you wish to add more aesthetic and value to your home. Such door glistens and gives off an elegant look that one can't help but admire.
The supply of such doors is on the high side, because of their intricacies and the priming done on its surface. A typical supply price begins from £990 to £1,450.
Door Handles Door Supply Costs
Without door handles, some doors can't be operable. These units are versatile as they come in varying sizes, shapes, and designs.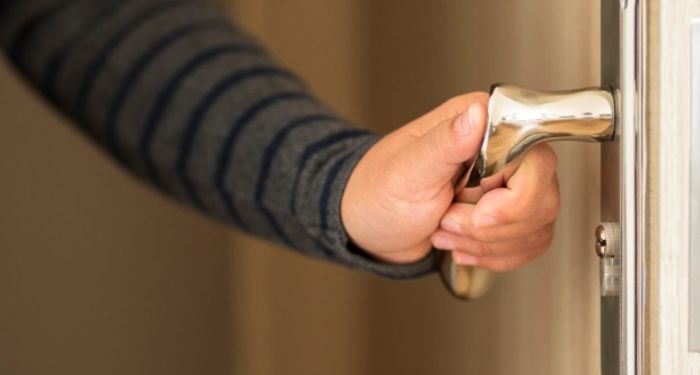 Depending on your preference, the supply cost will change drastically. On average, the supply cost of door handles stands at £10-£300, with some suppliers demanding more.
What are the Additional Costs of Hanging a New Door?
Hanging a new door takes a lot of skill and precision to get the perfect fit, hence why the cost of hanging a door varies.
If there are any mistakes, it could cost you in the long run and, in turn, lead to wastage of money on unnecessary repairs and maintenance.
Besides the door itself and craft, other additional costs come with the door installation process.
Replacing/Building a Door
You might be moving into a new house; with existing doors you wish to change. The process of replacing a door involves removing the first one, purchasing a new one, and installing it.
With these three different processes, a lot of money comes to play to ensure efficiency and success. The cost of building or replacing an old roof stands between £99 and £218.
Plastering
You may need to plaster your wall once a door has been installed. Or for a better term, priming and finishing. These processes are done after the manufacture of your door.
They're undertaken to enhance the durability of your door, making it able to withstand high pressures from the weather and the season's change.
This additional cost ranges between £400 to £700.
Interior Painting and Decorating
Decorating your door can be done in a million ways in accordance with your preferences and taste. You could paint, have actual designs on the doors, or do any other thing you deem fit.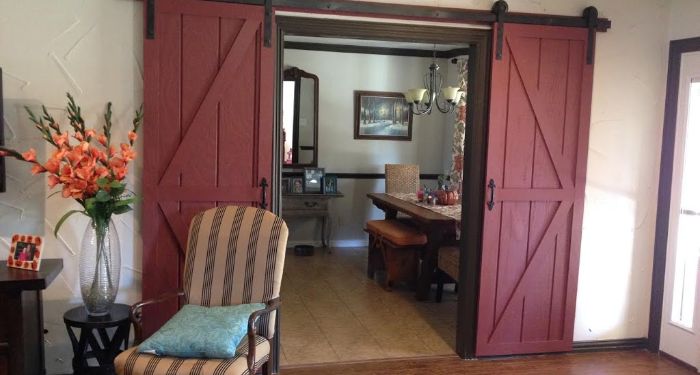 For such a process, you'll need a skilled and reliable artisan—such tradespeople charge between £400 to £950 for their craft per day.
Door Frames
The door is always incomplete without its frame, which is why the door frame is a necessary additional cost every homeowner and door dealer should consider.
Installing a new door frame for interior doors ranges between £255 and £600. The price goes higher for exterior doors, starting at £628 and going as high as £950.
Skirting Boards
Depending on the skirting material, which is going to be used, the average cost of skirting installations ranges between £400 to £3000.
Besides the choice of material, other determining factors are the size of the home and the ground conditions.
Tradespeople Costs for Hanging A Door
Hanging an internal door, as stated earlier, is no small feat. You need the best tradespeople in your area to help you with the level of precision and knowledge required for flawless installation. Researching online is one of the best ways to find such people without making any commitment.
Labour and installation costs only:
| DOOR TYPE | INSTALLATION COSTS | LABOUR COSTS |
| --- | --- | --- |
| Panel | £200-£1,000 | £600-£2,800 |
| Ledged | £500-£1,000 | £750-£2,000 |
| Flush | £200-£500 | £500-£2,000 |
| Cottage | £800-£1,500 | £1,000-£3,500 |
| Bi-fold | £100-£300 | £150-£500 |
The hourly and daily rate of a carpenter or joiner:
Per hour, joiners charge different rates, about their current location and the job at hand. The minimum cost joiners can charge for installation of hanging doors is £20, while the highest cost chargeable is £30 per hour.
Per day, they will charge between £160 to £240.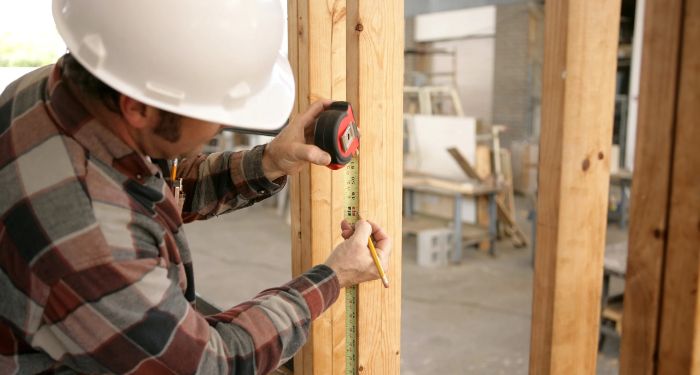 This number will rise if you have more doors to be installed, as well as the kind of door that's being installed.
How Long Does It Take to Hang A Door?
Installing a door on average takes about 6-8 hours to complete. From measuring the space to installing frames, decorating and painting, and all additional installations, you're sure to spend up to 8 hours working on a single door.
The time reduces when there's no need for a trim or painting.
What Does the Duration Depend On?
The duration of door installation is dependent on many things. Some might be little or trivial at the inset, but they play a significant role in how the installation will turn out.
No one wants to have a crooked door or one that's hinged incorrectly, making it creak deep into the night.
Size of Door
The first thing that affects the duration of door installation is the door size. The bigger, longer or wider the door, the more time is spent on getting it into the perfect position.
Exterior doors, being the biggest in most cases, take longer to install than interior doors.
The Number of Doors
Your front door might take two hours to install, because of its size. What about the ten other doors that need fixing.
The second factor which affects how long your door installation will be is the number of doors you need to work on.
More doors mean the use of more time. Luckily, if you have many tradespeople working at the same time, they can reduce the installation time drastically.
Type of Door
There are different types of doors, and each type requires a different skill, knowledge, and installation technique, all of which come at a cost.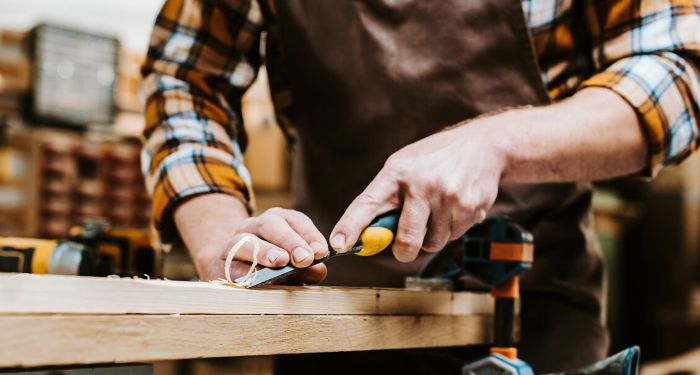 Be sure to research the costs involved with installing your favourite door type before making any commitment.
Choosing a Door
There are many different door types in the system; some categorized because of their material choice, others because of their structure, and others still because of both.
We highlight some of the most common doors used in homes, their advantages or lack thereof, and how much it costs averagely to have them installed.
Bi-fold Door Costs
The first door is the bi-fold door, which is very exclusive in design. These doors have frames made from materials such as timber, PVC, and aluminium.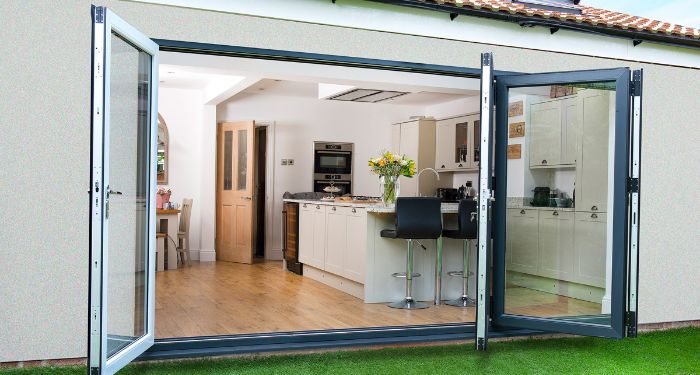 They come in sizes from 1.8 m to 4.8 m, with double thickness to protect your interior against the weather.
For all dimensions, the cost of installation is around £600, reaching up to £1,000.
Pros:
Bi-fold doors are made from thick, durable materials; thus, they last longer than other door types.
They are pricey at installation, but with close to no maintenance needed, these doors offer you long-term value.
Cons:
When starting, installing bi-fold doors in your home is a costly thing to do.
Their installation process requires extra precision and skilled personnel; else, you'll experience damages after a while.
Flush Door Costs
Any door that doesn't have raised mouldings or individual panels is called a flush door. These doors are designed to give panel effects, through their stylish modern designs and design grooves.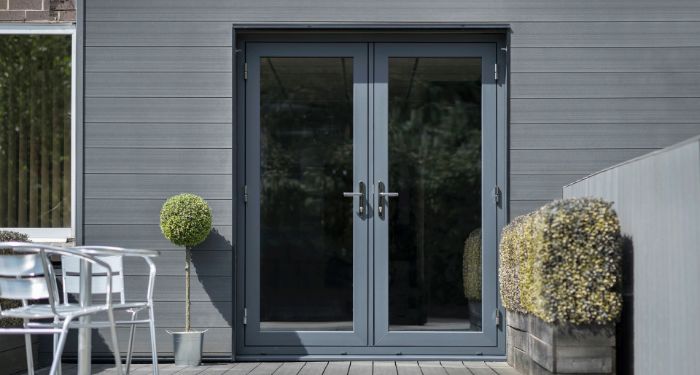 They are made from the best hardwood but are lower in price when compared to the bi-fold doors.
The installation range for typical flush doors stands between £700 and £1000.
Pros:
Flush doors are straightforward and affordable to install. They don't require any extra skill, as such labour costs aren't very high.
Flush doors come in a variety of designs and colours to suit all persons and pockets. They also have an almost everlasting finish, which eliminates the need for regular maintenance.
Cons:
Flush doors aren't as thick as bi-fold doors; thus, they're better used inside. If used as an exterior door, it'll require more treating and painting to keep the effects of the weather at bay.
Some designs and colours of flush doors are costly.
Panel Door Costs
The most common doors are probably the panel doors, so they're very easy to spot from a mile away.
Such doors feature a wooden frame with shutter panels that are also made from plywood, wood itself, or hardboards.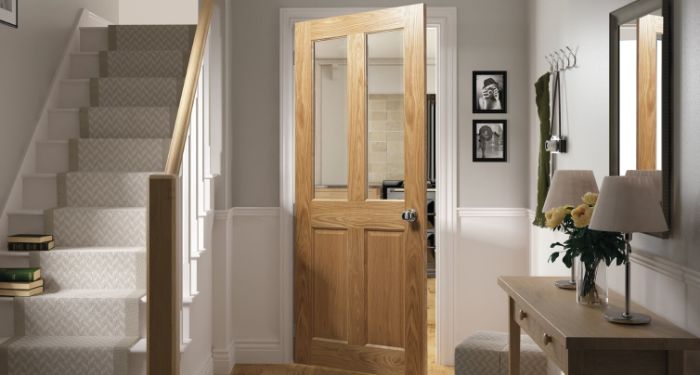 In ostentatious cases, you can have the panels being made from glass to add a little variety to your home's aesthetic.
Installing panel doors come at an average cost of £200 to £550, depending on the size and type you opt for.
Pros:
The panel door is very common, making it easy to purchase and cheap to buy in bulk.
Since it is well known, many tradespeople have all the required skills to install it to precision without any arising issues.
Panel doors offer a variety of different tastes and pockets.
Cons:
The installation period might take some time, especially if you're dealing with doors that have glass panels.
Also, the panel doors require more maintenance than normal, and this comes at another cost.
Cottage Door Costs
Most cottage doors are used all around the world for both contemporary and traditional properties. These doors offer a design that significantly complements period properties and barn conversions.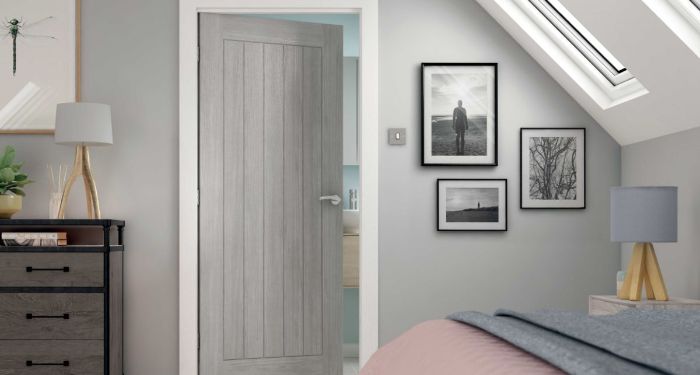 Cottage doors are made with sustainable and highly efficient materials; thus, they last for a more extended period after installation.
Installing a cottage door is averagely priced between £970 and £1,550.
Pros:
The cottage doors add a traditional touch to your home. When designed appropriately, they can blend perfectly into your home exterior.
Cottage doors are highly sustainable and don't pose any threat to the environment when manufactured, distributed, or installed.
Cons:
The cottage door is versatile but intricate in its installation. This means it requires extra skill that comes at an additional cost.
Some people may consider cottage doors are ancient or outdated. They're often seen as bulky doors to many and, as such, aren't purchased regularly.
Ledged Door Costs
The ledged door is the last door type, which is described as a door without stiles. This door design features a vertical construction, featuring vertical boards held together via horizontal battens.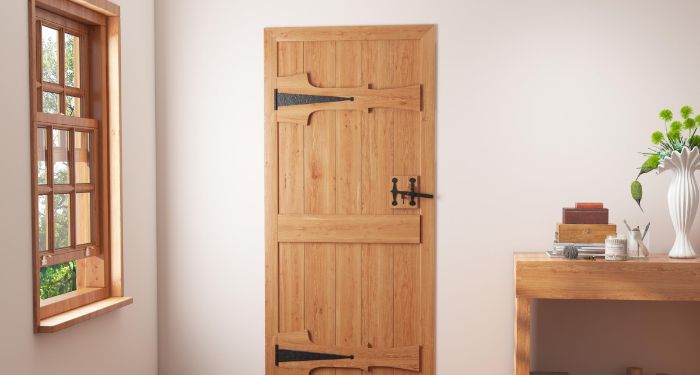 There are two of these battens on the backside of your door. Many people refer to these doors as ledged doors, batten doors, or unframed doors.
Purchasing and installing a ledged door in your home comes at an average cost of £450 to £790, depending on the size and style chosen.
Pros:
The ledged door is well braced; thus, it can withstand all pressure and forces exerted for a long time.
Ledged doors are considered a worthy investment because they don't require regular maintenance. This allows you to save money for future purposes.
Cons:
These doors are slightly on the expensive side, for both supply and installation. For this reason, they're used strategically around the home.
How Much Does It Cost for Door Maintenance?
After installing and using your doors, you'll have to engage in some form of maintenance.
The safest kind is the one done periodically, to help avoid the springing up of significant issues.
In some cases, when these periodic maintenance sessions aren't held, damages can occur and will need to fix immediately.
Hinge Maintenance
The hinge is a significant part of every door. To ensure that your door stays in great shape and is always in the best position, your hinge will still have to be appropriately maintained.
Installation of your hinge by a professional usually costs between £34.49 and £77.50.
Painting Interior Doors
The second form of maintenance, which is essential to keep up the aesthetics of your door is painting or decoration.
This is usually for exterior doors, which are the first thing the eye sees when before entering your home.
The cost of painting an average-sized door ranges between £50 and £200 depending on the kind of paint or art you want.
Varnishing Timber Doors
The pricing attached to varnishing of doors is relative to the number of doors you have and the size of each door to be painted with varnish.
Varnishing a door ranges between £200 to £300 per door, and most contractors are charging per the hour.
Glossing Skirting Boards and Door Frames
Another process that we take doors through is one that involves glossing. Glossing is done to the door frames, and skirting boards prevent moisture from seeping into the material, maintain the door's elegant outlook, and reduce maintenance in the long run.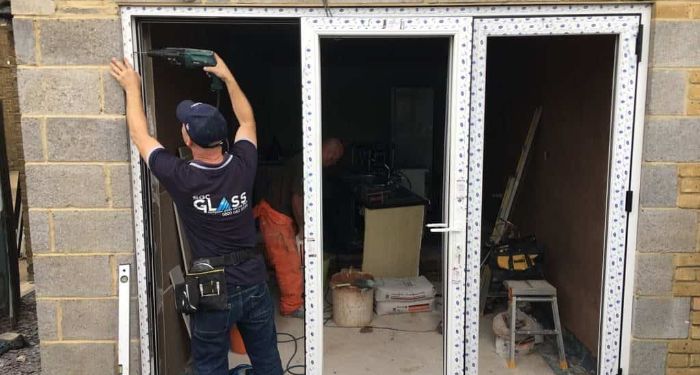 This process must be done periodically, with every session costing approximately £50-£300. Exterior doors have a higher cost range, often between £300-£500.
How Much Does It Cost for Door Repair?
When doors are damaged with enough room for saving, we repair them. Repairs are needed when doors are not closing properly, they're sticking, or they've been punched in.
No matter the type of damage, there's always a tradesman to help restore your door to a state of normalcy.
Hinge Repair
Your old hinge is rusted, faulty, or simply broken. Fixing such an issue is very affordable, depending on the tradesman you employ.
To repair a single hinge, be prepared to pay between £34.90 and £77.50
Door Not Closing Properly
When a door won't close fully or as expected, chances are there's an issue with the door itself or how it's been connected.
Rectifying such a situation will require repairing the door frame. Depending on the kind of door, you'll use a different framing system.
For sliding door frames, the estimated cost averages £151-£500. Exterior door frames cost an average of £159-£450 to repair, while interior doors cost £144 to £600 for repairs.
Sticking Door
Repairing a sticking door costs between £82 to £165, with the price being dependent on how damaged the door is initially—the more the damage, the higher the cost, and vice versa. Also, the type of door determines the total cost. For sliding doors, repairs range between £100 and £250.
French doors are repaired at a price of between £180-£210.
Hole in a Hollow Door
The cost of repairing a hole in a hollow door can vary. Again, the price will depend on how big the hole is and how damaged the door is.
This door repairs table below will further assist.
| NATIONAL AVERAGE | £221 |
| --- | --- |
| Typical Range | £118 - £325 |
| Low End - High-End | £50 - £600 |
Pet Flap Installation Cost
If you have pets like cats and dogs at home, you may wish to offer them easy access into and out of your house through your door.
For this, a pet flap is necessary. Installing these units involves taking away a part of your door.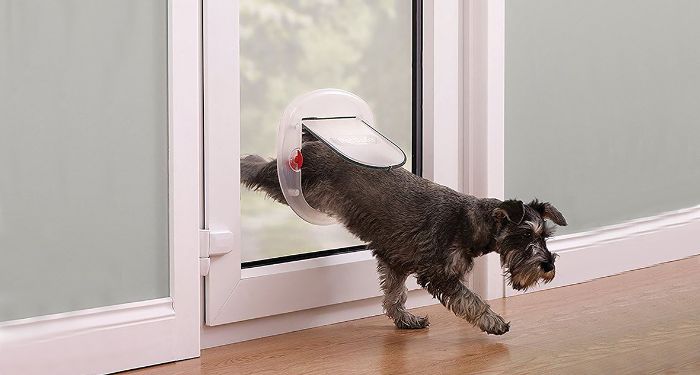 Some door manufacturers design their doors with this in mind and, as such, make space for it at the bottom portion of your door.
To install such doors, you'll require an expert in pet flaps, and these tradespeople typically charge between £500 and £1,300 for their installation.
How Much Does It Cost to Remove a Door?
From installation to maintenance and repairs, we move on to removal. This is when you want to change your doors completely or install new ones into empty opening spaces.
Removing a door comes at a different cost from installing it, even though it is cheaper.
The removal of doors costs about £40 to £100 depending on the door type and size.
FAQs
Q: How is hanging a fire door different from a standard door?
A:Standard or regular doors are made with a combination of veneer and wood batons.
These two elements are pasted together with glue, and then primed or varnished to give them some added anti-fire properties.
The fire door, on the other hand, features a unique construction in which the door is made up of different materials like glass, steel, aluminium, gypsum, and many more. These doors are built to hold fire for as long as possible, making them ideal for emergencies.
Q: What is the size of a standard UK door?
A: The standard size of a door differs from one country to the other in accordance with their laws.
There are different kinds of conventional chairs for the United Kingdom, and each one has a different but unique dimension.
Q: How tall is a door?
A: Door heights vary from one door to the next. The different heights are designed to make them suitable for different spaces, both high and low. Standard doors we have in our homes have a height of 6 feet, 8 inches.
This consists of the top jamb, a shim space, finish flooring, and the thickness of underlayment. All these features come together to determine the overall height of your door.
Q: What is the door jamb?
A: A door jamb, in many words, is referred to as a doorpost. The door jamb is a part of the door frame.
It is vertical by design, and it's designed to accommodate and secure your door when installed.
Without the jamb, your door won't stand perfectly; neither will it close and open silently.
Q. Do doors add value to a home?
Like every other part of your home, the door has a high tendency to increase your home's market value.
The state of your doors, especially the exterior, makes a statement to people interested, while interior doors help them decide whether or not the house has been adequately maintained. Any investment doesn't to your doors is a step in the right direction because it is bound to reap you higher profits in the future.
Sources