How Much Does It Cost to Install an Electric Garage Door?
The price of an electric garage door installation can change vastly depending on the specifics of what you want.
If you want a simple up and over steel garage door, you can expect to pay around £1,200 depending on the location of your home. If you would prefer a high-end aluminium round-the-corner garage door, you can expect to pay upwards of £4,000.
Electric Garage Door Installation Prices
Below is a table that gives you an idea of the prices you're likely to pay for different garage doors. Remember, these prices can fluctuate based on several factors that we'll explore throughout this guide!
Window Type and Size
Average Cost
Material
Supply Only Price
Up & Over
Single
Timber
£1500-£1800
Steel
£900-£1000
GRP
£1300-£1500
Double
Timber
£2700-£3000
Steel
£2200-£2600
GRP
£3000-£3300
Steel Roller
Single
Steel
£1250-£1400
Double
£2000-£2200
Insulated Aluminium Roller Shutter
Single
Aluminium
£1500-£1800
Double
£2400-£2600
Side Hinged
Single
Timber
£2000-£2200
Timber/Steel
£1450-£1650
Steel Double Skin
£1700-£1900
Sectional
Single
Steel
£1200-£1400
Insulated Steel
£1950-£2150
Double
Steel
£2200-£2500
Insulated Steel
£2900-£3200
Round the Corner
Single
Steel
£2500
Aluminium
£3000-£3200
Double
Aluminium
£3700-£4000
What are the Supply Costs of an Electric Garage Door Installation?
First of all, let's just look at the supply only costs of electric garage doors. This is simply the cost of the products required to complete the job without adding any labour costs.
Now, the cost of different garage doors is dependent on two factors – the material and the style of the door.
For example, a simple up and over garage door is pretty much the cheapest style of garage door as it is made up of a single panel and doesn't require any complicated mechanisms to go with it. This style of door typically comes in three materials – timber, GRP (Glass Reinforced Polyester) and steel.
Steel is the most inexpensive material due to the abundance of it on the market, and it is easy to work with, whereas timber is one of the most expensive materials due to work required to get it ready for use on homes.
In contrast, round-the-corner garage doors are quite complex, as they require different mechanisms and systems, which raises the cost of the product. This type of door tends to come in either steel or aluminium.
Another important aspect of electric garage door supply costs is the size of the garage door. For example, if you only have a small garage, you're only going to need a single garage door or a small one for a single panel door.
If you have a large garage, you may need to opt for a double garage door to fill the space, and make it easier to operate and install.
The below table sets out the supply costs of different garage doors and sizes.
Window Type and Size
Average Cost
Material
Supply Only Price
Up & Over
Single
Timber
£1200-£1300
Steel
£700-£800
GRP
£1050-£1150
Double
Timber
£2250-£2350
Steel
£1750-£1850
GRP
£2450-£2550
Steel Roller
Single
Steel
£950-£1050
Double
£1550-£1650
Insulated Aluminium Roller Shutter
Single
Aluminium
£1150-£1250
Double
£1950-£2050
Side Hinged
Single
Timber
£1750-£1850
Timber/Steel
£1200-£1300
Steel Double Skin
£1400-£1500
Sectional
Single
Steel
£1200-£1400
Insulated Steel
£1750-£1850
Double
Steel
£1750-£1850
Insulated Steel
£2450-£2550
Round the Corner
Single
Steel
£2450-£2550
Aluminium
£2750-£2850
Double
Aluminium
£3200-£3400
What are the Additional Costs of Installing an Electric Garage Door?
There are a few additional costs associated with the cost of installing an electric garage door. Now, these aren't things that will apply to every circumstance, but we have found that these types of projects go hand-in-hand with electric garage door installations.
New Garage Build
The first associated cost is a new garage to go around your new electric garage door! Now, you may have an existing garage that is falling apart or simply the space for a garage build; both are very popular projects amongst homeowners.
A standard garage of around 18sqm will cost you anywhere between £3,600 and £7,400 for the entire job. If you have more space to utilise, you may want to consider a double garage, which would cost between £6,000 and £12,800.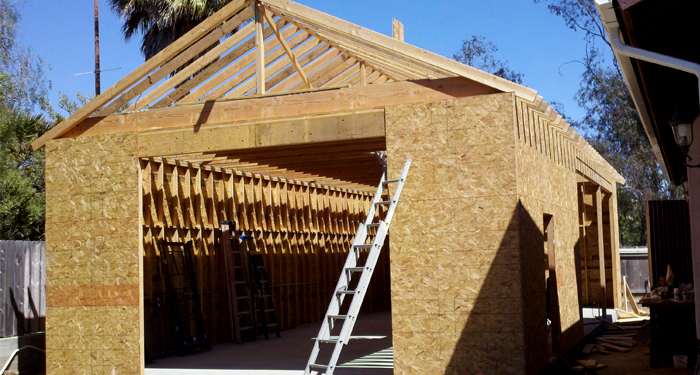 Of course, the price differs depending on a few factors such as labour costs, the location of your home and the materials that you use for the build.
A concrete garage, for example, will end up costing less than that of a brick garage, but this all depends on the budget you have, and the contractor you hire.
New Driveway Cost
So, you're installing a fancy new electric garage door to transform the look of your garage and to make your life easier, but why not add a new driveway?
A new driveway doesn't cost as much as many people think, and it's a great way to really upgrade the look of your home and increase its kerb appeal.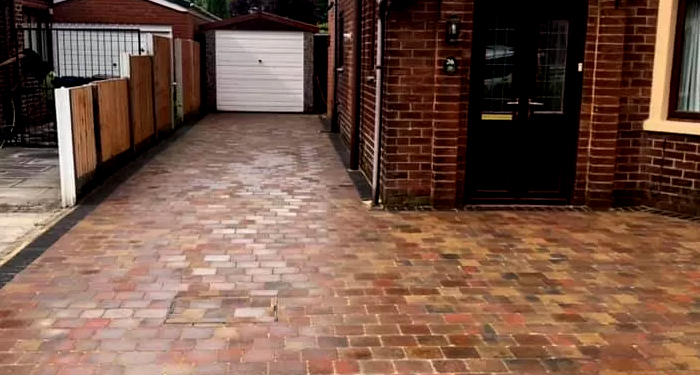 A new tarmac driveway, for example, will cost you between £1,200 and £1,800 for a small driveway of around 30 square metres.
Of course, if you have more in the budget, you can have a much higher-end driveway installed, such as a block paving driveway which is around £2,100 to £3,000 for a 30 square metre driveway.
Tradesperson Costs for Fitting an Electric Garage Door
Tradespeople will charge different rates across the country, with densely-populated cities like Manchester and London attracting far higher rates than small towns and villages, and there are a few reasons for this.
Firstly, the cost of living in those areas are far higher than in others, for example, a two bedroom flat in the centre of London will cost five times more than it would in a small northern town.
Secondly, the density of population in those areas means there is far more demand for contractors than there is for customers, meaning that tradesmen can charge higher prices knowing that they are in demand.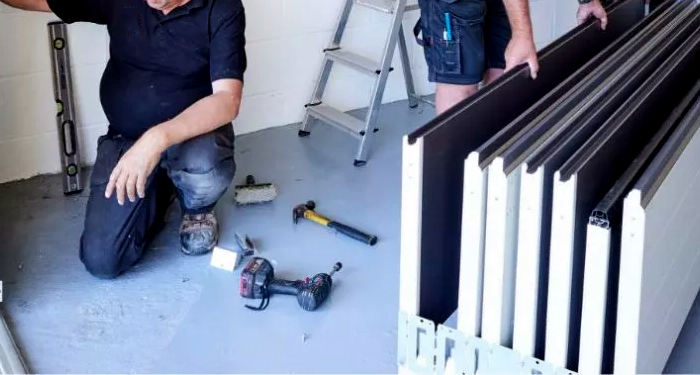 Lastly, the cost of the labour can differ if you live far away from towns and cities, and simply the extra travel time and expense will be added to the overall quote.
A good rule of thumb for labour costs is to think that the average for a single garage door install is around £300, and £500 for a double garage. Now, if you live in a big city, you can add around 20% to that number and take off 10% for those areas quite rural areas.
You can also expect to pay more in labour if you have a more complex garage door installed. This will naturally take more time to complete, and may even involve more than one pair of hands.
The best thing to do is to speak to multiple tradespeople to get a feel for how much they are looking to charge. This will help you understand what a fair price is in your area.
How Long Does It Take to Install an Electric Garage Door?
The process for installing a garage door is pretty standard across different sizes and styles, even if the time it takes differs. First, the old garage door will be taken off safely, and the garage will be prepared for the new door.
Then the new garage door will be put in by installing all the rollers, springs, cables, support arms, tracks and the door itself. Again, not every door will need every one of those components.
It takes anywhere between four and six hours to install a garage door with small, simple doors taking far less time than large, complex doors.
It's important to remember that not only does a professional installer remove the old door and put in the new one, but they will also test the door in all areas. This will ensure that it has been installed and is working correctly, reducing the likelihood of you having any problems with the door in the future.
Types of Electric Garage Door
Here is a list of different types of garage doors:
Up & Over Electric Garage Door Cost
This is the most common style of garage door in the UK. The door is opened from the bottom and is usually supported by cables or arms inside. However for electric variants, the motor will pull it along a track from the top of the door on the inside of the garage.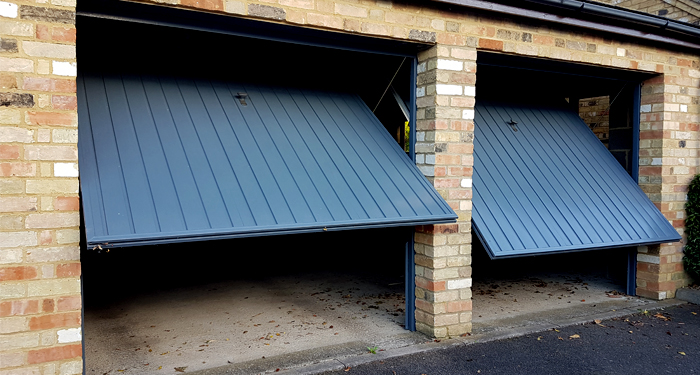 Steel Roller Electric Garage Door Cost
These garage doors retract and roll onto a spool at the top of the inside of the garage. The electric mechanism rolls them tightly, so this ensures that you don't lose a lot of room in your garage.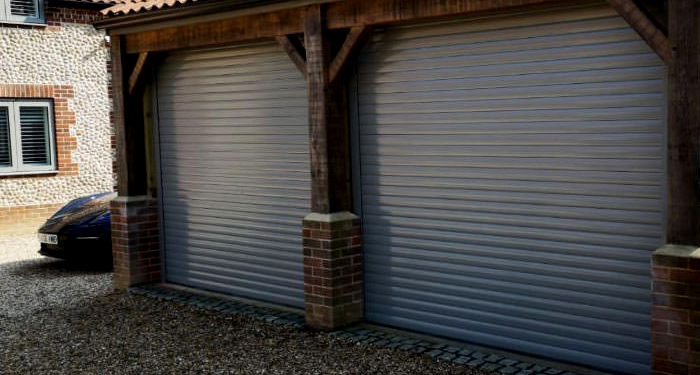 This is a very popular option for enabling you to utilise all the space possible in your garage.
Insulated Aluminium Electric Roller Shutter Cost
These are pretty much to the same as the steel roller doors and they use the same system. The only difference is the material and the increased heat retention benefits.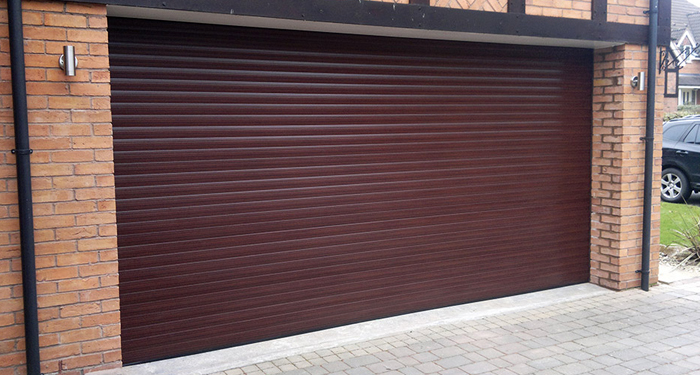 Side Hinged Cost
These types of doors are usually found without an automatic electric component, but electric variations are available. These doors are hinged on the side of the door and open outward. Electric track arms can be installed for automatic opening.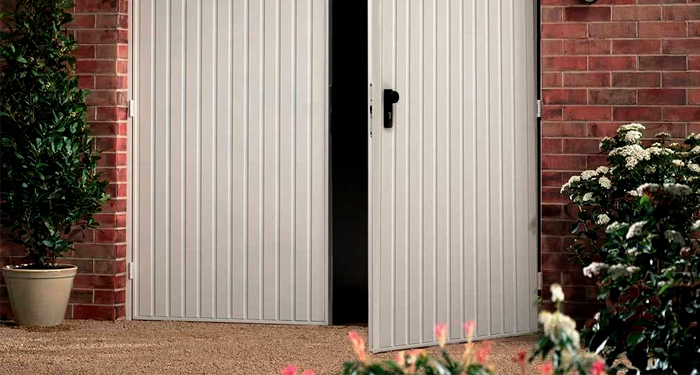 Sectional
These garage doors are made up of several wide slats throughout the door which enables the door to 'bend' when it is retracted into the roof of your garage.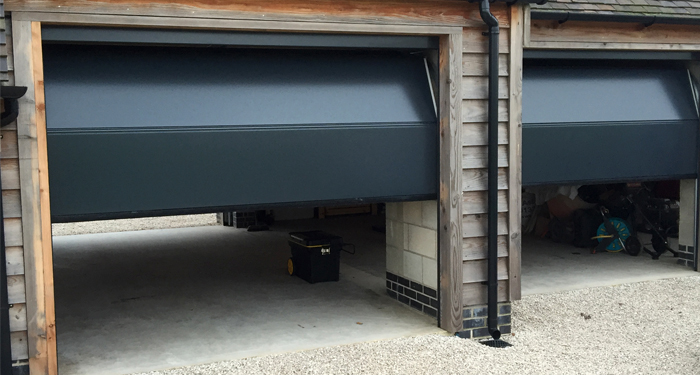 The electric motor pulls the door from the top on tracks and the door rests horizontally in your garage roof when opened. Again, this is a popular choice for those looking to waste as little space as possible.
Round the Corner Garage Door Cost
This is a variation of the previously mentioned sectional door, but instead of horizontal slats, this door utilises vertical slats, which bend into the garage when opened, and line the walls instead of the roof.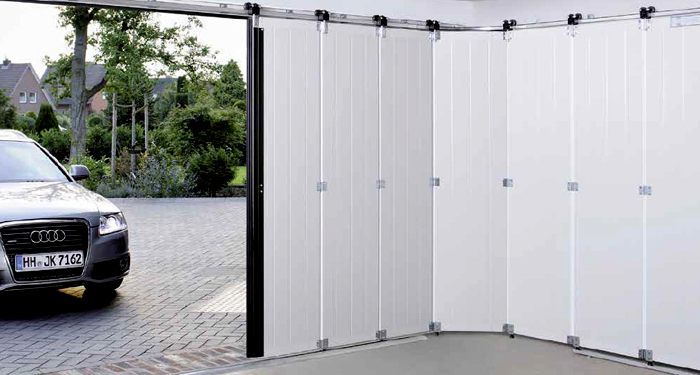 This is a great option for anyone that wants to hang things from the roof, like bikes or garden equipment, as the motor utilises the insides of the walls instead of the roof.
Benefits of an Electric Garage Door
Ease of Use
The first and most obvious benefit to electric garage doors is just how easy it makes your life. You can open the door from inside or outside, you can click the door to open as you pull into the driveway and you'll never have to struggle with an armful of garden tools as you try to open the door too!
Better Security
Electric garage doors are harder to break into as the mechanism keeps them closed until activated by a remote. Of course, there are emergency methods of opening, none of which are accessible to a burglar.
Longevity
An electric garage will open the same correct way every time. The worst thing about manually opened doors is how many times the wind catches them and opens them to abruptly leading to wear and tear and breakages.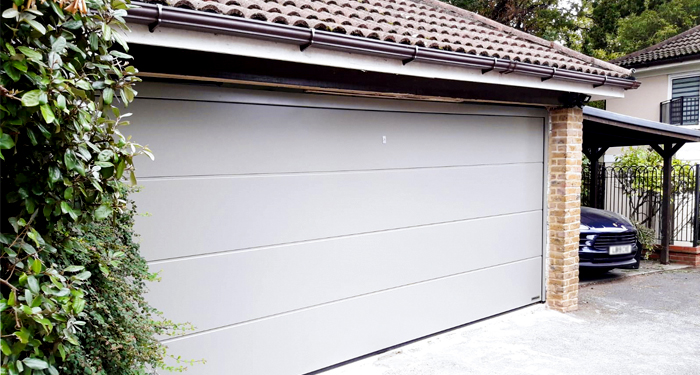 How much Does It Cost to Remove an Electric Garage Door?
You can have a garage door removed by a professional for the cost of a few hours work, which is likely to be around £100-£150, or you can remove it yourself. Now, this isn't advisable to anyone that isn't totally confident in this type of work and those that are inexperienced should not attempt it.
Here is a quick guide to removing a garage door:
Remove the electric opener by unplugging it, disconnecting it from the garage door and removing from either the ceiling or wall
Next, disconnect the tension springs with a spanner until they are loose enough to be removed
Cut the cables and uninstall the pulley system on your garage door
Next, remove the clamps on the door. Be aware that once you do this the door will not be connected to the house, so it's best to have someone on the other side to ensure that it doesn't fall onto a car or anyone nearby
Gently lower the door out of the frame and dispose of it correctly
FAQs
Q: Can you open an electric garage door manually?
A: Yes, there will always be a fail-safe system for opening your garage door manually, whether that is with a key, switch or other control. The actual method ranges from product to product so check with the manufacturer or installer.
Q: How do you make a garage door electric?
A: There are aftermarket conversion kits for automating manual garage doors. Check them out online but always have a professional install them.
Q: Can I install an electric garage door myself?
A: If you have experience with similar work, you may be able to complete the job, but it will more than likely be a little uneven. It is always best to enlist the help of a professional to ensure the job is done correctly and safely.
Q: Do I need planning permission for a new garage door?
A: You only need planning permission if you live in a listed or protected building, or within a conservation area. Check with your local council if you are unsure.
Q: Are insulated garage doors worth it?
A: Recently people have been using their garages as games rooms or home-bars, so if you are hoping to use your garage for something like this, you may benefit from the extra heat retention, but otherwise it may be wasted money.
Sources