How Much Does Patio Door Installation Cost?
Are you considering having patio doors installed?
In this cost guide, we break down the labour and supply costs of installing patio doors.
Wait, there's more!
We also cover other topics - like additional work you may choose to have done, the different types of patio doors you can get, and the cost of having old patio doors removed.
Who will this guide be helpful for?
This will be useful if you are planning on having new patio doors installed soon, or just considering it for the future.
If you're ready to get a quote for your new patio doors, we can also help connect you with local patio door fitters.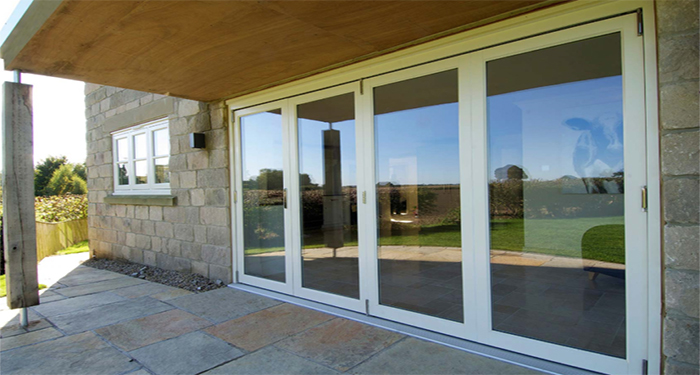 So, how much can you expect to pay on average for patio doors?
The total cost of patio doors materials and installation will heavily depend on the types of doors that you're looking to add to your home.
The cost of sliding patio doors will be around £500 to £1500, while French doors will cost you about the same amount (£400 to £1500).
However, it's possible for high-quality bifold patio doors to cost significantly more - around £1500 to £4000.
Patio Door Prices
| TYPE | TOTAL COST |
| --- | --- |
| Sliding | £500 to £1500 |
| French | £400 to £1500 |
| Bifold | £1500 to £4000 |
What are the Supply Costs of Patio Doors?
The focus of this section is specifically the supply costs of patio doors as if you were to purchase directly from a retailer.
Sliding patio doors tend to cost around £590 to £690, French patio doors are usually priced about £390 to £490, while bifold doors cost between £1250 and £3750.
What are the Additional Costs of Patio Door Installation?
We will now look at some additional work which you may need (or want) to pay for while you're having new patio doors fitted.
To have a new patio installed will cost about £30 to £40 per m², which includes both the labour and installation costs.
If you want to install outdoor lights, you should expect to pay between £125 and £150 to get a single 30-watt security light fitted. The price will end up around £150 to £200 for a PIR motion sensor light if installed into the mains.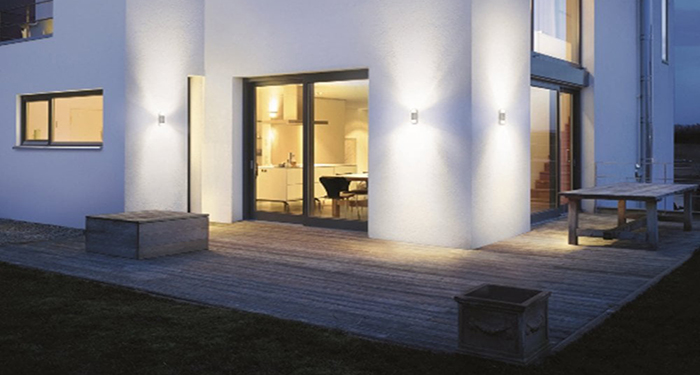 The supply costs for new patio furniture may end up between £1500 and £3000.
Most professionals charge about £15 to £30 for an hour's work or less; thus, this is the going rate if you wish to have the furniture arranged.
To have the exterior of your house painted, will probably cost you between £550 and £750 for a 2-3 bedroom terraced house, £700 to £1000 for a three-bedroom semi-detached house or £900 to £1500 for a 3-4 bedroom detached house.
If you want the exterior of your house to be rendered, it may cost anywhere from £2000 to £8000.
The cost of having new windows installed will vary significantly based on what type of windows you would like to have installed.
Double glazed uPVC windows tend to cost around £250 to £400 for each window.
Double glazed windows that are wood-based may be available for between £400 and £1000 although they can go much higher in some cases while aluminium windows will likely cost you somewhere in the range of £350 to £600.
The labour costs will likely end up around £200 to £400 for a day's work.
Tradesmen Costs for Installing Patio Doors
We will now look specifically at patio door installation costs.
You'll likely need to pay between £20 and £25 per hour in terms of labour costs - with a patio door installer charging around £150 to £200 per day.
How Long Does It Take to Install Patio Doors?
The time it takes to have patio doors installed in your home will depend on the type used. The table below displays the different durations it takes to install sliding doors, French doors, and bifold doors.
| TYPE | INSTALLATION TIME |
| --- | --- |
| Sliding Patio Doors | 4-6 Hours |
| French Patio Doors | 4-6 Hours |
| Bifolding Patio Doors | 1 Day |
Factors that could impact the patio door installation time include the:
Ease of access to your garden area.
State of your garden area.
Complexity of the specific patio door product chosen.
Need to remove patio doors first.
Choosing Patio Doors
For this section, we discuss different patio door types in more detail. We explain the options you have, the average cost of having each installed, and the pros and cons of them.
Sliding Doors Cost
Sliding patio doors, as the name suggests, are doors which can slide across horizontally.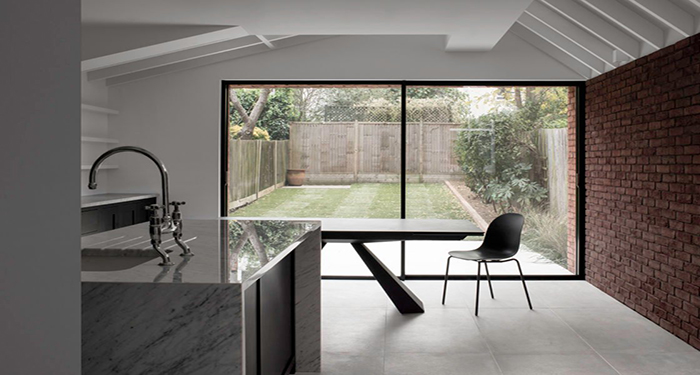 There are a range of sliding patio door types - such as those which slide along a ground-based track and those which hang from a track that is positioned at the top. The sliding door cost will probably end up between £590 and £690.
Pros:
Provide ease of access to your patio and garden.
Increase energy efficiency.
Offer a high level of security.
Sliding patio doors can be fitted in a way to maximise accessibility for everyone, including the wheelchair-bound.
Cons:
Sliding doors may be more expensive than bi-folding doors.
For sliding track patio doors, dirt can accumulate along the track, leading to problems.
Dirt accumulating in tracks can lead to drain hole blockages.
May develop jamming issues which could, in turn, prove a security risk.
French Doors Cost
French-style patio doors have two doors which tend to open out into the garden although, in some scenarios, they may open inward.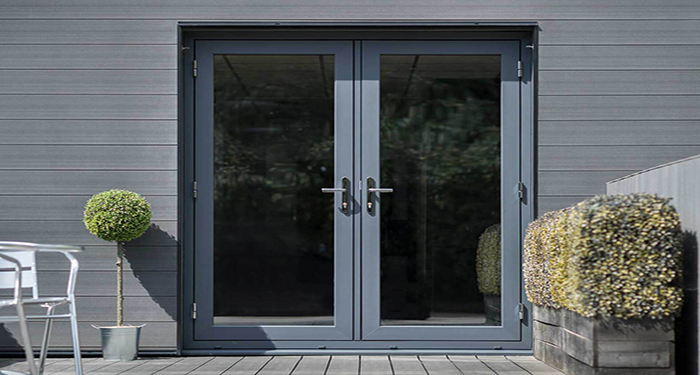 Each door has a large glass panel. The cost of French doors is around £390 to £490.
Pros:
Light and can easily be opened.
French patio doors are generally cheaper than bifold or sliding patio doors.
Cons:
Hinges can become noisy and stiff with time.
If you go to open one of the doors during windy weather, it could pull you forward if the wind catches the door at the same time.
Bifold Doors Cost
Bifold patio doors consist of various door panels which can fold up against the wall when needed. Bifolding patio doors are particularly expensive.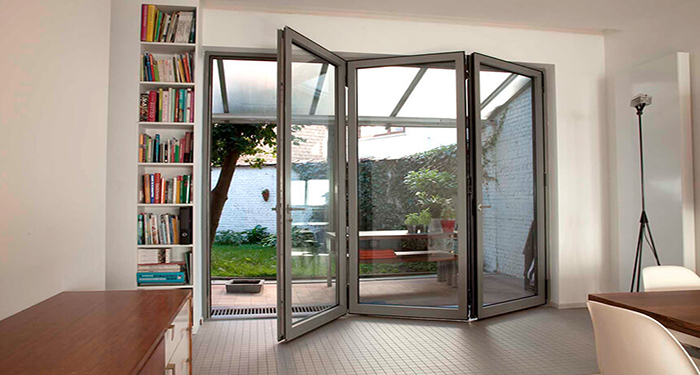 The cost of bifold doors could end up anywhere in the range of £1250 to £3750.
Pros:
Bifold patio doors are energy efficient.
Versatile.
Lightweight.
Do not require much maintenance.
Cons:
The bifold doors price is very high.
Not as secure as other patio door types.
Bifold patio doors lack the same ease of access as French and sliding patio doors.
Patio Door Maintenance Cost
There are various types of maintenance which you can undertake to maintain your patio doors.
For this section, we will look at such maintenance types through the following subsections and lay out the price of patio doors maintenance in each case.
Painting Patio Doors
This job involves having your patio doors fully painted or repainted.
To have patio doors painted could cost you anywhere from £100 to £500.
Painters tend to charge around £160 per day, and ultimately the cost of this job will depend heavily on the size of the patio doors in question.
Weather Treatment
Another form of patio door maintenance is weather treatment. Various types of weather treatment could be applied to doors such as wax, varnish, oil and water-based treatment.
Weather treatment is mostly applicable to wooden doors, although even uPVC patio doors will require weather treatment every so often.
Weather treatment will probably cost between £15 and £35 per litre. If you want to hire a professional to undertake this work, you're looking at paying roughly £14 to £18 per hour or about £160 per day.
Cleaning Tracks
A great and simple way to maintain your patio doors is to clean them regularly.
For those with tracks, you should clean out any dirt and debris you find.
If even then the door's rollers appear to be struggling, you may need to remove the rollers from the door and clean them.
In this case, you should also wipe down the rollers with denatured alcohol using a cloth.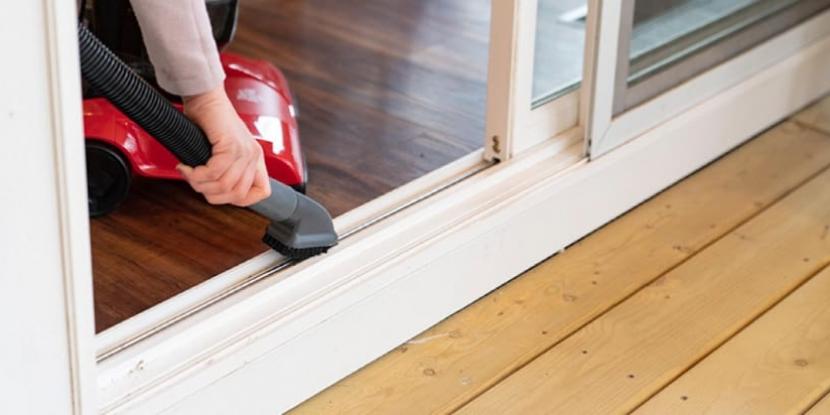 The same product or one that is similar can be used to clean the track.
Finally, hoover the track and re-attach the rollers to the door(s).
You may need to pay between £12 and £20 per hour for such a cleaning job plus any supply costs.
Lubrication
With roller/track-based patio doors, lubricating the rollers after a clean can help to make the sliding of the doors more free and smooth.
You should employ a silicone spray for this job. You should avoid other lubricant types as these could cause dust to accumulate with time.
The spray should be applied to both the rollers and the track. Finally, apply a paraffin wax block along the track also.
In terms of supply costs, you can expect to pay £6 to £8 for a 400ml silicone spray such as WD-40.
Paraffin wax blocks tend to cost about £5 to £10 per kg although much cheaper options are available for budget prices such as on eBay where you can purchase these blocks for a fee of around £2 to £6 per kg.
On top of the supply costs, if you choose to hire a professional to perform this work, it might cost you between £12 and £20 per hour.
Patio Door Repair Cost
In this section, we will look at the costs of various types of patio door repairs.
For each of the subsections below, we will discuss what each problem is that needs to be repaired, how they are fixed, and the costs involved.
Patio Door Wheel Replacements
If you have a sliding patio door, one possible issue you could run into is that the roller and track mechanism could malfunction.
In many cases, this could be down to the wheels needing a replacement.
To replace patio door rollers, the door should be first removed from the track before the new rollers can be attached.
Once attached, the rollers should be adjusted so that they will fit perfectly on to the track.
Finally, the door should be placed back on the track.
New rollers may cost between £6 and £30 per roller with the labour costs likely coming to around £30 to £40 for this job, assuming that it takes roughly 1-2 hours to complete.
Patio Door Replacement Cost
If your patio door has been worn or damaged beyond repair, a replacement can be fitted.
To install a new patio door, first, the old patio doors will need to be removed from their frame.
Next, the angle brackets will need to be removed before the stationary panel is taken out. Then, the old sliding door frame should be removed prior to applying flexible leak-proof flashing in preparation for the new installment.
On to the installation stage, you'll first need to install the sill pan before applying further flashing, then caulking and installing the new door square. This frame will then need to be squared and fastened.
Finally, tip the glass panels into place, adjust the door and then complete any necessary finishing work on the patio door interior and then exterior.
Such finishing work may include installing side extension jambs and sealing exterior gaps. There are far more extensive details to this replacement process which can be found here.
In terms of the costs, the material prices will vary greatly depending on the type of new patio door you wish to install.
You're looking at supply costs of about £590 to £690 for sliding doors, £390 to £490 for French doors and anywhere from £1250 to £3750 for bi-folding doors.
The labour costs could end up around £300 to £375, combining the costs of the time spent removing the old patio doors and fitting the new set.
A key additional cost to consider is that of waste removal for disposing of the materials from the old installation. This cost will likely end up around £100 to £150.
Fix Sliding Patio Door Handle
If you have a sliding patio door, to replace a broken door handle, first you'll need to remove the two screws which are fixed to it. It's especially important to avoid removing the screw that is positioned on the thumbturn.
Next, the backing plate should be removed. The door handle should then be rotated clockwise by 90°. Lift up the handle and rotate it back before taking the handle off the door.
Once this is done, you can now install the new handle which should be achieved by using the process mentioned above in reverse. Patio door handles tend to cost between £15 and £40. A professional will charge around £12 to £20 per hour to perform this work.
Fix Patio Door Lock
In order to replace a patio door lock, first, use a screwdriver to remove the original handles.
Replace the bottom screw that was fixed to the handle. This will stop the latch from falling off.
Remove both screws from either end of the door that are used to keep the latch in place.
Carefully remove the latch mechanism and the associated cartridge.
If you are not planning to install a new latch right away and your region is prone to wind, you should put a heavy object in front of the door or tape it so that it won't spontaneously open.
Find a suitable replacement and install the new latch.
Patio door locks tend to cost between £30 and £50. Once again, a professional will probably charge you between £12 and £20 per hour to perform this job.
Other External Door Costs
We will now delve into the costs of having different types of external doors fitted. The totals discussed below are based on both supply and labour costs.
Timber Doors Cost
Timber doors are wood-based installations which could be made of materials such as oak, beech, elm or sycamore. To have a timber door installed could cost anywhere from £270 to £2000.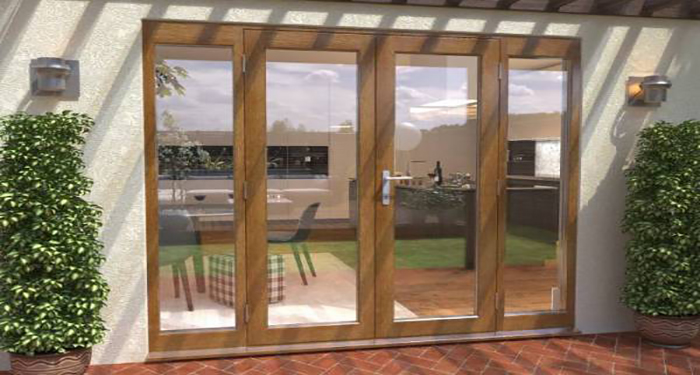 The prices vary greatly depending on the type of wood used. You could have an external oak door installed for about £450 to £2000 while one made of mahogany could cost around £450 to £1650.
An exterior pine door could be installed for somewhere in the range of £270 to £1300.
Pros:
Highly secure.
Very well suited to period houses.
Generally, timber doors are quite durable.
Cons:
Can take a bit of work to maintain.
Timber doors may not be the ideal aesthetic to go with many houses.
More vulnerable to warping and twisting.
uPVC Doors Cost
This door type is made of a plastic known as unplasticised polyvinyl chloride (uPVC). It will probably cost you about £400 to £650 to have a uPVC door installed.
Pros:
Low-maintenance door type.
uPVC doors don't require staining or painting.
Sturdier than timber doors.
Generally less expensive than timber doors.
Cons:
uPVC doors can appear relatively narrow.
The door's colour and size cannot be altered.
Changing door locks could prove quite difficult.
Composite Doors Cost
Composite doors are made of a variety of different materials such as wood, uPVC, glass-reinforced plastic and insulating foam.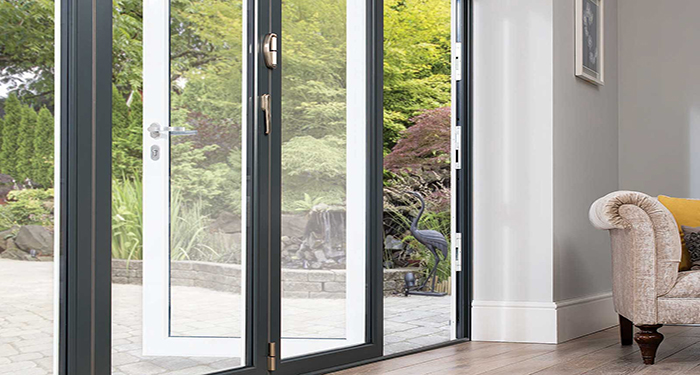 A composite door installation will likely fall in the £670 to £2700 price-range.
Pros:
Offers the visuals of wood but increased strength due to additional materials.
Very well insulated.
Composite doors, unlike regular timber doors, will not require repainting.
Cons:
Not as cheap as uPVC doors.
How Much Does It Cost to Remove Patio Doors?
For this final section, we look at the costs involved in having patio doors removed. We discuss why you may decide to have your patio doors removed, the labour costs of removal, and how you can dispose of patio doors.
You may choose to remove a patio door because you wish to replace it with a new patio door. This may be purely down to preference or because your old patio doors are worn beyond repair.
Alternatively, you may want to remove patio doors because you want to install an extension into the back garden or because you want to have simple back doors fitted.
The labour costs of having patio doors removed will usually be between £150 and £190. You can dispose of the waste from the old patio doors either with a skip or with a 'man and van' service such as that offered by Clear A Bee.
FAQs
Q: What are patio doors?
A: Patio doors are installations fitted at the back of a house, leading into the back garden.
Q: What blinds are best for patio doors?
A: Some of the best options are vertical blinds, duette blinds and roller blinds.
Q: How much do patio doors cost to purchase from a retailer?
A: Patio doors may cost anywhere from £590 to £3750 to purchase. The price depends heavily on the type of patio door you choose to buy.
Q: What is the cheapest type of patio door?
A: Sliding patio doors are the cheapest type and tend to cost between £590 and £690.
Q: How long do patio doors last?
A: Patio doors will likely last for 30 years or more.
Sources