How Much Does It Cost to Paint Interior Doors?
The way we think and feel is influenced by the colours and patterns we see around us; as a result, when the opportunity to utilise your favourite fabrics and paints arise, you should do your best to make the most of it, which necessitates an understanding of the associated expenditures on your side.
Here we will go through the different costs to paint interior doors. We will go through the additional costs, labour costs, and supply costs. We will also go through the benefits of painting interior doors so you know you are making the right decision for your home.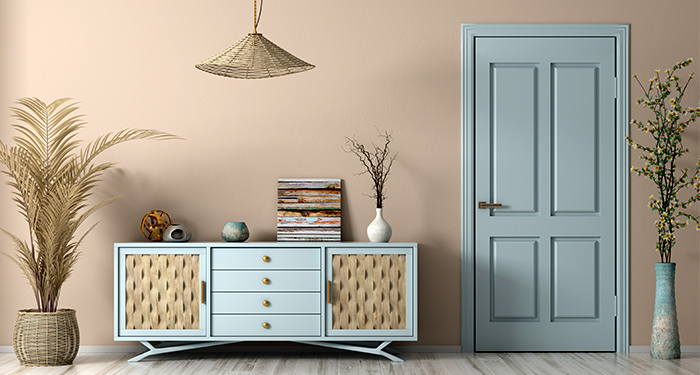 When it comes to painting prices, there are no hard and fast rules. Much will be determined by your location as well as the painter you select. Hiring a painter in London, for example, may cost up to four times as much as hiring one in Sunderland.
However, a good suggestion is to calculate how much money you'd lose if you took time off work to paint and then compare that to the cost of hiring a painter.
The type of paint you choose will have an impact on the price. The topic of choosing the proper paint extends beyond the ultimate appearance and feel of your home. The paint you choose is one of the most important aspects affecting your budget.
Matt emulsions, which are rather simple, are inexpensive under typical circumstances. If you choose a gloss or silk emulsion, though, you may have to stretch your budget a little farther.
Interior paints are stain-resistant, easy to clean and have a smooth texture. Exterior paints, on the other hand, fight colour fading and mildew formation.
They're also usually UV resistant and waterproof. Water is frequently used as a solvent in interior paints to prevent hazardous vapours from accumulating and to make clean-up easier.
Bolder interior door paint colours are more expensive than neutral colours like white or magnolia. Furthermore, you may have to spend far more than the average if you want bespoke paintwork. Keep an eye out for special offers and discounts.
When you buy paint in quantity, you can sometimes obtain pretty good deals. Before you invest your money, compare the paint pricing at other stores.
When it comes to starting a painting project, a lot of the decision-making is based on the cost. Before you start painting your doors and/or trim, you should figure out how much you'll be spending.
Whether you're doing it yourself or getting a quotation from a professional painter, you'll need to start by measuring everything that needs to be painted.
The average cost of painting an interior door is determined by its size, the number of doors to be painted, and the average labour rates in your area.
Painting most interior doors costs between £50 - £200. However, doors that open to the outside may be more expensive, costing up to £200 - £300.
The cost of glossing a door varies based on the type of paint used and the number of coats required, but it should be roughly £60 - £100 per interior door.
While you can recoat some painted doors and obtain a decent finish, you won't be able to save the paintwork on others.
To remove all that goopy, lumpy old shine, you'll need to hire a paint stripping or 'dipping' service. The cost of door stripping varies between £15 - £25 per door.
Paint Interior Door Prices
The table below will breakdown the costs to paint interior doors:
| Job | Cost |
| --- | --- |
| Painting interior doors | £50 - £200 |
| Painting interior doors that open to the outside | £200 - £300 |
| Glossing interior doors | £60 - £100 |
| Door stripping | £15 - £25 |
What are the Supply Costs to Paint Interior Doors?
Another way to save money is to buy materials yourself or make it plain to your painter that you will pay for items separately and require copies of all receipts.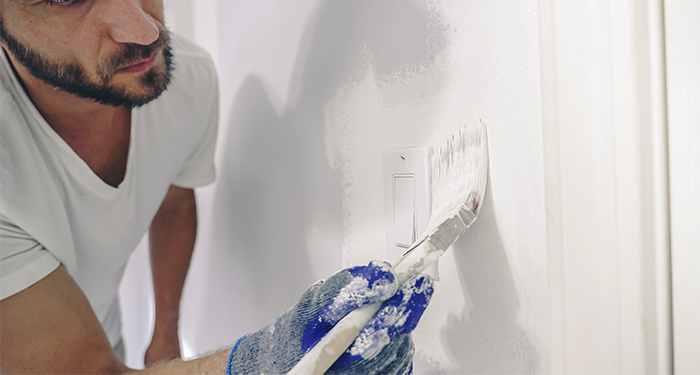 It is not uncommon, nor immoral, for a decorator to add 20% to the cost of supplies to cover the cost of procuring them, as well as the danger of not being paid at the conclusion of the job.
After all, they can't take their paint back! Pay for materials as you go, and your painter will be pleased, but never pay in advance.
If you're handy around the house and confident in your abilities to paint a door, you might want to go the DIY route. However, painting doors is one of the few circumstances when hiring a pro is more cost-effective.
This is due to the high cost of materials. If you have a lot of painting supplies and only need paint, your DIY prices will be substantially lower than if you hire a professional painter.
However, if you don't have any painting supplies and can't borrow them from a friend, hiring a pro might be a better option! It just depends on the cost of your materials vs the cost of hiring a professional painter.
However, keep in mind you might need to buy some supplies that you wouldn't otherwise have on hand, and they're not all painting supplies. These will ultimately add to your painting costs.
Here we will go through the different supply costs that you will need to paint interior doors. So, if you are looking to DIY your interior door painting, then you will find out everything you need to know here.
A dry cloth will cost you £3 - £10. Painters tape will cost around £1.50 - £9, and a paint roller frame will cost £3 - £10.
Paint roller covers will cost £4 - £20 depending on the quality of the roller; however, for a good job, a good quality paint roller cover is recommended, and a paint tray will cost £0.69 - £7.
Paint brushed will cost £10 - £15 these will be needed for detail on your interior doors, the primer will cost you £22 - £39 per litre, stain and varnish cost £22 - £52 per litre, and paint will cost £22 - £48 per litre.
For protection, you will need disposable painters to mask, which costs £2 - £12, and disposable gloves will cost £2 - £3. The table below will break down the supply costs of painting interior doors.
| Type of paint | Price |
| --- | --- |
| Dry cloth | £3 - £10 |
| Painter's tape | £1.50 - £9 |
| Paint roller frame | £3 - £10 |
| Paint roller frame | £4 - £20 |
| Paint roller | £4 - £20 |
| Paint tray | £0.69 - £7 |
| Paintbrush | £10 - £15 |
| Primer | £22 - £39 |
| Stain & Varnish | £22 - £52 |
| Covering paint | £22 - £48 |
| Disposable painters mask | £2 - £12 |
| Disposable gloves | £2 - £3 |
For two coats on both sides, an average door requires one quart of priming and one quart of paint. The amount of primer and paint required is determined by the door type, current colour, surface condition, and material.
When using a 2-in-1 paint and primer or premium paint, apply one layer. For severe colour changes, painting over a glossy surface, and ensuring an even shade of colour, apply two layers of priming and paint. Oil-based primers and paints should not be used with water-based primers and paints.
Although you probably won't need to purchase everything on this list if you've painted before, you likely will only need a single gallon of paint to cover one door.
What are the Additional Costs of Painting an Interior Door?
When hiring a tradesperson to paint your interior doors, then you might come across additional costs that have added to your overall price.
Therefore, it is best to know what to expect when painting your interior doors. Here we will go through the different additional costs that might come up when having work done in your home.
 So, if you want to gather an average cost, then you will find all the hidden costs that could come up here.
Hanging a Door
The cost of hanging an internal door is typically determined by the style of door you select. Bi-fold doors are one-of-a-kind doors that convey elegance and sophistication.
They are widely regarded as one of the most expensive types of entries available today. Their prices start at £2,450 - £2,600.
Another type of structural door is flush doors. These doors, unlike bi-fold units, are smoother in design, less complicated, and thus less expensive. Because they are less complicated, we employ them for internal purposes. Their prices range from £70 - £140.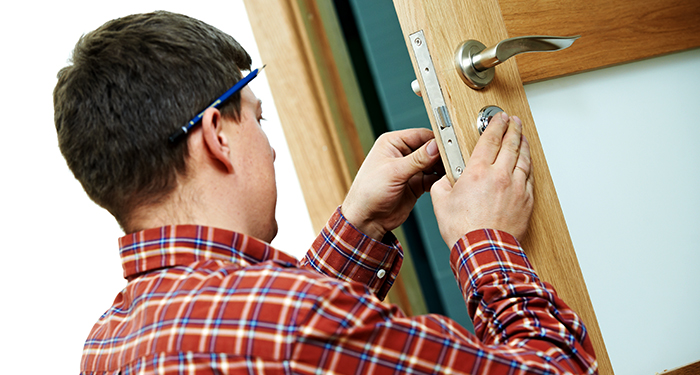 Internal doors with panels are frequently utilised. The usual inside door is composed of pressed hardboard or wood, and it can be customised in a variety of ways to suit the buyer's preferences. The price of this door starts at £90 - £150.
Cottage doors are priced significantly based on the type and condition of their frames. For a more traditional feel, these ornate doors are employed in most homes.
They are priced at £40 - £45 for each unit, with installation ranging from £140 - £550 per door, due to the unique nature and creativity involved in their manufacture.
All ledged doors have a somewhat higher average installation cost than standard doors. This is due to the way they're constructed and the skill level necessary.
If you want to put ledged doors in your home, be prepared to spend between £2,200 - £3,800 for each door.
Joiners charge varied prices per hour depending on their current location and the project at hand. Joiners can charge as little as £20 per hour for the installation of hanging doors and as much as £30 per hour. They will charge between £160 - £240 each day.
It takes roughly 6-8 hours to install a door on average. Working on a single door can take up to 8 hours, from measuring the space to installing frames, decorating, painting, and all other installations.
For more information, please refer to our guide on the costs of hanging a door.
Painting and Decorating
Walls, skirting boards, door frames, kitchen cupboards, and furniture are all painted throughout the decorating process.
Painters and decorators are also skilled in removing old paint and wallpaper, as well as priming and preparing walls for the application of new paint or wallpaper.
When redecorating, you should think about how much interior painting will cost for various jobs. Painting a room, for example, might cost anywhere from £180 for a tiny bedroom to £600 for a large living room.
You'll also need to include in the expense of painting and decorating other fixtures, such as skirting boards, which range from £180 - £350, and window painting, which costs between £400 - £1,500.
Other services include painting doors, which costs between £220 - £1,600 and repainting kitchen cabinets, which costs between £600 - £1,000.
Wallpapering is another substantial decorating cost, with prices ranging from £180 for a small room to £600 to strip and hang the wallpaper, while internal cladding costs between £1,500 - £2,500.
For significant decorating works such as painting or wallpapering many rooms, a usual quote for hiring a painter and decorator is from £100 - £300 per day. They may simply charge £15 - £40 per hour for smaller painting jobs like painting door frames and kitchen cupboards.
If you're only having a tiny bedroom painted, it should only take a day to finish; but if you need any wallpaper or paint removed, you'll need to add another day. If you want the tradesman to remove and replace any furniture, the job could take three to four days.
It can take five days to redecorate a two-bedroom terraced house, seven days to redecorate a three-bedroom semi-detached property, and up to fourteen days to redecorate a five-bedroom detached house.
For more information, please refer to our guide on the costs of interior painting and decorating.
Painting House Exterior
The cost of exterior painting varies based on the scope of the project. Render painting, for example, can cost anywhere between £600 - £1,200, while painting the outside of a house can cost anything between £500 - £1,500.
You may wish to have your soffits and fascias painted to improve the look of your exterior, which costs from £700 - £1,100, and your external windows painted for roughly £200 - £400.
Painting garden walls costs between £100 - £320, repainting fences costs between £100 and £340, and painting decking costs between £120 - £430. Painting outdoor woodwork, such as a shed, can cost anywhere between £100 - £350.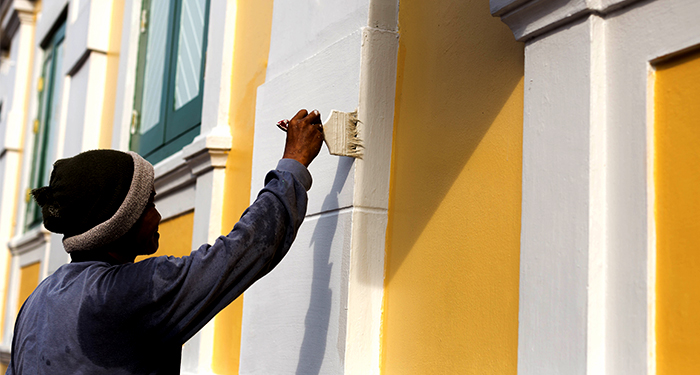 The length of an external paint job is also significant because tradespeople charge by the hour, so the larger the project, the longer it will take and the more it will cost.
If you want to hire someone to paint your home's smooth exterior walls, it should take 3 to 5 days for a terraced house and 4 to 5 days for a semi-detached or detached house.
If you have pebble dash walls, the time frame will likely rise. For example, terraced residences would take 5 to 6 days to paint, while semi-detached and detached homes would take 7 to 9 days.
This varies greatly depending on the tradesman you engage and where you are in the United Kingdom. A painter and decorator will generally charge between £100 and £300 per day to paint outside walls or outdoor furnishings.
This, however, varies depending on whether you choose to work as a sole trader or as part of a corporation, as well as your location (as London quotes tend to be much higher).
For more information, please refer to our guide on the costs of exterior painting.
Location of the Door
The location of a door is also crucial since the more accessible it is, the easier it will be for a contractor to do the job. In this situation, the higher the labour expenses, the longer the job takes. Naturally, this will be dependent on the contractor and how difficult it is to access the entrance.
Size
The larger the door, unsurprisingly, the more it will cost to paint an interior door. Of course, this isn't always the case, but a larger door will often require more materials and take a little longer to maintain than a smaller door. However, this is unlikely to be a significant financial consideration.
Duration
The length of time it takes to complete the job may or may not have an impact on the entire cost, and it ultimately depends on how the tradesperson works. In certain circumstances, a contractor will be paid a fixed amount up front, while in others, they would be paid by the hour.
Location
The cost of living in your location will influence the pricing that individuals or businesses set, and supply and demand levels in your area will also go into the total cost.
Another thing to think about is how quickly nearby service providers can get to your property. As their path lengthens, their gasoline costs will rise, raising your total payment.
Amount of Doors
The number of interior doors in your home will have an overall effect on your price as the more doors you want painting will add to your overall cost.
Minimum Fee
A painter may charge a little fee to begin with. This could be a small sum added to your final cost or the consequence of a set labour fee. So, if you charge-free fixed labour for four hours, but the project only takes two hours, you can see how this effectively acts as an additional expense.
Tradesmen Costs of Painting an Interior Door
Interior door painting, unfortunately, is one of those crafts that draws the untrained handyman. Many people believe that painting is as simple as taking up a brush and painting. How can they be so wrong?
A painter will not be able to provide you with an accurate quote over the phone. They must come to your home and inspect the current paintwork as well as determine whether there are any access issues. As a result, ask a few questions to ensure that you're prepared for anything.
So, what should be considered when seeking a skilled painter at a reasonable price? You are completely free to offer to pay cash for any work done if you are not pushing the painter to avoid paying tax. It usually means you won't obtain a receipt and, as a result, no guarantee for the service done.
If your painter is a one-man band or works with an apprentice, they are likely to be operating under the VAT registration threshold, which means their quotation should be 20% less than a quote from a major painting firm with a number of painters on the books that must charge VAT.
Retired or semi-retired painters are often ready to take on modest assignments just to 'keep their hand in' depending on the nature of the work.
They may figure indoor expenditures such as door jambs, door painting, and other little activities such as drywall repair that may be required throughout the construction process if you're planning to install brand new doors to your home.
In the end, you're paying for knowledge, convenience, labour costs, and a higher-quality painting job when you hire a painting firm. For some people, hiring a painting contractor to relieve them of the worry is well worth the extra painting costs.
Another important item to consider is the cost of a tradesman. A typical quote for hiring a painter is from £100 - £300 per day. Smaller painting chores, such as painting door frames, are normally charged at a lesser rate of £15 - £40 per hour.
However, Rates for tradesmen per day range from roughly £150 - £300, with charges in London and the South-East sometimes approaching, if not exceeding, the higher amount.
As paint must dry between layers, the type of paint used might affect how long each room takes to finish. For larger works, painters and decorators frequently work in pairs.
Hiring a single tradesperson may appear to be the logical way to save money. However, this will almost always mean that the job will take longer, saving little if any time and cost more in some cases.
Benefits of Painting Interior Doors
Repainting your inside doors is a cost-effective approach to modernise your property. You may modernise your home with a fresh coat of white paint or add a burst of colour to your interior doors to match your design style.
It's also a budget-friendly alternative for novice DIY home renovation! Continue reading if you want to learn about the numerous advantages of painting your interior doors.
Fresh Paint
As your paint ages, it will begin to show its age, making your property appear old and unappealing. Painting your doors will ensure that they will match flawlessly for many years.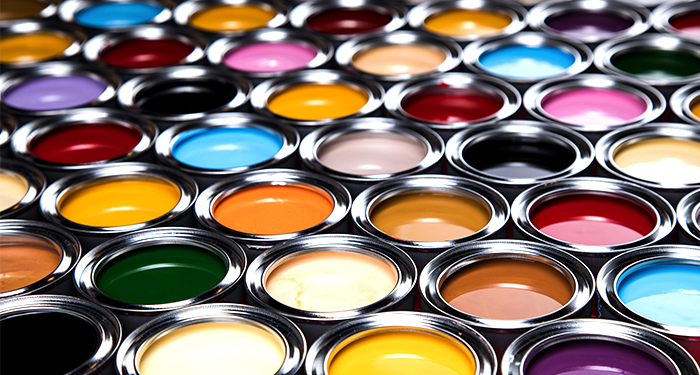 It also makes your home appear cleaner and more in line with your home's aesthetic!
Cheap Labour Costs
If you hire a professional painter, you'll save money on labour because painting labour assignments are typically not very expensive for little jobs. You'll end up paying separate project fees if you split the job into two or more projects.
Faster Drying Time
Instead of having your unfinished work act as a continual reminder that there's still work to be done, setting out to complete the entire job means you'll be free of tension and able to enjoy your interior rooms much sooner.
Resistant to High Humidity
Painting your interior doors promises that your doors will have a longer life expectancy. The outer layer prevents the surface from absorbing water and deforming as a result of moisture changes. The models are appropriate for use in kitchens and bathrooms.
Practicality
Contaminants are simply removed, and the surface is unafraid of disinfection and cleaning solutions. Unpleasant scents are not absorbed into the structure because of the paint and varnish layer.
FAQs
Q: How do you paint an interior door without brush marks?
A: Without removing the door, you may still paint it. However, to avoid the mess produced by running paint, we propose pulling it off its hinges and setting it on a horizontal workstation.
Because the door is sitting horizontally, the paint will have more time to level out, resulting in a clean finish.
Or, if prior paint jobs left brush traces on the door, you'll need to sand it down to remove them. Sanding also aids the primer's adhesion.
Remove chipped paint, the runny paint, and brush strokes from the flat panels of the door with a somewhat coarse 100-grit sandpaper. To finish the task quickly, use a random orbital sander.
Remove imperfections from the grooved profiles of the door with sanding pads.
Before painting, smooth out the door with gentle sandpaper of 120-150 grit. Sweep the sanding dust from the door with a vacuum, then wipe it clean with a moist cloth. Allow time for the paint to dry before applying it.
Q: What's the best paint for an internal wooden door?
A: Interior doors are subjected to a lot of wear in everyday life, so you'll need paint that can withstand it. Semi-gloss or gloss paint is significantly easier to clean than matte paint, and it will also hold up much better when wiped frequently.
Matte paint collects dirt and is difficult to clean; nevertheless, removing the paint may lose the finish. As a result, semi-gloss or gloss paint will work better for painting things like doors because they get dirty and are used frequently, as well as requiring to be cleaned frequently.
If the door's current finish is shiny, you'll need to apply a de-glosser to dull the sheen before repainting it with your new paint. Some well-known companies now provide a 'rapid dry interior' paint that would be ideal for use on doors.
Q: Is it best to paint with a roller or a brush?
A: Using a brush, remove the rolled paint. Brush markings are less obvious than roller stipple, and brushed paint usually levels out better than rolled paint. Roller results can be extremely smooth when using high-quality enamel and roller sleeves.
Q: Should you paint the inside of your door?
A: The side of the door that swings inward toward you should be painted the same colour as the interior of the door when you open it from the inside. When you open the door, this will help to keep everything in order and give you a more uniform appearance.
Q: What prep is needed before painting interior doors?
A: Clean the door with a degreasing cleaner before painting. With sandable filler or spackle, patch holes and mend flaws. Sand the door with 120-grit sandpaper to create a smoother surface that will absorb primer or paint more readily. Remove dust from the area after sanding before priming or painting.
Sources