How Much to Paint a House?
What will your budget depend on?
The budget needed for painting a house will vary with the size of the property, type of paint, number of walls and rooms being painted. Painting house prices can quickly inflate in ways that can take you by surprise.
For example, an extra tin of paint may be needed to paint a room just large enough to require more than a single tin for its completion, so doubling the cost overall.
Is it easy to get an estimate for the job?
Unless a tradesman has given you an estimate, it won't be easy to calculate house painting costs with any satisfactory precision.
Even with an estimate, unforeseen repair work or changes of mind regarding colour (which is far from uncommon) can quickly increase painting costs beyond the original estimate.
So, how can you stop unexpected costs from multiplying?
However, you can ensure that unexpected costs do not run away with a budget by planning for the cost to paint a house before the materials are bought, or the work begins.
The costs of both materials and decorators for house painting can vary considerably between retailers, tradespeople and regions of the UK.
The amount of paint needed and the type of paint you choose.
Large rooms and more expensive paints can easily double or even treblethe costs that would apply to smaller rooms and less expensive paints.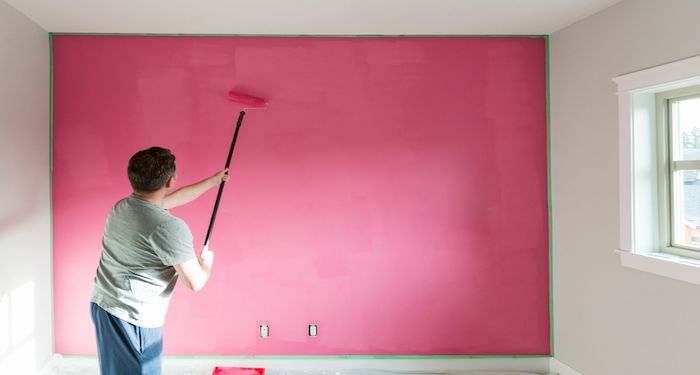 Paint is usually sold in tins of 1-litre, 2.5-litres, 5-litres and 10-litres. You can find 500ml (half-litre) and 250ml (quarter-litre) tins for some paints, but not for all.
A litre of paint should usually cover around 10m2, which means you can arrive at a fairly good estimate of how much paint will be needed for any particular space.
Paint calculators are provided by several DIY retailers online. They are an easy way of arriving at a reliable estimate for the quantity of paint needed for a job.
You can also take your basic measurements (i.e., length and width of walls) to the paint retailer, where staff will be happy to square the figures and recommend the quantity of paint needed for the job.
House Painting Prices
| Type | Area | Total Paint Cost |
| --- | --- | --- |
| 2 Bedroom House | 150m2 – 200m2 | £380 - £1,100 |
| 3 Bedroom House | 250m2 – 300m2 | £500 - £1,800 |
| 5 Bedroom House | 350m2 – 400m2 | £700 - £2,300 |
What are the Supply Costs of Painting a House?
When calculating supply costs, it is probably easiest to think in terms of the size and number of tins that will be needed for each job.
Paints are most commonly available in 1-Litre, 2.5-litres and 5-litres tins. It would be best if you aimed to buy the fewest tins you can in order to minimise costs.
So it is better for example, where possible, to opt for a single tin of 2.5 litres instead of two 1-litre tins.
Paint will usually cover around 10m2 per litre, that is a square area of 1 metre long, 1 metre wide, with a ceiling height of 2.5 metres.
With the exception of storage spaces, most rooms in the average house will cover at least twice that area. This means that most rooms will need at least 2-litres of paint for a single coat.
Painting a single average-sized room measuring from around 15m2 for a smaller room to around 30m2 for a larger room will usually require 2.5-litres of primer and 2.5-litres of topcoat (including the subtraction of window space).
It is not always necessary to match the brand of gloss being used with the same brand of primer. It is possible to save money by using a suitable matt as an undercoat instead of a primer.
A good quality, high opacity matt can be bought in 5 and 10-litre tubs and will save money by serving large areas as an undercoat.
The ceiling will require 1-litre of ceiling matt and assuming the skirting boards, door and window frames are painted in the same colour, the woods should require no more than 1-litre, which will be covered by one tin.
| Type | Area | Total Paint Cost |
| --- | --- | --- |
| 2 Bedroom House | 150m2 – 200m2 | £100 - £400 |
| 3 Bedroom House | 250m2 – 300m2 | £140 - £900 |
| 5 Bedroom House | 350m2 – 400m2 | £180 - £1,000 |
What are the Additional Costs of Painting a House?
Preparation of the walls and any repairs that need to be carried out on the ceilings or woodwork will make up the bulk of any additional costs. Old wallpaper or thick layers of discoloured paint may need to be stripped, or cracks may need filling.
The single most significant additional expense you are likely to encounter when painting a house is repairs of wall and ceiling plasterwork. This can range from minor tidying-up work to the major plastering of entire walls.
For minor work such as filling cracks, decorators typically use either a caulk, sometimes called decorator's filler or an all-purpose filler depending on the job. Tubes of caulk will not cost more than £2-£4 for around 350ml.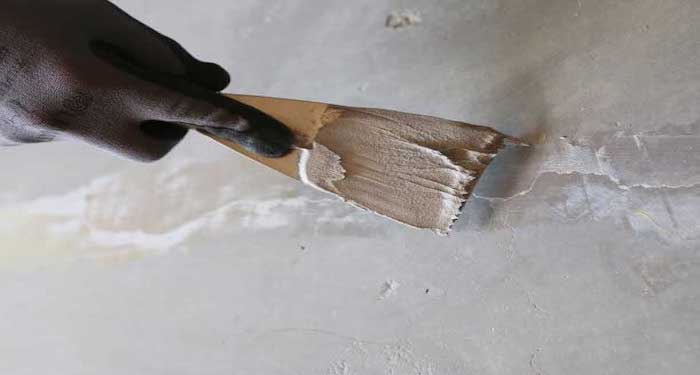 All-purpose ready-mix filler, which is harder-setting than caulk, will usually cost around £5-£10 for one litre. Boxes of multi-purpose, self-mix fillers are available for £2-£7 for around 500g.
Most average rooms will not require more than one box or tub of filler for walls and ceilings and one tube of decorator's filler for woods, which should also be enough to serve two or three rooms.
If more extensive repairs are needed, then you may have to re-plaster. For a small patch of plastering work, taking 2-3 hours, you can expect to pay around £100.
An entire wall, or 3-4 hours work, will cost around £150. Prices for plastering an entire room will range from around £200 for a small room to around £500 for a large room. Plastering quotes for hallways, stairways and landings will range from around £300 to around £500.
Instead of painting directly on to the plasterwork, you may decide that papering the walls for painting will achieve a more even finish. Textured wallpaper for painting is priced around £5-£12 per roll (5m2).
The equipment needed for painting a house should prove a relatively minor expense, but it will still be an additional cost to consider.
Brushes, rollers, paint scuttles, and rolling trays are likely to be the essentials. Rollers are likely to be the most expensive, ranging from around £3 for a short roller to around £18 for the priciest extendable rollers.
Higher ceilings may call for a stepladder, which will cost from around £20 to £100 and above. Stair ladders, designed to cope with high walls on stairways and landings, range in price from around £50 to upwards of £250.
Manual sanding should be perfectly adequate for small patches, but for larger areas, you may require an electric wall sander; sanders range in average price from £15-£50.
Palette knives for filling can be found individually or in packs for around £2-£12. You will also almost certainly use dust sheets to protect floors, carpets and furnishings.
Cotton decorator's dust sheets come in a range of sizes and cost £5-£10 on average for a single sheet. Polythene sheets are also available for usually much less than the cotton equivalents.
You may choose to use a wood stain or varnish for fixtures such as handrails and doors. Wood varnishes, sheens and stains will typically be priced from £5-£20 for a 250ml tin.
Tradesman Costs for Painting a House
Tradesman charge either by the size of the job or by day rate. Neither is really guaranteed to be the cheapest option, but many feel safer with a fixed quote for the entire job.
Tradesman charges per day range from around £150 per day to £300 per day, with charges in London and the South-East commonly being closer to, or sometimes exceeding the higher rate.
A tradesperson will typically finish two rooms per day where the walls are prepared and ready for painting. This is rarely the case; however, small repair work will extend the time needed to complete a room.
The types of paint being used can also be a factor in how long each room will take to complete, as the paint will need to dry between coats.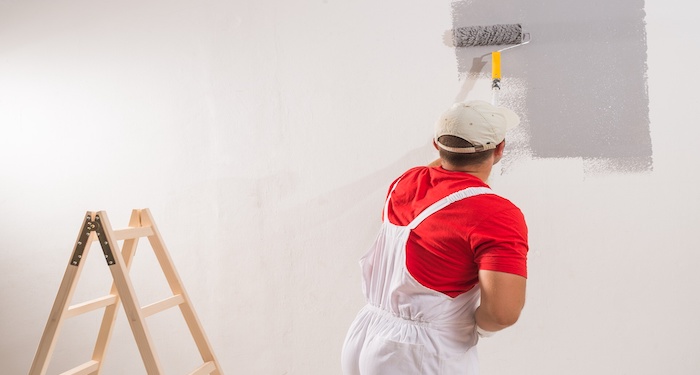 Painters and decorators often work in pairs for larger jobs. It may seem the obvious choice to save money by hiring a single tradesperson. However, this will most often mean that the job will take longer, not saving much, if anything, and sometimes even costing more.
Assuming that two rooms can be completed per day, you can expect tradesman costs for painting a house to range from around £280-£700 for a two-bedroom house, £360-£900 for a three-bedroom house, and £520-£1,300 for a five-bedroom house.
Tradespeople are not likely to charge for small amounts of repair work but will add extra charges if the work is extensive.
How Long Does it Take to Paint an Entire House?
The cost of painting a room will depend on a few factors. A single average-sized room will usually take 1-2 days to paint, depending on how much preparation is needed and the type of paints being used. Sanding and cleaning surfaces where needed can easily mean half a day to a day's work.
Caulk and filler will need time to dry and set, but not all set at the same rate. There are quick-drying products that will be ready to paint within 30-45 mins, while most will need 2-6 hours.
Paints also dry at different rates, with some formulated to be ready for another coat within 4-6 hours, while others may need 9-10 hours to dry evenly.
A 2-bedroom house will take on average 4-7 days to paint. A 3-bedroom house will take 5-8 days. A 5-bedroom house will on average take 7-14 days to paint.
Using paint samples on the walls before committing to a colour will help prevent situations where the colour does not match expectations once on the wall.
Repainting walls due to a change of mind can double the time and cost of painting a room.
Choosing Paint
Here is a list of different types of paint to choose from:
Trade and Retail Paint Cost
Paints are available as Trade or as Retail, retail mixes with Trade being the more expensive formula of the two. Trade paints are claimed by the manufacturers to contain better qualities and higher quantities of pigment.
This means that the formula delivers better coverage, reducing the number of coats needed for a satisfactory finish.
The colours of trade paints are also longer lasting as they contain more advanced thickeners, which also produce a higher quality surface appearance.
Most tradesmen will recommend trade paints for finishing walls but will work with any paint you choose if you'd rather keep costs down.
Primer Paint Cost
Primer is used to seal bare surfaces before the application of undercoat or topcoats. Using a combined primer/undercoat will save you the need to buy them separately, but it is best to use a primer on surfaces which may need a little extra protection from weather or wear.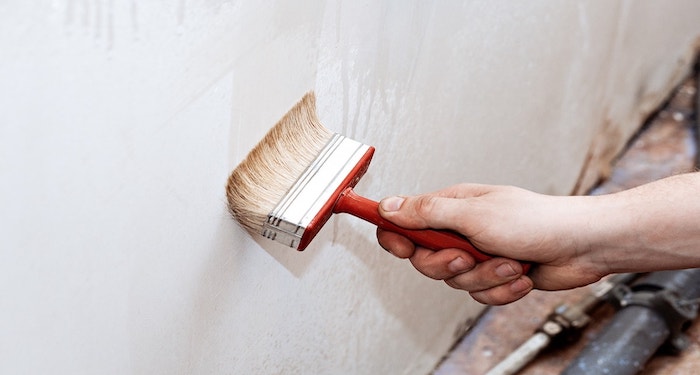 Undercoat Paint Cost
An undercoat is used to block the colours of the previous paints or natural colour of the surface from shining through the topcoat.
Gloss Paint Cost
Gloss paints are designed to be used mostly on wood and produce a shine effect.
Emulsion Paint Cost
Emulsions are mixed to be used on walls and ceilings and offer, broadly, two kinds of finish: gloss and matt.
Gloss reflects light giving surfaces a bright, vibrant sheen while matte and flat matt absorb the light, leaving surfaces with calm, rustic tones.
Eggshell emulsion will produce a matt finish on woodwork, creating a soft cracked effect. Satin and silk emulsions are often referred to as "mid-sheen" paints, they appear rich and velvety, and can produce both glossy and matt effects depending on the light in a room.
A semi-gloss will produce much of the same effect as satin but give slightly more sheen. Silk is mostly used for walls while satin is usually applied to wood, but there is no absolute rule to choosing emulsion.
Clay and Chalk Paint Cost
Clay and chalk-based paints are more expensive and often harder to find than oil and acrylic paints. They produce a completely flat matt finish, giving walls a calm and natural finish.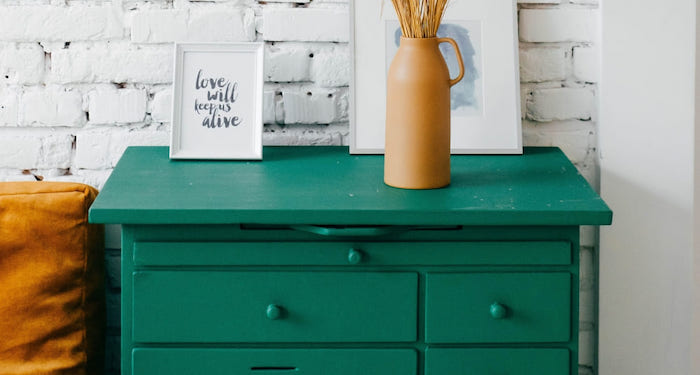 Benefits of Painting a House
The paintwork is arguably the single most significant decorative feature of any living space. Floors may be stripped or carpeted, and furnishings may be luxurious or minimalist, all to pleasing effect.
However, painting is the easiest and most effective way of transforming a room. A poorly finished or discoloured painting will instantly detract from all decorating work and furnishings in any room.
In contrast, well-finished paintwork will always enhance the effect and feel of both. Paintwork can be employed to create different moods and characteristics throughout a house.
Rooms deprived of natural light can be made to seem lighter and smaller rooms made to appear more spacious.
Colours can be chosen to create different moods, from strong colours for warmth, to cool colours for calm.
Well-chosen colours and textures can also maker large rooms that may feel a little too open and impersonal feel more cosy and intimate.
Neat paintwork instantly upgrades the quality of every home, making it a space tailored to personal comfort. Estate agents report that a neatly painted house will instantly attract more interest on the market and is likely to achieve a quicker sale.
How Much Does it Cost to Remove Paint?
Paint is sometimes thick and evenly layered enough to be scraped from surfaces with a palette knife (£2-£8) or paint scraper (£3-£10).
It may also be possible to remove paint using an electric sander (£15-£50). More often, removing paint from walls will require either a paint removing solution or a heat gun, and both methods will more than likely also call for sanding.
Paint and varnish removers range in prices from around £5-£25 per litre and are usually serve around 2-3m2 per 500ml.
An average-sized room will need at least 2 litres (£18-£35) to be effective with most rooms easily using up three or four times that amount, considerably increasing the cost. Heat guns range in price from £20-£80.
The process of using paint remover can be long and laborious, with the solution taking anything from 30mins to an hour or more to start loosening the paint. The paint will then need to be carefully scraped away to avoid damage to the wall surface.
Heat guns can be effective on top layers of paint, particularly on wood, but are not ideal for removing paint from large areas and are often less effective on base layers.
Tradespeople will not usually charge any extra for small amounts of routine paint removal but stripping walls or rooms of paint can very easily double their charge for painting a room.
FAQs
Will any mould and damp need to be treated before painting?
Mould and damp should always be treated before painting. Most cases are not serious and are simply patches of condensation that need to be dried out, while common cases of mould can be treated with mild detergents.
Damp sealant and anti-mould paints cost on average £8-£20 per litre and can be used on areas to prevent damp and mould from returning.
If the damp has penetrated deeper into the wall causing the plaster to peel, or the mould is widespread and not responding to detergent, it is best to consult a professional.
It may be a problem that will require plumbing work and more effective treatment.
Is a paintbrush or roller the best painting tool?
Rollers are best for covering large areas such as walls and ceilings and will produce a smooth finish without leaving brush marks.
However, brushes are needed for painting areas that need more attention such as skirting, wall edges, doors and window frames.
Will paint sprayers produce as satisfactory a finish as brushes and rollers?
Paint sprayers or guns generally receive positive reviews from users as both labour-saving and effective in creating an even finish.
However, they are also reported to require a great deal of preparation, as areas not being painted need to be meticulously covered in sheets and tape to avoid the spray.
Paint sprayers also tend to use more paint than painting by hand, so you may end up paying more than you had budgeted.
Paint sprayers range in price from around £50 for a basic electric spray gun to around £500 for the most advanced models.
How many tins of paint do I need to paint an entire home?
A 2.5 litre tin of paint should complete a single coat of wall paint for the average-sized room. A separate white is most often used for ceilings and another white for the woods.
The walls of an average-sized room will be covered by three tins of emulsion, with single tins of ceiling matt and wood paint likely to comfortably serve at least two rooms.
Hallways, stairways and landings will, on average, count as the equivalent of two rooms. An entire two-bedroom house will need between 18 and 21 tins to paint, a three-bedroom will use between 27 and 30 tins, and a five-bedroom 30 and 33 tins.
Are there eco-friendly paints available?
Eco-friendly paints are formulated to contain fewer of the compounds known as volatile organic chemicals. These are basically chemicals which give off a lot of fumes, giving paint its strong scent.
Environmentally friendly paint is prepared with a variety of natural materials, including clay, milk proteins, citrus, balsam and other minerals. These paints have little to no scent and are considered the safest paints for home use.
As well as specialist brands, many of the popular high street brands also produce ranges of environmentally friendly paints.
These are generally more expensive than standard paints, but this is not always the case. Many retailers and brands offer eco-friendly paints at comparable prices to standard paints.
Sources