How Much Does Scaffolding Cost?
What's the average cost of hiring scaffolding?
The average cost of having a scaffold tower assembled is £200 to £300. The cost will land around £450 to £550 to scaffold a chimney, £800 to £1000 for scaffolding on 3-sides of a semi-detached house, or £600 to £700 for scaffolding on 3-sides of a detached bungalow.
You'll need to budget for about £450 to £550 to scaffold bridging over a conservatory.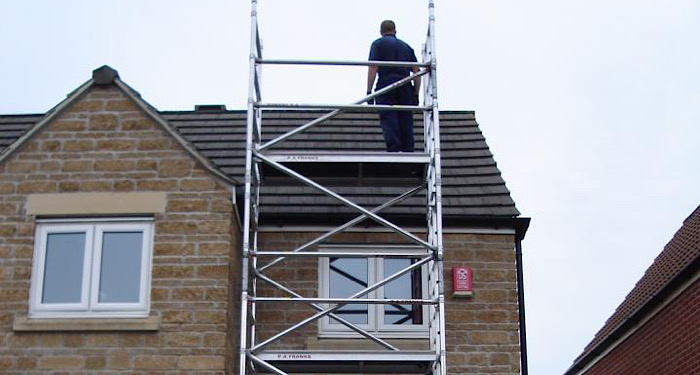 What can affect the overall cost of hiring scaffolding?
Among the cost-affecting factors for hiring scaffolding is the type and size of the scaffolding, the number of tradespeople hired, ease of access, and the location of your property.
How can the location of your property change scaffolding prices?
If you live in the southeast of England (and London in particular), prices will be higher than the national average in most areas. However, the opposite is true in regions like the north of England, Scotland, and Northern Ireland.
Scaffolding Prices
In the table below, you'll find all the average costs for renting scaffolding:
| Job Description | Total Cost |
| --- | --- |
| Scaffold Tower | £200 to £300 |
| Scaffold a Chimney | £450 to £550 |
| Scaffolding on 3-sides of Semi-detached House | £800 to £1000 |
| Scaffolding on 3-sides of Detached Bungalow | £600 to £700 |
| Scaffold Bridging Over a Conservatory | £450 to £550 |
What are the Additional Costs of Hiring Scaffolding?
There are a range of added costs that you may incur for scaffold hire. Let's examine some recurring examples.
Minimum Fee
In certain cases, labourers/companies will charge a minimum fee to provide or/and set up scaffolding. This may be added to the overall cost or counted part of your total bill. Say, for instance, that a large scaffolding job is taking place whereby scaffolding is being set up all around a semi-detached house.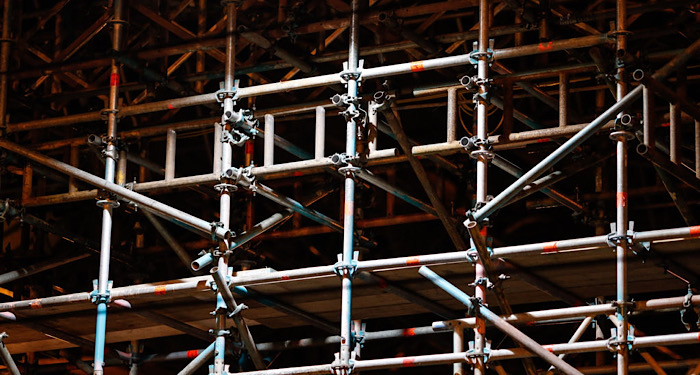 If you were to be charged by the day, it would cost the same whether it took a day and four hours or a day seven hours, as you would be charged for two days of labour.
Size/Type of Scaffolding
Of course, the type and size of scaffolding will also impact scaffold hire prices. The cost will differ for options such as single, double, trestle, or steel scaffolding.
Number of Tradespeople
The cost of scaffolding for hire will also vary depending on the number of tradespeople hired. If one tradesperson can put the scaffolding together, the labour cost will be significantly lower than if two, three or more tradespeople are needed.
Duration
The longer it takes for scaffolding to be installed, the higher the labour cost will be. On the other hand, the longer the hiring time frame, the more you would pay with some homeowners hiring scaffolds for a few days and others for several weeks or months.
Tradesmen Costs for Scaffolding Hire
The costs involved in hiring scaffolding will primarily relate to the hiring period. However, another important element of the price is the labour expenses of setting it up and taking it down. Let's take a closer look at the labour costs.
The average labour costs of setting up a scaffolding tower to fix bottom hip tiles would be about £230 to £270. The labour fees would cost around £430 to £470 for scaffolding bridge for a conservatory and £400 to £450 for scaffolding at the face of a property for roofing.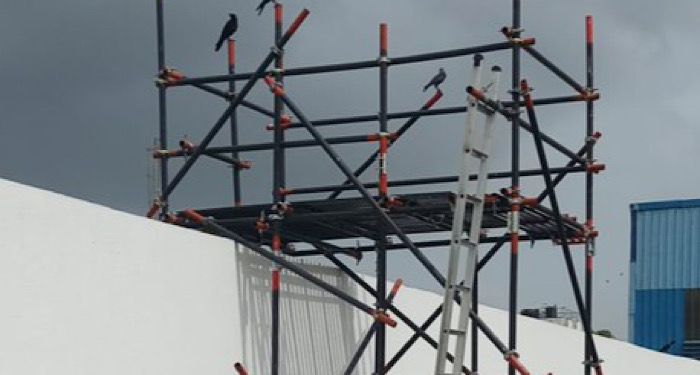 The price for scaffolding around a semi-detached property for roofing is around £830 to £870, while chimney work scaffolding cost about £730 to £770.
It would set you back roughly £480 to £520 to scaffold at the front of a property for painting or £1480 to £1520 to scaffold around a detached home for painting.
Labour costs can be impacted by the ease of access, the number of tradespeople hired, where you live, and weather conditions (e.g., if there is adverse weather, setting up the scaffolding, could be prolonged/postponed).
Types of Scaffolding
There are several common types of scaffolding. This section will break down these examples and look at the pros & cons and average costs of these options.
Single Scaffolding Cost
This type of scaffold tends to be employed for bricklaying and comprises a single frame of standards positioned like an upside-down L.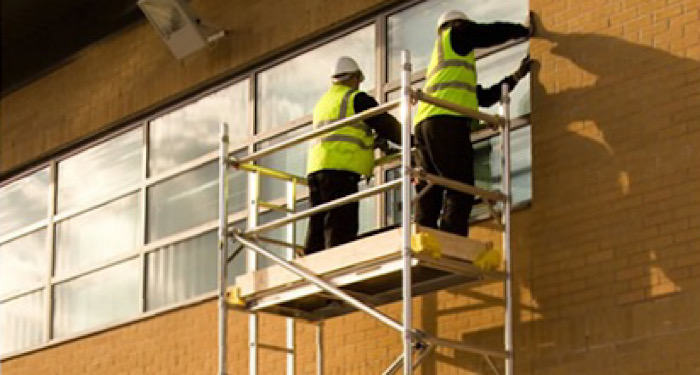 The support beams known as putlogs run through wall holes with scaffolding boards/planks going across to stand on. Reaching the adjoining wall is made easy for builders as a result.
The cost of hiring scaffold for this type will be about £90 to £130 in terms of supply costs.
Pros:
Perfect for regular buildings
Particularly safe choice
Cheap scaffolding hire
Can be assembled with relative ease
Small and least number of scaffolding poles
Cons:
Doesn't well suit complex buildings
Brickwork required
Single scaffolding can only reach a given height
Double Scaffolding Cost
Also known as mason's scaffolding, double scaffolding is generally used for stone masonry work. The idea behind using two rows of scaffolding is because of the challenges associated with fitting supporting plugs into stone.
With double scaffolding, the frame itself supports each putlog, and the use of two rows makes it especially firm. This type of scaffolding often uses cross braces and rakers too.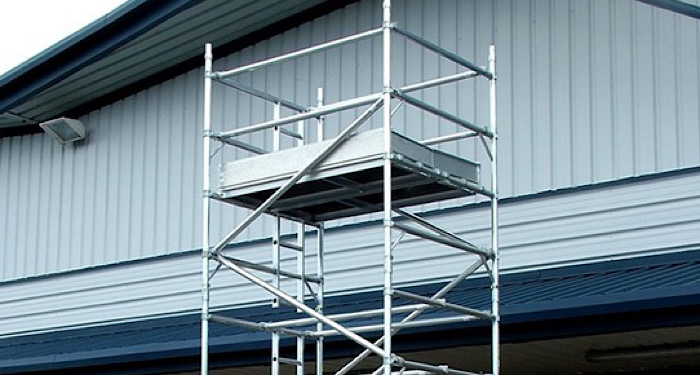 In most cases, double scaffolding is metallic and often steel-based. It will likely take several hours to set up and generally takes longer to erect than single scaffolding. This type of scaffolding is H-shaped by design.
Without the labour cost, it would land around £200 to £300.
Pros:
More vigorous than single scaffolding
Suited to stone masonry work
Cons:
Dearer than hiring single scaffolding
Suspended Scaffolding Cost
This option, as the name suggests, is suspended at a height and held in position. It is held up with the roof building or another tall structure thanks to the attachment of chains or ropes.
This type of scaffolding platform, unlike other types, can be repositioned at ease. Suspended scaffolding tends to be used in cases where it's impossible to build the scaffolding from the ground, perhaps due to accessibility issues.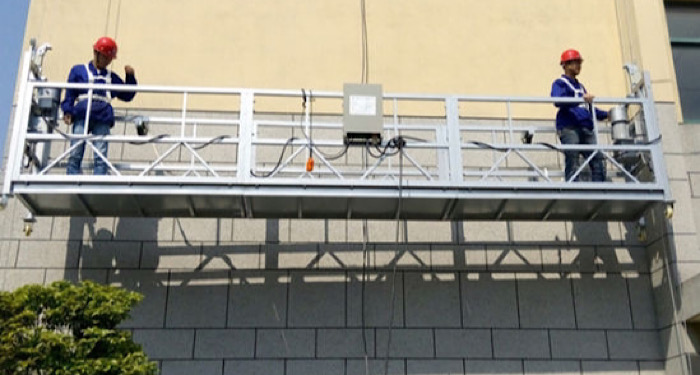 In other cases, suspended scaffolding will be used if work is needed at a certain height. For instance, window cleaning on skyscrapers is often achieved using this option.
It will likely take several hours to set up this type of scaffold. Suspended scaffolding generally costs several hundred pounds but could cost more for especially large scale projects/work.
Pros:
Suitable for working at heights
Ideal if the ground below is not suited for establishing scaffolding
Cons:
Difficult to assemble
Can be expensive
Trestle Scaffolding Cost
Trestle scaffolding is usually metallic and is installed indoors. It can only be set up to about five metres in height. This type of scaffolding tends to consist of a frame fitted with mobile tripods or ladders and is generally used for interior repairs or decoration.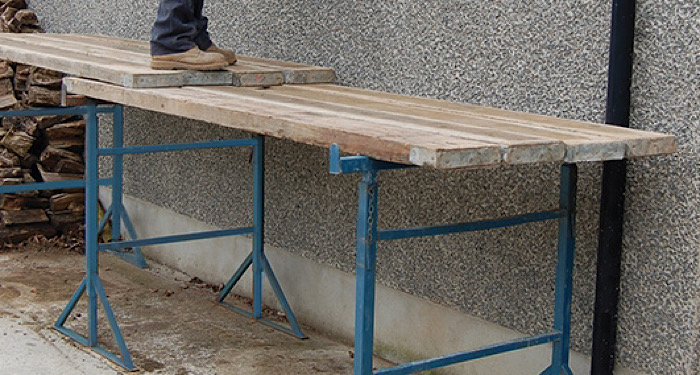 It tends to take sixty minutes or less to set up this type of scaffolding, although it will depend on the size.
Hiring costs may be as little as £10 to £20.
Pros:
Not costly
Ideal for indoor work
Can easily be assembled
Cons:
Steel Scaffolding Cost
Scaffolding of various sizes and designs can be made from steel. Steel scaffolding tends to be comparable to double scaffolding but what distinguishes it is that its stability and support is established with standards connected to steel couplers or fixings.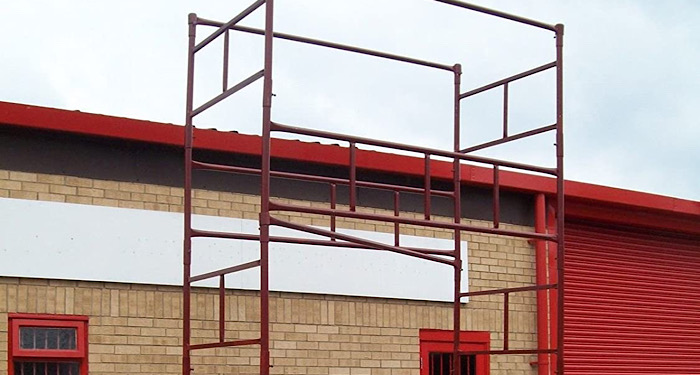 This option has great safety value and is particularly robust. For this reason, as well as the fact that it can be used in various projects, including construction sites, steel scaffolding is an especially popular choice.
Costs for hiring steel scaffolding may range from under £100 to £400+ as it can come in a wide range of sizes.
Pros:
Particularly strong
Well suited to large construction projects
Provides more safety
Robust option
Cons:
May prove a bit expensive
Cantilever Scaffolding Cost
With cantilever scaffolding, the standards tend to be held in place using a collection of needles that are brought up via wall holes. In other cases, the needles are fixed in position within the floors via a range of openings, making it a form of independent or double frame scaffolding.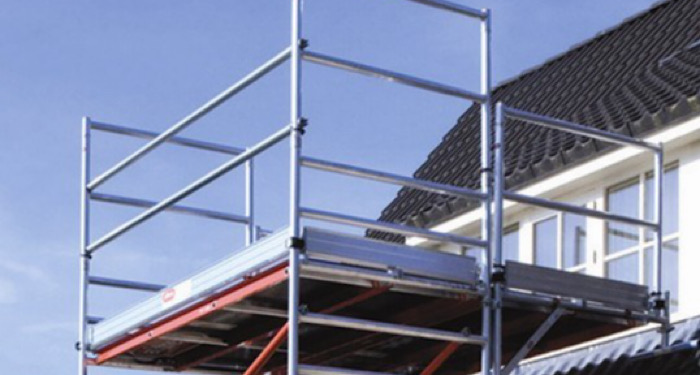 Cantilever scaffolding tends to be used in cases where the ground below is incapable of holding traditional scaffolding, the upper part of the wall is being constructed, or/and the ground is right beside a wall and is free of traffic.
Cantilever scaffolding is generally made of metal. The time needed to assemble this type of scaffolding will simply depend on the size of the project. This option tends to cost £50 to £100 to hire.
Pros:
An ideal alternative to regular scaffolding
Not usually too costly
Cons:
Unsuitable for some situations
Patented Scaffolding Cost
Readymade or patented scaffolding generally features a premade frame and boards that have already been fixed into brackets at the height preferred.
This is a good option if you want to cut down on labour costs, given that their assembly is straightforward.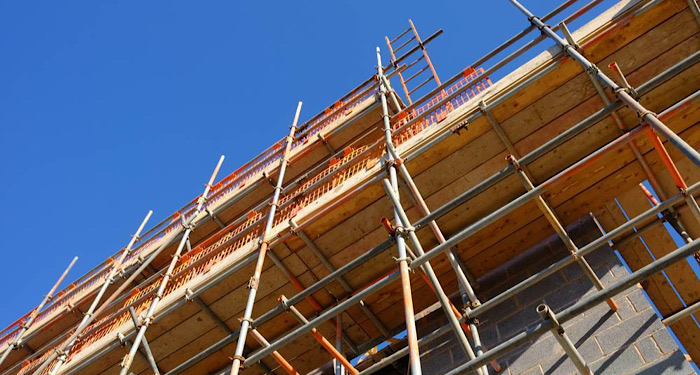 It will often cost several hundred pounds but may even find it's possible to hire patented scaffolding for as little as £100 or less.
Costs for hiring steel scaffolding may range from under £100 to £400+ as it can come in a wide range of sizes.
Pros:
Tends to be cheap
Mostly pre-assembled
Can reduce your labour expenses
Cons:
Tends not to be of the best quality
Hiring vs Buying Scaffolding
The clear advantage of hiring scaffolding is that it's simply a lot cheaper than buying it outright for any given project. In fact, it will generally cost several thousand pounds to buy it to keep.
That said, it would actually save you money in the long run if you were planning to reuse the scaffolding enough times.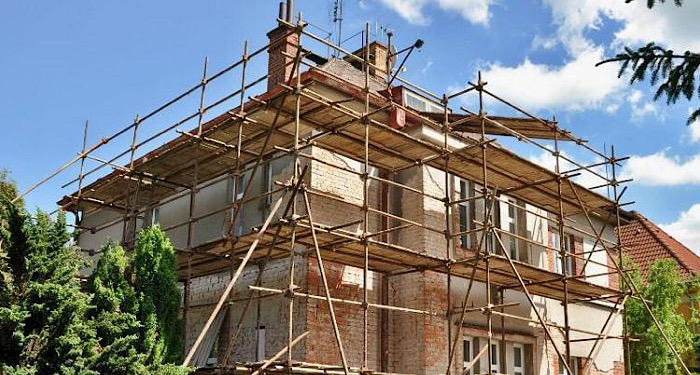 You'll need to take this into account when trying to determine whether hiring or buying scaffolding is the best option for you.
Obviously, if you buy it, it will wear down with time, and it won't be as strong or sturdy as renting scaffolding after a certain point.
FAQs
Q: How long can scaffolding be left up?
A: It depends on the project, but there are generally no restrictions on how long you can keep scaffolding up.
The local authorities may take issue if scaffolding was unsightly and it remained up for months on end. But in general, there are no issues so long as you are meeting all of your legal requirements (i.e. building regulations approval etc.).
Q: What height should scaffolding be?
A: The height of scaffolding required will vary from project to project, but it ranges between 5 and 30 feet tall.
Q: When is scaffolding needed?
A: To access the roof or work at a height scaffolding is needed unless you are working with a ladder for a small space (e.g., replacing a few roof tiles in one roof space) or otherwise if you are working at a height of four feet above the ground.
Q: Can I get next day scaffolding?
A: It is possible, but it will depend on the company. To find out, you should quickly Google 'scaffolding hire near me' for local scaffolding hire and call a few local providers to check if you can scaffolding for tomorrow. Unfortunately, there are no guarantees.
Q: Should scaffolding be checked?
A: Yes, check it for stability and safety either every seven days or otherwise when there has been adverse weather or alterations to the scaffolding itself.
Sources