How Much Does a New Bathroom Cost?
In this article we will discuss the various costs involved in installing a new bathroom. Such expenses can include but are not limited to the costs for materials and labour associated with installing a new toilet, bath, tap and shower. We will also cover relevant aspects such as additional costs, how long it might take build a new bathroom and how much it could cost for bathroom repairs and maintenance.
A basic quality bathroom might cost you £1500 to £2000 for installation. An average quality bathroom will cost you roughly £3000 to £6000 while for a high-quality bathroom it may cost between £7000 and £15,000. If you want a small bathroom installed, you might expect to pay £1000 to £3000. For a medium-sized bathroom, it will likely cost around £3000 to £6000 while for a larger bathroom, it could cost between £7000 and £10,000. However, the latter may prove more costly, depending on how large the bathroom is.
New Bathroom Prices
We will now break down the new bathroom cost in more detail based on different types of bathrooms. The estimated price range for significantly altered bathrooms such as modern or traditional bathrooms vary greatly.
| Type of Bathroom | Price Range |
| --- | --- |
| Low-Quality, Budget Bathroom | £1000 to £3000 |
| Budget Renovated Bathroom | £1000 to £3500 |
| Mid-Quality, Minimal Renovation Bathroom | £4000 to £5500 |
| Modern Bathroom | £4000 to £10,000 |
| Country Bathroom | £4000 to £10,000 |
| Traditional Bathroom | £4000 to £10,000 |
| Average Quality, Large Bathroom | £7000 to £10,000 |
| Luxury Bathroom | £7000 to £15,000 |
What are the Additional Costs of a New Bathroom?
Additional costs for a new bathroom might include flooring, design and tiling expenses which we will discuss in this section.
New Bathroom Design Costs
It will likely cost you between £35 and £50 per hour to hire someone to professionally design a new bathroom.
New Bathroom Lighting Costs
The average cost of new bathroom lighting will be somewhere between £25 and £50 although this is before any installation expenses.
New Bathroom Floor Costs
Cost of new bathroom flooring will vary depending on the material used. For example, porcelain tiles might cost £20 to £30 per m² while rubber flooring usually costs between £30 and £60 per m².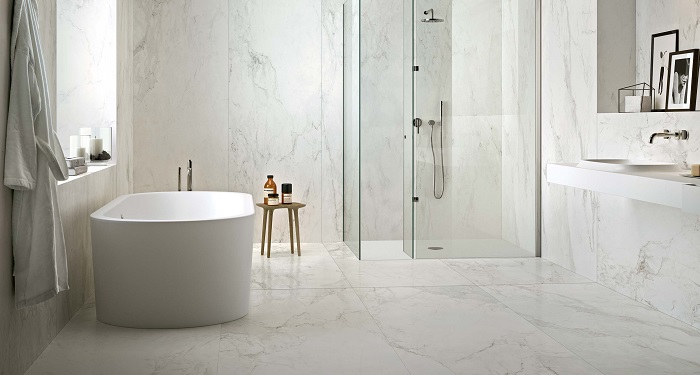 New Bathroom Painting and Decorating Costs
You'll likely need to spend £20 to £50 to buy a sufficient number of paint cans to cover a bathroom. The cost variation is due to the different prices per product as well as factoring in how much paint you'll need depending on the size of your bathroom. It will likely cost you around £325 to £500 to hire a painter to perform this job and to decorate.
New Bathroom Tiling Costs
Average-sized ceramic tiles will cost roughly £12 to £50 per m². The price of tiles varies significantly based on the materials used. Slate tiles for example may cost between £40 and £50 per M² while glass tiles tend to cost £110 to £160 per m². If you are hiring a tiler, the total cost of labour and materials will probably end up between £500 and £800 if you wish to get your bathroom fully tiled.
What are the Supply Costs of a New Bathroom?
We will now look at the average, ranged supply prices as part of the cost of a new bathroom being fitted. The list below excludes the cost of installation and labour and is based on supply and material costs alone:
Toilet: £100 to £200
Manual Shower: £40 to £200
Electric Shower: £60 to £250
Digital Shower: £300 to £500
Power Shower: £200 to £500
Shower Screen: £50 to £150
Bath: £100 to £400
Sink: £50 to £200
Taps: £40 to £100
Floor Tiles: £10 to £20 per M²
Bathroom Installation Costs
This section looks at the installation and labour cost for a new bathroom when hiring someone to perform an installation. We will look at how much you might expect to pay overall depending on the size and quality of the bathroom which you would like to have installed. This is based on an average, ranged cost for a new bathroom.
In terms of an average cost of a new bathroom, you can expect to pay between £3000 and £6000. If you're looking for something a little cheaper, a budget bathroom is possible for around £1500 to £2000.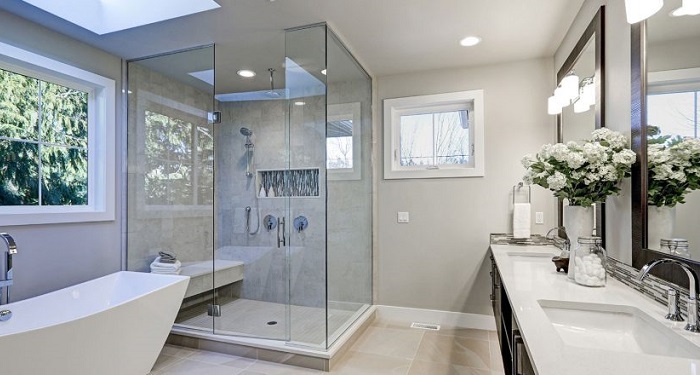 If you want a budget bathroom, you'll need to find ways to reduce costs but do ensure that you're still getting your money's worth and that the provider is offering a good service. Approaches to cost reduction include finding cheaper materials and considering what you could do by yourself. A high-end bathroom will usually cost between £7000 and £15,000.
How Long Does It Take to Build a New Bathroom?
For this section we will explore the different durations it takes to build bathrooms of varying sizes and quality. Below we breakdown the average length of time it should take to have a budget bathroom, standard bathroom and luxury bathroom installed.
| Size/Quality | Duration |
| --- | --- |
| Budget Bathroom Suite | 6-13 days |
| Standard Bathroom Suite | 7-14 days |
| Luxury Bathroom Suite | 9-16 days |
How Much Does Each Stage of a New Bathroom Build Cost?
For this section, we will break down the cost to install a new bathroom based on each stage. The below price ranges are estimates and if part of a bigger job, these prices may be brought down.
Old Bathroom Removal
It will cost roughly £300 to £1000 to remove an old bathroom. Generally, this means gutting out the entire bathroom so that a builder can start from scratch. This might involve removing facilities such as a toilet and bath. In other cases, some facilities of the old bathroom may be kept while others are replaced.
Plumbing Relocation
Moving plumbing fixtures for a bathroom will likely cost you between £700 and £900. This may involve rerouting plumbing pipes to adapt for new bath, sink or/and toilet installations.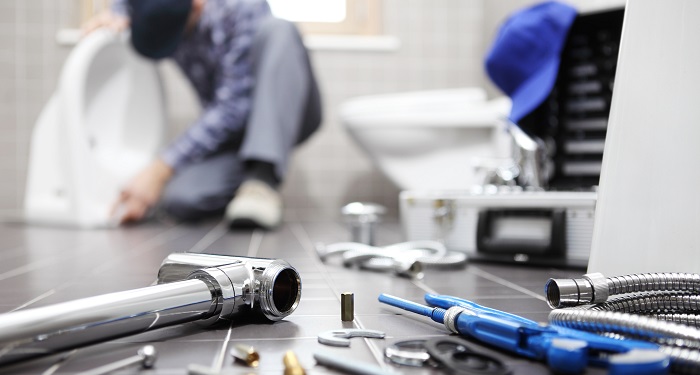 Minor Building Work
Such work might include moving doorways, knocking down walls or/and placing up a stud wall. Moving a door will likely cost you between £150 and £250 while having a wall knocked down might come with a price tag of £100 to £300. A stud wall installation will probably cost between £200 and £400. How big your bathroom is and where in the house it is located can affect the cost of any minor building work.
First Fix
The next step involves plumbing and electrics. Plumbing will likely cost roughly £700 to £900 although this depends on how much work is required. As for electrics, if you wish to install an extractor fan, this might cost between £250 and £350. If you want to replace an existing fan, this will probably cost around £150 to £250. For the installation of a power shower, you can expect to pay between £400 and £600.
Any Plaster Work
Plaster work could come to £390 to £510 for a small bathroom, £430 to £560 for a medium bathroom and around £550 to £700 for a large bathroom. Plastering involves applying building material which coats and protects interior walls and ceilings.
Bathroom Suite Installation
The cost of installing the bathroom suite will probably fall in the £750 to £1250 range. This entails adding fittings such as the bath, toilet, sink and shower.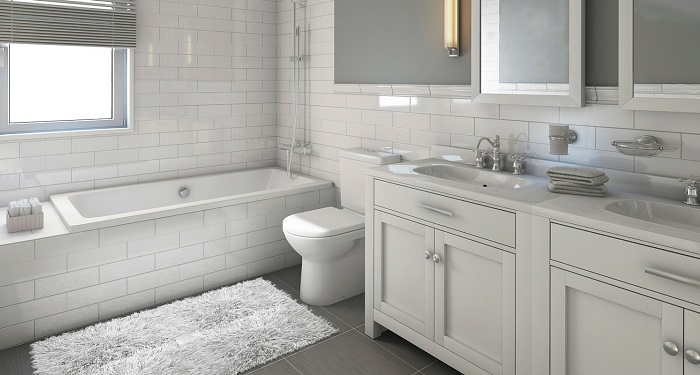 Final Fixtures and Fittings
The price for final fixtures and fittings will vary largely depending on how many final pieces you want to add to your new bathroom. Installing a new extractor fan should generally cost between £250 and £350 for example. To have a bathroom cabinet installed, the fee will probably end up around £40 to £55 in total.
New Toilet Cost
In this section, we will look at different types of toilets and the cost of new bathroom toilets. Common toilet types include close coupled, wall hung, back to wall, rimless and short projection toilets. The estimates mentioned below exclude the labour costs for installation.
Close Coupled Toilets
Close coupled toilets are very popular in the UK. Their two key components, the pan and cistern are made of ceramic with the cistern positioned directly atop the pan. Usually these toilets have a dual flush option. Typical costs for close coupled toilets range from £50 to £300.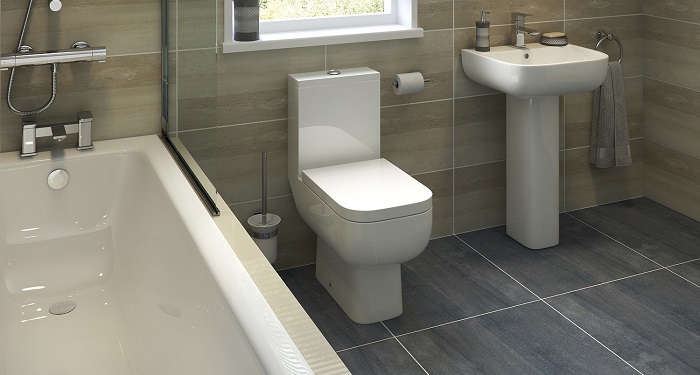 Back to Wall Toilets
Back to wall toilets utilise the wall to mask their cistern. They also offer a modern and minimalist aesthetic. These toilets are popular among many consumers as they use up less space than most toilets. Back to wall toilets tend to cost between £100 and £250.
Rimless Toilets
Rimless toilets do not feature a conventional toilet rim, and this allows the water to wash along the entire pan with each flush. These toilets will reduce your water expenses and are also more hygienic than most toilet designs. Rimless toilets are also easier to clean. The estimated price range for rimless toilets is £100 to £300.
Short Projection Toilets
These toilets project outward to around 65cms or less. They have a shorter depth than a typical toilet. These toilets are great for small bathrooms where space is already limited. In most cases, short projection toilets will cost you around £100 to £300.
Wall Hung Toilets
These toilets allow for more room underneath since they are mounted to the wall. They help to give your bathroom a more spacious look. A wall hung toilet will probably cost somewhere in the range of £150 to £300. Additional costs may add an extra several hundred pounds such as for the cistern and hidden frame required for these toilets.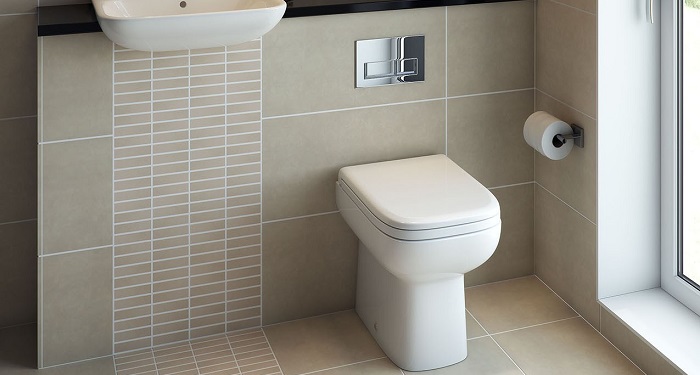 New Bathtub Costs
We will now explore the price ranges for different types of baths. Among popular baths in the UK are alcove baths, free standing baths, corner baths and shower baths.
Alcove Baths
Also known as recessed baths, this bath design is very commonplace across the UK. Alcove baths tend to have two or three sides fitted against a wall. They tend to be made of fibreglass or acrylic. These baths usually cost between £100 and £350.
Free Standing Baths
As the name suggests, this type of both is not connected to a wall. More than often, free standing baths are larger than an average bath. Free standing baths will generally land in the £400 to £700 range.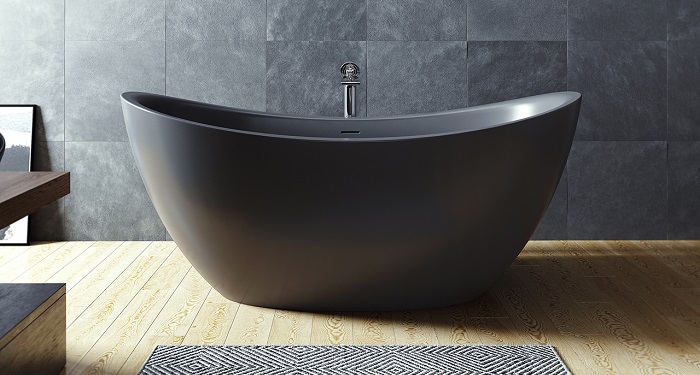 Corner Baths
These baths are designed to fit neatly into the corner of the room. While using up little space, these baths can add an appearance of luxury to your bathroom. This type of bath will enable more walking room around the bath by cutting out wasted space. Corner baths will usually cost around £200 to £600.
Shower Baths
These baths tend to be quite spacious and are designed to support showering and bathing alike. Shower baths are considered a good option for families since they cover all the essentials. The average price range for shower baths is £200 to £400.
New Sink & Taps Cost
In this section, we will analyse the various types of bathroom sinks and taps. Deck mounted taps, wall mounted taps and floor mounted taps are among the most popular types of taps to choose from.
Bathroom Sink Cost
A new sink can range in price quite considerably, from as little as £50 up to £500 for the materials alone. The cost to install the sink tends to be roughly the same regardless of the size as it's mainly a case of attaching it in place, hooking up the waste and fitting the taps. This sort of job won't take more than a few hours usually so you'd expect to pay around £100 for installation.
Deck Mounted Taps
These taps & sink are particularly popular among UK households. Deck mounted taps are connected with the basin or bath via tap holes which are present along the rim. You can expect to pay between £30 and £60 for these types of taps.
Wall Mounted Taps
These taps, which are attached to the wall extend out to hang over the bath or basin. The estimated cost for wall mounted taps is about £50 to £200.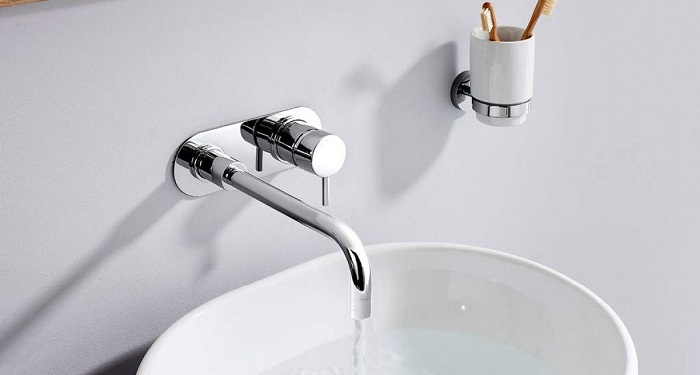 Floor Mounted Taps
Floor mounted taps are relatively recent designs. As you would expect, they are positioned on the floor and are also designed primarily for bathtub use. While most floor mounted taps fall in the £200 to £500 price range, many are significantly dearer.
New Shower Cost
In this section, we will take a look at the price ranges for different types of showers. Examples of shower types include electric, mixer, thermostatic, eco and power showers.
Electric Shower
Electric showers are more complex versions of mixer showers whereby an electronically powered heating element warms up the water. The regular price range for these types of showers is £90 to £300.
Mixer Shower
Mixer showers combine hot and cold water supplies available to achieve the preferred temperature. Mixer showers will generally cost between £75 and £400.
Power Shower
Usually, a power shower mixes both cold and hot water taken from your supplies. These showers use a pump to provide a powerful and rapid water flow. Power showers can come with either manual or thermostatic control. Typically, a power shower will cost between £150 and £500.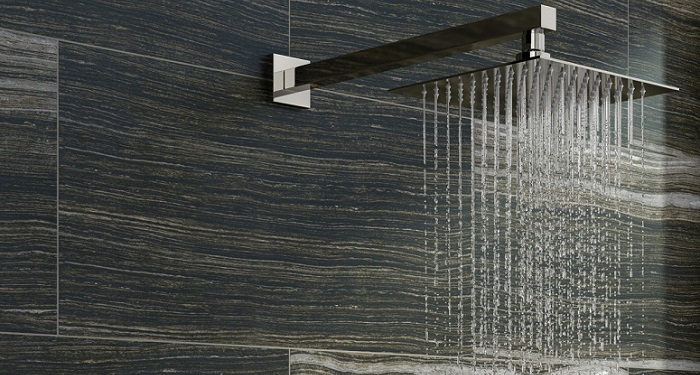 Thermostatic Showers
Thermostatic showers have greater temperature control than most showers. The risk of sudden temperature changes such as if a tap is turned on elsewhere is removed as this type of shower can maintain the same level of warmth (or coldness). Thermostatic showers tend to cost between £50 and £250.
Eco Shower
Both electronic and mixer showers can come in eco styles. Eco showers reduce water usage while maintaining an acceptable level of water flow. Eco showers tend to cost around £100 to £230. You can also purchase eco shower heads as an alternative.
Wet Room Cost
In this section we will explore the cost of installing a wet room, a specific type of bathroom design. The cost of a wet room will probably fall in the range of £4000 to £12,000, depending on factors such as the size of the room. The labour cost alone will add up to around £1400 to £6500 in total. The price range is explained by the costs set by different tradespersons and the size of the room in question.
Wet rooms are designed to be more watertight and tend to be wholly open plan. Wet rooms generally have limited to no entry barriers as opposed to most ordinary bathrooms while regular bathrooms also often have fewer layout options.
A person might want a wet room if they are claustrophobic and desire a more open space or if they want a more modern or spacious look for aesthetic reasons. Benefits of a wet room include increased accessibility and spaciousness. It's also easier to keep clean.
New Downstairs Toilet Cost
For this section we will discuss the option of a downstairs toilet. Having a downstairs toilet installed will usually cost between 600 and £1000. If you were to hire a tradesperson to build and install one, the total cost would add up to somewhere in the range of £2000 to £4000 with labour costs making up around 55% of the total expenses. Locations to place your downstairs toilet include beneath the stairs, a utility room and in a sizeable hallway.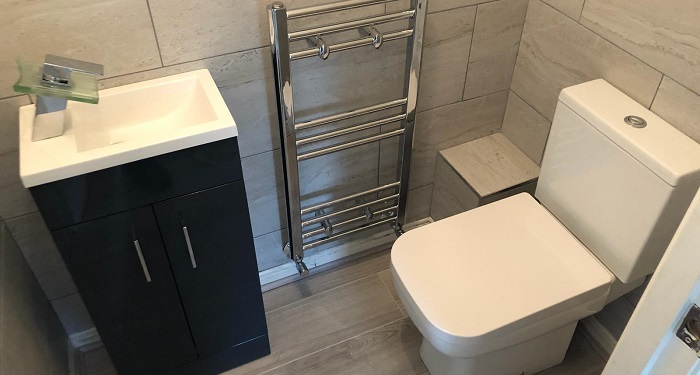 Bathroom Repair Costs
We will now discuss common bathroom repairs and their costs. In this section we will look at repairs such as faucet repair and caulking.
Faucet Repair
Faucet repair may be required due to leakage. The average cost for this job is around £30 to £80. If you need the entire faucet replaced, the material cost will stand roughly at £25 to £150. The plumbing work will then come to roughly £150 to £250.
Caulking
Caulking is the process of filling cracks or gaps with sealant. Caulk tends to be less flexible than sealant. Caulk sufficient to cover a bathroom should cost somewhere in the range of £5 to £25. As for labour costs, a full bathroom caulk will probably come to around £50 to £130 depending on how much work is required.
Replastering
If you want to replaster your walls or ceiling, damaged plaster will need to be removed before the new plaster is applied. Plastering materials for an average-sized bathroom will cost around £50 to £100. The cost for labour will likely range from £390 to £700 depending on the size of the bathroom.
Clogged Toilet
Toilet clogging is not an uncommon problem and while most toilet blockages can be fixed with DIY methods, sometimes a professional will be needed. The cost of getting a clogged toilet fixed is going to be around £75 to £150 which includes any material expenses.
Bathroom Maintenance Costs
For this section we will break down the costs of various forms of bathroom maintenance. Common types of maintenance include regrouting, resealing and toilet maintenance.
Regrouting Tiles
Regrouting tiles involves replacing grout (the paste which fills tile crevices). With the passing of time, grout becomes discoloured and blackens so regrouting your tiles can give a fresh, vibrant look to your bathroom. The cost of materials for regrouting will stand at about £20 to £30. However labour costs will end up roughly between £200 and £250.
Resealing a Bath
Sealer tends to cost between £5 and £10. The labour cost of resealing a bath will end up at about £75 to £150.
Toilet Maintenance
Toilet maintenance will cost you somewhere between £60 and £100 on average. This will include any supply cost.
Weekly Clean
A great way to maintain the cleanliness and longevity of a bathroom is by cleaning it each week. As a DIY job this will not require any labour expenses and may extend the time period before maintenance work by a professional will be required at all. Your expenses for materials and supplies will probably come to around £10 to £50 per year based on how much of your cleaning supplies will be used on the bathroom alone. More detailed advice on keeping a bathroom clean is available here.
Bathroom Removal Costs
We will now analyse the reasons for and the costs of bathroom removal. You may want to remove a bathroom because you wish to replace an old bathroom with an entirely new one. Another reason is that you have several bathrooms and have decided to turn one into another room. Gutting and replacing an old bathroom will generally cost £300 to £500 between labour and waste removal costs. The waste removal costs alone will likely come to about £200 to £250 if you hire a skip.
FAQs
Q: How can you clean bathroom tiles?
A: To clean bathroom tiles, you can employ heavy-duty tile cleaners, cleaning product, lemon juice or vinegar.
Q: How can you remove bathroom sealant?
A: Applying a mild dish detergent before scrubbing can help to remove sealant. A hot air blower can also make it easier to remove sealant by softening it.
Q: How long does it take to install a shower?
A: Most showers take about 8 hours to install.
Q: How can I best maintain a clean bath?
A: Rinsing your bath after use and remembering to turn on the extractor fan are two of the best ways to maintain a clean bath.
Q: Does the cost of bathroom installation depend on where I live?
A: Yes, generally prices vary from region to region across the UK for any installation work.
Sources