How Much Does it Cost to Install a Toilet?
Installing a new toilet is a common home improvement project that can improve your comfort while also increasing the value of your home.
There are several factors to consider when considering the cost of toilet installation, including the type of toilet you are installing, the current plumbing in your bathroom, the type of cistern you are using, and the necessity of preparation.
This article will provide you with an estimate of how much it will cost to replace your toilet and install a new one. We've concentrated on the most important aspects that will influence the price of your new toilet installation, such as the supply, additional and tradesman costs, as well as the timescale of installing a new toilet.
On average, a toilet installation takes 2-4 hours to complete. This, however, varies depending on the type of installation, the difficulty of the task, and whether any additional piping is required.
The size of the toilet never usually affects the price of the toilet installation unless it is massively different from the average one.
Most one-piece toilets range in height from 53cm to 79cm (21 to 31 inches), with a bowl rim height of 25.5cm-40.5cm (14-16 inches) and a floor height of 25.5cm-40.5cm (14-16 inches). Most toilets are between 68.5cm and 76cm (27 to 30 inches) deep.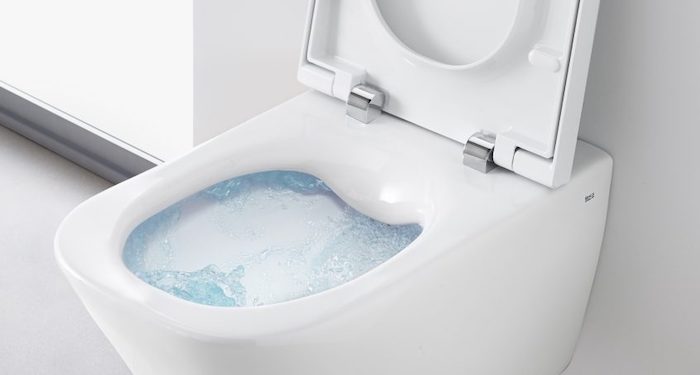 Two-piece toilets are not as low as one-piece toilets, with a total height ranging from 66 to 81 cm (26 to 32 inches). The width rarely exceeds 51cm (20 inches).
Different areas across the UK will experience different toilet costs as some places, such as London, cost extra as tradespeople usually increase their price so the overall cost increases.
Due to this, in London, the installation of a new toilet will cost around £150 and then the supply and materials so the overall price would be £150-£300.
Whereas tradespeople in other parts of the UK, such as northern regions, will charge an average of £100-£200, but if they want a luxury toilet, that will also increase the price.
The typical price of a toilet installation is between £300 and £600. However, prices vary based on the type of toilet, where you live, and whether any further plumbing work is required. The table below will show the different prices of installing a new toilet.
New Toilet Prices
| Toilet | Cost |
| --- | --- |
| Close-coupled toilet | £100-£200 |
| Hidden/wall hung cistern | £300-£400 |
| Low-level cistern | £150-£230 |
| High-level cistern | £150-£230 |
| Specialist hands-free toilet | £400-£500 |
What are the Supply Costs of a New Toilet Installation?
You may wish to purchase your fittings when installing a toilet to save money. The cost of installing a new toilet will vary based on the model of toilet you choose. If you are on a budget, you should consider a low-cost toilet. For a luxury toilet, you should expect to pay more than usual.
There are different types of toilets available. Each toilet has different features, or it adds to the aesthetic of your home. The design of the toilet is the most important aspect in deciding why certain toilets are more expensive than others.
In general, one-piece, wall-hung toilets are more expensive than other toilet models. They have a smoother, sleeker appearance than their competitors and have fewer crevices, making them easier to clean.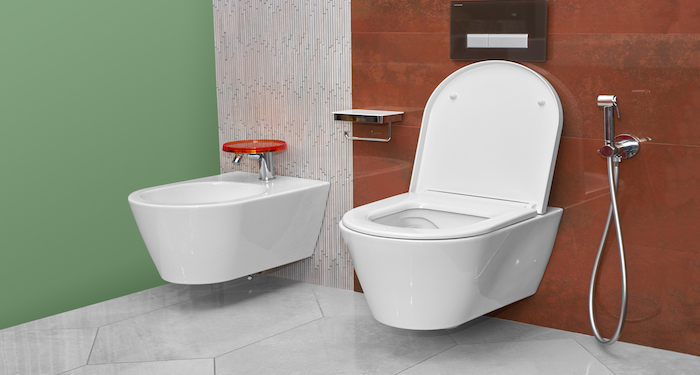 Traditional two-piece toilets are the most prevalent design and, as a result, the most reasonably priced. They're also the type that has the most diverse range of styles. As a result, the price of your budget will increase or drop depending on the type of toilet you select.
With no labour costs, close-coupled toilets cost on average costs about £125-£200, wall-hung toilets cost on average cost £250-£400, low-level cistern toilets cost on average £125-£200, and high-level cistern toilets cost on average £150-£250.
If you want a hands-free toilet built, expect to pay between £1500 and £2000 for the toilet alone.
| Cost | Price |
| --- | --- |
| Close-Coupled Toilet | £125-£200 |
| Wall-Hung Toilet | £250-£00 |
| Low-Level Cistern | £125-£200 |
| High-Level Cistern | £150-£250 |
| Hands-Free Toilet | £1,500-£2000 |
What are the Additional Costs of Installing a New Toilet?
If you're going to use an existing area for a new toilet, you might want to think about other jobs simultaneously. For example, once you've partitioned off the new bathroom area with a stud wall and door, you may need to redecorate because the brand-new wall and freshly painted door will make the surrounding furnishings look tired and boring.
Also, sometimes things go wrong such as you may have an old house and the boiler or the water in your home can't be used by a new toilet, meaning you have to install a new bathroom.
New Bathroom
The price of a new bathroom, which includes the bath, shower and washbasin, ranges from £500 to £2,000.
On the other hand, the cost of installation is largely determined by the amount of time the job will take and the number of people who will be working on it. Costs range from £800 to £3,000 on average.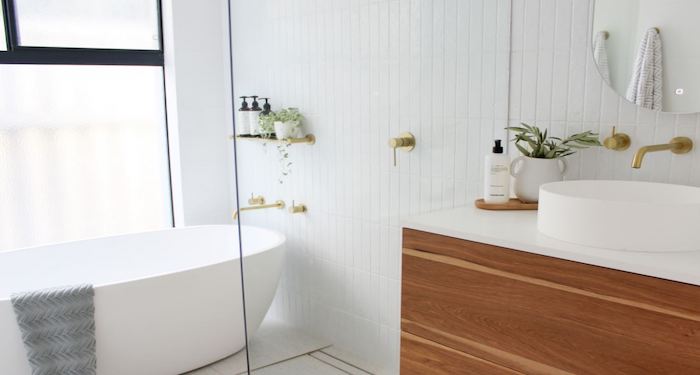 The cost of removing the existing bathroom, tiling, and extra things such as taps, towel rails, and sealant is the third factors to consider cost £600 - £2,400 on average
It also depends on what type of new bathroom you are going for, as installing a basic quality bathroom could cost anything from £1500 to £2000. A bathroom of intermediate quality will cost between £3000 and £6000, while a bathroom of exceptional quality would cost between £7000 and £15,000.
You should expect to pay around £1000 to £3000 for a small bathroom installation. A medium-sized bathroom will generally cost between £3000 and £6000, while a larger bathroom may cost up to £10,000. It could cost considerably more depending on the size of your bathroom and what type of bathroom you want.
Radiator
Buying a new radiator and having it fitted by a professional should cost between £110 and £470.
A single panel radiator should cost between £110 and £210 to install, a double panel radiator should cost between £140 and £240 to install, while a horizontal radiator should cost between £260 and £470 to install.
A vertical radiator should cost £280 to £440 to install, a column radiator should cost £290 to £470 to install, and a heated towel radiator should cost between £130 and £230 to install.
These costs do not include removing a radiator, so if you want your old radiator out and install a new one, you should expect to pay around £500.
Underfloor Heating
Underfloor heating is a luxurious alternative to traditional radiators, and it can be installed under virtually any type of flooring, including stone, wood, tiles, and even carpets. This space-saving heating system can provide your house with unrivalled levels of warm comfort.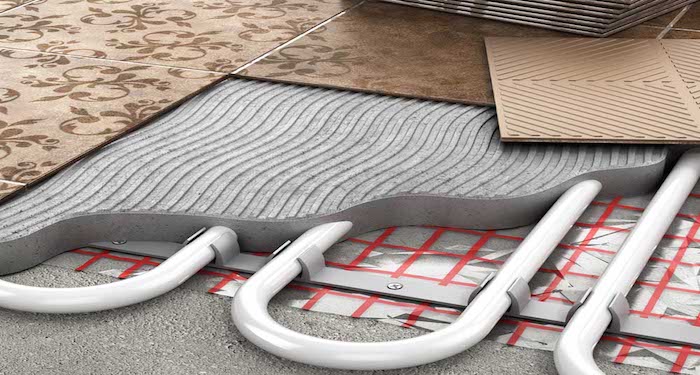 When employing electric heat mats, expect to pay roughly £50-£75 per m2 for underfloor heating. Insulation, heater controls, and electrician expenses can all affect the price. Wet underfloor heating systems can cost tens of thousands of dollars. Expect to pay £2,000 or more for a complete system installation.
The average day rate for expert installation is £300. However, on average, a standard underfloor heating system will cost you about £800, which is a good alternative if you don't want to buy a new boiler.
Towel Radiator
Heated towel rails are surprisingly affordable and easy to install in under a day. People are replacing their radiators with these trendy options, which makes sense given the popularity of modern décor.
Towel radiators range in price from £30 to £150, depending on size and finish, so this could be an option on the budget instead of installing a new bathroom or radiator.
However, the typical cost of a heated towel rail installation is £235 for materials and £225 for installation, for a total cost of roughly £500.
Build and Tile a Hidden Cistern Toilet
To build a tile a hidden cistern toilet would be an additional cost of around £350-£500 as it is extra work for the tradesmen to complete.
It also takes up a lot of time as removal of old tiles or surroundings need to be removed, and you must allow the tiles to set and dry, which can sometimes take up to a day.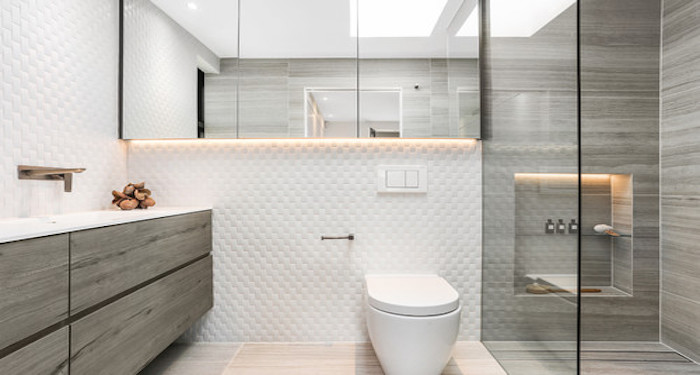 Some clients prefer sealed cistern systems, which allow them to hide their cistern. Only the pan is visible and accessible when the cistern is hidden behind a wall.
A sealed cistern is more expensive to install, as it must be housed in an appropriate location behind the cistern. However, gaining access to the cistern if it breaks and needs to be repaired can be difficult to get to.
The bathroom installer should include provisions for maintenance, such as a maintenance panel or access tiles which is why it is more expensive because the job has a lot more work included.
New Downstairs Toilet
A downstairs toilet can help young children avoid long lines and mishaps. Investing in an extra toilet can help you create a relaxing, attractive environment that will wow your visitors, and it is necessary for those who entertain frequently.
Over half of potential buyers believe that having multiple toilets is critical when purchasing a new home.
If you want a new downstairs toilet installed, the average cost of installing this is between £2,000 and £4,000. However, this depends on several factors that might significantly alter the final cost.
When installing a new downstairs toilet more tradespeople are involved as different jobs are needed such as a joiner, a painter, a tiler and someone to fit the floor down, therefore, the labour costs do increase as it is a big job.
Removal of Existing Toilet
Removing a toilet is a delicate task that should be handled with caution; porcelain toilets are fragile and can break if handled incorrectly. The plumber will install a dirt pipe cover to protect the line and ensure no foul odours enter your home.
It is not a hard job; however, it needs to be done by a professional as it includes a lot of wires and pipes that need to be disconnected but not broken as in most cases, the new toilet can fit right in and makes the job easier.
Removing your existing toilet before you install your new toilet adds to the final price as, on average, it costs £75 to £100. So, although it is not a massive difference, it is an additional price that needs to be paid for.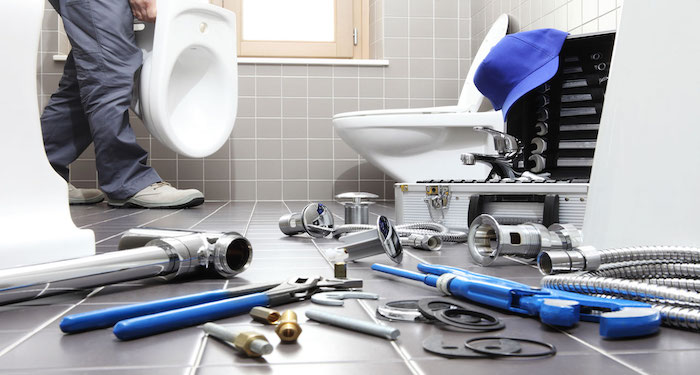 The table below will show the different additional costs that could affect your new toilet installation cost:
| Additional Job | Cost |
| --- | --- |
| New bathroom | £6,000-£8,000 |
| Radiator installation | £110-£470 |
| Underfloor heating | £800 |
| Towel radiator | £150-£500 |
| Build and tile frame a hidden cistern toilet | £250-£500 |
| Install downstairs toilet | £2,000-£4,000 |
| Removal of existing toilet | £75-£100 |
Tradesmen Costs for Fitting a New Toilet
The cost of labour to install a toilet is determined by several factors, including the type of toilet being installed, if any additional plumbing work is required, and your location.
The typical cost of toilet installation labour is between £100-£400. Plumbers typically charge between £40 and £60 per hour, so if any additional plumbing work is required to install your new toilet, the price could add up quickly.
The labour costs of installing a toilet in London are expected to be £50-£200 higher than in the North or other parts of the UK.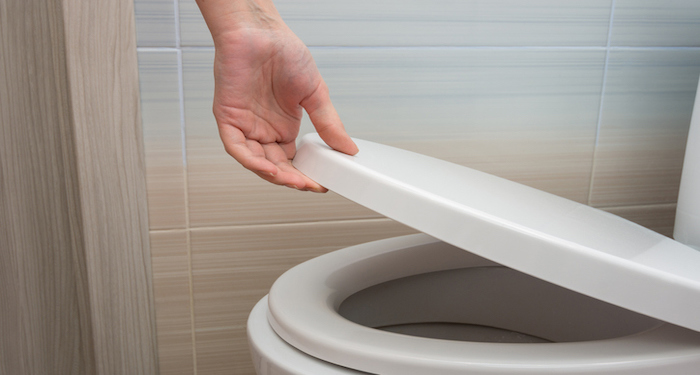 Also, any problems that can happen during the job could affect the labour costs of installing a new toilet as it may take longer than expected, or they might need an extra pair of hands. The following are some of the issues that can occur:
Leaks that were not expected.
The toilet is wobbling due to a damaged flange.
Compression or improper wax ring seal replacement.
Leaks are caused by poor caulking.
Failure to replace a leaking flush valve is a serious mistake.
Tradespeople frequently charge an additional fee of £50 to £200 to transport bulky toilets upstairs or away for disposal. If you live in a property with a second-story bathroom, keep this in mind because it will affect the total cost of toilet installation or replacement.
How Long Does It Take to Install a New Toilet?
The length of time it takes to replace a toilet is determined by the reason for the replacement.
It doesn't take long to switch models, but you could be replacing an old or leaking toilet that has damaged the subfloor or the toilet flange. In this situation, repairs could make the job take much longer.
Whether or not repairs are required, your new toilet should have the same clearances as the old one so that the waste line does not have to be re-plumbed. You'd almost certainly need a plumber for that, which may throw the timing off.
Installing a toilet can take anywhere from an hour to four hours, depending on the tradesman's level of competence and the type of toilet you're installing.
After the toilet is installed, you'll need to install a toilet seat which can add a little extra time depending on what type of toilet seat you are going for.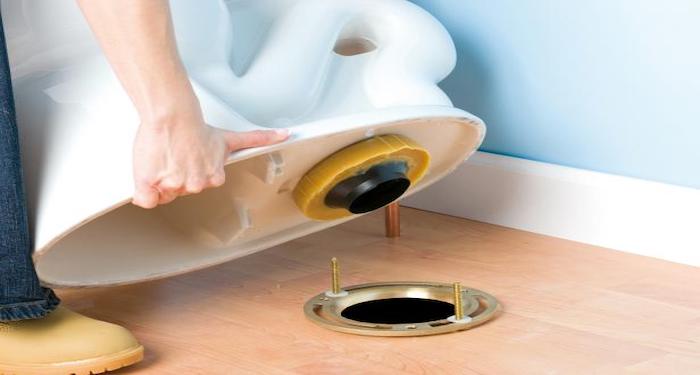 The different types of toilets affect the timescale of the job. The table below it will show the different times that it takes to install a toilet.
| Type of Toilet | Time |
| --- | --- |
| One-piece floor mount | 1.5-2 Hours |
| Two-piece floor mount | 2-2.5 Hours |
| Wall mount toilet | 2-3 Hours |
| Toilet removal | 30-40 Minutes |
Choosing a New Toilet
There are several different types of toilets to consider before making your final decision, depending on the circumstances of your home and your preferences. We've created up a list of the most common toilets that might be a good fit for your home.
Close Coupled Toilet Cost
They are the most classic type of toilet with a floor-standing unit and a visible cistern beneath the seat. The cistern and bowl are intimately paired together, as opposed to the old-fashioned type where the cistern was situated high above the toilet, as with some of the more conventional suites (high-level toilets will be discussed later).
Flush mechanisms range from the conventional handle to the modern chrome button, with some even allowing you to control the water flow. Due to the large range of shapes and styles available, a close coupled toilet can be used in any type of bathroom, from sleek and simple modern toilets to timeless elegance for a traditional bathroom.
They're also available in a "completely veiled" style, in which the entire toilet lays against the wall from top to bottom. This facilitates cleaning by removing any unpleasant nooks and crannies.
Look for rimless toilets if you're concerned about hygiene. It is considerably easier to clean without the usual rim, as germs and bacteria have nowhere to hide. These toilets, on average, cost around £125-£200.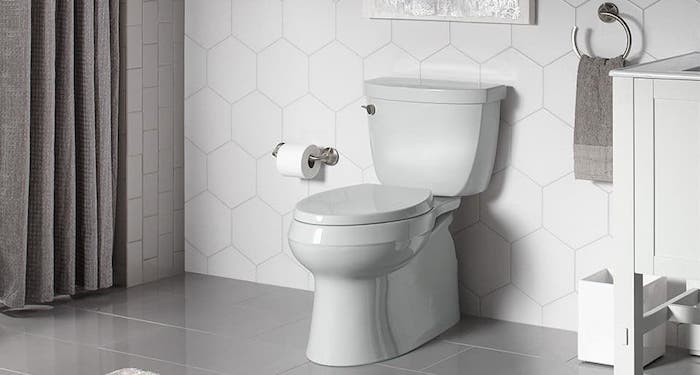 PROS
Built with a classic design and amazing features
For years, it can survive rigorous handling, heavy use, and wear.
CONS
Cracks, debris, and settlements can occur when customers use near pair toilets repeatedly over time.
Back to Wall Toilet Cost
Back to wall toilets are identical to close coupled toilets, except that the cistern is hidden behind a partition wall or a piece of furniture. This toilet is ideal for a modern bathroom and may also be used in a smaller bathroom or cloakroom to save space.
When the cistern is fully hidden behind the wall, a back to wall toilet looks very sleek and attractive. Still, you could also go with a closed toilet unit, which comes in a variety of finishes to complement your bathroom furnishings.
Always check to see if the hidden cistern is included when purchasing a back to wall toilet, as you may need to purchase it separately. These toilets usually cost around £200-£450 to buy as they are seen as more luxurious than a close-coupled toilet.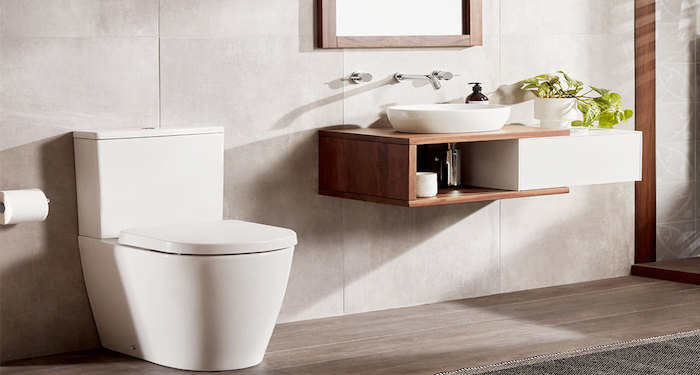 PROS
Aesthetically pleasing.
Because of the hidden cistern, a back to wall toilet takes up less room than a standard toilet.
CONS
Because these toilets are made in smaller quantities, they are more expensive. They also necessitate additional installation work, which will raise the cost of installation, as well as a wall mounting kit.
Wall Hung Toilet Cost
Wall hung toilets are the pinnacle of modern function and form, appearing to float above the floor with no apparent cistern or pedestal. With sleek and simple lines that make great use of space, this is the ideal toilet for designer bathrooms.
Wall-mounted toilets have soft-closing seats and are constructed of high-quality materials for long-term use. To install this style in your bathroom, you'll also need a concealed cistern and a wall mounting unit.
Most wall-mounted toilets are available with a concealed cistern and a wall mounting frame. These are usually around £200-£450.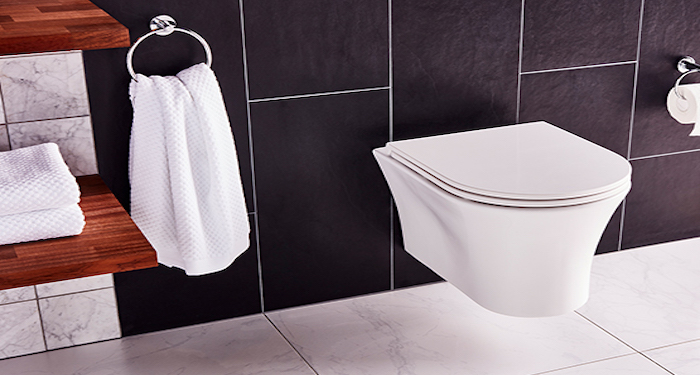 PROS
Design that is both minimalist and elegant.
Cleaning is easier.
Less wasted space.
CONS
Complex installation.
Repairs at a high cost.
Low-Level Cistern Toilet Cost
The low-level toilet is a traditional design toilet in which the cistern is mounted on the wall separately from the pan and connected to it by a pipe.
The flush pipe is normally chrome (or sometimes nickel), and it helps to create a Victorian or Edwardian appearance when combined with a wooden style seat.
A white ceramic lever flush handle will be seen on a low-level toilet. They are one of the most cost-effective ways to add a touch of class and flair to a bathroom. This toilet typically costs around £125-£250, which is affordable for a new toilet installation.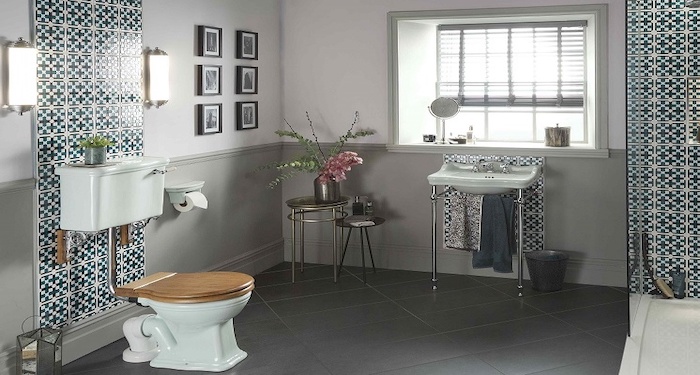 PROS
Modern and sleek.
Every month, your water expenses will be reduced automatically.
CONS
Installing a low-level cistern toilet is more expensive than installing regular toilets.
High-Level Cistern Toilet Cost
These will cost more than a 'low level' restroom. To prevent looking out of place, they also require a larger area and a higher ceiling than a typical bathroom. A high-level cistern flushed using a pull chain is a crucial component of this design.
The chrome or nickel flush pipe, the brackets holding the cistern, the metal chain with ceramic pull, and, of course, the original traditional style all contribute to the unit's elegance. This toilet is more expensive than the low-level costing around £150-£250 on average.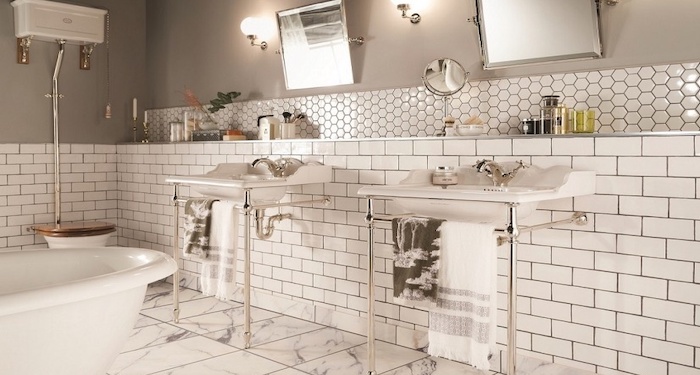 PROS
These toilets are an excellent investment since they give character and charm to vintage surroundings.
CONS
Benefits of a New Toilet
Toilets are the workhorses of the bathroom; in fact, they account for up to 27% of your home's overall water consumption.
Toilets aren't built to last forever, and they'll eventually need to be replaced when a single significant problem or a series of minor issues necessitate repairs that aren't worth the money the plumbing work will cost.
These crucial elements of your bathroom's layout, on the other hand, are frequently disregarded and forgotten until an issue emerges, such as when your toilet overflows, a leak is discovered, or a clog is discovered.
Therefore, here are just some benefits that you can experience from installing a new toilet.
More Efficient
One of the most obvious benefits of toilet replacement is less water usage each day, as toilets account for such a substantial percentage of your home's water usage.
All new toilets must use 1.6 gallons or less per flush; toilets made before these restrictions took effect can use up to five gallons per flush.
With little additional work on your side, simply installing a modern standard model toilet today will lower your home's water usage by 23—46 per cent. Newer ultra-low-flush and high-efficiency toilet models can use as little as 1.28 gallons each flush, lowering your monthly water bills and reducing your home's water usage.
Having a Problem Free Toilet
Rather than continuing to waste time and money on a broken toilet, changing the fixture is a long-term solution with a one-time payment that ensures your toilet is matched to your needs and will perform properly for years to come so you won't have the worries of it breaking.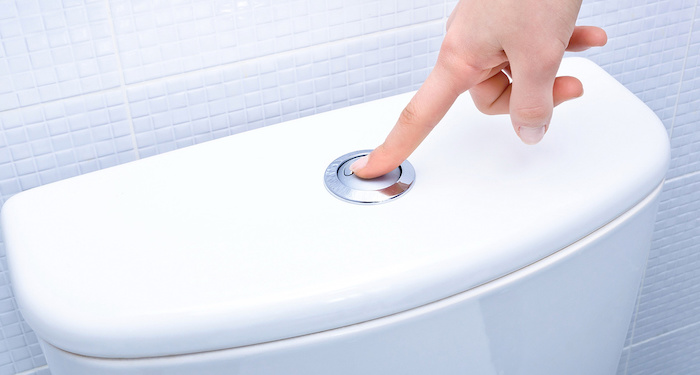 Stylish Toilet
Toilets come in various styles, from traditional rounded features to sleek, low-profile toilets that save room in a small bathroom or powder room.
If you're replacing a toilet for another reason, choosing one that matches the design and available space in your bathroom may offer it a dramatic makeover, improving its appearance and potentially increasing the value of your property if you decide to sell it in the future.
Homes with appealing bathroom designs, including appealing toilet designs, have been demonstrated to sell faster and for a greater price than those with unappealing bathroom designs and obsolete or unsightly toilets.
How Much Does It Cost to Remove a Toilet?
Removing a toilet is a delicate process that should be approached with attention; ceramic toilets are delicate and can break if improperly handled. The professional will place a dirt pipe cover to protect the line and prevent nasty odours from entering your home.
It is not a difficult job, but it should be done by a professional because numerous wires and pipes must be disconnected but not broken, in most cases, the new toilet will fit straight in, making the process easier.
The cost of removing your old toilet before installing your new toilet adds to the ultimate cost, which ranges from £75 to £100 on average.
Sometimes there comes to a point when you need a new toilet. Here are some signs that you should have a new toilet installed.
When Your Toilet Needs to be Constantly Repaired
An occasional repair is typical, but if you must repair toilet problems all the time, it may become a costly and time-consuming issue. It's normal to have one or two toilet difficulties, but if you're always having the same problem or even several problems, a new toilet is a way to go.
Your Toilet Has a Porcelain Crack or Scratches
Porcelain cracks, even if they appear to be small scratches, might be a huge clue that your toilet needs to be replaced.
Bacteria and grime can accumulate in scratches and cracks, making a genuinely clean toilet difficult. If there are any cracks in the porcelain, this could cause more serious issues than grime. A crack could widen, resulting in leaks and water damage. This also gives it a dirty appearance that is unappealing to look at.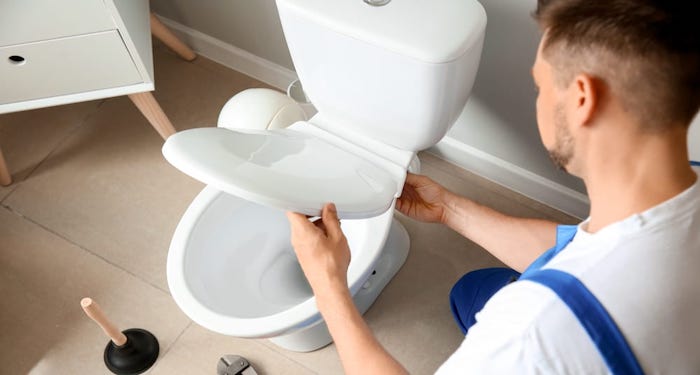 The toilet is Constantly Blocked
Have you noticed that you're having to use the plunger more and more? If your toilet is regularly clogging, it's time to consider replacing it.
FAQs
Q: How do you measure for a new toilet seat?
A: Place one end of your tape measure between the fastening holes and stretch it to the front of your toilet for length.
Measure the width of the pan at its broadest point.
Measure the distance between the fastening holes and the cistern or wall to determine the height.
Take note of the distance between the two fastening holes, as this can vary from seat to seat.
Q: How do you unblock a toilet?
A: Mix it with white vinegar and water to trigger a chemical reaction that will unclog a toilet. Cleaning, descaling, and eliminating soap residues are all made easier with this mixture. It's also an excellent way to deodorise waste pipes. If your toilet is connected to a septic tank or cesspit, do not utilise this procedure.
Q: Is replacing a toilet easy?
A: A toilet replacement is a big job, but it's not as difficult as you would think. Choosing a new toilet and removing the old one is usually the most difficult job. Carefully select a new toilet. Inquire with the dealer about whether existing plumbing will need to be altered, which is a job best left to a licenced plumber.
Q: How long should you wait after the toilet is installed?
A: Wait at least 6 to 12 hours after the toilet is fitted to ensure that all hard work is not wasted.
Q: What is a soft closed toilet seat?
A: Traditional toilet seats are a noisy and inconvenient alternative to soft-closing toilet seats. Because of the sleek and functional design, these toilet seats close slowly and steadily without the need for help.
Sources