How Much to Tile a Bathroom?
The cost of tiling a bathroom differs significantly. The most important considerations are the space you want to be tiled, the sort of tiles you choose, and whom you employ to execute the work.
The cost of tiling a bathroom ranges from £500 to £800. This includes the cost of both the goods (tiles, grout, and adhesive) and the labour.
You'll have many choices to make because there are so many aspects that influence the pricing. When making your decision, keep in mind that labour accounts for most of the cost, as tiling may be a difficult process to accomplish perfectly.
The cost of floor tiling for a medium-sized bathroom should be between £150 and £650. Installing tiles in your shower, on the other hand, is a great way to modernise the room.
You will need to invest some money to work efficiently and get huge benefits. The average material cost for tiling showers starts at £10 per square metre, with a typical shower costing roughly £250 in labour and materials.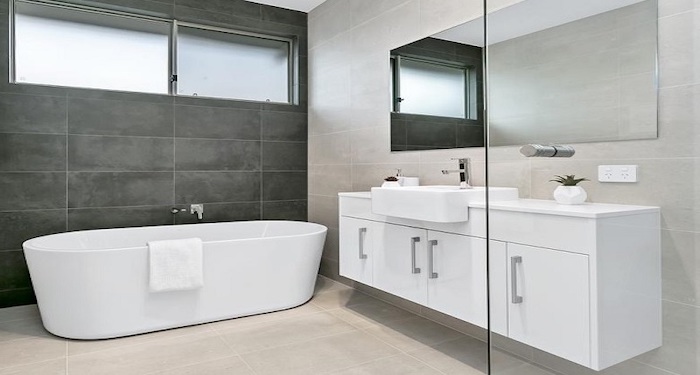 It's crucial to determine a budget before you start looking for your dream tiles. You can do this by determining whether you will do the work yourself or hire a professional to do it for you using the information in this article.
Once you have a rough estimate of how much it will cost, you may create a budget to ensure you don't overspend. Choose whether you want to tile the entire bathroom, just the walls, or just a few spots. Depending on the style you choose, tiles might cost anywhere from £5 to £20 or more per square metre.
The total cost of tiling your bathroom is determined by a few factors. The first consideration is the tiled area. The most expensive choice is to tile the entire space from top to bottom, including the floors and walls. The most cost-effective alternative is to just tile above the sink.
The type of material used to make the tiles is the next factor to consider.
There is a significant price difference between vinyl tiles and genuine stone tiles. The room's size and design will significantly impact the cost of both materials and labour. The more tiles that must be cut, the more difficult and costly the process becomes.
Bathroom Tiling Prices
Here are examples of costs for tiling a medium-sized bathroom:
| Type of Job | Ceramic Tiles | Granite Tiles |
| --- | --- | --- |
| Wall and floor tiling | £900-£2050 | £2,600-£3,050 |
| Wall tiling | £750-£1,600 | £2,050-£2,400 |
| Floor tiling | £150-£450 | £550-£650 |
| Bath tiling | £375-£800 | £1,025-£1,200 |
| Sink splashback tiling | £90-£350 | £160-£190 |
When it comes to labour, the cost will vary depending on the tiler's experience, the size of the company, and your location, with London pricing being higher. Rates per square metre can range from £20 to £40 per square metre in the end.
On the other hand, tilers can charge by the day if they'll be there for more than six hours or so, which might range from £150 to £200 each day.
There are also extra expenses for items like grout and adhesives, which can cost up to £50 depending on the size of the project. There are also extra fees if the walls need to be prepared, such as plastering or removing old tiles.
What are the Supply Costs of Tiling a Bathroom?
When calculating supply prices for tiles, grout, and adhesive items, you will need to consider the size of the job and whether the walls need to be prepped by plastering or removing old tiles, grout and adhesive. However, on average, these items normally cost around £50.
A bag of glue for 5m2 will set you back roughly £20, while a pre-mixed adhesive would set you back around £25, saving you time. A bag of grout for a 15m2 area might cost upwards of £15 per bag. When estimating the cost of the job, consider the wide variety of tiles available.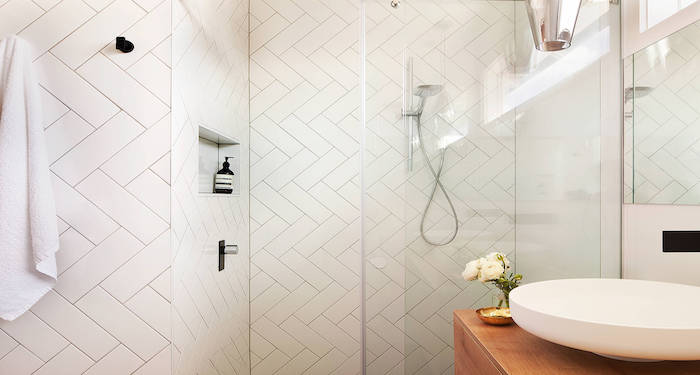 The following is a list of several tile materials and the cost per square metre:
| Material | Cost Per Square Metre |
| --- | --- |
| Ceramic | £15-£45 |
| Marble | £40-£60 |
| Slate | £40-£60 |
| Limestone | £50-£80 |
| Porcelain | £70-£90 |
| Granite | £80-£100 |
| Glass | £100-£150 |
Knowing the supply cost of tiling a bathroom also depends on how many tiles you need. Depending on the type, tiles alone might cost anywhere from £5 to £20 or more per square metre.
Calculate how many tiles you'll need by multiplying the height and width of the area to be tiled by ten per cent to account for errors and waste. This will give you an idea of how much you'll spend on materials on average.
What Are the Additional Costs of Bathroom Tiling?
Bathroom tiling is very inexpensive compared to other remodelling projects; nevertheless, it is usually done as part of a larger project, such as a complete bathroom renovation that includes a new bath, shower, toilet, and basin.
Whether you're merely changing the tiles, see if any other jobs (that require the tiles to be disturbed) need to be done as well.
Below is a table of the different additional jobs that could add to the cost of tiling your bathroom.
| Additional Job | Cost |
| --- | --- |
| Bathroom radiator replacement | £150-£250 |
| Underfloor heating | £65-£90 per square metre |
| New bathroom suite | £3000-£6000 |
| New bath | £240-£4650 |
Replacing Existing Bathroom Radiator
The cost of installing a heated towel rail or radiator in your bathroom will vary greatly depending on the type of heated towel rail or radiator you choose.
Electric and dual fuel heated towel rails and radiators, for example, are more expensive to install than piped solutions because the former must be hard-wired into the mains, which can be challenging!
A qualified electrician or a Gas Safe Registered plumber who is also competent to install electric heating is required by law. In addition, electric towel rails and dual fuel towel radiators are more expensive to purchase.
However, they can help you save money in the long run by heating your home more efficiently and lowering your energy consumption.
It will most likely be a short and simple job if your new bathroom radiator is a direct replacement and the same size as your old radiator.
However, if your plumber needs to remove an existing radiator, install new pipework, or relocate pipework to fit a larger radiator, the process will be longer and more complex. This will undoubtedly increase the installation cost.
The usual material cost of installing a heated towel rail radiator in a bathroom is determined by the cost of the radiator you choose to install, as well as additional charges for things like additional plumbing to install the radiator. Towel radiators range in price from £30-£150, depending on size and finish.
In most cases, an electrician will charge roughly £150 per day for labour. It will take around 2-3 hours to install the heated towel rail, with additional time required if new plumbing is required to replace the old. A tradesperson should charge between £75 and £150 to do the job, including the call out fee.
Installing Underfloor Heating
The system's size and complexity determines the cost of installing underfloor heating. All systems necessitate the removal of the floor, the installation of the system, the connection to a power supply, and the installation of sensors and controls.
Electric systems are easier to install and maintain, making them a popular alternative for retrofits. They have a smaller profile and don't necessitate a lot of plumbing.
When employing electric heat mats, expect to pay roughly £50-£75 per m2 for underfloor heating. Insulation, heater controls, and electrician expenses can all affect the price.
Wet underfloor heating systems can cost tens of thousands of dollars. Expect to pay £2,000 or more for a complete system installation.
The average day rate for expert installation is £300. You'll probably get quotations for approximately £100 per square metre. The cost of installing underfloor heating may increase based on the distance from the boiler system and the additional pipe required.
Installing a New Bathroom
The typical cost of a new bathroom is between £3000 and £6000, while a high-quality bathroom installation can cost up to £15,000.
Installing a basic quality bathroom could cost anything from £1500 to £2000. A bathroom of intermediate quality will cost between £3000 and £6000, while a bathroom of exceptional quality would cost between £7000 and £15,000.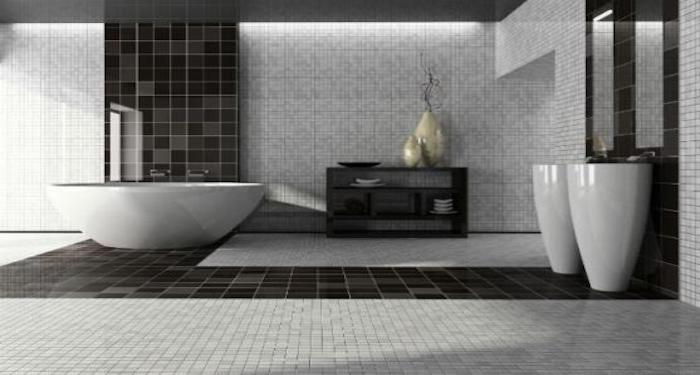 You may anticipate paying between £1000 to £3000 for a small bathroom installation. A medium-sized bathroom will generally cost between £3000 and £6000, while a larger bathroom may cost up to £10,000. It could cost considerably more depending on the size of your bathroom.
Installing a New Bath
Bath installation costs range from £240 to £4650 on average. The total cost of installing a bath is determined by the style of bath you select, the size of the bathtub, convenience of access, and the number of tradespeople necessary.
The location of your house is also important, as contractors charge more in rural places, and you may pay more if you reside in a major city like London. Depending on the type of bath you want has a huge impact on your budget.
Tradesmen Costs for Tiling a Bathroom
The rate a contractor will charge you is determined by a mix of the workman's experience and your location. A seasoned tiler in London will be more expensive than a rookie in Yorkshire. Assuming the walls and floors have been prepared, it will cost between £20 and £40 per square metre.
You should anticipate paying between £150 and £200 per day for major works that would take longer. Some tiles are more difficult to fit because they are more difficult to cut.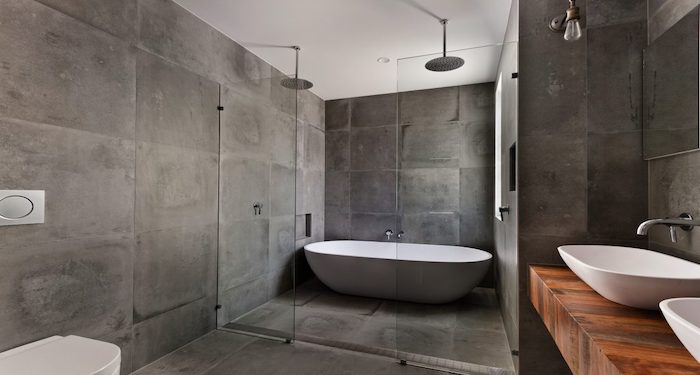 You should expect to pay a little more for labour if you use travertine tiles. The same can be said for huge regions of little tiles or tiles set uniquely.
The amount of time it takes to tile a bathroom depends on several things. Jobs that necessitate the cutting of additional tiles will take longer and smaller tiles take longer to install than larger ones.
The table below will give you a good estimate of the average cost of tiling a medium-sized bathroom:
| Job | Price |
| --- | --- |
| Wall and floor tiling | £600-£800 |
| Wall tiling | £450-£600 |
| Floor tiling | £150-£200 |
| Bath tiling | £225-£300 |
| Sink splashback tiling | £75-£100 |
How Long Does It Take to Tile a Bathroom?
The amount of time it takes to tile a bathroom depends on several things. The type of employment you have will have a significant impact. Jobs that necessitate the cutting of additional tiles will take longer.
It takes a lot longer to install smaller tiles than it does to put larger ones. A larger tile will take up more area, requiring fewer tiles to be set throughout the project.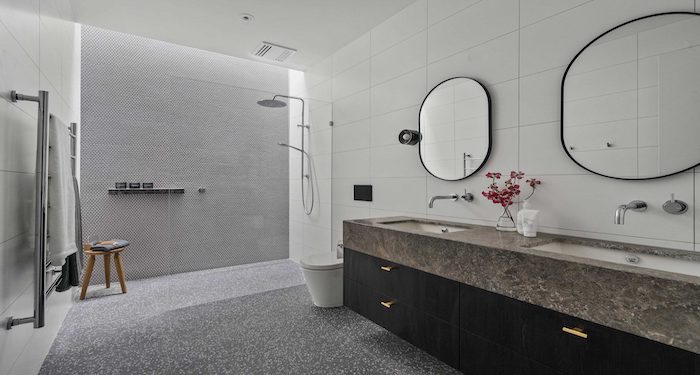 It's impossible to predict the length of time it will take to install tile flooring. However, most craftsmen estimate that tiling a 40-square-foot space will take roughly four hours. In addition, each task requires an hour of prep time, an hour of designing time, and an hour of grouting and cleaning time per square foot.
There should be at least 24 hours between the installation and grouting to ensure it has fully set. Using this as a rough guideline, you should be able to estimate how long it will take to tile your bathroom entirely.
The table below illustrates the various timeframes required for various types of jobs in a medium-sized bathroom.
| Job | Timescale |
| --- | --- |
| Wall and floor tiling | 4 Days |
| Wall tiling | 3 Days |
| Floor tiling | 1 Day |
| Bath tiling | 1.5 Days |
| Sink splashback tiling | Half a Day |
Choosing Bathroom Tiles
Bathroom tiles should be able to withstand a lot of water and steam while also being readily and thoroughly cleaned. Tiles are a very frequent bathroom floor and wall covering.
Tile repels water and is simple to clean using disinfectants that kill germs, bacteria, mould, and other nasties.
There are numerous tile options available, including:
Ceramic Tiles Cost
Ceramic tile comes in a broad variety of colours, sizes, forms, and finishes, as well as textures.
You can choose between a rock and wood texture, which is ideal for a warm bathroom. Others may want pure wood texture tiles for their bathroom to achieve a natural theme, which will appear as if the floor tiles are the same as the wall tiles.
These tiles are resistant to breakage, easy to maintain, and cost-effective. This type of tile normally costs around £12-£50 per m2.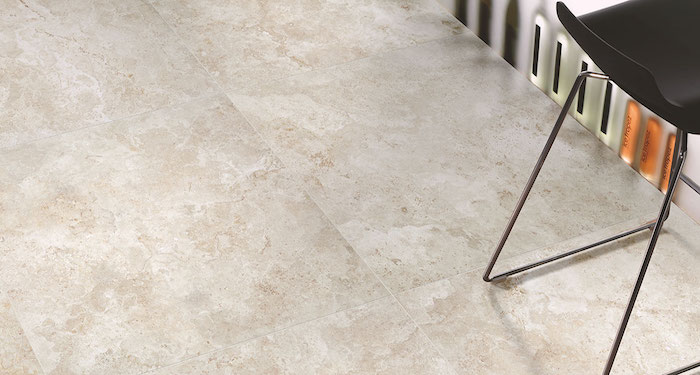 PROS
It doesn't absorb water
Durable
Inexpensive
CONS
Not as water-resistant as porcelain
Terracotta Tiles Cost
Terracotta tiles are a sort of tile that has been around for a long time. Terracotta tiles provide a warm, inviting atmosphere in your home. It's a tile flooring material with a robust surface made of a subtle red or earthy hued clay.
In terms of upkeep, you'll need to seal it with a sealing agent every two years to keep the tiles free of stains and damage. Terracotta tiles normally cost between £50-£60 per m2.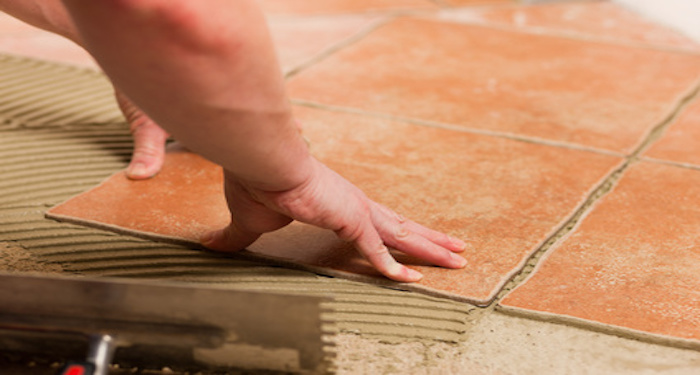 PROS
Provide a warm atmosphere
Inexpensive
CONS
Must take care of them to prevent stains and damage
Vinyl Tiles Cost
In bathrooms, vinyl tiles are the most popular. It's simpler to set up and reusable, making it more environmentally friendly. It is less likely to crack or break.
Most people use it because it is less expensive than ceramic tiles. These luxury vinyl tiles cost on average £20-£40 per square metre in materials.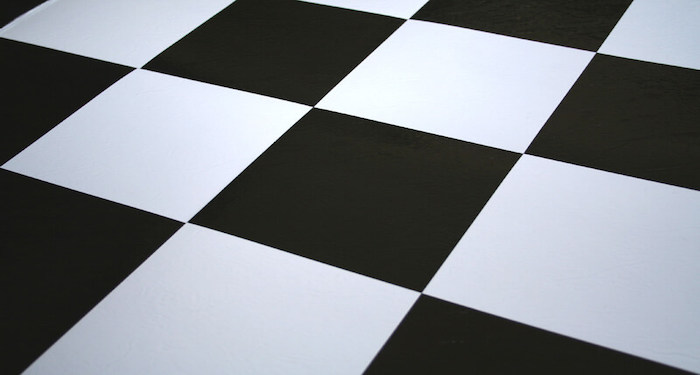 PROS
Inexpensive
Resilient
It's a lot easier to set up
CONS
Ceramic, porcelain, and other tiles are more attractive
Marble Tiles Cost
Marble tile can be highly polished and comes in various sizes, making it both refined and classic. Marble can be veined or patterned to give character to a bathroom. Marble tiles normally cost around £40-£70 per m2.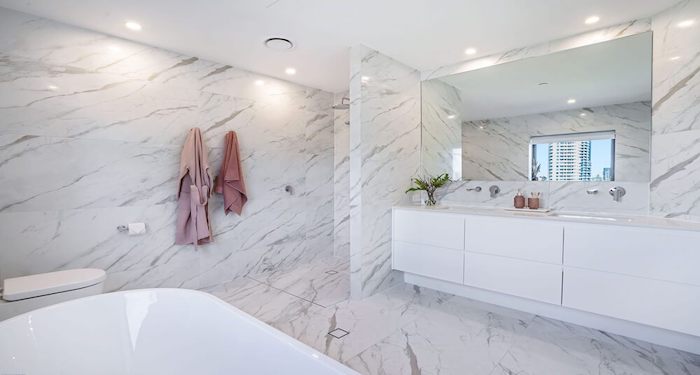 PROS
A beautiful addition to your home
CONS
Expensive
Easily scratched
Granite Tiles Cost
Granite is perfect for decorating spaces with a rustic atmosphere. It comes in a variety of colours and styles and is attractive, sturdy, and versatile.
It's ideal for baths because it's stain and moisture resistant. These tiles normally cost around £80-£90 per m2.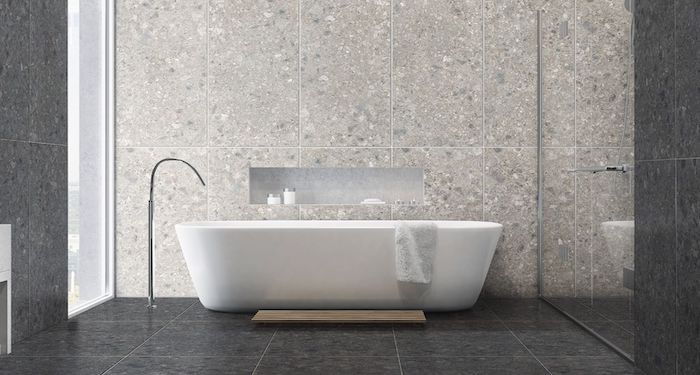 PROS
Strong and long-lasting
Take pleasure in the granite appearance
CONS
Slippery
Expensive
Granite has a distinct appearance that you may not enjoy
Limestone Tiles Cost
Limestones have a firm and solid surface that makes them perfect for flooring.
Limestone tiles have muted colours that give them a clean and cosy feel, which is ideal for a bathroom. This tile typically costs around £50-£80 per m2.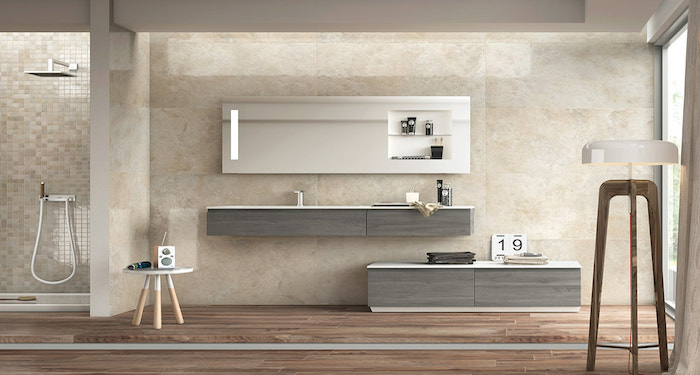 PROS
The appearance is natural
Because it's soft, you can shape it in any way you like
Durable
CONS
Soft and porous rock. Make sure the seal is tight
Cleaning chemicals with a neutral pH are required
Glass Tiles Cost
Glass tiles are becoming increasingly popular due to the growing number of possibilities available that may be modified to meet your specific requirements.
The many types, hues, and tints of the wall-mounted glasses will reflect attractively on the lighting in your bathroom.
As a result, depending on the styles and themes you wish to use, it offers a choice of patterns to pick from.
Multi-coloured glasses are now available for use in mosaic arts, making them ideal for adding colour to bathrooms. When correctly installed, this sort of tile holds up well and, if textured, can help to prevent slips.
Glass tiles are stain and mould resistant. They are prone to displaying dirt easily, so you will always be aware when it is time to clean them. Cleaning is simple, requiring only warm water and a mop.
This type of tile requires special attention during installation and is prone to scratching. Yes, the tile is extremely resilient, however, dropping something heavy from a tremendous height will cause it to crack or chip.
Glass tiles usually cost between £110 and £160 per square metre.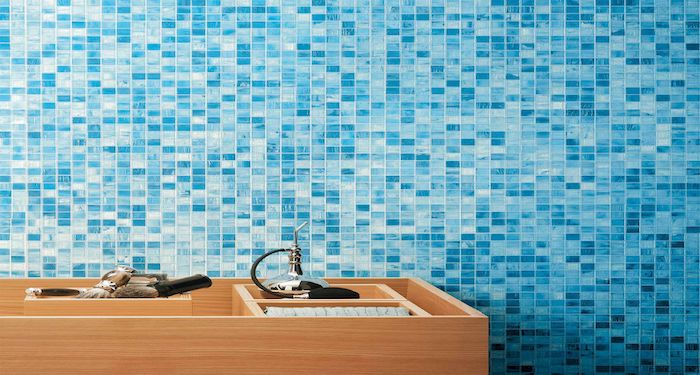 PROS
Shiny surface
Hard
Durable
CONS
Benefits of Bathroom Tiling
Several common jobs come to mind when it comes to remodelling your bathroom. However, laying down some high-quality tiles is the most effective and least expensive option.
These home upgrades not only save you money by eliminating the need to employ a costly contractor, but they also add significant value to your property. Here are some of the advantages that you may soon enjoy if you decide to tile your bathroom.
Tiles Are Cheap to Maintain
Whether you're installing floor or wall tiles in your bathroom, there's one major advantage over other options: maintenance! This is especially true if you choose a ceramic floor or wall tiles, as they are usually water-resistant and require little maintenance if properly installed.
Any dirt or filth can be sponged off, and aside from applying sealant now and then, you're good to go after these are fitted.
Cost-Effective
In today's home improvement floor and wall arena, tiles are still one of the top choices. When you consider the cost per square metre, as well as the ease of upkeep and exceptional durability of tiles for your bathroom, it's easy to see why they're still one of the most popular choices in the UK and abroad.
You may find some excellent offers if you browse around, so a little time spent on the internet can pay off handsomely.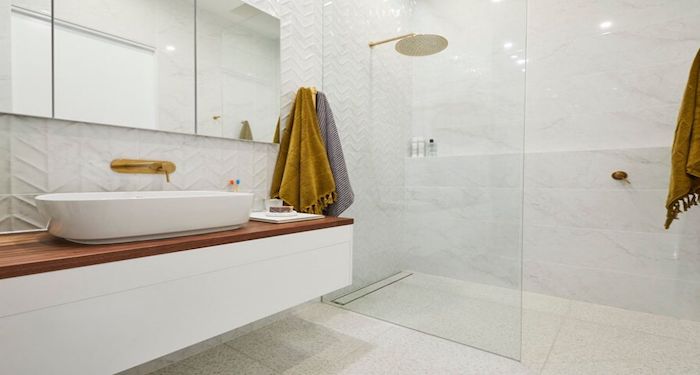 Durable
If you go back to the Roman era, you'll notice that palaces were adorned with a lot of tiles, and with good reason.
Quality tiles will last for years, and your bathroom will continue to add value to your property if you install them correctly and apply the proper grout and sealer.
Offer Huge Style Options
You might prefer simple tiles, or you might be obsessed with the latest funky patterns. It makes no difference because you'll be able to get a perfect match (or anything near) at your local home improvement store.
Feature tiles may offer many colours to your bathroom, so don't rush to find the perfect mix because they'll become a permanent part of your home.
How Much Does It Cost to Remove Bathroom Tiles?
Changing your flooring is one of the most effective methods to give a room a new look and feel. But what if your floor is made of tiles? Fortunately, getting rid of it is much easier and less expensive than you might imagine.
Here's how much it costs to remove a ceramic tile floor.
Getting a professional to remove your ceramic tile flooring will cost roughly £13 per m2 as a rule of thumb. In the United Kingdom, the average room is 16.3 m2.
That means your total ceramic tile removal cost for a standard room will be roughly £212.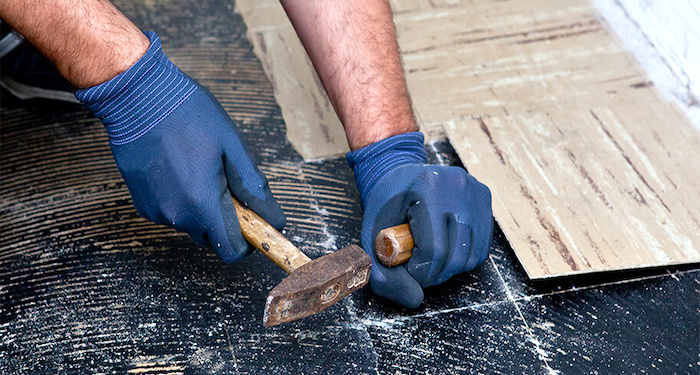 The cost of removing a ceramic tile floor is determined by various factors, including the size of your room and labour costs in your location.
However, the primary price difference is usually determined by what you plan to do with your floor next.
The state of the sub-floor beneath the tiles will be revealed when the tiles are removed, and it may not be suitable for laying down new flooring right away.
| Job Description | Cost Per Square Metre |
| --- | --- |
| Floor tile removal | £13 |
| Wall tile removal | £13 |
| Re-tiling preparation | £6 |
| Waste removal | £1 - £5 |
FAQs
Q: How do you clean bathroom tiles?
A: There are three options on how to clean your bathroom tiles, lemon, vinegar and baking powder.
Lemon's natural acidic characteristics make it a great tile cleaning agent. Spritz lemon juice onto tiles with a spray bottle before wiping clean with a moist cloth or sponge.
Alternatively, you can soak a towel in lemon juice and wipe the tiles with it before rinsing with warm water.
Another option is to fill a spray bottle halfway with 1/2 cup distilled white vinegar and one-litre warm water. Spritz on tiles and wipe with a moist cloth to remove.
Alternatively, immerse a soft fabric, such as a microfibre cloth, in the solution and wipe the tiles before rinsing with warm water. White vinegar is an excellent natural disinfectant and tile cleaner; however, it should not be used on natural stone tiles such as marble, granite, or travertine.
If you have baking soda or bicarbonate of soda, prepare a paste with 2-3 cups baking soda and a little water, or sprinkle directly on the tiles to bring them up.
To remove difficult stains, scrub them in with an old toothbrush or a sponge. After that, wash off the tiles with a lemon-soaked cloth before rinsing with warm water.
Cleaning with baking soda or bicarbonate of soda is an efficient tile cleaner, particularly for stubborn stains and grouting.
Q: Can you paint bathroom tiles?
A: Yes, bathroom wall tiles may be painted! Most paints are only suitable for ceramic tiles; however, natural stone should not be painted because it will sink through the tile's surface.
Painting your bathroom tiles used to be synonymous with a shoddy job, but that is no longer the case.
Painting tile in low-moisture areas of your bathroom, such as the backsplash over the sink and the tile behind the toilet, will yield the best results. Preparation is the key to painting ceramic tiles successfully.
Q: Why do bathroom tiles crack?
A: Floor tiles fracture for various reasons, the most important of which is that the surface beneath them is not stable enough. Depending on the material used, different subfloors can contract, expand, or bend. If the tile you bought or had installed was of low quality, you may see cracks.
Q: Can you DIY bathroom tiling?
A: Shower tiling is a simple DIY job that can be completed in a few days if you have the right materials and equipment. Then, using this tutorial for step-by-step directions on how to tile a shower, choose your shower tile.
To avoid injury, wear safety goggles and ear protection when installing tile. It may take a bit longer than hiring a professional, but DIY is a viable option.
Q: How long do bathroom tiles last?
A: Tiles are a tough material that lasts a long time. A stone tile will last well over 100 years, according to the NAHB (National Association of Home Builders), whereas ceramic tiles would last no less than 75 years.
Sources