How Much to Fit a Bath?
So, what are the average costs of installing a bath?
The average cost of installing a bath ranges from £240 to £4650.
What factors will the overall cost depend on?
The overall cost of fitting a bath will depend on the type of bath you choose, the bathtub's size, ease of access and the number of tradespeople required for the job.
Will your home's location affect costs?
Your property's location is also a significant factor, as contractors tend to charge more for remote areas, and you may pay more if you live in a major city like Manchester or London.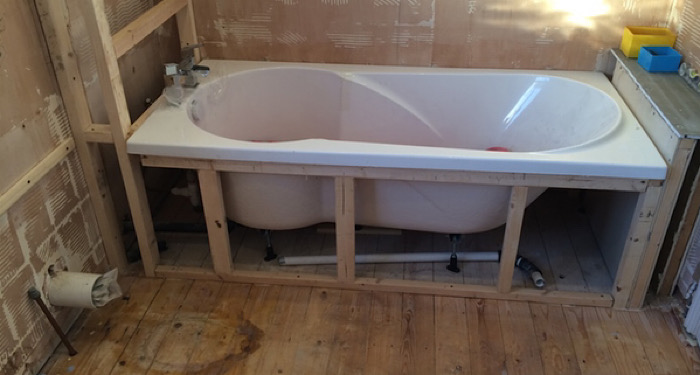 Bath Prices
Here is a breakdown of bath installation prices for installing different types of bathtubs which normally takes around two to four hours to complete with the help of two tradespeople.
| Type of Bath | Total Cost |
| --- | --- |
| Freestanding | £520 - £4650 |
| Shower bath | £310 - £3500 |
| Spa bath | £660 - £2400 |
| Single-ended | £240 - £3500 |
| Double-ended | £1570 - £4650 |
| Slipper | £520 - £4650 |
What are the Supply Costs of Bath Installation?
If you plan on fitting a bath yourself, then you will need to consider the following supply costs for different bath types:
| Type of Bath | Supply Cost |
| --- | --- |
| Freestanding | £400 - £4250 |
| Shower bath | £190 - £3100 |
| Spa bath | £540 - £2000 |
| Single-ended | £120 - £3100 |
| Double-ended | £1450 - £4250 |
| Slipper | £400 - £4250 |
You may also want to look at the bath costs based on the different bath materials:
| Bath Material | Supply Cost |
| --- | --- |
| Acrylic | £120 - £3100 |
| Steel | £125 - £650 |
| Cast Iron | £800 - £3000 |
| Stone | £1200 - £4250 |
What are the Additional Costs of Fitting a Bath?
When fitting a new bath, you may want to consider additional jobs that can be completed at the same time, such as:
Bath Screen
Many opt to install a bath screen during a bathtub installation, as this prevents water splashes and damp issues on your bathroom floor. Bath screens cost anywhere from £10 to £400 depending on the type you choose.
Shower
Unless you have opted for a shower bath, you will not have the luxury of choosing whether you want to take a nice relaxing bath or a quick shower. However, you can always install a shower after your bath has been installed.
The average cost of installing a shower ranges from £350 to £600, which will depend on the model you select.
Bathroom Tiles
To ensure your bathroom floor is protected and looks aesthetically pleasing, you may want to consider installing new tiling.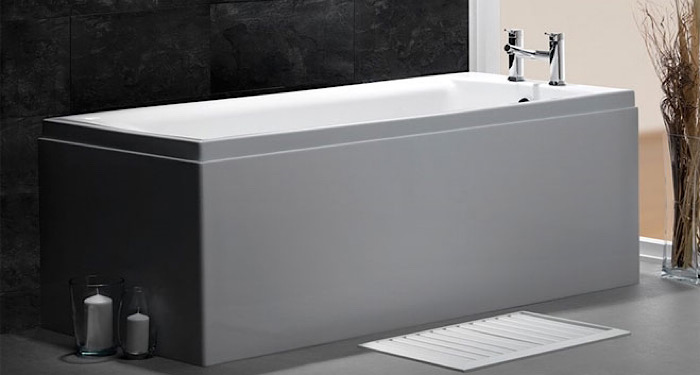 There are various tile materials to choose from including ceramic which costs around £12 to £50 per square metre, £40 to £70 per square metre for marble and up to £160 per square metre for glass tiles.
Underfloor Heating
One of the best ways to heat your bathroom is by fitting underfloor heating below your flooring. This will make the floor more comfortable to walk on and will also ensure your bathroom is warm after you jump out of the bath.
You can either opt for electric underfloor heating which costs £60 to £80 per square metre or wet underfloor heating which is typically priced at £100 per square metre.
There are also various cost-affecting factors that will affect the overall price, including:
Type of Bathtub
One of the main factors that affects the overall cost is the type of bath you choose. For instance, if you have a low-budget in mind, you may want to opt for a single-ended acrylic bath which costs around £120.
If you are looking for a luxury model, you should look at freestanding steel baths, which cost up to £4250.
Size of Bath
The bath's size will also significantly impact the price, as the larger the bath, the harder it is to install, as typically two or more tradespeople would be required to move and fit the bath.
This will cause labour costs to increase, as plumbers tend to charge an hourly rate per person.
Bath Installation Area
The installation area is also a huge factor, as fitting a bath in a tight space may prove more difficult and will therefore take longer.
You also need to consider the condition of the space, as it may need to be prepared before the bath can be installed, which again will increase the duration.
Tradesperson Fees
As mentioned above, the more tradespeople there is, the more expensive the labour cost is. You also need to consider the costs concerning location, as some contractors may charge more for remote areas to fund their mileage.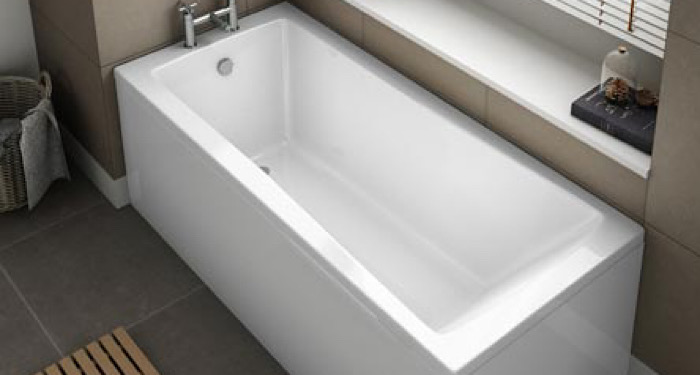 You should also expect to pay more in areas such as London which charge around £50 per hour to fit a bath, compared to £25 in Northern England.
Tradesmen Costs for Bath Installation and Repairs
One of the most significant costs you need to consider when having a new bath installed is the labour costs. Plumbers typically charge around £30 to £50 per hour to fit a new bath, and a bathtub fitting tends to require two tradespeople, which will double the labour cost.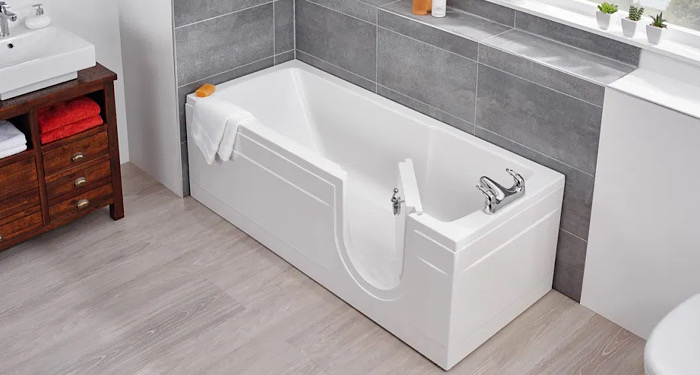 If you need your old bath ripped out, it will cost an estimated £250 to £350, which includes removing and disposing of the old bath and installing the new one.
An electrician may be required if you opt for a spa bath, as this requires electric controls. Electricians tend to charge around £25 to £50 for their services.
How Long Does It Take to Fit a Bath?
An average bath installation normally takes around two to four hours to complete. However, this will vary depending on the type of bath, you choose, as some are easier to fit than others.
If you are fitting a bath in a brand-new bathroom, you need to consider the time spent preparing the area, especially if you have an inset or recessed bath installed.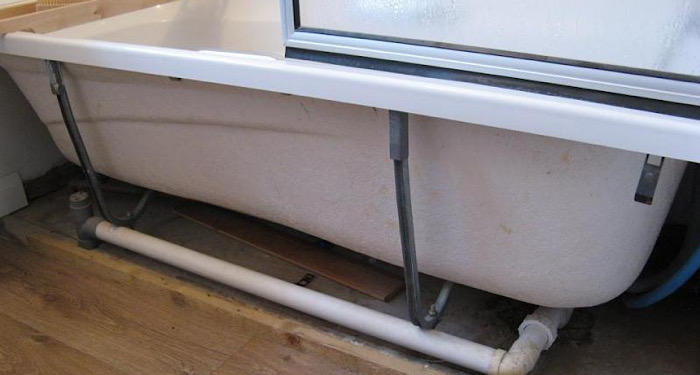 This will require additional time to dig out and build a space to accommodate the bath.
The job may also take longer if any pipes need to be moved or electrics need to be wired in, although overall the work should take no longer than one day.
Choosing a Bath
There are a wide range of bath models to choose from, which cater to various style preferences and budgets.
To help you choose the right bath, take a look at the below guide, which sets out the different types of bathtubs and the costs as well as the pros and cons of each.
Freestanding Bath Cost
One of the main features of any luxury bathroom is a freestanding bathtub which doubles up as a relaxing bath and a stunning centrepiece for the bathroom.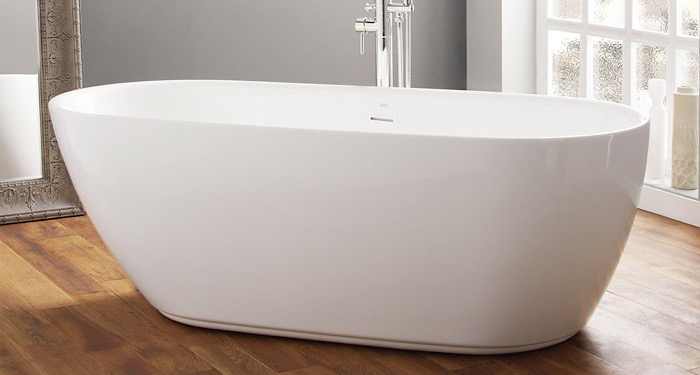 Unlike other bathtubs, it is not built into a wall, and the pipes run through the floor.
The purchase price of a freestanding bath ranges from £400 to £4250.
Pros:
Offers a luxurious feel.
Easy to install and replace.
Cons:
Not ideal for small bathrooms.
Requires two or more people to carry the bath.
Shower Bath Cost
If you enjoy a relaxing bath, but also like the quickness of a shower, then one of the best options is a shower bath which combines the two.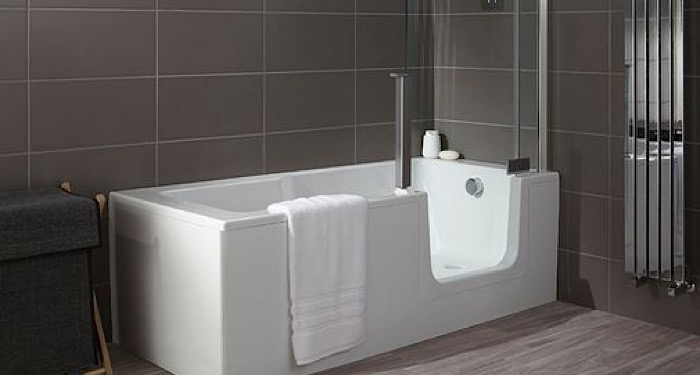 The average cost of a shower bath is around £190 to £3100.
Pros:
Combines luxury and convenience.
Great for small bathrooms.
Cons:
More complicated to install.
Requires a shower screen.
Spa Bath Cost
A spa or whirlpool bath is one of the most decadent options, as they offer the ultimate relaxing experience with built-in jets, which brings the spa to you.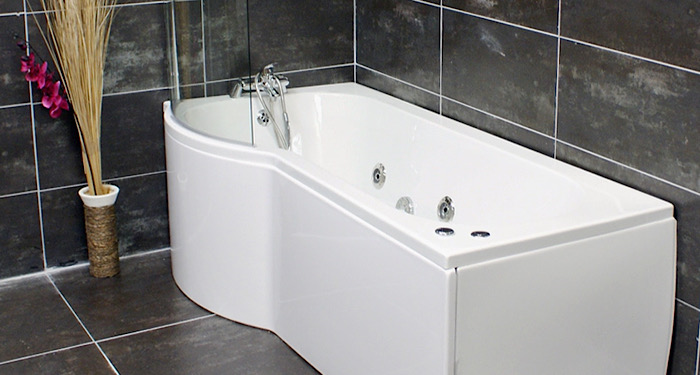 You should expect to pay about £540 to £2000 for a spa bath.
Pros:
Luxury bath experience
Massaging jets
Cons:
Expensive fitting
Requires an electrician to fit the bath
Single-ended Bath Cost
Single-ended bathtubs are among the most common inset models that have taps and waste at one end of the tub. The opposite end normally features a sloped area which offers back support.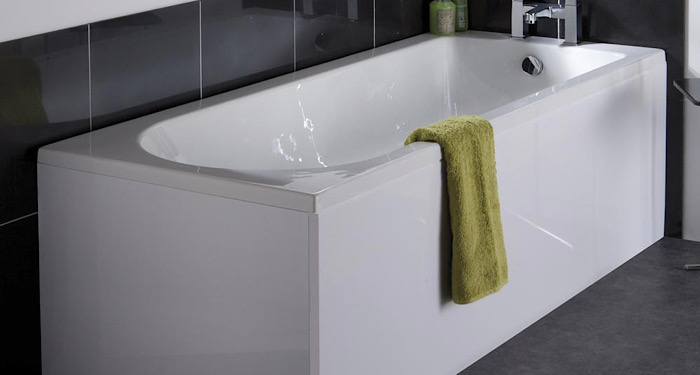 Single-ended bathtubs are typically priced at £120 to £3100.
Pros:
Ideal for shower baths
Perfect for solo soaks
Cons:
Do not offer a lot of space
Tap positioning is not flexible
Double-ended Bath Cost
In comparison to a single-ended bath, a double-ended model offers more flexibility in terms of tap and waste placement, as they can be attached to a wall or placed in the centre of the bath. They are also a lot bigger, so they offer more room to fit children or taller individuals.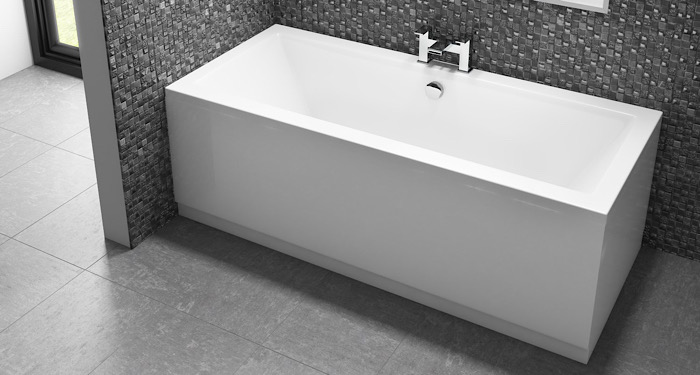 A typical double-ended bath tends to cost around £1450 to £4250.
Pros:
Offers more legroom
Good for homes with children
Cons:
Not the best option for small bathrooms
Location of the pipes could limit the installation
Slipper Bath Cost
Slipper baths are known for the sloping roll top bath shape, which supports the body while relaxing in the bath. They originate from the Victoria era, where they were typically made from cast iron and enamel.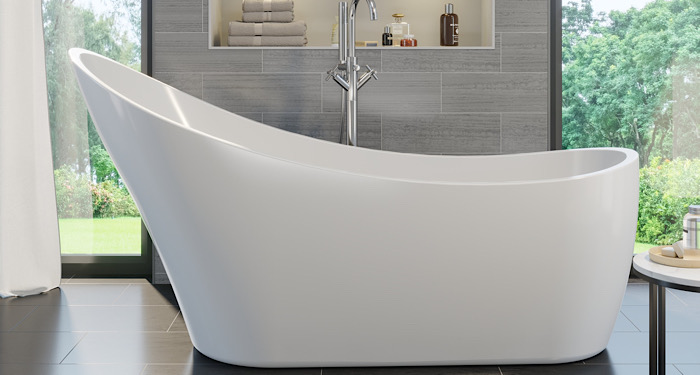 Slipper bathtubs range from £400 to £4250.
Pros:
Offers excellent comfort
Can accommodate more than one person
Cons:
Require floor support
Not ideal for small spaces
Bath Repairs
If you notice any issues with your bathtub, then you may want to consider fixing it yourself or calling out a professional to deal with it. There are various repairs to consider regarding your bathtub with different bath repair prices such as:
Bath Scratches
If you notice any scratches on the side of your bath, do not panic and order a brand-new bath, as this problem can easily be fixed.
You can use a rubbing compound or texture cream to remove any scratches, however, try to avoid this with an acrylic bath as these products tend to be too harsh. Instead, you should use an acrylic-friendly scratch repair product to gently remove any visible marks.
Cracked Bath
A cracked bath can be problematic; however, they can be fixed without the need for a replacement in some instances. The cost of repairing a bath with cracks is around £30 to £50 if you hire a professional.
You could also consider doing it yourself, although you need to be especially careful with plastic or acrylic baths, as cracks affect the bathtub's integral support. If the crack is significant, then it will need to be replaced.
However, smaller cracks can be fixed with a fibreglass bath repair kit, which typically cost around £30 to £40.
Leaking Bathtub Drain
If you notice your bathtub drain is leaking, you should tend to it immediately. If the problem is due to faulty pipes and fittings, then you will need to call a plumber to fix the issue, who will charge a minimum bath repairs cost of £30.
If the bathtub drain is leaking because of a failed seal, then you can fix this yourself. All you need to do is remove the drain plug and use Channellock pliers or a drain key to unscrew the drain.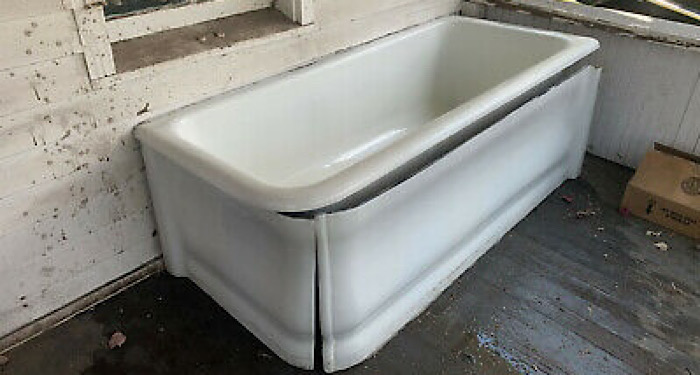 You should then remove the old plumber's putty by softening it with a hairdryer or another heat source. Once it's soft enough, you can then scrape and remove the putty with a putty knife.
Once the old putty is out the way, you should then apply new putty around the size of ten pence coin and roll it around to soften it into a rope shape. You should then place this under the tub drain and remove any excess.
After this is complete, the drain lips can then be tightened, and the area should be cleaned before checking for leaks.
How much Does It Cost to Remove a Bath?
If you are installing a new bath or shower, then you will need to consider the cost of removing your old bath. Most plumbers will include this in their installation cost, which normally amounts to around £250.
If it is not included in the price, then the cost is typically around £40 to £70 for bathtub removal, which normally includes waste disposal. You could also consider skip hire which ranges from £60 for a 2-yard skip up to £500 for a 16-yard skip.
FAQs
Q: How do you fit a new bath panel?
A: Before fitting a new bath panel, you need to make sure that you choose the right size for your bathtub, as well as the right material. There are two main options: acrylic and MDF, with the former being the least expensive.
To fit a bath panel, you will need an electric drill, screwdriver, tape measure, pencil, wooden batten and wooden screws. Once you have all these items, you can then start to measure the bath panel against your bath, followed by securing a wood batten to the floor.
You can then cut your bath panel to size before drilling into place at the side of the bath, making sure your drill evenly spaced holes of up to 12mm. Once it is drilled in place, you can secure it with wooden screws and cap them off.
Q: How do you repair a chipped enamel bath?
A: If you notice small chips in your bath, you can use an epoxy kit that usually comes in various white shades to match your bathtub. Before applying the epoxy, you should first scrub the chipped area with a sponge, hot water and soap and then dry it thoroughly.
You should then follow the directions on the kit, which will involve mixing the two epoxy components in a disposable dish. You can use a toothpick or matchstick to do this. Use a spatula or paintbrush to apply a thin layer of the substance on the area, making sure to avoid other areas.
The epoxy will then need to be left to dry for around two to three hours before it can be sanded with 400-grit sandpaper.
Q: How much water can a bath hold?
A: The amount of water a bath can hold will depend entirely on the size of the bath. However, a standard tub will typically hold around 302 litres of water, while smaller models can only accommodate 150 litres.
Q: What is the best way to clean a bath?
A: To ensure your bath is protected against damage, you should try to clean it as often as possible. One of the best methods for cleaning your bath involves removing everything from the bath, including toiletries and toys.
You can then start to clean the tiles around the bath with a tile cleaner and grout brush, before rinsing it thoroughly.
Once the tiles are clean, you should then clean the drain with white vinegar and baking soda which should be poured down the drain and left for up to five minutes before rinsing it with water.
You can then wipe down the entire bath from top to bottom and use a small cleaning brush to eliminate stubborn soap scum and stains.
Q: How do you seal a bath?
A: If your bath is installed against the wall or you have a corner bath, you will need to ensure that it is sealed properly. To do this, you will need safety equipment, a caulking gun, masking tape, silicone sealant, a silicone applicator and a safety knife.
Once you have all your tools, you should start by taping the edges around the bath to ensure a neat finish. You should then prepare the sealant while wearing your safety equipment.
You can then attach a nozzle to the silicone gun which can be used to apply the sealant around the bath. The sealant should then be smoothed out with a sealant applicator.
Sources