How Much Does it Cost to Tile a Floor?
Firstly, why are tiled floors so popular?
Floor tiles are an amazing addition to your home, and they're most popular for kitchens and bathrooms, although they have also been used in conservatories.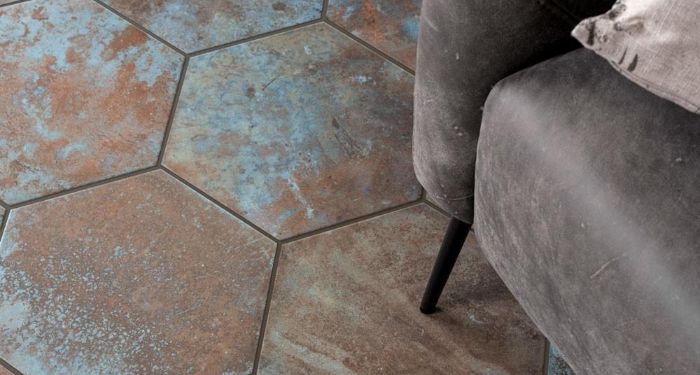 Tiling is actually quite a cost-effective option for flooring, and they're incredibly durable, ensuring that they can withstand a lot of use in high traffic areas of the home.
So how much does a tiled floor cost on average?
Check out the table below to find out!
Tile Flooring Prices
| TILE MATERIAL | COST PER M2 |
| --- | --- |
| Ceramic Tiles | £15-£25 |
| Porcelain Tiles | £15-£30 |
| Cement Tiles | £20-£30 |
| Glass Tiles | £20-£30 |
| Marble Tiles | £40-£50 |
| Mosaic Tiles | £25-£35 |
| Limestone Tiles | £30-£40 |
What are the Supply Costs of a Tile Flooring Installation?
Over the next few sections, we will break down the job into the materials cost, the additional costs and the tradesmen costs.
This helps you to understand how the quoting process works, and where all your money is going.
As we've illustrated in the section above, there are many floor tile variations, and each of them comes at a different cost.
Now, while you can tell the fitter which tiles you would like and leave them to purchase the materials, you can usually save some money by shopping around for the materials yourself.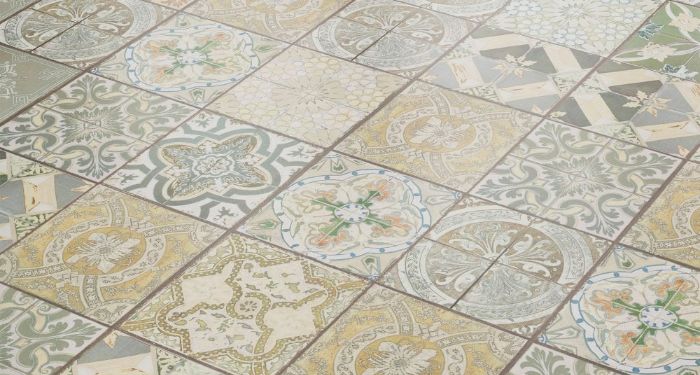 The fitter will have hardly any time to look for any deals on offer or compare the prices from supplier to supplier, so you'll pay the standard going rate for materials if you leave it to them.
You'll also get a better understanding of what tile design and style you'd like by going and looking at them yourself.
Sometimes, products look a lot different in person than they do in magazines or online, so handling the products before committing to them is a pretty good idea.
To give you an idea of how much the products cost, we've provided the table below.
What are the Additional Costs of Laying Tiles?
There are some additional costs that you should consider and factor into your overall tile flooring budget.
While some of these costs aren't essential, they are commonly associated with new tile floor installations.
We're going to explore each additional cost in more detail to help you make a decision on whether they apply to you.
Floor and Waste Removal
Some floor fitters will factor the removal of the current flooring and the disposal of the old flooring into their overall quote for the job, but you should ask them if this is the case.
If it isn't included, you should get some quotes from them and other fitters for the work. You can split this into two sections – the floor removal and the disposal of the old floor.
Now, the floor removal will cost in the region of £100, and shouldn't take more than a few hours, but the disposal of the waste may be a little trickier.
If you have a van or a car big enough for the job, you could take this waste to a local recycling centre for free, but if not, you'll have to either hire a skip or book in a waste removal service.
The cost of a waste removal service varies greatly depending on whether they have a permit for a council refuse centre or take the waste to a private landfill site.
The only way to get an accurate price on this is to call around and get some prices.
New Bathroom
New tile flooring is most common in bathrooms or kitchens, and if you're having this work carried out on your bathroom, it may be a good time to have a new bathroom installed completely.
If you are planning on getting a new bathroom shortly after your new floor, it's best to do the bathroom at the same time, to avoid any potential damages to your new floor when the bathroom is installed.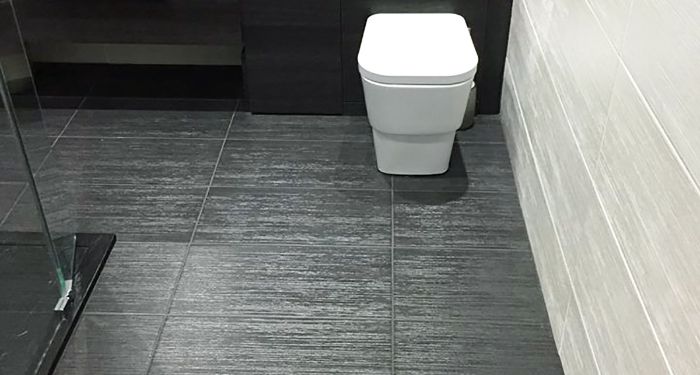 Now, a new bathroom remodel isn't cheap, but considering the amount of difference it makes, it really is value for money.
The average cost of a new bathroom is around £5,000 to £7,000, depending on the materials and features you want to include, but if you have a large bathroom, this cost could be closer to £9,000-£10,000.
This might be quite a big investment, but if you have the budget available, it will make a world of difference and add more value to your property.
Kitchen Remodel
We mentioned earlier that tiled floors are particularly popular in bathrooms and kitchens.
Now, we've covered the cost of a potential new bathroom, but we're also going to include some information about new kitchens too.
A new kitchen, much like a new bathroom, is a fairly big investment in your home, but it's definitely a worthy one that will add value to your home.
If you're going to install a new kitchen, it's best to do it before the tiles are laid, just to ensure that the units don't fall short of the tiled area.
Now, a kitchen remodel will cost somewhere between £4,000 - £6,000, including materials, fitting and design.
If you think this may be a possibility for you, why not get a few quotes beforehand, and you may even be able to include the floor tiling in the overall quote and possibly save some money in turn.
Tradesmen Costs for Installing Tiled Flooring
We've covered the cost of materials and the additional costs associated with new tiled flooring, so the final part of the quoting breakdown is the cost of tradesman.
Now, the tradesman will generally work for between £120-£180 per day, depending on the region you live in, and whether one person will generally be enough for a floor tiling job.
However, if you have a large space to tile or your space is structured uniquely, the tradesman may need to bring another set of hands, which would double the labour cost.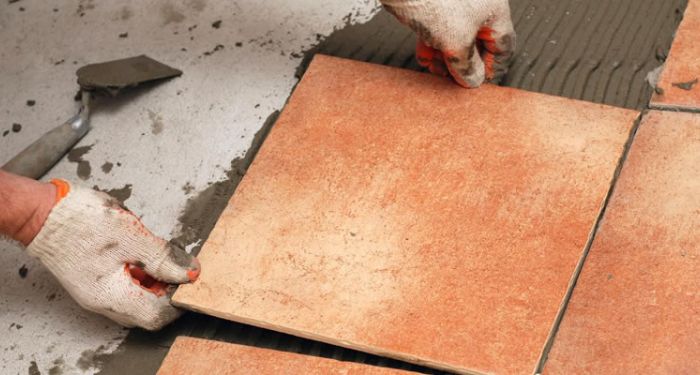 This will all be included in the initial quote, so there shouldn't be any shocks further down the road. Floor tiling usually takes 1 or 2 days, depending on the room's size.
Sometimes, this can be delayed by unforeseen circumstances like broken tiles, or more levelling work needing to be carried out on the floor. This usually won't affect the price but may affect how quickly the job is completed.
How Long Does It Take to Install Tiles?
Installing tiles will typically only take a day, but this can extend to two days if you have a large space or if your space is shaped in a unique way.
| SIZE OF FLOOR | DURATION |
| --- | --- |
| 12m2 | 1 Day |
| 20m2 | 1-2 Days |
Of course, there may be some unforeseen delays that can cause the job's overall duration to extend slightly. Laying tiles has a few stages to it, so we've broken the stages down into a little more detail to illustrate why the job takes as long as it does:
Prepare the Surface – First, the floor needs to be correctly prepared for the tiles to be laid on. The surface needs to be smooth, level and clean, and any damaged or uneven areas will need to be fully rectified before the fitter can move on to the next stage.
Plan – Using chalk the fitter will map out the base points and end points for the rows and lines of tiles. This helps plan the job and enables the fitter to make any potential adjustments.
Lay the Tile – From here, the fitter will lay the tiles loosely on the floor, with dividers in between to map out the route. From here, the adhesive will be applied, and the tiles stuck to the floor.
Setting and Grouting – Once all the tiles have been glued down, they will be left to set before the grouting can start. The grouting consists of filling the tiles' spaces, keeping them in place, and sealing the flooring.
Choosing Tile Flooring
We're going to explore the different types of tile on offer to you, and what positives and negatives they bring with them.
Ceramic Tile Costs
Ceramic is one of the most common materials found in tile flooring due to its durability and versatility.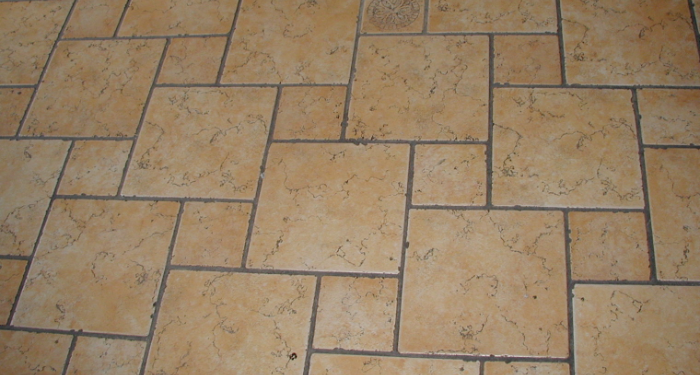 Amongst this, it's also incredibly easy to maintain, and it comes in a wide variety of styles, designs and colours. Ceramic is also low on the price scale for tiles, making it very budget friendly.
Cost: £15-£25per m2.
Porcelain Tile Costs
Porcelain is similar to Ceramic in the sense that it's incredibly versatile and easy to maintain. It has a ton of style, colour and texture variations, and it isn't that much more expensive than Ceramic.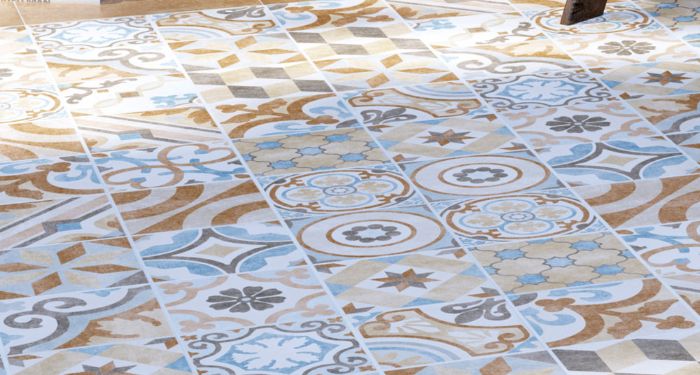 However, the only drawback is that it's quite hard to work with and will take the fitter a little more time to install.
Cost: £15-£30 per m2.
Cement Tile Costs
Cement floor tiles require a significant amount of upkeep as they need to be resealed as often as monthly to preserve their aesthetics.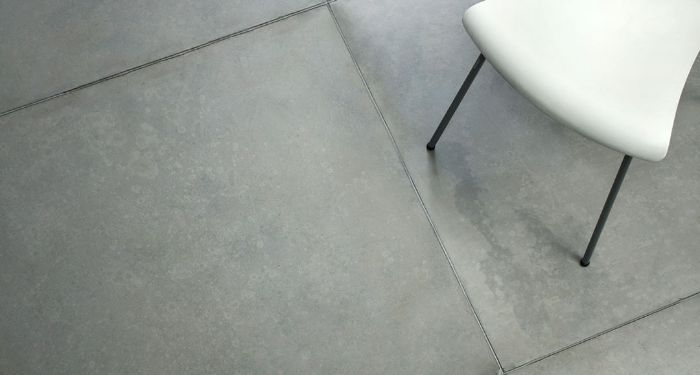 They do look wonderfully natural, but they can be quite hard to lay, and they're a little expensive, making them a very rare choice for people installing a tile floor in their home.
Cost: £20-£30 per m2.
Glass Tile Costs
Glass tiles reflect light and make rooms look far more spacious and open than they actually are. They enhance the natural light in any room wonderfully and are available in a wide range of colours and shades.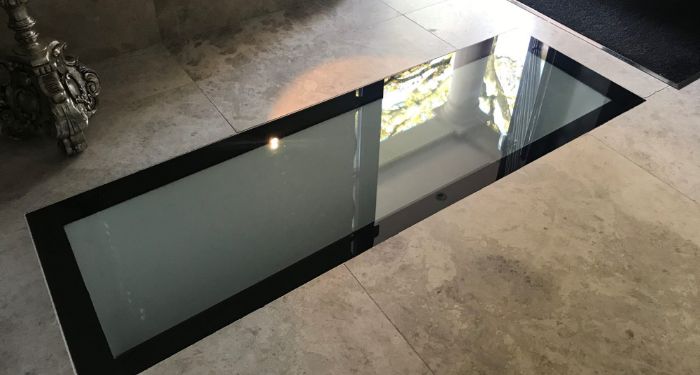 However, glass must be handled with care, which adds a little time to the install, and they are a little pricey too.
Cost: £20-£30 per m2.
Marble Tile Costs
Marble tiles exude elegance and class, and they also come in a variety of styles and designs.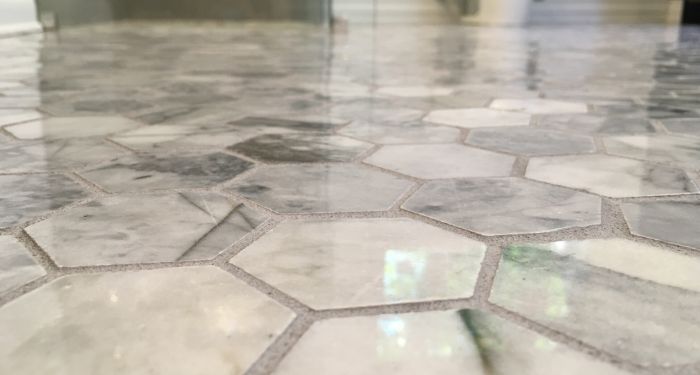 They are priced fairly high, but Marble flooring is unmistakably beautiful, and at first glance, you can see how high quality it is. Marble's only issue is that it is prone to scratching, meaning the upkeep on it can get quite tedious over time.
Cost: £40-£50 per m2.
Mosaic Tile Costs
Mosaic tiles make up some of the most unique flooring options on the market, and the design options for these tiles are endless, although they are an acquired taste to some.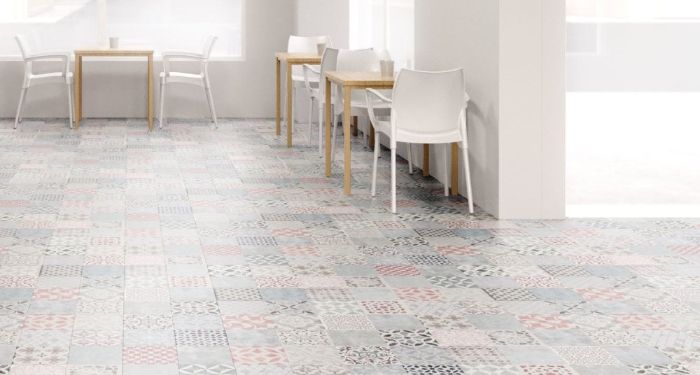 Mosaic tiles give you the chance to express your creative side, but don't get too crazy! Mosaic tiles also extend the job's duration by quite a lot, depending on the styles you opt for.
Cost: £25-£35per m2.
Limestone Tile Costs
Limestone are beautifully natural tiles that allow for a more rustic and traditional look in your home.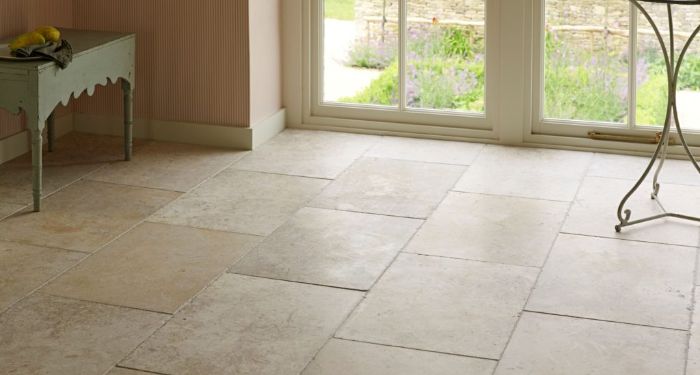 They are easy to install, but you must be careful with maintenance as they absorb water, so less is more on the cleaning front!
Cost: £30-£40 per m2.
Benefits of Tile Flooring
Tiled flooring brings a ton of benefits with it, from cost-effectiveness to durability, but what are the lesser celebrated benefits?
We're going to delve into each benefit of tile flooring in a little more detail here.
Durability
Tiled flooring is incredibly durable due to its resilience to wear and tear over long periods, ensuring that tile flooring is perfect for high traffic areas of your home.
However, it is important to note that tile flooring doesn't have strong impact resistance, meaning that should you drop anything heavy onto the tiled floor, it's very likely to break or crack.
Low Maintenance
There are so many options out there for different flooring and home décor, but a lot of it almost creates a full-time job to maintain.
Tiled flooring is the complete opposite, with little to no maintenance required to keep the flooring looking at its best.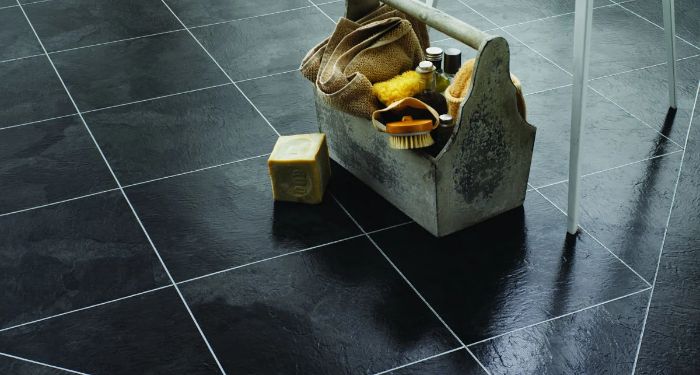 A quick sweep or mop every few days should keep it looking incredible for many years.
Cost-effective
Tiled floor is so much more affordable than other flooring types, both for the material purchase and the installation costs.
Despite the low price, tiled floor looks great, and the durability will ensure that you don't need new flooring every couple of years.
Water-resistant
There is nothing worse for bathrooms and kitchens than worrying about spilling drinks or getting too much water on the flooring in fear that it will warp or lift.
Tiled flooring is incredibly water-resistant meaning you'll never have to worry about this.
Eco Friendly
Tiles are made from raw materials like glass, clay and sand, and are usually combined with recycled materials.
This means that tiled flooring is incredibly eco-friendly and will greatly reduce your carbon footprint.
How Much Does It Cost to Remove Tiles?
Removing a tiled floor can be a messy job, but it isn't too complex and nor does it take too long to complete.
If you want someone to come and remove your tiled flooring from you, it will probably cost between £80-£130, but this may not include waste removal.
For waste removal you have three options, the first is to take the old flooring to a refuse centre yourself for free, but this will require a decent sized car or a van.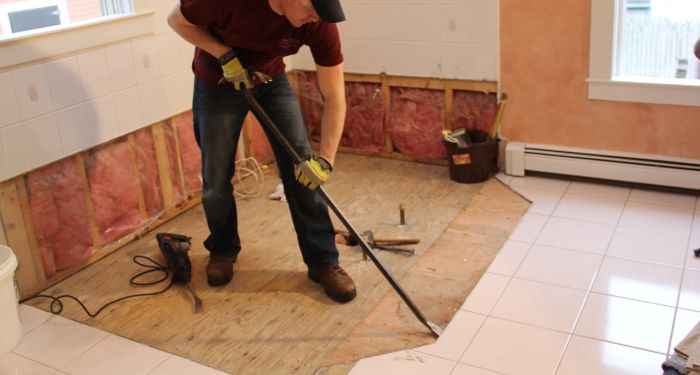 The second option is to pay for a waste removal service, but the prices of these services greatly depending on the region, the best way to find out how much this cost is to contact a couple of local companies and ask for a price.
The final waste removal option is to hire out a skip. This costs anywhere from £120-£300 depending on the skip's size and the length of time you need it for.
FAQs
Q: How do you grout bathroom tiles?
A: Grouting is a pretty straightforward task to complete, but it's an incredibly important job. Simply prepare your grout as per the packets instructions and work it into the tiles' gaps to ensure that the entire space is filled.
One the grout is applied, it will start to cure, so make sure there are no gaps or holes in the spaces. Once the grout has cured use a grout sealer to finish off the job to ensure it is completely waterproof.
Q: Can you paint floor tiles?
A: Tiles are incredibly versatile, which means you can paint over them to give them a new lease of life rather than replace them.
To paint tiles, apply a water-based primer to the tiles and then use a foam roller to apply your paint of choice.
Q: Can you repair a broken tile?
A: Sometimes, tiles will be broken and require repairing. You can now use some fixing cement to keep the pieces together, or you can replace the tile in full.
Obviously, sealing the broken pieces together will look unsightly, so keeping a few spare tiles for a replacement just in case of an emergency is the best course of action.
Q: Can you install tiles yourself?
A: Installing floor tiles can be done as a DIY floor tiling project; however, we wouldn't suggest this. Many things can go wrong when installing flooring from the tiles being uneven to the patterns not lining up.
It may be tempting to save a few hundred pounds by installing them yourself, but it could spell disaster if you're not experienced in this type of work.
Q: What rooms of the house can you install tiles in?
A: Tiles are predominantly used in bathrooms and kitchens due to their waterproof properties and their durability, but you could technically fit them anywhere in the house.
If it suits your aesthetic to have mosaic floor tiles in the living room, then go for it!
However, floor tiles can cool a room down, so be wary of that when making your decision.
Sources