How Much Does It Cost to Screed a Floor?
When all aspects are considered, installing a floor screed might cost anywhere from £2500 to £2800. While the price appears to be exorbitant, it begins to make sense when you consider the costs of supplies, labour, time, markups, VAT, and so on. When it comes to floor screed, there are a lot of variables to consider.
The cost of floor screeding is determined by several factors, including:
The screed's kind.
The type of flooring screed you'll utilise
The floor's dimensions
The size of your home remodelling project.
Accessibility.
The type and quality of floor screed utilised are two of the most critical factors to consider. Because floor screeding is more expensive in terms of materials, the quality and type have a big role in the final cost.
Traditional screed, for example, is much less expensive to use than modern screed and should cost no more than £12 to £15 per m2 on a 75mm thickness.
The cost of a simple cement and sand screed ranges from £14 to £18 per square metre. Flowing screed, which has been increasingly popular in recent years, will be slightly more expensive, costing between £16 and £20 per square metre.
It's vital to keep in mind that liquid or flowing screed is only a cost-effective option to cement and sand if the floor is larger than 40 square metres.
However, if you want something more unusual, such as flowing screed, which has become increasingly fashionable in recent years, you will almost certainly spend a lot more.
If you opt to hire specialists, evaluate how much the firms will add to the overall cost.
Furthermore, the travel time of the professionals to your home is likely to be factored into the ultimate cost, as it is added to the labourers' work time. This means that people who live in rural locations are more likely to pay more.
When it comes to locations, if there aren't many expert screeders in your area, the ones who are available are likely to charge extra to install floor screed in your home.
Floor Screeding Prices
In the table below you will see the different average costs of floor screeding in the UK:
| Material | Price (m2) |
| --- | --- |
| Sand and cement screed | £13 - £15 |
| Liquid screed | £17 - £20 |
| Quick-drying screed | £15 - £20 |
| Labour costs | £10 - £12 |
The typical total for a classic screed is between £15 and £16 per metre squared. With an average labour cost of £11 per square metre, we arrive at a screed floor cost of £26.50 per square metre.
Multiple factors influence the overall price of the installation of floor screeding. Here is a couple of them:
Location
Most contractors charge by the hour, the time it takes to get to your house frequently adds to the final cost. As a result, if you live in a distant area that is difficult to reach or is a long distance from the labourer's office, the price of the task may be affected.
As a result, the common practice is to choose a contractor who is close by and deal with him or her. However, depending on the situation, this has various disadvantages. For example, if you stay in a rural place with few professional screeders, the ones who are accessible are likely to charge extra.
Size of the Area
While an average-sized room costs between £400 and £500, larger rooms are more expensive. This is owing to the additional work that the labourers will be required to do.
Larger rooms also take longer to complete, so a contractor who charges by the hour will almost certainly be able to charge more for the time spent. Similarly, if the contractor charges per m2, the cost rises as the area to be covered expands.
Ease of the Job
This has to do with how quickly a labourer can get to work after the job has started. For example, if old tiles must be removed, floorboards must be repaired, or the workspace must be cleared, these costs will be added to the bill, costing you extra money.
As a result, clearing off the workplace before the arrival of the labourers is recommended. Also, before construction begins, you can remove old tiles and dispose of any trash, which will save you money.
What are the Supply Costs of Floor Screeding?
Are you thinking of screeding yourself? This is a great way to save money. However, before beginning this project, it is recommended that you have some prior DIY experience to do this.
If that's the case and you're confident in your DIY abilities, you'll need the necessary materials and a rough estimate of the screed's cost to get everything you need to complete the job.
It's important to remember that this isn't a simple job, and a poorly screeded floor can lead to problems down the road. If you're confident enough to try screeding a floor on your own, we'll walk you through the procedure step by step.
We'll look at the supply costs of everything you'll need less the labour in this part. The table below will show the breakdown of the supply costs that are needed for floor screeding.
| Tools | Price |
| --- | --- |
| Screed | £12 - £15 per m2 |
| Fast-drying screed | £14 - £18 per m2 |
| Flowing screed | £16 - £20 per m2 |
| Shovel | £20 - £30 |
| Gloves | £3 - £10 |
| Wheelbarrow | £50 - £100 |
| Trowel | £10 - £40 |
What are the Additional Costs of Screeding a Floor?
When it comes to the cost of home renovations, the cost of floor screed isn't the only thing to consider. Because laying screed usually comes before putting floors or carpets, these are additional costs to consider.
After laying and levelling the floor screed, we'll look at the various things you'll need to add, remove, and consider in this part.
Flooring Installation Costs
After laying floor screed, the next step is to decide what goes on top. Wood floors are a popular choice for many people because they are attractive, simple to install, and inexpensive.
The screed can be applied to a variety of wood species, the most typical of which are laminate flooring and oak. The average cost of flooring installation is between £400 and £1000 in most circumstances.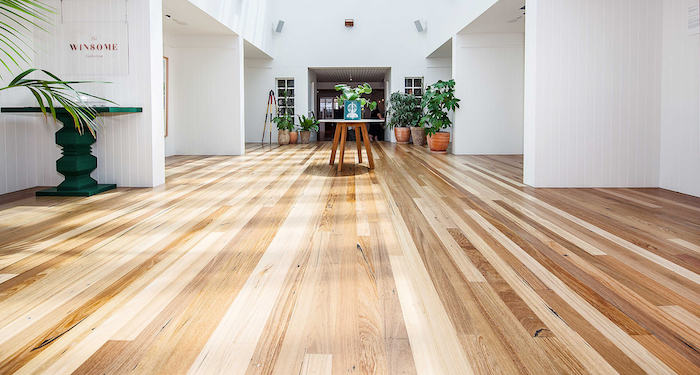 The cost of installing new flooring, on the other hand, will vary depending on the type of flooring you desire and the size of the room.
It is critical to preserve the floor from dampness, which could damage it so that the installation process runs smoothly. As a result, when working with wooden floors, it is critical to ensure that all tools and supplies are completely dry.
A damp-proof membrane is critical in this situation because it keeps moisture levels under control and prevents it from harming the newly laid wooden floor.
Depending on which fitting options you choose, you have a couple of possibilities. Solid wood floors, for example, are simple to nail or glue to the screed. Engineered floors, on the other hand, are installed with the screed using floats or glue.
Finally, apply a premium finish to your wood floors after they've been installed, as this not only improves the aesthetic quality of the floor but also extends its life and usability.
The price of labour is one of the most essential cost elements to consider, as floor installers charge varying prices for different types of flooring.
For a small room having carpet installed usually costs around £40 - £250, for a medium-sized carpet installation costs around £50 - £400 and a large installation is £80 - £625.
Floor Tiling Cost
A room of average size should cost between £700 and £1000. This, of course, is dependent on several criteria, including the type of tiles used, their quality, and professional expertise.
There are various tiling options, but the most popular is ceramic, which is preferred by most people due to its durability. However, there are alternative possibilities, including vinyl and porcelain, that may be more appealing owing to their lower cost.
The amount of time it takes is another important component that influences the pricing. As a result, while a cheaper floor tile takes less time to install, it will also cost less in labour. Depending on the region you live in and whether one person is normally adequate for a floor tiling task, the tradesman will generally work for £120-£180 each day.
It is not uncommon for homeowners to purchase their preferred tiles before contacting a professional. This is a viable solution, although it may not be the most practical.
Instead, it is recommended that you contact a professional for a quote that may include the tile supply. This is quite convenient because tradespeople are usually in a better position to obtain tiles at lower prices.
While an installation-only project may appear to be less expensive on the surface, the amount spent on supplies may end up being significantly more.
If you have a vast room to tile or your space is particularly built, the tradesman may need to bring an additional set of hands, which will double the labour cost. All of the information will be covered in the initial quote. Depending on the size of the room, floor tiling normally takes 1 or 2 days.
Unforeseen problems, such as broken tiles or additional floor levelling work, can cause this to be delayed. This normally has no bearing on the price, but it may have an impact on how quickly the job is performed.
Carpet Fitting Cost
The cost of putting a carpet in a home is difficult to estimate since there are so many factors to consider, such as the carpet's type and quality, the size of the house, the location, and any other costs.
For example, if you discover that the floor isn't level before you lay the carpet, you'll need to fix it. This could imply spending money on screeding before installing the carpet. The average cost of putting on a carpet is between £3 and £40 per m2, though this might vary, depending on quality and installation time.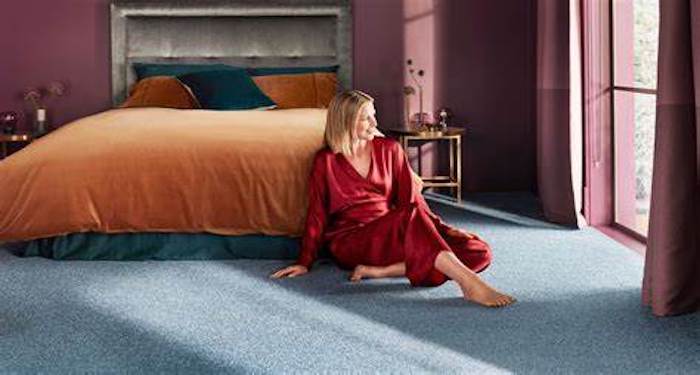 When it comes to carpets, there is so much variety that you can easily stick to a budget. However, don't be so frugal that you wind up purchasing inferior materials.
More expensive materials, on the other hand, do not always imply higher quality. As a result, most experts recommend choosing a mid-range carpet that ideally balances cost and quality.
Also, keep a check on the underlay material, as an expensive carpet would be rendered useless if the underlay is of low quality. After you've decided on the carpet you want, you'll need to buy the material and ready the space for the professionals to work in.
This may necessitate the removal of the old carpet to create room for the new one. Cleaning up the room and getting rid of any trash makes life easy for the labourers and saves you money. Additionally, you can inspect the flooring to see if any need to be replaced.
You should anticipate paying for labour costs roughly £50-£70 for a small room, £70-£90 for a medium-sized room, and £80-£120 for a large room for labour. You should expect to pay £70-£120 for a staircase.
Those who live in London should expect to pay roughly £20-£50 more for carpet fitting labour than those who live in the North or elsewhere in the UK.
However, the time to install a carpet is never a long process, and it usually takes:
1-2 hours to install a carpet in a small space
2-4 hours to install a carpet in a medium room
3-5 hours to install a carpet in a large space
4-6 hours to install a carpet on a staircase
Room Decorating
If you've already set a budget for wonderful new flooring, why not add a few hundred dollars to that budget and have the entire room decorated as well? With a few new home fittings and accessories, you'll have a brand-new room in no time.
Outside of London, a decorator will cost roughly £150-£180 per day, and a 14 square metre can be done in one and a half days.
If there is any wallpaper on the walls at the time of decorating, you may have to pay to have it scraped, levelled, or removed, but other than that, it's an inexpensive process.
Tradesmen Costs for Floor Screeding
Most contractors will charge you £10-£12 per m2. On the other hand, they may charge around £120-£200 per day. Screeding shouldn't take long, and a room of typical size will take about 6-7 hours.
While these are the typical prices and time frames, things may change in a variety of circumstances. For example, if the labourer must remove old tiles or dispose of the debris that has been left behind, the amount of time spent on the job will increase, increasing the overall cost of the operation.
Another aspect that may hinder the project is travel time, as labourers may find it difficult to reach a remote area.
Furthermore, the type of screed utilised has a significant impact on both the final cost and the time it takes to complete the project.
So, if you choose a quick-drying screed, your labour time will likely be much shorter than usual, which will help you save money.
Finally, the most time-consuming aspect of screeding is waiting for the mix to dry after it has been laid, which can take several days, but happily, this is not included in the project's final cost.
How Long Does It Take to Screed a Floor?
If the tradesmen do not have any removal and have an easy time screeding the floor then it should take around 4 -6 hours, depending on the size of the room also. After this, the screed should now be left alone until it has hardened, which takes about 48 hours.
All windows and doors should be closed during this period, and no one should walk on the screed. Once the screed has hardened, open the windows to allow for evaporation, which will aid in the final drying stages.
It is critical to allow the material to cure undisturbed during the first 24-48 hours. All traffic should be directed away from the floor area. After that period, liquid screed can usually handle minor site traffic, but heavy site traffic should be avoided for at least 2-3 days.
Where more site traffic is expected, plywood sheets should be used to temporarily shield these areas, which should be removed in plenty of time to allow adequate drying.
After 48 hours, avoid water infiltration to completed screeds and dry off any inadvertent ingress as quickly as possible. If the screed gets wet, it will lose some strength, but it will regain it as it dries.
You should also open windows on all sides of the building to allow for sufficient cross ventilation and air changes, which will help to speed up the drying process. Under ideal conditions, a standard 40mm thick screed should dry to 0.5 per cent moisture content in 40 days. Actual conditions, on the other hand, can have a significant impact on this.
Types of Floor Screed
There are various types of floor screed available. Let's look at each of these in more detail, including how much they cost, how they differ from one another, and their benefits and drawbacks.
Typical Floor Screed Cost
One part cement to three parts sharp sand, or one-part cement to 4.5 parts sharp sand, is a standard floor screed. This mixture aids in the creation of a mortar layer that can be used as a foundation for a floor or finish. It's the most common sort of floor screed available.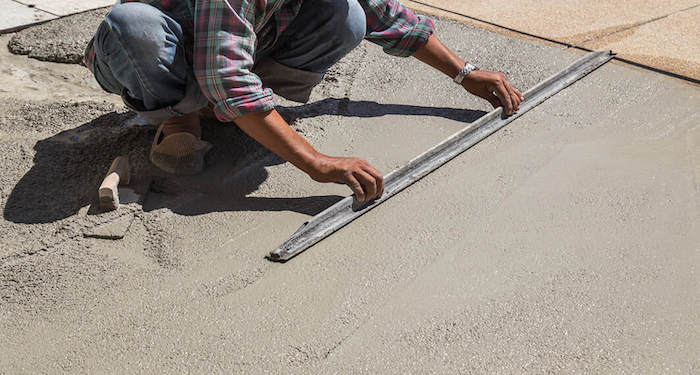 Regular floor screed is the least expensive type of floor screed available, costing between £12 and £15 per m2. Traditional floor screed has the disadvantage of having a wide range of drying times depending on the combinations used and the surrounding conditions. Unbonded screed, on the other hand, has a much faster drying period.
Pros:
Affordable
Suitable for most properties
Cons:
The drying duration heavily depends on environmental conditions
Floating Screed Cost
This is usually installed at a depth of 3.5cm. It can be utilised in homes that require thermal or acoustic insulation, or in homes that already have underfloor heating.
It is possible to improve the energy efficiency of your home by placing floating screed above the existing insulation.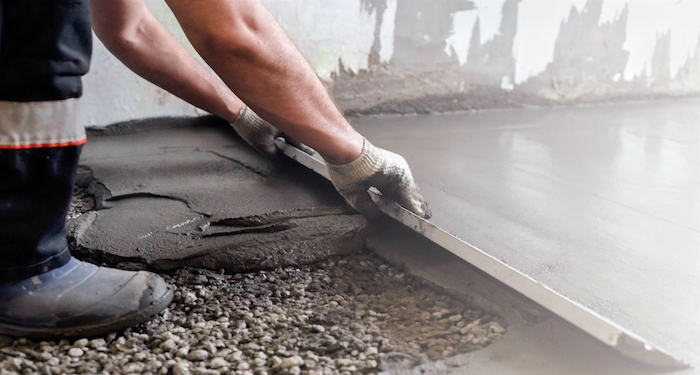 It usually has a thickness of 6.5cm or more, and in the case of a strongly loaded floor, it should have a thickness of 7.5cm or more. The floating screed will most likely cost £1 to £2 per kilogramme.
Pros:
Can improve energy efficiency
Suitable for homes with underfloor heating
Cons:
Fast Drying Screed Cost
If you need the job done quickly, a fast-drying screed, also known as an accelerated screed, is the way to go. If the floor must be overlaid or moved in a short period, a fast-drying screed may be required.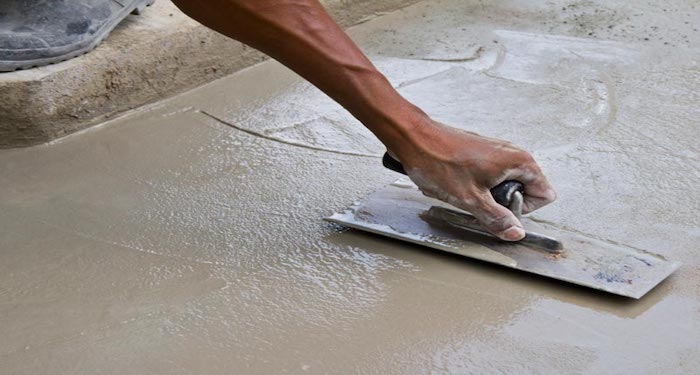 While a typical screed can take one to two days to set, a fast screed can do so in as little as 6-12 hours, and in some cases as short as one to two hours, depending on the product/brand. Screed that dries quickly costs between £14 and £18 per m2.
Pros:
Dries in half a day
Perfect if you need the process doing fast
Cons:
Liquid Screed
This popular type of flowing screed has a price range of £16 to £20 per m2, making it one of the most expensive options. This option has been increasingly popular in recent years. Because liquid screed surrounds the pipework and leaves no gaps, it is ideal for underfloor heating. Furthermore, liquid screed has no air pockets.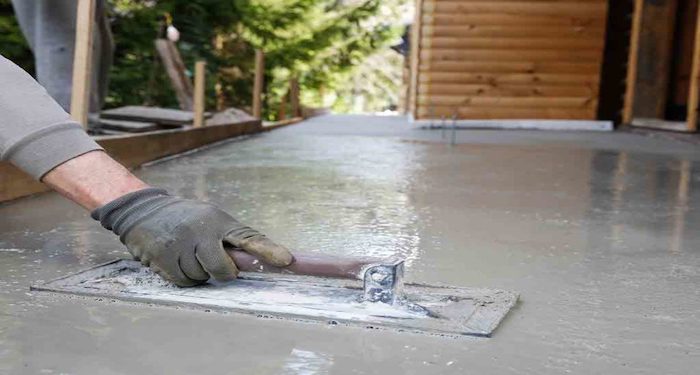 If you apply liquid screed over ordinary sand and cement screed, expect an uneven surface. It takes roughly one to two days to set up. It measures 3-4cm in thickness. While liquid screed is more expensive to purchase, it is frequently easier and faster to apply, saving you money on labour.
Pros:
Easy to install
Best for underfloor heating
Cons:
Bonded Screed Cost
A substrate is completely attached to the screed with the help of an adhesive in this form of the screed. A solid, structural substrate is frequently used. When a heavy load is a substantial aspect of the project, it is usually the screed of choice.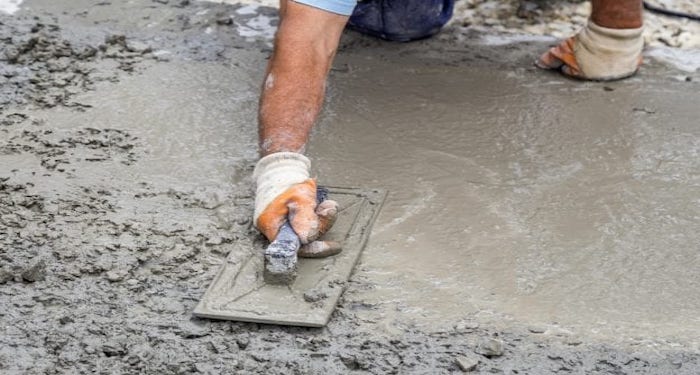 While it is more expensive than a partially bonded screed, it is less prone to crack or lose bonding. The bonded screed will most likely cost between £1 and £3 per kilogramme. It is around 25-40mm thick.
Pros:
Strong
Good for heavy loading projects
Cons:
Unbonded Screed Cost
This sort of mix is placed on top of a damp-proof membrane, which is then placed on top of the concrete foundation. As a result, in this scenario, you're screeding a concrete floor rather than a bonded screed. Settlement, moisture, and shrinking can all cause damage, which the membrane helps to prevent.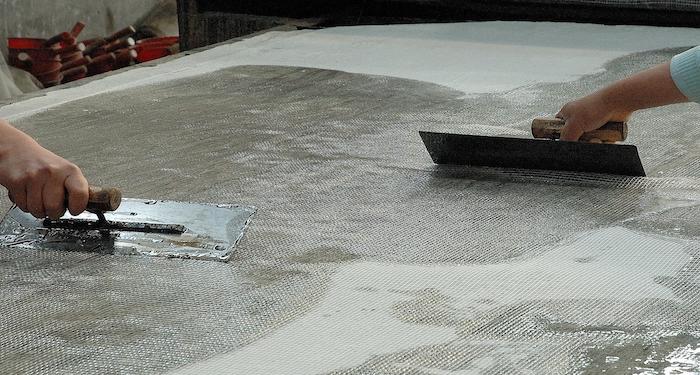 The drying procedure, on the other hand, must be done correctly. Otherwise, curling can occur, causing the screed's edges to become distorted. The installation of an unbonded screed can save you time and money because of its quick-drying rates.
Pros:
Cons:
The drying process must be done correctly
Can sometimes not be the best quality
Benefits of Screeding a Floor
Screed is an excellent flooring solution for a variety of problems. It can be used to cover some systems, such as underfloor heating, not only because it creates an even surface, but also because it allows heat to circulate through itself.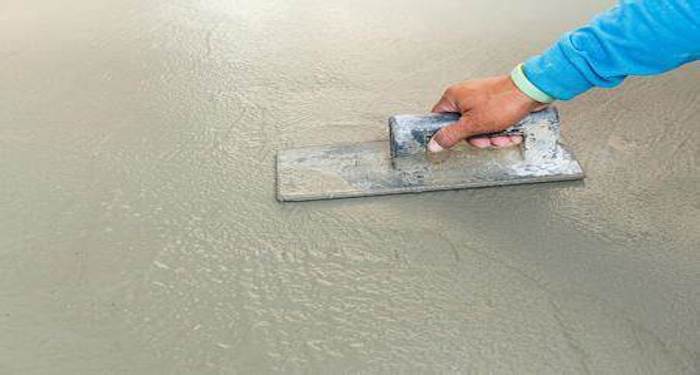 Here we will look at the advantages of screeding a floor and how it can benefit your home.
Ideal For Different Types of Flooring
Screed is a smooth mix that contains significantly fewer aggregates than concrete.
Screed is most typically used as a finishing layer on internal floors or to level the surface before final floor coverings such as carpet, tiles, natural stone, linoleum, wood flooring, resin coatings, and so on.
Screeds are used instead of a bare concrete surface when a colourful or useful floor is desired. A more resilient screed than that used in DIY or residential projects is required for industrial or commercial applications that will see a lot of foot traffic.
Heats Up a Home
Most screeds are exclusively utilised on the inside, often covering heating systems, acoustic, or thermal insulation. Externally, polymer-modified screeds can be used since they are more durable, water-resistant, and can handle a harsher environment.
Easy to Install
When compared to other screeds, one of the most appealing features of screed for homes and DIY projects is how quick and easy it is to install. Screed flooring is 10 times faster to install than sand and cement! It not only requires fewer people, but it also requires very little installation equipment, aside from some pre-planning and a concrete pump, making it a great no-hassle flooring alternative.
Protection
Instead of sitting directly on the concrete floor or other substrates, screed is usually applied on top of plastic sheets or another sort of membrane. This layer has the advantage of protecting the concrete floor from moisture and settling.
How Much Does It Cost to Remove Floor Screed?
When a room, including an apartment, is being repaired, the initial focus is on removing the old floor covering. This includes disassembling and screeding the floor. The procedure necessitates a significant amount of time and effort.
However, if you have no prior expertise with such projects, it is preferable to get advice from a professional. This will result in a high-quality final product.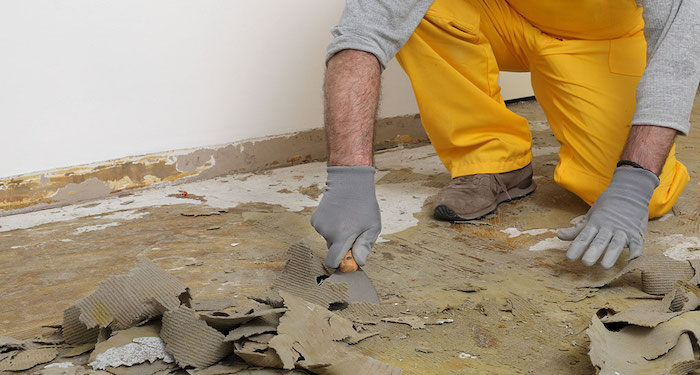 You can easily DIY by looking at different methods to remove floor screed. For example, light abrasion with a suitable sanding machine, such as a rotary floor scarifier and 60 grit sandpaper, should be used to remove floor screed. Using a vacuum cleaner, remove all excess dust.
Scraping the surface is best completed 4-6 days after the screed has been applied and can help with the drying process.
The cost of removal will also vary based on the type of floor you have; for example, to remove flooring, a carpenter will charge roughly £13 per hour. The cost of removing carpet ranges from £1 to £4 per square metre, whereas the cost of installing wood flooring is roughly £2 per square metre.
These charges may include rubbish removal, but if not, you may have to hire professionals between £70 and £180 to remove your old flooring.
FAQs
Q: How long does it take for the floor screed to dry?
A: You won't be allowed to put a final floor covering down on your screed until it's completely dry. The amount of time it takes from the first screed installation to the finished flooring installation is always referred to as floor screed drying time.
The final and most time-consuming phase in the screeding process is drying. Drying can take up to 50 days in some situations, or even longer depending on the conditions.
Q: How do you make a floor screed?
A: When laid at 40mm thick, 1 tonne of flooring grit or sharp sand combined at a ratio of 4 sand to 1 cement will cover approximately 15 square metres of floor. 4 areas of sand to 1 part cement in your floor screed is best if the mixture is somewhat dry.
To check if the mixture is correct, you should squeeze a handful of a mixed mixture (with your marigolds on top first). The mixture should stay in one hard lump in your hand, with very little liquid escaping.
Q: Why would you screed your floor?
A: Floor screed is most typically used to level out a concrete sub-base, especially if it is uneven, as well as to allow for more tolerance in the application of sensitive floor finishes and to sustain stress throughout the drying process.
Q: Is floor screeding durable?
A: Screed is utilised as a top layer for a concrete floor rather than in structural work. It's tough and built to resist the wear and tear of frequent use and heavy footfall. It's also quite insulating, which is why it's so popular for floors with underfloor heating.
Q: What happens if the screed gets wet?
A: Water will freeze and expand by around 9% if the screed is laid below 0°C. This may result in a disruptive reaction, causing the screed to break. Curing and drying timeframes — If maintained dry and at or above 5°C, most screeds settle and gain strength in five days.
Sources