How Much is Wood Flooring?
If you're considering installing real wood flooring in the near future, this guide will be invaluable to you.
So what does this guide cover, exactly?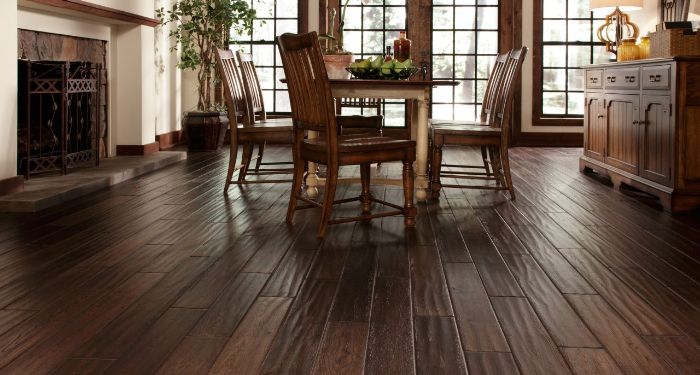 We're going to cover everything you need to know about hardwood flooring from the types of flooring on offer, the price you're likely to pay, any additional costs that could occur and all the cost affecting factors that can be attributed to a job like this.
What are the average costs of installing hardwood flooring?
Have a glance at the table below to find out!
Hardwood Flooring Prices
| FLOORING TYPE | COST PER SQUARE METRE |
| --- | --- |
| Engineered Wood Flooring | £30-£85 per m2 |
| Oak Wood Flooring | £40-£50 per m2 |
| Pine Wood Flooring | £50-£60 per m2 |
| Cherry Wood Flooring | £50-£60 per m2 |
| Maple Wood Flooring | £65-£75 per m2 |
| Walnut Wood Flooring | £75-£85 per m2 |
What are the Supply Costs of a Hardwood Flooring Installation?
To get a better understanding of how the price of hardwood flooring is determined, we're going to break it up into the supply costs, the additional costs, and the workforce costs of the entire job.
Now, you can ask your installer to purchase the flooring and factor that into the quote.
Still, a lot of people like to purchase their own materials, as this allows them to shop around a little longer, checking out different variations, styles, materials and even grab a deal or two.
Hardwood flooring is priced per square metre, so when you're shopping around for materials, it's a good idea to know the measurements for the space you're looking to install hardwood flooring onto.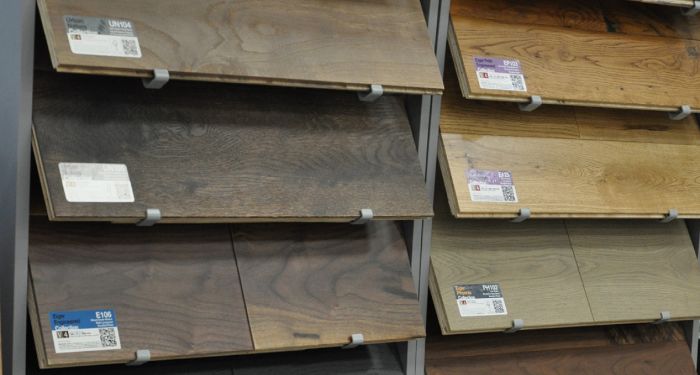 This will never be 100% accurate, but it will be extremely close, and it's better to be left with a little wood leftover than not have enough to complete the job.
As we mentioned earlier, some woods are more costly than others, mainly due to their availability, with woods like cherry and pine available in abundance, whereas maple and walnut are more exclusive.
We've created a handy table to illustrate the different costs of different woods below.
As you can see, engineered wood is very varied in price. This is because you can have incredibly cheap wood engineered for a budget job, or you can purchase finer created woods that have different textures, effects, or shades on them.
The two prices are extreme ends of the spectrum, and many people find a happy medium somewhere in between.
Hardwood Flooring Supply Costs
| FLOORING TYPE | COST PER SQUARE METRE |
| --- | --- |
| Engineered Wood Flooring | £20-75 per m2 |
| Oak Wood Flooring | £30-£40 per m2 |
| Pine Wood Flooring | £40-£50 per m2 |
| Cherry Wood Flooring | £40-£50 per m2 |
| Maple Wood Flooring | £55-£65 per m2 |
| Walnut Wood Flooring | £65-£75 per m2 |
There are many options for materials here to choose from, with a wide pricing structure from as low as £20 per square metre up to £75. This means that everyone can usually find a good balance between quality and value while keeping with their budget.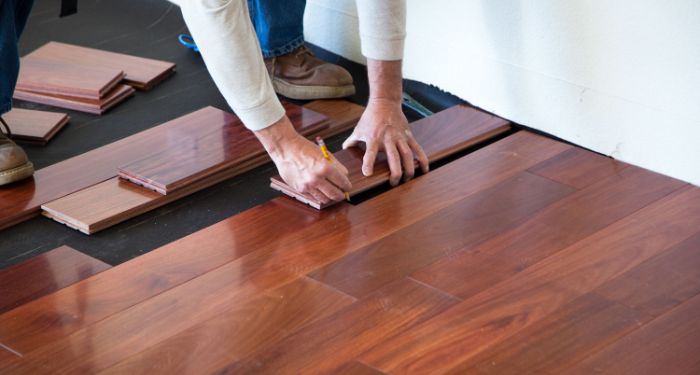 Hardwood flooring is also durable, meaning that spending money on quality materials now will ensure that your hardwood flooring lasts a long time, without the need to change your flooring every few years.
What are the Additional Costs of Laying Hardwood Flooring?
We're now going to move on to some of the potential additional costs that are attributed to the installation of hardwood flooring.
Now, these may not always be relevant or necessary, but these are typically the types of jobs and costs that people have done at the same time as their hardwood flooring installation.
Decoration
A lot of people tend to get new hardwood flooring as part of a wider project that refurbishes a certain area of their home.
For example, if you're spending money on installing stunning new hardwood flooring in your living room, why not spend a little more and have the entire room decorated with fresh paint and wallpaper, along with some new fixings or home accessories. It's not that much extra to spend, and your space will be utterly transformed pretty much overnight.
To have a standard 4x3 metre room decorated you'll probably pay around £150-£180 per day outside London, and the job in totality will take around two days.
Some decorators will also charge around £70-£100 to remove any existing wallpaper from the walls before they can complete the new additions.
These prices all depend on the work you want doing and the size of your room, so why not ask a decorator for a quote to see if you can fit it into the budget.
New Kitchen Units
A popular place for hardwood flooring in the kitchen, and if you're adding a new style of wood, your kitchen units probably don't match, which may not sound like a big deal, but after a short, while you'll wish you had them changed at the same time while there was work being carried out in the kitchen.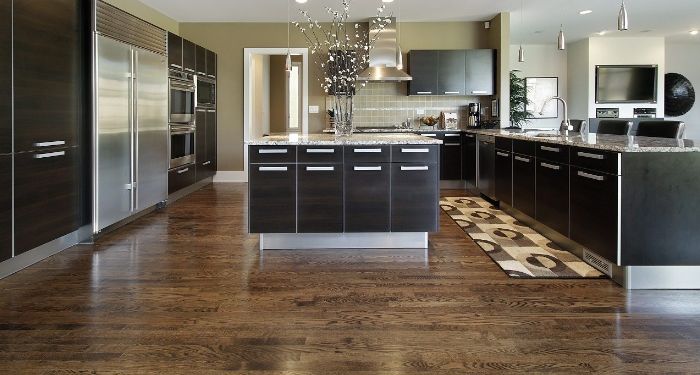 For an average-sized kitchen, a full set of kitchen units and fitting will probably cost anywhere between £3,000 and £4,000 depending on the materials you pick.
Again, this isn't a mandatory requirement, but if you're planning on refurbishing the entire kitchen space, it's a good idea to get the units, and the flooring installed simultaneously.
Lighting Fixtures and Fittings
Your new hardwood flooring deserves to be centre stage, and with new lighting, in whichever room, the flooring is being installed will help it stand out.
If you're installing hardwood flooring in the kitchen, some new LED spotlights may be a nice addition, or if it's in the living room, some new fixtures may transform the entire room.
The price of this all depends on what improvements you want to make.
Some new kitchen spotlights will cost around £600-£900, depending on how many lights you would like installed, whereas if you just want to update the fixtures you already have you can just shop for them and install them yourself.
The average spend on this is around £100, which is a small price to pay to update another aspect of the room along with your new hardwood flooring.
Repairs and Preparations
If your existing floor is in a bad state, it may need repairing before installing your new hardwood flooring. This may involve levelling the floor out or tidying up damaged skirting boards or corners.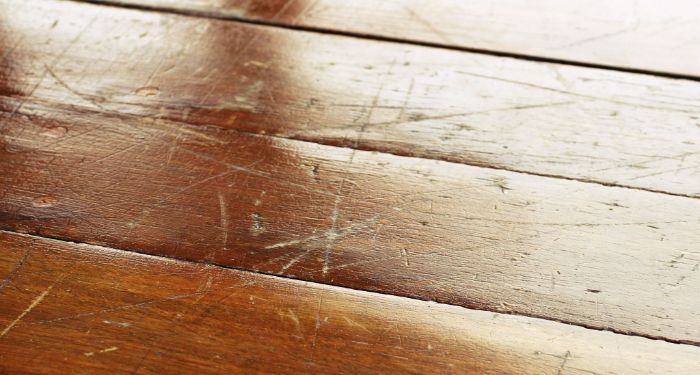 This should be factored into the overall job quote with the fitters but double-check this with them and if it isn't included, ask them to quote the repairs for you.
You should also get a few other quotes just to ensure you're not paying more than you have to as a precaution.
Tradesmen Costs for Hardwood Flooring Installation
Let's discuss the likely costs for tradespeople to work on your flooring installation.
As we see from previous tables, the average time spent on installing new hardwood flooring is 1 or 2 days.
If your space is smaller and doesn't have any unique areas, this may only take a single day, but if you have a large room with the intricate area, this is more likely to take two days.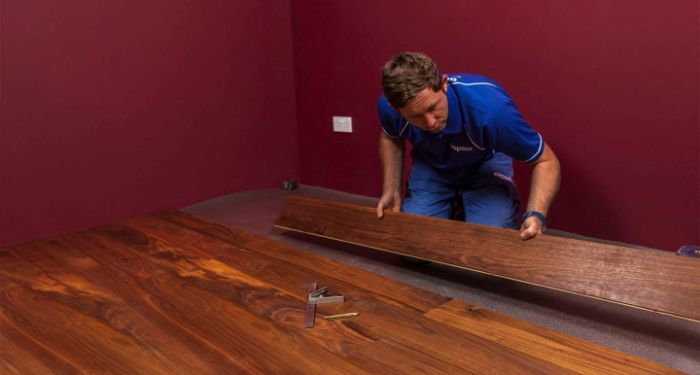 The flooring installers, on average, will charge £150-£200 per day, depending on your location. So, for a 2-day job, you can expect to pay £300-£400 on the installation alone.
If you have other work completed simultaneously by the same fitters, you may be able to negotiate a lower day rate, but this is different from all contractors.
The best thing to do is get multiple quotes and decide based on a broad selection to get the right balance between price and quality.
How Long Does It Take to Lay Hardwood Flooring?
Typically, laying hardwood flooring will take 1 or 2 days, depending on a variety of factors. First, the floor will have to be prepared to have the hardwood flooring installed on it.
This may involve levelling the floor or simply cleaning it ready for the application of the flooring.
There are several stages of installing hardwood flooring, ranging from laying the underlay which shouldn't take more than a few hours, and then readying the hardwood to be laid on the floor.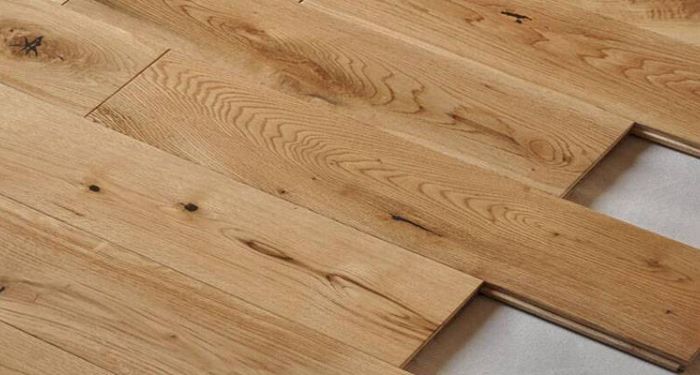 This is the time-consuming aspect of laying hardwood floors as each segment must be installed accurately to maintain any design in the wood. It's also crucial for the longevity of the flooring that this is done professionally and carefully.
The flooring will come in panels with tongues and lips on them which connect together to form the floor and keeps the wood tight together.
This also means that no glue needs to be laid, instead of using pins and screws to keep the baseboards steady at wall points.
Choosing Hardwood Flooring
There are many options when it comes to hardwood flooring. Let's discuss several common examples.
Oak Hardwood Flooring Cost
Oak is one of the most popular hardwood flooring options. It's available in abundance, it's robust, and it has a ton of varying shades that add to its overall beauty.
Oak benefits from lots of natural designs with knots, bands and lines run throughout the hardwood flooring, and every shade and design look wonderfully natural.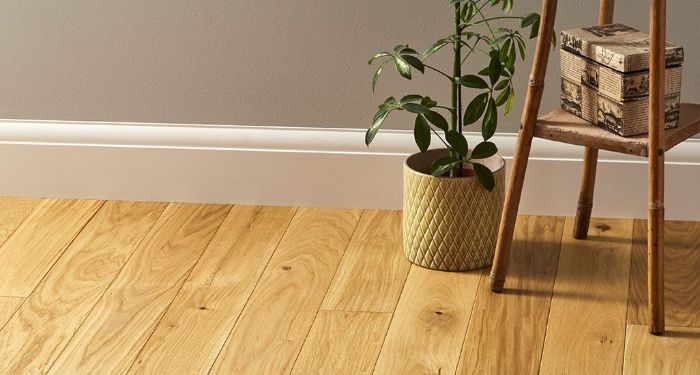 Oak is a very durable, ensuring a long lifespan for your wooden flooring. It's also one of the cheapest hardwood flooring options, meaning it falls under everyone's budgets.
The only drawback is that designs are pretty limited, considering oak features the same knot, band, and lined design, even if each is unique in placement.
Oak costs between £30 and £40 per square metre, making it an incredibly affordable option.
Pine Hardwood Flooring Cost
Pine features many of the same positives as pine, with its affordability, durability and versatility being the top of the bunch.
Pinewood is the most economical option, with pine trees growing much faster than other woods, meaning that they are less threatened.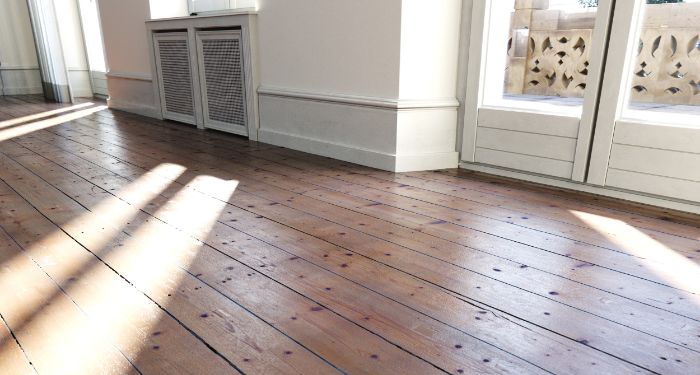 Pine costs around £40 to £50 per square metre, making it slightly more expensive than oak. Pine also has a few drawbacks, mainly due to its ageing.
Pine tends to lose its finish fast and requires a lot of maintenance, which can grow tiresome in a busy household.
However, it's an aesthetically pleasing option, and if you can commit to looking after the flooring, you shouldn't experience any huge issues.
Cherry Hardwood Flooring Cost
Cherry is a softwood and is naturally stained in beautifully dark colours and designs.
A big issue with softwood is how easy it is to scratch, and coupled with the dark wood, this can be extremely noticeable.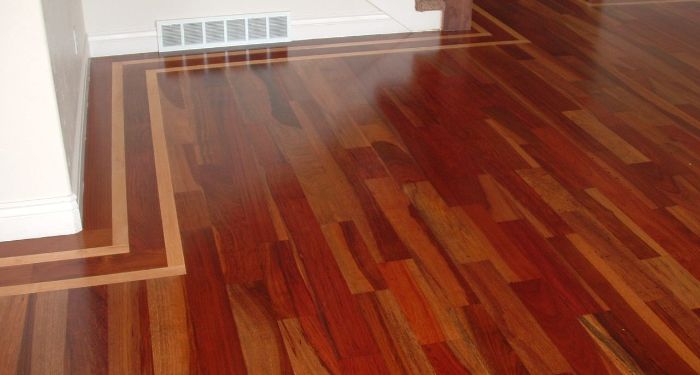 Still, cherry wood's beauty has kept this in favour with many people, and those dark colours are incredible when maintained properly.
Cherry is in line with pine in the price scale, costing between £40-£50, which is a great price for cherry wood's design qualities.
Maple Hardwood Flooring Cost
Maple is the easiest wood to maintain in this list, and its bright colours will really improve the ambience in your home.
Maple is highly regarded due to its ability to blend in with any décor, and it's incredibly easy to maintain, needing occasional sweeps and mops to keep it looking its best.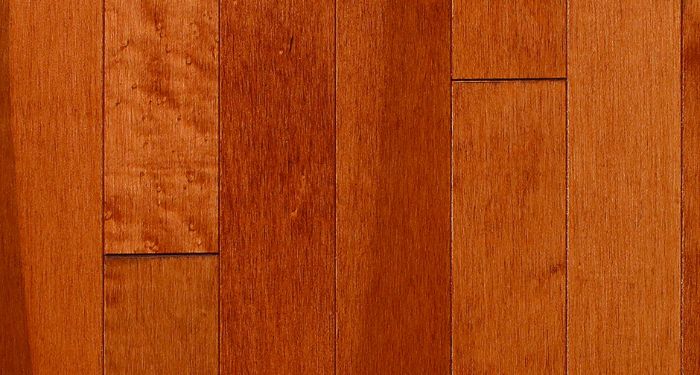 However, it is prone to scratching easily, but these scratches are easy to polish out with some wood wax.
It has also been known to expand and contract depending on the room's moisture levels, which can cause some displacements.
Maple is on the upper level of the price spectrum, costing between £55-£65 per square metre, which will make for an expensive flooring option, but the quality on offer is clear to see.
Walnut Hardwood Flooring Cost
Walnut is an incredibly unique wood, with colour patterns and palettes ranging from deep and dark browns to lighter versions.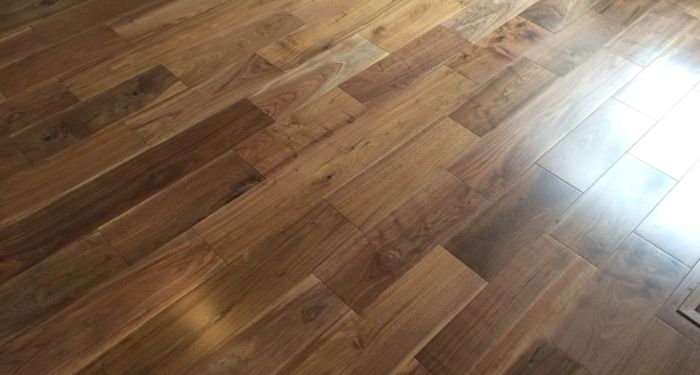 As a softwood, or at least softer than most hardwoods, it is prone to denting and scratching, but it also conceals any of these blemishes with ease due to unique design profiles.
Again, this is high on the price scale, but this really is a premium option, so if you're looking for flooring that impresses, this is your best option.
Engineered Wood Flooring Cost
Engineered wood is made up of a real layer of a certain wood at the top, like any of the woods we've previously discussed.
But this is for decorative purposes only, as the wood below this is a manufactured core board which is significantly cheaper.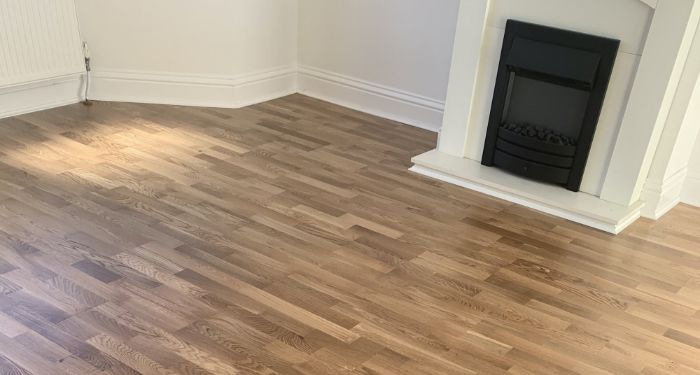 The reason the price fluctuates so much for engineered wood is due to custom requests, but an off the rack version will be low down the price scale.
You can pay anything from £20 to £70 for engineered wood flooring.
Benefits of Hardwood Flooring
There are many benefits to be enjoyed from hardwood flooring, ranging from its hardwearing properties to its beautiful design.
We're going to break the best benefits down in a little more detail here.
Hardwearing
Arguably the best thing about hardwood flooring is just how durable it is. It will withstand the test of time and still look stunning, even through years of children playing and pets running around.
It's easy to take care of, and a sweep or vacuum every day or so will keep it looking as fresh as the day it was installed.
Repairable
Hardwood is installed in panels that interlock, which means should a panel be noticeably damaged it can be lifted and replaced pretty easily.
There will be some noticeable differences between the new panel and the older panels, but this will reduce over time once the panel has settled in and been trodden on a few times.
Aesthetically Pleasing
The designs, patterns and shades of hardwood flooring are probably its biggest selling point, and there is something wonderful about having natural materials in your home.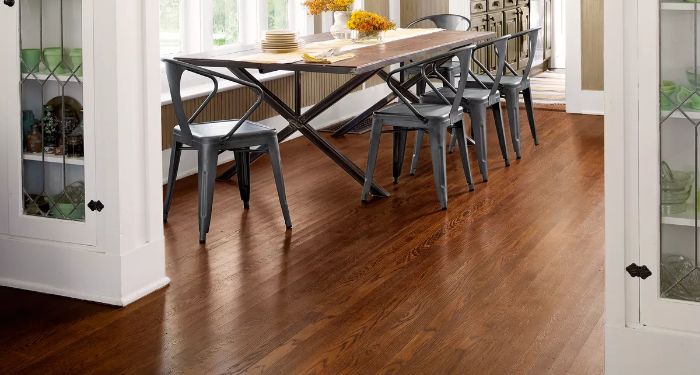 You can see the sheer quality with hardwood flooring instantly, and they even give off a beautiful aroma.
How Much Does It Cost to Remove Hardwood Floorboards?
Removing hardwood flooring is much the same as removing most other floorings. It will take a professional only a few hours to have hardwood flooring lifted at the cost of around £100 depending on location.
Of course, you will also have to pay for waste removal, whether that is in the form of a skip or for someone to collect and take it away.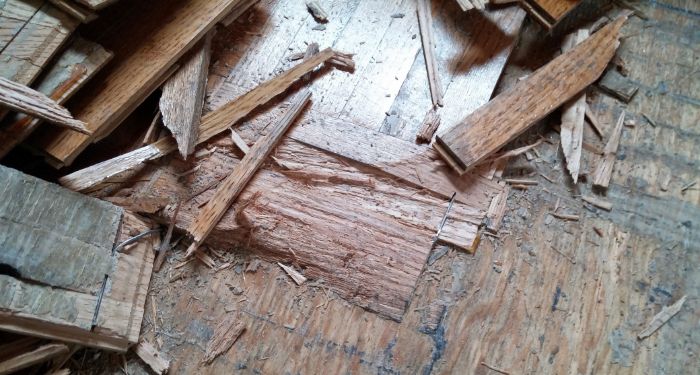 You should make a few enquiries for local rubbish collection, but a small skip will cost around £140.
FAQs
Q: Which is the best hardwood flooring for homeowners with dogs?
A: The best hardwood flooring from the list we provided is most probably oak as it is hardwearing of the hardwoods.
However, there is another hardwood flooring that is the best for pets, and that is Bamboo.
Bamboo costs between £20 and £35 per square metre, but the design options are incredibly limited.
Q: Can you replace one piece of hardwood flooring?
A: Hardwood flooring is installed with panels, so it is possible to remove a single panel and replace it with another for repairs.
Q: Can I install hardwood flooring myself?
A: Completing a complex job like installing hardwood flooring is a tough job to get right.
The panels need to be installed very accurately and snugly, and while DIY hardwood flooring installation is possible, we would suggest utilising a fitter.
Q: Can I have hardwood flooring in every room of my house?
A: You can have hardwood flooring in any room of your home and bedrooms look particularly nice with a hardwood floor.
However, the bathroom is probably the only room where you wouldn't want hardwood flooring, due to the stark changes in temperature and humidity.
Q: How can I find a hardwood fitter?
A: Usually, the place where you purchase your hardwood materials will offer a fitting service, and it's an easy place to get your first quote.
But you should still search online for more flooring fitters in your area and get more quotes to ensure you're getting the best deal.