How Much Does It Cost to Install a Resin Floor?
The average resin floor cost per square metre for floor coating is between £7 and £15 per square metre. If you want the best resin flooring, you should choose a high-performance polyurethane flooring, which ranges from £50 to £100 per square metre.
Many factors affect the cost to install a resin floor, however, the main cost-affecting factor is the size of the space. The price of resin flooring per square metre (m2) varies based on the scope of the project.
This is one of the most critical variables. Although a larger flooring area is more expensive, it results in a lower cost per square metre. This is because resin flooring is mixed and installed on-site, so a larger area allows for higher efficiency.
If you're ready to get a quote for your resin floor, we can also help connect you with local flooring specialists.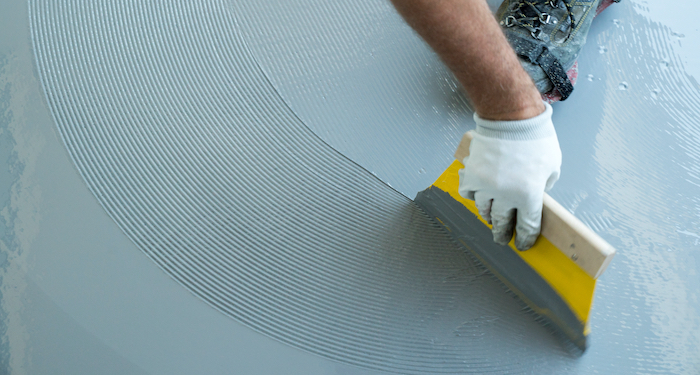 The type of poured resin floor you choose will also impact the cost, and certain varieties of resin flooring will be more expensive than others.
Resin flooring can range from simple floor coatings to more complicated floor coatings with custom colouration and other functions. Anti-static or anti-slip properties, for example, can increase the cost of resin.
The state of your current floor will also have an impact on the price. If the existing floor is in bad condition, it may require substantial preparation to ensure the resin floor is installed correctly. This will of course increase the duration, and the cost of the job.
Shot blasting, which removes old floor coatings from the surface, may be required for your floor. Shot blasting blasts the floor and suckers up any loose surface debris.
Diamond grinding is another method of surface preparation that involves grinding the surface into a smooth texture with a grinding machine. Removing any old flooring, such as existing resin or tile, will necessitate more preparation work, which will increase the cost and affect your budget.
The location of your property will also affect the overall cost of the installation, as trades rates vary across the UK.
Resin Floor Installation Prices
The table below breaks down the prices of installing a resin floor:
| Flooring Type | Average Cost |
| --- | --- |
| Resin flooring | £7 - £15 per m2 |
| Polyurethane flooring | £75 - £100 |
| Epoxy flooring | £85 - £120 |
What are the Supply Costs of a Resin Floor Installation?
If you plan to install a resin floor yourself, do you need to consider the supply costs. This includes the resin itself which costs around £240 - £260 for a 20KG tin. A resin polyester set costs £11 - £17 for a three-piece set on average.
Muriatic acid will cost you £6 - £16 on average and a cleaning solution will cost you £8 - £10 on average of £40 - £50 for a pack of four.
To apply resin floor, you must have a long-handled paint roller to evenly spread the resin across the floor which on average costs around £8 - £15, a stiff brittlebush will cost you around £6 - £8.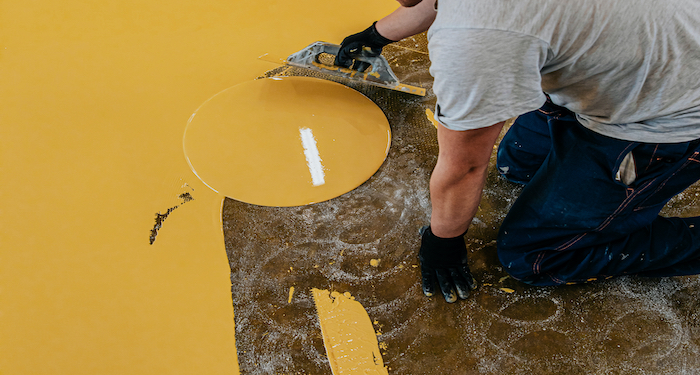 You will need a wet/dry vacuum which ranges from £47 - £120.
Painter's tape will cost you around £3 - £5. You will also need a drill with a mixer which typically cost about £50 - £70, and a scraper which costs £2 - £6.
The table below will show the supply costs of installing a resin floor without any labour or additional costs included.
| Supply | Cost |
| --- | --- |
| Resin solution | £240 - £260 20KG |
| Resin polyester set | £11 - £17 for 3 |
| Muriatic acid | £6 - £16 |
| Cleaning solution | £8 - £10 |
| Cleaning solution (pack of four) | £40 - £50 |
| Long-handled paint roller | £8 - £15 |
| Stiff bristle brush | £6 - £8 |
| Wet/dry vacuum | £47 - £120 |
| Painter's tape | £3 - £5 |
| Respirator | £20 - £100 |
| Drill with mixer | £50 - £70 |
| Scraper | £2 - £6 |
What are the Additional Costs of Installing a Resin Floor?
When installing a resin floor, you may want to consider additional jobs such as: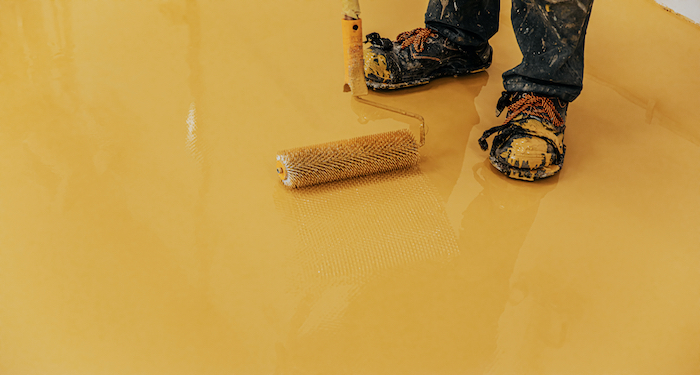 Wallpapering
Wallpapering is another substantial decorating cost, with prices ranging from £180 to wallpaper a small room to £600 to strip and hang the wallpaper.
Decorators in the United Kingdom charge between £23 and £26 per hour on average. Prices, however, may vary, depending on where you live.
Decorators in Birmingham or Belfast, for example, may charge between £18 and £21 per hour, whereas, in London, the fee is between £28 and £32 per hour.
For a 10m2 room, labour costs will range from £80 and £120, £130 to £170 for a 20m2 room, £200 to £250 for a 30m2 room, and £270 to £330 for a 50m2 room.
Painting and Decorating
If you would prefer to paint your walls, then you need to consider the cost of interior painting. Painting a room, for example, might cost anywhere from £180 for a tiny bedroom to £600 for a large living room.
You may also want to consider the cost painting skirting boards, which ranges from £180 to £350, and window painting, that typically costs between £400 and £1500.
Professional painters and decorators tend to charge approximately £100 to £300 per day or £15 to £40 per hour for smaller painting jobs.
Skip Hire
Most likely, you will need to have your old flooring removed before your resin floor can be installed. The best solution is to hire a skip.
The price of hiring a skip is determined by the size and type of skip. Roll-on roll-off skips, for example, are less expensive per yard than standard skips.
The average cost of hiring a 2-yard skip is £70 to £100, with a 4-yard skip costing £100 to £160 and a 6-yard skip priced at £120 to £190. An 8-yard skip costs around £150 to £370, a 10-yard skip costs £180 to £410, and a 12-yard skip costs £220 to £450.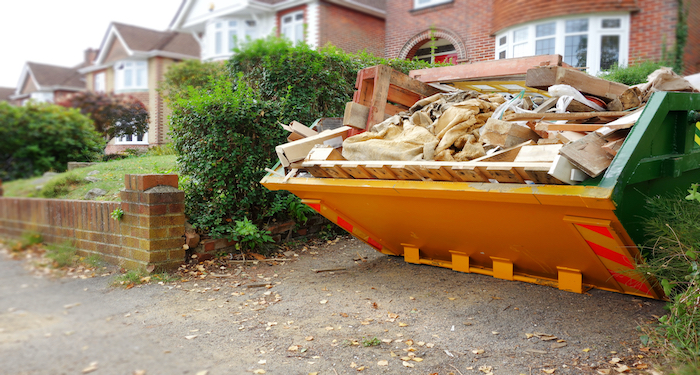 The number of tradesmen engaged to deliver and collect the waste, the ease of access to your property, and your location are all factors that affect the price. Because skip hire fees vary across the country, where you live will have an impact on the cost of hiring a skip.
Tradesperson Costs for Laying Resin Flooring
Resin flooring is a highly specialised product that should only be installed by a professional.
The labour prices will vary depending on the labourer you choose to install your resin flooring. They normally vary from £150 to £250 per day, depending on the level of experience.
If an existing floor surface is already in place, the old floor will have to be taken out before the new resin can be installed.
The time it takes to lay the floor is likely to increase because of this. Adding a day or two of labour may increase the cost by £600 to £1,000 per day.
How Long Does It Take to Install a Resin Floor?
The length of the floor installation will be determined by the size of the space, as well as the floor material.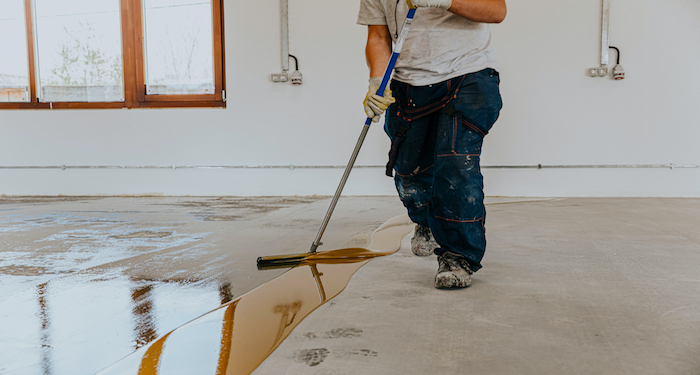 For an average floor, it can take two to three days depending on the floor material. For example, certain resin floors will take three to four days to install.
Diamond grind preparation, a primer, resin mortar coat, resin grout coat, and a resin topcoat are typically required for some of the most difficult jobs.
Types of Resin Floors
Resin flooring comes in a variety of styles. While all resin floors are more hygienic and durable than other flooring surfaces, the distinctions between each kind may offer major benefits or drawbacks, depending on their application.
Here are the different types of resin flooring:
PMMA Resin Flooring Cost
PMMA stands for polymethyl methacrylate, a synthetic resin sometimes known as "acrylic" or "acrylic glass". It is commonly used to make Plexiglas, Lucite, and Perspex.
PMMA resin flooring is a thermoplastic resin that can be tailored to meet specific industrial requirements such as slip, chemical, or electrical resistance.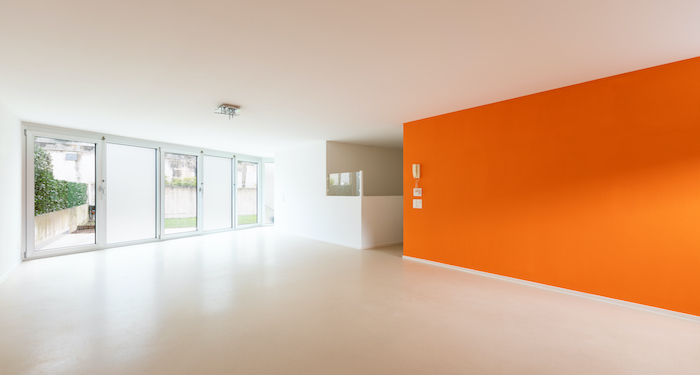 PMMA resin flooring is distinguished by its exceptionally quick application and hardening (cure) time, even at temperatures below 0°C. Because of the quick cure period, a PMMA resin floor can be entirely erected and cured in a single weekend, resulting in little downtime for factories and industrial facilities.
Due to its unique interlayer chemical interaction, PMMA flooring is extremely easy to repair and update, unlike other resin floorings that require complete replacement.
PMMA resin floors are often more expensive than other resin floorings. Nevertheless, they last longer and require less maintenance than any other system.
Pros
Easy to repair
Quick application
Requires less maintenance
Cons
Reacts badly to solvents and chemicals
Polyurethane Resin Flooring Cost
PU resin flooring, like PMMA flooring, is highly resistant to abrasion, chemicals and excessive impact. It can also withstand high temperatures and direct heat.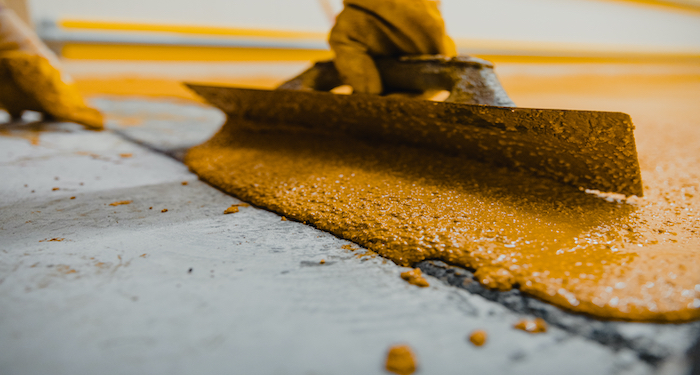 PU resin floors, which are classified as thermoset resins, take substantially longer to cure than PMMA resin floors, resulting in additional operational downtime during installation and any repairs.
Pros
Can be mixed easily and processed
Hardens quickly
Good filling capacity
Cons
Epoxy Resin Flooring Cost
Epoxy resin is a thermoset material that delivers the performance and durability of resin flooring and is the ideal resin flooring choice for electrically conductive flooring. It is probably the most well-known and type of industrial resin flooring.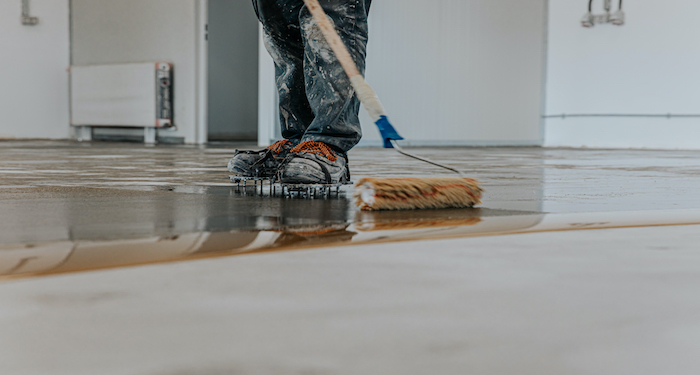 There are different types of epoxy resin available, each with its own set of benefits depending on the use. However, all epoxy resin flooring is extremely strong and adheres completely to concrete, protecting the underlying concrete base from impact, water intrusion, oil, and a variety of chemicals.
If an epoxy resin floor is damaged, it must be completely replaced, and because epoxy resin floors take the longest to cure all resin flooring options, an unforeseen replacement could be quite expensive.
Pros
Durable
Good for electrically conductive flooring
Cons
If damaged, a full replacement is required
Benefits of a Resin Floor
Resin flooring provides a lot of benefits depending on where you choose to put it, including: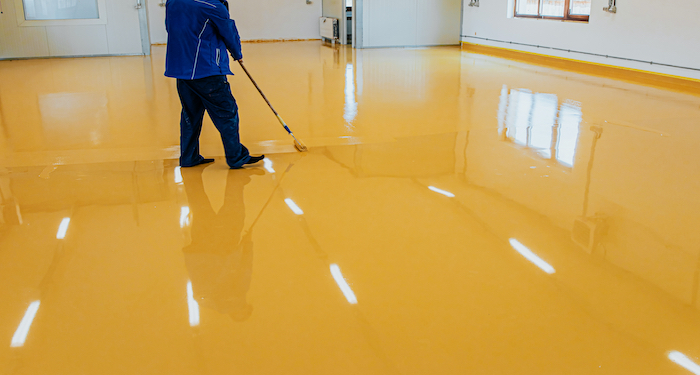 Toughness
Resin flooring is is stronger than concrete and has incredible breakage resistance. The resin is covered with a continuous layer of chemical coating. This consistency is critical for the floor's stability.
Flexibility
Under tension and stress, resin flooring is flexible and tensile. Because of the chemical bond, the resin covering can support a great deal of weight and can withstand impact and heat shock. Weight-bearing capacity is also aided by the amount of elasticity.
Resistant to Chemicals
Most flooring materials are not chemically resistant. Acids, alkalis, and different solvents irreversibly harm a floor. Resin flooring, on the other hand, is impervious to all types of chemicals and harmful substances.
Aesthetic
Resin flooring is available in a variety of colours and tints. You can choose from a variety of materials and styles to suit your home or office.
Safety
The resin flooring is both safe and dependable. It also has an anti-slip layer that prevents slipping and damage. This is placed beneath the primary layer and provides support and friction while walking, pulling, or moving about on the floor.
Hygienic
Resin flooring is one of the most hygienic flooring materials available. This is due to the stain-resistant laminated layer on top of the coating. If something spills on it, you may easily wipe it away without worrying about absorbing the mess. The floor is also non-sticky and non-absorbing thanks to the lamination.
Price
Resin is a low-cost substance. It has a very simple manufacturing procedure and is reasonably quick to install because it is a derivative of plastic.
How Much Does It Cost to Remove Resin Flooring?
The most common reason why you would need to remove a resin floor is to make changes to a room, if a new tenant doesn't like the floor, or if the resin is beginning to look worn out.
Although removing resin flooring can be done as part of a DIY resin project, it is recommended that you employ a professional to do it. This will ensure that the resin is effectively removed and safely disposed of.
Unlike laminate flooring, each slab does not come off in one piece. Drilling can be utilised to remove resin flooring, thus the cost of your professional's services will include the cost of renting or using their drill.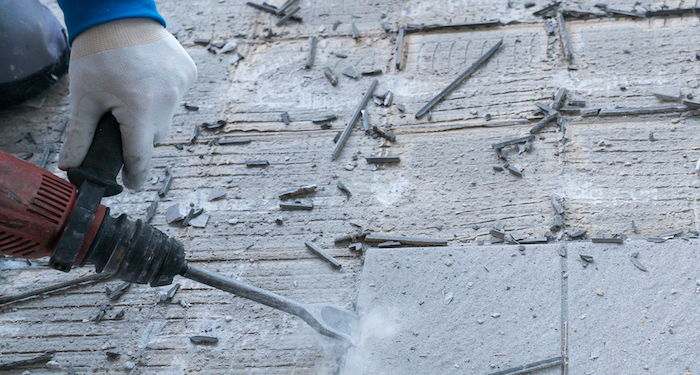 The typical cost of hiring a professional to remove a resin floor is £30 per hour for labour, plus an additional £30 for the resin disposal.
FAQs
Q: How much does an epoxy resin floor cost?
A: The average cost of an epoxy resin floor varies depending on the type of flooring, however, you can expect to pay around £85 per square metre.
A white resin floor can cost as little as £20 per square metre or as much as £150 per square metre. Epoxy resin flooring is installed using many layers of epoxy resin; the more layers used, the greater the cost per square metre.
Q: Can I install epoxy flooring in a garage?
A: Garage floors endure a lot of abuse. From the weight of large vehicles and equipment to the risk of chemical spills, scratches and scrapes from tools, bikes, and other objects.
As a result, a strong substance like epoxy resin flooring is an ideal garage floor option.
Q: Are resin floors high maintenance?
A: Resin flooring requires relatively little upkeep: simply sweep away any dirt and clean with an approved solution. Most resin floors are only simply a damp cloth to clean, however, others can also be steam cleaned.
To protect the surface from tiny scratches, you may be required to apply a clear glaze, wax, or sealer regularly.
Q: Is epoxy resin better than tiles?
A: Epoxy flooring is a durable and attractive option for your family home or commercial garage. Epoxy is a long-lasting material that won't stain or fracture. When it comes to new flooring, epoxy takes the lead over tile.
Q: Is resin flooring a good option for a home?
A: For your hard floors, resin is a highly safe coating. It's more abrasive, slip-resistant, and shock-resistant than concrete and other forms of industrial flooring. Some homeowners choose epoxy flooring for their mudrooms, kitchens, bathrooms, and even their garages.
Sources