How Much Does a Wet Room Cost to Install?
Installing a wet room in your home is becoming increasingly popular. Having a wet room installed increases your property's value and is particularly appealing to people who have mobility challenges. Wet rooms are ideal for residences with limited bathroom space because they do not have shower stairs or baths.
If you're seeking to renovate or relocate, wet rooms are a great option for this. They're stylish and roomy. They're a versatile solution that fits most budgets and aesthetic criteria because they come in various forms, sizes, and styles. This post will walk you through the costs of adding a wet room to your home.
So, how much does a wet room cost? It comes down to a lot of factors that can affect the overall price. The typical cost of a wet room is between £4000-£7000. This is highly dependent on the size of the room and the type of style you want your wet room to be.
Installing a wet room is not a simple task, and there are numerous components to consider. It is not a standard DIY task, as it involves tanking the bathroom to avoid water leaks as well as tiling and installing pipes, which are hard jobs to try and complete yourself.
Wet rooms are quickly becoming a popular feature in homes and are increasing the value of certain properties. To increase value further, you should aim to match the design to the rest of your house to avoid it looking out of place as it will contribute to the décor of your home.
You'll need to ensure the floor has a modest incline so that the water flows properly to the drain. If this gradient isn't done right, you can end up with standing water, which can lead to various issues in the long run. This is when a professional contractor can help the most, as they will have experience with ensuring that the water path is properly constructed.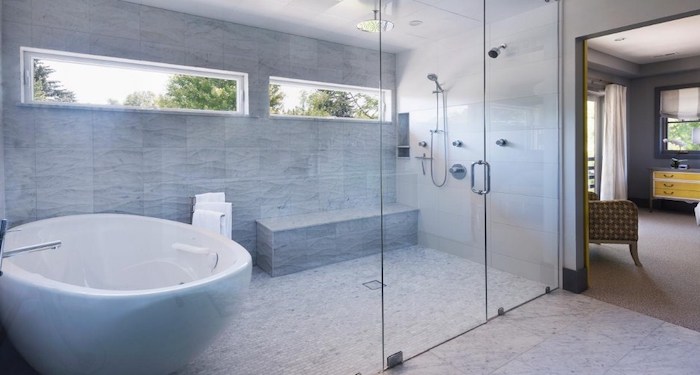 You will need to engage a professional to install a wet room because it is not something you can do yourself, as spoken about before. In most cases, the job will take between 4 and 7 days to complete.
The table below shows the components of a simple installation. This includes things like a washbasin, wall tiles, a toilet, and a shower unit, among other things. You should be aware that the cost will vary based on the type and finish you choose.
However, because most of the work is preparation and waterproofing, wet room labour costs are often a significantly smaller percentage of the entire cost.
There are a few points to keep in mind while looking at the data in the table. To begin, these charges are estimates based on several sources and should only be used as a guide.
They also don't include VAT. Finally, labour costs in London and the southeast could rise by as much as 20%. So, keep that in mind as well.
Wet Room Prices
| Wet Room Size | Cost |
| --- | --- |
| Small 2m x 1.5m | £4000 |
| Medium 2.5m x 2m | £8000 |
| Large 3m x 4m | £12000 |
What are the Supply Costs of a Wet Room Installation?
A wet room is one of the most popular forms of a bathroom in the UK, and it is both a popular option in high-end new construction and a common home remodelling project in older homes.
Wet rooms are no longer restricted to the ground floor since innovative flooring technologies enable you to install a wet room anywhere in the house, including in the loft.
The supply costs are not much different from a normal bathroom; however, it also depends on what you want in your wet room because others could classify this as additional costs.
Tanking Shower Kit
Select a tanking solution that has been certified for use in wet rooms. Wet room tanking is frequently sold in the form of a kit that includes all the products you'll need to completely waterproof the wet room. Make sure to verify the size of the kit you're buying, not just the price, as cheaper kits can only cover a small space.
Keep in mind that the entire floor and the walls surrounding the showering area should be tanked. Tanking kits for wet rooms range in price from £130 to £180.
Shower Tray Former
A fully working wet room must have a sloped floor that allows water from the shower to flow away from the floor, leaving it dry. To provide a seamless finish, a shower tray former is constructed into the floor and tiled over.
Prices for formers range from £450-£550 whether you want a basic one or for a made-to-measure former with a sturdy waste outlet and solid stainless-steel laser cut grating.
Shower
There is a wide choice of showers available, with prices ranging from £400-£500. Your demands and budget will determine the type of shower you choose.
The most popular type of shower is an electric shower. They are connected to your cold-water supply and heat the water using a heating element within the shower unit. These can be quite costly, ranging from as low as £60 to more than £200 for higher-end models.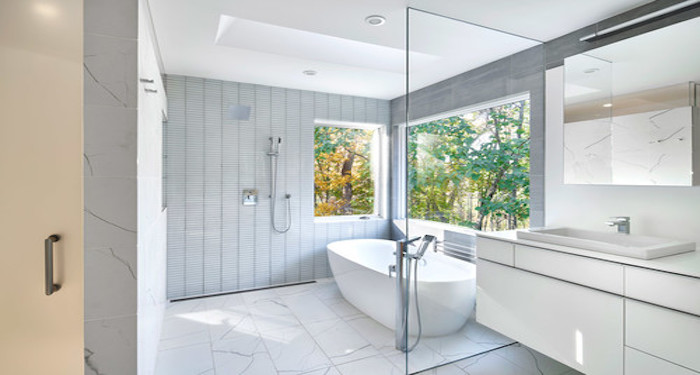 Shower Screens
Shower screens aren't technically necessary in a wet room, but they can come in handy if splashing is a concern. Choose a shower screen made for a wet room, as these are typically taller than those made for a shower cabinet.
Shower screens average cost is around £280-£320 depending on the fittings and style, just like showers.
Tiles
Ceramic or porcelain tiles are the most common non-porous tiles. Porous tiles like marble and travertine are beautiful, but they must be sealed regularly. Tiles can cost anything from £30 per square metre to £50 per square metre.
Tiles Adhesive
A good wall and floor adhesive will set you back around £60-£80. A 2.5 kg bag of flexible grout would set you back around £8, while a bag of the spacer will set you back around £10 per hundred.
The table below will show the cost of the supplies when installing a wet room:
| Materials | Cost |
| --- | --- |
| Tanking Shower Kit | £130-£180 |
| Shower Tray Former | £450-£550 |
| Shower | £400-£500 |
| Shower Screen | £280-£320 |
| Tiles | £30-£50 Per Square Metre |
| Tiles Adhesive | £60-£80 |
| Grout | £8 a bag |
What are the Additional Costs of Installing a Wet Room?
For a wet room installation, there are several additional expenses to consider. A simple wet room can be enhanced with various additions to allow you to have the wet room you have always dreamed of, or extra expenses will have to be added on if something goes wrong.
For example, you may realise you want to replace the full shower unit, including the cubicle, with a screen and shower tray when changing the shower. This will add to the cost, especially if you use expensive materials. A full cubicle replacement can cost up to £1,000, especially if additional tiling is required.
Therefore, here are some additional costs that could add to your overall price for your wet room.
Underfloor Heating
If you want to install a "wet" underfloor system that connects to your central heating system, you'll need to hire a trustworthy and knowledgeable local plumber.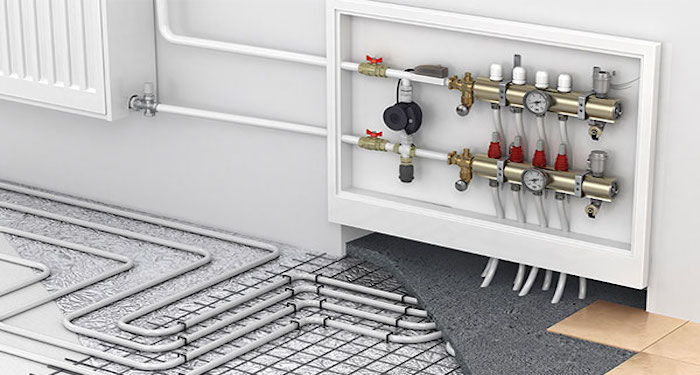 The average cost of installing a wet system in a kitchen, including insulation and connecting it to an existing central heating system, is between £300 and £400.
Tiling a Shower
The cost of tiling a bathroom differs significantly. The most important considerations are the space you want tiling, the tiles you choose, and the tradesperson you employ to execute the work. The cost of tiling ranges from £300 to £400. This figure includes both the cost of supplies and the cost of labour.
Installing tiles in your shower is a great way to make it look more modern. You will need to invest some money to work efficiently and get huge benefits. The average material cost for tiling showers starts at £10 per square metre, with a typical shower costing roughly £250 in labour and materials.
Bath Installation
The cost of installing a bath ranges from £500 to £700. This includes both the removal of the old bath and the delivery and installation of the new bath. You can buy a steel or acrylic standard, double-ended, corner, or shower over bath for this price. They add a wow effect to a room and are often only available as freestanding or rolltop models.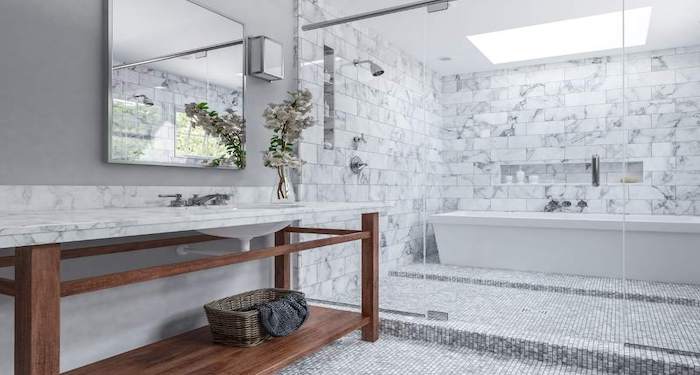 A walk-in bathtub will also set you back more money. These tubs will cost anything from £1,600 and £10,500. Other cost-increasing choices include whirlpool baths, which vary from £950 to £3,500. These start at roughly £3,000 and go up from there.
Toilet Installation
The average cost of installing a downstairs toilet is between £250-£400, however, this depends on a few factors that might significantly alter the final cost. To begin, your white goods will be the most important buy.
In this instance, a full wet-room installation is desirable, especially if the property has older residents. What size of downstairs toilet you're installing and where it's being placed are all factors that influence the price.
The table below will show the average price of additional costs you could add to your wet room:
| Materials | Cost |
| --- | --- |
| Underfloor Heating | £300-£400 |
| Tiling a Shower | £300-£400 |
| Toilet Installation | £250-£400 |
| Bath Installation | £500-£700 |
Tradesmen Costs for Installing a Wet Room
When installing a wet room, the average labour cost is roughly £1700-£2000. However, several elements can influence the labour expenses for this type of operation. This can include things like the job's location and the number of contractors required.
The cost of labour in the London area is expected to be roughly £30-£100 per day more than in the North or other parts of the UK.
You may require more tradespeople, or the work may take longer depending on the size and difficulty of the job. Due to the more labourers or additional time on the job, this could result in increased labour costs.
Wet room labour expenses with tiling range from £150 to £250 a day, therefore a modest wet room should cost between £1200 and £2400, while a large premium wet room with underfloor heating could cost up to £5000.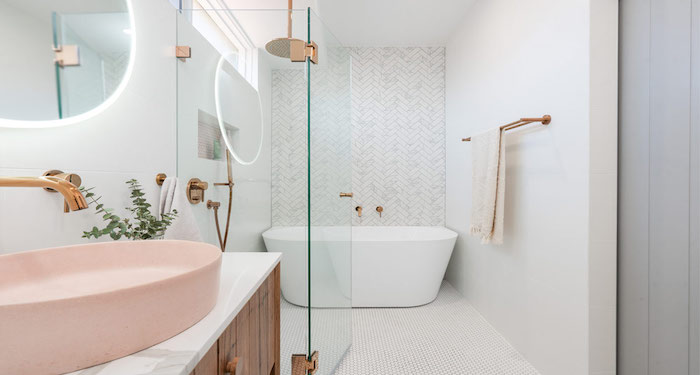 Labour costs typically range between £1500 and £2000. Contractors may be necessary, which can add to the cost of your wet room installation. The expenditures of additional labour and materials to repair the damage will lower the value of your wet room installation if you DIY and do it incorrectly.
Not only will a professional build your wet room more quickly, but they will also ensure that water drainage, waterproofing, and underfloor heating all function properly.
There are so many factors to consider, which means installing a wet room on your own can be tough. The cost of a professional wet room installer is worth it per day.
How Long Does It Take to Install a Wet Room?
Four days is the minimal amount of time you should expect construction work to take. However, most of the time, all the work will be completed in about a week, leaving you with a completely functional wet room to enjoy. If there are any complexity or complications along the road, installing a wet room can take up to two weeks.
The size of your bathroom and the expertise required to turn your wet room concept into a reality may increase the amount of time and money required.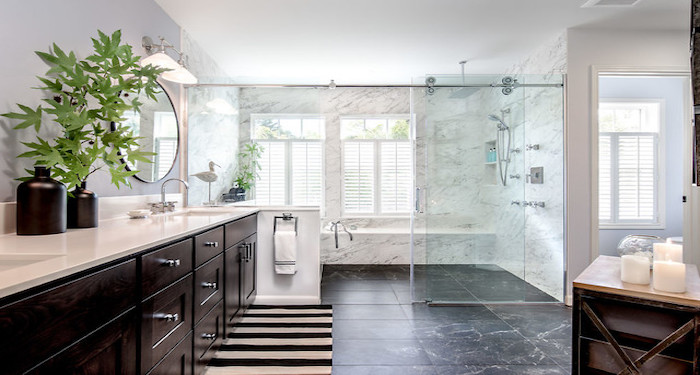 The time frames for a wet room installation may vary due to the many jobs involved. Shower installation, for example, can take a whole day, and tiling can take as little as 4 hours for a tiny wet room.
It takes as much as three days for a large luxury installation, which includes a 24-hour drying time. Underfloor heating, on the other hand, takes two to four days to install.
The table below it will break down the different timescales it takes to install a wet room.
| Job | Timescale |
| --- | --- |
| Tanking Shower Kit | Under an hour |
| Shower | 1 Day |
| Shower Screen | 1 to 1.5 hours |
| Tiles | 1-4 days |
| Tiles Adhesive | 1-1.5 days |
| Underfloor Heating | 2-4 days |
| Grout | 1-3 days |
Types of Wet Room Materials
When installing a wet room, there are multiple considerations you must think about, such as tiles, toilets, and showers. In this part of the article, we will discuss the different types of materials you can have in your wet room, including tiles, showers and toilets.
Tiles
One of the most important factors is the flooring finish when it comes to wet rooms and walk-in showers.
The type of under tray / wet room tray that can be utilised with the chosen flooring will be largely determined by the flooring surface.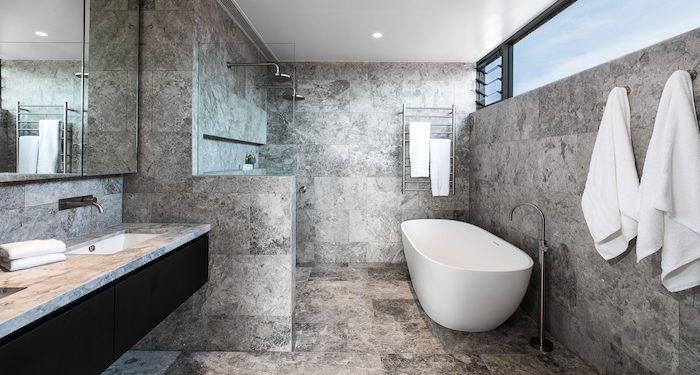 Here are some of the most common types of wet room tiles:
Porcelain Tiles
Large-format porcelain tiles, for example, are ideal for a wet room. If big format porcelain tiles are chosen, an 'envelope' cut will be required so that the tiles are laid out in the same direction as the wet room tray falls to the drain.
A seamless look on the floor can be achieved by using a linear drain with a tile-able insert, adding to the room's aesthetics.
PROS
There are numerous design alternatives
Durability
Resistant to water and stains
CONS
High-priced
It's heavy, brittle, and slick
Installation is difficult
Grout needs to be sealed
Natural Stone Tiles
Natural Stone tiles have all the benefits of porcelain tiles, but due to their natural state, they may require sealing before use to prevent water absorption.
PROS
Bold and elegant style
Strong and durable
Low cost
CONS
Walking on it is cold
It can be slippery
The stone is brittle
Mosaic Tiles
Mosaic tiles are ideal for following the curves of the wet room tray to the drain and can retain the whole wall for maximum drainage. Mosaic tiles tend to give superior slip resistance since additional grout lines surround them.
For the reasons stated above, some individuals choose to tile only the shower area in mosaic tiles and the rest of the floor in a larger scale tile.
Mosaic tiles are quick and easy to fit because they are usually supplied on a net backing. If the mosaic tiles are made of real stone, they may need to be sealed before being used.
PROS
Elegant design
Easy to clean
Durability
CONS
High cost
Difficult to install
Breakage
Toilets
Toilets come in a variety of forms and sizes, as well as conventional and contemporary styles, making selecting the correct toilet for your new wet room more difficult than you may think.
While it may not be as exciting as choosing your wet room accessories or tiles, selecting the correct toilet for your needs is crucial.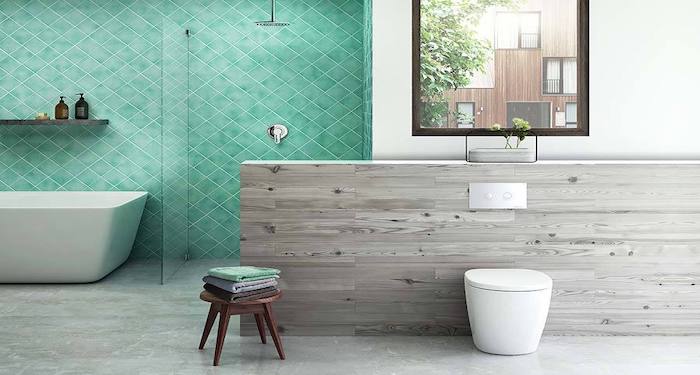 Here are some of the common toilet types:
Back To Wall Toilet
As the name suggests, this toilet is fitted against the wall directly with a concealed cistern in the wall. This toilet is perfect for a minimalist aesthetic, and because it doesn't have an exterior cistern, it's a great choice if you want to save room.
PROS
Aesthetically pleasing
The toilet takes up a lot less room due to it being hidden
CONS
Close Coupled Toilet
The cistern lies on top of the toilet, the pan on the floor, and the cistern to the wall in a closely linked toilet. This is the most prevalent toilet in the UK; it is simple to install because no concealed plumbing work is required, and it comes in a variety of styles to fit any wet room.
PROS
Built with a classic design
It will last your home years
CONS
Cracks, debris, and settlements can occur when customers use near pair toilets repeatedly over time
Low Level Toilet
If you're working with a small space, low-level toilets may be the answer to your traditional design ambitions. This toilet has a low-level cistern that is connected to the toilet via a similar line.
PROS
Modern and sleek
Your water bill will decrease as this saves water
CONS
More expensive than installing a standard toilet
Shower
It's critical to select a shower that meets your needs while also being compatible with your plumbing system. Some showers aren't compatible with all plumbing systems. When it comes to the criteria for a new shower system, it all boils down to personal preference and desired features.
If the shower will be used by more than a couple of individuals in a family bathroom, the ability to have 'pre-set' showering settings, such as temperature and flow rate, as found on certain digital showers, may be desirable.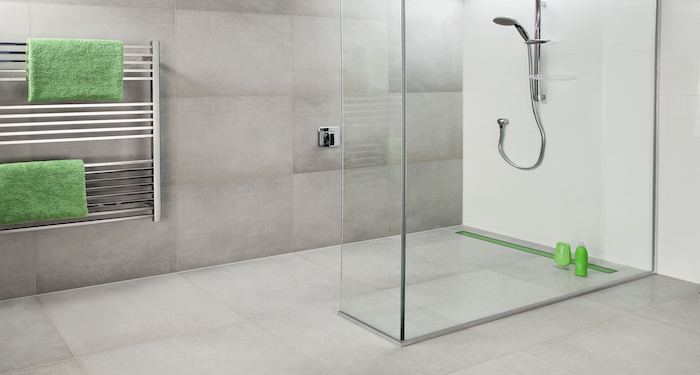 Here are some of the most common types of showers found in wet rooms:
Digital Shower
Showering in the twenty-first century is now possible with a digital shower. At the press of a button, you may adjust the flow and temperature of water in a digital shower. There's no need to wait for showers to warm up. Pause functions, remote control, and pre-settable parameters are available on some digital shower models.
Digital showers function by combining hot and cold water in a digitally controlled processing unit to reach the required temperature. This water is then provided at a steady flow rate to the shower output, whether it is a body jet, hand shower, fixed head, or spray head, as specified by the user.
PROS
It's compatible with any water system
CONS
Thermostatic Shower
The water for a thermostatic shower comes from both hot and cold sources. After that, the water is blended into the valve to get the desired temperature and flow. If other household taps or toilets are used, the valve will automatically adjust to maintain this temperature and flow.
A thermostatic shower requires hot water and can be installed on almost any plumbing system, including combi, high-pressure, and gravity systems. Thermostatic showers can be visible (with the valve fixed on the wall) or concealed (with the valve buried) (valve hidden in the wall).
PROS
The water temperature is better controlled compared to normal manual mixer showers, and a pump can be added for greater power
CONS
More of an expensive option
Mixer Shower
As the name implies, a mixer shower simply combines hot and cold water supplies to create the desired shower temperature. These showers are frequently found built into bath mixer taps. Like a thermostatic shower, a mixer is ideally suited to a water system with a consistent supply of hot water and good pressure, such as a combination boiler.
Unlike a thermostatic shower, a mixer shower is susceptible to water temperature changes caused by domestic equipment such as the washing machine.
PROS
You don't have to adjust the hot and cold settings manually anymore; it does it for you before delivering exactly matched water to the showerhead
It has greater power than an electric shower and is more user-friendly
CONS
Outdated combi boilers don't always function well with this shower
Benefits of a Wet Room
You may have clients asking you about constructing a wet room in their home. Wet rooms are attractive bathing places with a level access shower and the possibility to include a bath if space allows. They are completely waterproof and tiled.
Adds Luxury
A wet room's smooth tiling and expansive ambience offer a luxurious atmosphere in your own home, like that of a high-end hotel.
Electric underfloor heating heats the tiles and helps moisture escape more rapidly, adding to the luxurious effect. This comfy feature will be appreciated by your feet.
A Wet Room Offers Flexibility in Layout and Design
When it comes to the arrangement and design characteristics of your wet room, you may be as creative as you want. In full wet rooms, shower curtains are optional, and you can opt for a bath if space allows.
They work well in a variety of spaces and, when combined with light-coloured tiles, provide a feeling of spaciousness, even in small bathrooms.
They are Completely Waterproof
Wet rooms, when properly installed, are entirely waterproof, ensuring that water will not leak through the walls or the floor. This also implies that a wet room could be placed on any level of your home and will cause no damage as it won't leak through!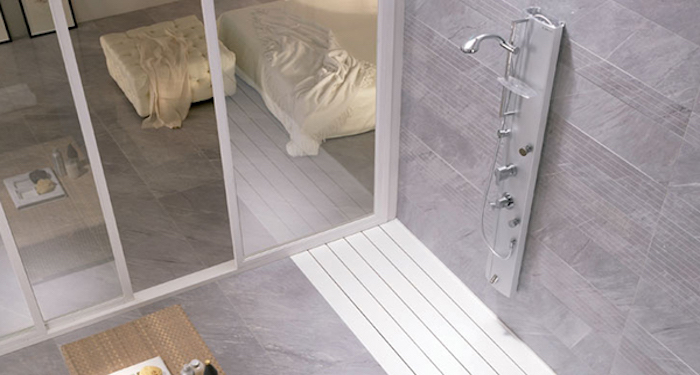 Provide Safety
A wet room's level access shower is a safe and practical solution, especially for the elderly or physically challenged.
There is also no need to slope the entire floor when using an OrbryTM or MarmoxTM level access shower tray because the shower tray has the proper gradient built into it that allows the water to readily drain away. The shower trays are also tiled with non-slip mosaics, ensuring both safety and aesthetics.
Increase The Value on Your Home
It is possible to boost the market value of your property by adding a wet room as a second bathroom. A wet room is seen as a practical, modern, and appealing addition by most buyers.
It's crucial to remember that most people desire a bath in their home, so either convert the wet room into a second bathroom or construct a bath in it.
How Much Does It Cost to Remove a Wet Room?
If you've recently moved into a new home with a wet room, you may wish to remove it if you don't like the design or prefer a bathroom with a bath and a shower. It will cost roughly £150 to £250 each day to employ an expert to remove it. If you want to save money, though, you might remove it yourself.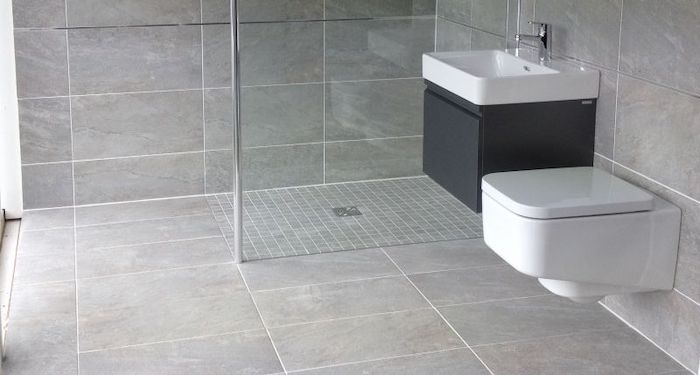 You'll need to lift the flooring and remove the waterproofing boards to eliminate your wet room. Using a pry bar, you may then remove the waste system and the shower tray. After you've removed all the shower fittings, use a chisel and knife to remove the rest of the floor before re-tiling it.
You'll need to get rid of everything once the job is done. To do so, you'll need to hire a skip, which can cost anywhere from £70 and £440, depending on the size.
FAQs
Q: Can you build a wet room on a wooden floor?
A: The location of a wet room in new construction is a significant planning and design concern. Wet rooms no longer need to have a solid floor. Thanks to advancements in the design of wet room drainage and waterproofing systems, they may be built anywhere, including on wooden flooring.
A wet room may be created in various household settings, including family bathrooms, bedroom en-suites, and even loft conversions, thanks to sophisticated waterproofing solutions.
Q: How do you clean a wet room floor?
A: If you need to clean your wet room floor, follow these methods for the best results:
Obtain a mop and a bucket of warm water.
Fill the bucket with regular bathroom cleaner.
Soak the mop in warm water for a few minutes.
Scrub in small circles to remove the dirt, working in parts.
Using the mop, dunk the dirt into the drain.
Repeat until the floor is completely clean.
NB: Do not flush any harsh chemicals down the drain.
Q: How do you keep a wet rooms floor dry?
A: After you've taken a shower, make sure you get rid of any excess moisture. Using a dry towel, wipe off the walls. Using a dry microfibre mop, mop the floor and push the water toward the drain.
Q: How do wet rooms work?
A: Because of the built-in drainage falls on the shower floor, the floor in a wet room is level. The 11mm gradient incorporated into the floor formers or screeded to the wall allows the water to flow into a flush drain within the shower area.
The entire room, or at least the shower space plus one metre across the floor and 220mm up the walls, should be tanked or waterproofed. This will create a watertight barrier that will endure the entire life of your tiles (or until you replace them).
Q: Why is the wet room flooring so important?
A: It is essential to have high-quality flooring. Just tiles and grout are visible on the surface, but these conceal the most critical materials that keep the room dry. Waterproofing, often known as tanking, is an important element of the installation process since it protects your space from damage and extends its life.
If you have opted to build an underfloor heating system as part of the room, you can waterproof it at the same time as installing insulation for it.
Sources