How Much Does It Cost to Install a Chimney Liner?
In the United Kingdom, wood-burning stoves are quite popular, and many homeowners are looking into whether they can use their old conventional chimneys to accommodate modern solid-fuel burners. An older chimney, on the other hand, may require lining for a variety of reasons.
The present flue may be far too large for modern equipment, but the main problem is that many old chimneys may fail the smoke test, indicating that smoke and gases are escaping into the building.
In most situations, a class 1 flue liner made of stainless steel, Thermocrete, or stiff pumice is required for a modern, efficient wood burning stove.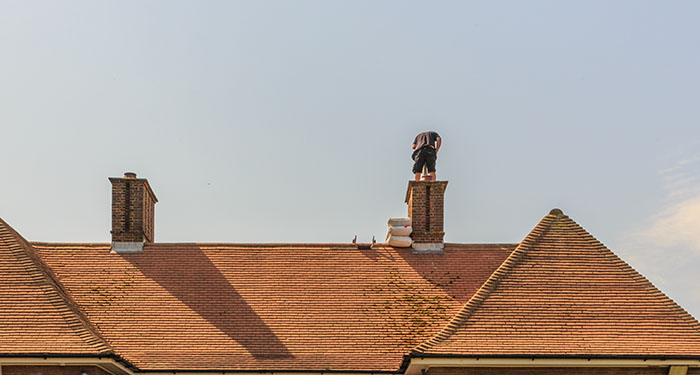 Flexible 316 grade stainless steel liners are the most common choice for existing chimney linings. This is because they are the most cost-effective and can usually be completed in one day or less with minimal disruption and mess.
A properly placed stainless-steel liner will survive for many years, and they are frequently guaranteed for ten years or more. Gas stoves only require Class 2 Flue Liners, which are significantly less expensive and lighter while still meeting safety standards.
Lining a chimney can be done in a variety of ways, depending on the state of the chimney, the age of the home, and the appliance it will be servicing.
Chimney Lining Prices
The cost of installing or replacing a chimney liner is determined by several factors, beginning with the size of your chimney. This will have a big impact on the cost of installing a chimney lining because you'll have to think about how many materials you'll need.
The average cost of installing a chimney liner ranges from £600 to £1,000.
The overall cost will be determined by how long it will take the tradesperson to complete the installation, if you hire a professional.
Most tradespeople charge a daily or hourly rate, so a more thorough job will almost certainly be more expensive to complete, because the professional will be working on your chimney for longer.
The type of chimney you have will also influence the cost of installing a chimney lining. There are numerous types of fireplaces and chimney vents, some of which are more complicated than others.
The typical cost of installing a stainless-steel chimney lining is between £450 and £600. You should expect to pay more than the national average if you live in London or the southeast of England, but you can expect to pay less if you reside in the north of England, Scotland, or Northern Ireland.
The type and size of the chimney, as well as the ease of access, will all influence the final cost. The state of the installation area, along with the scaffolding, will also play a part.
The below table sets out the costs of installing different chimney liners:
| Types of Chimney Liner | Average Cost |
| --- | --- |
| Stainless steel flexible liner | £350-£700 |
| Clay Liner | £750-£1000 |
| Concrete Liner | £750-£1000 |
| Ceramic Liner | £850-£1500 |
| Pumice Liner | £850-£1500 |
What are the Supply Costs of a Chimney Liner Installation?
Installing a chimney liner is not a project for inexperienced DIYers. Flue installers must be able to deal with a variety of chimney linings, as well as link the flue liner to a stovepipe or install a fireplace liner. Therefore, experience with this job is needed for safety reasons.
A person's health and life could be jeopardised if a chimney liner is not installed appropriately. Therefore, local governments use Building Regulations to regulate the installation of a flue liner. You can also expect to pay a premium for competent labour.
However, if you are a confident DIYer and want to install a chimney liner yourself, you will need to consider the supply costs.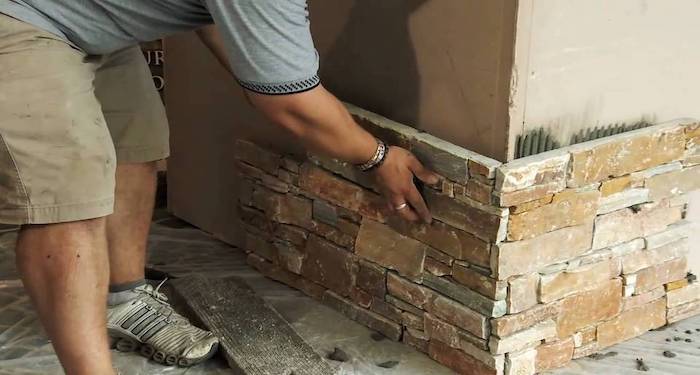 If you wish to purchase a stainless steel flexible liner, you should expect to pay between £15 and £20 per metre. Other options include pumice liners that cost from £12 to £18 per metre, and clay liners which range from £30 to £40 per metre.
A line adaptor costs between £40 and £50, a twin wall connector costs around £50 and £60, and a chimney flue ranges from £300 to £600.
The cost of the brickwork should cost approximately £40 to £100, depending on the size of the chimney in question. The table below will show you the average supply costs of different chimney liners without any labour or additional costs.
| Item | Average Cost |
| --- | --- |
| Stainless steel flexible liner | £15 - £20 per metre |
| Pumice liner | £12 - £18 per metre |
| Clay liner | £30 - £40 per metre |
| Liner adapted | £40 - £50 |
| Chimney cowl | £20 - £40 |
| Twin wall connector | £50 - £60 |
| Chimney flue | £300 - £600 |
| Brickwork | £40 - £100 |
What are the Additional Costs of Installing a Chimney Liner?
Here we will show you the additional job that may be completed alongside a chimney liner installation:
Chimney Installation
To create a whole chimney, you'll need to build a fireplace first, then add a chimney breast to link the fireplace to the house's roof. Additional components, such as the chimney liner and cap, will be required.
For a full chimney installation, you should expect to pay between £1900 and £3500. The labour charges will range between £150 and £250 per day.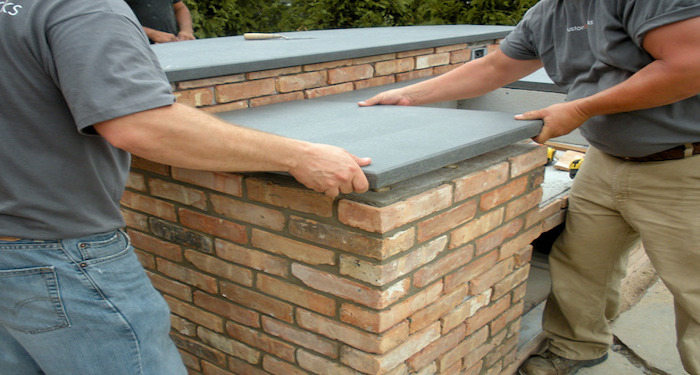 Except for the chimney sweep fee, which is dependent on supplies, you should anticipate paying between £9 and £25 for this work. Chimney cowls can also help to minimise the amount of rain that enters your chimney and prevent downdraughts from entering. A chimney cowl typically costs between £180 and £250 to install.
If your chimney is old, you may need to pay for chimney repairs. For this, you will need to look at the supply and labour costs for it, as this depends on the overall price.
A static chimney cowl will most likely set you back between £50 and £120.
Anti-draught chimney cowls are likely to cost between £140 and £240, while cheaper variants can be found on websites like eBay and Amazon.
A rotating chimney cowl can range in price from £25 to £110, with high-end models costing several hundred pounds. A discarded chimney cover will typically cost between £10 and £30, while chimney liner cowls will cost between £40 and £100.
Based on the time it takes to install different types of chimney lining, stainless steel flexible liners should cost between £75 and £250, concrete and clay liners should cost between £300 and £750, and pumice and ceramic liners should cost approximately the same.
A full chimney installation takes around 1.5 to 4 days to complete the job, sweeping usually takes 30 minutes to 1 hour, and a chimney cowl installation takes between 1 to 2 hours. Therefore, the labour costs will depend on the duration as most tradespeople charge hourly rates.
Additional considerations that may influence the time of any of the tasks include the availability of access to your home's roof and the weather, which may compel work to be postponed if heavy rain occurs.
Roof Tile Repair
If you find any cracked tiles on your roof, have them repaired as soon as possible to avoid leaks or further damage. Depending on the type of repair, the average cost of roof tile repair will vary.
For example, repairing fallen or damaged tiles may cost between £170 and £500, while re-cementing ridge tiles will cost between £150 and £600.
Other roof tile repairs include installing a dry ridge system to repair tiles, which costs between £750 and £950 and repairing valley tiles, which costs between £350 and £450.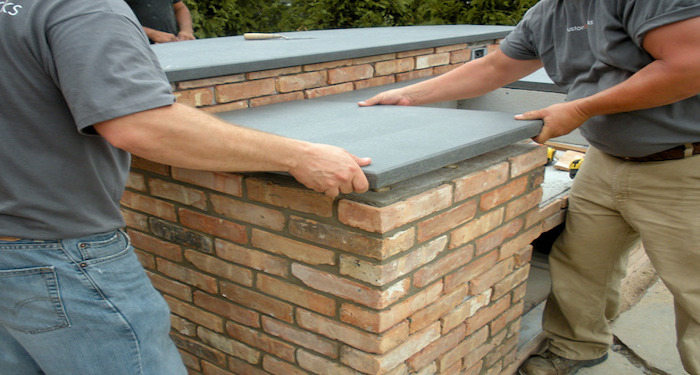 You must factor in tradespeople charges when determining the cost of roof tile repairs. For simpler roof repairs, roofing contractors normally charge roughly £150 to £250 per day or £15 to £25 per hour.
Roofers typically charge between £150 and £400 to replace broken tiles, and £100 to £400 to re-cement ridge tiles. Dry ridge repairs typically cost between £150 and £250 in labour, whereas valley tile repairs cost between £200 and £300.
You should consider the time frame for each type of repair when calculating the cost of roof tile repairs. Roofers, for example, often spend two to five hours repairing broken roof tiles, and two to three hours re-cementing ridge tiles.
Repairing a roof valley can take four to six hours for a tradesperson, while dry ridge repairs can take up to two days.
If your roof tiles are beyond repair, you may have to consider having them removed. Roof tile removal normally costs between £150 and £500 for one to two days of labour.
You'll also have to consider the cost of garbage removal, which can range from £60 to £300 for a skip rental for your old roof tiles.
Chimney Breast Removal Cost
If you decide you no longer want a chimney in your home, then you can pay to get it removed! Here are the prices for chimney breast removals.
The cost of removing just a chimney stack ranges from £925 to £1,670. A downstairs chimney breast removal will cost between £1,455 and £2,010, with a first-floor chimney breast removal costing between £1,570 and £2,120.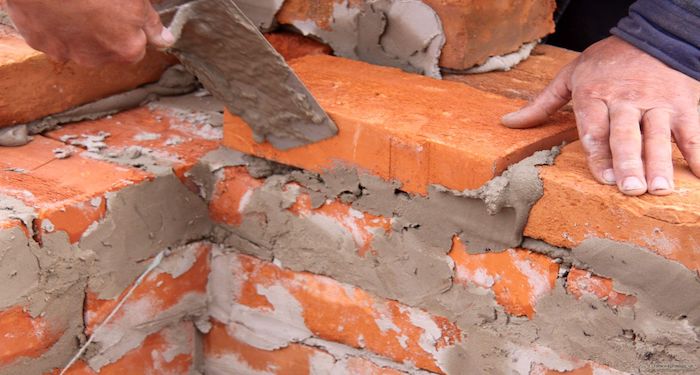 The cost of removing an entire chimney breast but leaving the stack is approximately £2,290 to £2,770, while the cost of removing both the full chimney breast and the stack is approximately £2,880 to £3,925.
The cost of chimney breast removal varies based on the job's details, including the size and kind of chimney, the number of tradespeople involved, convenience of access, and the location of your home.
While labour costs in the north of England, Scotland, and Northern Ireland are generally cheaper than the national average, prices in the southeast of England are higher. London is the country's most costly region.
Labourers in the capital typically charge between £30 and £70 more per day than in the north of England.
A two-person team is usually used to remove the breasts from the chimney. Some tasks, however, may be completed by a single labourer or even more than two (although this is unlikely).
Of course, the more workers on the task, the faster it will be completed, so whether this will be an additional cost relies on aspects such as the contractors' ability to work together as a team.
The length of time it takes to remove a chimney breast or other sections of a chimney is one of the most important considerations in determining the cost.
Simply removing a chimney stack, for example, will likely take less than a day, but removing both a chimney breast and stack could take three to four days. As you can see, the labour expenses for these two jobs would be drastically different.
The cost of removing a single chimney stack ranges from £200 to £450 in labour. The professionals will charge between £550 and £900 to remove a ground floor or first-floor chimney breast, £800 to £1300
To completely remove a chimney breast but not the stack, or £1100 to £1800 to completely remove both the whole chimney breast and stack.
The cost of labour varies depending on the number of workers, the size and kind of chimney, the convenience of access, and where you live in the country.
Tradesmen Costs for a Chimney Liner
You should expect to pay between £150 and £250 per day for labour. A competent flue installer can estimate how long it will take to complete the work on your chimney. As a result, rather than a day fee, you may charged a fixed rate for the project.
For access to the chimney stack, you may need to hire scaffolding, although this will depend on the liner type. Don't worry; this expense should be included in your quote.
Regardless of the style of liner you select, most installers operate in two-person teams.
The cost of labour varies based on where you live in the country. The cost of living in London and the southeast of England is up to 20% more than in the rest of the country.
How Long Does It Take to Install a Chimney Liner?
The most common flue liner is a flexible stainless steel, which can typically be installed in one day. The twin-walled stiff stainless-steel liner is more time consuming and will take 1-2 days to complete.
Flue liners made of concrete, clay, or pumice that fit together in a tongue and socket method are more labour demanding and can take up to 4-5 days to complete. In most cases, a ceramic pumped liner system may be completed in one day.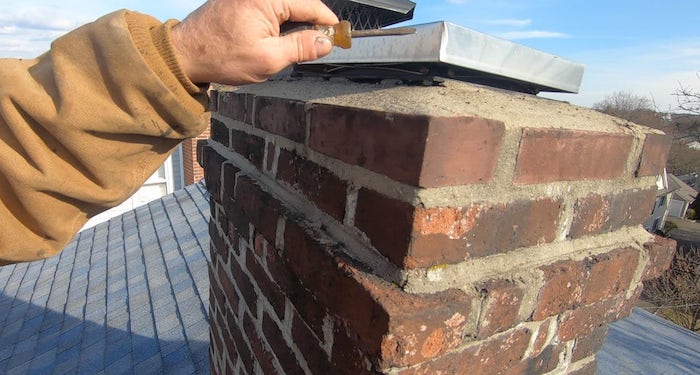 However, the timescale can sometimes be affected and may take longer than wished for. Issues like structural faults inside the chimney stack can make the installation difficult and cause delays in the project's completion.
There could also be materials inside the chimney that have become dislodged, such as bricks, stones, or cracked clay liners. Before the chimney can be swept, which should always be done before the flue liner is put, these will have to be removed.
High winds and/or rain can hinder an installation. Thus weather conditions should be adequate for work at height to be accomplished safely.
Types of Chimney Liner
In this section, we will have a look at the many varieties of chimney liners on the market. Each option has its own set of features, costs, benefits, and drawbacks.
Stainless Steel Chimney Liners Cost
Flexible stainless steel liners mould to the inside of a flue, allowing for curves and kinks. They can also be fed in one piece from the chimney pot to the hearth or vice versa.
One person on the roof and one in the house is usually the ideal approach to install a flexible liner. A rope is typically tied to the chimney liner and it is then lowered down the chimney.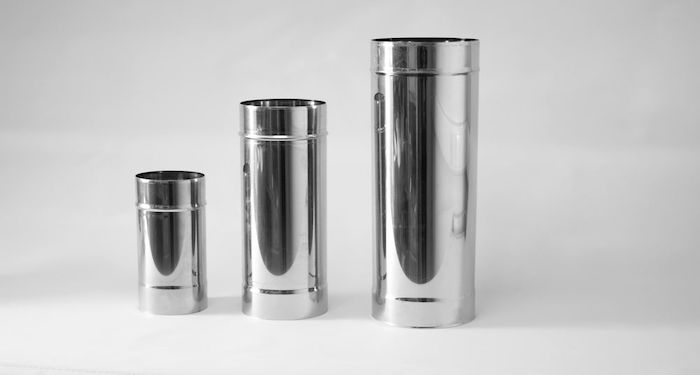 If you have a gas appliance, you should generally use a single–skin liner because gas exhaust gases aren't particularly hot and don't transfer a lot of heat. A solid–fuel appliance, on the other hand, requires a double–skin liner to retain the heat within. During installation, all liners are cut to length to fit the length of your chimney.
A stainless-steel liner costs from £500 to £700 to install. As a result, it is the most cost-effective alternative.
SSFLs have the disadvantage of being less durable than most types of chimney liners, having a life expectancy of roughly 20 years.
Pros:
Cheapest type
Flexible flue liner
Cons:
Not as long-lasting as others
Concrete Chimney Liners Cost
Organic rock is used to create this type of chimney liner. In dry places with minimal precipitation, either concrete or clay chimneys should be used for the greatest results.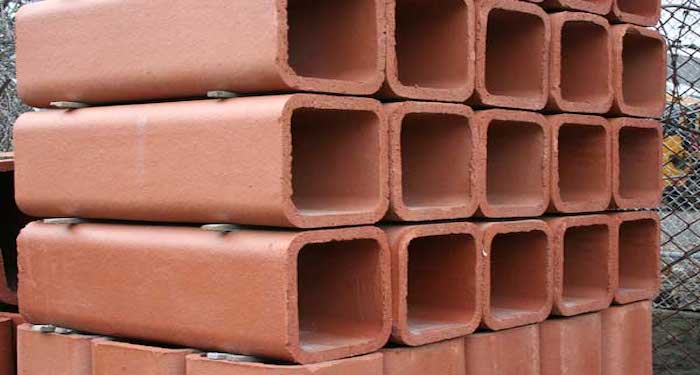 This type of chimney liner is a wonderful natural insulator and may thus work successfully even in hot weather. Concrete liners are expected to endure 30 to 50 years.
The installation will cost between £750 and £1000 or more.
Pros:
Good for dry areas
Insulation qualities
Cons:
Clay Chimney Liners Cost
A concrete chimney flue liner and a clay chimney flue liner have a lot in common. Clay chimney liners, for example, are excellent natural insulators and are particularly well suited to dry climates.
They're also a good choice for relining an old chimney. Clay chimney liners should endure between three and five decades on average.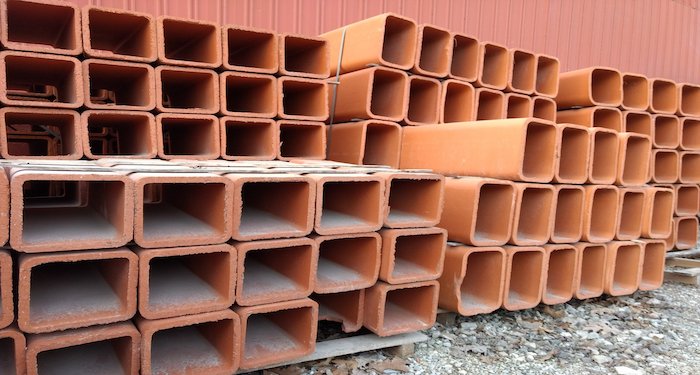 The cost of installing a clay chimney liner ranges from £750 to £1000.
Pros:
Well suited to relining an existing chimney liner
Good for dry areas
Insulation qualities
Cons:
More expensive than SSFLs
Pumice Chimney Liners Cost
Pumice liners make for a lightweight liner section and they also have built-in flue liner insulation.
Pumice chimney liners, like the other two alternatives, are excellent insulators and are best used in warm climates. Pumice chimney liners have the distinct advantage of being well-suited to open fires.
They can also be used to reline a chimney that is already in place. Pumice chimney liners, on the other hand, will set you back between £900 and £1500. This implies that, together with ceramic chimney liners, they are the most expensive option.
Pros:
Ideal for open fireplaces
Cons:
Ceramic Chimney Liners Cost (Thermocrete)
Thermocrete is a proprietary ceramic chimney lining technology that reinforces the chimney while also providing a stable conduit for waste gases to escape.
Throughout the length of the chimney, the installer inserts a rubber former with a diameter sufficient for the appliance. The former adapts to the chimney's curves and kinks while being centrally always located.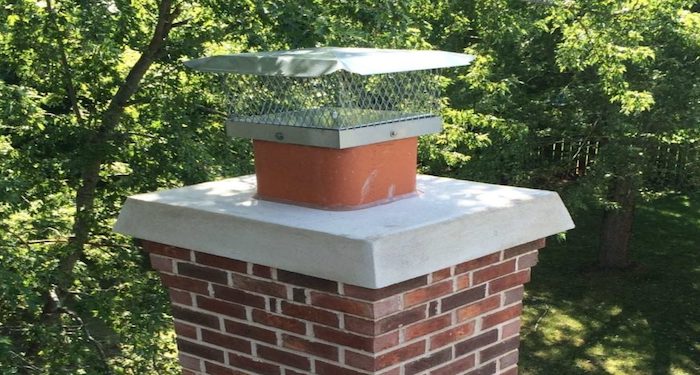 Thermocrete slurry is then pumped from the roof level into the void between the chimney and the former. The slurry fills the chimney's cavities, cracks, and damaged areas.
In addition, ceramic fibres are used to reinforce the slurry after it has hardened. Thermocrete can also be used to insulate flue liners.
The complete height of your chimney is divided into manageable portions and poured separately, depending on the height of your chimney. The installation engineer then deflates and removes the rubber former, leaving a flawlessly smooth cylindrical flue duct.
It's usually made by heating a non-metallic material to a very high temperature. Ceramic may often be used to dramatically improve a chimney's energy efficiency.
This type of liner costs around £900 to £1500+ to install, making it the most expensive option on the market.
Pros:
Heat resistant
Durable
Can significantly enhance a chimneys energy efficiency
Cons:
Brittle
Most expensive option
Gas Flue Block System Cost
These have a small flue that connects to neighbouring masonry and is built specifically for gas fireplaces. Under no circumstances should you use a gas flue block system with any other fuel. Otherwise, the temperatures will get dangerously high.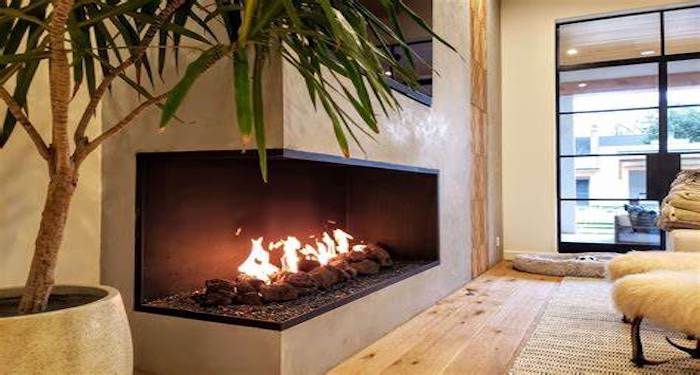 Depending on the intricacy and size of your fireplace, a competent installation specialist can install one of these systems for £300 to £700. Finally, you should expect to live for 15 to 25 years on average.
Pros
Durable
Affordable option
Cons:
Benefits of a Chimney Liner
Because the inside of your chimney isn't something you see every day, you might not realise how important a chimney liner is for keeping your fireplace hearth safe and comfortable.
The liner's job is to enable combustion material from the hearth fires to escape up the chimney and prevent harmful residue like creosote from forming.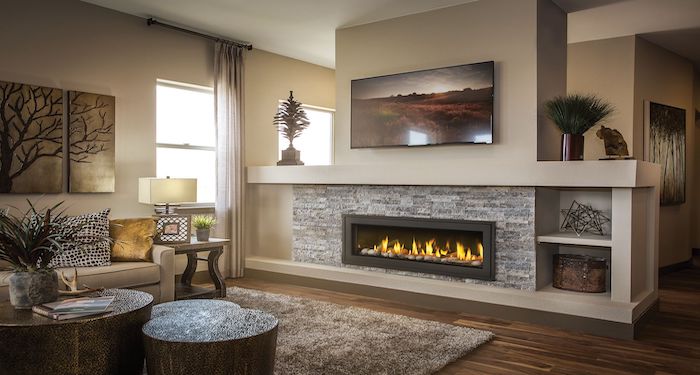 So, why should you install one?
Here are some of the advantages of using a chimney liner:
Protects Your Home from Fire Damage
One of the most important tasks of a chimney liner is to prevent heat from the inside of the chimney from reaching the flammable material on the outside. Heat can easily escape from older chimneys with gaps in their masonry and spark a conflagration in regions such as the second floor or the roof.
Prevents Creosote and Moisture
Creosote is the enemy of every chimney. This gleaming black substance is unburned wood energy that accumulates because of poor venting or incomplete combustion.
It's extremely flammable, and it's one of the most common causes of chimney fires. By assisting with adequate venting, a liner reduces creosote build-up. The liner also prevents water moisture from becoming trapped in the chimney, which poses a serious risk of cracking if it freezes during the winter.
Increases a Home's Energy Efficiency
Liners create a layer of insulation inside a chimney, reducing the number of downdrafts that can occur when there is no fire in the hearth. As a result, less cold air enters your home, causing you to use your heater more frequently. It also means that the fuel within the fireplace burns more efficiently.
Easy to Install
Installing chimney liners is a breeze. If you install liners inside the flue, you won't need to replace your clay liners inside your chimney. Your best bet is to hire a professional installation company so you can be sure you're getting high-quality service at a reasonable price.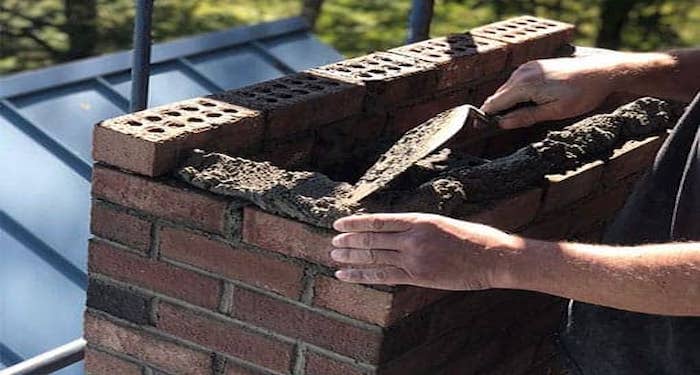 This means your chimney liner will endure much longer, from the peak winter months, when staying warm is critical, through the summer months, when your chimney is more likely to remain stagnant.
How Much Does It Cost to Remove a Chimney Liner?
To replace a broken or worn-out liner with a new one, install equipment that requires a different flue liner, or permanently close off the chimney, the chimney liner must be removed.
It's probably best to hire a professional to remove an old chimney liner, just like it's best to hire a professional to install a flue liner.
They'll have the proper tools and know-how to cope with most types of liners and how to safely remove them. For example, if there are multiple flue liners in the chimney and only one needs to be removed, it may be difficult to do so without damaging the others.
If you're doing it yourself, make sure you have secure access to the chimney and don't work alone. Protective equipment, such as gloves, safety goggles, and a dust mask, should also be worn.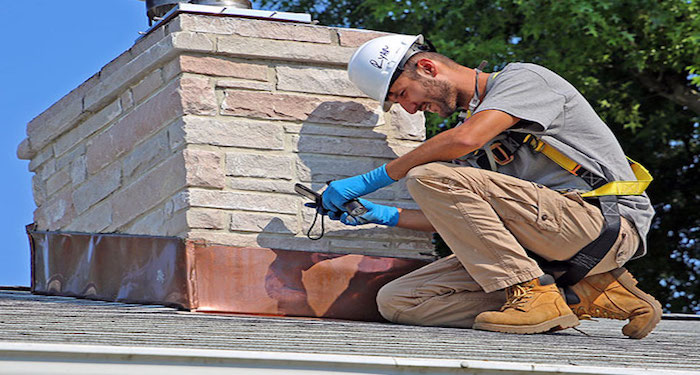 The liner must be removed from the chimney pot or cowl because it is attached to it. Working at a height is dangerous and should be done with extreme caution. If the liner is connected to a wood burner or similar device through an adapter, it must be disconnected.
A HETAS qualified engineer will be able to carefully remove a chimney liner from the interior of the stack, ideally without causing any harm. For a day's work, and installation with additional labour assistance would cost around £250.
The old liner will need to be disposed of, and you can include this expense in the installer's quote if they are prepared to do so. It will cost approximately £150 to hire a man and van.
The removal of a chimney liner should not necessitate the use of a skip, but if you did, a 6-yard skip would cost around £230 a week. A 6-metre scaffold tower, which will cost £150-£200 for a week, can be utilised as a safe working platform.
FAQs
Q: Do I need a flue in my chimney?
A: If you're installing a wood-burning stove, gas fire, or open fire in a new construction property, you'll need a chimney flue to meet with Document J of the current Building Regulations. If the flue inside your chimney is no longer safe to use, a chimney liner may be required in an older home.
Q: How long does a chimney flue last?
A: The life expectancy of different liners varies. A stainless-steel flue liner with an entry port will be guaranteed for ten years. A stainless-steel liner with a higher price tag will come with a 20-year warranty.
Q: When should a chimney flue be repaired?
A: If the clay flue tiles inside your masonry chimney are cracked or busted, chimney flue repair may be required. It's critical to repair a busted tile as quickly as possible, particularly if you notice a mortar joint between the tiles beginning to collapse.
Q: What is a chimney liner?
A: A chimney liner is a channel within a chimney that safely transports combustion by-products to the atmosphere. Stainless steel, concrete, clay, pumice, and ceramic are among the materials used to create them. It also protects the chimney's walls from heat and corrosion.
Q: Do I need planning permission to install a chimney liner?
A: Replacement of a chimney liner does not require planning approval unless the house is a listed building or located in a conservation area, in which case the local authority should be consulted.
Sources
https://www.2ndgenerationchimneys.com/blog/chimney/chimney-liner/what-are-the-benefits-of-a-chimney-liner/