How Much Does it Cost to Lay a Patio?
If you want to enhance the look of your property's exterior, you may want to consider installing a patio.
The average cost of laying a patio will vary depending on the material you choose, for example, the cost of a patio with concrete ranges from £2500 to £3000, while clay bricks cost around £2000 to £2500.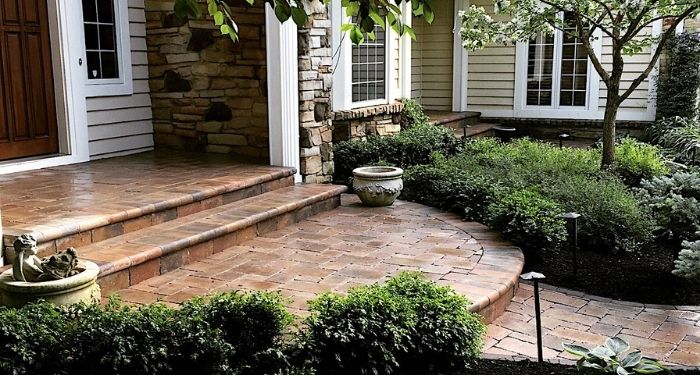 Other patio cost examples include gravel which is normally priced at £1500 to £2000, flagstone for £1300 to £1900, and £1500 to £2900 for a tile patio.
Resin patios range from £1600 to £2900 and £1400 to £5500 for a paver patio cost.
What are the Supply Costs of Patio Laying?
If you plan to lay your own patio, you need to consider the following supply costs for the best price patio slabs.
| Patio Material | Supply cost per m2 |
| --- | --- |
| Gravel | £20 - £25 |
| Concrete | £50 - £60 |
| Clay bricks | £70 - £80 |
| Flagstone | £18 - £25 |
| Tile | £25 - £50 |
| Pavers | £19 - £125 |
| Resin | £30 - £50 |
What are the Additional Costs of Patio Laying?
There are various other elements to consider when calculating the cost of new patio installation, including:
Patio Furniture
Once your patio is built, you may want to decorate it with new patio furniture. The cost of patio furniture normally ranges from £90 to £2300 for a garden dining, while a garden sofa typically costs around £200 to £3000.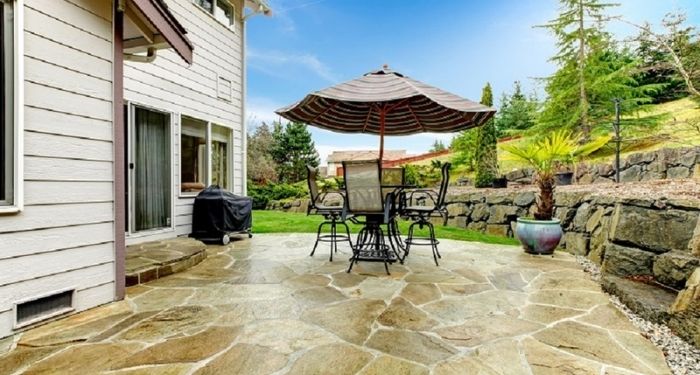 Outside Lighting
To enhance the look of your property and improve security, you should consider installing outdoor lighting. The cost of exterior lights ranges from £4 to £1000 for wall lanterns, while pathway lights can be purchased for around £2 to £560.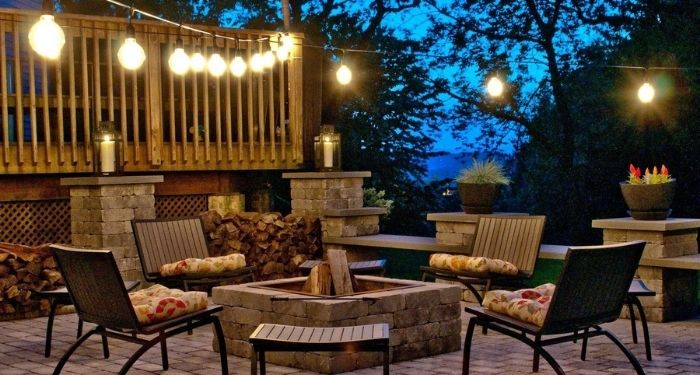 You can opt to install outdoor light yourself or hire an electrician who will charge around £120 to £200.
Outside Heating
If installing an outdoor seating area, then you may also want to consider having outdoor heating fitted.
The average cost out of external heating ranges from £30 to £500 for a patio heater and £50 to £700 for a chimenea.
Patio Doors
For easier access to your patio, you may also want to install new patio doors. The cost of installing patio doors may range from £600 for uPVC French doors, £700 for sliding doors, and up to £1200 for bi-folding doors.
Tradesmen Costs for Patio Laying
Another important patio laying cost you need to consider is the price of labour. Patio installers usually charge around £100 to £200 a day or £75 to £100 per square metre.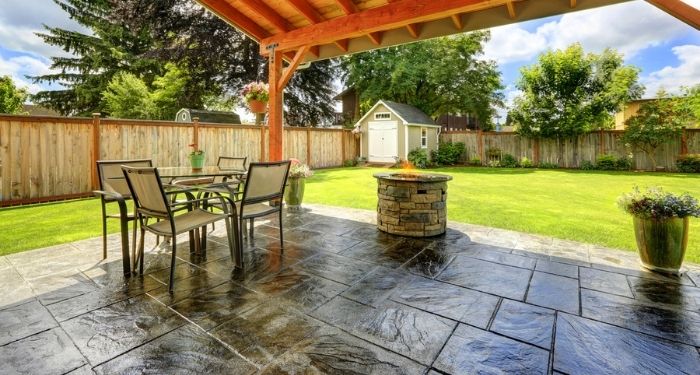 The average labour cost for installing a 5 square metre patio is around £700 to £800, £900 to £1000 for a 20-square metre patio and £1000 to £1200 for a 35-square metre patio.
How Long Does It Take to Lay a Patio?
The time frame for laying a patio will depend on the type and size of the installation. For instance, a small tile patio measuring around five square metres usually takes around two days to install, while a 20-square metre brick patio will take around three to four days to lay.
The duration of a concrete patio may take slightly longer, for example, a 35-square metre concrete slab patio should take three days or more to complete.
Choosing a Patio
There are several patio types to choose from, which vary in price and also offer various advantages and disadvantages.
To help you decide, here is a breakdown of the different patios and the cost to lay patio paving slabs.
Gravel Patio Cost
Gravel patios are usually made up of pea gravel which is a smooth material that is normally used for walkways. The average cost of a gravel patio normally ranges from £1500 to £2000.
The main benefit of a gravel patio is that it is one of the most affordable materials, which is why it is ideal for large patios and homeowners on a budget.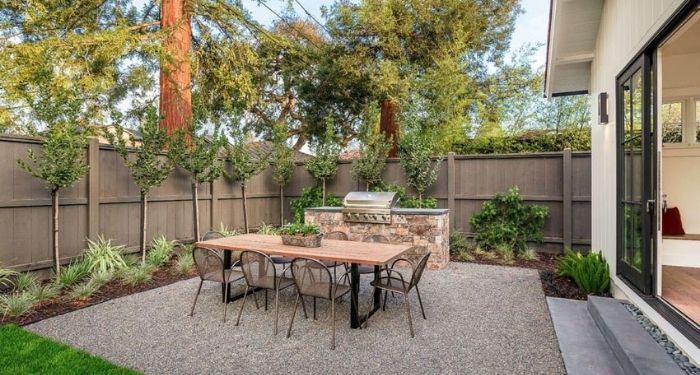 It is also a gardener's go-to material due to its heat and moisture-resistance. It also offers a multitude of design options due to the wide selection of aggregate available.
One of the downsides of gravel patios is that they are prone to displacement, so are they not ideal for high-traffic gardens.
They are also not the best option for homeowners with children, as there is the risk of a choking hazard, while also not being the best option for underfoot comfort.
Concrete Patio Cost
Concrete patios are constructed by pouring concrete onto level ground. They tend to range from £2500 to £3000, and while they may seem expensive, the cost is worthwhile due to concrete's extensive durability.
It is also one of the easiest materials to install, so you may end up paying less for labour.
One of the main problems with concrete is that it is susceptible to cracking and once damaged it can be very difficult to repair.
It is also not the safest option, as concrete can be slippery when wet, however, this will depend on the type of aggregate you choose.
Clay Brick Patio Cost
Clay bricks are a red-coloured material which can be used for patio installation which costs around £2000 to £2500. This type of patio is one of the most durable options as clay bricks can actually last up to 1000 years.
They are also highly resistant to fire and are also able to absorb heat easily.
If clay brick patios are left unsealed they can start to peel away, especially if they are painted. They are also much more susceptible to cracking than concrete pavers and repairs can be expensive.
Flagstone Patio Cost
Flagstone is a type of sedimentary rock that is a popular material used for patios and tends to cost around £1300 to £1900.
This type of material is extremely durable when looked after properly and flagstone is also very easy to maintain.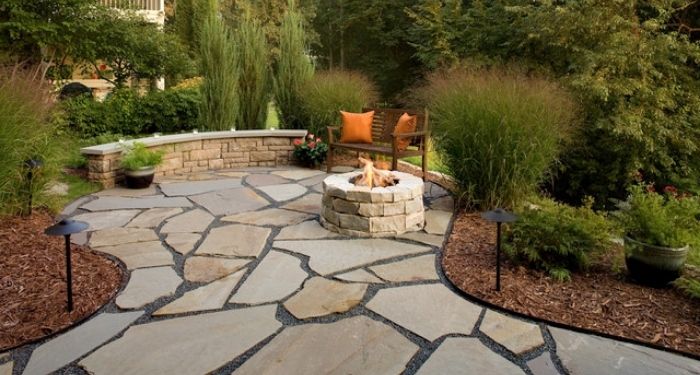 The problem with a flagstone patio is that it can be quite hard to install, so you may end up paying more in labour costs. Similar to concrete, it can be very slippery and it also does not withstand heat very well.
Tile Patio Cost
A tile patio usually costs around £1500 to £2900, although this will depend on the type of tile you choose.
If installing porcelain tiles for your patio, then you can benefit from high-quality weatherproofing, which will prevent moisture damage.
Tile patios are also aesthetically-pleasing and there are also a wide range of designs to choose from.
A downside of choosing a tile patio is that it can be difficult to install, so cutting and fitting porcelain will require a professionals help.
They also do not offer a natural look that stone or brick offers, which not be attractive to some homeowners.
Paver Patio Cost
Patio pavers are decorative style materials which are usually made up of brick or concrete and cost around £1400 to £5500.
They are one of the most long-lasting and durable patio materials, as they are resistant to harsh weather conditions.
Pavers are also easy to clean, as they only need to be swept a few times a week and sealed once a year.
The problem with pavers is that they tend to be susceptible to weed growth, so you may need to perform weed maintenance regularly.
They also take much longer to install than traditional concrete patios, so you may pay more for labour.
Resin Patio Cost
Resin is a mixture of aggregate and resin which is a popular option for patios and costs around £1600 to £2900.
The main benefit of resin paving is that it is one of the most aesthetically-pleasing materials with various options. Resin patios are also very easy to install, so it enables you to keep labour costs down.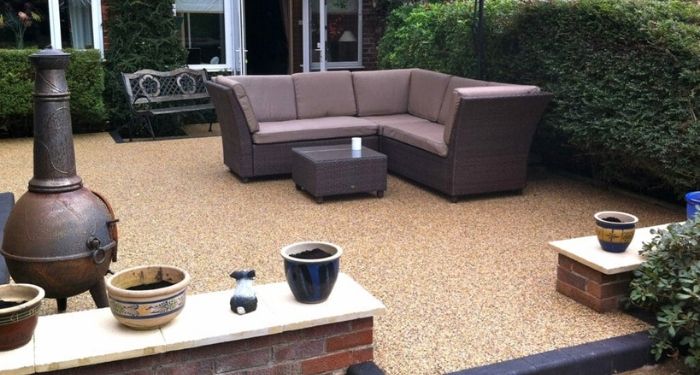 Resin patios are susceptible to moss and weed-growth, so it will require a significant amount of maintenance. It is also prone to UV damage, so you may have to pay extra for UV-proof resin.
How Much Does It Cost for Patio Maintenance?
To ensure your patio is long-lasting, you should consider the following maintenance costs:
Sealing a Patio Cost
To protect your patio, you should consider having it professionally sealed which will prevent it from cracking or peeling. The cost of sealing a patio ranges from £3 to £7 per square metre.
Cleaning a Patio Cost
Another way to protect your patio is by cleaning it regularly. This could include a professional power wash which normally costs around £150 to £200 for a small patio up to £400 for a large patio.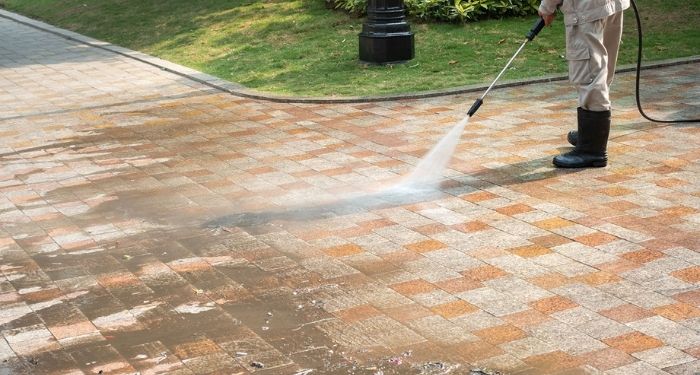 How Much Does It Cost for Patio Repair?
Overtime your patio may start to show small signs of damage which can be repaired. Some of the most common patio repair costs include:
Repointing a Patio Cost
If you have any loose paving bricks or stones, then you may need to have your patio repointed.
This involves clearing out the old pointing and filling the cracks with cement and sand. You can hire a professional to repoint your patio which will cost around £200 to £250.
Patio Crack Repairs Cost
If you have a crack in your patio you may be able to repair without having to replace an entire slab. For instance, paving slabs made of concrete or bricks can be filled with epoxy mortars.
You can hire a patio installer to perform a crack repair for around £10 to £20 per square metre.
How Much Does It Cost for Patio Removal?
If you are having a new patio installed, you will have to pay for your existing patio to be removed.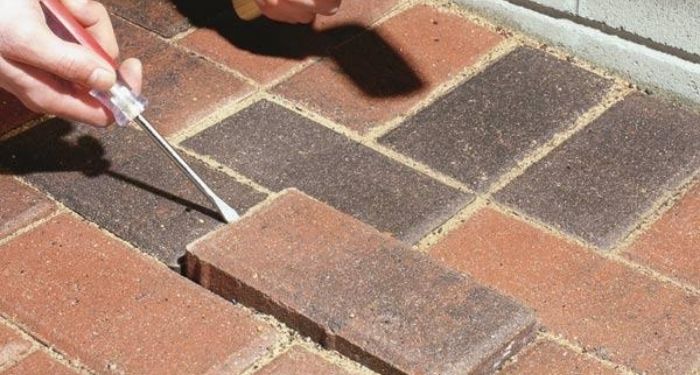 You can hire a professional to do this for you which will cost around £100 to £200 a day.
You will also need to consider the cost of waste disposal which may involve hiring a skip which may range from £60 to £300.
FAQs
Q: What is a patio?
A: A patio is a paving area which is connected to the exterior of a property. It is normally utilised in gardens to accommodate a seating area.
Q: Which patio cleaner is the best?
A: There are various products available that are useful for cleaning patios, although the best options include weed and algae killing solutions, mild detergents, and non-acidic sprays.
Using these products will enable you to clean your patio without damaging the surface.
Q: What is a good slope for a patio?
A: To meet building regulations, patios must slope away from the house at an angle of least 3mm.
Q: What kind of paint do you use on a cement patio?
A: To spruce up your patio, you could consider re-painting it with concrete paint. However, before doing so you should make sure that the patio is clear of any dirt, dust and moss, and any cracks are filled.
Q: Will a patio increase home value?
A: Having a new patio installed can actually add up to £10,000 to the value of your home, and you can actually recoup up to 85% of the patio installation cost.
Sources