How Much is Double Glazing?
Let's start with the basics:
What is double glazing and why does it matter?
In short, double glazing is the process of installing windows with two panels of glass that have a layer of argon gas in between them.
Installing double glazing increases insulation, which helps make your home much more energy-efficient. This will also help you reduce how much you spend to heat up your home.
If you're ready to get a quote for double glazing, we can help connect you with local window fitters.
Double Glazing Prices
But wait.
There are several other costs you need to consider when calculating the final price for double glazing.
We'll dive into what these are in the following subsections.
Colour Frames Double Glazing Costs
The prices we've outlined so far are based on typical white frames - which are the common choice.
However...
There are other colours available which might work better with your interior and exterior design.
The only problem?
Alternative colours will usually be 10-20% more expensive than white frames - which cost around £400. In contrast, a typical black or grey window will cost around £500. If you would prefer a wood grain aesthetic, you should expect to pay even more (up to £750).
| Frame Type | Average Cost |
| --- | --- |
| White Window Frame Cost | £300 to £500 |
| Grey Window Frame Cost | £400 to £600 |
| Black Window Frame Cost | £400 to £700 |
| Wood Grain Effect Window Frame Cost | £600 to £800 |
Material of Frames Costs
Here's another thing.
You need to consider the material cost of your windows frames.
The most affordable option is uPVC - which ranges from £250 to £900 to install a typical casement window.
Aluminium frames are slightly more expensive, at a cost of around £500 to £1000. Another popular choice are wooden window frames, which normally cost between £850 and £1500.
| Frame Type | Average Cost |
| --- | --- |
| uPVC Window Frame Cost | £250 to £900 |
| Aluminium Window Frame Cost | £500 to £1000 |
| Wooden Window Frame Cost | £850 to £1500 |
Tinted Double Glazing Costs
Want to have a little bit of extra privacy?
Consider installing tinted double glazing.
In addition to extra privacy, these types of windows will help prevent too much light from entering your home. This helps you to maintain a more consistent temperature, as it stops the sun from pentrating through the window as much.
A popular option is anti-sun toughened glass. This costs around:
£70 to £250 per square metre for a grey tint.
£100 to £140 per square metre for a bronze tint.
Glass Costs
You could also consider upgrading your glass for extra protection.
For example, you may want to purchase extra-strong material (such as polycarbonate glass) to prevent the glass from breaking. This is great for theft-prevention and costs around £30 to £160 extra per window.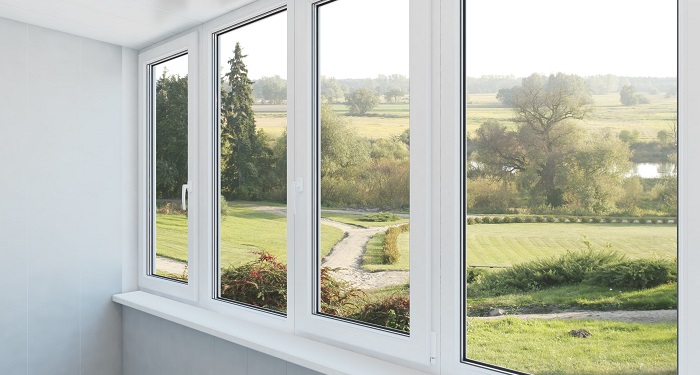 Live near a busy road?
You may want to opt for noise proof glass. This will enable your home to become a more private and quiet space. You should expect noise-proof glass to cost around £800 to £1900 for supply and installation.
What Are The Supply Costs of Double Glazing?
Have a budget you're trying to stick to? Or are you considering buying the double glazed windows yourself?
In the following subsections, we outline the costs of the different types of double glazing windows available in the UK.
Fixed Window Cost
A fixed installation is a window that cannot be opened, and its only function is to allow light in and brighten up your home.
Fixed double glazed windows tend to cost around £150 to £300 (excluding installation).
Casement Window Cost
A casement is a popular double glazing option which features a hinge on one side of the frame to allow it to open outwards.
The supply cost for casement windows is around £250 to £400.
Sliding Window Cost
Sliding windows slide horizontally to one or more sides to open.
If you wish to purchase sliding windows yourself, then you should expect to pay around £450 to £1000.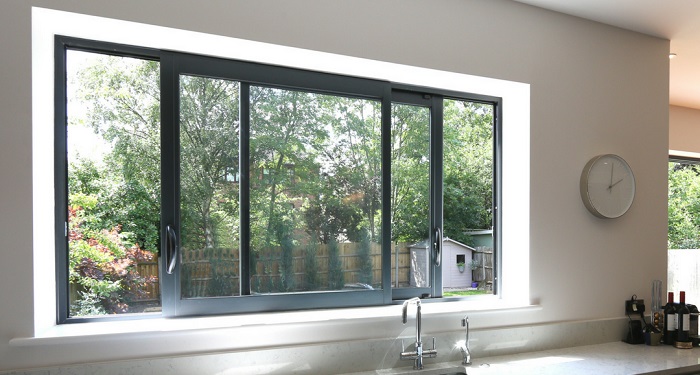 Sash Window Cost
A sash window is similar to the sliding option, although it slides vertically rather than horizontally.
The cost of a sash window is normally between £500 and £900.
Tilt & Turn Window Cost
Tilt and turn windows are one of the most flexible options - as they open like a normal casement window and can also be turned to angle into the room to help with ventilation.
Tilt and turn windows cost from £400 to £600.
Skylight Window Cost
A skylight is a type of roof window. It's great for loft conversions and can be fitted to improve lighting, ventilation, and views.
The supply cost for a skylight is around £750 to £900.
Bay Window Cost
A bay window consists of three windows fitted together, which are usually located at the front of a property.
Bay windows tend to range from £1200 to £2400.
Tradesmen Costs for Double Glazing
Another critical thing to consider is the cost of installing double glazing.
Installation prices will vary depending on what window you're looking at having, as some options will be easier and quicker to install than others.
For instance:
Smaller windows tend to cost around £150 for one window installer to fit it.
Larger and more complicated double glazing installations cost up to £300 for a two-man job.
Here's another thing.
The more windows you want installing, the longer the project is going to take.
For example, a:
Terraced home with four windows could cost around £180.
Three-bedroom semi-detached with eight windows may be priced at £250 for labour.
Larger home with twelve to eighteen windows may cost around £400 or more.
How Long Does It Take To Install Double Glazing?
The time frame for installing double glazing will also determine the final cost, as the longer the job takes the more you will pay for labour.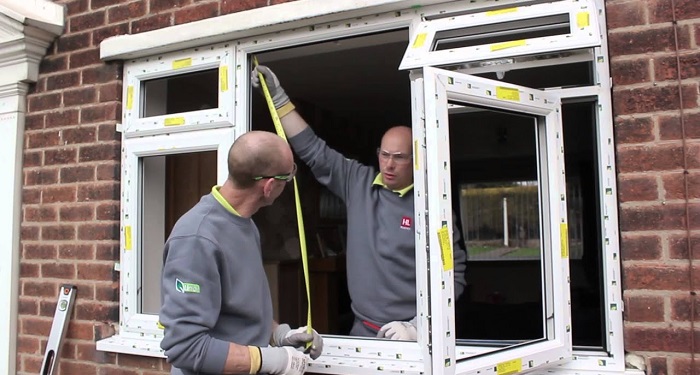 Two main things will influence the time it takes to install double glazing:
The number of windows you need to have installed. If you're only installing four windows in a terraced home, this could take just a day to complete. In contrast, it might take twice as long for a four-bendroom detached home with twelve windows.
The style of the window you choose. A small casement window may only take an hour or two to fit, while a bay window or skylight could take a full day to install.
Type of Glazing
Here's another thing.
You also need to consider what type of glazing you want to have installed.
Here are three options to consider.
Double Glazing Cost
Double glazing is the most common type of glazing.
This consists of two panes of glass with a layer of argon gas in between to improve insulation and energy-efficiency. The extra layer of glass enables heat efficiency, as it prevents heat from escaping and from cold getting inside your home. It also helps to reduce noise levels, which is beneficial for people living near noisy highways or busy city centres.
But there's a catch.
One of the main downsides of double glazing is the price, as it can be quite extensive if you're planning to install numerous double glazed windows in your home. The average cost of double glazing ranges from £300 to £2700 for uPVC double glazing window installation.
Secondary Glazing Cost
Secondary glazing is often confused for double glazing - but there are numerous differences.
To start with, secondary glazing is just one layer of glass which is placed on the inside of your windows.
It's also the most affordable glazing option available. Typically, secondary glazing costs around £300 to £350 per window.
And even better?
It's a lot easier to install, which means it's viable to do it yourself and save on labour costs.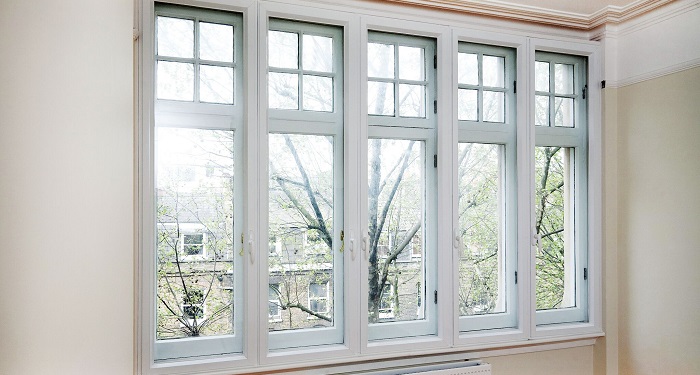 Like double glazing, this type of glazing enables noise-reduction and helps you save on your energy bills due to the lower amount of heat loss.
However, secondary glazing is normally only used as a temporary option - which means that it may not be a cost-effective option in the long run.
Triple Glazing Cost
Triple-glazing is like double-glazing, but has an additional layer of glass.
What are the benefits of this?
Further reduces the amount of heat that's lost from your home through the windows.
Helps prevent hot and cold spots in your home.
Lowers the amount of noise from outside that you can hear in your home.
Triple-glazing is slightly more expensive than the above options. You'll usually find that triple glazing costs around £400 to £550 per square metre. This may not be the most affordable choice; however, it can help you save in the long run on your energy bills.
Double Glazing Repair Costs
If you have had double glazing windows for a while, then you may start noticing some issues that may need to be repaired.
In the subsections below, we cover some common repairs you might have to (eventually) carry out.
Blown Window Cost
Have you noticed any fogging of your window that can't be wiped away?
If you have, the changes are that your window is blown and the fog is forming in between the two layers of glass.
To repair your windows, you will need to call in a professional window fitter to remove the double glazing unit from its frame and replace it with a new one.
The cost of replacing misted double glazing units is around £40 to £150 to install - but prices will depend on the size of the window that needs replacing.
Broken Hinges Cost
Is your window not opening or closing like it used to?
This means that there may be a problem with the hinges.
Instead of replacing your windows, all you need to do is call up a window fitter to repair or replace your hinges.
Replacing broken window hinges costs around £60 to £80.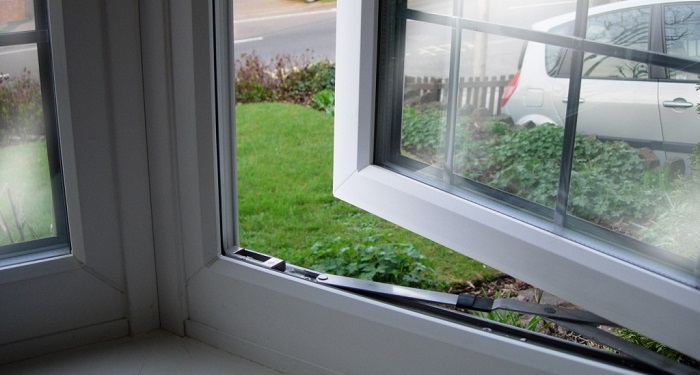 Broken Handles Cost
If you have handles on your windows that are faulty or no longer working, then you may need to have them replaced.
This can cost around £20 to £50 for supply and installation.
Glazing Maintenance Costs
A great way to ensure that your double glazed windows last is by keeping them well maintained.
Here are a few double glazing window maintenance costs to know about.
Resealing a Window Cost
If you notice any cold air coming through your window, then this could be a sign that your windows need resealing.
If you hired a professional to resolve this, it would cost around £50 to £90 per window that is impacted.
Window Cleaning Cost
Cleaning your double glazing and window frames is important to ensure that dirt doesn't build up and cause rot or unsightly mould.
To clean uPVC windows, you should use a uPVC solvent cleaner which costs around £4 to £7 per bottle.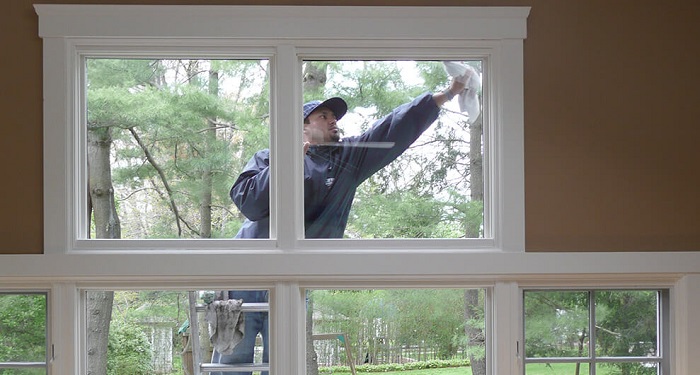 For wooden and aluminium windows, you should just use some washing up liquid on a soft brush and try to avoid using abrasive products.
When cleaning the double glazing itself, you should avoid using harsh chemicals and instead wipe away any dirt, then apply warm water and white vinegar to make your windows shine.
Lubricating a Window Cost
To prevent your window's hinges from getting stiff, you should regurarly lubricate them with a silicone spray to ensure that they open and close without any issue.
You can purchase silicone spray from your local DIY store for £2 to £9.
Cost of Removing Glazed Windows
If you want replacement double glazing, then you will need to have your existing glazed windows removed.
And how much does removing double glazing cost?
If you hire a professional window fitter, it will cost around £150 to £300 per day. The final cost will be dependent on how many windows you need taking out.
But keep in mind...
You may also need to hire a waste removal company. Typically, you will be charged around £70 to £160 to get rid of your windows.
Alternatively, you can dispose of your old windows yourself by taking them down to your local recycling centre. If you do this, you'll have to make sure that the glass is separated from the frame so that they can be recycled properly.
FAQs
Q: How long does double glazing last?
A: Double glazed windows tend to last for around 10 to 35 years. However, this will depend on how well they are maintained.
The location of your windows will also determine the lifespan of double glazing. This is because certain areas may be more exposed to harsh weather - such as wind - which may cause damage to double glazing over time.
Q: How does double glazing work?
A: Double glazing consists of two panes of glass with a layer of argon gas in the middle.
Why argon gas?
Argon gas is a poor heat conductor. By placing it in the middle, you're preventing any heat from escaping - resulting in better energy-efficiency and reduced energy bills.
Q: Will double glazing reduce noise?
A: Double glazing does have noise cancelling properties, as the two panes of glass reduce the amount of noise that enters your home.
However, it is important to remember that double glazing is not completely soundproof - so you should be aware of any companies that use this a selling point.
Q: When should you replace double glazing?
A: If you notice that your windows are steaming up, but you cannot remove the condensation due to it being inside the windowpane, it may be time to have your double glazing units replaced.
If this happens, you may need to replace the entire window if there are other problems with the seal or frame - as this will prevent new double glazing from being effective.
Q: Can double glazed windows crack?
A: Double glazing is made up of extremely robust materials, so the chances of it cracking are slim.
However, this does not mean that double glazing is immune to cracking - especially if you've had it for a while.
It could crack due to extensive weather conditions, especially if you have any scratches as this will make the glass more vulnerable and weaker.
Excessive temperatures and humidity also have an effect - especially in rooms like the kitchen or bathroom where condensation is at a high level.
Sources