How Much Does Professional Window Cleaning Cost?
Window cleaning is a mundane chore that you'd be hard pushed to find anyone enjoy! Unless of course, you've chosen it as your job! On a day-to-day basis there's plenty of other chores that need doing around the house that just cannot be put off, so why put more pressure on yourself by adding window cleaning to that list too?!
That being said, it's hard to deny that its much nicer living in a home with clear and gleaming windows for you to gaze through and watch the world go by, or enjoy the views, if you are blessed with living in an area of natural beauty.
By hiring a professional window cleaner, you're going to save yourself a lot of time and hassle and most likely money too, as there are lots of specialist tools and window cleaning equipment needed to give them windows a professional gleam!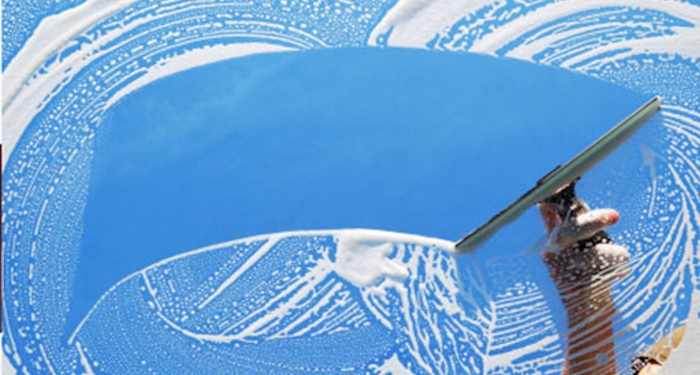 Its safe to say, you're most likely going to get a better finish on the windows too, by hiring an experienced window cleaner.
If you are on a tight budget, then you're probably thinking about how much professional window cleaning costs and looking for the right price!
There are several factors to consider such as how far the window cleaner will have to travel to complete the job and what area you live in. For example, services in London are always higher than many other areas of England due to the cost of living, higher population of people and demand for services!
Window Cleaning Prices
The table below shows a range of factors that may influence the professional window cleaning cost:
| Location | Number of Windows | Additional skylights/solar panels | Regular/Occasional clean | Price |
| --- | --- | --- | --- | --- |
| London | 7 | 0 | regular | £25-£50 |
| Out of Area | 7 | 0 | regular | £15-£35 |
| London | 9 | 2 | occasional | £120-£150 |
| Out of Area | 9 | 2 | occasional | £8-£120 |
What are the Supply Costs of Cleaning Windows?
There are lots of window cleaning supplies on the market, but some say that a good finish can be achieved by using just the basic window cleaning tools and supplies!
There are different types of window cleaning, specifically commercial and residential and the tools required may differ slightly for the different types of window cleaning.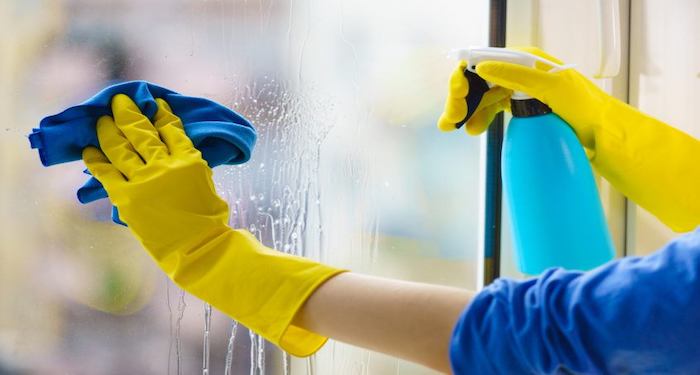 For a domestic property, say for example a 3-bed semi-detached house, the basic cleaning supplies required and the average cost of these can be seen below:
| Supply Type | Average Cost |
| --- | --- |
| Glass scraper | £5-£15 |
| T-bar | £10-£20 |
| Squeegee | £5-£25 |
| Ladder | £50-£500 |
| Bucket | £5-£15 |
| Water Storage | £5-£35 |
| Washing Up Liquid | £1-£7 |
| Tool Belt | £15-£50 |
| Microfibre Cloths | £7-£18 |
Professional window cleaners often tend to use a water-fed window cleaning pole which means that they don't have to spend as much time on a ladder and can save time as these types of systems are like many of the essential window cleaning tools all rolled into one. The cost of one of these systems averages between £50-£300.
The additional window cleaning tools that you may wish to purchase, and that a lot of professional window cleaners carry with them include a backpack, carrier bags for dirty cloths, a personal radio, ladder clamps, ladder mitts, boabs, a window cleaning pole, and a set of small steps.
These can all be purchased in DIY stores or from online stores and retailers, and come in a range of prices, depending on the brand and quality that you decide to buy.
What are the Additional Costs of Cleaning Windows?
One of the main additional costs of window cleaning, and maybe an unforeseen cost, is the price of new windows if the window cleaner has reason to question their performance or integrity.
A professional window cleaner may examine up to hundreds of windows per week, they will have a keen eye for any faults and imperfections such as faulty window seals, cracks, and chips.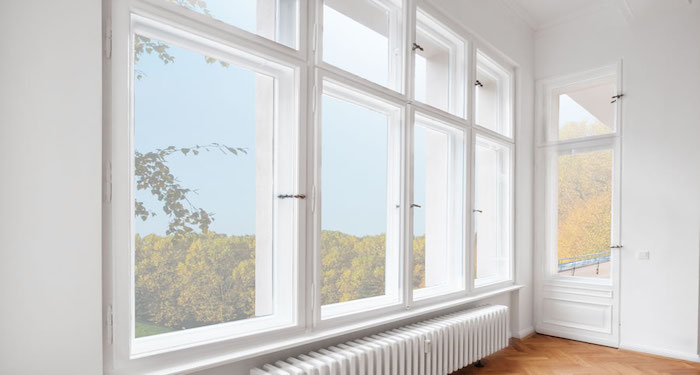 Most houses these days have double glazed windows which are best for improved home security and are most cost effective in the long run by keeping your home better insulated.
However, the cost of new double-glazing windows varies depending on the style of window you prefer. The starting point for a new double-glazed window is £300-£600.
Further Additional Costs:
Your window cleaner may also come across faults with other parts of the house that you may not see daily, for example faulty or unsecure windowsills, eroded sealant, or loose brickwork.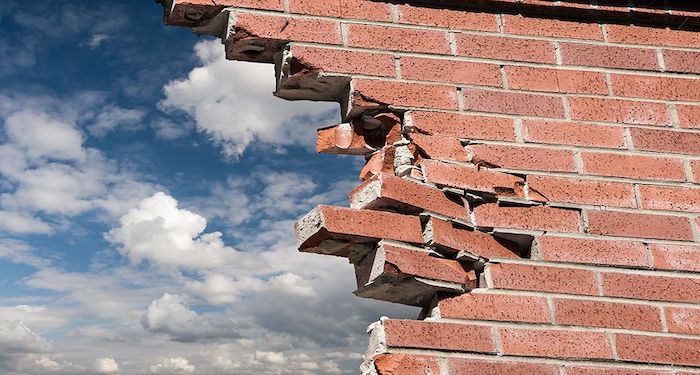 Even If you only want the windows at the front of your house cleaning, your chosen window cleaner may have a set minimum fee that they charge to make their travel and time worthwhile.
With time in mind, a price may change if you decide at the appointment that there are additional windows you require cleaning. The tradesman will advise you how much extra they charge for additional windows, or an addition interior window clean.
If you have your heart set on one particular window cleaning company and your property is out of their normal working area, then your window cleaning service may incur extra charges to cover travel/out of area costs.
Tradesperson Costs for Cleaning Windows
The majority of professional window cleaners will bring along their own cleaning supplies to use so the cost is all inclusive of the tradesperson's service and supplies. However, some professional window cleaners charge an hourly rate or price per window.
It is always important to remember that if you live in a busy city, for example, London or Manchester, then you can expect to pay more compared to quieter residential or rural areas.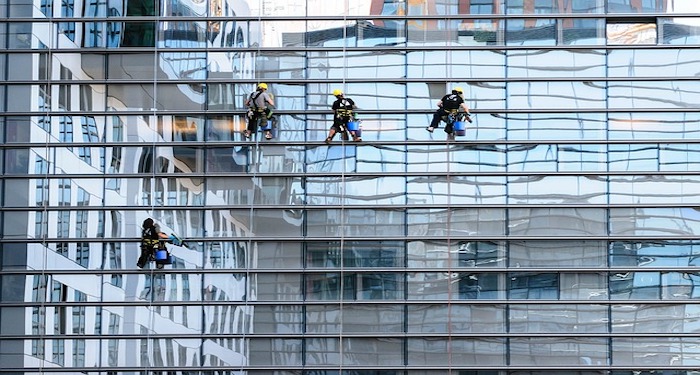 In London, services cost more than the average in England as there is a much higher population and demand for such services.
The average hourly rate for a professional window cleaner is £20-£50 per hour.
The average cost of cleaning, per windowpane, is £1-£5.
How Long does it Take to Clean Windows?
It is difficult to put an exact timescale for window cleaning, but you can always ask the professional if they can give you a rough timescale when you are organising the job.
There are several factors to consider such as how many stories the building is, how many windows there are, is it an external and an internal window clean? Do the screens need cleaning? So, it is wise to not underestimate the time it may take, plus a good job is never rushed, right?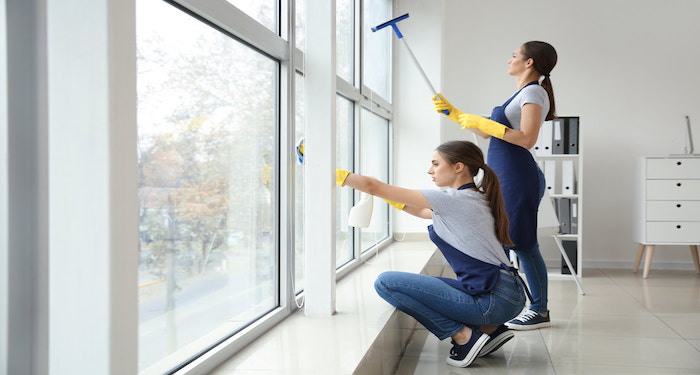 Here are some examples of timescales to expect for a few professional window cleaning jobs:
A conservatory (both internal and external window cleaning) – 4-5 hours for a team of two people.
A 2-story end of terrace house with 7 windows (External clean only) – 2 hours.
A semi-detached 2 story house with a sky light – 3-3.5 hours.
Types of Window Cleaning
Many people may think that window cleaning is a dated service that involves a person on a ladder with a sponge and a bucket full of soap suds, but window cleaning has evolved over the years and there are plenty of specialist services to choose from.
Whether you are looking to make your office block look appealing or want your home windows left with a dazzling shine, there will be a service to suit your needs. Bear in mind though, that the cost of window cleaning will vary greatly, based on the type of service you require.
Here are some of the most common types of window cleaning methods:
Water-Fed Window Cleaning Cost
Water-fed window cleaning poles are vital for this service and are usually used with purified water. These specialist poles can extend up to 30ft or more and mean that ladders are not always necessary.
These poles have brushes attached to the end so that the windows are doused with purified water and scrubbed simultaneously. The purified water gives a clearer finish to the windows as there are no dissolved solids remaining in the water which can result in hard-water stains and streaks.
A single service of water-fed window cleaning averages at around £10-£45 depending on how often the windows are professionally cleaned and the amount of dirt build up.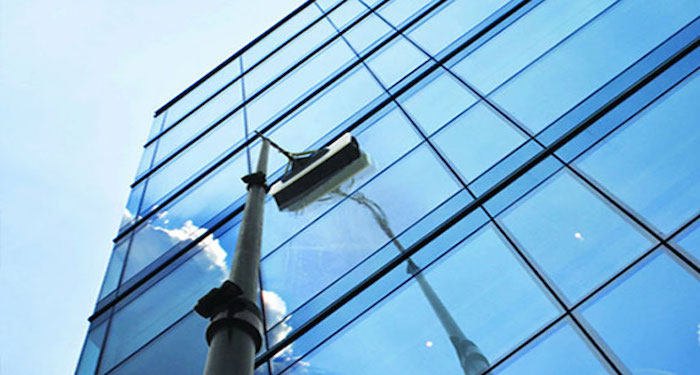 Pros:
Cleaner, more dazzling finish to windows when used alongside purified water.
Ladders not always necessary.
More privacy as there will not be a window cleaner on a ladder directly outside the upstairs windows of your home.
Cons:
A more costly piece of equipment is required which may not be feasible if you wanted to clean your windows yourself, using this method.
Commercial Window Cleaning Cost
Commercial window cleaning often entails a team of professionals visiting the commercial property to clean the windows to a pristine standard!
This is sometimes done via an abseiling technique, rather than using only ladders which cannot always reach the highest of windows. This is not something we would recommend to anyone to attempt a DIY approach with!
Commercial window cleaning is usually carried out every 1-4 weeks depending on the demands of the client. Also, if the building is in the city where pollution levels are higher than say the countryside, you may find you require this sort of window cleaning service at the lower end of the timescale, perhaps every 1-2 weeks.
Specialist window cleaners are employed by companies specialising in commercial window cleaning who are health and safety trained, know how to use the professional equipment safely and use the best quality products on the market.
Commercial window cleaning ranges anywhere from £100-£500 for a single service.
Pros:
Commercial window cleaning cannot always be done using a DIY approach – professional window cleaners have all the necessary equipment and are trained in health and safety techniques to enable them to work at heights safely.
Commercial Window Cleaners use top of the range, professional products, giving you a pristine finish every time.
Cons:
It is quite a costly service, usually due to the size of commercial properties and all the additional equipment that is needed if the building is multiple stories high.
Living in a high-pollution area may mean that you require this service more often than desired.
Traditional Window Cleaning Cost
Traditional window cleaning is performed using the most basic of products and tools. This is the type of window cleaning service that is often found in residential areas and is suitable for most homes.
This typically involves a window cleaner using a ladder to reach the windows, cleaning the windows with soapy water (often washing up liquid) and a sponge, and removing the excess with a squeegee.
To avoid being left with streaks, the windows are then dried off, usually with a microfibre cloth. This is effective in removing the majority of dirt build up and is often all that is required on the average house.
Window cleaning prices for this type of service range from £20-£50 on a domestic property, the more windows the property has, the more you can expect to pay.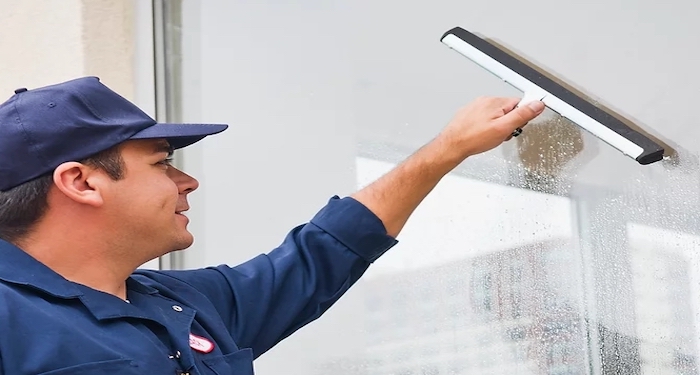 Pros:
There are lots of tradesmen who offer this service so you shouldn't struggle to get your windows seen to in a timely manner.
This method can also be used inside the home to clean the interior windows and is easy enough to do yourself.
Cons:
The cleaning products that are usually used for this service are known to leave a layer on the surface of this window which provides an ideal environment for dirt to stick and build up. This means that you may have to budget more than hoped for regular professional window cleaning.
Takes longer than water-fed window cleaning.
Interior Window Cleaning Cost
Most professional window cleaners are also able to clean the interior side of your windows upon request, although if given a quote by a window cleaner for a domestic window clean, its most likely just going to include the exterior of the windows unless you specifically state that you want an interior clean too.
Interior window cleaning is just as important as exterior window cleaning to ensure that the build up of dirt and grime doesn't begin to affect the integrity of your windows over time.
Additionally, you'll be sure to notice the difference if you have the outside of the windows cleaned and not the inside when you can still see streaks and marks!
Interior window cleaning is often performed using the traditional window cleaning method of cleaning with soapy water on a sponge, removing the excess with a squeegee and then drying with a microfibre cloth.
The average cost of interior window cleaning of course depends on the amount of windows to be cleaned, amongst other factors, but you can expect to pay anywhere in the range of £15-£70.
Pros:
Reduced allergens and dirt in the home.
A better overall finish if you are having the outside of the windows cleaned too.
Let more natural light into the home!
Cons:
The traditional method of cleaning used may leave a film on the window which attracts dirt and dust to stick.
You may not be too keen to let a stranger into your home.
Benefits of Professional Window Cleaning
Like most things in life, the cleaner the better! So why not apply that to your windows too?
Many people don't know this, but having your windows professionally cleaned can have more benefits than just making them aesthetically pleasing! Although, that's still a valid reason to have your windows cleaned, because who doesn't like a nice clean window that they can see through perfectly clearly?
Here are some benefits of professional window cleaning:
Aesthetically Pleasing
Having your windows cleaned professionally, both internally and externally can make them look a million times better! The the sun will shine through into your home or office with ease, brightening up the room and giving it a nice glow!
No need to worry about trying to peer through the window through which has a film of dirt on it, or the grime that builds up inside the bathroom window, when you have professionals on hand to take care of that, as often as weekly or 4-weekly!
No Unwelcome Bugs
Having your windows cleaned can prevent the build up of dead insects such as flies, which you may see mounting up in the corners, on the windowsill or stuck to the outside of the window.
Not only this, but window corners make the perfect environment for spiders to create their webs and settle themselves in!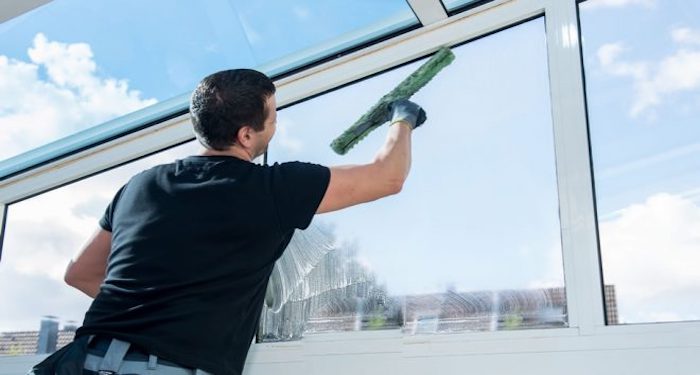 Windows Last Longer
A lot of people may be unaware that a build up of dirt on windows can make them more susceptible to cracks and deterioration. Windows are not the cheapest of household items to have to replace so it may be worthwhile taking care of them if it means they will last you that extra while longer!
It is also worth noting that a window-cleaner may notice signs of deterioration or chips on the window that may have otherwise been left unrecognised.
It's always a good idea to get these sorts of things seen to sooner rather than later before a small chip becomes a much bigger problem!
Prevents Allergens
Regular internal window cleaning will obviously remove a build-up of dirt and grime, but it will also get rid of any excess dust, dust is often hard to see with the naked eye so you may not even be aware it's there!
Dust is an allergen and can play havoc with our bodies so its always best to reduce the amount of dust in the home where possible!
FAQs
Q: How do you purify water for window cleaning?
A: Many window cleaners use purified water alongside Water-fed window cleaning poles. When purified water is used there is no need to dry the windows after cleaning as the purified water has no remaining soluble particles that can leave streaks on the windows.
Water is usually purified by using a water purifying system which contains filters that remove any existing sediment particles from the water. This water is then stored in sealed containers to ensure it stays purified.
Q: What do professional window cleaners use to clean windows?
A: Professional window cleaners use a variety of tools to clean windows depending on the job. They may use a traditional method which just involves the basics.
This typically includes a tall ladder, washing up liquid in water to create soapy water, a sponge for cleaning, a squeegee for removing excess water on the window and a microfibre cloth for streak-free and lint-free drying.
Others may use a Water-Fed Window Cleaning Pole so that there is no need to climb a ladder to unsafe heights. These specific window cleaning poles are often used with purified water so that there is no need for drying after cleaning either.
Q: Will I be able to clean my windows myself?
A: It is possible to clean the windows of your house yourself, however, if you are not used to ladders, climbing a ladder to clean the exterior of the second story windows may not be the best or safest idea!
Window cleaners often have a range of equipment to help them to clean windows efficiently and safely, such as ladder clamps.
Q: Do window cleaners charge per hour or by the job?
A: It really does vary from company to company how they choose to charge their clients. Some window cleaners will price up a job and give you a quote and that will be the price you pay regardless of how long it takes them.
However, those professional window cleaners that do charge an hourly rate charge an average of £20-£50 per hour.
Q: How often should my windows be cleaned?
A: It is personal choice how often you choose to have the windows of your house cleaned, some choose to have them externally cleaned every 2-4 weeks, whereas other people may opt for a clean only once every 3-6 months.
Remember though, a thorough professional clean of your windows is good for maintaining the integrity of your windows, so maybe don't leave it any longer than 6 months.
Sources