How Much Does It Cost to Clean a Roof?
The average cost for cleaning a roof is between £8-£12 per square metre. This will include the labour required to do the work, equipment and materials and any safety equipment needed to access the roof, such as scaffolding.
Roof cleaning costs will also be determined by the size and type of the roof, the number of people conducting the work, how easy or difficult access to the roof is and finally, your location within the UK.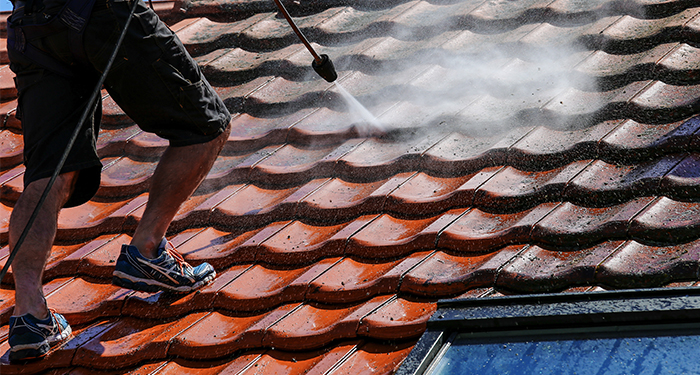 The overall square meterage of the roof will affect the price you pay to have your roof cleaned. The larger the area to be covered, the longer the work will take, and the more materials will be used.
A typical terraced roof will be between 50-60 square metres, a semi-detached roof around 65-75 square metres, and an average fully detached home between 100-115 square metres.
Of course, this all depends also on the roof style. Gable and hipped roofs should be relatively straightforward to clean, but a mansard or gambrel roof will require more work due to their shape.
How much you pay for your roof cleaning will also depend on how many people are needed to do the job properly and safely. The labour cost will be reflected in how many tradespeople are needed to clean your roof.
Larger roofs may require two people to complete the work in a reasonable time, while one person can typically do smaller roof areas.
Your location in the UK will be a factor in the roof cleaning prices you will be quoted. This service in London and the southeast will be higher than in other parts of the country due to the higher business costs such as insurance and business premises.
The north of England, Midlands and some rural areas of Wales and Scotland will be cheaper, although roof cleaning prices can still be higher in some large cities.
It is a good idea to get three or four quotations from local roof cleaning companies to get an idea of the average cost.
The level of access to your roof and the method used to reach it will be a significant factor in the roof cleaning cost. Access to the property itself and, in particular, to the roof will influence the price that you pay.
The roof cleaning company's method of access will also be a cost factor. Some companies may only use ladders for cleaning a roof, while others will use a scaffold tower. Bigger and potentially more expensive companies may use a cherry picker to access the roof area.
The shape of the roof may determine which access method is used, and this choice will be reflected in the roof cleaning prices.
Roof Cleaning Prices
| Property Type | Roof Size | Minimum Cost | Maximum Cost | Average Cost |
| --- | --- | --- | --- | --- |
| Terraced house | 50-60 sqm | £400-£480 | £600-£720 | £500-£600 |
| Semi-detached | 65-75 sqm | £520-£600 | £780-£900 | £650-£750 |
| Average detached house | 100-115 sqm | £800-£920 | £1200-£1380 | £1000-£1610 |
| Large detached house | 115-130 sqm | £920-£1380 | £1380-£1560 | £1150-£1470 |
What are the Supply Costs of Cleaning a Roof?
If you are looking at the cost of roof cleaning, you may want to know what it would cost you if you were to do the work yourself, that is, without labour charges.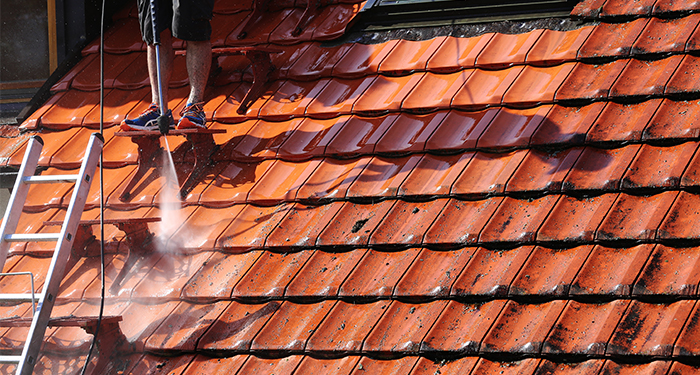 The first thing to consider is that working on a roof, especially a wet roof, is a very dangerous job and should only be done by a professional or those with the proper safety equipment.
However, if you want to know how much of the cost of roof cleaning is taken up by the supply costs, that will depend on the method used.
Some companies use pressure washers for cleaning roof tiles which can be a low-cost option in terms of timeframe. Many people own a pressure washer already and may consider using it to clean their roofs, but it is not recommended by most roofing professionals.
A commonly used option is soft washing which uses a chemical called a biocide. This kills the organisms that grow on roofs, such as moss, algae and lichen, and it is often used in conjunction with scraping.
This will be more labour intensive and take longer than pressure washing. The cost of the biocide will depend on the type and the roof area to be covered.
Steam cleaning the roof is another option. This is done similarly to pressure washing, but this roof cleaning equipment is very specialised, so not a DIY option. In terms of cost, it will be in a comparable price bracket to pressure washing the roof.
Scraping the growth and debris from the surface of a roof is a low-cost option. However, this will take a lot of work but with the benefit of not using high-pressure equipment or chemicals.
The cost will be lower than using pressure equipment or biocides, but the result may not be as effective.
What are the Additional Costs of Roof Cleaning?
Cleaning roof tiles will improve the look of your property, but there are additional costs that can come with this work, as well as optional work to improve your home's appearance.
Removing the debris from the gutters and surrounding area is something to consider. Some companies will detach the gutters before cleaning roof tiles and reattach them once the work is completed.
You should be clear before the work is agreed that any leaves, moss, or debris will be cleared from the gutters and that fascia, soffits and walls are left clean.
Window Cleaning
Following a roof clean by any method may result in your windows becoming splattered, and this can be an extra cost if you do not want to clean them yourself.
It shouldn't be difficult to find a local company to get the cost of window cleaning, but it can range from £20-£50 for an average home with seven windows.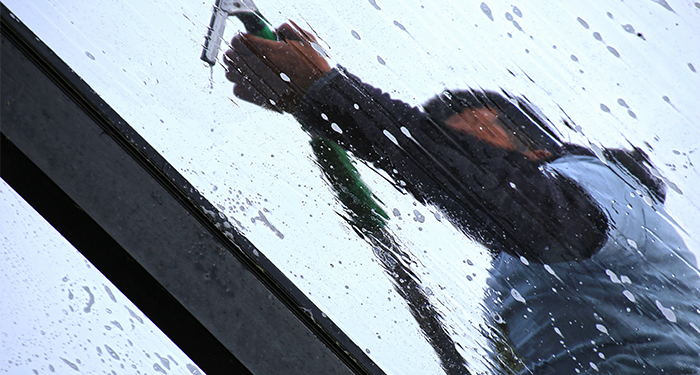 Roof Tile Repair
If in the unfortunate event that during the course of cleaning roof tiles a company breaks one, then it will be necessary to repair or replace it.
Tile repair costs vary according to the type of tile, where the broken tile is located on the roof, and the area you live in.
The average cost to repair a broken roof tile is between £170-£500, while repairing a ridge can cost anything between £150-£600.
Guttering, Soffits & Fascia
Guttering that is in a good state of repair is essential for the maintenance of your home. If your guttering is in bad shape, then it is worth replacing as the potential for dampness getting into your home as a result is high.
This could end up costing you more than the price of new guttering. Prices can range from £500-£1500 depending on the material used and covered area.
Similarly, it is important that your soffits and fascia are in good condition, so if you clean your roof you discover that they need replacing, how much can you expect to pay?
Again, it depends on the material that it is made from, uPVC, timber or aluminium and the amount needed. Costs range from £5-£50 per linear metre for both soffit and fascia.
New Roof
A roof that is heavily covered in moss, algae, and lichen can hide a multitude of sins, and it may not be until it is cleaned that the roof's true condition can be revealed.
It may be that the roof is in an irreparable state, and it is necessary to install a new roof. It is difficult to give a definite cost of a new roof as sizes, styles, roof coverings and local pricing are so varied.
However, as a guide, you can expect to pay an average of around £7,000-£15,000.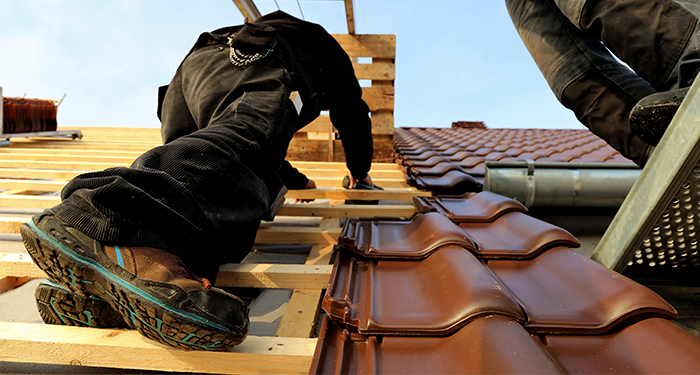 Cost Affecting Factors
When trying to establish the cost of roof cleaning, there are some considerations that you need to bear in mind with budgeting for this work.
Minimum Fee
Some companies may have a minimum fee for cleaning a roof. This is to cover the cost of any roof cleaning equipment, labour, and other expenses such as fuel, insurance, etc..… Any quotations should clearly state if there is a minimum fee applied.
Excess Mileage Charges
Where possible, it is wise to use a local roof cleaning company as hiring a contractor from outside your area may incur excess mileage and travel charges.
Unfortunately, if your property is remote, then these charges may be unavoidable and will need to be factored into your budget.
Size of Roof
Perhaps the biggest determining factor when budgeting for a roof clean is the size of the roof. The larger the area to be cleaned, the longer it will take, therefore more labour and higher material costs.
Roof Style
Other considerations are the shape and style of the roof. Mansard roofs or those with dormer roofs may incur extra costs associated with their design.
A large expanse of the roof will typically be quicker to clean without repositioning roof cleaning equipment, while some roof styles will require readjustment and moving around the roof more to reach all areas.
Scaffolding & Other Access Methods
When getting quotations for roof cleaning, you should note the method of access that the company or contractor plans to use. If they suggest ladders, this is a company to be wary of for safety reasons.
Scaffolding, a scaffold tower or a cherry picker are the best options. Working from ladders on a wet roof is dangerous and not something that should be done.
While these quotes will be cheaper, the consequences for you as a homeowner if something were to happen are serious. A scaffold tower or cherry picker may be more expensive, but it is safer for the workers and your roof.
Walking on a roof even with the aid of a roofing ladder often results in broken tiles, which will need to be replaced, adding to your costs.
Timeline
The amount of time that the clean roof takes will be a cost factor. This may be due to the size of the roof area or because of the style of the roof, but the longer the work takes, the higher the cost in terms of labour and materials.
Property Location
The area that you live in will affect the cost of roof cleaning. London has higher business costs in terms of insurance and business premises, so prices in the capital will always be higher than other parts of the UK.
It is worth getting three or four quotes from local roof cleaning contractors to get an idea of what is a reasonable cost in your area.
Tradesmen Costs for Roof Cleaning
The labour costs of roof cleaning will vary according to where in the country you live, but on average, the price is around £8-£12 per square metre.
The type of cleaning done will determine how long the work takes and therefore will also affect the price. Using roof cleaning equipment means an average roof will be done in 1-2 days, while scraping manually can take 2-3 days. Labour intensive cleaning will always be more expensive.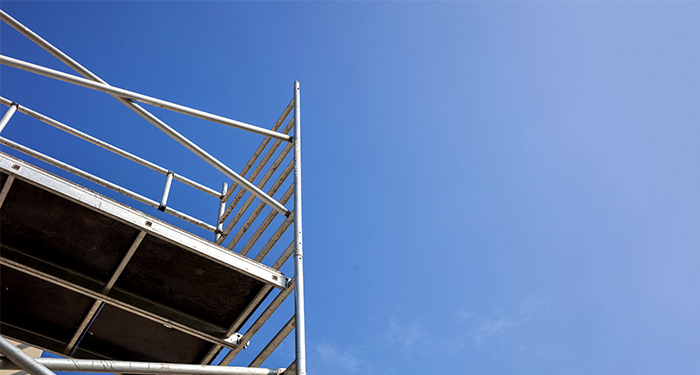 How much cleaning is needed for the roof will also have an impact on the labour cost. A large, heavily moss-covered roof will take time and potentially more manpower than a lightly soiled smaller roof.
How Long Does It Take to Clean a Roof?
The length of time that roof cleaning takes depends on a lot of things; the size of the roof, the extent of the cleaning needed, access, e.g., ladders, scaffolding, cherry picker and finally, the cleaning method employed.
| Property | Roof Size | Pressure Washing | Soft Wash | Steam | Scraping |
| --- | --- | --- | --- | --- | --- |
| Terraced house | 50-60 sqm | 4-5 hours | 1 day | 6-8 hours | 1-2 days |
| Semi-detached | 65-75 sqm | 1 day | 2 days | 1-2 days | 2-3 days |
| Average detached house | 100-115 sqm | 1-2 days | 2-3 days | 2-3 days | 3-4 days |
| Large detached house | 115-130 sqm | 2-3 days | 3-5 days | 3-4 days | 3-5 days |
Cleaning a roof with equipment such as a pressure washer or steam cleaner will be quicker than scraping and soft washing, which is a more manual job and, therefore, will take much longer to complete.
A terraced house roof can be pressure washed in 4-5 hours, while if scraping or soft washing is used, it can take 1-2 days.
If a cherry picker is used to access the roof, progress will be much quicker as the worker will be able to move around the roof area at the touch of a button.
Using a scaffold tower to reach various parts of the roof will require the tower to be shifted around the property to gain access which will inevitably be slower overall.
A semi-detached roof can therefore be steam cleaned in 1 day if done from a cherry picker while using a scaffold tower will extend the timeframe to around 1.5 to 2 days.
The amount of moss, lichen, algae, or dirt on the surface of the roof will also determine how long the roof cleaning will take. A heavily moss-covered roof will take time and care to clean as there may be unseen damage underneath.
A professional cleaning company will proceed with caution so as not to cause further damage.
Types of Roof Cleaning
There are many ways of cleaning a roof, and some companies may specialise in one method or offer assorted options at different prices.
Whichever method you decide to use for your roof, it is wise to get at least three quotations so you can determine what the average price for your area and the size of the roof is.
Soft Washing
This method of roof cleaning involves the use of a biocide to kill the growth of any plant life on your roofs, such as moss, lichen, or algae.
It is often used in conjunction with scraping, which involves physically removing the moss or lichen from the roof tiles and then washing the roof area with a biocide.
Pros
The chemical is left on the roof and is activated every time it rains. This provides ongoing protection and maintenance of the roof surface.
This method does not involve large volumes of water delivered at high pressure, which can potentially cause damage to the roof.
Biocides used in soft washing will remove black algae, which pressure washing does not remove.
Cons
The process can be slower than using a pressure washer or steam cleaner.
It is a more labour intensive job with hand tools often employed to scape the moss from the roof surface.
Some people may not be happy about using chemicals to clean their roofs.
Steam Cleaning
A similar process to pressure washing but with high-temperature cleaning rather than high pressure.
The steam is delivered at lower pressure but is effective at removing moss, lichen, and algae. It also reduces the regrowth of these plants in an environmentally safe way.
Pros
Effectively removes plant growth and surface dirt, and debris from the roof surface.
Does not require the use of chemicals.
The steam is delivered at a lower pressure than a jet washer and is, therefore, less likely to damage tiles or slates.
Cons
Professional equipment is needed for this method, and by definition, this will be more expensive than other roof cleaning techniques.
Steam alone will not kill all the algae and lichen spores, and the process needs to be augmented with a biocide application to stop regrowth.
Cleaning at high temperatures may not be suitable for some conservatory roof cleaning, especially those with uPVC frames.
Pressure Washing
To clean a roof with a pressure washer is a contentious practice, with many for and against arguments. Nevertheless, there are a lot of companies and businesses offering this service.
Most people are familiar with how effective pressure washers can be on driveways, brickwork, and paths but whether they are a suitable method for cleaning all types of roofing is not clear.
Pros
This method is quick, and a terraced house roof can be cleaned in a matter of hours.
Due to the speed of this technique, it is often cheaper than other more labour intensive roof cleaning methods.
There are a lot of companies offering this service, so it is easy to get several quotes for your roof.
Cons
The benefits of high pressure washing all types of roofing material are debatable within the industry.
There is a greater potential for damage, particularly to slates, pointing and ridge tiles when using high-pressure cleaning.
If done incorrectly, this method can allow water to ingress through the roof underneath the tiles.
Moss Scraping
This method of cleaning a roof is very labour intensive and will take longer to complete than using high-pressure washers or steam cleaning equipment.
A long-handled tool is used to scrape the moss off of the surface of the roof. It is usually followed by a biocide wash which remains on the roof and is activated every time it rains.
Pros
Scraping the moss off the roof manually ensures that all of the plants are removed.
There is no need for high-pressure water, which has the potential to cause damage or water ingress.
This is a cleaner method of removing moss and lichen from your roof, causing less mess in the process.
Cons
Scraping moss off the roof is labour intensive and will take a lot longer to clear the roof.
It is not possible to scrape algae off of the surface of the roof, and this will need to be removed by applying a biocide.
Direct access to the roof surface may be needed, and this could potentially cause damage to the roof tiles.
Benefits of Cleaning a Roof
The question can be asked, 'Is it worth cleaning a roof, as it is constructed to withstand the weather and elements of nature?' Of course, the answer depends on your outlook and priorities, but there are benefits to cleaning a roof.
Protecting the Roof
Removing moss from the roof reduces water retention on the roof surface and the associated risks of leaving it in situ. Apart from the damage that the damp can do, when the temperature drops below freezing, the water will turn to ice and expand in any spaces between tiles on the roof.
Over time this can cause the tiles to become dislodged and slip.
Preventing Long Term Damage
Water retained by moss can get underneath the roof tiles and eventually start to affect the integrity of the roof timbers. By cleaning the roof, you are preventing potential long term damage and expensive repairs to the roof structure.
Untreated algae and lichen will continue to grow and spread on your roof, and this is not a good environment for your roof tiles which will degrade over time.
Maintaining Gutters & Drainpipes
The problem of moss falling into gutters and blocking them does not just present overflowing issues, which in itself can cause internal damp and exterior mess, but in freezing conditions, the water-filled moss can expand in drainpipes and gutters, causing them to burst.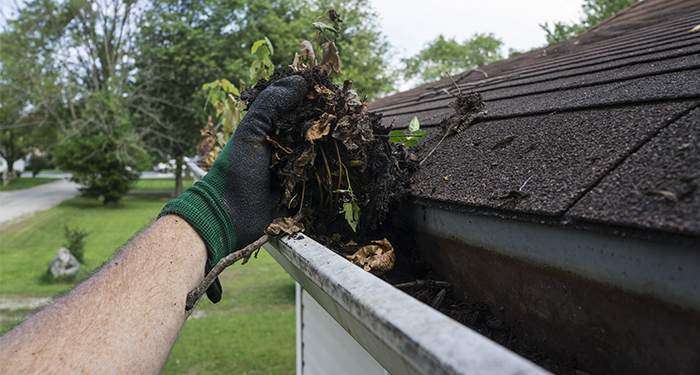 Aesthetics
A roof cleaned of moss, algae and lichen can often look like a brand new roof and offer increased kerb appeal.
This is a particular advantage if you are putting your house on the market. A clean roof gives the impression that the property has been cared for and not neglected.
Moss can attract birds and insects, too, which can encourage them to make their home in your roof space and also add to the mess on the roof and in the gutters.
Functionality
Conservatory roof cleaning is particularly important in relation to functionality. If the conservatory roof is covered in moss, algae, or lichen, it is not allowing light and warmth into the space. A dirty conservatory roof is also not visually appealing.
FAQs
Q: How often should you clean a roof?
A: This may depend on the environment the house is situated in. Some roofs will be more affected by moss than others if they are in shady, damp locations, while other roofs may be prone to black algae or lichen.
In these cases, a roof may need to be cleaned once a year while other less affected roofs could be cleaned every two to three years.
Q: Is it ok to pressure wash a roof?
A: Many tile manufacturers do not recommend jet washing of roofs. This is because the high pressure of the water can strip away the protective coating on the exterior of the tiles.
It can also damage or dislodge tiles. Pressure washing a roof is also extremely messy and typically only removes surface dirt and moss. Any algae growing on the tiles is not usually affected by high-pressure washing and requires a biocide cleaning agent to remove it.
Q: Can water get into the property during a roof clean?
A professional roof cleaning company will take precautions around roof light windows or during conservatory roof cleaning where potentially there could be water ingress.
Water should always be directed down the roof and not upwards where it could get underneath tiles or slates.
Q: What happens to my roof if I do not clean the moss off?
A: Moss typically grows and thrives in damp environments. As a living organism, if left in place, it will continue to grow and spread across the roof.
The moss absorbs moisture, and in freezing temperatures, it will expand. This can cause cracks in roof tiles, and leftover time can cause tiles to be damaged to the extent that they need to be replaced.
Q: What does soft washing a roof mean?
A: Soft washing means cleaning the roof without the use of a pressure washer instead of using chemicals and biocides to clean dirt, moss, and algae from the roof.
Some issues, such as black and red algae, do not respond to pressure washing and can only be removed with a proprietary chemical wash.
Sources