Introduction to a New Roof
Why is having a structurally sound roof so important?
If your house doesn't have a stable and durable roof to help keep out the elements, it cannot be considered a home.
Roofs are simple parts of every home that offer a first line of defence from rain, snow, and howling winds, and as such, they demand our attention as much as any other part of the home.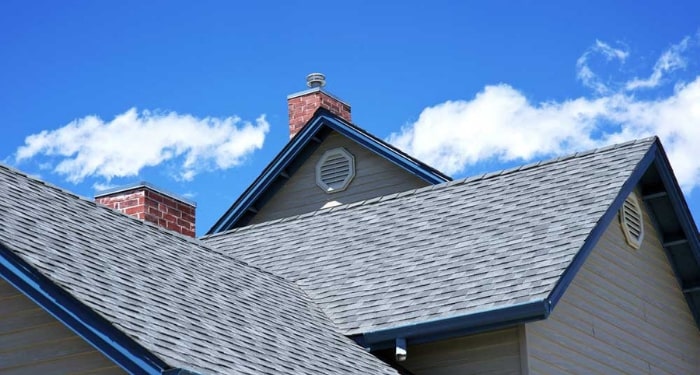 That being said, it doesn't matter the kind of house you have and the kind of roof you wish to have, every type of roof comes with a budget, concerning the supply of materials, labour, and transportation.
Hence why we have written this article, to further assist with the costs that come with a new roof.
How Much Does a New Roof Cost?
The cost of a new roof depends on two significant factors. The first is the size of your home, or in connection, the size of the roofing required.
The second looks at the material choice for your roofing. Materials like felt will be cheaper when used on small garage roofs, while slate on your four-bedroom home will cost much more.
On average, the cost of roofing for homes starts at around £5,000 to £6,000. For garages, the price ranges from £1,000 to £2,000.
Gable Roof Costs
Installing a new gable roof comes with the demand for lots of material and expertise. To prevent the wastage of resources, it is vital that you find a skilled artisan with enough know-how on the installation process.
The installation process for these roofs usually costs between £2,000 to £4,500.
Hip Roof Costs
Next is the hip roof, which is slightly more complicated in design than the gable. For this reason, it utilises some additional features which lead to an increase in its overall costs.
For the installation of such a roof, tradespeople typically charge £1,250 to £7,250.
Flat Roof Costs
This is a roof which features a very slight slope but generally looks flat from a layman's view. For these roofs, you will require waterproofing systems and other materials such as bitumen and felt.
The total initial cost for creating a new flat roof can be as low as £1,500 and go as high as £3,000.
Mansard Roof Costs
Old, traditional and yet still beautiful against the skyline, the mansard roof is a versatile and space offering roof that enables you to have extra living space in your home.
The top-level can be converted into a loft or storage space for your home.
In designing your roof, the mansard way, you're expected to invest between £15,000 - £45,000+ for a complete conversion - including installation works according to your roof size.
Lean-to Roof Costs
The final roof is one with a unique character. The lean-to roof has limited design and as such doesn't make use of a lot of materials and fittings.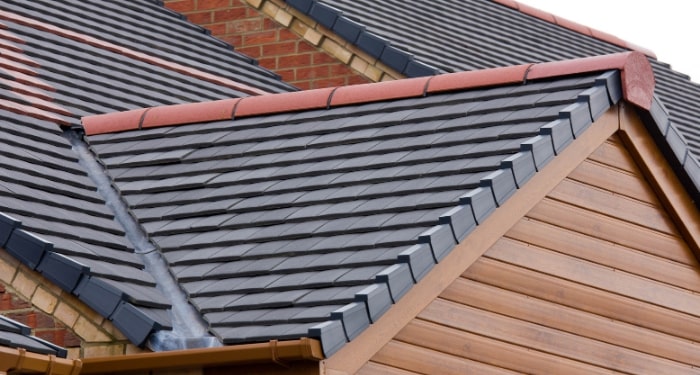 As a result, installing this roof starts at a minimum of £850, going as high as £2000 if the space it covers is huge.
New Roof Prices
Listed below are estimations for a new roof cost UK.
| ROOF TYPE | ESTIMATED COSTS |
| --- | --- |
| Gable roofs | £2,000 to £4,500 |
| Hip roofs | £1,250 to £7,250 |
| Flat roof | £1,500 to £3,000 |
| Mansard roof | £15,000 - £45,000 |
| Lean-to roof | £850 to £2,000 |
What are the Supply Costs of a New Roof?
The supply cost of a new roof will be dependent on the material choice, transportation from the source to your home, and the quantity you wish to invest in.
In the table below, we highlight the different supply costs with each cost range being per square meter.
| MATERIALS | COST PER SQUARE METER |
| --- | --- |
| Plastic Polymer | £400 - £1,200 |
| Clay Tile | £300-£600 |
| Concrete Tile | £150-£250 |
| Slate | £500-£1,700 |
| Wood (cedar) | £250-£600 |
| Asphalt | £70-£160 |
| Metal | £120-£900 |
Roofing your home for the first time comes with many different tasks to complete.
Besides the actual process of roofing, several other things need to be done, and each activity comes at a cost.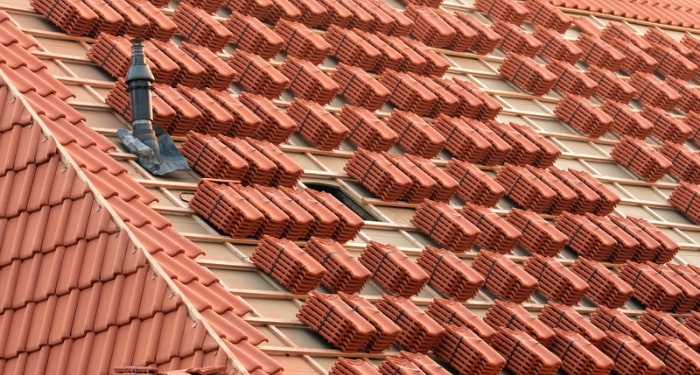 Some of the additional tasks that will demand payment include the request for permits, installation of roof decking, flashing, plywood sheathing, and the removal of old roofs if any.
Below, we highlight other parts of the roof you may wish to include to your design and the attached costs for each.
Roof Tiles
Roof tiles come in a wide variety, thanks to the materials used in their creation.
Depending on the kind of flooring you wish to roof your home with, you might have to invest a lot or a little. A typical example is concrete roof tiles, which cost a minimum of £0.40 to £6.68 per square meter.
Another kind of roofing tile is the clay tile, which is considered an excellent construction material. For clay, the range begins at £0.37 to £100.71 per square meter.
Roof Felt
Felt roofs are modern roof types popularly referred to as torch-on flat roofs. These roofs are built per square meter and are also charged as such.
The range for supplying materials for such a roof stands between £50-60 per square meter.
EPDM Rubber Roofing
EPDM roofs are known as modern firestone roofs. For these roofs, the supply costs range between £85-£150 per square meter.
This supply cost includes the provision of good trimming systems that enhance the roof durability over the years.
When installing these roofs, the old roofing material needs to be removed, and insulation added—these demand additional costs.
Roof Joists
To offer your roof the strong structure it needs to keep you covered and safe from the elements, roof joists are used during the roofing process.
These structural beams are made from wood; thus, they need treatment to avoid rotting and weathering for as long as possible.
The supply of wooden roof joists for your roof ranges between £100-£250.
What are the Additional Costs of a New Roof?
Roofing your home for the first time comes with many different tasks to complete.
Besides the actual process of roofing, several other things need to be done, and each activity comes at a cost.
Some of the additional tasks that will demand payment include the request for permits, installation of roof decking, flashing, plywood sheathing, and the removal of old roofs if any.
Below, we highlight other parts of the roof you may wish to include to your design and the attached costs for each.
Skylights
The first addition we look at is skylights. These are a part of the roof that help improve lighting within the internal spaces.
Skylights make use of glass and other transparent materials to admit light without bringing in heat.
For such an addition to your roof design, experts suggest an average cost of a new roof price range between £957 and £2,338.
This includes materials, transportation, and labour.
Loft Conversion
A loft is a small living space usually found at the roof of homes. This space isn't the size of a standard room, but it is just as comfortable and open to the exterior when designed appropriately.
For a loft conversion, a lot of work, time, and materials will be used to cater to all these, an estimated price range staring at £15,000 and ending at £30,000 is advised by expert loft designers.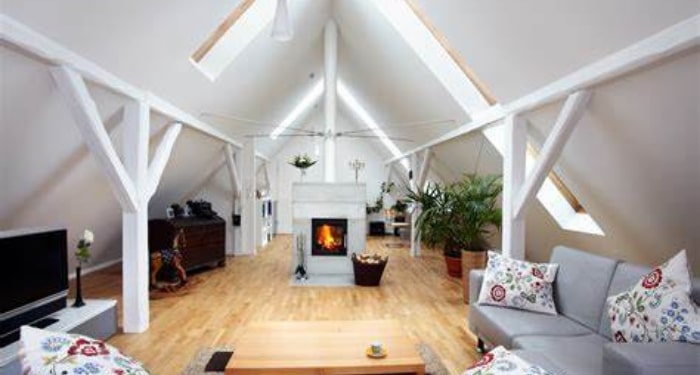 £15,000 is expected to be the barest minimum you will ever have to pay since the process includes the installation of items such as insulation, staircases, skylights, electricity, lighting, and heating.
Exterior Render
The final additional cost some homeowners include when fixing up their roof is that of exterior rendering. Rendering of your building is somewhat expensive, depending on the material you wish to render with.
Also, your tradesman's location and skill set will determine just how much you will need to pay. A typical 3-bedroom house, when rendered, will cost an average of £3,800-£5,200.
Below we list the price ranges for different home sizes.
| SIZE OF HOUSE | PRICE |
| --- | --- |
| 2 Bed bungalow | £2,100-£3,000 |
| 3 Bed Semi | £3,800-£5,200 |
| 4 Bed Detached | £6,300-£7,800 |
Tradesmen Costs for a New Roof
Labour for roofing comes at different cost ranges for varying reasons. The first reason is that; tradespeople are found in different locations.
The closer they are to you, the less expensive they might be. Another reason for the range in charges is skillset.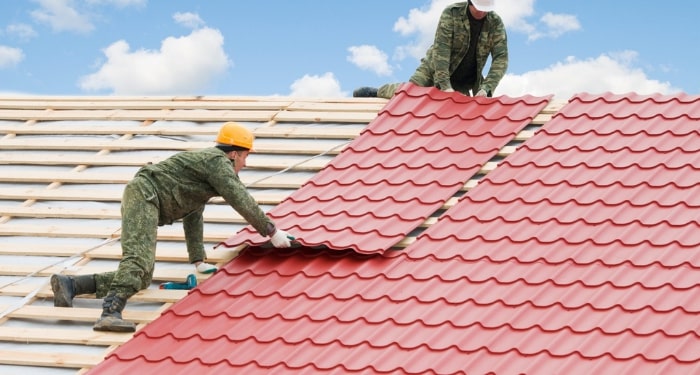 Some tradesmen are more experienced than others, and as such, they can demand more the typical price range for labour concerning roofing is between £150 and £300 per square.
How Long Does It Take to Install a New Roof?
Installing a roof from scratch takes a while depending on the form of your home, the materials involved, how skilled your tradesman is, and if there are any additions to be made.
Usually, the duration for roofing begins at 24 hours and goes up to three days. In some extreme cases, such as for non-residential buildings, the three-day mark is surpassed and might take a week to complete.
So, what does the duration depend on? Well, as stated earlier, the number of days for roofing will depend mainly on the size of your building.
The bigger the building, the wider the roofing surface area; thus, the more prolonged roofing will take.
The number of people involved in the roofing process can quicken or slow down your roofing process.
Another determinant of your roofing duration is the skillset of your tradespeople.
If they're conversant with the use of the chosen material, they can go faster than when it's something new.
Choosing a Roof
Apart from protecting you from rain and snow, roofs do a lot more for you and the other occupants of your home.
The shape chosen for your roof can go a long way to define how your home looks on the outside, and how stylish that look is in connection with your surroundings.
When designed right, you can rely on your roof and get some additional living space, as is the case of loft creation.
A strong and sturdy roof is also known to make your home more energy-efficient, resilient, and weather-proof.
Gable Roof Costs
Gable roofs are popular roof types used all around the world.
These roofs can be referred to as peaked or pitched roofs as well. Gable roofs feature a dominant triangular shape that is easily recognisable by experts and non-specialists alike.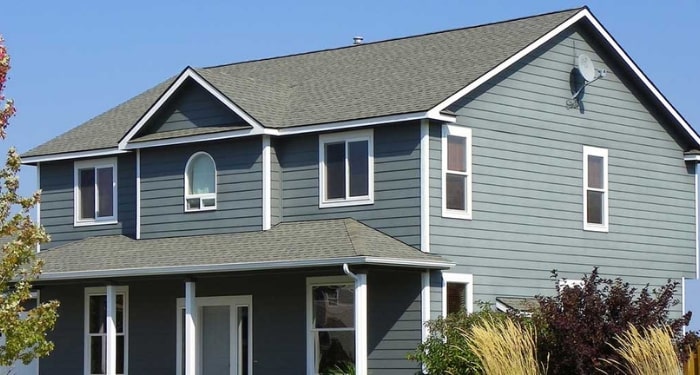 The cost of a gable roof stands at a range between £2,000 to £4,500.
Pros:
With the gable roof, you can give your home more space below, by making use of the pitch as your storage area. The pitched space can also act as your attic or a vaulted ceiling, which is excellent for bringing in the fresh air at all times.
Gable roofs are the best roof types if you're seeking to shed all water and snow during the respective season.
Again, gable roofs are classic and straightforward in design; thus, they're effortless to build, cheap to maintain and repair, and even easier to replace.
Cons:
In the event of disasters such as hurricanes and high windstorms, the typical gable roof can be very problematic. They can collapse in such instances when their frames aren't given the necessary support or aren't constructed properly.
When roofing your home with a gable roof, keep the overhangs at a reasonable depth, since going very wide can cause your roof to detach from the walls and peel away in a storm.
Hip Roof Costs
Next on the list is the hip roof, which is another popular roofing type.
With this roof type, there are slopes on all four sides. All sides of the hip roof have an equal length; thus, they come together at the top to create what's known as a ridge.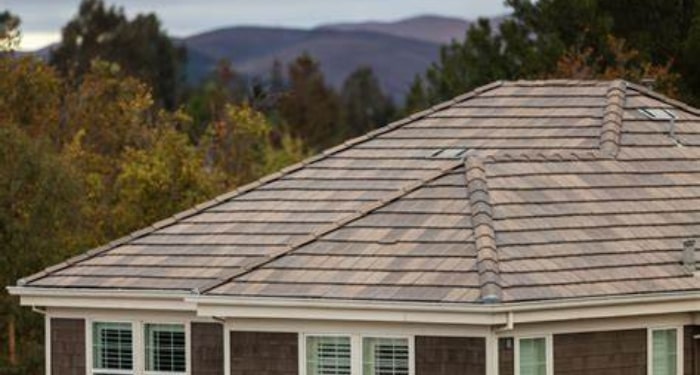 When appropriately constructed, these roofs will hardly experience any minor or major problems.
The cost of getting a hip roof installed, from material supply to labour costs, will total an average of £3,000 to £6,000.
Pros:
Hip roofs are great for areas with other snowy and high winds. Because of their slope, these roofs allow water and snow to slide off without any remnants weighing on the surface.
Another great thing about the hip roof is that it's more stable than the typical gable roof. These roofs are built with inward slopes that enhance their durability and sturdiness.
If you wish to have roof additions, this is the best roof type for you. With the hip roof, you can have extra living spaces in your home. This is through the addition of a crow's nest and dormer.
Cons:
Compared to the gable roof, hip roofs are costly. This is due to their complex and intricate design and the use of more materials.
When additions like dormers are included, there's a higher probability of water leakages; thus, you need an extra skilled individual to install your hip roof properly.
Flat Roof Costs
You will mostly find flat roofs on dormers, garages, extensions, and outhouses. They're considered very cheap roofing options since they can be built with materials like timber.
When creating a flat roof, you will make use of a waterproof coating such as asphalt, bitumen based felt, or EPDM.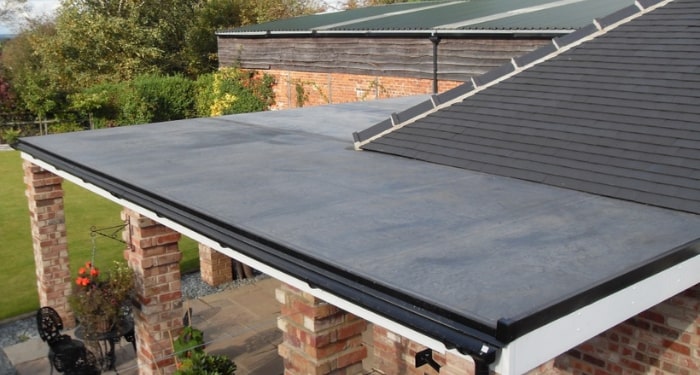 Though they're called flat roofs, they're always pitched at a slight angle to allow for the flow of water. Since their initial cost is low, the average installation of a new flat roof cost is between £1,500 to £3,000.
Pros:
Using a flat roof for your home gives you an additional space on the top, which can be transformed into a garden, patio, or a penthouse room when partially enclosed. It can also be used for service storage, where you're heating and cooling units will be, away from prying eyes.
The design of flat roofs is excellent for solar energy panels. Placing them on your roof gives them direct and immediate contact with the sun, enabling you to run an energy-efficient and independent home.
Flat roofs feature a straightforward design that is easier than pitched roofs. It also doesn't demand a lot of materials; thus, it's relatively cheaper.
Cons:
The slight slope of flat roofs makes them more prone to water leakages than any other roof type. With this in mind, roof experts don't advise that they're used in high snowfall or rainfall areas.
In the long run, the flat roof is more expensive than pitched roofs. Most of the costs go into maintenance, roof repairs, and replacement too.
Mansard Roof Costs
The French roof, or famously known as the Mansard roof, is a four-sided roof built with a double slope on each side. These double slopes converge to form a new, low-pitched roof.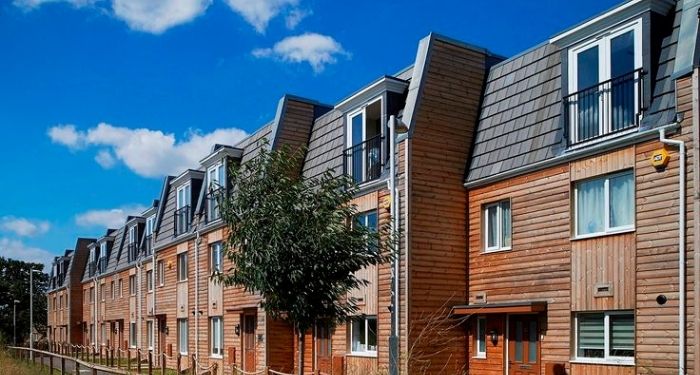 Due to their unique design, the lower slopes are steeper than those above. Depending on the homeowners, you can have the mansard roofing exhibit a flat or curved roof, respectively. Mansard roofs typically chose between £5,000 to £7,000 for installation, material, and labour.
Pros:
These are the best roofing options for those looking for extra living space in their homes. The mansard roof allows your roof to be used as an attic or a garret, which is another kind of living quarters.
Staring off your home with a simple mansard roof design allows you to make future home additions as the years roll by. This adds value and makes it adaptable to your family's changing needs.
Cons:
The lower slopes of mansard roofs don't do well with heavy snowfall.
The design and installation of this roof are more expensive than all other roofs.
Lean-to Roof Costs
The lean-to roof is another unique roof. This roof is attached to an existing roof and is typically done after additional spaces have been provided in the home. They're mostly mon-pitched, sloping towards one side of the building.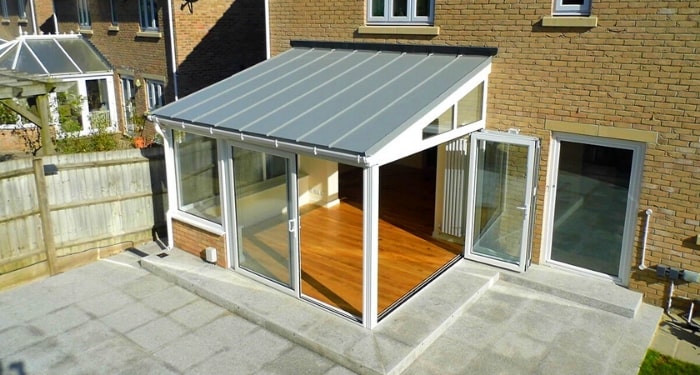 Lean-to roofs range from £850 to £2,000.
Pros:
The lean-to roof is very affordable and is easy to construct.
It doesn't require regular maintenance or repairs.
Cons:
The connection of the lean-to roof to your building must be appropriately treated to prevent water leakages.
The lean-to roof doesn't allow for extra living room space.
How Much Does It Cost for Roof Maintenance?
Apart from installing new roofs, there are instances where the roofs we have experience damage and need repair urgently.
Usually, when you ignore the minor problems on your roof, it comes back to bite when you least expect it.
To help prevent any major issues, it is best to engage in regular maintenance. This can be done once or twice in the year, or more if you're in an area with high rainfall or snowfall.
Cleaning
Sometimes, there's no damage to your roof; you simply want to give it a good wash or cleaning down.
This is done typically after storms, where debris might still be on the roof's surface.
Depending on the size of your roof, you should expect to pay from £450 to £550 for the cleaning of your roof.
Other areas charge between £550 and £650, with other people charging as high as £850.
Sealing
Another form of maintenance is sealing, and this is done to prevent any leakages into your home from your roof.
Averagely, sealing the roof comes with varying charges, with the primary reason being the extremity of the opening.
At the low end, the sealing of roofs runs to about £154, a price that can run as high as £2,313.
The average cost for this process stands £690. Sealing comes with some warranties, and as such, you must ensure you benefit from them.
Clean Gutters
Roofs have gutters, spaces where water moves freely off the roof. Without gutters, roofs will leak almost immediately and may cave in due to the weight of water.
These gutters catch more than water sometimes, and as such, they require excellent cleaning to fulfil their purpose.
The cleaning process for roof gutters costs between £20 to £100, with every meter costing about £4.
Depending on the company you go to, you might pay £20 or £40 as the minimum fee.
Maintenance Costs for Different Types of Roof
Gable Maintenance Costs
For the gable roof, maintenance costs aren't costly, since they don't require any exclusive technologies or material usage.
The average costs for roof repairs stand between £40 and £250. Replacing the roof will come at a different cost estimate, with the range being £840 or £2,000.
These price estimates are dependent on your location, and the kinds of damage your roof is exhibiting.
Hip Maintenance Costs
For the hip roof, the prices for repairs are very similar to their pitched counterparts, with roof replacement demanding more resources and money.
The restoration of a typical hip roof ranges between £40-£250, while the total replacement of the roof begins from £3,250 and goes as high as £5,250.
Pitched roofs need extra skill, and also more material when they're being replaced, which is why this task demands more money.
Flat Maintenance Costs
We all know that flat roofs are inexpensive at the initial stages, but much like their cons, long-term use of such a roof comes with a lot of investment.
If you wish to replace your flat roof, it's best to keep £40 to £250 for artistry, with the total cost reaching as high as £5,250.
When repairing a flat roof, you need to provide water-resistant material, before applying the final material like timber or concrete.
The technology required for repairing this roof demands a lot of skilled personnel who, in turn, demand more resources.
The replacement of flat roofs begins at the cost of £840 going as high as £2,000.
Mansard Maintenance Costs
Mansard roofs are more technical, but their repair isn't that complicated since they're in reality, a combination of pitched roofs.
For the proper restoration of this roofing type, an estimated cost of £40-£250 is suggested by roofing experts, while the replacements go as high as £10,000 and even above.
Lean-to Maintenance Costs
Replacing your lean-to roof is just as costly as any other roof type. The typical range for a roof like this is like all others, with the lowest cost standing at £40.
The maximum cost of repairs for a lean-to roof reaches as high as £300.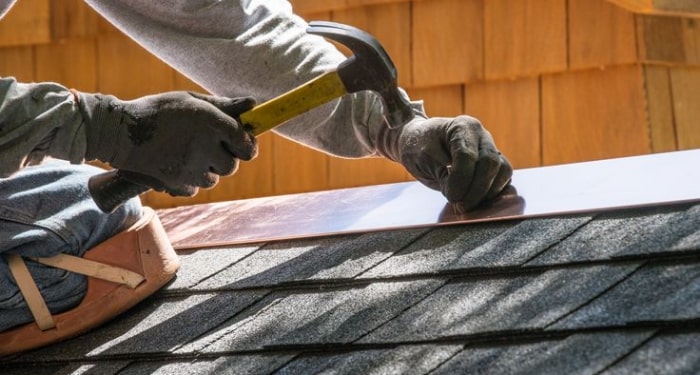 Replacing such a roof can be pricey, with the range standing between £840-£3,250.
How Much Does It Cost for Roof Repair?
Roof repairs and maintenance are very similar; thus, their prices are closely related.
Depending on the roof type and the size of your home, your charge for repairs will differ from your neighbour.
If you're using average-sized tiles on a typical three-bedroom house, you can pay as little as £900 and as much as £2,500.
The team working on your roof will determine how long the job will take.
Roof Leaking
Roof leaks typically cost between £550 to £2,500, depending on the extent of the leakages.
Loose Roof Tiles
If there are any loose or broken roof tiles on your roof, they will have to be reattached, which can cost averagely £1,500- £2,570.
If you want a more accurate cost of roof tile repair, check out our article.
Fix Flashing
The average cost of flashing for roofs starts at a minimum of £1,200, going as high as £2,500.
Rotting Wood
The rotting of wood simply means all wood needs to be removed and replaced. This is costly, depending on the wood you wish to use.
The total cost ranges between £2,500 and £5,000.
Garage Roof Replacement Cost
Depending on the condition of your garage roof, the cost of a new garage roof will vary a great deal.
The general estimate for an average-sized home begins at £600, going as high as £6,000.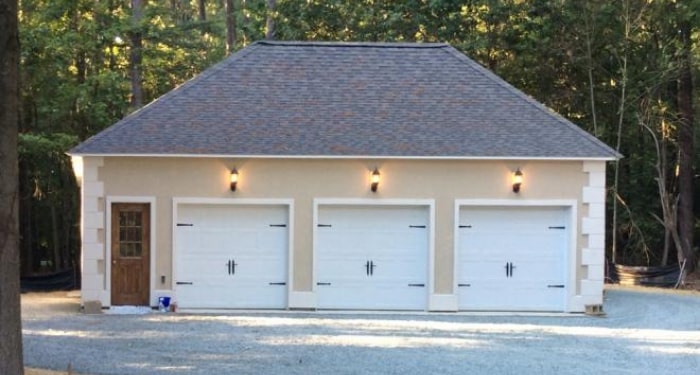 Using felt for your garage roof will attract a lower cost than if you were to use slate tiles.
Types and Sizes of Garages
There are varying kinds of garages, with the three significant types being the single, double, and tandem garages.
A small garage has an average area of 150 square feet; thus, roofing such surface area isn't excessively expensive.
The cost ranges between £750 to £1,450.
The second type, which is a double garage, measures approximately 300 square feet. It is also known as a two-car garage where both cars have ample space to remain comfortable.
The roofing costs of a double garage starts from £1,450 to £2,500. The tandem, though rare in neighbourhoods, this garage also measures 300 square feet.
It accommodates two cars parked nose-to-tail and has a single door—roofing such garage roof costs between £1,000 and £2,200.
Shed Roof Replacement Cost
A typical shed measures 120 square feet, which is usually 10' by 12'. Installing a roof over your shed or replacing the roof over your shed comes at an estimated cost of £430, with a square foot being £3.60 if it's a replacement, you'll have to pay for the removal before the new roof you're replacing it with.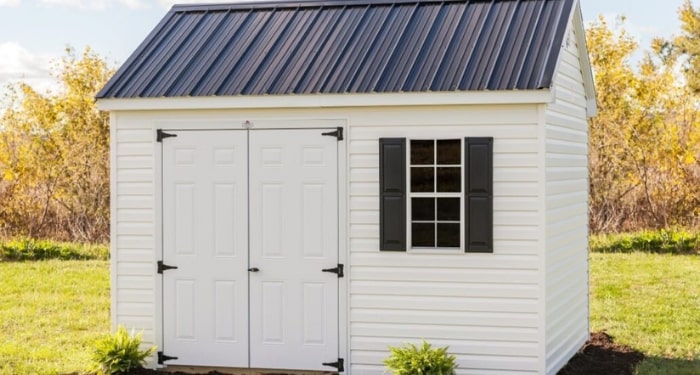 The removal of the old roof starts at £200 and replacing it with a new roof will cost you an additional £630.
Types and Sizes of Sheds
Sheds, like garages, come in many different sizes. The average new shed roof stands at 120 square feet, but the typical living room patio is 288 square feet.
The dimensions are 16' by 18' respectively. Outdoor dining patios are different, with their total area reaching 168 square feet.
For this patio, the proportions are 12' by 14'.
Conservatory Tile Cost
The new conservatory roof cost, on average, is from £4,000 up to £6,000.
The lowest price stays true for smaller conservatories, which refers to anything below 4000mm x 4000mmm.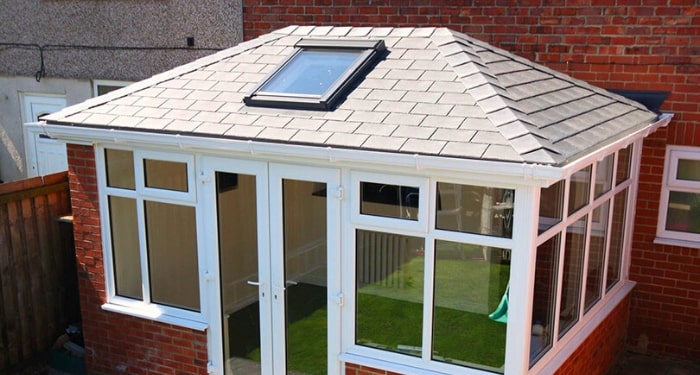 For the larger conservatories measuring over 4000mm x 4000mm, the price will most likely reach as high as £6,000.
Types and Sizes of Conservatory Tiles
There are varying types of conservatories, starting with glass, to those designed lean-to conservatories.
For both models, you will be charged between £2,610 and £3,175.
Besides these two types, the other new conservatory roof costs range from £4,000 to £6000 for installation and craft.
How Much Does It Cost to Remove a Roof?
The average cost for the removal of your roof stands at £5,300 in the UK. Many homeowners spend between £1,050 and £2,100 as a total cost thanks to their building size and roof type.
Per square meter, the installation process costs from £300 to £380.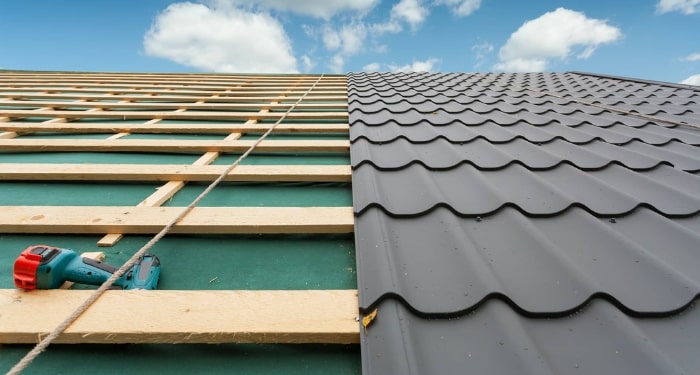 For both removal and replacement, save up between £2,300 to £7,300 for the entire process.
There are several reasons to remove and replace their existing roof, and some of them are listed below.
Reasons for removing a roof:
Sometimes, roofs are past the repair and restore stage, and must simply be taken down. This usually happens when the roof is experiencing extreme leakages and sealing issues. On such occasions, you will need to employ a professional for a full roof replacement, which would help solve any problems you might have had with the roof.
Leakages that move to your walls and ceiling, these can damage the structure of your building and in the long run, cause the walls to break or wither, with mould growing beneath the surface.
If you've just bought the house and the existing roof is well over 25 years old, it's time to change it. To prevent any future leakages, it is best to undergo a roof inspection before your purchase such that you know the necessary actions to take.
Cost of removal:
Minimum Cost - £2,300
Maximum cost - £16,300
Average range - £2,300 to £7,300
Where to Dispose of Waste:
There are three significant ways to dispose of the waste generated from the roof removal and replacement process.
These three considerable ways ensure that the environment isn't affected negatively, and the residue is appropriately disposed of.
Reduce: If your roof was made of asphalt shingles, you could choose during the replacement process. Choosing options like metal roofing sheets or cedar shingles allows you to reuse them for other purposes. The asphalt shingles can be dropped off at a recycling centre near you.
Reuse: Any cedar shingle roof used for sheds and storage spaces can always be reused. Such materials can be used in another space as water repellent layers or slip prevention material when nailed on decks and stairs.
Recycle: Drop off all waste generated during your roofing works to a recycling centre, or a landfill if they're no longer recyclable.
FAQs
Q: Does a new roof add value to your home, UK?
A: For people and things like buildings and roofs, the first impression is a very great one and often sets the tone for other things. All home and real estate experts will attest to the fact that home improvements made to any home, adds value to it and allows the owner to fetch a higher purchasing price.
One of the upgrades you can make to increase your home's value is to change the roof. Since it stays at the top of your home, it is easily noticeable by your buyers and can be adequately appreciated.
Q: Can I get a government grant for a new roof?
A: The journey to a new roof or fully repaired roof can be costly, and as such, help from all corners will be beneficial to you.
Luckily for all, there are government grants that exist for tasks like this, ensuring that you don't feel overwhelmed or alone during the journey to a healthy roof.
These government grants are given depending on the state of your roof; thus, the more damaged it is, the less likely you are to benefit from a full grant.
Q: How much would a new roof cost on a semi-detached house?
A: The cost would depend on the type of roof you are after. That said, hip roofs are very common with such houses, and the cost range is displayed below.
| ROOF | COST RANGE | LENGTH OF TIME |
| --- | --- | --- |
| Semi-detached home | £4,250-£4,750 | 3-4 days |
| Two valleys – semi-detached home | £5,750-£6,250 | 5-6 days |
Q: How can a homeowner recognise when a roof system has problems?
A: Roof issues are very tough to identify at the initial stages. In most cases, we find out about them very late; when the leakage has gotten so bad, it pierced through our ceiling into our bedrooms.
To help curb this, homeowners need to engage in periodic checks and inspections for their roofs. This can be done twice a year, to help uncover issues like missing shingles, cracked tiles, and loose seams. On the inside, inspections could be held via looking out for peeling wallpapers, cracked paint, and even discoloured plasterboard.
Q: What are my options if I decide to reroof?
A: Reroofing is a two-part process. It involves the removal of your old roof and then replacing it with something new. You can go about this in two significant ways.
The first option is to recover the existing roof system, where all you need to do is install a new roof system.
The second option is to completely replace the current roof system after removing every batten and frame member.
Sources