How Much Do uPVC Sash Windows Cost?
The uPVC sash window installation cost will depend on the size, style, and the number of windows being fitted as well as the area that you live in.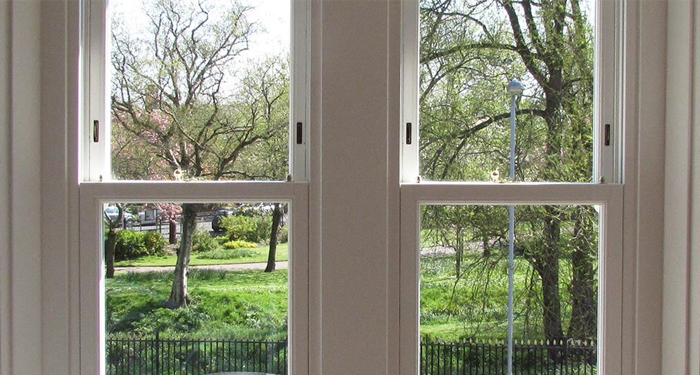 The glass, glazing bars, and hardware that you choose will also affect the price, including any specialist uPVC sash window locks.
However, the average price for supplying and fitting uPVC sash windows is around £900-£1,200 per window.
uPVC Sash Windows Prices
| Size | White | Coloured | Wood Grain Effect |
| --- | --- | --- | --- |
| 600mm x 1000mm | £825-£925 | £1,000-£1,100 | £985-£1,085 |
| 900mm x 1000mm | £875-£975 | £1,100-£1,250 | £1,065-£1,165 |
| 1200mm x 1500mm | £950-£1,050 | £1,200-£1,275 | £1,150-£1,250 |
| 1500mm x 1500mm | £1,350-£1,400 | £1,550-£1,600 | £1,450-£1,500 |
So what's included in all these costs anyway?
uPVC sash window costs will include the frame, a choice of glass, glazing bars and hardware and the labour cost to install the windows. Some companies will also take away your old windows as part of the installation, but you should check this before the work begins.
For security, most installers will provide good quality uPVC sash window locks.
The size of the windows that you install will have a direct impact on the uPVC sash window prices. Larger windows will be more expensive, but the cost of labour will rise if the installation requires two or more people to fit the windows.
Here's something you should be aware of...
Smaller windows may cost less, but you should know that any bespoke sizes and shapes required can be more expensive to produce.
The number of uPVC windows that you want to install will also affect the price that you pay.
Obviously, the more windows there are to fit, the more you will pay both in terms of materials and labour. You will also need to allow for the removal of all your old windows if this is not included in your quotation.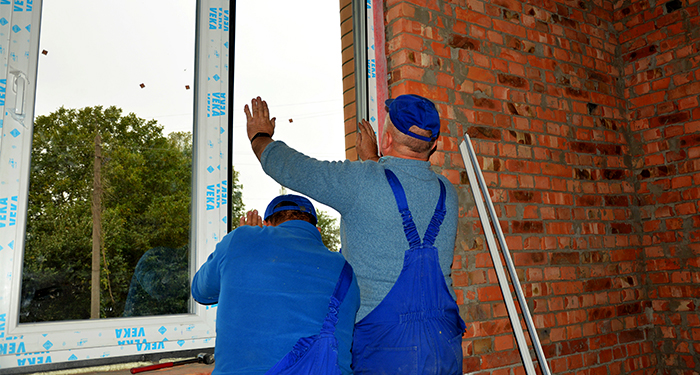 If you have a large number of windows installed or the uPVC sash windows are particularly large or heavy, you may require additional labour, which will increase your overall costs.
The average cost of a tradesman to install uPVC windows is £150-£200 per day, so if there are four fitters on-site, you will be paying around £600-£800 per day for labour.
Where you live in the UK can also be reflected in the uPVC sash window prices and installation costs.
Most people are aware that home improvement costs are higher in London and the southeast of the country both in terms of materials and labour.
This is typically due to the higher business costs in the capital and surrounding areas, such as insurance costs and premises rental.
Don't forget about accessibility...
The ability to easily access the windows can impact the uPVC sash window installation cost. If access is difficult, there may be additional charges by the installation company.
You should discuss this before installation. It may be necessary for windows above the ground floor to hire scaffolding, and this cost should be noted before installation day.
What are the Supply Costs of uPVC Sash Windows?
uPVC sash window costs without the addition of labour will depend on the size, finish, type of glass, glazing bar and choice of hardware.
Below is a table of various sized uPVC sash windows in different finishes with an average supply cost.
| Size | White | Coloured | Wood Grain Effect |
| --- | --- | --- | --- |
| 600mm x 1000mm | £300-£350 | £500-£545 | £400-£450 |
| 900mm x 1000mm | £450-£500 | £600-£675 | £500-£600 |
| 1200mm x 1500mm | £475-£525 | £615-£700 | £550-£650 |
| 1500mm x 1500mm | £550-£675 | £630-£750 | £560-£675 |
If you are going to install your uPVC sash windows as a DIY project, then you will only pay the supply costs of the windows.
However, depending on the number and size of the windows that you buy, you will need to factor in how you are going to get them to the site if you will be able to install them without a second pair of hands and what you are going to do with the existing windows once they are removed.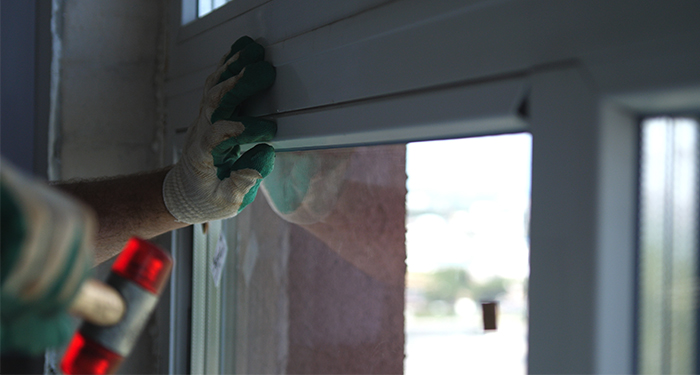 So, while the supply costs will be less than a supply and fit cost from a uPVC window company, there are costs involved in DIY that would not apply if you hired a contractor to do the work for you.
These costs can include delivery charges or van hire, scaffolding or scaffold tower hire and disposal costs.
All of these costs should be factored into your budget when deciding whether to fit the uPVC sash windows yourself or pay a window installation company to do it for you.
What are the Additional Costs of Installing uPVC Sash Windows?
Professional window fitters will leave your home as clean and tidy as when they arrived following your uPVC sash window installation.
Some less professional installers, however, may end up damaging your walls while removing old windows, or indeed you may end up doing this inadvertently yourself if installing your windows DIY.
In these instances, you may need to replaster parts of the walls surrounding the windows. The cost of plastering will vary according to where you live, but the average cost is around £150-£200.
Many people upgrade their windows as part of an overall renovation of a property. With this in mind, there may be additional internal or external works that you choose to do simultaneously as you are replacing your windows.
Hanging a door as part of an internal refurbishment of your home will cost from £70-£140 for internal flush doors up to £2,450-£2,600 for a set of bi-fold doors.
These costs will depend on the material that the doors are made from and the style.
Hardwood internal doors are much more expensive than softwood, and aluminium bifold doors will cost more than uPVC alternatives.
Sliding patio or French doors will cost between £400-£1,500 depending on which you choose and the size of the doors.
Some sliding patio doors also have a tilt and turn feature for additional ventilation without fully opening the doors. These types of doors are typically made from uPVC or aluminium.
Replacing your windows may be part of a larger house renovation which typically will cost around £100-£150 per square meter depending on the type and extent of the renovation work you are carrying out and the materials that you are using.
Cost Affecting Factors
Apart from any additional work that you may have to do as a direct result of your uPVC sash window installation or works that you choose to do at the same time, there are other costs affecting factors that can affect the price.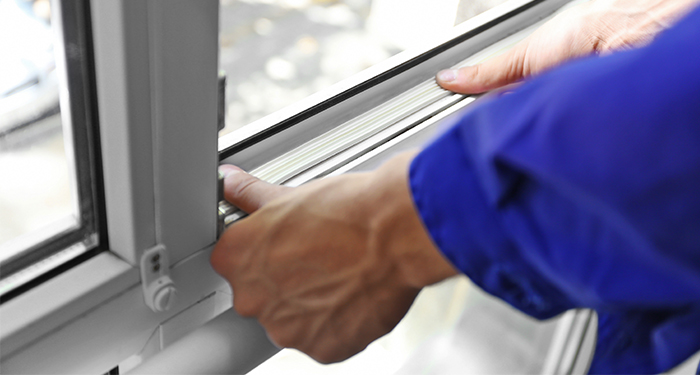 Minimum Fee
Most people will either install or replace all of their windows simultaneously. However, if your budget will not allow for this and you want to do one area of your house at a time, you may need to enquire from uPVC window installation companies if they have a minimum fee.
Typically, the more windows that you have installed, the cheaper the price becomes per window.
Size of Windows
The size of the uPVC sash windows that you wish to install will have a direct impact on how much you will pay.
Larger windows not only require more materials to manufacture but installing them will take longer and require more labour. Bespoke windows such as arched top or unusual sizes will incur additional costs.
Number of Windows
The number of uPVC windows that you have fitted will affect the price. Typically, the more windows that are installed, the lower the cost per window will be.
However, bear in mind that a greater number of windows will take longer to fit and may require additional labour.
Installation Location
There should be no additional costs for windows on the ground floor, ,but for those on the first floor,, it may be necessary for the installation company to hire scaffolding, which will add to the overall cost.
Timeframes
The length of time that the installation of your uPVC windows takes will have an impact on how much you pay in labour and on the hire cost of any scaffolding.
While your installer may have given you a timeframe, sometimes unforeseen issues can cause an installation to run over schedule, and it is wise to budget for contingencies.
Location of Property
Where you live in the UK will have a direct effect on how much you pay for your uPVC sash window installation.
London and the southeast of the UK are the most expensive regions, but some other large cities can also require a higher budget.
Other areas of the UK may be less expensive when it comes to uPVC sash window costs. Typically, the north of England and parts of Wales will have lower priced installation and material costs.
Tradesmen Costs for UPVC Sash Window Installation
To understand how much the cost of installing uPVC sash windows is without the supply and material costs, we need to consider how much a tradesman will charge for installation. This section will explain the labour costs.
The average cost of a uPVC sash window installer is around £150-£200 per day per tradesperson. This cost will depend on where you live in the UK.
For example, in London and the surrounding area, prices for tradespeople are always higher than in other parts of the country. This is due to the high cost of living in London and more expensive business rates, including insurance.
In other parts of the country, labour costs for uPVC sash window installation will vary but will typically average between £125-£150 per day per tradesperson.
Depending on how many people you have on-site, you could pay between £250-£450 per day for labour.
These costs do not include the supply of any materials for the uPVC sash window installation or uPVC sash window prices and purely reflect the cost of labour for fitting.
How Long Does It Take to Install uPVC Sash Windows?
The length of time that a uPVC window installation takes will depend on a number of factors, including how many windows are being fitted, how many tradespeople are on site, ease of access and any potential issues with the fitting.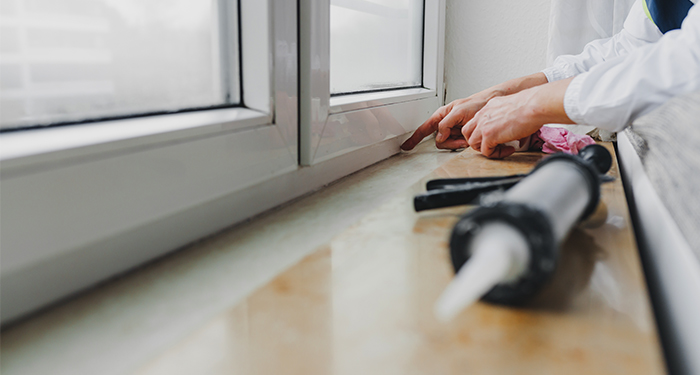 Measuring Up
The first and most important part of a uPVC sash window installation is the measuring of the window apertures. You should always take measurements from outside and inside the window and in two to three separate places on the window opening.
This ensures that the windows will fit at the narrowest point of the aperture.
As sash windows are normally found on older, period properties, the window openings may not always be perfectly square, level, or plumb.
Some apertures may be in bad condition and need to be repaired before the new windows are fitted. These factors can all affect the measurements of the window openings.
How the measurements are taken will depend on how the original windows were installed. This may result in the measurements on the inside being different from the measurements on the outside.
You will either measure from brick to brick where only 20-40mm of the brick is visible or when the full brick is visible. This is called a check reveal.
Your installer will handle this part of the installation prior to fitting in order to determine the correct size of the uPVC sash windows to be fitted. The measurements are usually checked against the windows on installation day before any other work is carried out.
The timeframe for measuring windows is one to two hours depending on the complexity of the project.
Removal of Existing Windows
On the day of installation, the old windows will need to be removed. The time that this takes will depend on the size of the window and how much cleaning up of the aperture is needed.
Typically, an existing sash window can be removed in less than an hour.
If the job is installing like for like uPVC sash windows, then the work should go smoothly and quickly with little downtime. However, if there are alterations to the openings or other issues that need to be dealt with, this can delay the work.
When replacing old or rotting windows, care will need to be taken when removing them in order to avoid damaging the window opening or surrounding areas.
Installation
If the preparation for the window fitting has all been done, then the installation itself should be completed quickly.
The new uPVC sash window is fixed in place and sealed around the edges to ensure it is weathertight and draughtproof.
Depending on the size of the windows, the installation may take an hour or two per window. It will also depend on how many people are working on one window at a time.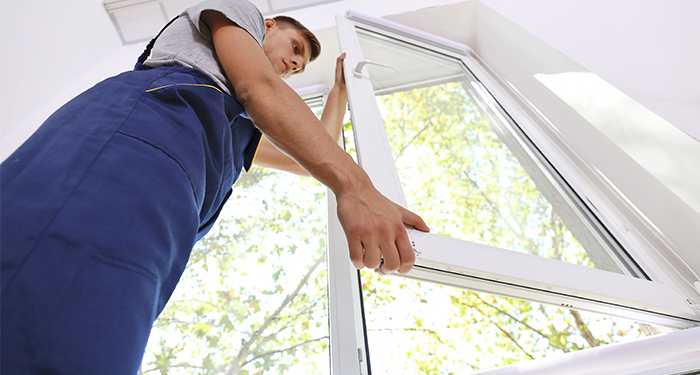 Most installations of up to six windows can be done in a day with the proper planning and a professional team.
If there are windows to be fitted to the first floor of a property, then scaffolding may be required, and the necessary safety precautions are taken. This can mean that the work may last more than a day.
Benefits of uPVC Sash Windows
Installing new uPVC windows benefits your property both internally and externally. Internally you will have a warmer home with uPVC double glazed windows, reducing your heating bills and carbon footprint.
When thinking of replacing or installing new windows, there are many things to consider before you decide. Some of these will depend on your budget, some on aesthetics, and some may be required by local planning guidelines.
However, there are many benefits of uPVC sash windows that should be considered before deciding.
Low Maintenance
One of the most practical benefits of uPVC sash windows is the low maintenance to keep them looking good and functioning properly.
Unlike wooden sash windows, which need painting every few years, uPVC sash windows will only ever need washing down with warm water and mild detergent.
Longevity
uPVC sash windows have an average lifespan of 20 years or more depending on the make and level of maintenance.
Similar windows in timber may last as long if properly cared for, and this will also depend on the quality of the wood used in their manufacture and maintenance levels.
Choice of Finishes
There is a wide choice of colours and finishes available in many makes of uPVC sash windows. Colours vary from plain white to grey, green, black, or wood colours such as teak or oak.
There is also the option to have a smooth finish to the frames or a woodgrain effect to mimic timber sash windows.
Property Style
Externally the look of your property will improve with the addition of uPVC sash windows. This is especially true for period homes or those constructed to mimic Victorian or Georgian houses.
The kerb appeal of your property will increase its saleability if you ever choose to put it on the market.
With a wide range of choice of frame finishes and colours, it is possible to choose uPVC sash windows to suit most property styles. Whether you want to retain a period property's original feel or a more modern look, there are uPVC sash windows to complement most homes.
Increased Thermal Efficiency
Original sash windows will typically have been single glazed with timber frames. These windows were notoriously draughty, so replacing older windows with uPVC sash windows will increase the property's thermal efficiency.
This will, in turn, reduce heating bills and save money in the long term.
Better Security
As well as having a warmer home, an additional benefit of uPVC sash windows is the increased security they provide.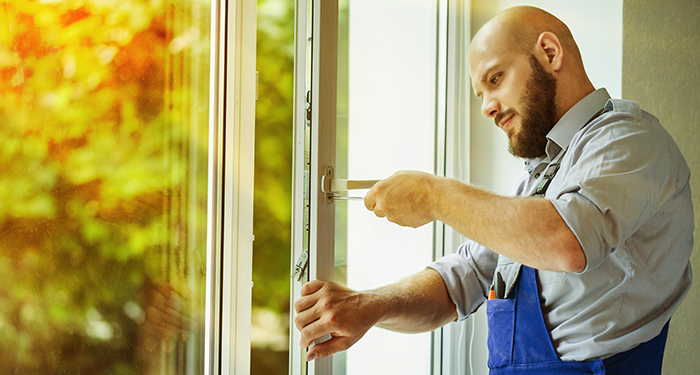 Sash windows did have a reputation for being relatively easy to open from the outside, but modern uPVC sash window locks are much more resilient.
Affordability
uPVC windows are kinder to your budget than timber or aluminium framed windows. Sash windows are normally more expensive than casement windows, but uPVC sash windows are cheaper than their hardwood or aluminium alternatives.
How Much Does It Cost to Remove uPVC Sash Windows?
Although uPVC sash windows last on average between 15-20 years, at some point, it may be necessary for you to replace one or more of them. Not everyone will be confident about doing this themselves and will need to hire someone to do this work.
If a window becomes damaged or the glass is broken, it may not be possible to repair, and it may be necessary to replace the whole unit. The average cost of removing a uPVC sash window will be around £150-£200 per day, depending on where in the UK you live.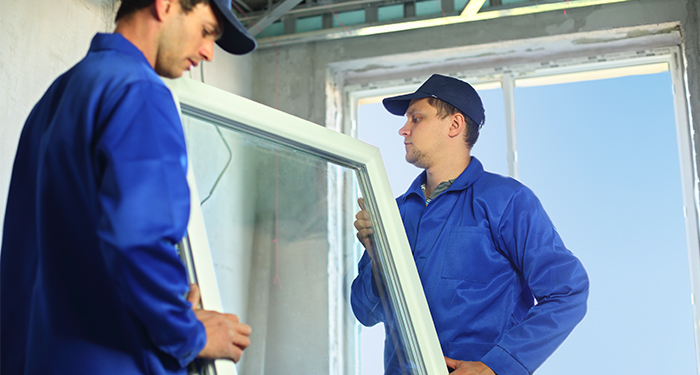 The cost of disposal will depend on whether you take the window out yourself or you pay someone to remove and dispose of it for you. Most recycling centres will not take uPVC windows, so you may have to pay a specialist recycling company to take the old windows away.
There are many such companies, so it is worth getting a quotation from a few to see if they will charge you or take the old windows away for free.
FAQs
Q: How long do uPVC sash windows last?
A: Depending on the make and associated quality, uPVC sash windows can last from 10-25 years. Good maintenance is important to prolong the life of any window, and uPVC windows are no different.
Regular cleaning and checking for any damage to the windows should ensure that your windows last a long time.
Q: Do uPVC sash windows add value to a property?
A: Sash windows give a property an authentic historical feel, and if you have a Victorian or Georgian home, then these windows will enhance the character of the property.
While they may not add huge amounts in value to a property, they will certainly give the house more kerb appeal and increase its potential to sell.
Q: Are uPVC sash windows better than timber or aluminium?
A: While timber sash windows are more authentic and aluminium sash windows may last longer, they are both more expensive in terms of purchase and overall maintenance.
uPVC sash windows require very little maintenance and can be manufactured to mimic a timber effect.
Q: Do uPVC sash windows cost more than uPVC casement windows?
A: Sash windows, in general, cost more than casement windows as their design is more complex.
It is possible to have single-hung, where one sash slides up and down or double-hung, where both sashes can be opened. This increases the windows versatility and therefore can make them more expensive than a casement window.
Q: Are uPVC sash windows constructed differently than timber sash windows?
A: While both uPVC and timber sash windows use counterbalance principles, a uPVC sash window will have a torsion spring inside the unit, and a timber sash window will have a weight and pulley system.
Both systems are concealed so as not to interfere with the aesthetics of the window.
Sources