How Much to Build a Garage?
What will the prices of building a new garage depend on?
The average cost to build a new garage will mostly depend on the type of garage you need.
For instance, an 18 square metre single attached garage normally ranges from £3600 to £7400, while the same size for a detached garage is approximately £3400 to £6800.
If you have more than one car, you may prefer a double garage, which costs around £6000 to £12,800 for a 36 square metre attached garage build. For a detached version, you should expect to pay anywhere from £6300 to £13,600.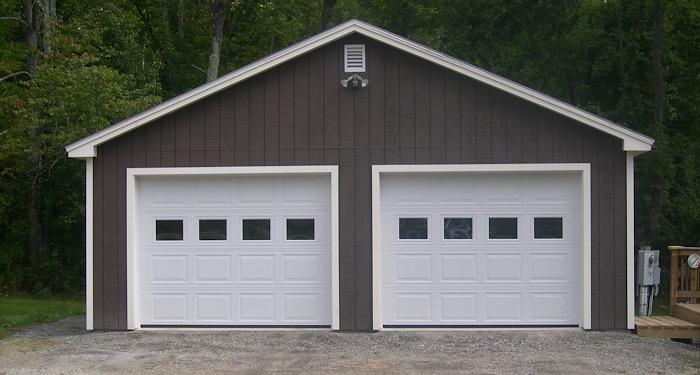 Another option is a 54 square metre triple garage which starts from £8700 to £19,000 for an attached build, while a detached garage with the same dimensions normally ranges from £14,100 to £20,200.
What else can affect the costs of your garage?
Various other cost factors affect the overall price, such as the materials used, the type of roof you want, how long it takes to build, the number of tradespeople required, and ease of access.
Where you live is also an important factor, as contractor rates vary across the UK.
Garage Prices
For a better understanding of garage build prices, take a look at the below table:
| Type of Garage | Single | Double | Triple |
| --- | --- | --- | --- |
| Brick detached | £5400 - £7400 | £9600 - £13,600 | £14,300 - £20,200 |
| Brick attached | £4600 - £5400 | £8500 - £12,400 | £12,500 - £18,500 |
| Concrete detached | £4600 - £7000 | £8500 - £13,200 | £12,500 - £19,500 |
| Concrete attached | £4500 - £6800 | £8100 - £12,800 | £12,000 - £19,000 |
| Wood detached | £3600 - £5200 | £6300 - £9600 | £9300 - £14,100 |
| Wood attached | £3400 - £5000 | £6000 - £9200 | £8700 - £13,600 |
| Prefab garage | £1000 - £3200 | £3500 - £5800 | £6300 - £8400 |
What are the Supply Costs of a New Garage Build?
If you plan to build the garage yourself, you can save a significant amount on tradesmen costs. However, you will still need to consider the supply cost of a new garage build.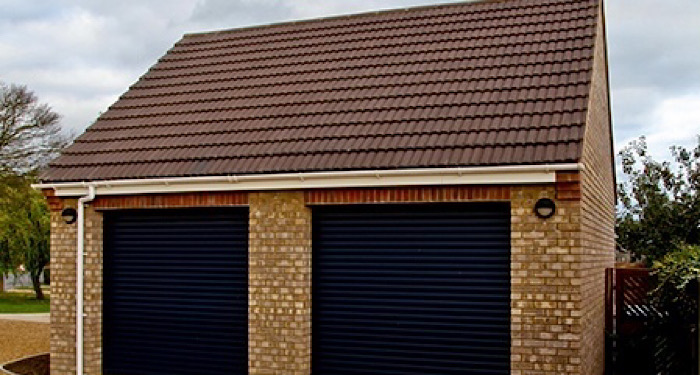 Garage Type
| Type of Garage | Cost Per m2 |
| --- | --- |
| Detached | £80 - £100 |
| Attached | £70 - £90 |
| Brick | £80 - £130 |
| Concrete | £70 - £140 |
| Wood | £10 - £40 |
Garage Roof Type
| Type of Garage Roof | Cost Per m2 |
| --- | --- |
| Flat roof | £30 - £50 |
| Pitched roof | £50 - £70 |
Garage Door Type
| Type of Garage Door | Average Cost |
| --- | --- |
| Roller garage door | £400 - £1450 |
| Up and over garage door | £360 - £680 |
| Retractable garage door | £390 - £920 |
| Canopy garage door | £360 - £890 |
What are the Additional Costs of a New Garage Build?
There are several other tasks you may want to complete at the same time as the garage build, such as:
New Boiler
If you are using your garage as a functional space, then it is important that you have adequate heating and hot water access.
With an attached garage, it may be possible to connect your existing boiler; however, a detached garage will require an entirely separate boiler system.
The cost of a typical garage boiler installation is typically around £2000 for a conventional boiler, £2400 for a combi boiler and up to £6000 for a biomass boiler.
Radiator Installation
Along with your new boiler, you may also want to improve your garage's heating by installing radiators. The average price of installing radiators is about £260 to £440 for a professional fitting.
Painting and Decorating
Even if you just want to use your garage to park your car or store items, you should still make your garage look aesthetically pleasing.
Therefore, you should consider painting which will cost anywhere from £17 to £30 per hour to hire a professional painter and decorator.
It is also important to consider the various cost factors that will affect the overall price, including:
Type and Size of Garage
The garage type is one of the main elements to consider when calculating the cost of building a new garage. If you only have one car, then a single garage may be the best option, and of course, will be much cheaper than a triple garage.
You also need to decide if you want an attached or detached garage. While the latter is more expensive, it will give you more freedom regarding space and planning permission as outbuildings are usually classed as permitted developments.
However, an attached garage typically requires significant changes to the existing property, which may require building regulations approval or planning permission.
Materials Used
When building a garage, you need to consider the materials you are going to use. For instance, if you plan to create space for a home gym, then the best materials to use are brick and concrete, as these will provide better insulation.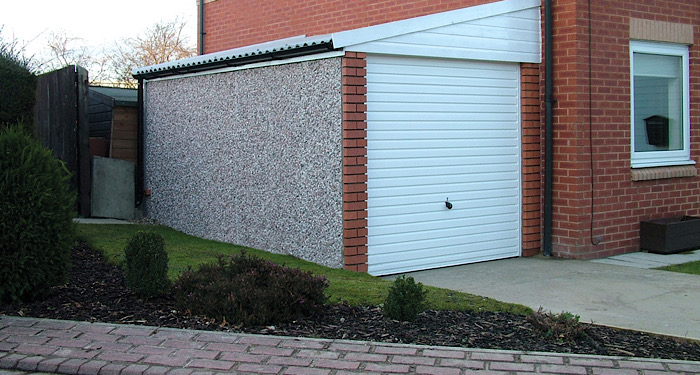 They are more expensive than wood, so if you have a low budget, this may be the better option.
Garage Roof Type
Another important element is the type of garage your roof you want. The most common option is a flat roof, which is both practical and cheap.
However, for a long-lasting garage, building a pitched roof may be the better choice, despite being more expensive.
Type of Garage Doors
Garage doors are also a huge cost factor, as there are a wide range of garage door options with varying prices.
On the cheaper end, you will find up and over garage doors, which are very affordable compared to roller garage doors.
Contractor Fees
The cost of hiring a professional to build your garage will vary depending on the individual or company's fees. For instance, some may charge a minimum fee or add on mileage costs if you live in a remote area.
Builder's rates will also vary depending on where you are in the UK, as residents in London could expect fees up to £230 per day, while tradespeople in the North West only charge around £190 for a full day's work.
Tradesmen Costs for Building a Garage
As mentioned above, tradesmen costs can vary depending on your locations, with hourly rates ranging from £25 in Bradford to £45 in London.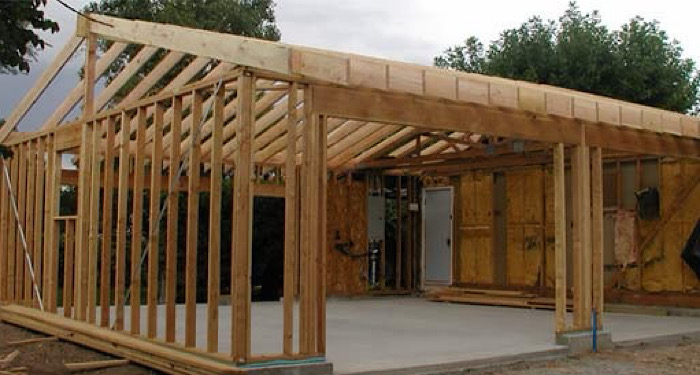 The labour costs will also vary depending on the size and type of garage, as this will determine the number of builders needed for the job.
For a job such as this, each builder will expect to be paid around £100 to £200 per day, which will increase the overall garage build cost if multiple people are working.
How Long Does It Take to Build a Garage?
The size will mostly determine the time spent building a garage. For instance, a single detached garage will typically take around one week to finish, while a double garage could take two weeks. If you opt for a triple garage, this could take up to 20 days to complete.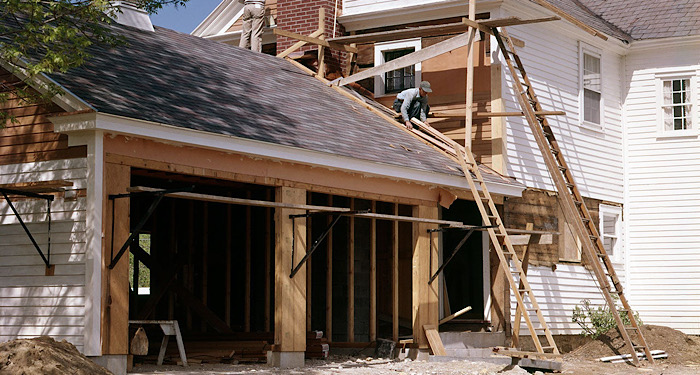 The materials used will also impact the timeframe of the job, as a single wood or concrete garage should only take around a week compared to a brick garage that generally takes up to ten days to finish.
If you are having a flat roof fitted this should shorten the time span, as it normally only takes two to three days to erect a roof. In contrast, a pitched roof could take a week or more to install.
Types of Garage
As discussed, there are a wide range of garages to choose from. To help you choose which option is right for you, take a look at the following types which will lay out the costs and pros and cons of each garage option.
Attached Garage Cost
An attached model is a type of garage which is joined to the main property and shares at least one wall. This is normally used to protect cars and store items such as gym equipment, tools and toys.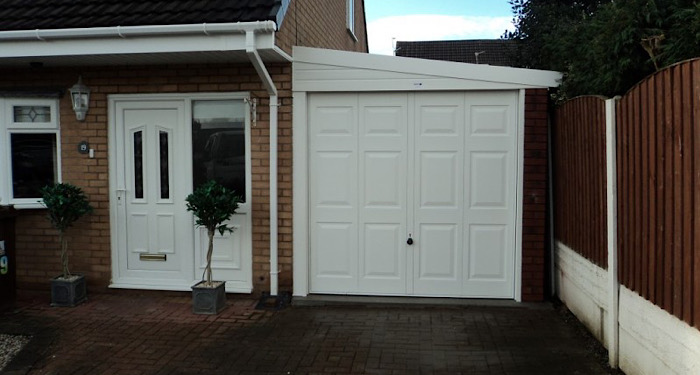 The average supply cost of an attached garage is around £70 to £90 per square metre.
Pros:
Cheaper than a detached garage
Convenient access
Cons:
Increased safety risk
Mismatched design compared to your main property
Detached Garage Cost
A detached garage is a completely separate building from the main home. As a freestanding building, it can house anything you wish, including cars, a home gym, an office and more.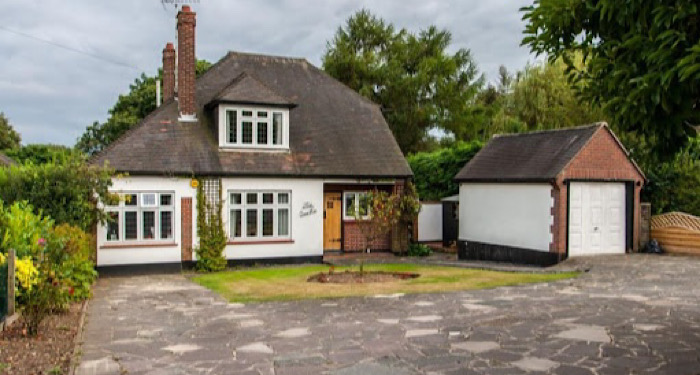 You can expect to pay around £80 to £100 per square metre.
Pros:
Provides more space
Safer option as there is no access to the main property
Cons:
Access is less convenient
Takes up exterior space
Single Garage Cost
Single garages are great if you haven't got a lot of room on your property to build, and you can make them as large or small as you need.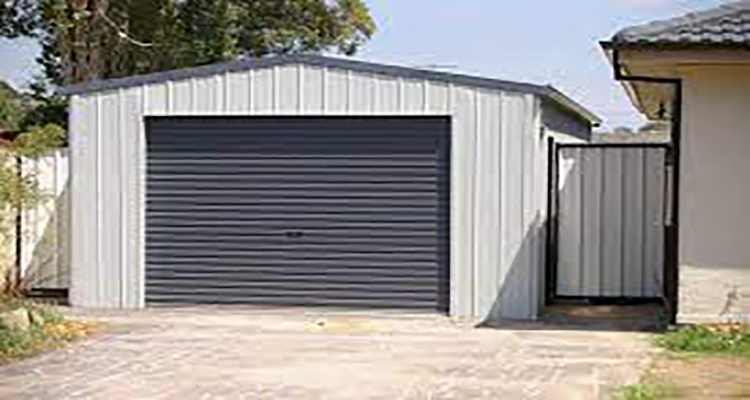 They come in a variety of options and are cheaper to build than a double garage. You can expect to pay around £10,000-£15,000 on average.
Pros:
Needs less space to build than a double garage
Less expensive than a double garage
Cons:
Not as much room as a double garage
Double Garage Cost
If you have enough room on your property and you have multiple vehicles you'd like to store, a double garage may be a better option for you.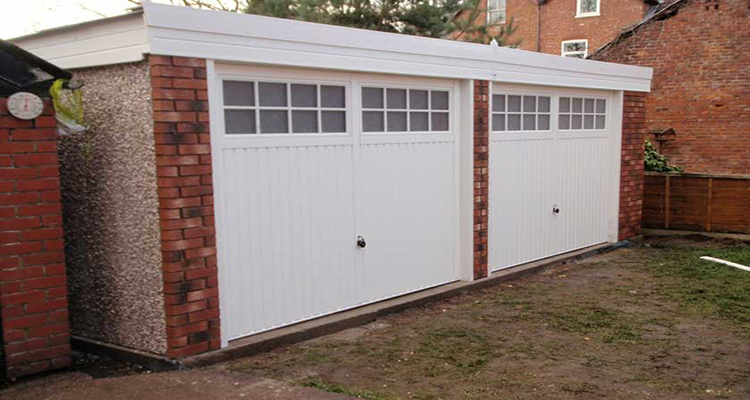 They are most expensive than a single garage, and can cot between £20,000-£25,000.
Pros:
Provides a lot of space and storage
Can be used for multiple cars
Cons:
Takes up a lot of area space on the property
More expensive
Garage Materials
It is also important to consider the different garage materials you can use, such as:
Brick Garage Cost
Brick is a common material used in garage construction, and the building process is very similar to that of a house.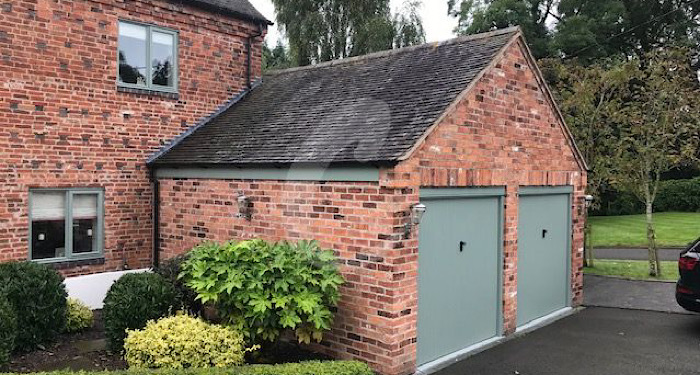 The typical cost of a brick garage is £80 to £130 per square metre.
Pros:
Simple construction
Strong and well-insulated
Cons:
Harder to repair or replace
Difficult to modify
Concrete Garage Cost
Concrete garages are made up of cement, aggregate and water, which creates a robust outbuilding structure.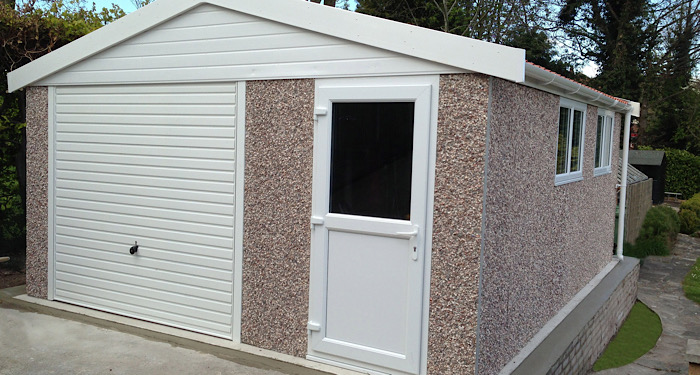 You should expect to pay around £70 to £140 per square metre for a new concrete garage.
Pros:
Maintains consistent temperatures
Extremely energy-efficient
Cons:
High maintenance
Susceptible to cracking
Wood Garage Cost
Wood is one of the most affordable garage materials. Wooden garages are made entirely out of timber which provides a durable and weather-resistant solution.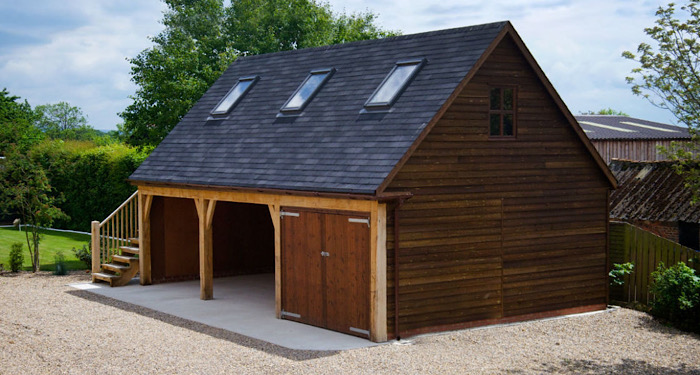 The average cost of a wood garages ranges from £10 to £40 per square metre.
Pros:
Treated timber provides a robust structure
Highly weather-resistant
Cons:
Requires regular maintenance
Prone to damp and rot
How Much Does It Cost to Demolish a Garage?
If you wish to get rid of your garage to make more space outside in your garden or driveway, you will need to consider the demolition cost. You could opt to knock down your garage yourself; however, you should only do this if you're an experienced DIY enthusiast.
This is especially important with attached garages, as you could cause damage to your home in the process.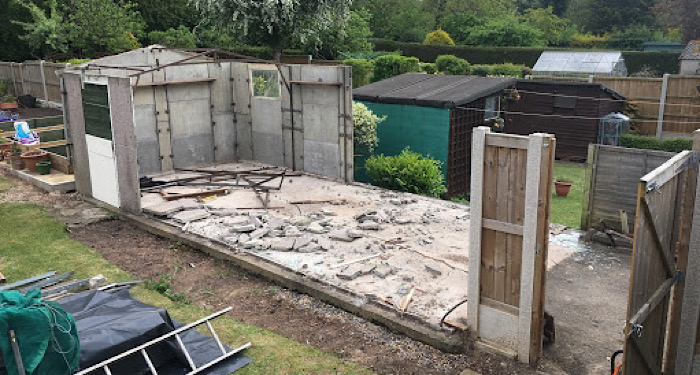 Your best bet is to hire builders who will charge around £25 to £45 per hour to remove your garage.
You can then hire a skip to get rid of the garage waste, which will cost anywhere from £60 for 2 to 3-yard skip up to £800 for a 40-yard roll-on roll-off skip.
FAQs
Q: How do you insulate a garage?
A: One of the most important things you need to consider is insulation when building a garage, especially with an attached garage as this adjoins your property.
There are various ways to insulate a garage, the first being cavity wall insulation which can be installed as a double skin brick wall during the construction process. You can also add this later on through the blown-in insulation procedure.
Another option is breeze block garage insulation which involves fitting a timber frame inside the garage walls and filling the space with insulation slabs.
You may want to opt for external garage insulation for a detached garage, which is typically fitted to the outside breeze blocks and simply needs to be rendered with a waterproof finish.
Q: How much does it cost to convert a garage?
A: The average cost of a garage conversion is around £13,500 for a single attached garage a while a single detached garage conversion could cost up to £28,800.
Double garage conversions can range from £27,000 for an attached garage up to £57,600 for a detached garage.
Q: Which paint is best for a garage door?
A: The type of paint you choose for your garage door will vary depending on what the door is made of.
For instance, you should use solvent-based paints for a uPVC and aluminium garage doors. While timber garage doors are better off with wood paint, varnish or stain.
Q: What is the best way to secure a garage door?
A: There are various ways to secure a garage door, such as installing a garage door timer which can be set to automatically close after the door is open for a certain time.
You can also fit a lock to keep the contents of your garage secure.
Q: Which garage roof is the best?
A: Both flat and pitched roofs are ideal for garages. However, the material is also something you need to consider.
The most common roof material is corrugated sheets available in metal, plastic, bitumen and more, with metal being the most durable option.
Sources
https://www.insulationsuperstore.co.uk/help-and-advice/project-guides/insulation/insulating-a-garage/