Introduction to Bifold Doors
If you are considering installing a bifold door in your home, this article offers all you need to know about bifold doors, including what they are, how they work, the types of bifold doors, the best bifold doors on the market, the cost to install a bifold door, and what to consider when purchasing one.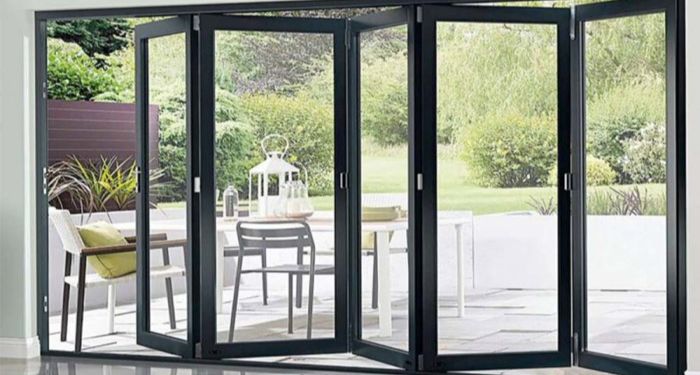 What is a Bifold Door?
Bifold doors, unlike regular doors, slide open with panels that fold up against the wall.
Additionally, they are quite popular as they are known not only to look beautiful but are also a great way to make smart use of your home space.
Additionally, since many bifold doors feature glass panels that let in light, they are a clever way to improve the lighting of your home.
In fact, these aesthetic doors have a fascinating history as excavations have shown that they were quite popular in Pompeii, where famed historian Peter Connelly claimed they were used extensively.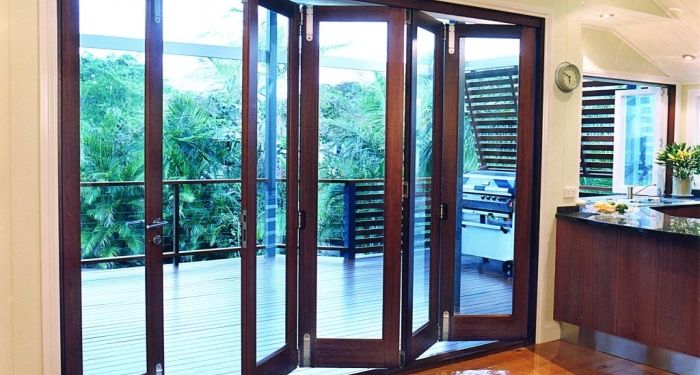 According to him, ancient Romans didn't like single leaf doors and, therefore, opted for those with more elegance, which is where the bifold door came into play.
No doubt, it is easy to see the Romans using such a system as they are a civilization well known for their stunning architecture and love for extravagance.
That said, in more modern times, Bifold doors have become popular with those who want to increase the aesthetic appeal of their homes, and their smooth operation makes them a very reliable system to have in the house.
In fact, bifold doors are quite versatile and can be used both within and outside the house and commonly be seen in homes with garages, summer houses, and other such spots.
What's more, when indoors, Bifold doors are used in a variety of ways, including entrances to laundry rooms, closets, and so on.
How Does a Bifold Door Work?
Bifold doors rely on a tracking system that runs smoothly and connects the panels. The door folds up against itself and opens easily to reveal the space behind it.
Also, the doors tend to come with wheels that aid the smooth transition from closed to open. As for the components that the doors rely on, they generally come together in a set and are installed in one go.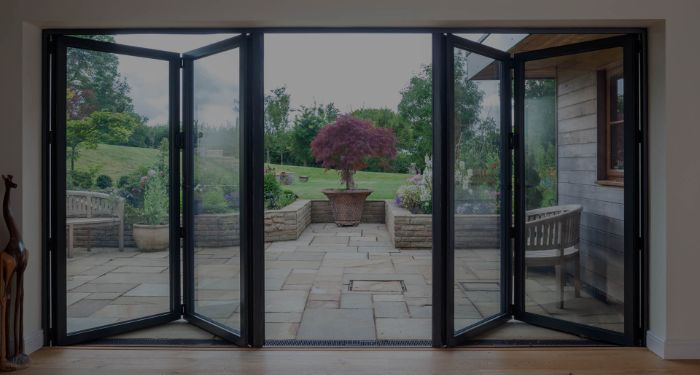 Furthermore, even though the doors are called bifold (meaning two-fold), they can have anything from two to seven panels, all of which are stitched together with hinges and connected to a roller track at the top or bottom, or even in some cases, both.
On top of this, the doors can come in two sets with two panels each that fold up against each other on either side. This is typical for a small bifold door that's located inside a house.
However, for the outdoors, you are more likely to find one single door with several panels that slide to one side. So, they are quite easy to operate and durable.
However, it should be noted that bifold doors located outside need to be well fortified to stand up against the elements.
Types of Bifold Door
If there's one thing bifold doors are not, it's one-dimensional. Therefore, they come in different shapes and sizes and are made with different materials, each with its advantages and drawbacks.
We'll look at the various types to provide further context and shine a light on them.
Aluminium Bifold Doors
Aluminium bifold doors have grown in popularity in recent times, with many people touting it as the best type of bifold door on the market. Are these claims true? That depends on your preference; what is factual, though, is that they have a lot of advantages.
For instance, the material they are made from aluminium is very durable and doesn't corrode or rust easily. Also, since aluminium is a low-density metal, it tends to be light, which means you'll have no problem operating the doors.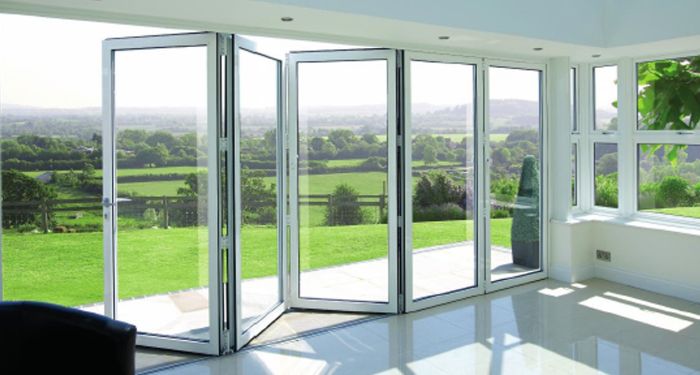 On top of that, they come in a variety of sizes, which means they can be used in any type of home.
Pros:
Lightweight yet strong and durable.
Easy to operate.
Aesthetically pleasing and available in various colours.
Cons:
They don't do too well in wet areas since they can't stop the constant flow of water.
They could be quite costly to install.
Timber Bifold Doors
This is a bifold door that makes use of timber as the prevailing material in its construction.
It is cheaper than aluminium and isn't as prone to water leakage. Also, of note is how aesthetically pleasing it is. This is due to the natural colour of wood, which pairs pretty well with glass and is a beauty to behold.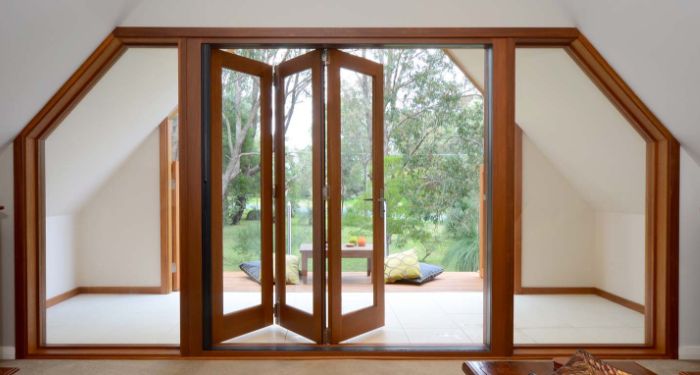 That said, it has all the normal advantages that bifold doors come with, including ease of use and lighting advantages. However, on the flip side, while it isn't as prone to leakage, it absorbs water a lot, which could cause the wood to rot.
Pros:
Aesthetically pleasing and lovely to have around the house.
Isn't prone to water leakage
More affordable than most
Cons:
It absorbs water, so the wood could rot.
It requires a lot more maintenance than the other types.
uPVC Bifold Doors
uPVC bifold doors are the most commonly used for outside doors. uPVC, or unplasticised polyvinyl chloride, is a hard plastic that isn't particularly flexible, but it is also really cheap and easy to work with.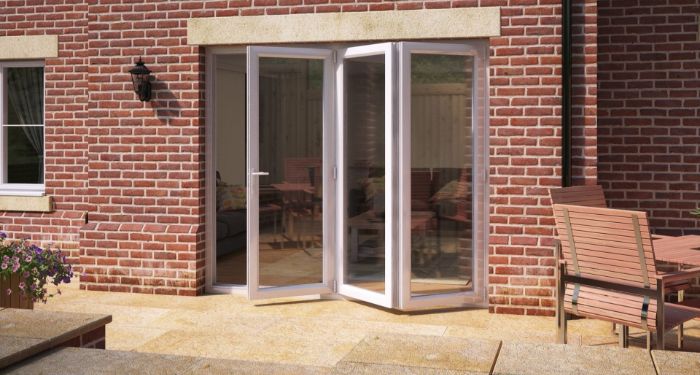 Therefore, they have become quite popular with bifold doors as they are sturdier than timber and more affordable.
In addition, these doors deal with sound well and don't require much maintenance, which is one of the reasons they are so trendy with many homeowners.
Furthermore, their neutral colours help them blend with most environments.
Unfortunately, there's not much you can do with them aesthetically as they don't absorb liquid well, which means you probably shouldn't try to paint on them.
Pros:
Affordable and easy to work with.
Blends in with most environments.
Sturdy and lightweight.
Cons:
It can't be painted over.
uPVC gets bent out shape in a fire and can burn easily.
Best Bifold Doors
So, you are convinced that you would like some cool bifold doors in your home? The next step is to figure out what kind of door you'd like to get.
To help with the process, we have a list of the best bifold doors on the market.
We'll take a look at the biggest brands and some of the doors they offer to make an informed decision when buying a new door.
Wickes Bifold Door Review
Wickes is a bifold door company that has garnered a lot of respect over the years thanks to the quality products that they provide for users. They offer different types of doors, including timber, aluminium, and uPVC.
The Wickes Isaac Oak Veneer Bifold Door Set is particularly notable as it features quality timber, which looks absolutely stunning.
Furthermore, the door is constructed using FSC-certified slow-grown hardwood, which is known for its stability and durability. Also, the door can be opened from the right or left and sports a single daily access door.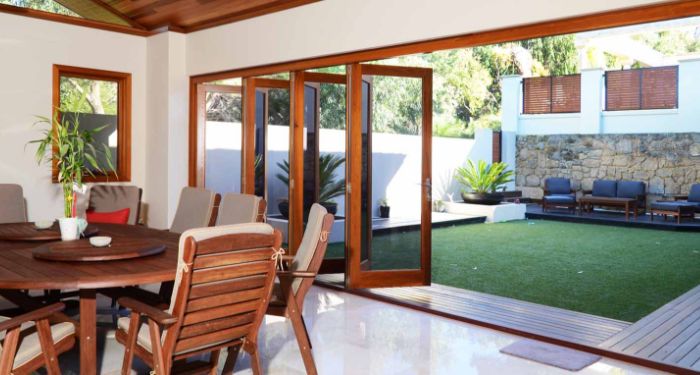 Wickes bifold doors are pretty impressive and are all backed by a 10-year warranty, which means you are confident in your purchase.
In addition, they also produce excellent aluminium and uPVC doors, all of which might cost a pretty penny, but is totally worth it due to the high-quality construction.
That said, most Wickes bifold doors should cost about £2000 and represent excellent value for money.
Pros:
Made with high-quality materials.
Excellent 10-year warranty.
They make great aluminium, timber and uPVC doors.
Cons:
It can be a bit pricey.
The aluminium could be susceptible to water damage.
Origin Bifold Door Review
Origin Bifold Doors are also worth a look as they are well made and offer the user an excellent view of the world around them. Established in 2002, the company specializes in crafting some of the best aluminium bifold doors.
Their manufacturing process is rigorous and employs the highest quality checks to ensure that every door that leaves the factory is impeccable and ready to be used.
Besides, Origin doors are made for security, so you have peace of mind while relaxing.
To achieve this, each Origin door is equipped with heavy zinc hinges, which are strong enough to withstand even the most determined burglars.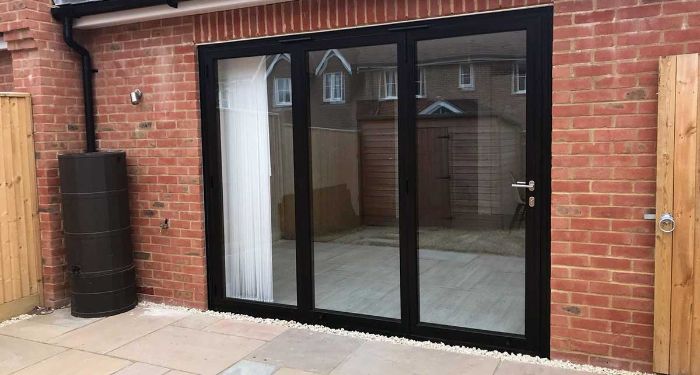 It doesn't end there as the doors come with a cylinder lock that can withstand some of the more common burgling techniques, including picking, drilling, and bumping.
Also, the doors help to insulate your home against harsh weather conditions and being an English company; they are cognizant of the challenge the weather in the UK can present.
Even more impressive is the warranty on all their doors, which is a whopping 20 years, which just goes to show the absolute faith and confidence they have in their creations.
Pros:
20 years warranty.
Strong and durable doors.
Various colours and strong insulation.
Cons:
It might suffer some water damage.
The doors can be pretty pricey (some of their doors are almost as high as £3000)
Express Bifold Door Review
Just like the Origin Bifold doors, Express Bifold Doors also specializes in aluminium doors, which they craft with the highest quality materials available.
In particular, the Express XP VISION bifold door is a delight thanks to its impeccable design and durable construction.
The door is made with robust aluminium, and the company takes pride in its precise construction.
For instance, the XP VISION door saves a significant amount of energy as it features incredible thermal insulation and U-values as low as 1.0 W/m2K.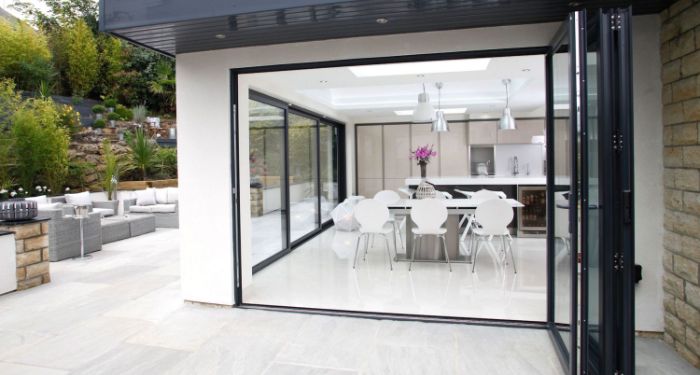 That's not all, as the door also does more on the insulation front with the help of PE insulation foam, which is placed in the profiles; therefore, even in the coldest conditions, your home stays warm.
Furthermore, your security is guaranteed with the addition of quadruple locking catches, which include steel shoot-bolt locking rods in intermediate panels.
Finally, the door is also backed by a 10-year warranty that is supposed to provide you with peace of mind and confidence.
Pros:
Multiple security features.
Excellent design and structure.
Impressive energy-saving features.
Cons:
It costs a lot.
It could suffer some water damage.
Schuco Bifolding Door Review
Schuco is a German company that crafts some of the most impressive bifolding systems, and their influence spreads all over Europe.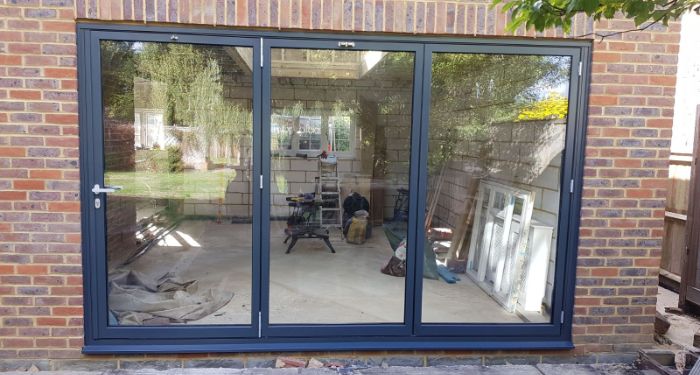 They have built a solid brand name on the back of some impeccable work, and if you are interested in trying out one of their products, then you should definitely give the Schuco ASS 70 FD.HI a try.
This folding system grants the user power to almost completely open up whole glass walls. Furthermore, the door slides easily and can be opened inward or outward.
On top of that, the aluminium profiles are well insulated, which helps to keep the cold away during the long winter nights. It works quietly and conveniently with a surface finishing that prevents corrosion and rust.
Even more importantly, you can control the amount of noise it makes, and its compact nature makes it one of the most sought after products on the market.
Being one of the biggest names in the bifold door space, Schuco doesn't come cheap with each pane/panel costing as much as £1300, which means that a six-panel bifold door could set you back around £7800.
Pros:
Excellent insulating properties.
Amazing security features.
Easy and convenient to use.
Cons:
The price is prohibitive for some.
Installation isn't as easy as some other products.
Alumina Bifolding Door Review
The company claims to be the first to produce a bespoke uPVC bifold in the UK, and they have continued to produce innovative doors to their numerous customers.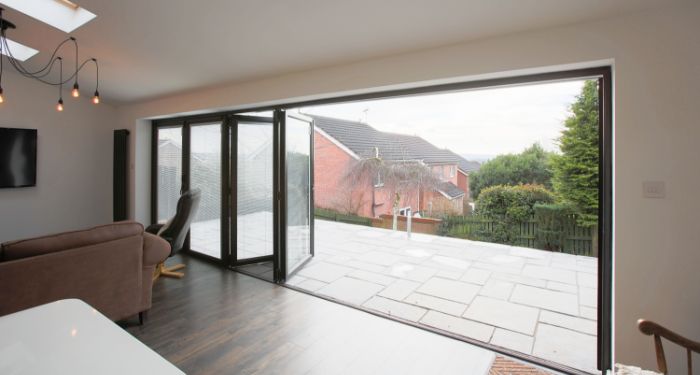 However, it is in the production of quality aluminium doors in which they truly excel with several features that make them such a great brand.
For instance, in 2014, the company launched its Modlok bifold system, which wasn't only incredibly energy efficient (about 1.0 W/m²K), but which contained some impressive security features with the manufacturer stating that the door exceeded the British security standard by about 12 times.
Even more impressive is the aluminium door's 'warm touch' exterior, which radiates heat and makes for a really comfortable experience.
Also, unlike a lot of bifold doors, the Alumina door is available in several powder-coated colours, which means you can design your aluminium door in just about any way you want.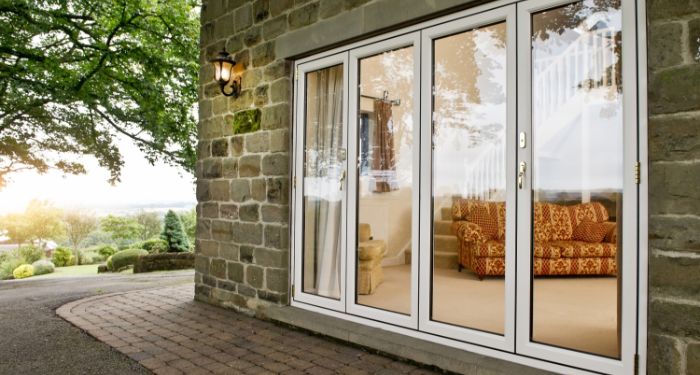 This ensures that your home can stay secure with an awesome product without losing points on aesthetics.
Pros:
Available in several powder-coated colours.
Impressive warranty.
More affordable than most brands.
Cons:
It could suffer some water damage.
It isn't the lightest material you can find.
Sunflex Bifold Door Review
Sunflex has a great reputation due to its uncanny ability to create impressive hybrid bifold doors.
Take the Sunflex SF 75c folding door, for example. This aluminium and timber door combine the best of both worlds to craft an incredible door that most users are in awe of.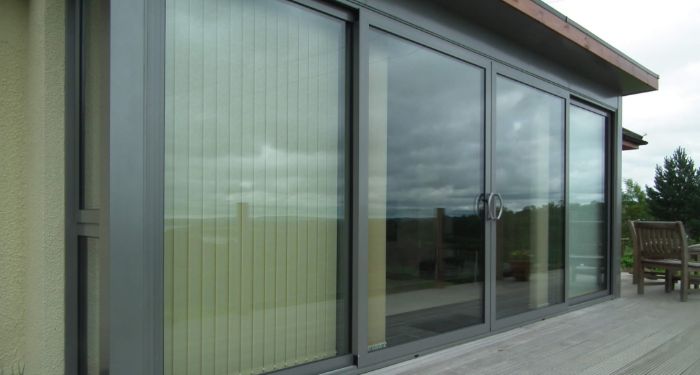 For instance, the timber qualities give it a tremendous aesthetic, while the aluminium properties add a level of durability that might not be found with other products.
The door is bottom-loaded, and it is easy to open without making an undue amount of noise.
In addition, there are various door opening configurations, and it can easily be opened inward and outward.
Not only that, but the rollers are pretty quiet and cold-resistant, which means you have easy access to any room beyond the door without bothering anyone with noise.
Pros:
Hybrid construction.
More affordable than most other brands.
Low noise and cold resistant.
Cons:
It is not as robust as some of the other brands.
The insulation system might be unimpressive for some.
Cost to Install a Bifold Door
Now that you've decided on the door you'd like to buy; the next worry is how you'll go about the installation process and how much it will cost.
Installing a bifold door is a very specialized process and will most likely require a professional.
It isn't impossible to go down the DIY route, but it isn't advisable as if something goes wrong, fixing it would set you back even more money.
That said, while getting the door is pretty expensive, you can get your hands on the average tradesman for between £150- £200 a day. Apart from that, you might need to consider whether your specialist will need to subcontract parts of the job.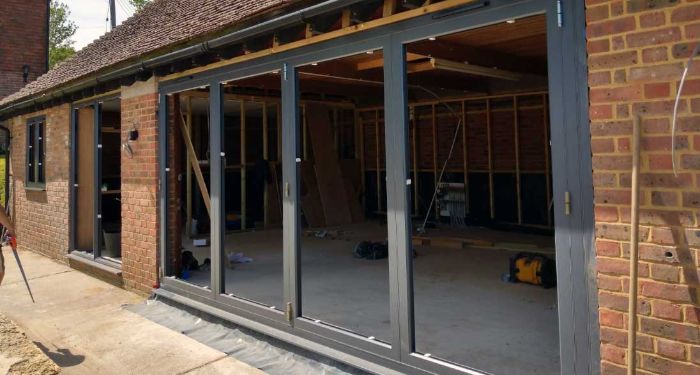 Also, the tradesman might need some help with the heavy lifting, and they usually work in pairs.
Additionally, some situations might require a structural engineer's services, which could set you back a further £100.
What to Consider When Purchasing a Bifold Door?
Buying a bifold door isn't so difficult, however, to get a good product that you are happy and content with there are a few factors to consider.
We will examine a few of them below to aid you when making a choice.
Material
There are different types of bifold doors made with different materials, with the most common ones being aluminium, timber, and uPVC. Each of these materials is great to use and has its advantages and drawbacks.
For instance, aluminium is light and strong, meaning it can last for decades. However, it is also susceptible to water damage.
Meanwhile, timber is beautiful to look at and makes the aesthetically pleasing doors, but it also absorbs water a lot, which could lead to rot.
uPVC, for its part, is pretty affordable, which makes it one of the most common bifold doors bought, yet, it doesn't possess the durability or stability of a material like aluminium.
So, while your uPVC might last for aReview couple of years, it might not go the distance.
Security
The importance of security for your home cannot be overstated, and if you don't feel safe, it can lead to anxiety and a poorer quality of life.
Therefore, before purchasing a bifold door, it is necessary to ensure that it has excellent security features.
The measuring tool for door security is the PAS 24 rating system, which informs you of the level of security you can expect from your door.
Protective of Health
Also, of note is the cylinder system and the hinges, the best bifold doors have robust hinges that aren't easily displaced.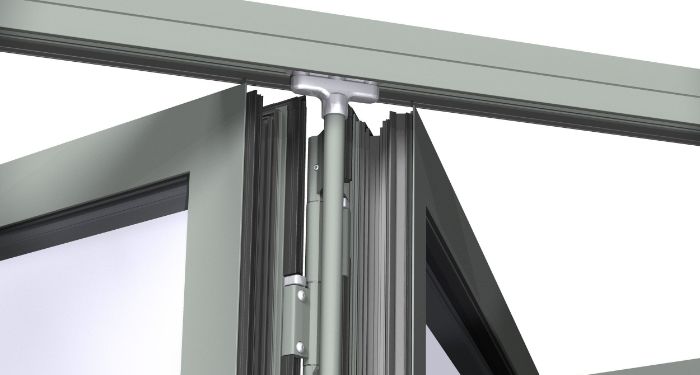 Also, if you get a new door, ensure that the cylinder is durable enough to withstand some of the more common burglary techniques, including bumping, drilling, and so on.
Thermal efficiency
Of what use is a beautiful door that lets in vast amounts of light and beauty but can't protect you from the harshest weather conditions.
For this reason, the thermal efficiency of any door you seek to buy is of utmost importance.
For instance, aluminium bifold doors are well known for their thermal inefficiency. This is because aluminium is a good conductor, but with modern technology, aluminium isn't the liability it once was.
Nowadays, you can purchase an excellent bifold door with proper insulation and warmth. The U-value is the measure by which energy efficiency is judged, and ideally, any door your purchase should have a U-value of 1.8W/m2K or less.
Price
The price of a bifold door is of great importance as it informs just what type of door you can get.
Generally speaking, bifold doors aren't the cheapest things to buy, with the most affordable one's going for well over £1000.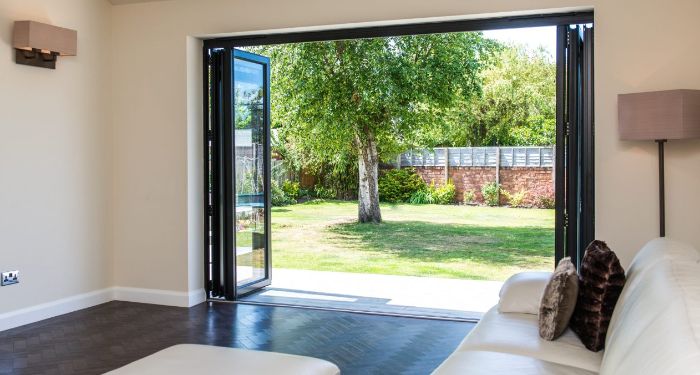 In fact, some of the high-end brands could go for as much as £6000 or even beyond.
It all depends on your budget, and uPVC bifold doors are the easiest to lay your hands on.
Unfortunately, uPVC doesn't last as long as some other materials like aluminium, which could easily serve you for decades.
That said, carefully review your budget to ensure you can afford the door on your mind and also take into consideration the cost of installation.
Guarantee
While bifold doors are sometimes considered expensive, they also last so long that they are worth it.
However, to ensure that your purchase is risk-free, it is crucial to check what sort of warranty the product comes with.
Origin, one of the most respected bifold door companies in the UK, backs their products with a 20-year warranty, which is very attractive.
In addition, ensure you confirm what the warranty covers so that you aren't left slack-jawed when you discover that your warranty doesn't cover the damage incurred.
Flexible configurations
One of the most important things to pay attention to when getting a new bifold door is how flexible it is.
For instance, if your home has an opening size of 1.4 meters, you should be fine with a two-door configuration.
On the bright side, bifold doors are quite versatile, and while no two homes use the same configuration, you can at least be confident that you'll find something that works.
Benefits of Installing a Bifold Door
If you are wondering if bifold doors are the best option for you, we can offer some added conviction with a few benefits you get from using these doors
Bifold doors are easy to install
As long as you have some DIY experience, you can, therefore, forgo the price of a professional and save yourself some money.
Even when you opt for a professional, you can rest assured that the job won't take too long, meaning you can enjoy your newly installed doors in no time.
They are versatile
Bifold doors are a great product to invest in, and with a myriad of types and designs, you are offered a wide range of styles that suit you. From timber to uPVC, there is so much you can do with your doors that make purchasing them such an enticing prospect.
They are secure
Bifold doors are incredibly secure as they contain several locking mechanisms that reduce the chances of a break-in.
Some of the more powerful doors feature robust hinges that aren't easily taken out and cylinders that are impervious to burglary techniques like bumping, drilling, and so on.
They take up little space
Bifold doors are becoming increasingly popular due to their space management capabilities.
Because the doors fold up against themselves, they are ideal for small interior spaces like kitchens and pantries.
They are aesthetically pleasing
One of the most appealing things about bifold doors is how beautiful they look. Due to their use of glass panes, these doors typically let more light in and improve the beauty of any room they are located in.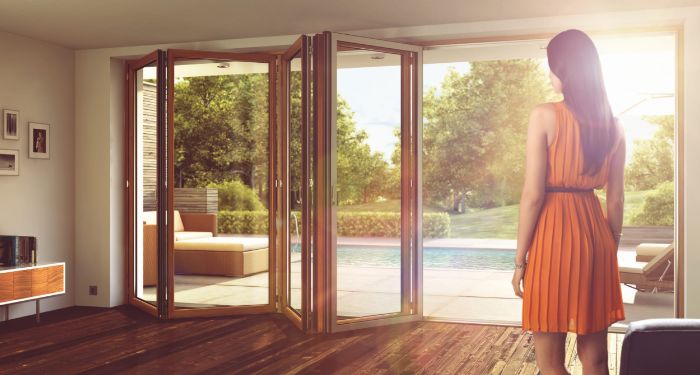 FAQs
Q: What is a good u value for bifold doors?
A: U-values are the rating system by which the thermal efficiency of doors is judged. Typically, a U-value of 1.8W/m2K or less is recommended.
Q: How are bifold doors supported?
A: As mentioned before, bifold doors rely on a system of several hinges connecting each pane/panel. This is built on a roller system that functions to improve mobility for the door.
The roller system can be found at the top or bottom of the door and, in some cases, in both areas.
Q: What is the best bifold door size?
A: This depends on where the door is to be located. Bifold door sizes vary wildly, with 2-7 panels being the most common to go for.
For most indoor bifold units, four panels are usually the highest amount. With outdoor units, the size is only limited by how much the user can afford.
Q: How secure are bifold doors?
A: Bifold doors are pretty secure as they usually feature multiple locking mechanisms that make them very difficult to break into.
For instance, several high-end bifold doors feature strong hinges that can't easily be taken off.
Q: What type of Bifold door is the best?
A: There are different types of bifold doors, including aluminium, timber, and uPVC.
There are some who argue that aluminium doors are the best since they last a lot longer than the other options available.
However, they are not without their drawbacks as they tend to be pretty expensive, which could turn people off from them.
Therefore, the best type of door is largely dependent on the individual's preference and style.
Sources