How Much Does It Cost to Fit Vinyl Flooring?
Vinyl flooring is now the preferred material for flooring for an incredible number of Britons each year, and the number continues to grow.
Vinyl flooring has a ton of benefits that are helping it become one of the most popular options around, from its affordability, low maintenance and wide style range.
Vinyl flooring is perfect for kitchens and bathrooms due it's waterproof properties, and it's completely resistant to any spillages or dampness.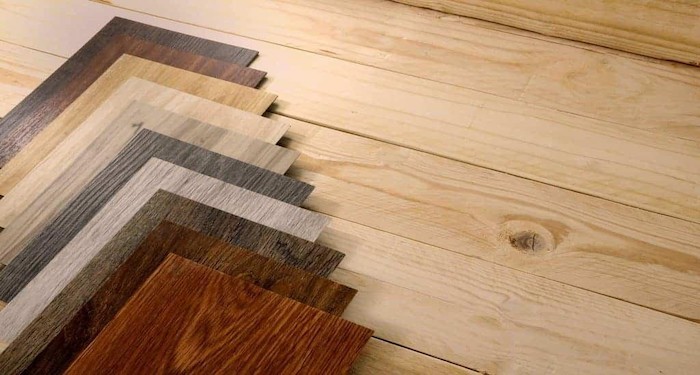 The average cost of installing vinyl flooring in a medium-sized room is between £200-£400, with the actual price dependant on several cost-affecting factors.
Vinyl flooring can be separated into two different types: Luxury Vinyl Tiles or LVT, where high-end vinyl tiles are installed either as glued down tiles or in rigid plan form.
The second is Vinyl Roll, which always comes in glue down form, but does have a high and low end for price and quality.
Vinyl Flooring Prices
To give you an idea about how the two styles are priced, take a look at the table below:
| Vinyl Flooring | Room Size | Duration | Average Cost |
| --- | --- | --- | --- |
| Vinyl Roll - Low End | 12 Square Metres | 1-2 Days | £210-£330 |
| Vinyl Roll - Low End | 20 Square Metres | 1-2 Days | £250-£450 |
| Vinyl Roll - High End | 12 Square Metres | 1-2 Days | £330-£450 |
| Vinyl Roll - High End | 20 Square Metres | 1-2 Days | £450-£650 |
| LVT - Low End | 12 Square Metres | 1-2 Days | £330-£510 |
| LVT - Low End | 20 Square Metres | 1-2 Days | £450-£750 |
| LVT - High End | 12 Square Metres | 1-2 Days | £510-£870 |
| LVT - High End | 20 Square Metres | 1-2 Days | £750-£1350 |
What are the Supply Costs of a Vinyl Flooring Installation?
A lot of people will shop for the materials for their new flooring themselves, as opposed to asking the fitter to purchase the supplies for them.
Of course, the fitter would be happy to source the materials, but they have far less time to shop around for the best prices and offers, so you're likely to get a much better deal by spending the time to shop for the supplies yourself.
It also gives you a great chance to see the flooring in person, as colours and styles often look far different in person than they do online or in a catalogue.
With some vinyl styles, they will have different finishes and textures on the material, so it's good to get your hands on the product first before committing to purchasing it and installing it in your home.
We've already shown you the average costs of vinyl flooring installation over different spaces, but to illustrate the supply costs only, here is another handy table.
Vinyl Flooring Supply Costs
| Vinyl Flooring | Room Size | Average Cost |
| --- | --- | --- |
| Vinyl Roll - Low End | 1 Square Metre | £5-£15 |
| Vinyl Roll - High End | 1 Square Metre | £15-£25 |
| LVT - Low End | 1 Square Metre | £15-£30 |
| LVT - High End | 1 Square Metre | £30-£60 |
As you can see from the table, high-end luxury vinyl tiles can be far more expensive than low-end and vinyl roll.
LVT really is a high-quality material for your flooring, and if you have the budget available, it is worth considering. Still, even low-end vinyl roll looks very impressive if fitted properly.
What are the Additional Costs of Laying Vinyl Flooring?
There are some other jobs that are closely related to the installation of new vinyl flooring that people commonly have done at the same time.
These obviously aren't mandatory, but if you had the budget or had plans to complete these jobs in the future, it may be a good idea to have them done alongside a vinyl flooring installation.
New Kitchen Units
New kitchen units are quite the luxury. Nobody refurbishes their kitchen every few years, so you need to make sure that it will stand up to the job for the next five years or more when you do remodel.
However, if you think your kitchen requires an update, you could have a new set of units installed at the same time as you're flooring is being installed.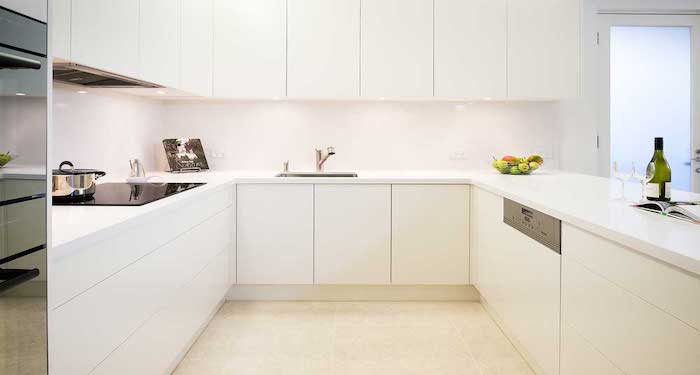 Now, on average, you're likely to pay between £4,000 and £6,000 for a new kitchen, but this does depend on the materials you choose the size of your kitchen and what is included in the price.
You may even be able to secure a better deal by having your flooring done at the same time. To get an accurate quote, speak to a kitchen fitter about what you have in mind, and they can tell you exactly how much you're likely to pay and whether you can find any discounts for having your flooring done too.
Bathroom Sets
Much like new kitchens, bathrooms tend to stick around for a decade or more, so a new bathroom is quite the luxury, but a luxury that won't go underappreciated.
A new bathroom is far more varied in price than a kitchen is, with a new kitchen costing anything from £2,000 to £7,500 depending on whether you opt for costly marbles or cheaper plastics to complete the job.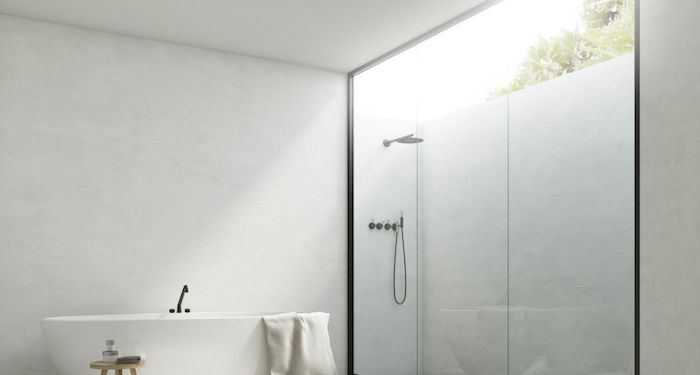 Again, there may be great discounts to be enjoyed for coupling a new bathroom installation with a new vinyl flooring installation.
You can contact a few different bathroom fitters to get an accurate idea of how much you would need in your budget to have a new bathroom installed and see if you could transform your bathroom almost overnight.
Repairs
During the quoting or installation stage, the fitter may spot areas that need repairing before the work can be completed. For example, if the floor has been damaged during the previous floor removal, they may need to fill any damage to make it level enough to lay vinyl on.
Small, inexpensive repairs such as this one may crop up during the process, but any large issues will be raised in the initial quote, so there shouldn't be any big surprises.
Tradesmen Costs for Vinyl Flooring Installation
So, we've covered the costs for supplies and for any potential additional costs, so the only thing left to explore for the pricing side of things in the cost of fitters.
The average price for a fitter is between £150 and £200 per day, but this does all hinge on a few cost defining factors.
First of all, you'd get a cheaper rate if you were employing the fitter for more days to work on other projects like new bathrooms or kitchens, as you would be looking at better priced weekly rates.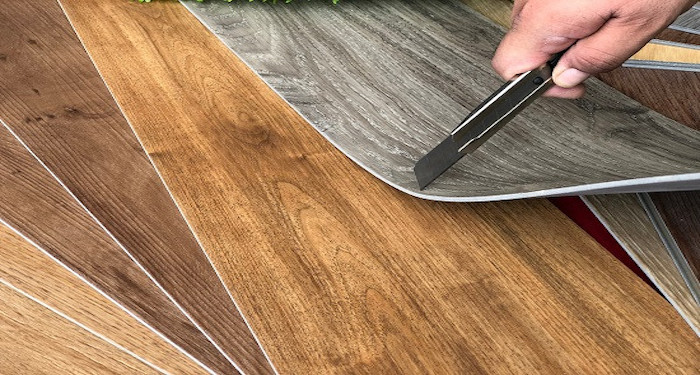 You'd also pay a different price depending on whereabouts in the country you are. As we mentioned earlier, you'll pay more for tradespeople in London and other similar cities than you would in rural towns and villages, due to the cost of living.
Speak to a few fitters before giving the work to one, to ensure that you're getting the best price for your area and the job.
How Long Does It Take to Lay Vinyl Flooring?
Generally, fitting vinyl flooring takes around one day for spaces 12 square metres or smaller, and between 1 and a half to 2 days on anything bigger.
Of course, there are a few things that can affect these timings, for example, if you want vinyl flooring fitting in a uniquely shaped room with many contours and cut-outs, there will need to be more time taken to measure out each aspect of the room.
Similarly, if any of the problems mentioned above crop up during the job, this will delay certain stages and add time to the overall job.
We mentioned earlier about the different types of vinyl flooring you can get, relating to the installation methods – glue down and panels.
Now, panels are quicker to install, as they click together nicely once the baseboards have been screwed and secured in place.
With glue down taking longer, each piece of vinyl must be laid carefully and smoothed out to ensure no bumps or air pockets.
It's also a lot tougher to lay glue down vinyl straight, whereas panels are built with a perfectly straight edge.
Types of Vinyl Flooring
There are two main types of vinyl flooring – luxury vinyl tile and vinyl roll. Interestingly, both feature the same benefits, with the only difference being the quality of materials available and the style guides of each.
We're going to explain each more in a little more detail here.
Vinyl Roll Flooring Cost
Vinyl roll comes in complete and continuous vinyl flooring sheets, with the only method of installation of glue down.
The long continuous sheets make it easier to print patterns on, along with it being completely impenetrable to water as there are no gaps between it.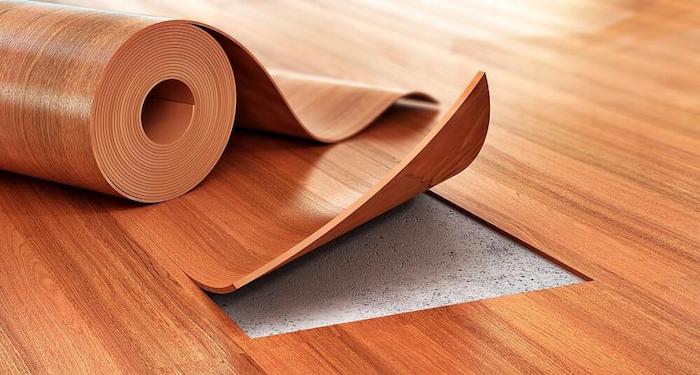 This enables the producers of vinyl roll to keep its costs down, making it a very cost-effective option for anyone wanting vinyl flooring without a huge budget.
The price of vinyl roll varies from £5 per square metre to £25 per square metre, and it can be found in a huge number of styles, shades, colours and effects.
LVT Flooring Cost
Luxury vinyl tile was created to act as a luxury option to vinyl roll. Instead of continuous sheets, it's either produced in plank form or soft and flexible tiles.
This makes it less waterproof than the vinyl roll, but it does offer a more upscale look.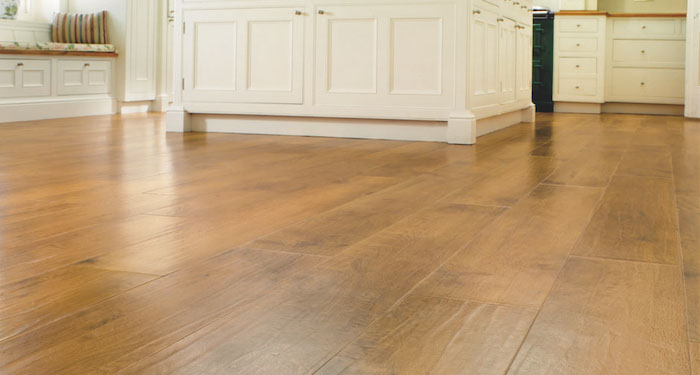 The price ranges from £15 to £60 per square metre, which is an enormous disparity, but the lower end LVT still looks incredibly high quality.
LVT, just like vinyl roll, comes in a wide variety of styles and effects, with companies like Karndean offering super high-end versions of LVT.
Benefits of Vinyl Flooring
Cost
The most popular benefit of vinyl flooring of all kinds is its affordability. Even very high-end vinyl isn't expensive, making it very accessible to anybody who wants to give their home a new lease of life without breaking the bank to do so.
Vinyl flooring comes in styles that mimic hardwood and stone, which are two sought after flooring materials that are quite costly, so vinyl offers these aesthetics at a far lower price.
Durability
Vinyl flooring is incredibly durable, and the cheaper vinyl roll is more durable than the more costly LVT flooring.
Either way, both versions can withstand a lot of foot traffic without significant degradation in the design or integrity of the flooring.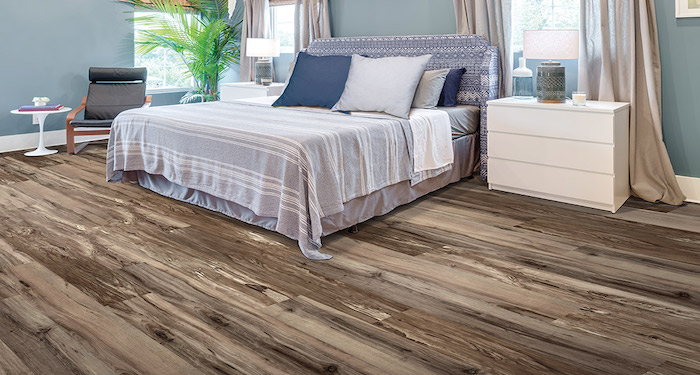 It's also very waterproof, making it a great option for kitchens and bathrooms.
Ease of Maintenance
Some floors require continuous scrubbing, polishing and cleaning with very specific products, but the opposite is true for vinyl flooring.
Of course, to keep your flooring looking its best you'll need to vacuum or map the floor a few times a week, but that's nothing compared to other materials.
This allows you to enjoy your new flooring without worrying about how much work it will generate for you in the future.
Repairs
Admittedly, the installation of vinyl roll does make repairs a tough ask, as the entire strip must be replaced.
However, vinyl tiles and planks are the opposite, as tile replacement is cheap and can be completed quickly without any disruption to the rest of the flooring.
This ensures that you'll never come unstuck at the sight of a scuffed or ripped tile, and if you keep a few tiles left over from the installation, you'll always have an instant replacement on hand.
Fast Installation
Compared to other flooring systems, vinyl flooring is incredibly quick to install, with either the glue down or plank method. A professional will still take their time to ensure that no mistakes are made.
Still, on the whole, most installations are done in a single day, which is incredibly handy for causing as little displacement as possible to your household.
Comfort
Stone and wood flooring can be pretty cold to walk on, especially on an early winter morning, but vinyl is usually very warm and soft underfoot.
You still benefit from either a wood or stone effect for decor but without any uncomfortable hard or cold flooring negatives.
How Much Does It Cost to Remove Vinyl Tiles?
Removing vinyl tiles is a pretty quick and simple job, and best of all the waste removal is far easier than any solid stone or ceramic tiles.
You can attempt to remove any old flooring yourself, but it's probably better to have a professional do it to ensure you don't damage the floor underneath.
It will cost between £80-£130 to have your old flooring removed, and most of the time the waste removal will be included. If it isn't, you shouldn't have any problem loading it into the back of your car and taking it to your local refuse centre.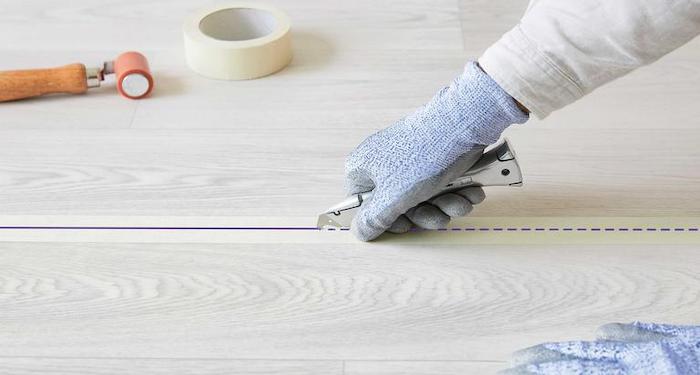 If you don't have that option, you can either pay for a skip at a rate of around £120 to £300 depending on the size of the skip and how long you need it for, or you can pay for a local waste collection service.
However, the price for these services differs greatly depending on the area, so call around for some quotes.
FAQs
Q: Can I install vinyl flooring myself?
A: We always suggest that you enlist the help of a professional to install your flooring for you, no matter how straightforward it seems.
It's actually pretty easy to install vinyl flooring wrong if you haven't done it before, so we wouldn't suggest any DIY vinyl flooring installation.
The last thing you want to do is waste £600 worth of LVT because the design has a mistake in it.
Q: What is Karndean flooring?
A: Karndean is one of the most popular LVT flooring suppliers, and they have several ranges that suit different budgets.
Their LVT styles, designs and effects are industry-leading, and therefore a lot of people will choose Karndean flooring over any other. You can purchase Karndean flooring at many different vinyl flooring stores.
Q: Does vinyl flooring rip easily?
A: Vinyl flooring is made from a very durable material, so it shouldn't rip too easily at all. However, it isn't invincible, so it is possible to rip a vinyl tile or sheet.
As a general rule of thumb, the cheaper the vinyl flooring is, the thinner it is likely to be, which would increase the chances of a rip.
Q: What is the best cleaner for vinyl flooring?
A: The best cleaner for vinyl flooring tends to be natural products like citric acid or apple cider vinegar.
The acidity goes a long way to remove any stuck-on grime or dirt and can give your flooring a wonderfully gleaming look.
Q: Can I mop vinyl flooring?
A: Yes, you can mop, or steam clean your vinyl flooring, and in fact, it's the preferred method to keep your flooring clean and up to standard.
Sources