How Much Does Plasterboarding and Drywalling Cost?
If you have home renovations underway, you may have noticed imperfections or faults with your interior walls. This can be fixed with plasterboard or drywall.
The cost of drywalling ranges from £350 for just a ceiling, up to £4000 to install plasterboard in a standard home.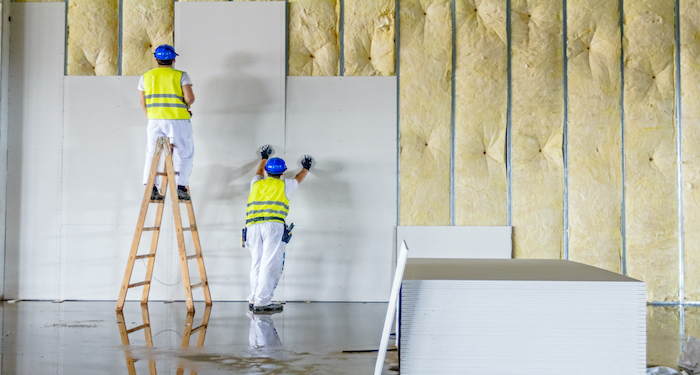 Drywalling and Plasterboard Prices
The table below sets out the average costs of plasterboarding and drywalling jobs, based on various factors.
| Size | Duration | Average Total Cost |
| --- | --- | --- |
| Drywall or Plasterboard a standard ceiling | 2-3 hours | £350 |
| Drywall or Plasterboard an average room | 4-10 hours | £750 |
| Drywall or Plasterboard a standard size family home | 2-3 days | £4,000 |
What are the Supply Costs of a Drywalling and Plasterboarding?
The cost of materials accounts for around 60% of the overall price of the job.
Now, you can try to save some money by purchasing the materials yourself. However, if you plan on doing this, it's always best to speak with the contractor first to ensure you know exactly what materials will be required for the job.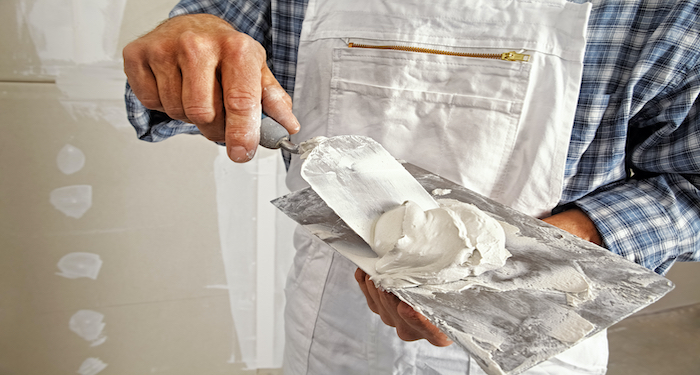 The cost of plasterboard and drywall will vary depending on the size of the job. For example, the material costs for a single ceiling range from £100 to £150. If you are installing plasterboard in one room in your house, you should expect to pay around £200 to £350 per room.
What are the Additional Costs of Drywalling and Plasterboarding?
When thinking about the total drywalling cost or plasterboarding cost, you may want to think about any additional costs you may incur.
Here are some of the most common additional costs: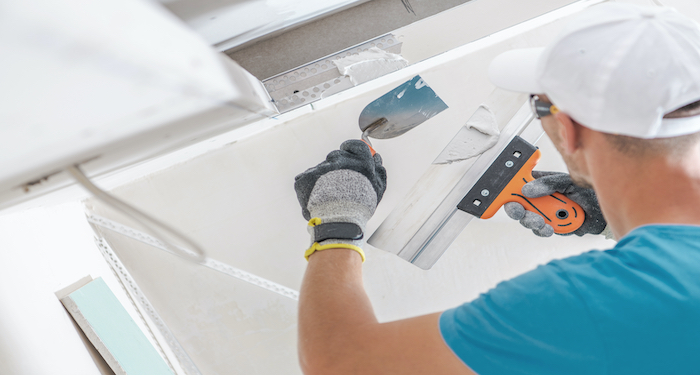 Plastering
Due to the absorbency of some types of plasterboard and drywall, a tradesperson may recommend that you have the boards plastered over or just skim-plastered over to improve the overall integrity and finish. Some drywalling and plasterboarding sheets are not suitable for immediate painting or wallpapering over without further treatment.
The average costs of plastering are:
Plastering one wall - £150-£250
Plastering four walls in 1 room - £300-£900
Plastering a ceiling - £280-£440
Painting and Decorating
Painting and decorating are very popular tasks amongst many DIYers', but if you want to save yourself the hassle and have the room finished with a perfect professional standard, then you may want to hire an expert to complete the job.
It is often worth spending extra on a professional painter and decorator as the clean, crisp lines at the edge of your painted walls, and the gleaming gloss on the skirting boards can really make all the difference!
There is a huge variation in cost when it comes to painting and decorating. For example, the hanging of wallpaper or fixing of cladding panels can significantly impact the price of the job.
We have included some average costs to give you a better idea of how much you may need to budget:
Painting a small room - £180-£300
Painting a large room - £600-£800
Hanging wallpaper - £180-£600
Installing cladding panels - £13-£23 (per metre square)
Tradesperson Costs for Plasterboarding and Drywalling
Although the initial supply costs for plasterboarding and drywalling can remain relatively cheap if you stick to a budget, it is the cost of labour that will bump up the overall price.
If you are handy around the house when it comes to DIY, then you may attempt to install plasterboard or drywalling yourself. However, it is recommended that you hire a professional to get the best finish.
Tradespeople set their own prices, but the average hourly rate is between £15-£25. Bear in mind that your chosen tradesperson may have a minimum charge, so even if it is just one wall or ceiling that you are having drywalled or plasterboarded, you may have to pay more than you initially expected.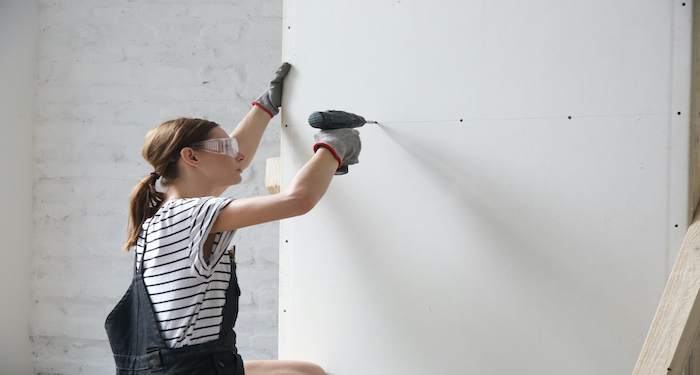 It is also important to note that not all companies will charge by the hour and instead may charge according to the job.
For one wall, you can expect to spend £190-£250 in labour, whereas the cost of drywalling an entire room could be between £360-£600.
How Long Does Plasterboarding and Drywalling Take?
Plasterboarding and drywalling take time and may take longer if you are attempting the installation yourself without experience.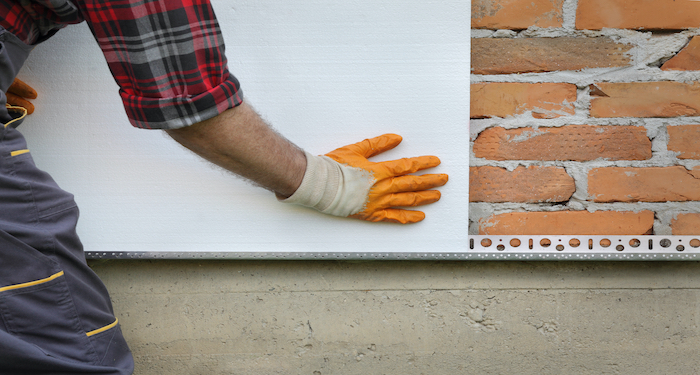 Plasterboarding and drywalling requires precise measurements. The process involves cutting the plasterboards or drywall to size, installing them to the wall, and then filling in any gaps between joints, making sure they are sanded or finished to perfection so the joins can not be seen by the naked eye.
Plasterboarding and drywalling can take longer than expected, if the integrity of the wall is not up to standard for immediate fitting of plasterboards or if accessibility is limited.
You may find the job takes longer to completeif the tradesperson is not aware of any limiting factors before starting the job.
Before fixing any plasterboards or drywalling to the interior walls, they must be stable, clean, and, most importantly, dry so that any adhesives used will be able to bond effectively.
We have listed below the average time frames for plasterboarding and drywalling based on the size of the job only:
Drywalling/Plasterboarding on a ceiling or a wall – 2-3 hours
Drywalling/ Plasterboarding a standard sized room – 4-10 hours
Drywalling/ Plasterboarding an entire home (standard size) – 2-3 days
Types of Plasterboard and Drywall
There are various different types of plasterboard and drywall on the market, so you may be unsure which sort would best suit your needs. We have included the details of some of the most common types of plasterboard and drywall to help you choose the right materials.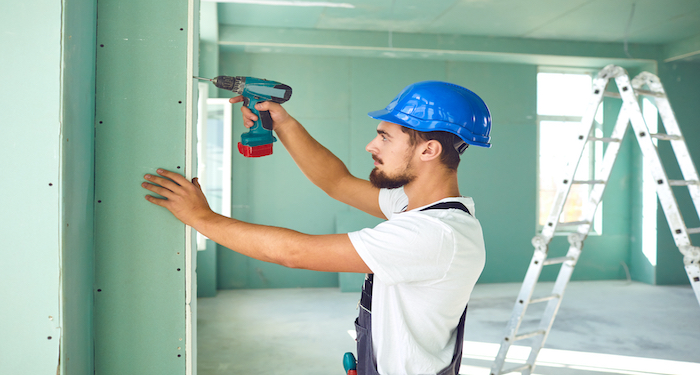 If you are hiring a professional to do the job for you, they should be able to offer advice on what type of plasterboard would be best for your interior walls.
Standard Plasterboard/Drywall Cost
You'll find this type of plasterboard in nearly every home in the UK. It's known for its durability and nice finish and is also easy to work with and very cost-effective. It can be painted and wallpapered, and it's usually the material of choice for walls in the home.
Moisture Resistant Plasterboard/Drywall Cost
This type of plasterboard/drywall is perfect for kitchens and bathrooms as it has been engineered so that water and moisture don't damage it over time, which is quite common with traditional plastering.
Insulated Plasterboard/Drywall Cost
This type of plasterboard is ideal for increasing the heat retention in a home. A layer of insulation is placed within the board to prevent heat loss through it.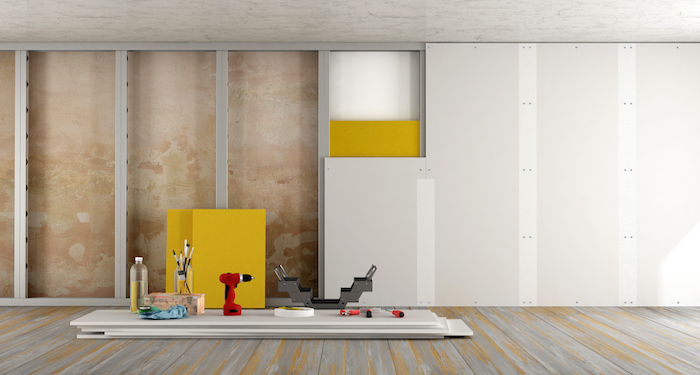 Acoustic Plasterboard/Drywall Cost
This has been the answer to many parents prayers, as acoustic drywall helps to reduce the noise through walls from room to room.
Impact Plasterboard/Drywall Cost
This is perfect for nurseries and children's bedrooms as the increased durability prevents easy damage.
How much Does It Cost to Remove Plasterboard and Drywall?
If you are refurbishing your home, you may wish to replace the drywalling or plasterboards that are already in place.
Removing any existing plasterboard or drywall that you have in your house may seem like a pretty straightforward task that you want to complete on a DIY basis.
Although it is possible to remove such materials with a DIY approach, it is not recommended as you do not want to cause any damage to the interior wall that lays beneath the drywalling or plasterboards.
If you were to hire a professional to remove existing wall materials for you, they would likely charge by the job as it is not easy to foresee how long the process will take.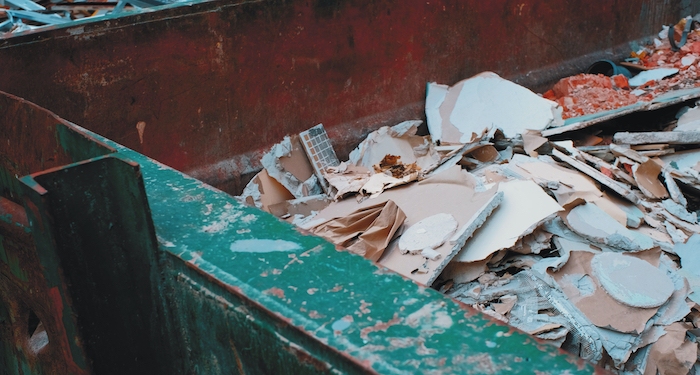 Similar to the cost of applying and installing new plasterboard, you can expect an average hourly rate to work out around £15-£30. However, it could still take a good few hours to remove the existing drywall or a full day if you require removal of boards from all the walls in a room.
Most builders also have a minimum charge. This could cost you anywhere between £150-£500.
FAQs
Q: How do you cut plasterboard?
A: Cutting plasterboard is fairly straightforward. You simply need a sharp utility knife or keyhole saw to score the plasterboard where the cut is required. You can then apply pressure to the boards, and they will snap where they have been scored.
Remember to make sure your measurements have been accurately marked out on the plasterboard when scoring with the utility knife. You should also ensure enough pressure has been applied with the cutting tool, so that the scores are deep enough.
Q: How do you repair drywall?
A: Repairing drywall is possible using a joint compound. For smaller chips, cracks and dents, a joint compound can be used alone. It is best applied with a putty knife but go easy with it, as using too much can make your wall look bumpy when finished.
Once the joint compound is dry, you need to sand down the area so that it blends with the rest of the way and finish with a lick of paint!
For larger areas, it would be best to replace the entire panel of drywalling, but understandably this is not the most cost-effective approach to repairs and is not always an option!
In this case, the joint compound can still be used to carry out repairs but must be used alongside reinforcing mesh strips, which are placed around the blemish on the wall before applying the joint compound. This produces a much sturdier finish that should not crumble away over time.
Q: Are plasterboards a cheaper alternative to wet plaster?
A: In terms of supplies, wet plaster is cheaper to purchase than plasterboards. However, it is the skill of a plasterer that you will have to pay for that increases the price of the job significantly.
So, in short, hiring professionals to install plasterboard on your walls will be much cheaper than having all the walls plastered with traditional wet plaster.
Q: Can plasterboard be used in a bathroom?
A: Yes, plasterboard can be used in a bathroom, but it must be water-resistant plasterboard. If standard, non-water-resistant plasterboard is used, then it will weaken over time as damage will occur from regular exposure to moisture.
This can also lead to damp, which is always an unwelcome house guest.
Q: Where can I get drywall panels/plasterboards from?
A: Drywall panels and plasterboards can be purchased from most DIY and hardware stores. However, if you prefer online shopping, there are many online retailers that stock these materials, and you may also find a wider selection of products to browse.
Sources