How Much Does It Cost to Remove Wallpaper?
Giving a room a fresh look with wallpaper seems to be a popular project now that wallpaper has become stylish again. Because of this newfound popularity, there are a plethora of colours, prints, and textures to suit every taste.
The bare painted walls that have been so popular in the last 20 years or so now appear cold as well as clinical when tried compared to the soft textures and cosy feel provided by wallpaper.
On the other hand, wallpapering can be difficult; it appears to be a skill that some people have and others will never have, no matter how hard they try. Furthermore, although anyone can hang wallpaper, few can do it correctly!
Installing wallpaper can immediately change the mood and feel of each room, whether you're renovating, rearranging, or redecorating your home. Before you begin, you must first remove your old wallpaper.
It is strongly advised that previous wall coverings be removed before wallpapering, as this allows the new wallpaper to also be applied to a sound surface. You could paper over old wallpaper; however, the outcome is unpredictable.
So what is the average cost of removing wallpaper?
Wallpaper removal costs between £150 and £650. This is determined by a variety of factors, including room size and layout, wallpaper type, wall condition, and removal technique.
As a result, the procedure can be difficult. If you need assistance removing old wallpaper, here we will go through the different prices of removing wallpaper in your home.
The overall cost of wallpaper removal is determined by a variety of factors. Consider the size of the room. This influences the estimated price of wallpaper removal. The larger the room, the longer the job would then take and the higher the final cost.
Wallpaper removal cost estimates are also influenced by the layout of the room. Wallpaper removal in irregularly shaped rooms is more expensive than wallpaper removal in rectangular or square-shaped spots. Furthermore, wallpaper removal in rooms with higher ceilings necessitates the use of more equipment.
Strippable wallpaper is always the simplest to work with because it does not require soaking, scoring, or steaming to eliminate. Non-porous wallpaper, acrylic, or vinyl coats are the opposite, as water cannot easily pass through them. To remove them, additional equipment or advanced techniques are required.
Removal costs will be higher if your walls have multiple layers of paper or if paint conceals your current wallpaper. The same thing would happen if you needed to repair your wall, plaster, or drywall.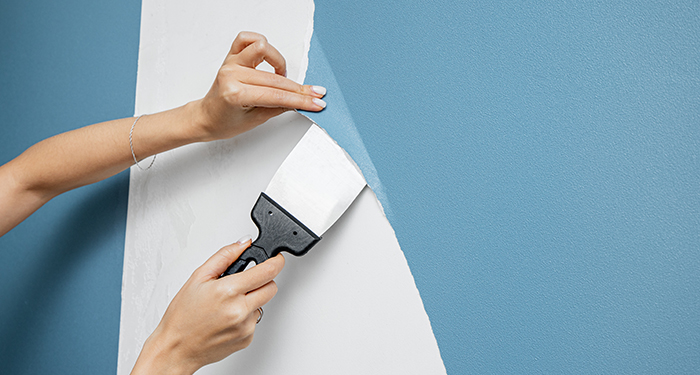 Techniques for removing wallpaper. Detaching wallpaper generally entails removing the bonding and other residues, sanding, and disposal of wastes. Although this is the most common method used by handymen, trying to remove the wallpaper itself can be finished in various ways.
Striping is a popular method because of its ease of use. Because stripping wallpaper does not necessitate the use of any special equipment, most of the cost is borne by the labour. Depending on your situation, labour costs range from £150 to £650.
Stripping, on the other hand, is only suitable for porous wallpaper. Spray water on a small area of your wallpaper to see if it is porous. The material is porous if it absorbs water quickly. Due to this, the material is probably non-porous and will require soaking, scoring, and stripping.
Another method is steaming, which usually entails making small holes in the wallpaper or using an electric steamer to soften the glue.
Trying to rent a wallpaper removal steamer typically costs between £25 and £45, not including labour fees. Depending on the current condition of the wall and wallpaper, it may be more expensive.
If steaming or stripping isn't enough to remove wallpaper, the soaking and scraping process is utilized.
This is the most time-consuming method because it entails making tiny holes in the wallpaper with sandpaper or a roller, dousing it in a special solution, and scraping away everything stuck to the wall with a scraping wallpaper removal tool. Larger rooms can cost up to £1,000 per night.
Removing Wallpaper Prices
The table below will break down the costs for wallpaper removal so you can budget accordingly:
| Job | Cost |
| --- | --- |
| Wallpaper removal | £150 - £650 |
| Stripping | £150 - £650 |
| Steaming | £25 - £45 |
| Soaking and scraping | £1,000 per night |
What are the Supply Costs for Wallpaper Removal?
Before applying new wallpaper or a fresh coat of paint to your room, you must first prepare the walls by removing any current wallpaper or woodchip. It is worthwhile to spend care and time stripping the wallpaper before decorating to achieve smooth, clean walls.
It is much simpler to wallpaper over a stripped wall because it prevents creases and air bubbles from appearing when the new wallpaper is hung.
Trying to paint over wallpaper does not always result in a smooth finish and is much more difficult to remove in the future. Removing wallpaper also ensures a nice finish and that your new wallpaper or paint will last much longer.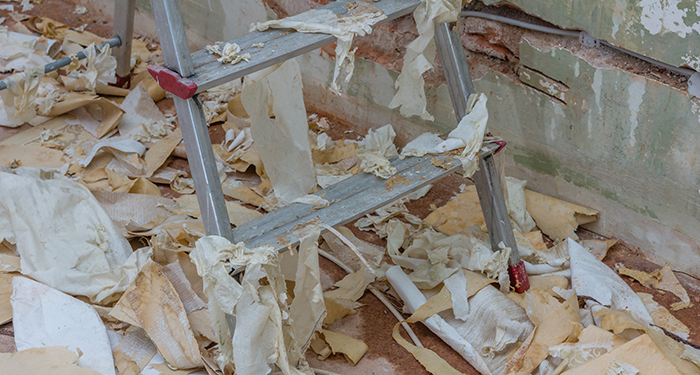 In this section, we will go over the supply costs for removing wallpaper, so if you are thinking of DIY the project, you will find everything you need to know here.
Dust sheets cost around £7 - £8 and can be used for this task. Cloth or polythene dust sheets can be used. Polythene sheets are far more moisture resistant, making them a good choice if you have carpets, but they are prone to tearing.
Cloth dust sheets can be washed and reused after being beaten outside to remove dust. Some cloth dust sheets have polythene ready to back to help keep spills at bay.
Tapes are an absolute necessity in any decorating project or toolbox and will cost between £5 and £6. Scissors, with their two sharp blades and easy-to-grip handles, make quick work of cutting paper, cards, thin plastics, vinyl, and fabric. This will cost between £3 and £10.
You will also need a wide stripping knife; it is recommended that you use a 4-inch 100millimetre wide stripping knife, which costs between £4 and £10. To reach high ceilings, you'll also need a step ladder which costs £25 - £30.
Metal rulers and rules are used to provide accurate measurements for a wide variety of projects, and they cost between £4 and £8. A utility knife will cost between £7 and £14.
The table below will break down the costs of removing wallpaper:
| Supply | Cost |
| --- | --- |
| Tape | £5 - £6 |
| Scissors | £3 - £10 |
| Stripping knife | £4 - £10 |
| Step ladder | £25 - £30 |
| Metal rulers | £4 - £8 |
| Utility knife | £7 - £14 |
What are the Additional Costs of Removing Wallpaper?
When removing old wallpaper, you may decide to have additional work carried out to give your home a brand-new look! Or sometimes, small details can add up to the overall cost.
Therefore, here we will go over the additional costs of removing wallpaper, so you know what to expect.
Painting Interior Doors
The colours and patterns that are around us influence how we think and feel; as a result, when the opportunity to use your favourite fabrics and paints arises, you should do your best to take advantage of it, which requires an understanding of the associated costs on your part.
The overall cost of painting an interior door is affected by the size of the door, the number of doors to also be painted, and the local labour rates.
Most interior doors cost between £50 and £200 to paint. Doors that open to the outside, on the other hand, can be more costly, costing up to £200 - £300.
The price of glossing a door is determined by the type of paint used and the number of coats required. It should cost between £60 and £100 per interior door.
While you may be able to recoat some painted doors and achieve a satisfactory finish, you will not be able to save all the paintwork on others.
You'll need to hire a paint stripping or 'dipping' service to get rid of all that gloopy, lumpy old shine—door stripping costs between £15 and £25 per door.
For further information, please refer to our guide on painting interior doors costs.
Plastering
The most important factor determining the cost of plastering work is the size of the area to really be plastered, whether it's a single wall in a small room or multiple rooms and ceilings in a large house.
Plasterers will measure the task and consider any relevant aspects before estimating how long it will take as well as how much material will be needed.
Of course, the cost of plastering will be measured by the amount and complexity of the work to be done.
A patch repair, for instance, may cost between £70 and £130, an over skim may cost between £150 and £200 depending on the size of the wall, and a full plastering job may cost twice as much.
A simple skimming job in a standard size room would cost around £400 - £500 before VAT and other fees, while a full plastering job would cost around £700 - £800.
Prices in the South are more than likely to be higher than in other places in the rest of the country.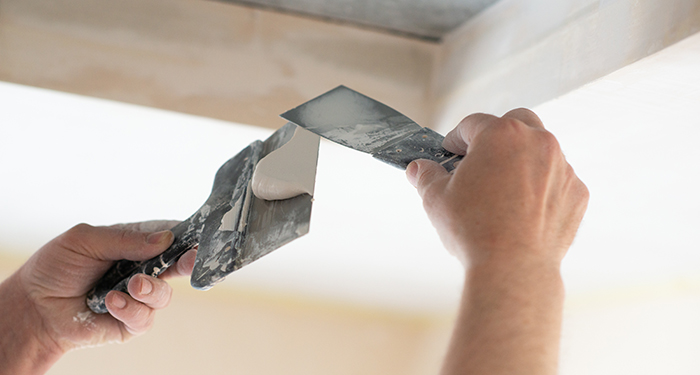 Plastering a ceiling is much more expensive than plastering a wall because of the skills as well as the complexity involved.
A thorough plastering job for a small room's ceiling can range between £250 and £600, or more for a larger room. This work may necessitate the services of a ceiling plasterer.
External rendering costs vary significantly depending on the size of the project; for example, a standard render and completion of a small building, such as a cottage, could cost between £2,000 and £3,000.
For further information, please refer to our guide on plasterer prices.
Painting and Decorating
When redecorating your home, you must keep the costs of interior painting for numerous projects in mind.
The typical cost of painting a room usually ranges from £180 for a standard small bedroom to £600 for a large living room.
You will also have to consider the painting and decorating costs for other fixtures, for example, skirting boards, this project can range from £180 to £350 and windows, which range from £400 to £1500.
Other jobs such as painting doors, can cost between £220 and £1600, and re-painting kitchen cabinets, which can cost between £600 and £1000.
Wallpapering is another important decorating cost, with prices ranging from £180 for a small room to £600 to strip and hang the wallpaper, while installing internal cladding costs between £1500 and £2500.
Another important cost to consider is tradesman fees. The average cost to hire a painter and decorator is usually between £100 and £300 per day for large decorating jobs such as painting or wallpapering different other rooms in your home.
They may only charge £15 to £40 per hour for relatively small paint jobs such as painting door frames as well as kitchen cabinets.
For further information, please refer to our guide on interior painting and decorating costs.
Access
The location of the wallpaper to be removed is also important because the easier it is for a contractor to do the job, the better.
In this case, the longer the job takes, the higher the labour costs. Normally, this will be determined by the contractor and the difficulty of accessing the entrance.
Size
Unsurprisingly, the larger the job, the more it will cost to remove the wallpaper. Of course, that's not always the case, but a bigger wall with old wallpaper will frequently necessitate more materials and take longer to maintain than a smaller wall. This, however, is doubtful to be a significant financial factor to consider.
Duration
The time it takes to complete the job may or may not influence the overall cost, and it depends largely on how the tradesperson works. In some cases, a contractor will be paid a lump sum upfront, while in others, they will be paid by the hour.
Location
The cost of living in your area will affect the pricing that individuals and businesses set, as will supply and request levels in your area.
Another factor to consider is how quickly nearby network operators can arrive at your property. Their gasoline costs will rise as their route lengthens, increasing your total payment.
Number of Walls
The number of walls in your home that have old wallpaper will have an overall effect on your price, as the more removals you want will increase your overall cost.
Tradesmen Costs for Wallpaper Removal
If you've ever had to redecorate your house, you understand how exhausting and frustrating it can be. Although you may be excited to move into your new home, having to remove all the old wallpaper can just be difficult, and your enthusiasm may wane as the enormity of the task sinks in.
Decorators typically charge between £160 and £240 each day, not including materials. Most professional decorators, on the other hand, charge depending on the number and size of rooms.
On the surface, these costs may appear intimidating, which is why many homeowners choose to paint their homes independently. Professional decorators, on the other hand, are skilled at preparing walls, and their experience has helped them refine their techniques.
Unsurprisingly, the most expensive area to hire decorators in London. However, unlike most other home improvement jobs where moving away from the city means lower prices, prices for decorating may remain high because quotes are from skilled and experienced professionals.
If you live in a town where tradesmen are in high demand, it's a good idea to weigh the benefits and drawbacks of hiring only those starting out versus tradesmen who have been on the job for years.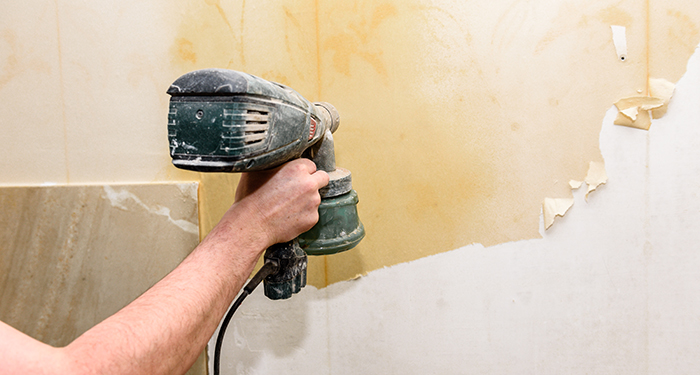 It is worth noting that if your house does not have a driveway or a place for the traders to park their vehicles while they are at your home, you will need to obtain a parking permit for them. This has the potential to significantly increase the overall cost of your project.
Has anyone on your street lately had a decorator come into their home? Finding out who they used – and whether they were any good – can be a great place to begin your search for a suitable contractor.
By hiring someone who's been vetted by someone you know, you reduce the risk of hiring a cowboy trader or anyone who appears good on paper but is terrible in practice.
You can get verbatim feedback on someone's work and learn about how they work with others and their overall work ethic. Someone who appears to be less expensive on paper may be slow in practice, and if you're paying day rates, this may result in your project fee being higher than it should be.
Similarly, if you have friends or family members who have had work done, ask if they would recommend their contractor. It's important to note that if you live in a different area, local businesses may not be able to travel to you, so make sure you find out before settling on someone.
How Long Does It Take to Remove Wallpaper?
Wallpaper is in and out of style, but it's frequently used to make a major statement inside the home or to hide up a wall that would otherwise require extensive repairs. While it does its job well, it can be a little more difficult to deal with when you make a decision for a change.
One common question that homeowners have is, "How long would it take to remove wallpaper?" We'll go over how long it takes to remove wallpaper in this section so you know what to expect.
There are many factors that can affect the duration of removing wallpaper, such as age. Wallpaper installed in the last few years is usually simple to remove.
Older wallpapers frequently tell a different storey. Removal is not only trickier but also a messy job that necessitates extensive cleanup. In many cases, removing old wallpaper causes damage to the wall underneath, necessitating additional time to repair the surface and achieve the desired finish.
The cost is affected by the type of wallpaper used. People often associate wallpaper with simple sheets of paper, but it comes in a wide variety of styles.
Woodchip wallpaper, for example, is more difficult to remove and more likely to damage walls because it is made by trapping small bits of wood during the manufacturing process. Wallpapers can be made from vinyl, foil, or natural fibres, each of which has its own set of challenges.
The surface of the wall. Some wallpapers, particularly those with texture, are intended to conceal existing wall flaws and may indicate that wall repairs are imminent.
Removing wallpaper from plaster walls can also be more difficult than removing wallpaper from drywall walls. Plaster walls were the standard until around 1935, so they are unlikely to be found in modern homes.
Lifting a corner and tugging on it can reveal the type of wallpaper you have. If it easily lifts, it's a good sign that the removal project won't be too difficult. If the paper tears, it is most likely a simple paper rather than vinyl or finished product, resulting in a simpler removal project.
The removal will be more difficult if it appears to stay in whole sheets or if only a decorative surface layer peels off.
Another test is to see if the wallpaper is porous. Porous papers absorb water easily and are more likely to be removed. Hot water should be sprayed on a small area.
If the water beads and does not absorb, the finish is most likely vinyl, acrylic, or another, and removal will necessitate perforating or roughening the surface so removal products can pierce down to the adhesive layer.
Types of Wallpaper Removal
A new wallcovering can convert a room from dull to beautiful. However, before you can determine the best approach for removing wallpaper, you must first identify the wall covering and the type of wall beneath the wallpaper.
We will go over the various types of wallpaper removal and what to expect, as well as their benefits and drawbacks.
Dry Stripping
If the wallpaper is dry-strippable, simply use a putty knife to loosen each strip at the corners and slowly peel it back at a 10- to 15-degree angle.
If you pull the wallpaper out straight, you risk damaging the underlying surface, particularly if it's drywall.
After you've removed all the paper, proceed to the adhesive removal procedure described in the following section.
It's peelable paper if only the top decorative layer peels away, leaving a paper backing behind. Dry strip the entire top layer, then proceed to the next section to remove the backing and adhesive.
If you are repapering and the old backing is secure and in excellent condition, you may be happy to stick the new wallcovering directly on top of it. Consult with your wallpaper retailer about this option.
Pros
Cons
Not possible all of the time
Soak and Scrape
Warm water and wallpaper removal solvent are used first to remove nontippable wallpaper or any paper supporting that remains after dry stripping a peelable paper's decorative layer.
Soak the surface in a wallpaper remover solution for a few minutes. Although a spray bottle can be used, a paint roller is the most efficient method to get the solution on the wall and not across the floor.
Then, using a wide taping knife or a wallpaper scraper, scrape away the sodden paper.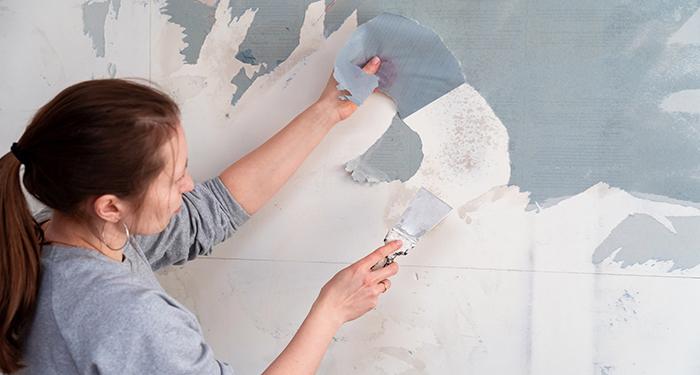 Don't wet more than you could ever scrape off in about 15 minutes. Allowing water to soak into drywall for an extended period may create undue damage. You can usually wet a 3-foot-wide, floor-to-ceiling piece at a time.
Scrape the wet wallpaper off the wall and let it fall to the floor. The canvas drops cloth or wet wipes you lay down absorb most of the dripping solution, keeping your shoe soles cleaner.
If the wallpaper is non-porous, the surface must be roughened or perforated so that the remover remedy can pierce and dissolve the adhesive.
Use coarse sandpaper on a pad sander or a hand-sanding block to roughen the surface. However, do not use the scraper after the wet wallpaper; you may damage the drywall.
You can finish the job if you use the soak-and-scrape method successfully. If that doesn't work, it's time to bring out the big guns: a steamer for wallpaper removal.
Pros
Cons
Steamer
If you need to remove more than one layer of wallpaper or wallpaper that has been painted over, you're in for a lot of work. And, if the wallpaper wasn't really applied to a completely sealed surface, removing this without harming the wall can be difficult.
For these difficult tasks, you may need to hire a wallpaper steamer or purchase a do-it-yourself model. A wallpaper steamer consists of a hotplate connected to a hose that extends from a hot water reservoir and heats the water while directing steam to the hotplate.
Even though you can use a steamer and wallpaper scraper with comparison confidence on plaster walls, drywall is much more susceptible to water damage and is more easily gouged.
Fill the steamer with water to allow it to heat up, and maintain a baking pan nearby to place the hotplate in when not in use. Starting at the top of a wall, press the hotplate against the wallpaper in one spot until it softens.
As described in the preceding section, move the hotplate to an adjacent area while you scrape the soft wallpaper with a wallpaper razor scraper and allow it to fall onto the plastic. Depending on the permeability of the paper, once you've finished scraping one area, the steamer should have softened the next.
Pros
Cons
Chemical Stripping Solution
A stripping solution is just a chemical liquid that can be used to remove wallpaper from walls. Some solutions are ready-to-use, while others may require diluting with water. It is available in a bottle or as a spray for ease of use.
Chemical solutions aid in the dissolution of the adhesive and the active release of the wallpaper, doing all the work for you. Solutions are ideal for removing one or two additional layers of wallpaper in a single room or for removing wallpaper from a small area, such as a feature wall.
Although you can make your own wallpaper removal solution with hot water and liquid detergent, we recommend using a ready-to-use chemical solution. It saves time, and some unproven detergents may not produce the same results, or they may be harmful to the walls.
Pros
Cons
FAQs
Q: How do you prep walls after wallpaper removal?
The first step is to sand the walls. If there are any rough patches, lightly sand them until they are smooth
Repair the Walls Look for any affected parts, such as holes and cracks
Prime the walls
Begin painting
Q: Is removing wallpaper worth it?
A: Generally, removing the wallpaper before painting your wall yields better and longer-lasting results than painting over it. Because wallpaper is typically applied in rows, the seams at the ends of the rows may show through the paint if you paint over it.
Q: Does removing wallpaper increase home value?
A: Even though removing wallpaper and painting is a chore that will cost you money, doing so will increase your chances of selling your home quickly because neutral paint colours appeal to buyers of all ages.
Q: How do you seal walls after removing wallpaper?
A: Using a sanding block wrapped in 120-grit sandpaper, sand the walls. Using a roller, apply an oil-based paint coat to the walls.
The oil-based paint acts as a sealant, locking in any grease spots, stains, or water-based adhesive so that they don't seep through and interfere with the paint job later. Allow the paint to dry completely.
Q: Do decorators charge per hour?
A: The average cost of hiring a decorator in the UK ranges between £17 and £30 per hour, depending on factors like where you live and what you need to do. This article will also provide you with some money-saving tips and the best places to find a decorator.
Sources