How Much Does a Staircase Cost?
Most of us probably don't cast too much thought over the state of our stairs, and often we just stick to the same set of stairs that were there when we moved into the home, with maybe a lick of paint now and again to spruce them up.
But if your stairs have fallen into disrepair, with ominously sounding creaks and scuffed bannisters, maybe it's time to have a new set of stairs installed.
You may be surprised at the number of styles, sizes and colours on offer, and they may be more affordable than you think.
It can be easy to get bogged down in all the different prices and information circulating about jobs around the home.
If you're ready to get a quote for a new staircase or a refurb, we can also help connect you with local staircase specialists.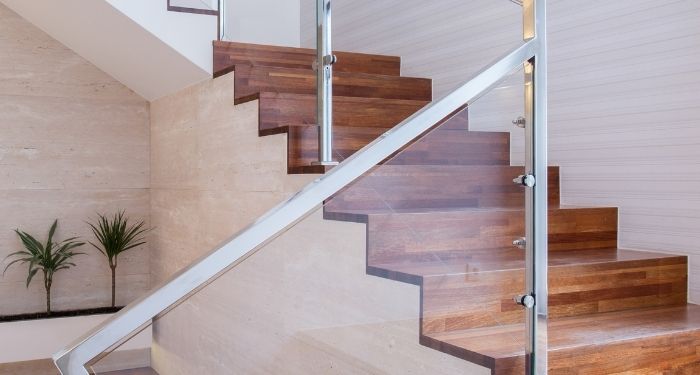 These prices will give you a good idea about what you can attain with the budget you have, and when you find a tradesperson to complete the work, they will provide an exact quote for the whole job.
There are a great number of different materials to make a staircase from, along with just as many styles to structure them.
They also all come with a different cost and pricing structure, so to keep everything straightforward, the estimates will be for the average staircase layout, which consists of 13 steps at 200mm in size.
New Staircase Prices
To give you an idea about how these different materials and styles affect the pricing, we've compiled a table for both:
Average Staircase Cost by Style
| Staircase Type | Average Cost |
| --- | --- |
| Straight | £600 - £1500 |
| L-shaped | £700 - £1600 |
| U-shaped | £1000 - £2000 |
| Winder | £1100 - £2250 |
| Middle landing | £1100 - £2500 |
| Spiral | £1600 - £6000 |
Average Staircase Cost by Material
| Material | Average Cost |
| --- | --- |
| Softwood | £600 - £1100 |
| Metal | £1450 - £3450 |
| Hardwood | £1550 - £2550 |
| Other (Glass, Stone, Composites) | £2000 - £3500 |
They are the estimates for the cost of installing a new staircase by both material and style but let's take a look at some common examples of staircase installations to delve into this a little further.
Average Cost of Installing A Staircase Examples
| Staircase Type | Duration | Average Cost |
| --- | --- | --- |
| Straight single storey softwood staircase | 2 Days | £750-£1500 |
| Straight single storey hardwood staircase | 2 Days | £1500-£2000 |
| Straight single storey softwood staircase with half landing | 2-3 Days | £1400-£1900 |
| Straight single storey hardwood staircase with half landing | 2-3 Days | £2000-£3000 |
| Spiral single-storey wooden staircase | 3 Days | £2000-£3000 |
| Spiral single storey metal staircase | 3 Days | £2400-£3400 |
These estimates are based on the entire job, including materials and manpower, but there are a few things that can affect the cost, hence why the ranges are quite vast.
For example, the cost of manpower is a lot higher in some areas than in others, with big cities like London attracting higher rates for work than small towns.
Similarly, if you have a very tall home that requires bespoke staircases, you'll likely pay more for them.
Throughout this guide, we'll explore all of these cost-affecting factors and all other costs associated with the installation of a new staircase.
What are the Supply Costs of Staircase Installation?
First, we're going to explore the supply costs of different staircases, which as we have seen from the previous tables, is quite varied depending on the materials you choose.
Now, you can ask the contractor to purchase the materials for you as part of the overall job quote. However, you may be better served purchasing them yourself.
The contractor won't have the time to shop around for the best deal for your materials, which means if you take this job yourself, you can hunt for some bargains.
It's also a good idea to get hands-on with materials before purchasing them, so you can see how colours and styles look in real life instead of online or in catalogues.
Softwood Staircase
Softwood is the most common material used for staircases due to its affordable pricing, ease of workability, and sustainability, meaning it is available in abundance.
However, it isn't the most durable option on the market, so be aware that it may not be as long-lasting as other materials.
In any case, the pricing of softwood is certainly a huge selling point, and you can purchase materials for a straight staircase for as low as £400 increasing to around £2,000 for spiral and winding stairways.
Hardwood Staircase
A more durable and long-lasting alternative to softwood, is, of course, hardwood, although you will pay more for the privilege.
The price is higher for hardwoods because they are far scarcer than softwoods and are therefore harder to attain. They're also not as easy to work with for contractors, adding a little time to the overall installation.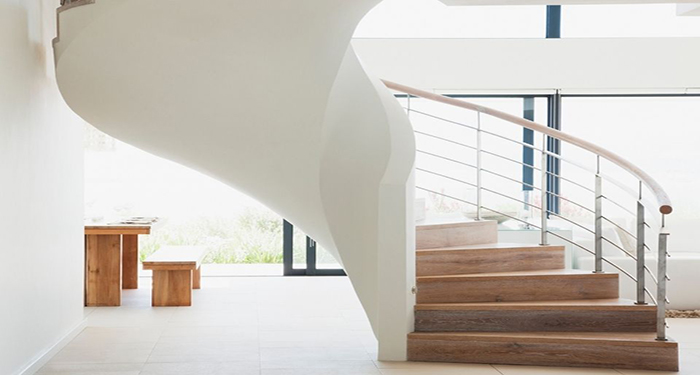 You're looking at between £800 and £4,000 for materials for a hardwood staircase, with the lower end of the scale for basic styles and the higher end for complex designs.
Metal Staircase
Metal is used for spiral and winding staircases as they are easy to manipulate and are extremely hard-wearing, making them perfect for complex designs.
Metal doesn't have as much appeal as wooden designs in terms of aesthetics, but it's certainly the practical option and solution. You'll pay around £1,200 to £3,000 for metal materials depending on the design's complexity.
Other Materials
You can use other materials for your new staircase, although they are far less common than the previous materials listed here, so you can expect to pay a premium for them.
Glass, stone and concrete are sometimes used for different styles of staircases. While they may not be as practical or cost-effective as some other materials, they can be the perfect solution for when you are aiming for a certain type of décor.
We've compiled a handy table here to illustrate the different cost ranges for the staircase materials here:
Average Cost of Materials
| Materials | Average Price |
| --- | --- |
| Softwood | £400 - £2,000 |
| Hardwood | £800 - £4,000 |
| Metal | £1,200 - £3,000 |
| Other (Glass & Composite) | £800 - £2,600 |
What are the Additional Costs of Installing a Staircase?
New Flooring
If you're making the sound investment of installing a new staircase into your home, it may be a good idea to review your flooring at the same time. Especially if you're going to have a certain style of flooring on your staircase.
Now, new flooring encompasses quite a vast array of possibilities, from carpets to laminates and everything in-between. On average, you'll pay between £400 and £1,500 for a space of around 15sqm.
This includes vinyl and carpet at the lower end of the scale and Karndean and tiled floors occupying the upper end of the scale.
If you're opting for a hard or softwood staircase, it may be a good idea to get hardwood flooring at the bottom of the stairs to in-keep with the décor.
Just like with staircases, there's a wide price range for wooden flooring too, with options as low as £20 per square metre up to around £50 per square metre.
In any case, new flooring is a great investment, and why not revitalise your home all at once if you have the budget available.
Decorating
Once your new staircase is installed, it may be time for a decoration for the walls adjoining the staircase or the hallway and landing areas.
While decorating is a pretty simple job to do yourself, it's also pretty affordable to have it professionally done, saving you a lot of time and effort.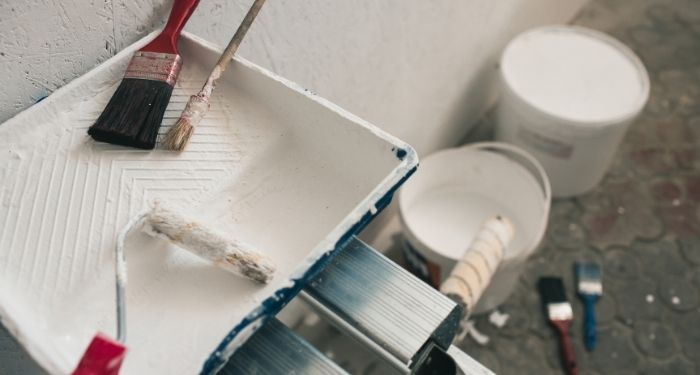 Most decorators will work for around £150 to £200 per day; again, this depends on your location and the rates in your area.
You can pick up the supplies pretty cheaply from any DIY store and have your spaces decorated in as little as one day, saving you a ton of effort.
Plus, we're all guilty of starting a decorating job and then losing the desire to complete it, leaving bare patches in strange places!
New Bannisters/Handrails
This may sound like an obvious extra cost, but a bannister can be an incredibly important addition that some people overlook.
Bannisters aren't very expensive, regardless of material, and there are plenty of options. A wooden bannister will cost anything from £15-£100, and they can be installed incredibly quickly along with your staircase.
Other options are metal and glass, coming in between £30-£150, depending on the quality and style.
Tradesmen Costs for Staircase Installation
The average labour cost to install a new staircase for you will range from around £150-£250 per day, with the job taking anywhere from 1 day to 3 days.
We mentioned earlier that there are a few cost-affecting factors to consider with labour costs and a big factor is the location of your home.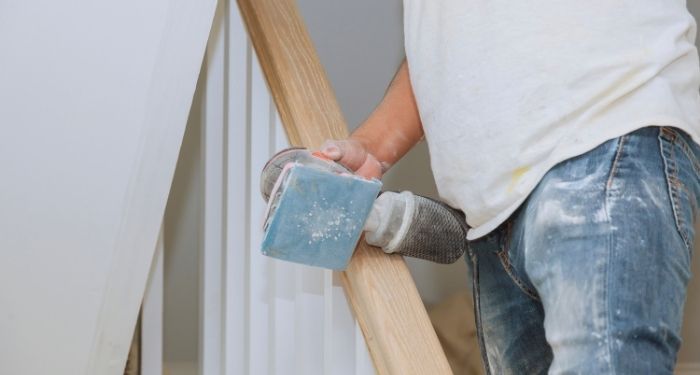 In big cities like London and Birmingham, the cost of living is much higher than in smaller towns, villages and regions.
The fact that big cities are more densely populated than other areas also contribute to those higher rates as there is more competition for services, whereas, in smaller towns and villages, contractors must be as competitive as possible to win jobs.
This is standard across all trades and isn't reserved for joiners and staircase installations, but it's still worth considering if you live in these areas that attract higher rates.
How Long Does It Take to Fit a Staircase?
Of course, the overall timescale for installing a staircase will differ from home to home. It all depends on the complexity of the job, the space that it's going into, the state of your current staircase and a whole host of other things.
However, as a general rule of thumb, standard and simple staircases like a straight, wooden staircase will usually take around a day, with more complex designs like winding staircases taking between one and two days, and even more complex designs like spiral staircases taking closer to three days.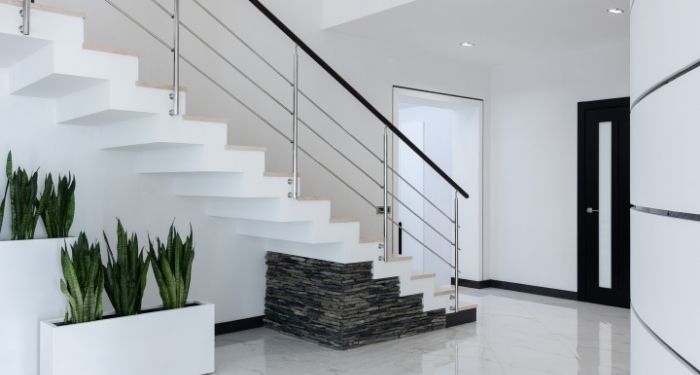 There are a few steps to installing a staircase that can't be rushed, mostly surrounding the measuring of the spaces to ensure that everything fits perfectly when installed.
It may seem like the joiner is wasting time by triple checking everything, but it's incredibly important that there are no mistakes at this stage and even a single millimetre can cause a huge problem further on down the line.
Types of Staircase
There are five types of staircase that are the most common across the UK, and we're going to explore each of them in a little more detail here:
Straight Staircase
Straight stairways are the most popular option because they fit in almost any home, they are easy to install, and they don't necessarily require a landing or hallway to be installed.
However, they do take a sizeable chunk of your home, and due to the straight nature, they aren't the safest options, particularly for children and pets.
However, they are very suitable for installing accessibility features like chair lifts, making them incredibly useful in care homes and assisted living accommodations.
L-Shaped Staircase
L-shaped staircases offer many benefits, including reducing noise disturbance from other floors and an added layer of privacy as they don't look straight down.
They are also a lot safer than straight staircase options considering they have a dead-end usually around a third of the way down. The added complexity adds a layer of difficulty for the installation, and the handrail installation can be tough.
U-Shaped Staircase
This staircase is the hardest to install, meaning it will take a joiner longer and therefore incurring more labour costs.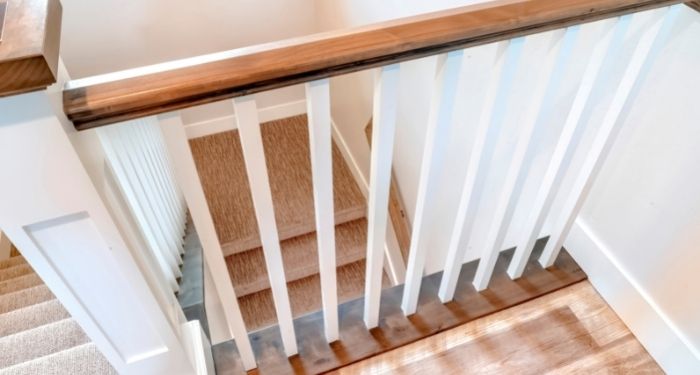 They also take up a lot of space, but their unique design does add a lot of value to your home, so there are some benefits to be enjoyed.
Winder Staircase
Winder staircases look like straight staircases, but with a little twist at the top or bottom of the stairs.
This can be a little dangerous, but it does allow for a very impressive design, and they don't take up much space, which is certainly a big positive.
Spiral Staircase
Spiral stairways are certainly a luxury option, and they add a wonderful touch of class and value to your home.
Additionally, they really maximise the amount of space in your home. However, they are pretty complex to install and the tough to navigate layout can be dangerous, especially to children.
How Much Does It Cost to Remove a Staircase?
It will take a professional around half a day to remove your staircase ready for a new installation. This is usually factored into the price of the installation.
However, if it isn't, you can usually hire a contractor to remove it for between £100-£150 depending on the area.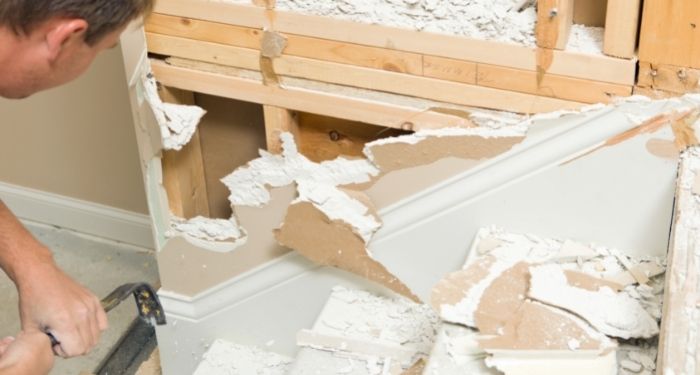 You'll also need a waste disposal service in the form of hiring a skip which costs between £120 and £300 depending on the size of the skip you need.
You can attempt to remove the staircase yourself, but you do run the risk of damaging the floor and walls in doing so, meaning it's probably better off left to a professional.
FAQs
How is a staircase built?
First of all, the space will be measured up and checked many times to ensure total accuracy. From here, a diagonal line will be drawn from the bottom to the top to show where the edge of the stair will fit; this is known as a stringer.
Pre-cut threads will be placed across the stringers for the stairs to be installed into and they will be fixed in place permanently. Last, the handrail will be installed, and the stairs are complete.
Can you paint a staircase?
Depending on the material you use, you can paint a staircase. Wood is the most common material used for painting, but you should check what preparation must be done on the specific type of wood before proceeding.
Can I install a staircase myself?
Installing a staircase can be quite a tough job, especially for someone with no experience in doing so. The accuracy of measurements and stringers' placement is where the biggest issues usually arise from, and you run the risk of wasting a lot of costly materials if mistakes are made.
Do you need planning permission for a new staircase?
Before you complete a new staircase installation, you will need to ensure that certain building regulations are met. Firstly, if you are moving your staircase, you will need planning permission.
If you are changing your staircase to anything that is over the following regulations, you'll need to apply for planning permission as well. The regulations are as follows:
Minimum headroom of 2m from bottom to top throughout, including while on the stairs.
Pitch no greater than 42 degrees.
Maximum height of 220mm for each stair and a minimum of 190mm.
Stair width of 800mm.
If you are within these regulations for changing a staircase, you shouldn't have any issues. Still, outside of these regulations, you will need to submit planning permission to your local authority at the cost of £262, including VAT.
How high should the handrail be on a staircase?
Handrails must be at the height of 900mm to remain lawful under the building regulations set out for staircases.
Sources