How Much Do Fitted Wardrobes Cost?
Many people have fitted wardrobes in their homes nowadays, as they significantly boost the value and beauty of any room. Fitted wardrobes make significantly better use of the space available in your home, allowing you to have plenty of room to store just about anything in your home to decrease the amount of clutter.
Installing a new fitted wardrobe costs roughly £2,600 on average and might take anywhere from one day to two weeks, depending on the job and if any other jobs need to be completed. However, this will depend on the cabinet's size and style and the room itself.
Designers are constantly producing new and improved forms of fitted wardrobes, ranging from unique door access to beautiful aesthetics; nevertheless, this variation impacts the time it takes to install and the overall difficulty of the job.
Fitted wardrobes have new designs and can now be made to match your home's decor as many designers can customise a fitted wardrobe to suit your requirements.
Because of the complexity and sheer size of fitted wardrobes, the price might vary substantially depending on the type, shape, and material you select. Mirrored sliding doors, for example, are far more expensive than typically handled doors.
Fitted closets with inside features such as spotlights, shelf units and TV cabinets are even more expensive as they take longer to install. They may also require the help of additional tradespeople such as an electrician to fit the spotlights, for example.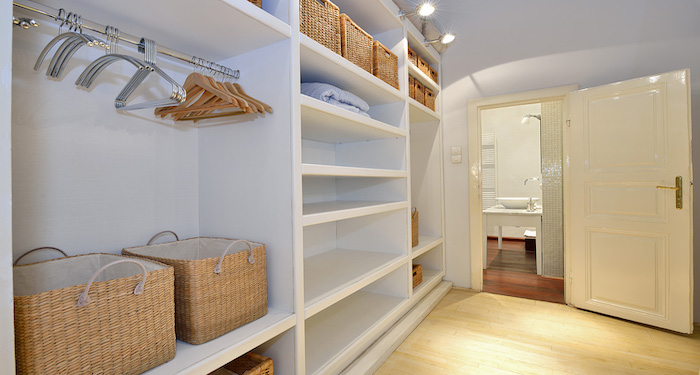 The overall cost will vary depending on the material selected, the size of the fitted wardrobe, the method of installation, the nature of the installation location, and any other additional costs.
Installing a wardrobe in an irregularly shaped bedroom, for example, can be more difficult, and the time it takes to put it in place will be longer, resulting in a higher labour cost.
Even so, if the room has any access concerns, the price will rise accordingly. Some people have unusually shaped rooms due to the layout, design, or even sloped ceilings. When installation experts come out to quote the task, they'll be able to spot any potential access concerns.
The location of your home is the most typical cost influencing element for trades in general.
If you reside in a popular city such as Manchester or London, you will pay a higher premium than if you live in a more tranquil part of the country. This is due to the rising cost of living in certain places, with price rises affecting almost all services in those areas.
Fitted Wardrobe Prices
The table below will show you the different prices for the different wardrobes to be installed:
| Job Description | Cost |
| --- | --- |
| Bespoke fitted wardrobe with sliding doors | £2200-£3000 |
| Bespoke fitted wardrobe with sliding mirror doors | £2000-£2800 |
| Bespoke 3-door fitted wardrobe | £2000-£2500 |
| Standard 4-door fitted wardrobe | £2400-£3100 |
| Standard 5-door fitted wardrobe | £3100-£3900 |
| Bespoke 6-door fitted wardrobe | £3300-£4100 |
| Corner fitted wardrobe | £600-£1000 |
| Gloss fitted wardrobe | £700-£3000 |
What are the Supply Costs of Fitted Wardrobes?
Materials typically make up about 70% of the total cost of installing a fitted wardrobe in your home. As you can see from the chart above, there is a significant price difference based on the wardrobe and the number of doors.
Another factor to consider when budgeting for a fitted wardrobe installation is whether you want a bespoke, custom-built cabinet or a pre-designed cabinet from a DIY or wardrobe store.
Because a joiner or carpenter will need to design and build the wardrobe from the ground up, bespoke fitted wardrobes are expensive, but if you have the budget for it, you will be quite happy with the product.
You should also think about the materials you want to use for your closet, as solid woods like oak are much more expensive than uPVC. Again, depending on your budget, it's all about striking the perfect balance between quality and cost-effectiveness.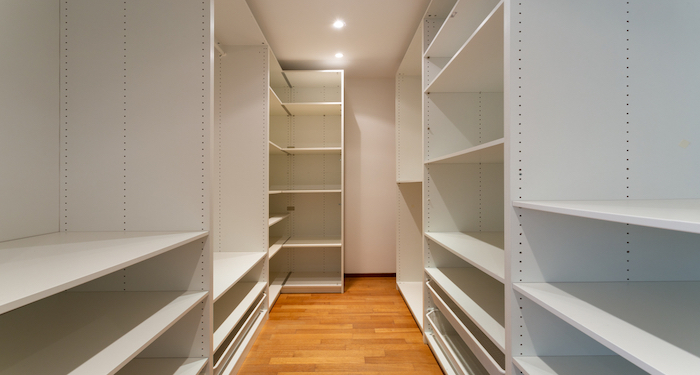 As you can see, the price of different wardrobes varies, and this is due to its design, quality and the material the wardrobe is made from.
A bespoke fitted wardrobe with sliding doors will usually cost between £1550 and £2100, while the three-door variant will cost between £1400 and £1750.
A fitted wardrobe with sliding mirror doors will normally cost from £1400 to £1950, while a normal four-door fitted wardrobe will cost around £1650 to £2200.
The more doors you want on your wardrobe, the more expensive it will be. For example, a 5-door fitted wardrobe, on the other hand, will cost between £2150 and £2750, whereas a 6-door bespoke built wardrobe would cost between £2200 and £2800.
Corner fitted wardrobes are the cheapest option as they can cost somewhere between £400 and £700, whereas gloss fitted wardrobes can cost anywhere between £500 and £2000. It depends on what the gloss type is and what the wardrobe has.
The table below will break down supply costs of fitted wardrobes:
| Type of Wardrobe | Cost |
| --- | --- |
| Bespoke fitted wardrobe with sliding doors | £1550-£2100 |
| Fitted wardrobe with sliding mirror doors | £1400-£1950 |
| Bespoke 3-door fitted wardrobe | £1400-£1750 |
| Standard 4-door fitted wardrobe | £1650-£2200 |
| Standard 5-door fitted wardrobe | £2150-£2750 |
| Bespoke 6-door fitted wardrobe | £2200-£2800 |
| Corner fitted wardrobe | £400-£700 |
| Gloss fitted wardrobe | £500-£2000 |
What are the Additional Costs of Installing Fitted Wardrobes?
Here are any additional fees you can spend while installing a new fitted wardrobe. New flooring, plastering, and painting and decorating are examples of such jobs.
Total installation costs for any of the following jobs might vary substantially depending on where you live in the country, with places like London, for example, charging higher rates than the UK average, so keep this in mind if you have a set budget and live somewhere like London.
Wallpapering
If you want wallpaper before or after having your wardrobe fitted, this will add to your price. The cost depends on the size of your room or the wall you want to be wallpapered. Wallpapering a 10m2 room costs between £150 and £200 on average.
Wallpaper installation for a 20m2 room would cost roughly £210 to £290, £310 to £400 for a 30m2 room, and £410 to £510 for a 50m2 room.
The sort of wallpaper you choose will also influence your final bill, as some alternatives are more expensive than others. Pre-pasted wallpaper, for example, costs £5 to £15 more per roll than normal wallpaper.
Stripping and hanging wallpaper, on the other hand, costs around £200 to £250 for a 10m2 room, £350 to £450 for a 20m2 room, £470 to £590 for a 30m2 room, and £540 to £680 for a 50m2 room.
New Hardwood Flooring
Typically, your space's size, shape, and complexity will influence the overall cost you'll pay for hardwood flooring. This will determine the number of supplies you'll need and the amount of time the contractors will need to construct the flooring.
Depending on the type of wood you select for your home, you may expect to pay between £25 and £100 per m2.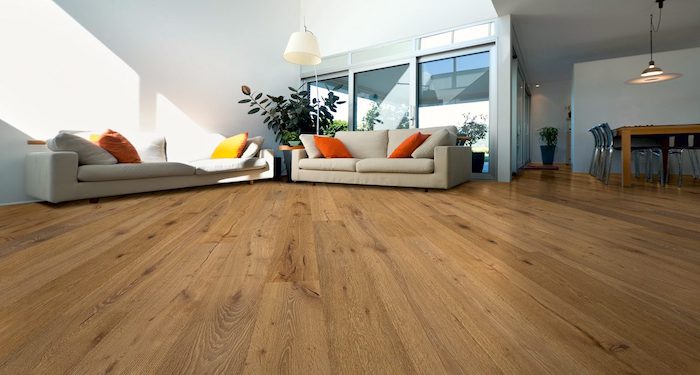 The cost of hardwood flooring varies greatly depending on the type of wood used, with less expensive woods like pine costing significantly less than more expensive woods like walnut.
In addition to these costs, you must include in the cost of underlay, which can range from £3 to £8 depending on the thickness and quality of the underlay. One of these elements is geography, and outsourcing work in a big metropolis like London or Birmingham may cost more than contracting work in a small town.
Plastering
If you need your wall re-plastering to allow the fitted wardrobe to fit in its perfect place, this will also add to the additional overall charge. The typical cost of plastering a whole room is roughly £300 to £400.
Plastering just one wall will likely cost between £100 and £200 while plastering two rooms would likely cost between £400 and £600. Repairing a small patch usually costs between £75 and £125.
When it comes to plastering, each surface must be addressed one at a time. If necessary, a professional will clean and prepare each surface involved in the job with a bonding agent.
To keep the plaster in place, wooden batten screeds will be utilised. Screeds are fastened to the wall and then taken down after the plastering is finished. Therefore, it is super important to hire a professional and not DIY.
Painting
If you need a single room painted by a professional, you should expect to pay between £200 and £300. The cost of hiring a painter to paint two rooms is likely to be in the range of £300 to £400.
Expect to pay roughly £300 to £400 to have a room stripped, primed, and painted, and between £400 and £600 to have the same work done on two rooms. This is also the price you may anticipate paying if a room's woodwork and walls need to be painted.
Before painting can begin, a painter may discover that minor wall repairs are required.
Having skirting boards, doors, and windowsills painted is normally not included in any painting bids unless specifically requested.
It will almost certainly be worth your time and money to have any timber painted as part of the job to improve the room's look. So, although it seems like extra money is not needed, a painter will be able to improve your room aesthetic and add to the décor.
Tradesmen Costs for Installing Fitted Wardrobes
Wardrobe installers normally charge around £150 per day, though due to the complexity of some installations, some tradespeople choose to charge per job rather than per hour. When the tradespeople give you a quote, make sure you ask what's included in it.
This will cover both installation and materials in most cases, but if you're supplying your materials, the quote will only cover installation. To avoid any miscommunication, make sure you're both on the same page.
Whether you already have a fitted wardrobe, find out whether the installation team offers rubbish collection services or if you'll have to do it yourself. Although it's normal for skip hire to be arranged by the person having the service done, it's always a good idea to inquire first.
The labour costs differ with the size, weight and type of wardrobe it is. For example, for a bespoke fitted wardrobe with sliding doors, expect to pay between £660 and £900 in labour costs.
The labour cost for a fitted wardrobe with sliding mirror doors will likely be approximately £500 to £700, while a bespoke fitted wardrobe with three doors will likely be around £600 to £750.
A contractor will most likely charge between £800 and £1100 for a basic four-door fitted wardrobe, and between £800 and £1200 for a five-door installation.
The cost of installing a six-door handmade custom wardrobe is likely to be between £1000 and £1400. Corner-based fitted wardrobes will cost between £200 and £280 to install, or between £240 and £1060 if a gloss fitted wardrobe is being installed.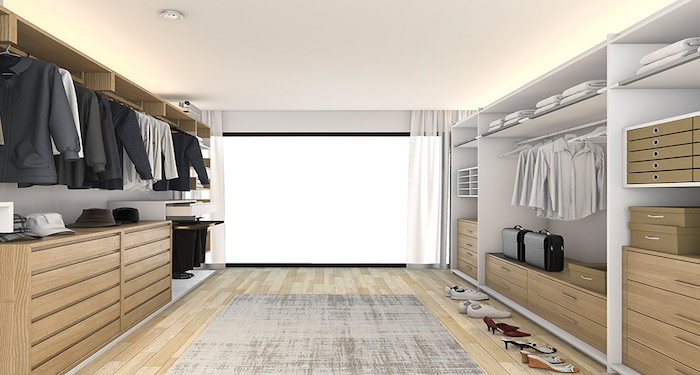 The table below will include a breakdown of prices of labour costs:
| Job Description | Tradesmen Costs |
| --- | --- |
| Bespoke fitted wardrobe with sliding doors | £660-£900 |
| Fitted wardrobe with sliding mirror doors | £500-£700 |
| Bespoke 3-door fitted wardrobe | £600-£750 |
| Standard 4-door fitted wardrobe | £800-£1100 |
| Standard 5-door fitted wardrobe | £800-£1200 |
| Bespoke 6-door fitted wardrobe | £1000-£1400 |
| Corner fitted wardrobe | £200-£300 |
| Gloss fitted wardrobe | £250-£1000 |
How Long Does It Take to Install Fitted Wardrobes?
The cost of a fitted wardrobe carpenter is determined by the job's timeline. A lot of contractors may bill you on an hourly or daily basis. Therefore, the type of wardrobe you have will determine how long it will take to install.
First, an expert will measure the space for 20 to 30 minutes to see that the wardrobe will fit in the room of your choice perfectly. This is an important step as sometimes it can go wrong, and figuring out where to put the wardrobe instead takes time.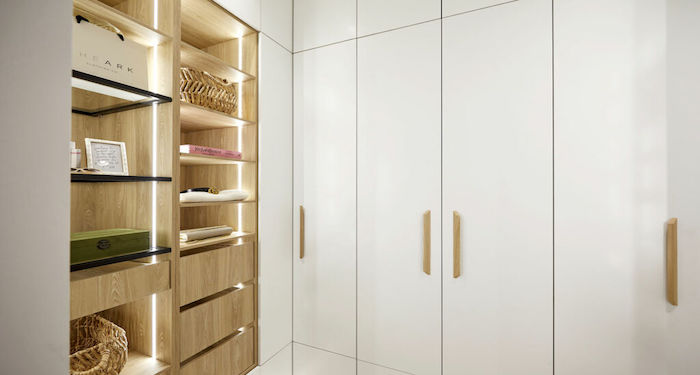 Putting the wardrobe together and installing It could take anywhere from one to two days depending on the types of fitted wardrobes. However, the length of time this takes will be determined by the size and type of wardrobe.
Then the most annoying job is having to clean the room and finishing the job with any additional adjustments, this will most likely take an hour or less.
Choosing Fitted Wardrobes
When it comes to installing a fitted bedroom wardrobe, you have various design options to select from, and you can customise your new wardrobe to meet all your specific requirements. The various types of fitted wardrobes that you can have put in your home are listed here.
Walk-In Fitted Wardrobes Cost
A walk-in fitted wardrobe is a popular choice for homeowners with a small spare room. Many people dream of changing an unused room into a walk-in wardrobe, and with fitted wardrobes, this goal can be achieved.
Many people opt for shelves, hanging rails, and drawers installed on three walls in a spare room, resulting in a walk-in wardrobe that fulfils their requirements.
If you don't need three walls of storage, you can use this area to create a dressing room by adding a large mirror or dressing table. A professionally installed walk-in wardrobe typically cost around £4000.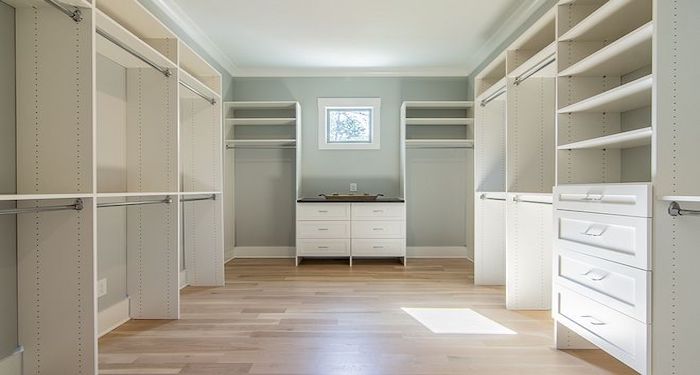 PROS
Perfect for an organisation of clutter
It maximises your space
CONS
Around the Bed Fitted Wardrobes Cost
Installing a modern fitted wardrobe around the bed is a fantastic option for anyone with limited floor space. While it is typically the go-to solution for a small bedroom, it can also function in larger spaces.
Homeowners frequently have hanging rails on both sides of their bed, but the wardrobe extends up and over the headboard. This provides additional storage, and folded clothes, shoes, and accessories are generally hung from the ceiling.
The size of your overhead cupboards will constantly vary depending on the amount of storage you require. This type of fitted wardrobe normally costs around £1400-£1800.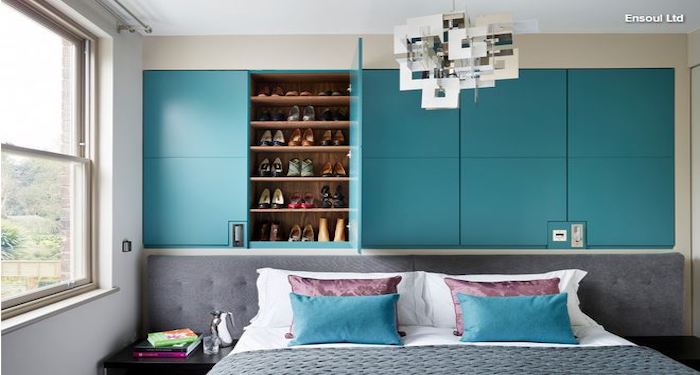 PROS
It maximises natural light
Easy to incorporate into your style
CONS
Wall-to-Wall Fitted Wardrobes Cost
You always have the option of installing wall-to-wall fitted bedroom closets, regardless of the size or layout of your room. This is one of the most popular choices, and for many people, it is their first choice.
All you must do now is determine which wall the wardrobes should go on and how deep they should be. They'll be installed with floor-to-ceiling storage, almost like another wall.
Of course, you have complete control over the interior and exterior design, and you can make sure that the entire wardrobe is ideal for your space.
This fitted wardrobe costs around £1,600-£1,800.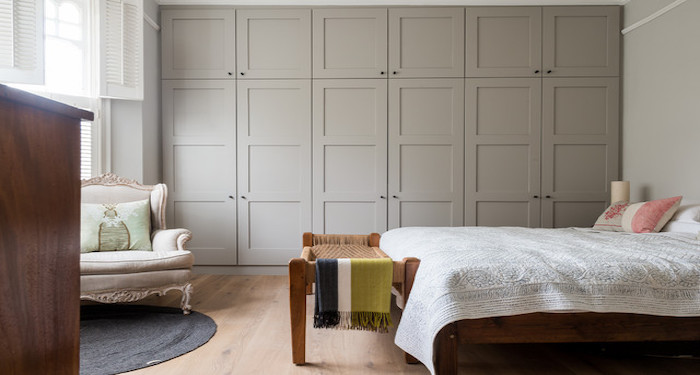 PROS
Make your room feel bigger
Hide awkward spaces
CONS
Difficult to rearrange the space
Sliding Door Wardrobes Cost
Sliding doors are an excellent option for a made-to-measure wardrobe since they require no space to open out into the room. These doors extend from floor to ceiling, taking up no more room. The cost of this sliding door wardrobe depends on how much you will pay.
An average 3-door sliding door wardrobe costs around £2,650 to install.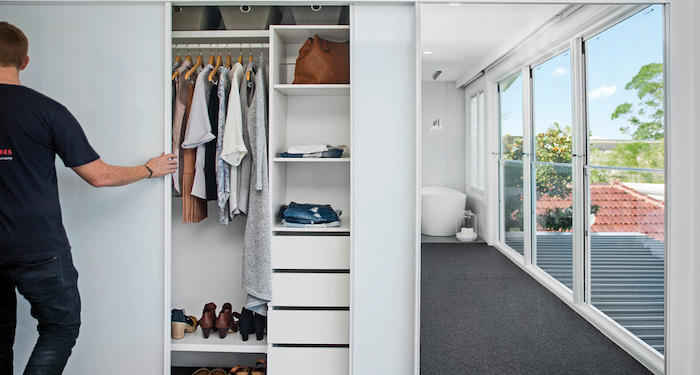 PROS
Take up very little space
Extremely space-efficient
Available in a variety of colours and styles
CONS
Tough to change or alter once they have been fitted
Made to Measure Wardrobes Cost
A made-to-measure or fitted wardrobe is a terrific method to make use of wasted space and is ideal for small bedrooms. These wardrobes are normally created and installed by carpenters or specialists, and they make excellent use of a room's space.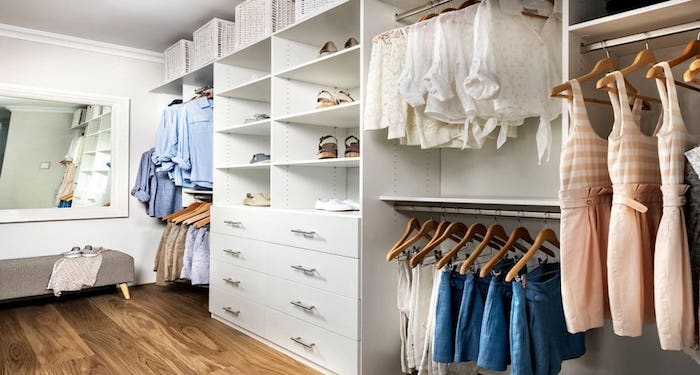 PROS
A made-to-measure wardrobe makes the most of a room's available space.
Aesthetically, fitted wardrobes are appealing.
Bespoke wardrobes can be made from fitted wardrobes.
A made-to-measure wardrobe's doors can be replaced.
CONS
It takes a little longer to build a made-to-measure wardrobe than it does to build a freestanding wardrobe.
Benefits of Fitted Wardrobes
Space is always an important aspect to consider when moving into a new house or renovating a room in your current home. What furnishings can help you make the most of the available space? How will you store everything in one location without your storage space overflowing?
We strongly advise you to examine the advantages of having a fitted wardrobe in your home if you haven't already. Here they are for you.
Utilise Space
The most obvious advantage of a fitted wardrobe is that it may help you make the most of the available space in your home. They may be measured to fit perfectly, with no wasted gaps on either side, unlike a freestanding wardrobe. Extra storage is always a plus when space is maximised.
There's also no worry of it being too enormous and overpowering for a space or too little and dominated by other furniture, as there is with a freestanding closet.
A fitted wardrobe will blend seamlessly into the décor of your room, providing a stress-free storage and organisation solution for your clothes and personal items.
Customisable
A fitted wardrobe is custom-made to meet your requirements. It can be annoying when you can't find the perfect freestanding wardrobe with all the compartments, rails, and storage you require.
With a fitted wardrobe, you can customise the space to meet your needs, whether that means adding a shoe rack, adding shelves for extra storage, or lengthening the rails to accommodate more clothing.
Are you fed up with not being able to find a wardrobe with the right size mirror? You can have as many mirrors as you want with a fitted wardrobe. Full-length mirrors on each door of your closet will provide the idea that your space is larger than it is, in addition to allowing you to see your entire outfit.
Decreases Clutter
This is a no-brainer. Your belongings can be organised and kept tidy behind closed doors with greater storage space.
A clean home reflects a clean mind, giving the ideal environment for you to unwind and rest.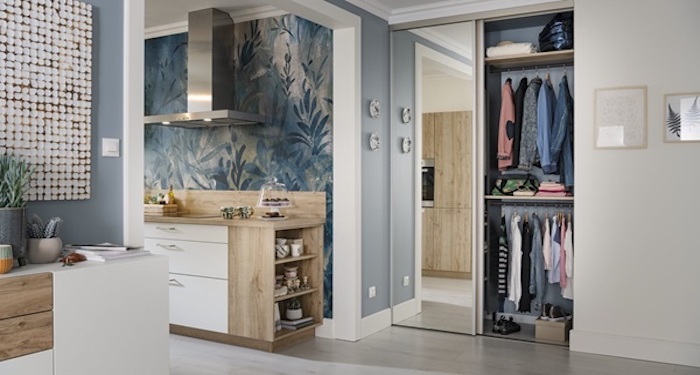 Easily Cleaned
Unlike a freestanding wardrobe, there will be no annoying gaps to accumulate dust with a made-to-measure fitted wardrobe.
There'll be no more stretching to clean the top of your wardrobe with a feather duster or squeezing the hoover nozzle underneath to reach a stray dust bunny. So, it allows your cleaning process to be fast and easy.
Good Investment
Not only would a fitted wardrobe improve the look and feel of your home, but it may also increase the value of your home if you ever decide to sell it.
It's a terrific space investment that will improve your day-to-day life while also increasing the value of your property. Many new homeowners look for houses with fitted wardrobes as it makes the house look stylish and modern.
New Décor
A new fitted wardrobe can revitalise your bedroom space by bringing in more natural light and giving it a fresh lease on life.
Because many individuals plan their bedrooms around a new fitted wardrobe, a fresh coat of paint and some new furniture may completely transform the area. It is best to have your fitted wardrobe match your décor.
How Much Does It Cost to Remove a Fitted Wardrobe?
If you want to remove a fitted wardrobe that is linked to a wall in your home, you'll need to follow a few safety precautions. Removing a piece of custom furniture from a wall unit is a demolition operation that will require you to pry it away from the wall using a crowbar.
Keep in mind that after removing the fitted wardrobe, you'll probably need to fix the wall. This can be a DIY process; however, you may need to hire a skip to get rid of any waste.
The cost of hiring a skip will vary, however, the most popular skip is the 8-yard skip, which can hold between 80 and 90 garbage bags. It is 3.66 metres long, 1.68 metres broad, and 1.22 metres tall.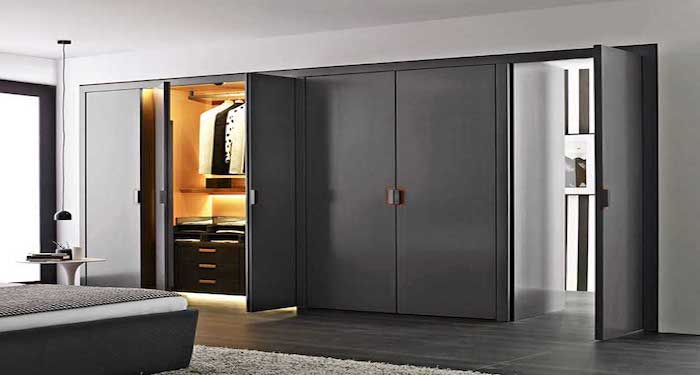 A one-week rental will cost between £200 and £250, with London costs reaching £275. However, you can hire a tradesperson to remove your fitted wardrobe, and they're normally cost around £80-£110 a day.
However, if you wish to pay someone to perform this work for you, the cost will vary depending on the size of the closet, but typically, someone can be hired for £300-£400, not including removal fees.
You can either hire a skip to place all the components in before it's carried away or break it down and take it to your local recycling plant to dispose of an old fitted wardrobe.
FAQs
Q: How can you update old fitted wardrobes?
A: Your fitted wardrobe may begin to look dated and out of style with time. If this is the case, you might want to give it a more current design without having to replace it entirely.
There are various ways to spruce up your old fitted wardrobes, including:
Adding decorative trimmings or panelling
Adding mirrors to the wardrobe doors
Painting the wardrobes, a new coat
Changing the handles
Upgrading the interior
Adding sliding doors
Integrating a bed into the wardrobe
Adding curtains
Removing the doors and adding more shelves.
Adding more shelves up to the ceiling
Q: Can you paint fitted wardrobes?
A: It is possible to paint your fitted wardrobes, however, repainting your old fitted wardrobe is not an easy task. The results will pay off when you see how your unique wardrobe doors may change the look of your interior.
Wardrobe doors, like internal doors, must be removed before painting, so solicit the assistance of a friend.
Q: How are Fitted Wardrobes Fitted?
A: Fitted wardrobes are available in a variety of wood species and finishes. Depending on the space and style, they're frequently equipped with sliding or hinged doors. Elegant features like mirrors and internal additions like pull-out shoe racks and pull-down hanging rails can be added to fitted wardrobes.
Q: How do you measure for a fitted wardrobe?
A: You'll need to measure the depth, height, and breadth of the space you want to accommodate with sliding doors when you measure it.
Then, allow at least 620mm for inside wardrobe systems when measuring the depth of the opening in two locations. Then, across the opening, measure the height in three evenly spaced points.
Q: How do you customise a fitted wardrobe?
A: Many individuals customise their fitted wardrobe system by adding shelves, rails, and drawers, but you may be creative.
Some people have built TV units within their fitted wardrobes, allowing them to close the doors when not in use. This gives the room a much cleaner and neater appearance.
Sources