How Much Does It Cost to Replace a Flat Roof?
Surprisingly, most flat roofs are built with a little inclination to allow rainwater to drain into gutters; therefore, most flat roofs aren't flat!
Do you want to discover how much it will cost to replace or repair your flat roof?
This guide examines the costs of various roof replacements, including materials, labour costs and additional costs, as well as discussing how long it takes to replace a flat roof, the benefits and how much it costs to remove a flat roof.
This makes calculating the cost of a roof replacement simple for everyone.
If you want to learn more, then everything you need to know will be found here. So how much does replacing a flat roof cost?
A flat roof might cost anything from £1,000 - £5,000 on average. This appears to be a large range, but it is due to all the elements that influence the flat roof replacement price.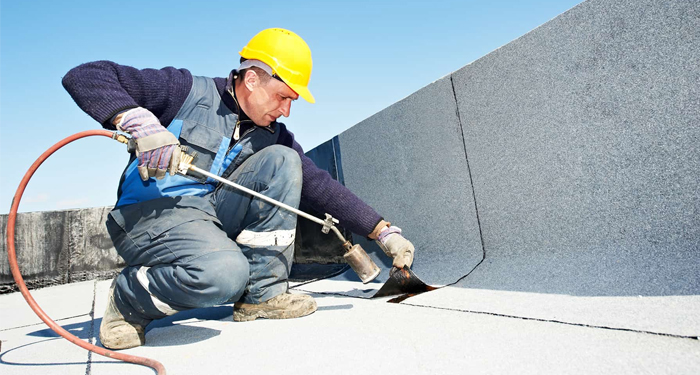 The cost of a flat roof, for example, may decrease or increase depending on the style of flat roof you choose.
Other considerations include the size of the house, the experience of the labourer, and the convenience of access to the roof. All of this is on top of other factors like scaffolding and so on.
Another thing to think about is the roofing material. Felt, rubber, fibreglass, and lead are the four most frequent materials used in flat roof construction.
If you choose a felt roof, for example, you may expect to pay between £40 - £70 per square metre.
A garage roof is the most prevalent sort of flat roof that requires replacement or repair.
For a single flat garage roof replacement, expect to pay between £700 - £1,000, with a double garage roof costing roughly 50% more.
The material used to construct a new flat roof is the most important factor that will influence its price. Felt roofs, for example, are much less expensive than lead or fibreglass roofs.
Continue reading to see what else can affect the final cost and how you can save money.
Flat Roof Prices
The table below will breakdown the prices of replacing a flat roof:
| Job | Cost |
| --- | --- |
| Flat roof | £1,500 - £4,500 |
| Porch | £300 - £600 |
| Double garage | £1,200 - £2,000 |
| Extension rood | £500 - £3,000 |
| Dormer | £700 - £1,500 |
When estimating the cost of flat roof covers and replacement, there are numerous aspects to consider.
What flat roofing method and materials you select, how accessible the roof is, and the flat roof's area size in square metres are all factors to consider.
The location of your project, as certain sections of the UK, are more expensive than others, such as the Southeast against the North East.
The costs of roofing businesses vary, so it may be dependent on the company's charges, as well as the costs of removing an old flat roof and other debris (usually handled by a contractor).
You should aim to take care of your roof as much as possible to avoid recurrent repairs or a complete replacement. This entails inspecting your roof at least twice a year, particularly when there are severe weather changes that could result in roof damage.
Make careful to check inside for any potential leaks in your ceiling since this could indicate the start of damage.
What are the Supply Costs of a Flat Roof Replacement?
Because labour accounts for a large portion of any flat roof budget, it's also a good idea to obtain a feel of how much the project will cost without additional labour fees. When the labourers offer a quote, this gives you an indication of how much they charge.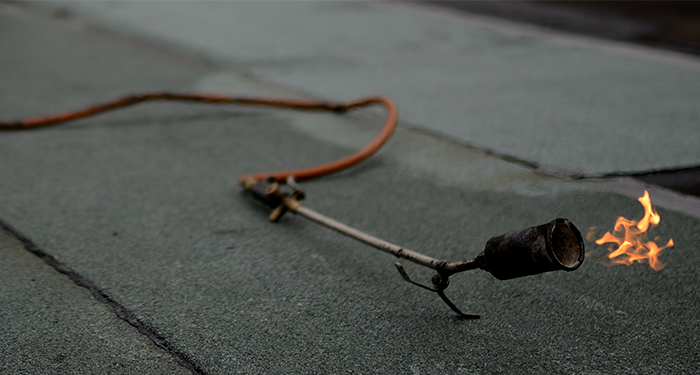 So, how much does a flat roof in the UK cost per square metre? This, in most cases, is dependent on the substance.
If you want to do it yourself, all you must do is figure out how much the supplies will cost. Doing it yourself can save you a lot of money, especially if you're planning to replace the roof on a two-story expansion, where you'll save roughly £300.
Flat roof replacement cost per square metre are as follows:
Felt usually costs £2 - £10 per m2, rubber costs £9 - £12 per m2 and fibreglass costs £2 - £3 per m2.
The lead will cost you £2 - £4 per kg and fibreglass insulation costs £6 - £10 per m2, PIR insulation boards cost £5 - £15 per m2 and spray foam insulation costs £5 - £12 per spray can.
Therefore, the size of your flat roof will have a significant effect on your overall costs, as the larger the roof, the more materials will be needed. The table below will breakdown the supply costs of a replacement flat roof:
| Supply | Cost |
| --- | --- |
| Felt | £2 - £10 per m2 |
| Rubber | £9 - £12 per m2 |
| Fibreglass | £2 - £3 per m2 |
| Lead | £2 - £4 per kg |
| Fibreglass insulation | £6 - £10 per m2 |
| PIR insulation boards | £5 - £15 per m2 |
| Spray foam insulation | £5 - £13 per spray can |
What are the Additional Costs of Replacing a Flat Roof?
When estimating the cost of a flat roof replacement or flat roof repair, there are various factors to consider. As a result, we'll go over the extra costs of replacing a flat roof here, so you know what to expect.
Conservatory Roof
A small lean-to conservatory roof replacement will cost £2,300 - £3,000, a medium lean-to conservatory roof replacement will cost £3,100 - £4,000, and a big lean-to conservatory roof replacement would cost £3,400 - £5,000.
A small Victorian conservatory will cost between £3,300 - £4,500, a medium Victorian conservatory would cost between £5,100 - £7,000, and a large Victorian conservatory will cost between £6,900 - £10,000.
A conservatory roof replacement would cost roughly £300 - £600 per day in labour. Given that a small conservatory roof will likely take around a day to replace, the cost of a replacement may wind up being around this amount.
A medium conservatory roof replacement will cost between £600 - £1,200, while a big roof replacement will cost between £900 - £1,800.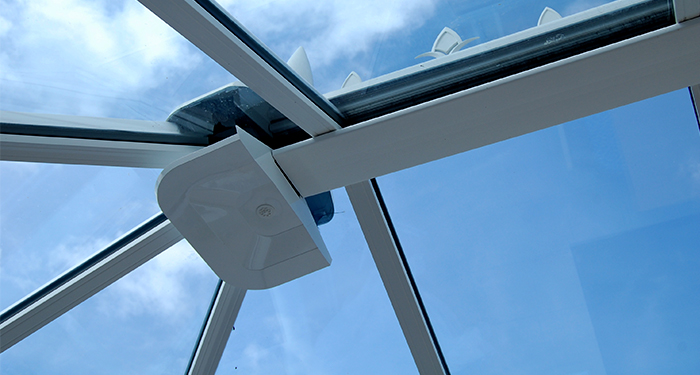 Scaffolding Hire
The cost of erecting a scaffold tower ranges from £200 - £300. Scaffolding a chimney will cost between £450 - £550, £800 - £1,000 for scaffolding on three sides of a semi-detached house, or £600 - £700 for scaffolding on three sides of a detached cottage.
Scaffolding bridging over a conservatory would set you back from £450 - £550.
The type and size of scaffolding, the number of tradespeople engaged, the convenience of access, and the location of your property are all factors that determine the cost of hiring scaffolding.
Setting up a scaffolding tower to fix lower hip tiles would cost around £230 - £270 in labour. Scaffolding bridge for a conservatory would cost roughly £430 - £470 in labour rates, while scaffolding at the front of a property for roofing would cost around £400 - £450.
The obvious benefit of renting scaffolding is that it is much less expensive than purchasing it all together for any given job. Buying it to keep will usually set you back several thousand pounds.
However, if you plan to reuse the scaffolding frequently enough, it will save you money in the long run.
Scaffolding kits are both inexpensive and practical, which is why they are so popular. Furthermore, they are incredibly simple to assemble and handle by a single person.
On the other hand, they aren't as versatile as scaffolds built by professionals, and since a flat roof job would necessitate a solid scaffold that can be used in a variety of ways, a professionally built scaffold may be your best option.
Soffits and Fascias
When rebuilding a flat roof, it's a good idea to replace the fascia boards as well, because they'll have to be removed anyhow, so you're already paying for half the job.
The cost of fascia and soffit replacement varies based on the size of your home, but the average cost is between £1,000 - £4,600.
Labour costs for a semi-detached house are expected to range between £400 - £520.
For a small, detached house, labour/installation charges will be around £600 - £720, £800 - £880 for a medium detached house, and £930 - £1,040 for a large, detached house.
Labour costs for a garage should be around £160 - £230, a small porch around £50 - £70, and a large porch around £80 - £100.
The amount of time it takes to replace soffits and fascias depends on a variety of factors, including the size of the property, the style of the house, the ease of access to the soffits and fascias, and the type of soffits and fascias you want to be installed.
The labour charges for removing soffits and fascias are expected to be from £20 - £26 per hour, with a two-hour minimum flat rate.
The removal fees could range from £50 - £200. You may get rid of old soffits and fascias in a skip or by using a 'man and van' service like Hippo Wastes.
Skip Hire
Depending on the situation, flat roof repairs may become quite dirty. This is because waste disposal could be a significant issue.
Fortunately, most businesses deal with waste and include it in their estimates, so you won't have to. If you conduct the work yourself, though, you may have to pay for garbage removal.
The usual cost of hiring a 2-yard skip is £70 - £100, with a 4-yard skip costing £100 - £160 and a 6-yard skip costing £120 - £190.
An 8-yard dumpster costs around £150 - £370, a 10-yard skip costs £180 - £410, and a 12-yard skip costs £220 - £450.
The number of tradesmen engaged in delivering and collecting the waste, the ease of access to your property, and your location are all factors that affect the price.
Because skip hire fees vary across the country, where you live will have an impact on the cost of hiring a skip.
Location
The cost of this work will be determined by a variety of criteria, including the size and kind of conservatory roof, location, the number of tradespeople engaged, materials, the convenience of access, and the location of the property.
In terms of where you live, this is important because labour costs vary across the country.
On the one hand, labour costs in the north of England, Scotland, and Northern Ireland are often cheaper than the national average. However, costs in the Southeast are higher (London in particular).
Duration
The length of time the job takes will almost certainly influence the labour cost. The majority of contractors bill by the day or hour.
However, the length of the project likely has no bearing on the cost. A contractor or corporation, for example, may have a defined rate regardless of how long the project takes.
A conservatory roof replacement usually takes two full working days on average.
Size
It goes without saying that the larger the roof, the higher the expense.
This would be significant not only in terms of material prices, as a larger roof will simply cost more, but also in terms of labour expenses, as a larger installation will likely take longer, raising the total trades to cost.
A larger flat roof replacement would also result in greater trash removal costs.
Condition of Current Roof
The present roof's condition is also important since it may take longer to remove if it is in poor condition; for example, a tradesperson may take longer to remove a roof in poor condition for safety concerns.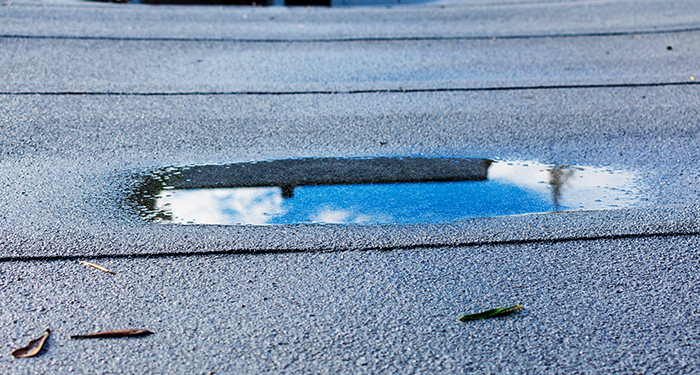 Number of Tradesmen
The higher the hourly or daily labour rate (where appropriate), the more tradesmen you recruit. However, with additional labourers on-site, the work may take less time.
Tradesmen Costs for a Flat Roof Replacement
It is always advised to have a tradesperson help you with your job. A flat roof replacement must be done correctly for it to last and be fitted properly.
Here we will go through the labour costs for a flat roof replacement, so you know how much you will be paying towards installation costs.
As previously stated, the cost of installing a new flat roof is split between the materials and labour.
As a result, if you're employing professionals to do the job, you'll need to find a reputable roofer with relevant experience. Typically, they will charge between £25 - £50 per hour.
Most contractors will include their fees in the total cost of the flat roof replacement. So, pay attention to the quote to make sure you're not being overcharged. In general, labour fees for a flat roof replacement should range from £200 - £500.
However, the job's cost and timeliness may differ depending on the conditions. For example, the type of material used may have an impact on the amount of time it takes to complete the job since certain materials are easier to deal with than others.
Accessibility is also critical. If the workers don't have a simple route to get to the roof, the job will take longer. As a result, a scaffold may be required. This not only assures the worker's safety but also saves time.
The cost will be determined by the type of job and the tradesmen's experience.
To guarantee that you're employing a trustworthy contractor, make sure they have at least 5 years of roofing expertise and that they're covered by public liability insurance, which will protect both them and you in the event of an accident.
You should also see if they have a certificate in roof slating and tiling. This is not, however, a legal prerequisite for becoming a skilled roofer.
All flat roofs should be inspected twice a year, in the spring and winter, ideally shortly after a shower or snowfall, to ensure that the water on the roof drains properly and does not pool.
Note that you must take appropriate safety precautions before attempting any flat roof inspection; unless you are 100 per cent certain of the roof's condition, do not step onto the roof; if you must, use a sheet of plywood to disperse your weight evenly across a broad surface area.
How Long Does It Take to Replace a Flat Roof?
Knowing how long it will take to replace a flat roof is important as you may need to take time off work. Here we will go through the duration to replace a flat roof.
A roof can be replaced in as little as one day or three weeks. A single-family home's whole roofing replacement takes about 2-3 days on average.
The length of time it takes to replace a roof is determined by several factors. The existing roof type and condition, the new roofing, materials, and the size of the house are all considerations to consider.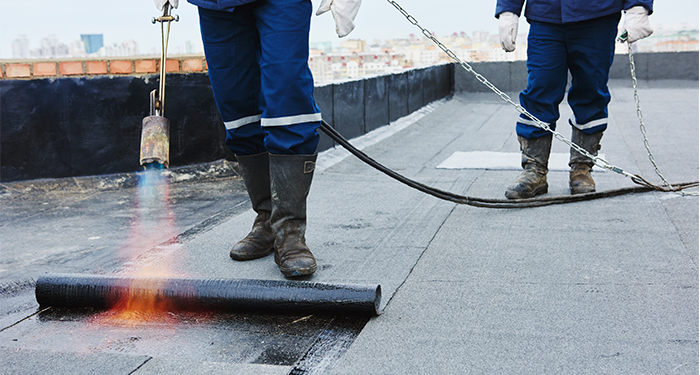 When compared to sloped roofs, flat EPDM roofing uses fewer materials. They also require less time to install than heavy tiles or wood shakes. Flat roofs hold more water than pitched roofs, and so require effective drainage.
It's also important to keep in mind that installing a new flat roof can take up to two days. Furthermore, most roofers require an extra pair of hands to complete their work efficiently.
As a result, you'll almost certainly have to pay two people to do the task. Replacing a roof will take substantially longer, with the removal and replacement of a single garage roof taking roughly 7 to 8 hours on average.
Flat roofs that are unusually shaped or require a lot of cutting around roof windows or pipelines, as well as flat roofs on the second or third levels that require scaffolding or access towers, will take longer.
Benefits of Replacing a Flat Roof
Flat roofs are among the most contentious of all the roof styles for buildings and dwellings. Outbuildings and huge structures are the most common places to find them. Flat roofs come with their own set of issues and requirements.
If you are planning to install a flat roof on a home or structure, it is critical to understand the benefits of flat roofs and what you will gain by replacing a flat roof.
Cost
They are relatively inexpensive to construct and install, as well as the materials frequently utilised for flat roofs. The flat roof insulation board costs about 80 cents per square foot.
It makes flat roof installation, as well as upkeep and maintenance, relatively economical. Because there is less risk involved in creating a flat roof, labour is less expensive.
Flat roofs are easier and faster to install. Over the roof's lifetime, there are fewer damages and repair expenditures. Flat roofs can benefit from solar panels, which save power, and satellites, which make gutter repairs and cleaning less expensive and easier.
More Usage Space
A flat rooftop provides you with additional living space that you may make use of. You may simply set up a table and chairs as a small outside setting for your home (if you have the proper structural approval!).
However, if you truly want to make the most of that space, why not include more details? Create a rooftop garden or scatter herbs along the perimeter.
Easy Access
A flat roof is ideal for installing solar panels or even air conditioning systems. Because they'll be difficult to notice from the ground, looting will be discouraged. It will be quite simple to gain access to the units if you need to make any repairs.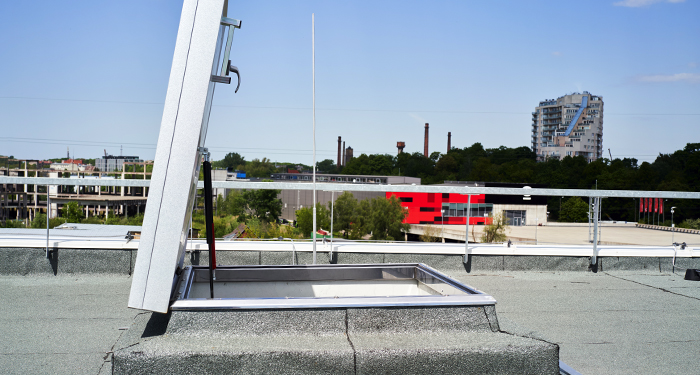 Economical
A flat roof often costs less per square foot to construct than a pitched roof. When you consider that when you construct a flat, you have fewer square feet, you can save a lot of money. Furthermore, with a flat roof, there are fewer repair costs over time.
Better Rooms
Inside the house, you'll discover that upstairs rooms are easier to construct because they'll be supported by a flat roof rather than a pitched one that cuts into the area.
With traditional roofs, the upper walls are often sloping, or at least a portion of the ceiling is, reducing the amount of living space available. Flat roofs enable standard shaped rooms to be built to the top.
Aesthetically Pleasing
Your property will look wonderful no matter what, yet many people prefer a level roof. Nothing shouts future more than a lovely flat table in the modern home.
You'll also discover that flat roofs offer a variety of safety benefits. It's easier to clean the gutters (and install them, for that matter), and you'll have to clear the snow if it snows – but it's a lot easier when you can just walk across the roof rather than scrambling up on a chilly, slick pitched roof.
How Much Does It Cost to Remove a Flat Roof?
If you want to have your flat roof removed, then it is probably best to know the costs before you go ahead with the removal. Here we will go through the costs of removing a flat roof.
This cost would include the removal of existing roof felt, an inspection of existing timber, the supply and installation of underlay, the supply and installation of the cap sheet, the supply and installation of any edgings, and the removal of all waste materials from the job site.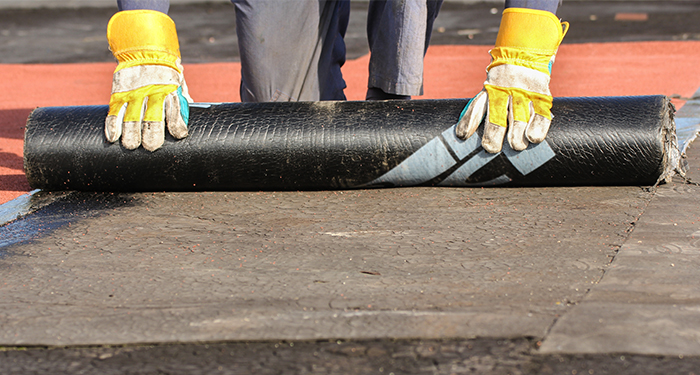 More insulation would be necessary for a flat roof in a habitable area of the structure, and the existence of asbestos in the existing roof would significantly increase expenses, as would access or height issues necessitating scaffolding.
You'll need to have your flat roof removed if you wish to transform your roof. It's possible that you don't have a choice because your roof is always leaking or has rotting wood decking, necessitating roof removal.
Professional removal costs roughly £80 per square metre on average, though this may vary depending on the type of material used since some may be more difficult to remove than others.
You should also factor in garbage disposal charges, which typically range from £100 - £1,000 if a contractor removes it for you. If you need to hire a skip, expect to pay between £200 - £1,000.
FAQs
Q: Is a DIY flat roof replacement possible?
A: Over time, your flat roof will experience a lot of wear and tear. Thankfully, these are arguably the easiest roofs to replace in terms of work. After removing the old roof, ethylene propylene diene monomer (EPDM) rubber can be used to build quickly and easily a new one.
If the damage to the roof is limited to a small area, repairing it rather than replacing it may be the best alternative. If you can't fix the roof material yourself, it can be more cost-effective to hire a contractor to replace the roof rather than paying them for modest, temporary repairs.
Q: When does your flat roof need replacing?
A: If you've seen water pouring from your ceiling, it could be the result of a hole, split, or blister in your roof material or flashing, both of which are prone to rips. On some materials, such as rubber or felt, you may be able to detect this; but, on others, such as lead, it may be fainter.
Water pooling is another prevalent problem that leads to a build-up of water that can lead to a leak. You should fix the problem as quickly as possible to avoid future damage.
Q: What is the best material for a flat roof?
A: EPDM is a reasonably low-cost flat roof material that offers several major advantages. It is quite probably the greatest flat roofing membrane. EPDM membranes are tough to beat because of their clean, simple installation, remarkable strength, long lifespan, and attractive finish.
Q: How long does a flat roof last?
A: Most conventional flat roofs are built of mineral felt or asphalt and have a maximum lifespan of ten to fifteen years. Unfortunately, they have a negative rep because of their proclivity for leaking or being ruined by standing water.
Q: Can you put a new flat roof on top of an old one?
A: No! This can result in a slew of issues that will undoubtedly emerge quickly after the builder has vanished into the sunset with your money!
Because the timbers beneath the old felt need to be inspected or replaced, removing them is an important component of the job. This will endure for a year or less before the roof splits and leaks due to movement, UV radiation from the sun, and a damaged existing roof.
Sources