How Much Does It Cost to Install an Imprinted Driveway?
Imprinted concrete has become a popular technique to add character to your home. Imprinted concrete provides for an infinite number of patterns in a variety of colours, ensuring that your property stands out from the crowd.
This approach not only looks great, but it also has a lot of practical advantages! The benefits range from creating a low-maintenance, long-lasting surface to increasing the value of your home.
In this guide, we'll look at the costs of imprinted concrete, as well as the elements that influence pricing, alternative solutions, and other useful information to help you make this critical decision.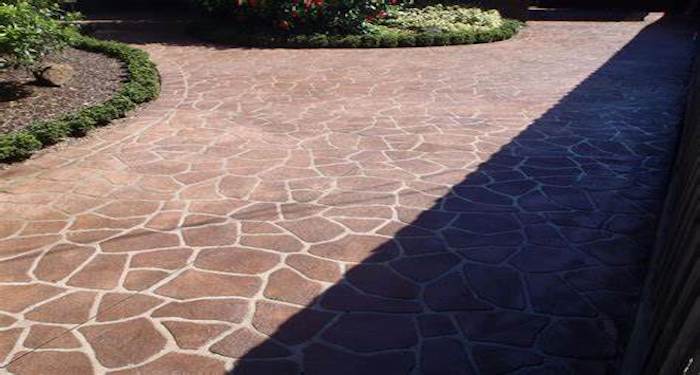 If you're a DIYer, we recommend that you don't take on this project alone. To complete this type of work, it is preferable to use the services of a trained specialist. This is because concrete is a harsh material to work with; once it's done, it's done. You won't be able to go back and correct any errors. Hiring a specialist will save you time and money.
When estimating the price of imprinted concrete, two main costs must be considered: materials and labour.
When compared to other types of surface dressing, the price of a concrete driveway is quite low. Depending on the type and size, a well–built installation might cost anywhere from £500 to £8,000.
Furthermore, a concrete slab can be smartened up and made to look sophisticated by employing a concrete stamp. Some individuals even confuse a printed concrete driveway with costly block paving.
Materials can be reasonably priced, with an average cost of £1,7000 - £2,000; however, because this is not a quick and straightforward project, labour expenses can be costly, averaging £4,062.50 - £4,500.
Imprinted Driveway Prices
The below table shows a breakdown of the prices to install an imprinted driveway:
| Driveway Size | Cost |
| --- | --- |
| 40 m2 | £3,600 - £3,900 |
| 60 m2 | £4,900 - £5,200 |
| 100 m2 | £7,700 - £8,1000 |
The Cost Factors of Imprinted Driveways
Multiple factors will influence the overall price, such as size, location, waste removable and the number of tradesmen. Here we will look at the different cost factors and break them down.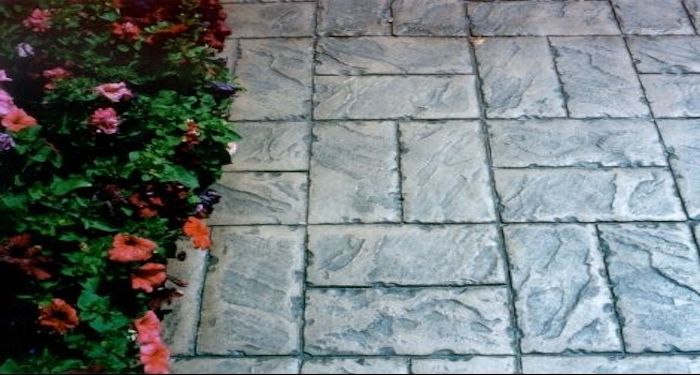 Size
The cost of a new concrete driveway is affected by several things. The driveway area is most likely the most noticeable component, as well as the one that has the greatest impact on expenses. A drive large enough to fit a single car, for example, may cost up to £800.
If you have adult children that own a car, a driveway for three or four cars may cost roughly £3,500.
Existing Driveway
Do you have a driveway already? If that's the case, you've already laid the groundwork. However, because of the soil excavation and foundation installation, it will cost slightly more if you build one from scratch.
Waste Removal
You'll always need a place to put dirt and rubble, whether you're eliminating an existing driveway or developing one from scratch. So, a rubbish skip (or two) is the ideal option to dispose of unwanted debris safely and responsibly.
Patterns
Your customised imprinted concrete driveway pricing will vary depending on the pattern you choose (such as cobblestone, herringbone, or wood plank). The more complicated the pattern, the higher the final cost of the job.
Shape
There aren't always squares or rectangles in driveways or walks. Some are winding, round, or even haphazard. The higher the labour costs are, the more irregular the shape of the area is.
What are the Supply Costs of an Imprinted Driveway?
There are numerous costs associated with constructing a new driveway. The key expenditures for goods that you could need to finish the work including blocks and edgings, which often cost £900-£1,000 per m2.
Sharp sand costs roughly £130-£160 per m2, and Kiln-dried sand costs around £70-£80 per m2.
In most situations, you'll need at least three skip hires because putting an imprinted driveway costs between £200 and £500, depending on your location. Then you'll need a mini digger to assist you in installing the driveway; however, these are usually expensive to buy, so it's advisable to rent one for roughly £130-£200.
You'll also need a weed mat, for obvious reasons, to ensure that no weeds get through the imprinted driveway. This is just an extra layer of protection to make your road more durable. This typically costs between £40 and £50 m2.
This fee will vary depending on several of the parameters listed above, but most jobs will cost between £25 and £130.
The average cost per square metre for imprinted concrete is £70 - £80 per m2.
The table below sets out the average costs for each of the supplies:
| Supply | Cost |
| --- | --- |
| Blocks and edgings | £900 - £100 per m2 |
| Kiln-dried sand | £70 - £80 per m2 |
| Sharp sand | £130 - £160 per m2 |
| 3x skip hire | £200 - £500 |
| Mini-digger hire | £130 - £200 |
| Weed mat | £40 per m2 |
| Imprinted concrete | £70 - £80 per m2 |
What are the Additional Costs of an Imprinted Driveway?
To complement your new imprinted driveway, you may want to consider additional jobs, including:
New Garage
The cost of constructing a new garage is mostly determined by the sort of garage you require.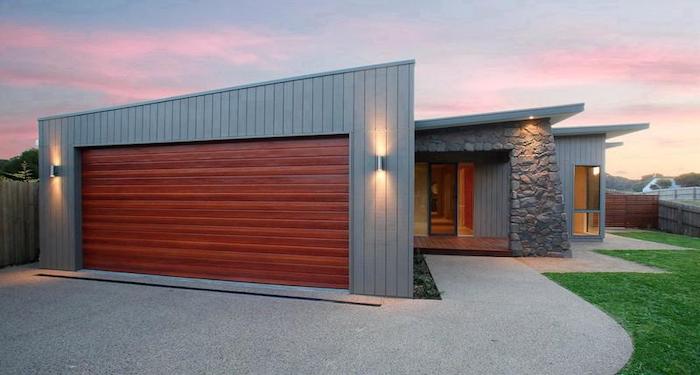 For instance, an 18 square metre single attached garage costs between £3600 and £7400, while a detached garage costs between £3400 and £6800.
If you have more than one car, a double garage is a good option, costing between £6000 and £12,800 for a 36 square metre attached garage. You may expect to pay between £6300 and £13,600 for a detachable version.
Hourly fees for tradespeople can range from £25 in Bradford to £45 in London, depending on your region. The cost of labour will also vary based on the size and style of the garage, as the number of builders required will be determined by these factors.
Each builder will expect to be paid roughly £100 to £200 per day for a large job, which will raise the entire garage construction cost if numerous individuals are working on it. The length of time it takes to build a garage is mostly determined by its size.
A single-detached garage, for example, may normally take one week to complete, whilst a double garage may take two weeks. If you choose a triple garage, construction could take up to 20 days.
Patio Laying
If you want to improve the appearance of your home's outside, try building a patio.
The cost of laying a patio varies depending on the material used.
A patio made of concrete costs between £2500 and £3000, while clay bricks cost between £2000 and £2500.
Other patio prices include gravel, which costs between £1500 and £2000, flagstone, which costs between £1300 and £1900, and a tile patio, which costs between £1500 and £2900.
Resin patios cost between £1600 and £2900, while paver patios cost between £1400 and £5500.
The price of labour is another key cost to consider. Installers often charge between £100 and £200 per day, or £75 and £100 per square metre.
Installing a 5-square-metre patio costs roughly £700 to £800, a 20-square-metre patio costs £900 to £1000, and a 35-square-metre patio costs £1000 to £1200.
The length of time it takes to lay a patio is determined by the kind and size of the project. A five-square-metre tile patio, for example, takes around two days to lay, while a 20-square-metre brick patio takes three to four days.
A concrete patio can take a little longer to create; for example, a 35-square-meter concrete slab patio should take three days or more to finish.
New Porch Installation
A new porch is a fantastic addition to any house. Porches provide additional security, more room, and, of course, enhance the appearance of your home from the outside. Porches are typically utilised to store shoe and coat racks, and they also let in a lot of natural light.
While a porch is a wonderful investment for your house, it can be time-consuming, so it's preferable to hire specialists rather than doing the project yourself.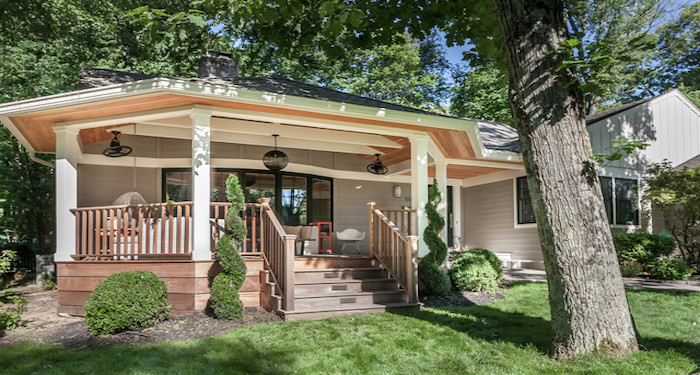 You'll want your porch to be created in the same style as the rest of your house so that it doesn't stand out as an imposter. A building professional can advise you on how to accomplish this, as well as what materials, colours, and styles will go best with your home.
There are several cost-affecting aspects to consider, which we'll go over in greater detail to help you figure out just how much money you'll need to complete this work.
A new porch will cost between £3,000 and £5,000 on average, and the job will take between one and two weeks to complete.
The cost of labour for your porch installation is significantly more difficult to calculate than any other expenditures or supplies, and it frequently necessitates obtaining quotes from several contractors.
With tradespeople and contractors, the location of your house is the most important aspect, and big cities like London and Birmingham naturally draw higher labour rates due to the high cost of living and dense population.
Contractors in these high-density locations are in much higher demand than they are elsewhere, allowing them to charge higher fees. However, because of the high cost of living in these areas, they are no better off than any other contractor in a quieter area.
The job can be completed in as little as one week if everything goes according to plan, but this is rarely the case, and 10 days is usually a decent starting point.
Artificial Grass
The cost of installing polypropylene fake grass is roughly £55 to £60 per m2. The cost of installing a polyethene product is estimated to be between £55 and £65 per m2. The cost of installing fake nylon grass is around £60 to £70 per m2. The cost will vary based on where you are in the United Kingdom.
It will take 3-4 days to install artificial grass in a typical garden of 100 square metres. It can take anywhere from one to three days for smaller gardens, and anywhere from four to a week for larger gardens. Most tradesmen will usually charge £70 - £80 a day when installing artificial grass.
Removal of Existing Driveway
The removal of the previous driveway is one of the most time-consuming aspects of driveway installation. This might cost anywhere between £500 and £1500, depending on the material you choose and the size of your driveway.
This will include breaking up the flooring and removing it with the help of a skip hiring firm, which might cost between £200 and £250.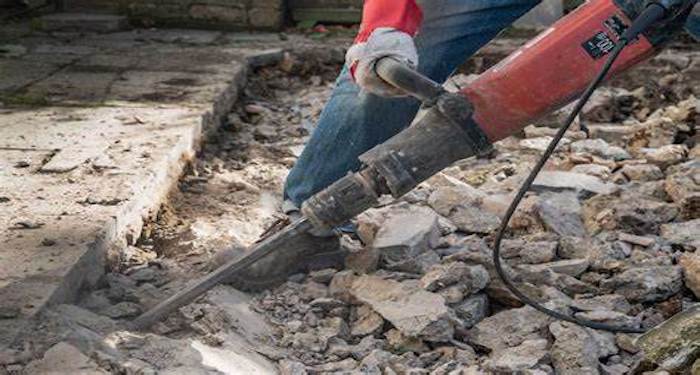 Tradesmen Costs for Installing an Imprinted Driveway
One of the most essential costs to consider is labour, which varies depending on whether the tradesperson is self-employed or employed by a company, the location, and the style of the driveway that needs to be installed.
Driveway installers often charge between £150 and £200 a day to complete the job, though this varies depending on where you live and the size of the firm you use.
The table below shows the driveway size, time taken and what the overall labour cost will be to install an imprinted driveway in your home.
| Size | Duration | Labour Cost |
| --- | --- | --- |
| 40 m2 | 4-5 days | £2,600 - £2,700 |
| 60 m2 | 5-6 days | £3,500 - £3,600 |
| 100 m2 | 7-8 days | £5,400 - £5,600 |
How Long Does It Take to Install an Imprinted Driveway?
Multiple factors affect the duration of installing an imprinted driveway. Here we will go through the different steps of the installation of your new imprinted driveway so you can get a rough estimate on how long the job will take.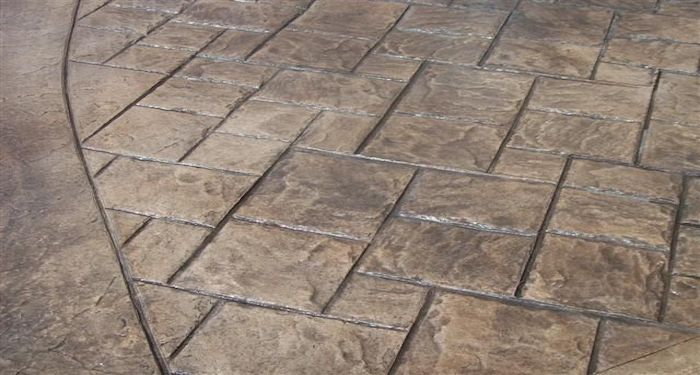 Preparation
Much will be determined by the stage of preparation. It will take a lot longer to dig through 200 m2 of 10-inch thick (steel reinforced) concrete than it will to remove turf and topsoil!
In one day, a 60-80 m2 driveway may be excavated out (with the help of a digger machine). All rubbish will be neatly stacked up in front of a driveway, ready for collection by a "grab man."
After the garbage has been removed, spread out the stone for the subbase and check for any collapses (levels are correct). If any manhole adjustments are required, these should be made at this time. Occasionally manholes must be lowered, and sometimes they must be raised.
To ensure that there are no dips (no puddles) and proper falls for water to drain, a skilled eye is required (either to bed or drainage).
Installing an Imprinted Driveway
For a standard 60-80 m2 driveway installation, one truck of concrete should be enough. Concrete can be poured directly onto the prepared sub base if access allows.
It will be required to tamper and screed the concrete once it has been poured. After that, a pattern-imprinted concrete 'surface hardener' will be applied and trowelled in. When it comes to coloured concrete, it's a matter of taste, and one element to consider is how rapidly the freshly put slab is settling. This should take around 1 – 2 days.
Types of Imprinted Driveways
When considering an imprinted driveway installation, it is important to think about the design you want. This includes the colour, type and pattern you want to be included on your driveway.
To help you choose the right type of imprinted driveway, here are some of the most popular options:
Resin-Bound Imprinted Driveways Cost
Resin-bound driveways are becoming increasingly popular due to the variety of colour options and flexibility. Resin-bound driveways are porous to water. However, if not properly prepared, they can quickly crack, and the top surface can slide or lift. If an issue arises, it is difficult to fix.
Installing a new resin driveway is a cost-effective and excellent investment. This is especially true with newly installed impression driveways. They can also be used in practically any home. As a result, you can acquire a new long-lasting driveway at a low cost.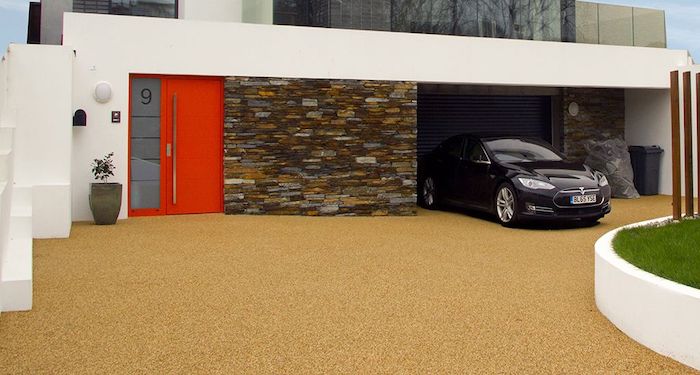 Resin-bound driveways can be placed over concrete or asphalt that already exists. Concrete is used as a sub-base here, which saves a lot of time. This technique can be accomplished in a short amount of time if extensive preparation is not required. This is dependent on the meteorological conditions in the given location.
Pros:
Low cost
Quick to install
Easy to maintain
Cons
Colours may change
Moss growth
Difficult to fix
Indian Stone Imprinted Driveways Cost
Indian stone driveways are also becoming more popular since they offer a fantastic natural sandstone look with a variety of patterns and colours. However, there is a lack of variety in terms of size and colour, as well as a lack of strength. Individual flags can wobble, become loose, or sprout weeds in between, just like block paving.
This classic material is without a doubt the most popular imported material on the market. Indian sandstone paving slabs, also known as "riven paving slabs," are a popular material to work with due to their wide range of colours, surface polish, and universal availability.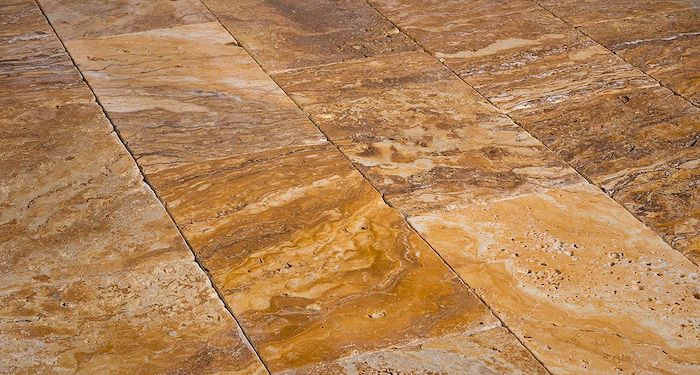 Sandstones are made up of thousands of microscopic grains bonded together by a cementitious substance that is usually silicon. The amount of silicon 'cement' in a substance dictates its resiliency.
Pros:
Easy to work with
Dirt cleans off easy
Adds property value
Cons:
Can fade over time
Shows imperfections
Block Paving Imprinted Driveways Cost
Many homeowners prefer block paving imprinted driveways such as flags and slabs, or small concrete blocks, but certain designs necessitate exact laying, which raises installation costs, so it may not be the ideal option for your driveway if you're on a budget.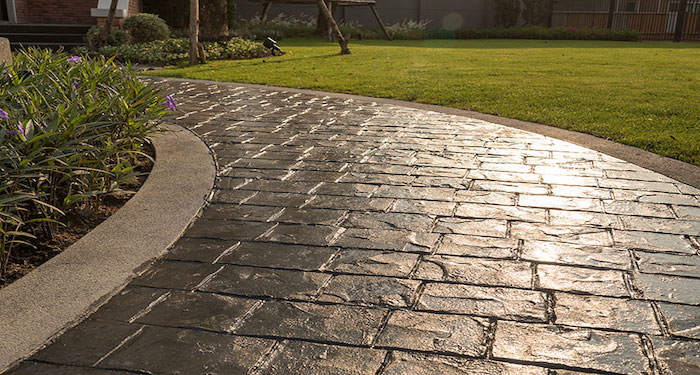 Because beautiful solutions are more expensive, many marked driveways are somewhat boring. They are also prone to attracting moss and algae, necessitating more frequent cleaning.
Pros:
Cons
Pattern Imprinted Concrete Driveways Cost
Pattern imprinted concrete driveways (also known as ornamental or stamped concrete) provide a long-lasting, exceptionally robust surface that can support large loads while requiring no maintenance.
One of the nicest things about pattern imprinted concrete is that it provides you with the widest selection of patterns, colours, designs, and styles to choose from for your new driveway.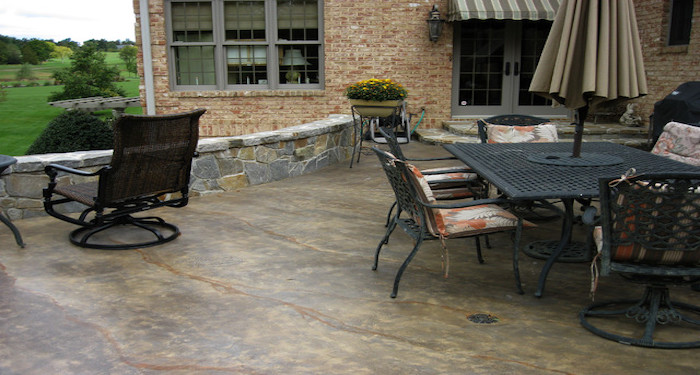 Concrete, like any other driveway material, has some drawbacks: it can fracture and isn't water permeable, but a reputable driveway business will take care of that.
Pros:
Long-lasting
No maintenance
Selection of colours and patterns
Cons:
Isn't water absorbent
Can fracture
Benefits of an Imprinted Concrete Driveway
There are numerous advantages to installing a pattern imprinted concrete driveway. People who want a decorative and professional finish to their outdoor hardstands, such as driveways or garden patios, but don't want the problems that come with them, such as weeds, movement, stains, and cracks or chips, are increasingly turning to this technology.
Demand is expanding in both the commercial and private sectors, and it's clear to see why: instead of individual pieces, a monolithic concrete slab is installed. We'll go through the advantages of having an imprinted concrete driveway installed at your property in this article.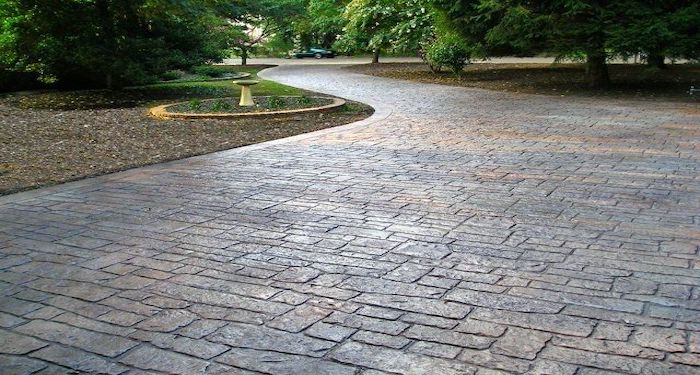 Ease of Maintenance
Weeds and plant growth love to find spaces to weed their way through – as you may have noticed with classic block pavement. This tends to get overrun with patches of green growing between the stones/slabs over time.
Because imprinted concrete driveways are one homogeneous surface, weeds have no chance of infiltrating your driveway, eliminating the need for ongoing maintenance and weed control.
Luxury and Affordable
We all must work within a budget, no matter how big or little it is, and the nice thing about imprinted concrete driveways is that they are extremely cost-effective without sacrificing the sophisticated aspect of more traditional paving options.
Durable
An imprinted driveway is fantastic because it uses a specific blend of reinforced and air-entrained concrete to assure optimum strength, longevity, and (best of all) no sinking!
If properly maintained, a one-time investment in concrete should last for 20 years. It's important to remember that installation is a long-term commitment, and any design or pattern chosen should be able to withstand the test of time.
After the slab is finished, a translucent sealing layer will be applied, which will need to be reapplied periodically depending on use. This will happen more frequently on a driveway than, say, a garden patio.
Many Options Available
One of the main advantages is the variety of patterns and alternatives offered. The finishes available range from simple gravel or slate look to elaborate circular designs that incorporate a variety of colours and effects.
Of course, the more sophisticated the design, the more expensive the installation will be, but even the simplest designs will allow for some customisation. Remember that this is a specialised operation that cannot be completed by contractors with little or no experience when selecting a contractor to complete the work.
Easy to Install
Renovating your home, specifically, your driveway, is an exciting project for homeowners since they are giving it a new lease of life, a fresh design, and building something new from the ground up.
However, there is a trade-off in terms of completion time, and with traditional paving methods, striking a fair balance between quality work and completion time can be challenging.
Imprinted concrete driveways, on the other hand, require far less time to install than normal paving options (depending on weather and other conditions), causing less interruption and allowing you to go back to enjoying your property.
How Much Does It Cost to Remove an Imprinted Driveway?
Driveways are built to be used frequently by their very nature. Imprinted concrete driveways, on the other hand, are prone to damage over time, which can soon turn into a safety problem.
If your imprinted concrete driveway has seen better days and you want to improve the curb appeal of your home, keep reading. The following advice will give you an idea of how much it will cost to have your imprinted concrete driveway removed.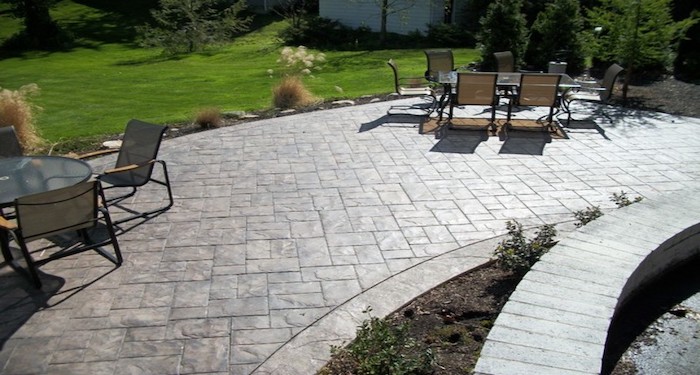 On average, the cost of this type of project starts at £60 - £70 per square metre, with total prices ranging from £1,500 to £2,000. Of course, if the driveway is larger than typical or removal requires specialised equipment, the cost will rise.
You will surely save money if you attempt the removal yourself. DIY removal, on the other hand, is a strenuous task that necessitates the use of specialised equipment.
The cost of removing an old imprinted concrete driveway will ultimately be determined by the size of the space as well as the depth of the concrete.
A concrete driveway's normal thickness is four inches. Some imprinted driveways, especially those designed to support larger vehicles, maybe five inches or more. The disposal of large materials is labour-intensive and necessitates a team of professionals as well as a waste removal strategy.
To maintain the project site clean, you'll need to rent a skip and pay each crew member a day charge. Because of the instruments necessary to remove reinforced concrete, the removal cost could be twice as costly as unreinforced concrete. The quote will unavoidably be influenced by the location, with costs in London skewing higher to reflect demand.
| Job | Average Cost |
| --- | --- |
| Imprinted concrete removal | £60 - £70 per m2 |
| Skip rental | £200 per week. |
FAQs
Q: How long does an imprinted driveway last?
A: Cleaning and resealing your imprinted concrete regularly is essential to maintaining it in good shape. The frequency of this depends primarily on the sort of use it receives, but on average, a pattern imprinted concrete driveway lasts between 4 and 10 years.
Q: How do you clean an imprinted concrete driveway?
A: With soap and water, clean the driveway or patio of any dirt, debris, or algae with a low-pressure power washer on the pattern imprinted concrete's surface. Add a fungicide and a power wash for more effective cleaning. The filth should then be washed away with clean water and allowed to dry.
Q: Are imprinted concrete driveways easy to maintain?
A: Because it's sealed, there's little chance of moss or algae growing on imprinted concrete. That's not to say that moss and algae won't develop on imprinted concrete, but it's less likely, and the surface has been sealed, making it easier to clean with your water jet.
Q: Do imprinted concrete driveways crack?
A: Although it is unlikely, cracks in imprinted concrete driveways can occur. If cracks do emerge, the afflicted region, as well as the surrounding area, must be resurfaced to ensure that the rest of the base is not impacted.
Q: How long until you can park on your imprinted concrete?
A: By the next morning, the stamped concrete will be sufficiently firm to be walked on. It takes 5 days for a driveway to cure enough to support the weight of a domestic automobile, at which time the paving should be sealed and protected.
Sources