How Much Does a Concrete Driveway Cost?
Let get straight to the average cost for installing a concrete driveway!
The estimated cost of installing a concrete driveway ranges from £348 to £1968.
What can affect the overall costs?
The overall cost of building a concrete driveway will depend on several factors such as the size of the driveway, the type of concrete used, the level of access and whether foundation preparations are required.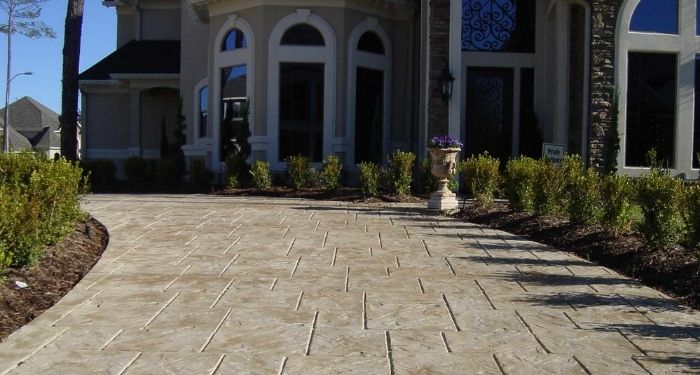 Some concrete driveway jobs may also require more than one tradesperson, which could increase the cost, as will the location of your property, as labour rates vary across the UK.
Concrete Driveway Prices
Here is a breakdown of different concrete driveway prices:
| Driveway Size | Flat | Patterned/Pressed |
| --- | --- | --- |
| 1-car driveway (6m2) | £348 - £450 | £402 - £492 |
| 2-car driveway (12m2) | £696 - £900 | £804 - £984 |
| 3-car driveway (24m2) | £1392 - £1800 | £1608 - £1968 |
What are the Supply Costs of a Concrete Driveway Installation?
If you feel confident enough to install a concrete driveway yourself, then you can save a significant amount on labour. However, you still need to consider the following supply costs for a DIY concrete driveway:
| Driveway Size | Flat | Patterned/Pressed |
| --- | --- | --- |
| 1-car driveway (6m2) | £108 - £150 | £162 - £192 |
| 2-car driveway (12m2) | £216 - £300 | £324 - £384 |
| 3-car driveway (24m2) | £432 - £600 | £648 - £768 |
What are the Additional Costs of Building a Concrete Driveway?
Along with the cost of your driveway installation, you may also want to consider some additional jobs such as:
Driveway Gate
One job you may want to consider is a driveway gate installation which will enhance the look of your property's exterior while also improving security.
The cost of a new driveway gate will vary depending on the type you choose. For instance, a sliding gate is typically priced at £800 to £1180, while an electric gate could cost up to £7200 for supply and fitting.
Garden Maintenance
To spruce up your exterior, you should consider hiring a gardener to complete tasks such as lawn mowing, planting, tree trimming and weeding. The cost of gardening services is typically around £30 to £50 per visit.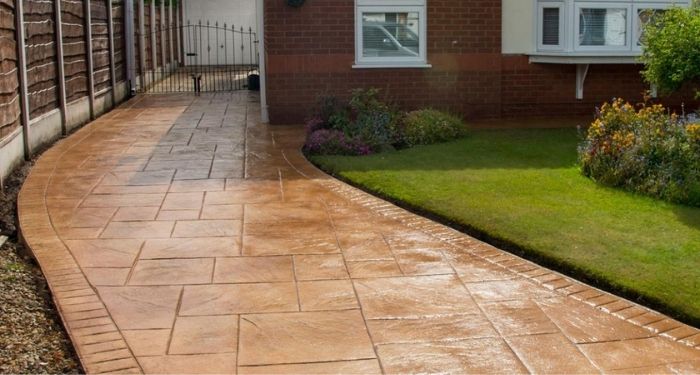 Garden Fence
You can increase privacy and improve the look of your garden by hiring a professional to install garden fences. The average price of fitting a garden fence is normally around £500 to £1500, although this will depend on your garden's size and the fence material.
There are also various cost-affecting factors to take into consideration, including:
Type of Concrete Driveway
The type of material you choose for your concrete driveway is one of the main cost factors.
For instance, a flat concrete driveway typically costs around £18 to £25 per square metre for supply only, while a pressed or patterned concrete driveway is slightly more expensive at £27 to £32 per square metre.
Size of Concrete Driveway
The driveway's size is also a significant cost factor, as the larger the driveway is, the more expensive it will be. So, if you have a low budget, you might want to consider a smaller installation.
Driveway Foundations
Before fitting your driveway, the installers will need to check the foundations and make any changes to ensure the driveway is installed properly and is also long-lasting. If any excavation or foundations are required, then this will add to the overall cost.
Tradesmen Costs for Concrete Driveway Installation
One of the most prominent expenses is the labour costs involved in driveway installation. On average, tradespeople tend to charge approximately £40 to £50 per square metre.
However, some driveway installers may set an hourly rate, although this will vary depending on where you live in the UK.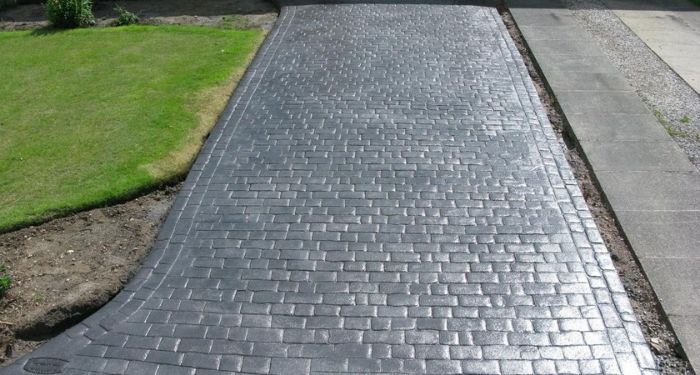 For instance, a tradesperson or driveway company in London may charge around £45, whereas prices are a lot lower in northern England at just £25 per hour.
The labour cost may also be slightly more if you live in a remote area, or the installer(s) have to travel a significant distance, resulting in them charging mileage fees.
How Long Does It Take to Build a Concrete Driveway?
The average duration of building a concrete driveway is around one to two days for a one-car driveway, two to three days for a two-car driveway and up to four days for a three-car concrete driveway.
If any foundations are needed, or you would prefer patterned or pressed concrete, then the job could take around five days to one week to complete.
Choosing a Concrete Driveway
There are various concrete driveway materials to choose from. To help you choose the right one, take a look at the following concrete driveway ideas:
Flat Concrete Driveway Cost
Flat concrete driveways offer a simple design and are typically made of water and a lime-based binder which holds together stone aggregate.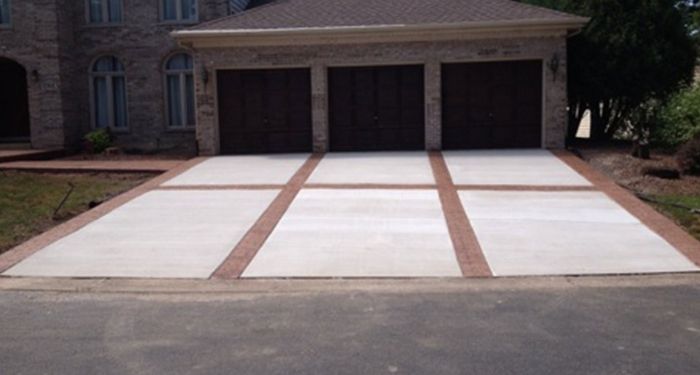 This type of driveway costs anywhere from £108 for a one-car driveway up to £600 for a three-car driveway, not including installation.
Pros:
Lasts up to 50 years
Robust surface
Cons:
More expensive than other driveway options
Plain design
Patterned or Pressed Concrete Driveway Cost
Pressed and patterned concrete is made of the same materials as flat concrete. However, it is made by pressing a pattern onto the concrete while it is wet. The supply price for a pressed and patterned concrete driveways range from £162 to £768.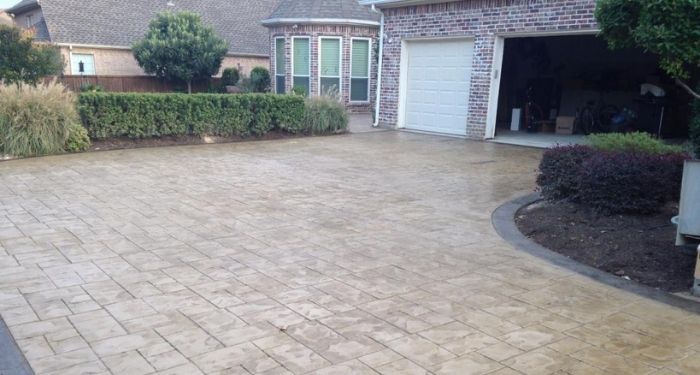 Pros:
Unique design
Long-lasting
Cons:
More expensive than flat concrete
Complicated installation
Additional Driveway Options
If you think a concrete driveway isn't the best option for your property, then there are plenty of alternatives including:
Block Paving Driveway
Block paving is made up of block bricks and is one of the most popular driveway options for UK homeowners, as they are available in a wide range of colours and designs.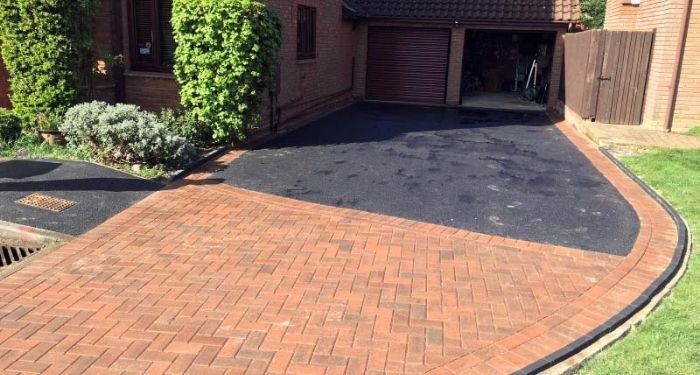 A block paving driveway is significantly more expensive than a concrete driveway, as it costs around £60 to £120 per square metre.
Gravel Driveway
Gravel is another common driveway material which costs an estimated £20 to £60 per square metre. You can choose from a wide range of designs with various types of loose rock or stone with a gravel driveway.
Gravel driveways are usually made up of a mixture of aggregate, clay and sand.
Tarmac Driveway
Tarmac driveways provide a classic black look that is extremely durable, as it is normally made from asphalt shingles.
The average cost of installing a tarmac driveway is approximately £40 to £70 per square metre.
How much Does It Cost to Remove a Concrete Driveway?
If you wish to change your driveway, then you need to consider the cost of concrete driveway demolition. If you decide to remove it yourself, you will need a heavy-duty tool such as a demolition hammer, which is normally priced at £150 to £1000.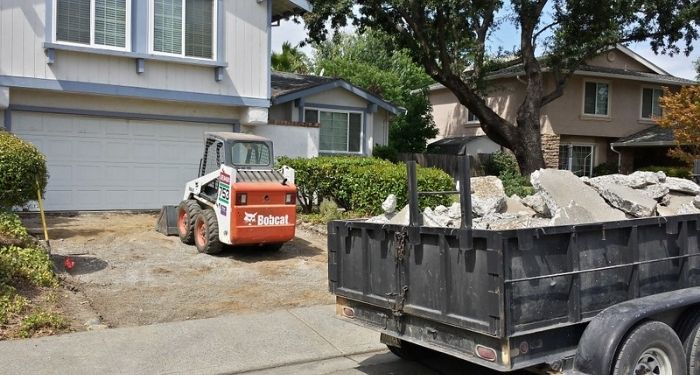 To eliminate the waste after the removal, you will need to hire a skip that ranges from £200 to £250 per week.
You may also want to consider hiring a professional to remove your concrete driveway. This normally costs around £500 for a one-car driveway and up to £1500 for a three-car driveway.
FAQs
Q: How do you fix a crumbling concrete driveway?
A: If you notice that your concrete driveway is crumbling, don't panic, as there is a way to fix it. Before repairing the driveway, you should inspect the area and mark the damage.
You can then use a concrete saw to dig out the crumbling material. Once it has been removed, you can then pour cement into the area and wait for it to set for fifteen minutes.
Q: Which cleaning method is best for a concrete driveway?
A: To clean a concrete driveway, you need to make sure that you remove everything off the driveway first, including vehicles, leaves and any other loose items.
You should then start to treat any oil stains by applying sawdust and leaving it overnight and then rinse it.
You should then clean any mildew using a combination of bleach and water to restore your driveway's aesthetic.
Q: How thick should a concrete driveway be?
A: The thickness of a concrete driveway should be at least 4 inches.
Q: Can you paint a concrete driveway?
A: Yes, it is possible to paint a concrete driveway. This not only enhances the aesthetic but also ensures it is long-lasting.
Q: How long does a concrete driveway last?
A: Concrete driveways typically last a minimum of twenty years, although it can last as long as fifty years if looked after properly.
Sources