How Much Does a Gravel Driveway Cost?
Gravel driveways are a very popular choice for homeowners looking to add a touch of rustic class to the grounds of their homes.
But why are they so popular with homeowners?
Gravel driveways are also incredibly low maintenance and don't show signs of wear over time, which only adds to their popularity.
Other driveways, such as tarmac and concrete, can be quite costly to repair when they crack or wear away, leaving you with the worry of ongoing costs to maintain your driveway.
Can you install gravel driveways as a DIY project?
Some people attempt to install gravel driveways as a DIY project, but unless you have a lot of experience completing these types of jobs, it's not a great cost or time-effective option.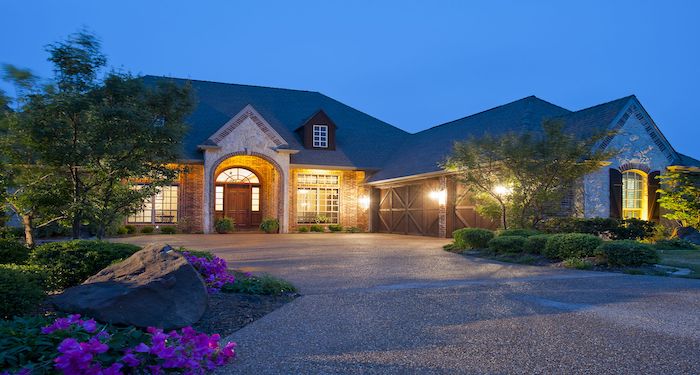 Instead, hiring a tradesperson can result in paying less overall, having your driveway completed in around two days and the result being of a very high standard.
What about the cost of a gravel driveway?
The average cost for installing a gravel driveway of around 40 square metres is between £2,300 and £2,700.
But what does this cost include?
This includes everything from materials to labour, but there are many cost affecting factors that can impact the overall cost, but these will be made clear the quoting stage of the project.
These factors range quite greatly from location to the number of tradespeople required, but we'll explore each of the cost-effecting factors throughout the guide.
Gravel Driveway Prices
To give you a better idea about the average costs of installing gravel driveways, here is a handy table which offers a price overview. We'll then look at the individual cost contributors in more detail.
| Job Description | Duration | Average Cost |
| --- | --- | --- |
| Average Gravel Replacement 40sqm | 1 Day | £1000-£1400 |
| 20 sqm - Small | 1-2 Days | £1500-£2000 |
| 40 sqm - Medium | 2 Days | £2200-£2800 |
| 80 sqm - Large | 2-3 Days | £3500-£4000 |
What are the Supply Costs of a Gravel Driveway Installation?
There are a few different materials you'll need for your gravel driveway, and contrary to popular belief, much more goes into creating your driveway then digging a hole and filling it with stones.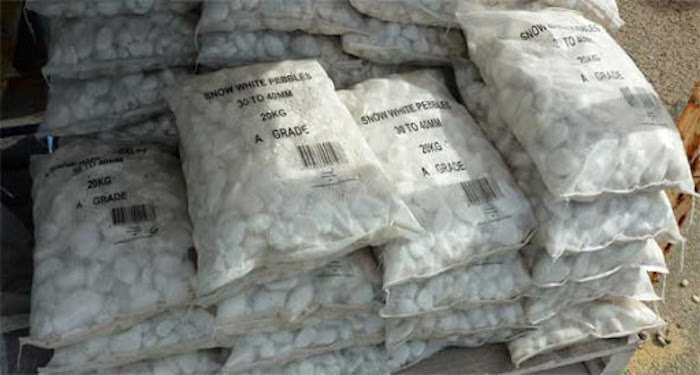 First, you'll need a loose sub-base which will cost around £400-£450 for 40sqm, to provide a solid footing for your decorative gravel to sit on. From here, you need to choose the type of decorative gravel you want on top of the sub-base.
There are many options for this, so we've put them in a helpful table below to illustrate the price per 40sqm. We'll delve into more detail about each type of decorative gravel in a later section, as we're just focusing on the cost of the materials in this section.
Average Material Cost of Different Gravel
| Gravel | Average Cost per 40sqm |
| --- | --- |
| Basalts | £360-£450 |
| Granites | £330-£420 |
| Flints | £360-£480 |
| Quartz | £300-£550 |
As you can see the price of gravel, regardless of material, is pretty even across the board. However, you can find some great deals when you shop around with different stores and find some great bulk purchase deals.
You can ask your contractor to purchase the gravel for you; however, you are more likely to find better deals if you do this yourself.
When you purchase the gravel, it is usually per bulk bag of around 850kg, with a space of around 40 square metres and a depth of 40mm needing around 3 of those bulk bags.
You can buy smaller bags of around 20kg if you need an amount in between the large 850kg bags. A lot of companies will supply small sample bags too for you to check out the different variations of gravel to help you make a decision on the gravel for your driveway.
What are the Additional Costs of Building a Gravel Driveway?
There are a few additional costs for installing a gravel driveway that are commonly associated with the project. Some of them are unavoidable, whereas others are interesting options that may fit within your budget.
Excavation and Waste Removal
A big aspect of installing new driveways is the preparation stage. For a new gravel driveway, you'll need the area excavating and the previous surface removing.
Now, some contractors will factor this service into the quote, but others won't, so you should be clear with them at the quoting stage as to whether this is included or not.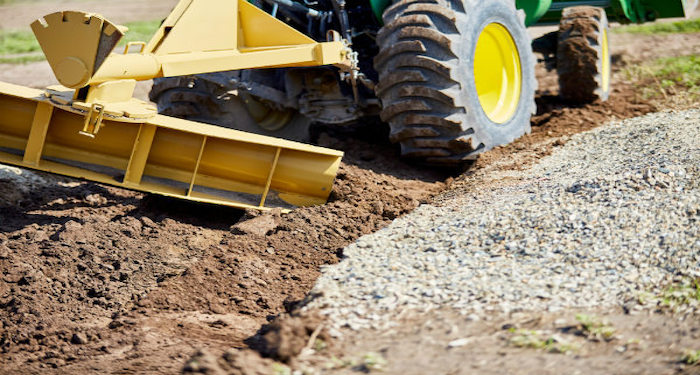 Waste removal is a big aspect of the job too, with a lot of paving or old stone needing to be removed. The best thing to do is hire a skip, but this may be factored into the quote, so find out first.
You can enlist the help of contractors to excavate and remove any old driveway materials for around £300-£350 if it's not included in your quote.
Driveway Lighting
Gravel driveways can upgrade your home's look by adding a touch of class to your property's outdoor aesthetics. Gravel driveways were traditionally used for large manor homes and estates, but modern inclusion into everyday homes has been a very welcome addition.
A common added extra for these driveways is mood and security lighting adorning the driveway and pathway edges.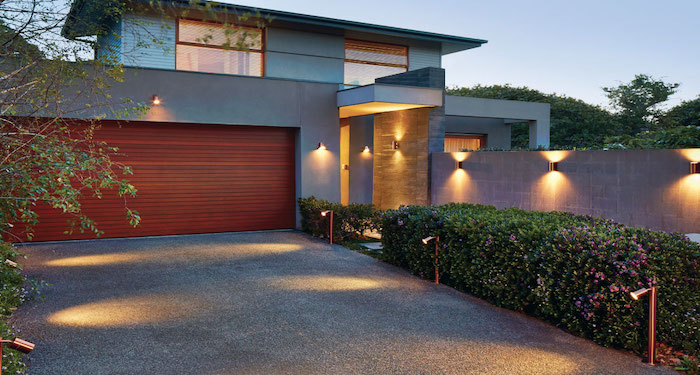 These types of lights are commonly referred to as pathfinder lights, and they're more affordable than you may think. The lighting units' range in price from £50-£200 depending on the variation you choose, but the installation cost for these lights is around £150-£200 per 60m of laid cable.
Gravel driveways are perfect for laying cable for these installations as they can be covered easily with the gravel, and the lights can be embedded into the driveway easily.
Security Features
Gravel driveways are, in themselves, incredibly adept at providing an extra layer of security as they make a very audible sound as you walk or drive on them.
So, any unwanted visitors won't be able to remain undetected for very long. However, gravel driveways tend to be fairly open at their entrance, making any cars sitting on the driveway a little vulnerable. To combat this problem, there are certain security features you can install.
The first is a budget option, and it's in the form of a retractable bar that reduces the size of the opening available for a car to get through.
A fold-down version of these bars' costs between just £50-£80 and can be installed for as little as £50.
The bars must be bedded deep into the ground with long and sturdy screws, so its' best to get a professional in to complete the job.
The other security option is a set of lockable gates that provide not only a good security system but can add to the décor and high-quality look of your driveway. Now, these gates can be as technical or basic as you like.
You can install basic wooden or metal gates operated by hand for between £700-£900; however, you can add some incredible extras for not a lot more.
You can add an automated system that will open and close your gates with remote control for between £350-£400 with installation, and you can install an intercom system for between £250-£350 too.
Again, these added extras will only bolster the high-quality look and feel of your gravel driveway.
Tradesmen Costs for Gravel Driveway Installation
We've covered the cost of supplies and materials, and any other associated cost of gravel driveways, so now we're going to cover the cost of hiring tradespeople to complete the work.
As illustrated in an earlier table, the installation of a gravel driveway can take anything from 1 day to 3 days depending on the size of your driveway.
Now, for each day of labour, you'll pay anything from £120-£200, depending on whereabouts in the country you are.
Big cities like London and Birmingham have a higher cost of living, couple that with the high population density.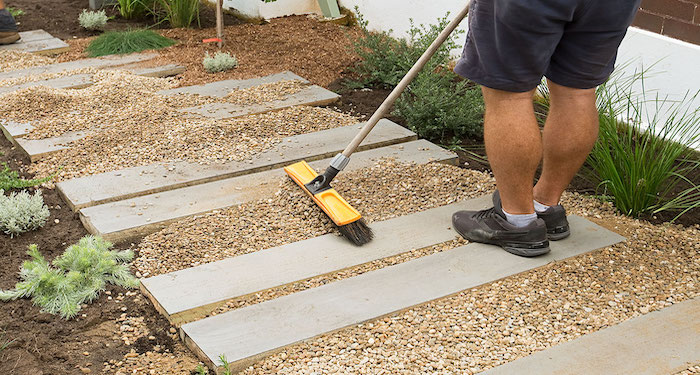 That means the trades rates are higher along the pricing spectrum than that of small villages and towns with a lower cost of living and population density.
Now, if you're having a large area converted into a gravel driveway, you could find that the job requires more than one contractor.
For this, the tradesman will bring a labourer with them to help with the bigger job. While you'll need to pay for both contractors, you'll have the job completed in less time, which means that you'd pay around the same price as you would for one contractor.
How Long Does It Take to Build a Gravel Driveway?
Gravel driveways take, on average, two days for a space 40sqm or larger. Of course, this can differ depending on each individual job.
For one, if you're having gates, lighting or any other features installed, this will add time to the job. Not only that, but the standard of your current driveway will impact the time it takes to complete the job.
If you have a concrete driveway, for example, the contractors will need to break up the driveway first, excavate the rubble, and lay the foundations for the new gravel driveway.
You also need to take into account any extra precautions taken to check for pipes and cables that may live beneath your driveway, as breaking one of these cables or pipes can be an absolute nightmare to rectify and can cause thousands of pounds worth of damage.
Small driveways of around 20 sqm and any gravel driveway replacements will take around one day, and large driveways of around 50-60sqm and larger will take around three days.
Of course, any driveways substantially larger than that will be quoted on a job-by-job basis to give you an idea about actual durations.
Types of Gravel Driveway
Here is a list of different types of gravel you can purchase for you driveway:
Basalt Driveway
Basalt stones come in various shades, sizes and colours, which means that you'll always be able to find something that will suit the décor of the front of your home.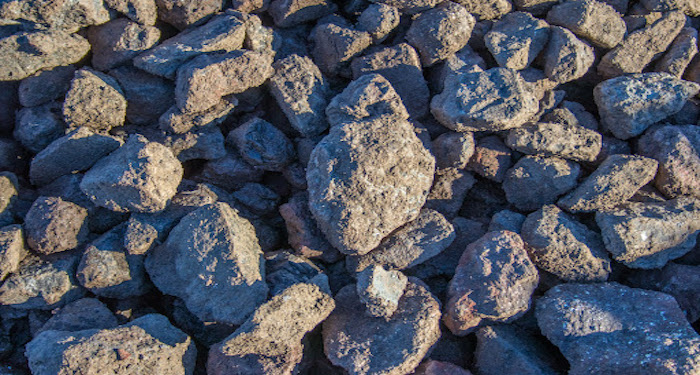 Not only that, but basalt is incredibly resistant to algae and moss, making it a very popular choice for the UK, where we get an abundance of rain and bad weather.
Granite Driveway
Like basalt, granite is very resistant to moss and algae, but it's also incredibly hard-wearing and durable, making it a great choice for driveways and pathways.
Granite tends to be found most commonly in earthy colours like blacks and greys, but they are also available in some blues and greens.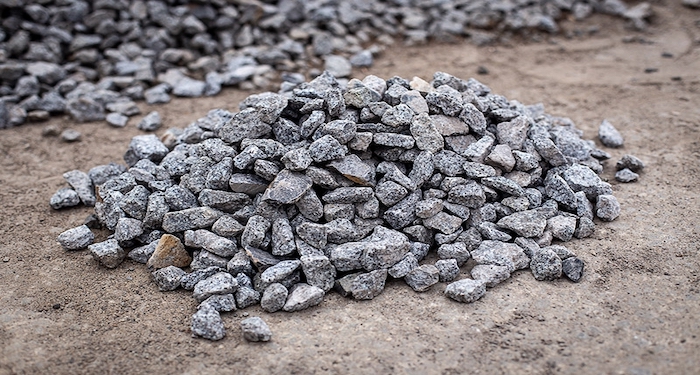 Again, granite gravel is available in many different sizes to suit your needs.
Flint Driveway
Flint gravel comes in some unique styles, like golden colours and even some glass-like transparent stones.
These are usually combined in a golden gravel mixture, containing different sized stones and give the very distinctive golden gravel driveway look.
Quartz Driveway
Quartz is a white and grey gravel stone that looks incredibly natural and is very hard-wearing.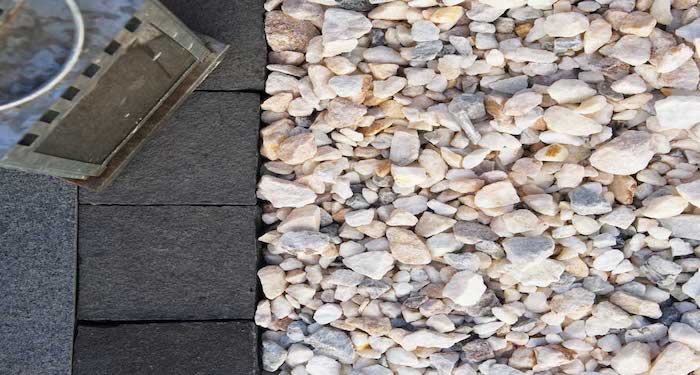 Quartz stones have a sheen to them which doesn't dull over time, and the stones tend to be cut in larger sizes, which is handy for gravel driveways.
Gravel Driveway Sizes
When you're planning what material and layout you want from your gravel driveway, you should consider the size of it too.
Most homes have a small garden and a one-car driveway; however, you could convert this into a two-car driveway or even a three-car driveway if you wanted to.
This would involve excavating the turf on the garden and digging it out in the same way as your driveway, to have a big foundation laid for the gravel to go on top of.
A lot of people opt for this option as front gardens very rarely get much use and provide very little.
Whereas a two or three-car driveway is a great addition to your home and will likely add value to it should you ever look to sell the property.
Benefits of a Gravel Driveway
Here is a list of several benefits that come with having a gravel driveway:
Affordable
Gravel driveways are significantly more cost-effective than other driveway materials like tarmac or flags.
The durability of gravel driveways also adds toward the cost-efficiency, considering that flagged and bricked driveways, as an example, degrade much faster than gravel driveways, meaning they need to be repaired and replaced much more often than that of gravel.
Easy to Maintain
Other driveways take a lot of upkeep, whether that's scrubbing, sweeping or jet washing to keep the driveway looking nice and fresh.
However, gravel driveways need almost no maintenance, aside from the odd sweep of stray stones from pavements and pathways.
This makes gravel a great option for families that don't have a lot of spare time for outdoor maintenance or elderly people who can't complete such jobs.
Quick
When compared with other driveways, it's incredibly quick to transform your space into a gravel driveway.
Other materials need a lot of levelling, steamrolling and preparation work, including the rental of some expensive machinery.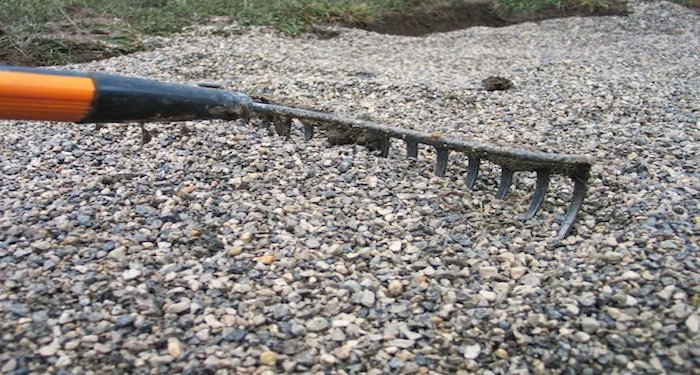 Gravel driveways can be complete in as little as one day, and even huge spaces can be completed in just a couple of days.
If you want your driveway done quickly, gravel is the best option for you.
How Much Does It Cost to Remove a Gravel Driveway?
The removal of a gravel driveway can vary from quote to quote. The biggest question for a contractor when they provide you with a price is whether they have included waste removal or not.
If they haven't, you'll need to hire your own skip which will cost anything from £120-£350 depending on the size of skip you need.
For the actual labour of removing your gravel driveway, it will cost around £120-£200 for a day's work.
The contractors will probably use a digger to scoop away all gravel and put it directly into the skip, ready for the skip to be collected and leaving you with an empty plot to have your driveway replaced.
So, in total, you can probably expect to pay anything from £400-£600 for a gravel driveway removal.
FAQs
Q: Can you install a gravel driveway over grass?
A: You can't install a gravel driveway over grass without removing the turf. Over time, the gravel will be worked deeper into the turf, there will be weeds that grow through the stones, and it won't be very level at all.
Your garden would have to have the turf removed and the space properly prepared for the gravel driveway to be installed.
Q: What is the best way to maintain a gravel driveway?
A: Gravel driveways require very little maintenance other than sweeping stoned back onto the driveway to avoid having to buy more bags for it to be topped up and maybe a drizzle of water during the dry summer months.
Q: Is it better to use big or small gravel stones?
A: It's better to use big gravel stones for your driveway as small stones tend to get caught up in the treads of tyres and shoes.
Of course, this isn't a massive issue at first, but it can get irritating over time.
Q: Can I install a gravel driveway myself?
A: Gravel driveways must be excavated properly before any gravel can be put into the space, and it must also be completely level and even.
Unless you've had any similar experience in the past, it's better to use a professional.
Also, the contractors will likely use machinery to excavate the space first, so you may not have the license required to use these machines either.
Q: How long do gravel driveways last?
A: A gravel driveway can last up to a century if they are looked after properly. Over time, you may need to top up the driveway with some small bags of gravel, but this will be very rare.
The durability of gravel driveways is a big selling point, and they will look their best for years after they have been installed.
Sources