How Much is a Resin Driveway?
What does the overall cost of a resin driveway depend on?
The overall cost of installing a resin driveway is usually determined by the materials used, the driveway's size, the aggregate size and whether any excavation or foundations need to be installed.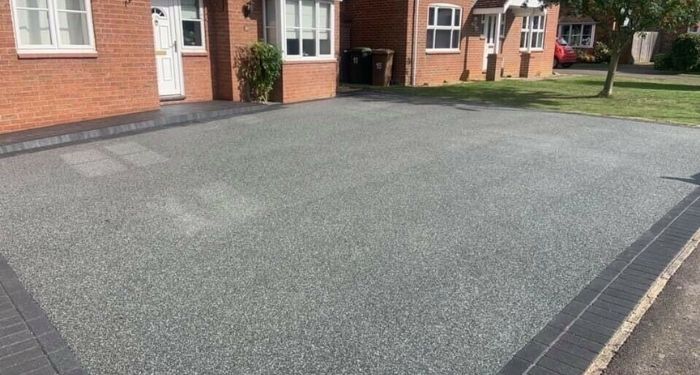 What about labour costs?
The number of tradespeople will also affect the price, as will your property's location, as tradesman rates will vary depending on where you live.
Resin Driveways Prices
To help you get a better understanding of the cost of building a resin driveway, take a look at the below table:
| Size | Small aggregate | Medium aggregate | Large aggregate |
| --- | --- | --- | --- |
| 1-car resin bonded driveway (20 m2) | £670 - £770 | £745 - £895 | £820 - £1020 |
| 2-car resin bonded driveway (50m2) | £1600 - £1800 | £1675 - £1925 | £1750 - £2050 |
| 3-car resin bonded driveway (100m2) | £3050 - £3350 | £3125 - £3475 | £3200 - £3600 |
| 1-car resin bound driveway (20m2) | £950 - £1050 | £1025 - £1175 | £1100 - £1300 |
| 2-car resin bound driveway (50m2) | £2300 - £2500 | £2375 - £2625 | £2540 - £2500 |
| 3-car resin bound driveway (100m2) | £4450 - £4750 | £4525 - £4875 | £4600 - £5000 |
What are the Supply Costs of a Resin Driveway Installation?
If you wish to install a DIY resin driveway or prefer to purchase your own supplies, you need to consider the supply costs of driveway resin for resin bonded and resin-bound materials.
| Size | Supply Cost |
| --- | --- |
| Resin bonded driveway | £26 per m2 |
| Resin bound driveway | £40 per m2 |
What are the Additional Costs of Building a Resin Driveway?
There are various other costs you may wish to consider during your resin driveway installation, such as:
Driveway Gate Installation
One of the most common costs associated with a resin driveway installation is a new driveway gate. This will not only improve the look of your property's exterior but will also increase security.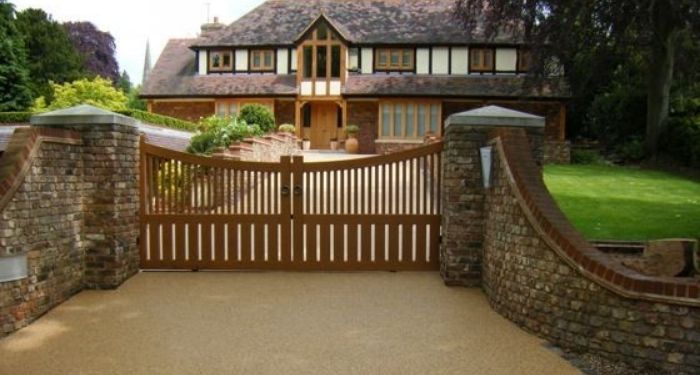 The average cost of fitting a driveway gate ranges from £800 for a sliding gate up to £7200 for an electric metal gate.
Garden Wall Construction
To boost your property's kerb appeal, you may want to build a garden wall at the front of your home.
This will increase privacy and security and set you back around £650 for a single skin wall or up to £1500 for a double skin garden wall.
Front Door Replacement
Another great way to spruce up the outside of your home is by replacing your front door with a brand new one.
For a new front door, you should expect to pay anywhere from £200 for a pine door up to £4000 for a custom-made front door.
When calculating resin driveway prices, you also need to consider a number of cost factors, including:
Type of Resin Driveway
There are two main types of resin driveway; resin bonded, and resin bound, which vary in price.
The former option is the cheapest, at £26 per square metre, while a resin bound driveway costs approximately £40 per square metre.
Driveway Size
The driveway's size is a huge factor, as the larger your driveway is, the more you will pay. The size will also vary depending on how much space you have to work with and the number of vehicles you own.
Aggregate Size
Resin driveways are made up of both resin and aggregate, and the latter comes in various sizes which vary in price.
The most popular size options include 1mm, 5mm and 10mm, with the latter being the most expensive as it takes longer to install.
Ground Preparation
Before driveway installers lay your resin driveway, they will first need to check the foundations of your path.
If your foundations are inadequate, they may need to excavate some areas and create a new foundation, which will increase the duration and cost.
Extra Labour Charges
Some tradesmen charge a minimum fee when installing a resin driveway, so you need to make sure they factor this in when giving a quote.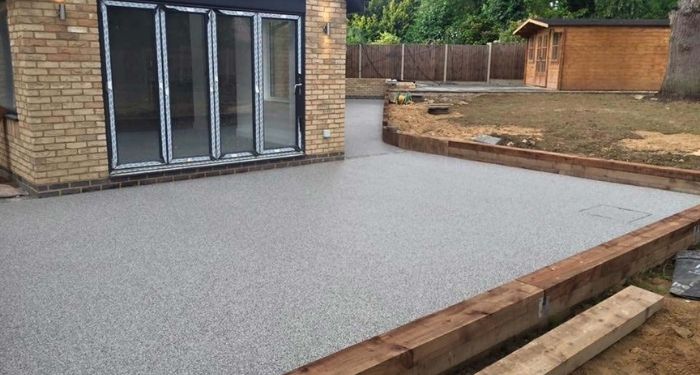 They may also charge extra if travelling out of their usual working zone, which could result in excess mileage fees being added to your bill.
Tradesmen Costs for Resin Driveway Installation
Another important cost you need to consider is labour, as this takes up a significant chunk of the overall price of a resin driveway installation.
On average, driveway installers tend to charge around £150 to £250 per day, although this will vary depending on the complexity of the job.
The cost may also go up or down depending on where you live, as a company or tradesperson in London tend to charge a higher daily or hourly rate.
The below table sets out the labour costs for different driveway and aggregate sizes.
| Size | Small aggregate (1mm) | Medium aggregate (5mm) | Large aggregate (10mm) |
| --- | --- | --- | --- |
| 1-car driveway (20 m2) | £150 – £250 | £225 - £375 | £300 - £500 |
| 2-car driveway (50m2) | £300 - £500 | £375 - £625 | £450 - £750 |
| 3-car driveway (100m2) | £450 - £750 | £525 - £875 | £600 - £1000 |
How Long Does It Take to Build a Resin Driveway?
The timeframe for building a resin driveway will vary depending on the size of the driveway, as well the aggregate size.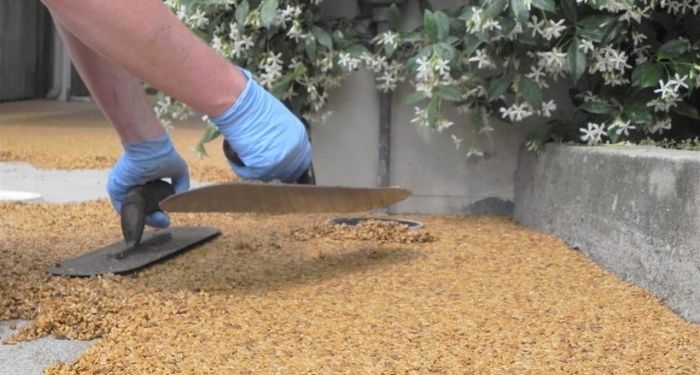 Choosing Resin Driveway
As mentioned above, there are two main types of resin driveway:
To help you decide which option is right for you, here is a breakdown of the different materials, the costs as well as the pros and cons of each.
Resin Bonded Driveway Cost
Installing a resin bonded driveway involves laying resin across the surface's base. The aggregate is then scattered on top of the resin; some will adhere, while other pieces will remain loose.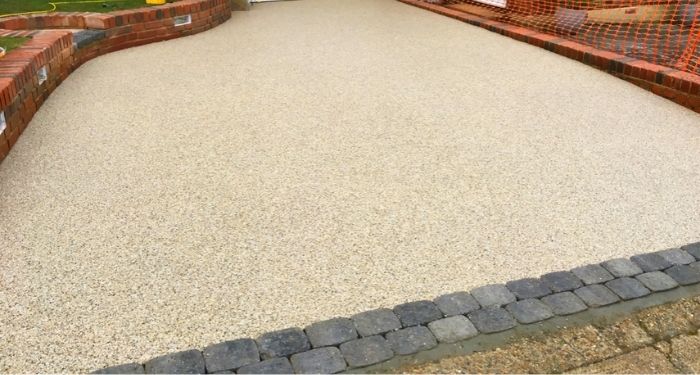 Resin bonded driveways typically cost £26 per square metre.
Pros
High-quality grip
Long-lasting installation
Ideal for traditional properties
Cons
Not SUDS compliant
Prone to puddling
Requires regular loose stone maintenance
Resin Bound Driveway Cost
A resin bound driveway is installed by mixing resin and aggregate together and applying it to create a smooth and flat finish with no loose gravel.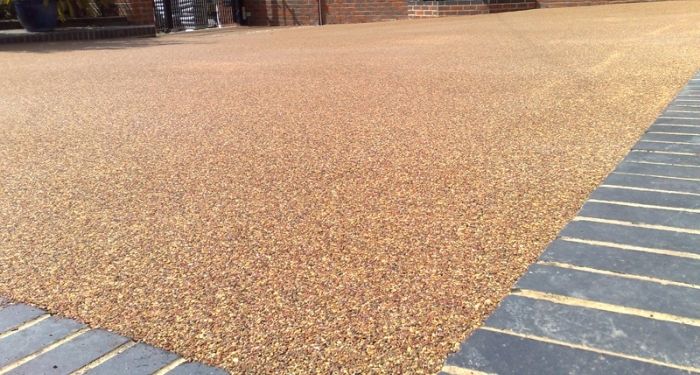 The average cost of a resin bound driveway is £40 per square metre.
Pros
SUDS compliant
Permeable surface
Low maintenance
Cons
Not ideal for sloped driveways
Reduced grip
Prone to weed growth
Alternatives to a Resin Driveway
If after this reading this guide, you feel as though a resin driveway is not the best option, then there are plenty of other driveway ideas to choose from, including:
Brick Driveway
One of the most popular driveway materials is brick or block paving. Brick also comes in a variety of different designs and colours to suit all preferences.
However, a brick driveway will require maintenance over time, as it is susceptible to ground frost and erosion.
It is also quite expensive, as prices can reach up to £100 per square metre.
Concrete Driveway
Another popular choice is a concrete driveway, which is typically made up a lime-based render and water.
This makes it one of the most durable options, which means it will last a long time and withstand the weight of heavy vehicles.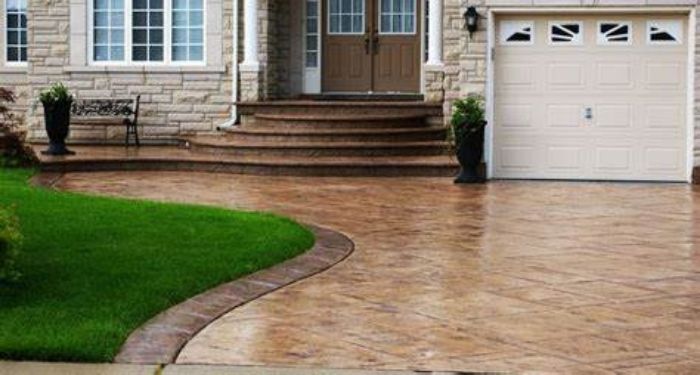 The problem with a concrete driveway is that they are not the most aesthetically pleasing, and they also require regular maintenance such as sealing.
Concrete driveways tend to cost around £60 to £100 per square metre.
Asphalt Driveway
If you wish to install a driveway yourself, then asphalt is one of the easiest materials to lay. Asphalt is also a low budget material with prices ranging from £40 to £80 per square metre.
This material is also resistant to frost, as the black material will melt any snow almost immediately.
The issue with asphalt driveways is that the design options are very limited, as black is the main colour, although you can also get your hands on a red variation.
You will also need to seal the driveway every four years to ensure it stays in good condition.
How much Does It Cost to Remove a Resin Driveway?
If you wish to replace your resin driveway with one of the options mentioned above, you will need to remove the existing installation.
The cost of professional removal will cost around £150 to £250 per day, although more than likely this will not include waste removal.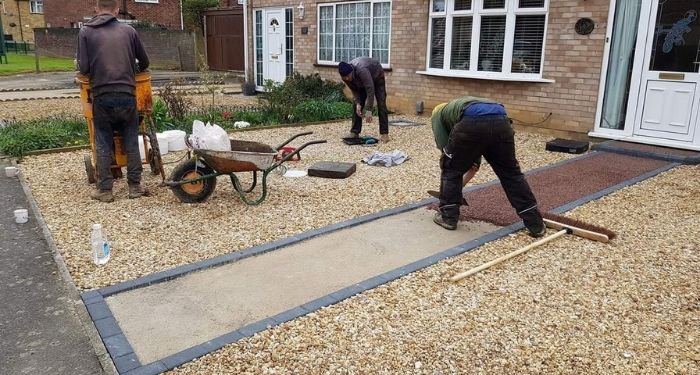 To get rid of your old resin driveway, you should hire a skip which will range from £60 for a 2 to 3-yard skip up to £550 for an 18-yard skip.
FAQs
How long does a resin driveway take to dry?
Before walking on a resin driveway, you should wait at least six to eight hours. Professionals also advise that vehicles should not be parked on the driveway until 24 hours after the installation, or up to 48 hours for larger vehicles.
How long does a resin driveway last?
Resin driveways typically last up to 25 years if they are looked after properly.
How do you remove moss from a resin driveway?
The best way to get rid of any moss on your resin driveway is by using a moss removal product or a diluted house bleach.
This should be applied to the surface and left for no more than twenty minutes before rinsing it thoroughly with clean water.
How deep is a resin driveway?
The minimum depth for a resin driveway is 15mm, although an 18mm depth is recommended for high traffic areas with heavy vehicles.
Is a resin bound better than a resin bonded driveway?
Resin bound driveways is a Sustainable Urban Drainage System (SUDS) compliant, as the surface is porous and is therefore for better drainage.
However, resin bonded driveways are also a great option, as they are affordable and also have a better grip compared to resin bound surfaces.
Ultimately, the one you choose will depend on your personal preferences and which design you prefer.
Sources