How Much is Cavity Wall Insulation?
How much does cavity wall insulation cost without scaffolding?
Without the use of scaffolding, the average cost of insulating cavity walls in a mid floor flat would land around £250 to £330.
So how much should you set aside for your budget?
You'd need to set aside a budget of about £400 to £495 to have the same work undertaken in a semi-detached house, £650 to £850 in a detached property, or £275 to £320 with a terraced house. If scaffolding is used, it would add approximately £100 to the above costs.
What can affect the overall costs?
There are a range of cost factors that can shape how much you'd need to spend to have cavity walls insulated.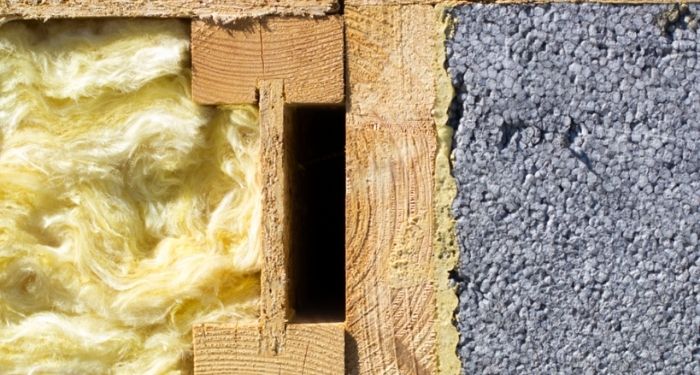 Among them are the number of tradespeople hired, ease of access, the type of insulation used, size/type of property, the state of the work area, and the location of the homeowner's property.
As for the final point, the reason that where you live is relevant is due to the fact that labour costs vary throughout the nation.
This is because contractors have different living costs to meet in different regions of the country.
Labour rates tend to be higher in the southeast (especially London) but below the UK average in the north of England, Northern Ireland, and Scotland.
Cavity Wall Insulation Prices
The table below shows the average costs of wall insulation:
Scaffolding?
Supply
Cost
No Scaffolding
Mid-floor Flat
£250 to £330
Semi-detached House
£400 to £495
Detached Property
£650 to £850
Terraced House
£275 to £320
Scaffolding Used
Semi-detached House
£500 to £595
Detached Property
£750 to £950
Terraced House
£375 to £420
What are the Supply Costs of Insulating a Cavity Wall?
In this section, we'll delve into the material costs involved in insulating cavity walls in a property. This excludes the labour cavity insulation wall prices.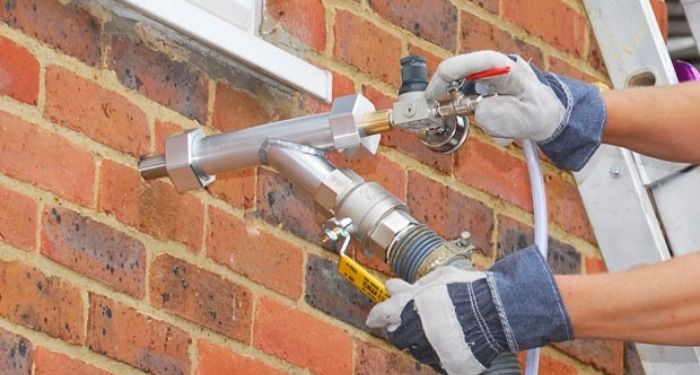 The average supply costs of insulating cavity walls without the use of scaffolding is £200 to £300 for a mid-floor flat, £300 to £400 for a semi-detached house, £500 to £600 for a detached house, and £175 to £225 for a terraced house or bungalow.
Supply Cost of Installing Cavity Wall Insulation
| Supply | Cost |
| --- | --- |
| Mid-floor Flat | £200 to £300 |
| Semi-detached House | £300 to £400 |
| Detached Property | £500 to £600 |
| Terraced House | £175 to £225 |
What are the Additional Costs of Cavity Wall Insulation?
The added expenses of cavity wall insulation include the number of tradespeople hired and charges for excess mileage, if applicable. Let's take a closer look at some potential additional costs.
Minimum Fee
To start with, you may face a minimum charge on your bill when having cavity walls insulated. This may be a set amount. On the other hand, it may come in the form of another cost that is expanded for one reason or another.
For example, if you were paying per day of labour, then whether the job takes four hours or eight hours, you'd pay for a day of labour regardless. Hence, you face a minimum one day's labour in costs for every new work day started.
Size/Type of Property
The larger the property, the more you can expect cavity wall insulation to cost. The type of property is also relevant, not just because of its link to scale but also given that some properties can have different structures and forms which could make this type of work easier or more difficult.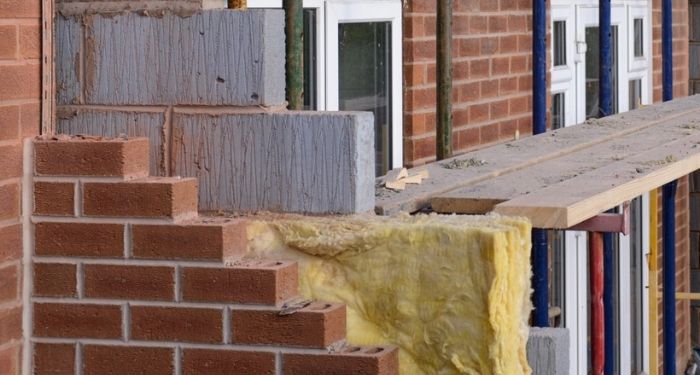 Type of Insulation
Another relevant factor is the type of insulation used. The three most prominent forms of wall cavity insulation used in the UK are polystyrene beads/granules, blown mineral fibre, and urea formaldehyde foam.
Number of Tradespeople
Another relevant factor is the number of tradespeople hired. The more cavity wall insulation installers employed, the higher the labour cost will be and vice versa.
Of course, whether this would be an added expense overall will depend on factors such as how well the labourers work together, given that the more workers on the project, the quicker it will take.
Duration
Of course the longer the insulation work lasts, the more the labour costs will likely be. This may not apply, for example, if the labour costs are charged as a set amount.
Tradesmen Costs for Cavity Wall Insulation
In this section, we'll delve into the labour costs involved in insulating cavity walls. This means excluding the supply costs. We'll also look at the factors that can shape and influence the labour costs for cavity wall insulation.
The average labour cost for this type of project could be approximated as around £50 to £65 per hour but in most cases a tradesperson would not charge by hour for this sort of project, but rather base the labour fees on the size/type of the property with a set price generally given in advance.
For a mid-floor flat, the labour costs of insulating a cavity wall would be around £50 to £130.
As for a semi-detached house, the tradesperson cost would be about £100 to £195, rising to £150 to £250 for a detached property and landing between £100 and £195 for a terraced house.
How Long Does It Take to Insulate a Cavity Wall?
Let's now discuss the timeframes involved in insulating a cavity wall based on size/type of property and whether or not scaffolding was used (so the same measures we used for discussing the costs).
We'll also consider the factors that shape the duration of insulating a cavity wall in this section.
To insulate a cavity wall in a mid-floor flat would take about one to two hours. Where no scaffolding is used, it takes about an hour or two to perform this work on a terraced house, two to three hours for a semi-detached house, or three to four hours in the case of a detached property.
When scaffolding is used you should add an additional hour to the time frames given above.
As for the factors in determining how long the job will take, these are, among others: ease of access, the state of the work area, the number of tradespeople hired, and potentially even weather conditions (if working from outside).
Types of Cavity Wall Insulation
As discussed earlier, there are three main types of cavity wall insulation. Let's take a closer look at these options and their costs.
Blown Mineral Fibre Cost
This type of wall cavity insulation comprises mineral wool or fibreglass stands that are used up to fill up the cavity with the use of compressed air.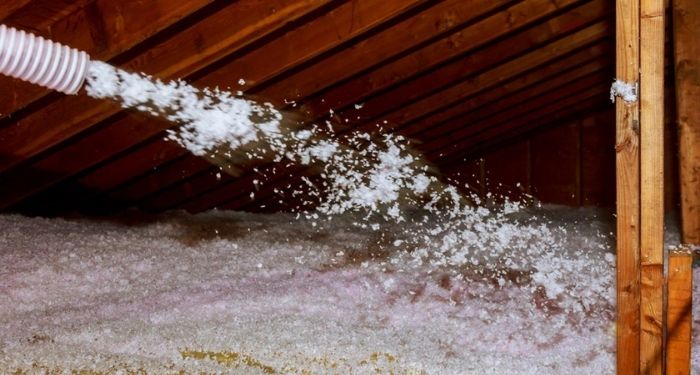 This material is covered by the British Board of Agremént (BBA) certificates.
The cost of this type of cavity wall insulation is around £13 to £18 per square metre.
Pros:
Effective and powerful method
May protect against fire
Cons:
Not always the suitable option
Polystyrene Beads Cost
These may be provided loose or with a light but sticky resin that is used to hold the beads together. However, the granules will automatically attach to one another.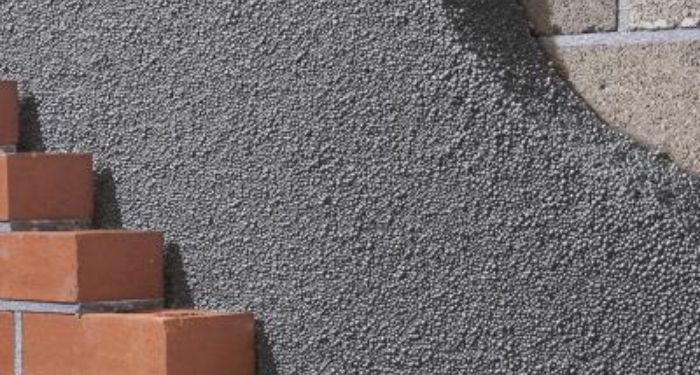 Once more, compressed air is used to force this material into the cavity. Once more, these materials are covered by BBA certificates.
Polystyrene beads for cavity wall insulation tend to range from £18 to £22 per square metre.
Pros:
Another common method
Advanced approach
Cons:
Can be tricky and potentially messy
Urea Formaldehyde Foam Cost
This material is made inside the wall cavity thanks to the mixture of two distinct chemical components that are injected at the same time.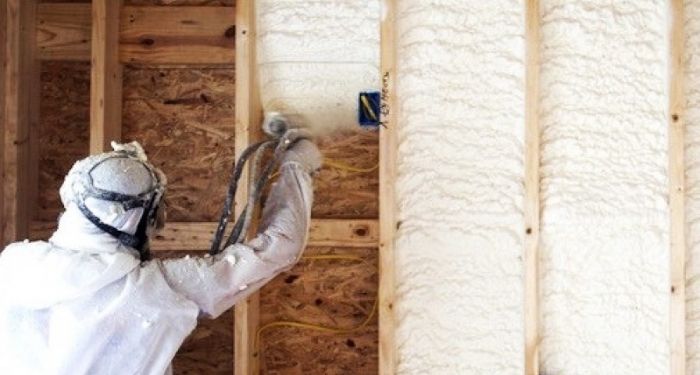 The material used is covered by BS:5618 with the injection of the materials covered by BS:5617.
The cost of this type of insulation is normally around £20 to £40 per square metre.
Pros:
Cons:
More complex
Can be harmful and may require more safety measures
Benefits of Cavity Wall Insulation
There are many advantages to insulating cavity walls. Let's break down some of the prominent benefits of this type of work.
Cost-Effective Way of Saving On Energy Bills
Though insulating cavity walls will generally cost several hundred pounds, it is one of the cheapest ways of insulating your home and saving money on heating bills in the long-run.
It is usually a lot cheaper than, for instance having all the windows in a property replaced with double-glazed windows.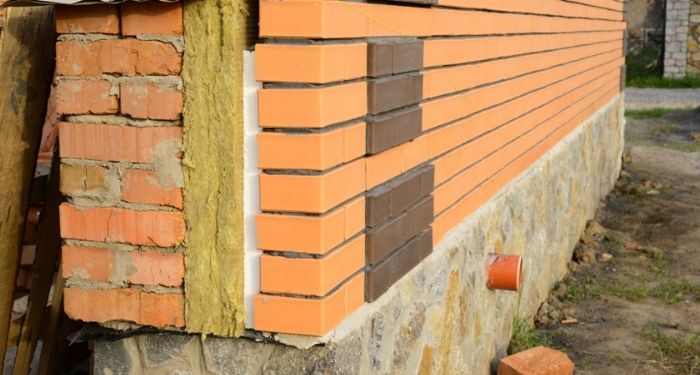 On average, cavity wall insulation would save you about £100 to £200 per year. As a result, you'd be saving more than you spent after just two years.
Keeps a Home Warmer
With good heat retaining qualities, cavity wall insulation can keep a property warmer by reducing heat loss. This can be especially helpful during the cold winter months and may help deal with cold spots in your home.
More Eco-Friendly
Not only does cutting down on heating bills save money but it's of course also better for the environment as it will bring down the carbon footprint of your home. It helps to make a home greener and more suited to the 21st century.
How Much Does It Cost to Remove a Cavity Wall Insulation?
In the rare event that the insulation fails completely or is letting dampness into a property, it may prove sensible to have cavity wall insulation removed.
In other cases, if urea formaldehyde foam has been used, it may be the case that the chemicals being released are acting as a health hazard.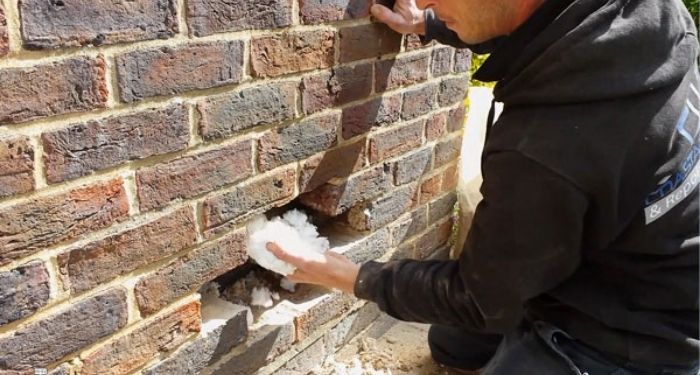 Regardless of the reason, it's likely to cost about £18 to £24 per square metre to remove cavity wall insulation.
Please note that if cavity wall insulation has resulted in damage to your walls, you can look into the option of making cavity wall claims for compensation.
This could prove helpful if there are any cavity wall insulation problems.
FAQs
Q: How long does cavity wall insulation last?
A: It should last for as long as it is maintained and at least several generations. Usually cavity wall insulation comes with guarantees of around 25 years.
Q: How do I know if I have cavity wall insulation?
A: It will depend on the wall type. If a brick wall has a thickness greater than 260mm then it more than likely has a cavity.
You should expect a narrower wall to be solid. The same is true of stone walls. If in doubt, you can always hire a professional to come by and take a look.
Q: Are there any cavity wall insulation grants?
A: Yes. For more information visit gov.uk's page on energy grants.
Q: What can happen if a cavity wall is installed incorrectly?
A: It may lead to an internal accumulation of moisture and cold spots.
Q: How thick is a cavity wall in general?
A: On average, a regular cavity wall will be about 250mm in thickness as opposed to 220mm of a solid brick wall.
Sources
https://www.haringey.gov.uk/housing/housing-advice/home-heat-loss/home-insulation/cavity-wall-insulation