How Much Does It Cost to Repair a Roof?
In this article, we will go through the cost to repair a roof, the supply costs, additional and labour costs, the duration to repair a roof and the different types of roof repairs.
So, if it is your time to have your roof repaired, you should be aware of the costs, and you will find what you need here.
The charges will vary depending on the type of repair or replacement required. The higher the expense of maintenance or replacement, the larger the roof.
This also applies to the height of your home, as taller structures will require additional scaffolding to support roofers while they work, thereby increasing your access expenses.
Complex roofs, such as those with numerous levels or multiple features such as chimney stacks and dormer windows, can add time and money to a project.
If the roof job takes a few days, a temporary cover can be erected to protect the property from the elements, allowing the roofers to work on the roof without being concerned about the weather. This will be a separate fee from the scaffolding.
In most locations such as London, the labour prices will be more than in places like Liverpool or Manchester. Therefore, depending on where you are will depend on the overall cost.
So what is the cost of repairing a roof?
Depending on your area, labour prices range from £150 - £250 per day per worker. A conventional flat roof garage would cost between £1,000 - £2,000 depending on the number of hours worked.
Here we will discuss the different costs to repair a roof.
Flat Roof Repair
Flat roofs costs vary as it mostly depends on the size of the roof. They usually cost £50 per square metre, with more high-end materials, which can cost up to £90 per m2. A flat roof replacement for a conventional garage should cost between £1,000 and £2,000 on average.
Tile Replacement
A missing or damaged roof tile may be allowing water in. If this is the case, a roofer can replace cement, clay, or slate tiles for around £200, and it can be done very quickly, usually in a few hours.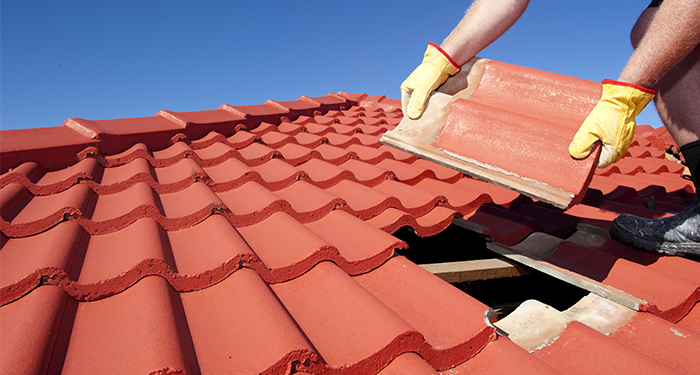 Fixing a tiled roof will help prevent leaks caused by slipping roof tiles. The cost of repairing the roof felt beneath the tiles will be factored into the overall tiled roof repair expenses.
Sagging Roof Repair
Additional joists or rafters can be added to shore up the increased weight, costing between £1,000 and £2,000 depending on how many are required to restore a sagging roof.
A roof can sag if it becomes waterlogged, causing irreversible damage to the internal structure. If this is the case, the entire roof would need to be replaced, which may cost anywhere between £5,000 and £12,000, depending on the size of the home.
Flashing Repair
Your roof's edge, where tiles meet masonries like your chimney or skylights, is protected by lead flashing. If this is damaged for any reason, it might cause problems like missing tiles by allowing rain to enter your home.
Roof flashing repair charges range between £100 and £250 for a metre or so of flashing.
Roof Repair Prices
The table below will break down the costs of a roof repair.
| Roof Repair | Cost |
| --- | --- |
| Flat roof repair | £1,000 and £2,000 |
| Tile replacement | £200 |
| Joists or rafters | £1,000 and £2,000 |
| Entire sagging roof | £5,000 and £12,000 |
| Flashing repair | £100 and £250 |
What are the Supply Costs of Repairing a Roof?
Supply costs can sometimes be the most expensive part of your roof repair, as the materials needed can sometimes be expensive. If you want to save some money and complete your roof repair DIY, you will know what to expect here.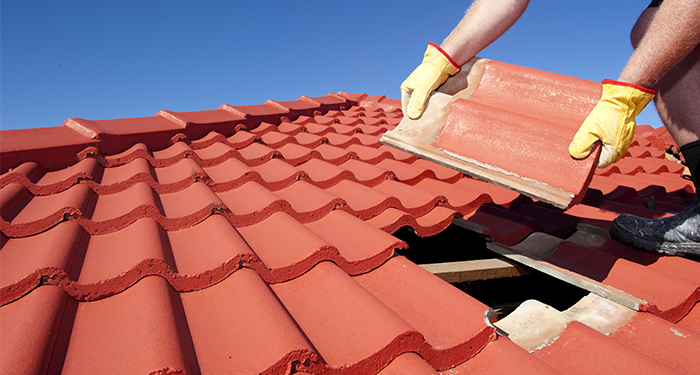 Simply looking at the supply prices, you may anticipate paying roughly £100 for the essential cleaning equipment/materials if you do this work yourself. Roof treatment materials are subject to the same price estimation.
Depending on the type of the repair job, materials to clean and coat a roof cost around £200, and roof repair supplies cost anywhere from £20 to £400.
Although we assume you have something to scoop up the trash from the gutter and a ladder to reach up there, gutter cleaning may cost you nothing in terms of material expenditures. The cost of roof leak repair supplies might range from £10 to £100.
Clay, typically required for roof repairs, costs between £35 and £40. The material for thatched roofs will cost between £30 and £32, whereas EPDM rubber can cost between £15 and £25.
Metal can range in price from £25 to £30. Slate costs between £28 and £30, while concrete costs between £13 and £15.
The table below will breakdown the supply costs:
| Supply | Costs |
| --- | --- |
| Leak repair | £10 - £100 |
| Clay | £35 - £40 |
| Thatched | £30 - £32 |
| EPDM rubber | £15 - £25 |
| Metal | £25 - £30 |
| Slate | £28 - £30 |
| Concrete | £13 - £15 |
What are the Additional Costs of Roof Repairs?
When having your roof repaired, you might come across some additional costs added to your overall cost. Here we will go through each of the additional costs, so you know what to expect when it comes to having your roof repaired.
Tile Repair Cost
Depending on the type of repair, the average cost of roof tile repair will depend on serval factors.
Repairing a fallen or damaged tile might set you back by £170 and £500, whereas re-cementing tiles usually cost between £150 and £600.
You must factor in tradesman charges when determining the cost of roof tile repairs. For simpler roof repairs, roofing contractors normally charge roughly £150 to £250 per day or £15 to £25 per hour.
Replacement of shattered tiles costs between £150 and £400, while ridge tile re-cementing costs between £100 and £400.
Dry ridge repairs typically cost between £150 and £250 in labour, whereas valley tile repairs cost between £200 and £300.
Roof tile removal normally costs between £150 and £500 for labour. You'll also have to consider the cost of garbage removal, which can range from £60 to £300 for a skip rental for your old roof tiles.
For further information, please refer to our guide on the costs of repairing roof tiles.
Guttering
The type of material chosen and/or the size of the area to be covered affect the total cost of guttering.
A semi-detached house with 15 to 20 metres of guttering will cost between £600 and £900 in steel, £675 and £900 in aluminium, £675 and £1000 in uPVC, £1200 and £1500 in cast iron, and £540 and £1100 in copper.
Fitting PVC guttering to a terraced house will cost around £400 to £500, a semi-detached house £400 to £500, a detached house £500 to £700, a bungalow £400 to £550, a flat £240 to £360, or a garage £325 to £350.
The typical cost of labour for installing guttering on the house is between £200 and £300. This is the same as the average daily rate charged by most guttering installers, with gutter installation on a property taking roughly one day.
Installing guttering on a garage may take less time than the above number, resulting in a cheaper installation cost. A guttering installer's hourly cost is normally between £18 and £25.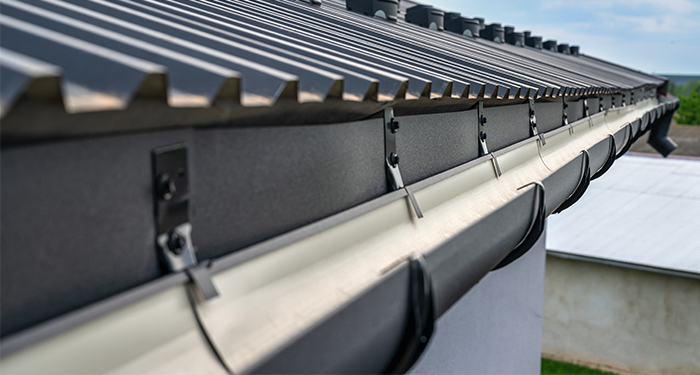 The time it takes to install guttering varies based on the type of guttering, the ease with which you can access your roof, and the condition of your roof.
You may decide to have your gutters removed if you are having your roof renovated or if you want new gutters installed because your current gutters are worn beyond repair or because you prefer a different form of guttering.
The cost of labour to remove outdated guttering is estimated to be between £100 and £150. Waste and old guttering can be disposed of in a skip or by using a 'man and van service.
For further information, please refer to our guide on the costs of guttering.
Soffits and Fascias
The cost of fascia and soffit replacement varies based on the size of your home, but the average cost is between £1,000 and £4,600.
In terms of labour costs, replacing fascias and soffits on a terraced house is likely to cost around £230 to £300.
Labour costs for a semi-detached house are expected to range between £400 and £520. For a small, detached house, labour/installation charges will be around £600 to £720, £800 to £880 for a medium detached house, and £930 to £1,040 for a large, detached house.
Labour costs for a garage should be around £160 to £230, and for a modest porch, around £50 to £70.
The amount of time it takes to replace soffits and fascias depends on a variety of factors, including the size of the property, the style of the house, the ease of access to the soffits and fascias, and the type of soffits and fascias you want to be installed.
You might choose to have your soffits and fascias removed and replaced with new ones. This may be done because the original soffits and fascias are too damaged to repair or because the homeowner wants to replace them with new soffits and fascias constructed of a different material.
The labour charges for removing soffits and fascias are expected to be from £20 to £26 per hour, with a two-hour minimum flat rate.
The removal fees could range from £50 to £200. A skip or a 'man and van service can be used to dispose of old soffits and fascias.
For further information, please refer to our guide on the costs of soffits and fascias.
New Roof
The cost of a new roof is determined by two major elements. The first is the size of your home, or, more specifically, the size of the roofing that will be required.
The second section examines your roofing material options. On small garage roofs, materials like felt will be less expensive, so a felt roof repair will be cheaper. However, on a four-bedroom home will be significantly more expensive.
The typical cost of roofing for a home is between £5,000 and £6,000. The cost of a garage ranges from £1,000 to £2,000.
The overall initial cost of constructing a new flat roof might range from £1,500 to £3,000. The cost of installing these roofs typically ranges from £2,000 to £4,500.
Roofing contractors normally charge between £1,250 and £7,250 to install such a roof.
Roofing labour comes in a variety of price levels for a variety of reasons. The first reason is that craftsmen are scattered throughout the country.
They may be less expensive the closer they are to you. Another factor that contributes to the disparity in prices is skill set.
Installing a roof from the ground up takes time, depending on the shape of your property, the materials used, the skill level of the contractor, and any changes that need to be made.
Roofing usually takes anything from 24 hours to three days to complete. In some circumstances, such as non-residential structures, the three-day mark is exceeded, and the project could take up to a week to complete.
The length of time relies on a variety of elements, such as the size of the structure and the size of the roofing surface area; the larger the building, the longer the roofing will take. The amount of personnel involved in the roofing process has the potential to speed up or slow down the procedure.
For further information, please refer to our guide on the costs of installing a new roof.
Scaffolding Hire Costs
The cost of erecting a scaffold tower ranges from £200 to £300. Scaffolding a chimney will cost between £450 and £550, £800 to £1000 for scaffolding on three sides of a semi-detached house, or £600 to £700 for scaffolding on three sides of a detached cottage.
Scaffolding bridging over a conservatory would set you back from £450 to £550. The type and size of scaffolding, the number of tradespeople engaged, the convenience of access, and the location of your property are all factors that determine the cost of hiring scaffolding.
Scaffolding rental fees are mostly determined by the duration of the rental. However, the labour costs of putting it up and taking it down are a substantial part of the cost. Let's look at the labour costs in more detail.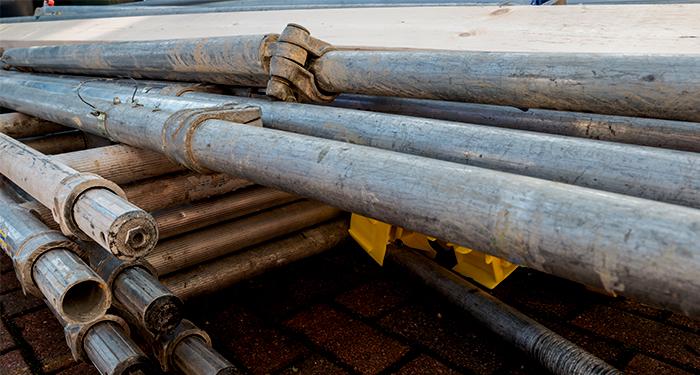 Setting up a scaffolding tower to fix lower hip tiles would cost around £230 to £270 in labour. Scaffolding bridge for a conservatory would cost roughly £430 to £470 in labour rates, while scaffolding at the front of a property for roofing would cost around £400 to £450.
The ease of access, the quantity of tradespeople engaged, where you reside, and weather conditions (for example, if there is bad weather, setting up the scaffolding may be delayed/postponed) can all affect labour expenses.
You can also rent scaffolding which is also a good idea if you want to try and save money.The obvious benefit of renting scaffolding is that it is much less expensive than purchasing it all together for any given job.
Buying it to keep will usually set you back several thousand pounds.
However, if you plan to reuse the scaffolding frequently enough, it will save you money in the long run. When deciding whether to hire or purchase scaffolding, keep this in mind.
If you buy it, it will deteriorate with time and will not be as strong or durable as renting scaffolding.
For further information, please refer to our guide on the costs of hiring scaffolding.
Number of Tradesmen
Roof repair prices will also vary depending on how many professionals are employed. The labour cost will be much lower if only one tradesperson is required to fix the roof than if two, three, or more tradespeople are required.
Duration
The higher the labour cost, the longer it takes to fix your roof. The longer the hiring period, on the other hand, the more you'll pay, with some homeowners hiring a roofer for a few days and others for weeks or months.
Tradesmen Costs for Repairing a Roof
When having your roof repaired, you should consider how much labour costs will add to your overall budget. Here we will go through the costs of labour and what affects the overall cost that you will be paying the tradesmen.
Roofers usually charge by the type of job they're doing, not by the amount of time it takes - whether it's a small repair, repairing flashing, or building a full new roof.
Labour costs typically range from £1 to £3 per square metre for 1 to 3 days, depending on a variety of circumstances. This covers the cost of the specific tradesman or company, as well as the type of roof and materials used, all of which will affect how long the job takes.
In the United Kingdom, roofers typically charge between £18 and £25 per hour. Along with material costs and any trash removal expenditures, labour costs will be included in the total cost.
If scaffolding is required, you will almost certainly incur additional labour expenditures.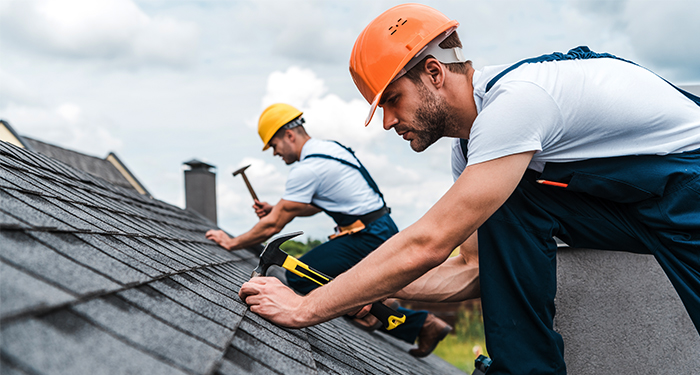 Because certain materials are more difficult to install than others, the material you choose for your roof will affect the duration and labour expenses.
Slate, for example, is expensive to install, especially if the tiles are thin and do not cover as much roof space. Therefore, many people choose slate-coloured clay tiles because they require fewer tiles to install.
Roofers normally give you job pricing rather than an hourly rate. Small jobs, such as fixing a slate or tile, normally do not take long, lowering overall labour costs.
A skilled roofer will offer you an estimate for the job upfront, so you can get started right away. Labour costs are normally included in the total price, but if you want to be certain, you should inquire.
How Long Does It Take to Repair a Roof?
If you need your roof fixed, one of your first concerns will likely be "How long will it take?" as well as "How much will it cost?" To both queries, the response is that it depends on the specific project.
Every roof is different, and the needs for one project may not be the same as those for another; therefore, problems like these must be addressed on an individual basis. We'll go over the various lengths of time it takes to repair a roof here.
The duration to repair a roof depends on many factors such as:
Weather
While most roofing contractors make every effort to work in all weather conditions, there are instances when roofing work must be postponed.
This isn't because roofers don't want to work in wet or icy conditions; it's because doing so could expose your property to dampness.
Size
To give you an idea of how long roofing repairs take on different types of properties, a modest home's roof may normally be repaired in two or three days. If you live in a larger house, it may take a little longer - up to two weeks or slightly longer.
Materials
Corrugated iron sheets are easier to install than tiles. Because a single sheet covers a wider area, only a few pieces are required. The framework will also contain fewer beams and trusses, resulting in less labour and time.
Tiles and wood slates, on the other hand, are small and, due to their larger weight, require a stronger framework. To build the right roof, you'll need more underlying materials.
Complex Repair
If you only need a simple repair to one part of your roof, it will take less time than if you need a complete roof replacement or repairs to your guttering and downpipe as well.
Another element to consider is the roofing materials you use, as some take longer to install than others. It all relies on the components that need to be repaired.
Type of Roof
Roofing contractors will determine how much time is required by determining the type of roof. The easiest roofs to build are flat and basic pitched roofs. They use minimal resources and have a simple support system and truss.
Mansard and gambrel roofs contain more corners, cover a wider area, and require a more complicated support framework. This necessitates more forethought, effort, and time.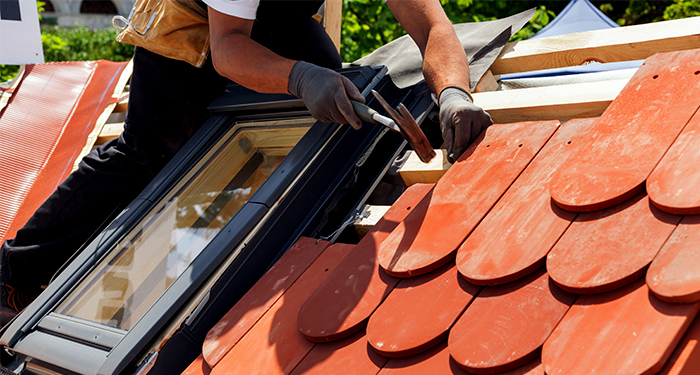 A roof repair job should take between one and three days to complete. The elements have an impact on this. Well-known companies will provide a clear outline of the procedures to be followed, the time required for each work, and the number of employees engaged.
A professional installation will also be willing to adjust the schedule to accommodate the needs of the consumer. For example, if the roofer estimates that it will take three days, but the customer wants it done in two, the roofer will hire more employees or work longer.
Types of Roof Repairs
When it comes to roof repairs, there are many issues that your roof could go through, which is why it is recommended to have maintenance checks. Here we will go through the different types of roof repairs and their pros and cons.
Tile Roof Repair Cost
Estimating the cost of roof repairs is challenging due to the wide range of repairs that may be required. If a single tile is missing or damaged, causing a leak, it will only take a few tiles to repair, which can cost between £100 and £200.
Damaged flashing, which runs alongside roof features such as chimneys and skylights to keep water out, will cost about the same.
Pros
Will reduce energy costs
Environmentally friendly
Cons
It can be expensive
The tile is brittle
Flat Roof Repair Cost
Repair costs, like with tiled roofs, vary depending on the severity of the damage - it is easy to patch flat roofs or fix problems like blisters for a few hundred pounds.
However, if several issues arise, it may be more cost-effective to replace the entire roof, especially since many flat roofs only have a useful life of 20 to 30 years.
Pros
Affordable
Access is easier
Cons
Roof Leak Repair Cost
Roof leaks are one of the most prevalent roofing problems that most homeowners encounter.
Extreme weather conditions, such as strong winds, rain, or snow, regularly batter your roofs, causing moisture to collect beneath the layers. As a result, they must be addressed right once, as delays in addressing roof leaks can lead to more serious damage.
Roof leaks commonly occur near the chimney, around gutters, in valleys, near vents, and so on and can range from damaged shingles to cracked flashing. Though most problems are unavoidable, several important activities may be taken to extend the life of a roof
Pros
It can be caught early
Affordable
Cons
It can be caused by weather conditions
Clogged Gutter Cost
Clogged gutters are a typical problem for most homeowners, especially if their roofs are surrounded by tall trees. Over time, the withering leaves that fall from these trees might obstruct gutters. They could also be jammed with damaged pieces and debris that flies in from the outside world.
They must be checked and cleared regularly to avoid the gutters deteriorating and causing water to leak into your home. Installing screens on gutter holes prevents twigs and leaves from entering the guttering system, which is an excellent approach to prevent clogged gutters.
Pros
Prevent gutters from rotting
Opens the gutter up
Cons
It should be done every few months
Wind Damage Repair Cost
Specific pieces of your roof will likely be blown away if you reside in a windy place. This frequently happens on the roof's side, which is more exposed to severe winds.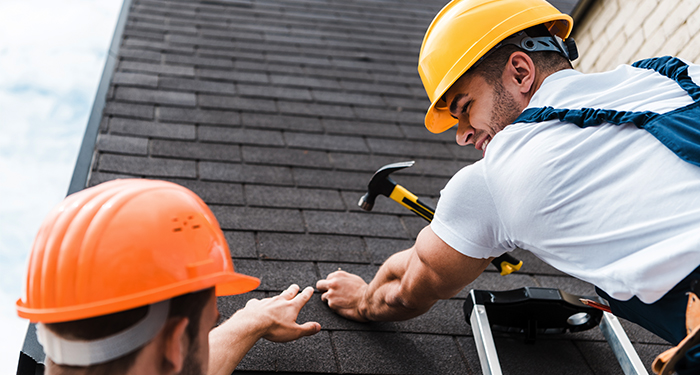 If your roof is not properly secured or attached, the wind's elevating pressure and suction might cause serious damage.
Pros
Cons
It needs maintenance every few months, depending on your conditions
FAQs
Q: What is the best roofing material?
A: Slate roofing of good quality is extremely durable and outperforms other roofing materials.
Roofing slates are also fireproof and resistant to insects, fungi, and microbes. It is the most durable natural building material ever created.
Wood shingles are generally made of cedar, but other rot-resistant timbers, such as redwood, can also be used. Wood has a natural appearance, but it has a short lifespan and requires maintenance regularly.
These long-lasting synthetic roofing shingles are made of plastic polymer and may be recycled when they need to be replaced. They require little upkeep.
Clay tiles are manufactured from natural materials, but they take a lot of energy to produce. They are long-lasting and low maintenance, yet they are brittle and susceptible to breakage. They're also costly.
Concrete tiles are less expensive than clay tiles and are more durable. They're made of natural materials, but they need a lot of energy to make.
Steel, aluminium, copper, and zinc are all metals. Metal can be recycled when it is replaced, but it takes a lot of energy to make. The material determines how long it will last.
Composition of asphalt organic paper fibre mat or fibreglass impregnated with asphalt and covered with mineral granules are the most common materials used to make shingles. It is not expensive, yet it is neither long-lasting nor environmentally friendly.
Natural slate's worth is based on its imperviousness, durability, and adaptability.
Q: Is it better to repair or replace a roof?
A: Repairing your roof will be the most cost-effective option to address the issues you're experiencing. These fixes can help to extend the life of an older roof and get you through until it's time to replace it with a new one.
Q: How long should a roof last?
A: Roofs made of slate, copper, or tile can last up to 50 years. Wood shake roofs should last around 30 years, whereas fibre cement shingles should last about 25 years, and asphalt shingle/composition roofs should last about 20 years.
Q: How often should a flat roof be repaired?
A: Because they are prone to leaking, you should expect to mend or replace your roof every 15 years or so. Maintenance should not be too expensive, and your roof should keep the elements out for many years.
Q: When is the best time to repair a roof?
A: The greatest time to replace your roof is in the autumn! Rain, snow, heat, and humidity can all affect many aspects of your roof replacement.
The speed with which your job is finished may be affected by the weather conditions.
Sources