How Much Does It Cost to Replace a Door Lock?
We understand that in this day and age, safety and security are paramount in and around the home. For this reason, one important aspect of home security to consider is safe and effective door locks.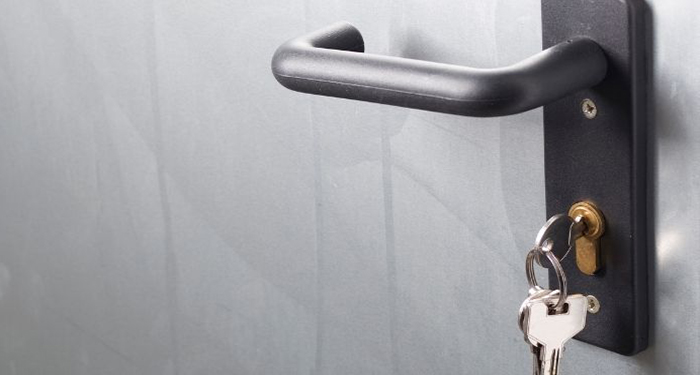 Not everybody knows about the benefits of an up-to-date door lock, nor do they know the average cost of a door lock replacement. When replacing a door block, it is important to understand how much to budget for a door lock replacement along with the price of hiring a tradesperson to complete the job.
Door Lock Prices
To give you a better understand of door lock replacement costs, take a look at the below table:
| Type of Lock | Type of Door(s) | Cost |
| --- | --- | --- |
| Mortice Lock | Wooden Front Door | £130-£190 |
| Multi-Point Locking System | UPVC | £190-£280 |
| Euro Cylinder Lock | UPVC/Composite | £110-£200 |
| Rim Automatic Deadlatch | Wooden | £160-£240 |
What are the Supply Costs of a Door Lock Replacement?
All types of door locks vary in price. The cost depends on whether you want to purchase a top of the range lock or a budget version.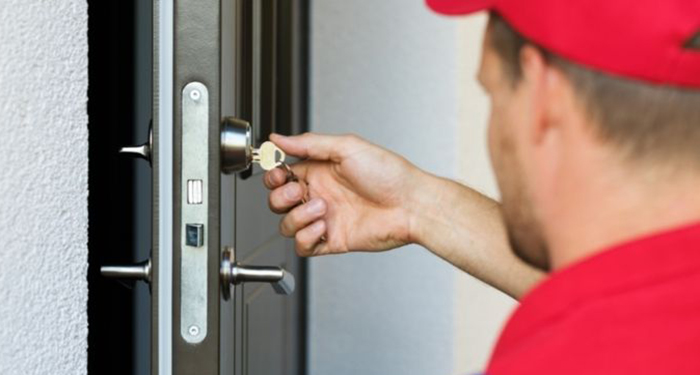 The average supply cost for the most common door locks can be seen below:
| Type of Lock | Cost |
| --- | --- |
| Knob lock | £10-£20 |
| Multi-point locking system | £70-£80 |
| Rim automatic deadlatch | £30-£50 |
| 5-Lever mortice deadlock/nightlatch | £17-£25 |
| Euro cylinder lock | £10-£15 |
It is important to note, however, that not all locks have been assessed against British Standards. A lock that has been cleared by British Standards will state so on the packaging or on the locking unit itself.
All door locks do undergo testing to conform to basic safety standards, although this is often done by independent manufacturers themselves. If you want to purchase door locks that have been approved by British Standards, then you can expect to pay a higher cost than those stated above.
What are the Additional Costs of a Door Lock Replacement?
When budgeting for the replacement of your door locks, it might be worth considering the additional costs that may occur in advance, rather than being disappointed that the job cannot be completed on the day.
New Front Door
One thing to consider is the possibility that you may require a new front door to enhance security to your property rather than just a lock change.
The cost of a new front door varies greatly, depending on whether you want a UPVC door, Composite door, or a wooden door such as those made from Oak or Mahogany.
New Patio/French Doors
If you are replacing a lock on patio or French doors, you may also want to consider investing new doors.
French or patio doors, like most things, vary in price, but you can expect to pay anything between £400-£1500 for new doors.
Location
Believe it or not, the location of your property will influence the cost of door lock replacement services. Therefore, it may be worthwhile anticipating this as an additional cost to your locksmith service.
For example, in London, the cost of living is higher and there is a greater population of people in comparison to other areas of England. Therefore, the competition and demand for services is higher.
Tradesman Costs for Replacing a Door Lock
You may find that it is hard to anticipate the exact cost of a door lock replacement in your home. After all, a locksmith may need to come out to price up the job, and other factors may influence the total cost.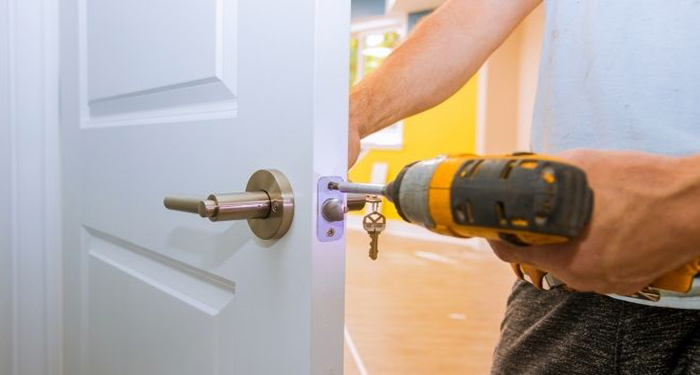 The average tradesman costs alone, for labour and installation of the most common door locks are as follows:
| Type of Lock | Cost |
| --- | --- |
| Euro Cylinder lock | £70 |
| Mortice Deadlock | £90 |
| Multi-Point Locking System | £80 |
| Garage Door Lock | £60 |
Although locksmiths can charge whatever they choose to, depending on type and time of call out, distance to travel to destinations etc., the average hourly rate is £65.
How Long Does It Take to Replace a Door Lock?
If you are pushed for time, you may be worried about how long it will take to have your door lock replaced. The timescale will depend on how many door locks need replacing. However, you may be surprised that it's not as time-consuming as you may have anticipated!
First of all, when arranging for a tradesperson to attend your property to change the lock, you should ask them how long the job will take. It's also a good idea to allow for some extra time in case there are any unforeseen problems.
Different types of door locks have various installation times. Also, if you don't have a key for the existing lock, you can expect the job to take a little longer.
The table below sets out the average professional installation times for a range of different door locks.
| Type of Door Lock | Average Professional Installation Time |
| --- | --- |
| Mortice Lock | 30 – 60 minutes |
| Cylinder Lock | 5 - 20 minutes |
| Multi-Point Locking System | 5 minutes |
| Knob Lock | 10 - 20 minutes |
| Automatic Deadlock/Nightlatch | 10 - 30 minutes |
Types of Door Lock
The cost of replacing a door lock varies depending on the type of door you have. There are locks designed for interior and exterior doors, including garage doors, patio doors and UPVC doors.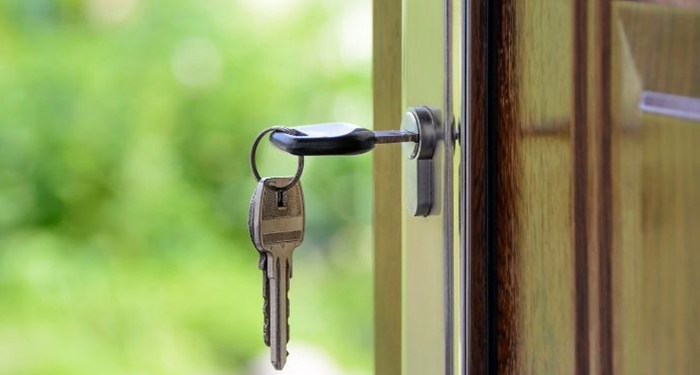 Here are some of the most popular door locks:
Knob Lock Cost
A common and popular door lock, suitable for inside a property only, is the knob lock. The knob lock provides ample security for inside the home, as a key is required to unlock the unit from either one of both sides of the door.
However, it is not recommended to go against product advice and use this lock for an external. The reason for this is because there are ways of dismantling the lock from the door itself, enabling thieves or unwanted visitors to gain access to the property!
On average, a knob lock costs between £10-£20, making them an affordable, indoor security option!
Pros:
Available in various colours and finishes
Medium level of security for internal doors
Cons:
They can be removed with tools and force to gain entry
Less secure grip
Multi-Point Locking System
Multi-point locking systems are used on external doors and are a suitable replacement lock for a UPVC door, including front and back doors, patio doors and French doors. However, these locks can be installed on doors composed of aluminium and timber also.
The locking unit itself is installed into the main body of the door, which then locks into the frame of the door.
These types of locks are controlled using a key and offer a high level of security by using anywhere between 3-5 locking points with only one lock cylinder.
The average cost for a multi-point locking system is around £70-£80. However, this varies depending on the brand and how many locking points the system provides.
Pros:
Can be used on a range of exterior doors
Choose from 3-5 locking points
Cons:
Takes some getting used to
Home insurance may be rendered invalid if the lock is not secure
Rim Automatic Deadlatch (Also known as a Yale Lock)
Rim automatic deadlatches are commonly used on external doors made from wood or those that have a glass panel. These are usually more dated or older doors.
This specific type of lock requires a key to unlock the door lock from the external side, but the lock can also be activated from inside the property using the latch on the other side.
If left on the latch from the inside, these types of locks can provide easy access in and out of the doorway without using a key from the outside every time.
These locks are suitable for main doors at the front or rear of the property. The average cost for a deadlatch, or 'nightlatch' stands at around £20.
Pros:
The door automatically locks when closed
The latch on the inner side of the door can be used to open the lock without a key
Cons:
Do not offer a great level of security
5-Lever Mortice Deadlock
5-lever mortice deadlocks are a more secure version of a 3-lever model. As previously mentioned, mortice door locks are often used on external wooden doors alongside a Deadlatch. This is because a 5-lever deadlock does not provide sufficient home security when used alone on a wooden door. Wooden doors nearly always have two door locks.
Mortice Locks are installed within the body of the door and lock into the door frame, rather than sitting on the external surface of the door.
Mortice locks can also be used on commercial and glass doors, and when used on such doors, can provide a high level of security.
The average price of a mortice lock, depending on the brand and specifications is around £17-£25.
Pros:
High security rating
Available in different sizes and
Cons:
Some have not been tested against British Standards
Some may be unable to withstand techniques
Euro Cylinder Lock
A euro cylinder Lock is usually used alongside a multi-point locking system and makes for a popular UPVC door lock replacement. They can be used on external front, and rear domestic doors but are not commonly used on internal doors within domesticated properties.
They are, however, used on internal doors where internal security may be of more demand, for example, in an office or an educational facility.
They operate with a simple lock and key mechanism, where the key is required from the outside of the door, to gain access.
When considering average door lock prices, the euro cylinder locks come in at around £10-£15.
Pros:
User-friendly
Can have multiple keys cut
Customised level of security
Cons:
Susceptible to 'lock snapping'
Benefits of a New Door Lock
There are several reasons as to why you should change your door locks, the number one priority for most people being safety and security! Most Locksmiths will recommend that you change your locks once every seven years to achieve optimum performance and enhanced safety.
Security
However, if you have recently taken over a new retail unit or moved yourself and your family into a new house, it is impossible to know how many keys have been cut for the property by the previous owners or residents.
Therefore, to ensure that you and those known to you are the only ones with keys to access your property, you might want to invest in a garage door lock replacement and a patio door lock replacement as well as a replacement lock to the main entrance of your property.
Ease of Use
With the ever-evolving market, new brands and versions of door locks are in production constantly. With this in mind. you may just want to change your locks to something more user-friendly, if you can find the right door lock cost for you!
How Much Does It Cost to Remove a Door Lock?
If you are looking to upgrade your home security by investing in a more secure locking system, or if you find yourself in a predicament where your lock may have snapped or ceased to function properly, then you may need to call out a locksmith to remove or replace your existing locks.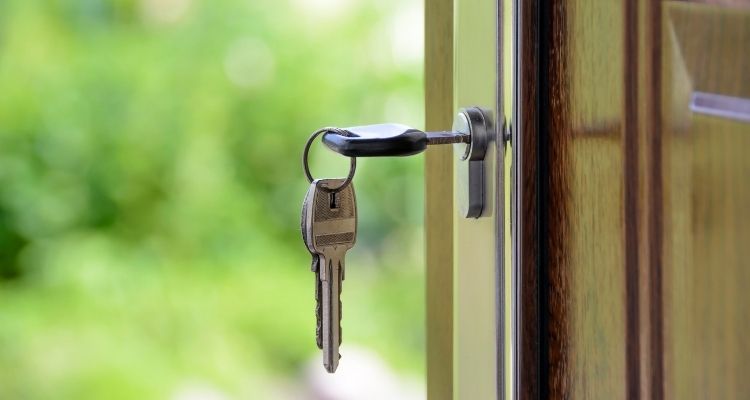 Locksmiths can technically charge whatever price they like for their services. If you are handy around the house and know how to fit a new door lock, then you may not require a full door lock replacement cost.
However, if you need a helping hand to remove an existing door lock, the current average starting price for removing a broken or snapped UPVC door lock is £70. If you want a full replacement UPVC door lock service, then you can expect to pay more than this.
FAQs
Q: How do you measure up for a new door lock?
A: Measuring up for a new door lock all depends on the type of lock you currently have. Assuming you are replacing your existing door lock with the same kind of lock, there is a process to follow to measure each kind of lock.
For a mortice lock, 3 measurements are required, including:
Dimension A - Holding the cylinder on the side, measure from the outside (left side) edge of the cylinder to the screw hole in the middle.
Dimension B – Measure from the internal (right side) edge of the cylinder to the screw hole in the middle.
Dimension C – Measure the full length of the cylinder from the outside edge to the internal edge.
For a mortice lock, 5 measurements are required, including:
To measure the for-end of the mortice lock (the flat part of the lock that sits on the edge of the door itself), you need to measure the width and the length from edge to edge.
The measurements between the top right-hand corner and bottom right-hand corner of the for-end will give you the length. Measuring from the bottom left-hand corner to the bottom right-hand corner will provide you with the for-end width.
To measure the backset, you need to obtain the measurement from the keyhole to the for-end.
To measure the case width, measure from the for end to the furthest edge of the mortice case.
Finally, to obtain the measurement for the case height, measure from the top right-hand corner to the bottom left-hand corner of the mortice case.
Q: How do you fix a door lock that won't turn?
A: If you find you are having difficulty in turning the key in your door lock, it is important not to force the key as you don't want a snapped key stuck in the lock! It is recommended that you try using a 'dry' lubricant spray, directed into the lock, such as a graphite spray or silicone-based lubricant.
Once this has been sprayed into the lock, try re-inserting the key and turning it a few more times in the lock. Failing this, you may need to arrange a visit from a locksmith who can determine what the issue is and use their skills to set it straight!
Q: How many locks should you have on a front door?
A: If you have a UPVC or Composite front door, these usually have two locks, a Euro Cylinder lock and a Multi-Point Locking System. The only doors that must have two locks for added security are wooden front doors.
Q: How often should you change front door locks?
A: It is recommended that you change the locks on the front door every seven years. This covers all eventualities such as faulty or worn locks that may affect the security without you knowing, lost keys that have made their way into the hands of the wrong person who knows which door they fit and unknown keyholders such as previous residents or tenants.
Q: Can you change a UPVC door lock yourself?
A: Yes, it is possible to change a Euro Cylinder Lock and a Multi-Point Locking system yourself and relatively easily! There are plenty of DIY and 'How To' guides available online. However, if you want the reassurance that it has been done correctly and to a standard that ensures optimum safety, you may wish to consult a locksmith!
Sources