How Much is a Boiler Service?
The average cost of a boiler service is £80 to £90 for a one-off servicing, but it will depend on the provider, among other factors. For an annual servicing, you can expect to pay about £150 to £250 altogether.
The gas boiler service cost is about £70 to £100 with the price estimate ranging from £50 to £200 for an oil boiler or £60 to £100 in the case of an electric combi boiler.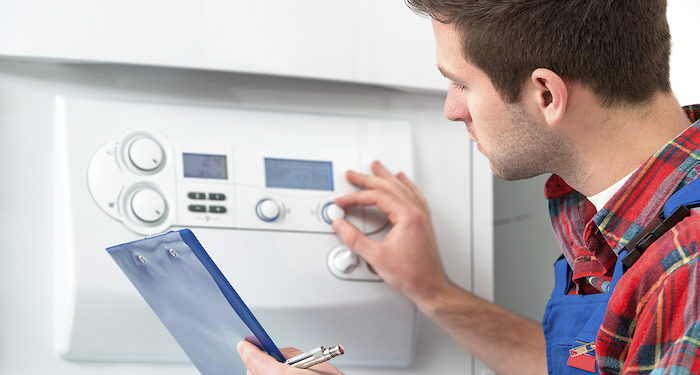 As for a commercial boiler, this would be priced at roughly £70 to £90. Monthly boiler service cover costs around £10 to £15 per month while landlord safety certificates would cost approximately £60 to £90.
The cost of boiler service jobs will be largely based on the price of labour. However, you may also be covering the supply costs as part of the total, although there are generally no supply costs for testing and issuing a Landlord Gas Safety Certificate.
Among the key cost factors are size/type of boiler, location, materials, number of tradespeople, property location, and how accessible the boiler is.
Boiler Service Prices
How much is a boiler service? Here's a quick breakdown to summarize:
| Type | Total Cost |
| --- | --- |
| One-off | £80 to £100 |
| Annual | £150 to £250 |
| Oil Boiler | £60 to £200 |
| Electric Combi Boiler | £60 to £200 |
| Commercial Boiler | £70 to £200 |
What are the Additional Costs of Servicing a Boiler?
Let's take a look at some of the extra costs you may incur upon having a boiler serviced.
Minimum Fee
Some tradespeople will set a minimum charge when you wish to have a boiler serviced. This may come as a minimum fee that is added to the labour costs and, if applicable, supply costs, or it may exist as a minimal charge for the first hour of labour, although for short-term work like servicing a boiler.
Boiler Location
Where a boiler is located is also important, as the more accessible it is, the easier it will be for a contractor to get the work done. In this case, the longer the work lasts, the higher the labour costs may be. Of course, this will depend on the contractor and precisely how difficult it is to reach the boiler.
Type
As shown earlier, the type of boiler is also relevant. The cost of an oil boiler service can vary significantly, while the cost of servicing an electric combi boiler or a commercial boiler is generally cheaper (usually under £100). The quality of the boiler may also impact the cost of having it serviced.
Size
Unsurprisingly, the larger a boiler is, the more it will generally cost to service. Of course, this may not always apply, but a larger boiler will often be more complex and a little bit more time-consuming to service than a smaller, more simplistic unit. However, this isn't likely to be a major cost factor.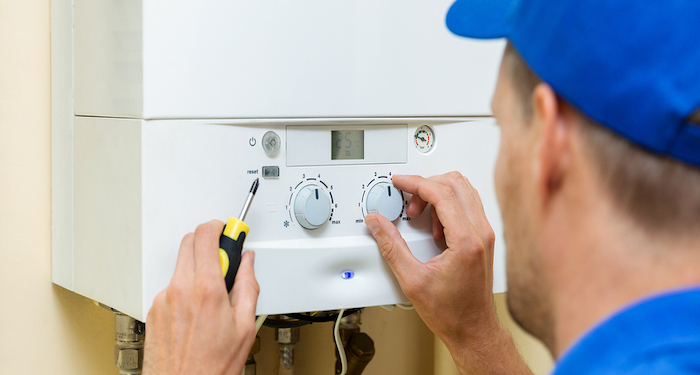 Condition of Boiler
The state of the boiler is also relevant. We don't just mean the initial quality of the boiler, of course (as referenced under boiler type); if a boiler has worn down significantly over time, it may be more challenging to service than a fresh, high-quality alternative.
Number of Tradespeople Hired
Beyond that, the more tradespeople hired for a job can impact the price of boiler servicing. That being said, it's quite unlikely that any more than one contractor would turn up or be needed for this sort of work, so, in general, this shouldn't really apply.
Duration of The Work
How long the work takes may or may not affect the overall price, and ultimately, it will depend on how the tradesperson works. In some cases, a contractor will have a set amount from the offset, while in other cases, they may charge by the hour.
Boiler servicing usually takes less than an hour. However, it's quite unlikely that the duration of the job will prove a cost factor in practice.
Tradesmen Costs for Boiler Servicing
We'll now take a closer look at the labour cost of a boiler service. This excludes the supply costs and any additional charges as such, although a minimum fee could be considered a type of labour charge with that being said.
The labour price of servicing a boiler is likely to land around £70 to £90 for a one-off boiler service or approximately £130 to £250 for an annual servicing.
For a gas boiler service, this is likely to land around £60 to £95, with the cost being roughly £40 to £195 for an oil boiler, and you'd need to budget for about £50 to £95 for an electric combi boiler. As for a commercial boiler, this would set you back about £70 to £90.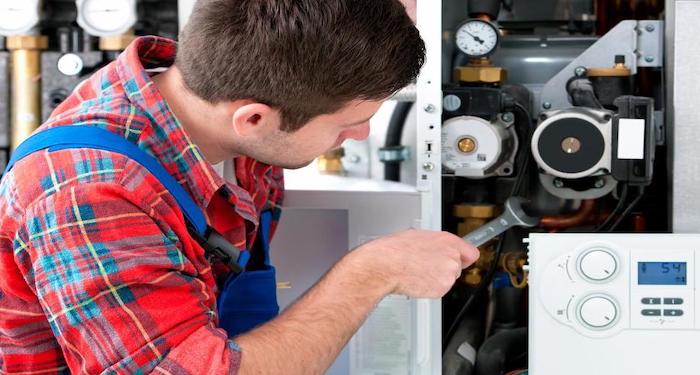 Where you live is an important consideration when it comes to having a boiler serviced in terms of the labour cost.
To give you a few examples, the cost o1f a boiler in service in Pembrokeshire may cost you about £75 to £80, or around £80 to £90 in Cardiff.
In London, you can expect prices to be somewhere closer to £100 to £110, with similar pricing apply to regions like Luton, Preston, or Reading. The most expensive pricing was for Suffolk Coastal, with an estimated price of about £120 to £125.
How Long Does It Take to Service a Boiler?
The time it takes to service a boiler, like the cost of such work, is dependent on a range of different factors. In this section, we'll look at some of the key factors that determine the duration of boiler servicing.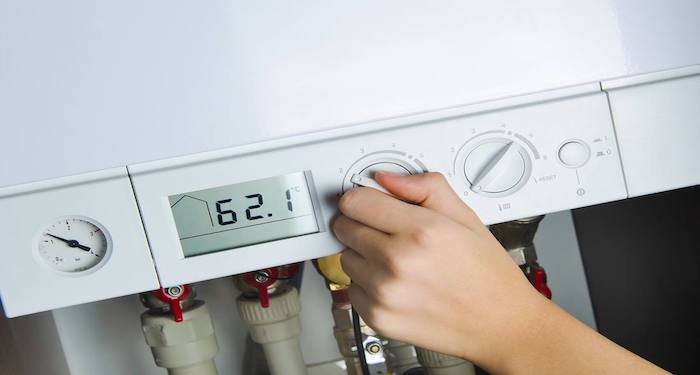 First and foremost, the type and size of the boiler will be key relevant factors. Other considerations include accessibility and the condition of the boiler. Boiler servicing generally takes around 30-40 minutes, although some boilers and servicing types may take longer, such as a CP12.
Types of Boiler Service
There are indeed many forms of boiler servicing. Let's take a look at some examples in the following subsections.
Gas Boiler Service
These boilers are cheaper to run than electric alternatives. Gas boilers are, however, worse for the environment. Put simply, gas boilers burn natural gas as a means to produce heat for a property.
In many cases, the natural gas will be delivered via an energy supplier through the gas network, or the gas may be sourced locally if the property owner has obtained the necessary equipment and structures to achieve this.
With more gas boilers on the market than electric units, there are more options to choose from, and they represent the most affordable choice for those with a property that's already hooked up to the gas grid.
As for servicing in particular, though, an annual service is strongly recommended to a greater extent than with other boiler types (unless it is required). Speaking of necessity, an annual gas boiler servicing may be legally required, such as to maintain a warranty or for a rental property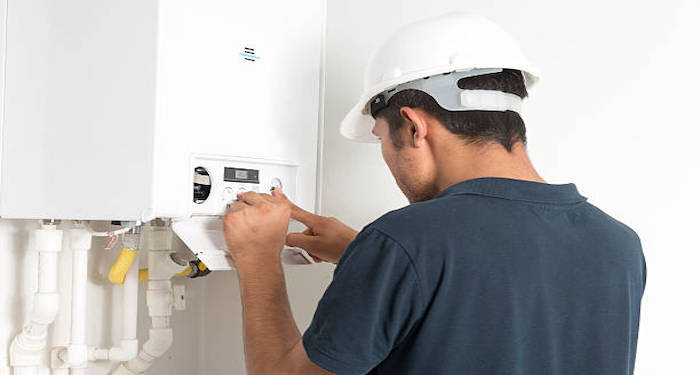 Pros:
Cheaper to run than an electric boiler
Can deal with higher demand for hot water and heating
More options to choose from
Having a professional replace a gas boiler is pretty straightforward
Cons:
Servicing is strongly recommended if not legally required
Risk of a carbon monoxide leak
Combi Boiler Service
Combination boilers are one of the most common boiler types on the market. Their name is a reference to their ability to offer hot water and heating for a home as needed at any given time. They are incredibly efficient, compact, and can keep your bills down (compared to a conventional boiler).
It's also pretty straightforward for a professional to install a combi boiler. However, there are downsides like the lack of an immersion heater, the need for good mains pressure, and its inability to work with power showers.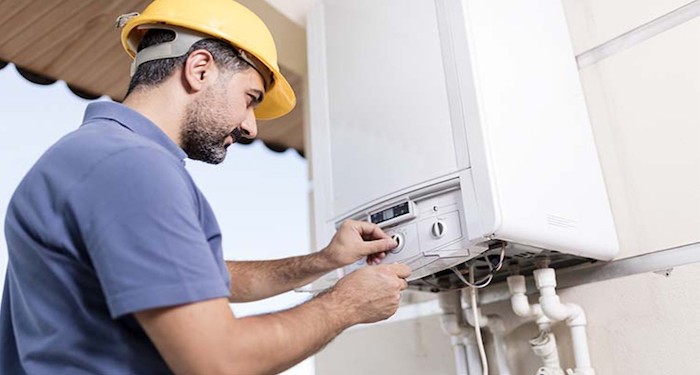 Pros:
Great abilities
Super-efficient
Compact
Can keep bills down
Cons:
Cannot use various hot water appliances simultaneously
Good mains pressure is important
It won't work with power showers
No immersion heater
Electric Boiler Service
Next, there is the option of an electric boiler. These boilers also have their pros and cons. On the one hand, electric boilers are relatively quiet when heating a property, and there's obviously no risk of carbon monoxide leakage.
There are also fewer moving parts than with a gas boiler (meaning less chance of something breaking), and a flue pipe is unnecessary.
However, as already mentioned, it's more expensive to run an electric boiler, and it's not the best suited to a particularly large household. It would also take up a lot of energy use in your home as a total percentage.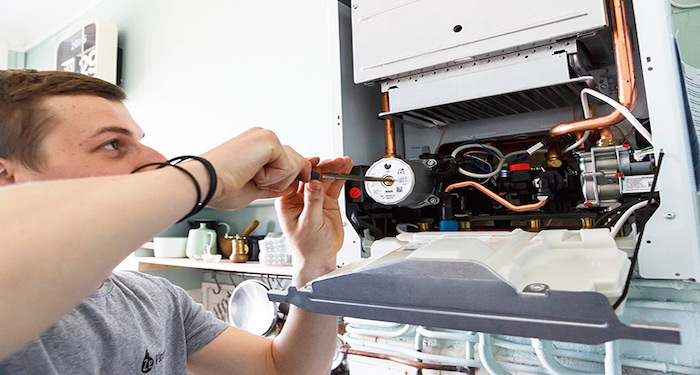 Pros:
More costly than natural gas
No chance of carbon monoxide leak
Flue pipe isn't needed
Cons:
More costly to run an electric boiler
Not well-suited to larger household
Benefits of a Boiler Service
As with any labour work, there are some key advantages worth considering.
Improves Energy Efficiency
If you have your boiler properly taken care of with an annual servicing, it will help improve energy efficiency. This is because issues can be spotted sooner rather than later, and the boiler can be better maintained; this equates to better energy efficiency all-round.
Extends The Life of a Boiler
Another benefit of having your boiler serviced each year is that it should improve its longevity. Again, spotting issues early and maintaining a boiler effectively matter and, in this case, it would improve the odds of it lasting.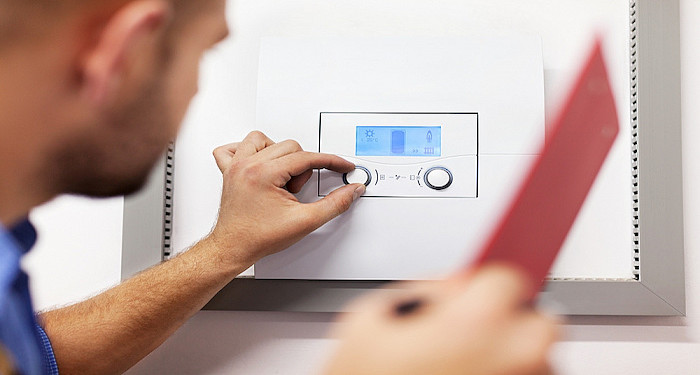 Safety Considerations
Of course, boiler servicing is a legal requirement, but it can increase safety either way. Boiler servicing can prevent existing issues from worsening and keep the boiler in better shape.
FAQs
Q: What does a boiler service involve?
A: Generally, a boiler service entails a visual inspection, the boiler casing being removed (so that the components behind it can be checked), a flue check, a check of the gas pressure if applicable, and the boiler will be fired up to look for faults.
This is a broad assessment, and it will ultimately depend on the specific type of boiler you have. A professional will always have a good boiler service plan and will know exactly what they are doing.
Q: Can you service a boiler yourself?
A: Yes, you may do so, but only if you are competent in this specific area and in a way that relates to the type of boiler you have.
Q: Must I have my boiler serviced?
A: In many cases, this will not be a legal requirement unless your property is being rented out or perhaps to maintain a warranty. If you are in doubt, you should contact your local council.
Q: Where can I find a good local boiler service?
A: If you are unsure, it's worth Googling 'boiler service near me'.
Q: Does servicing a boiler cost much in Scotland?
A: This will depend on where you live, with a price of around £90 in Aberdeen, Glasgow, or Edinburgh. You can expect to pay less in most rural areas.
Sources