How Much Does It Cost to Install a Hive Smart Thermostat?
During this article, we will discuss the average cost of a hive thermostat, hive installation, including the supply costs, labour costs and additional costs, the types of hive thermostats, the duration of the jobs and the pros and cons of installing a hive thermostat.
So, if you want to learn more information about hive installation costs, then you will find all the information in this article.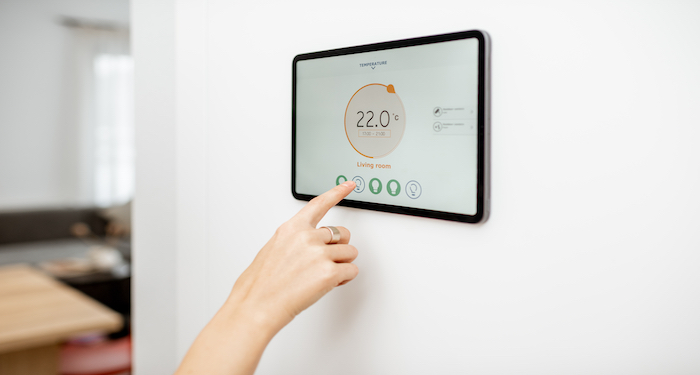 Hive belongs to the smart heating product category. If you wish to use Hive, you won't need to make any changes to your heating system other than installing a new thermostat and a smartphone app to operate it.
A heating system that you can operate remotely, usually using a smartphone app, is referred to as smart heating. You can control your home's heating system from your smartphone if you use a smart thermostat that is connected to the internet.
You can operate your heating system while out and about or from the comfort of your sofa with smart heating.
So, how much does a hive smart thermostat cost? The device itself is the most expensive part of hive smart thermostat installation. Because the smart thermostat installation is simple and quick, labour costs will be minimal.
Installing a smart thermostat might cost anywhere from £150 - £280, depending on the thermostat's brand. You must also consider the builder's daily wage, which might range from £150 - £250 per day depending on the labourer.
A hive thermostat is normally around £250 - £300, but because firms add a profit margin when buying the Hive, anticipate paying an additional £30 - £75 over and above what you would pay if you bought it yourself.
London and the South of England have higher labour costs than the rest of the country. As a result, if the contractor must travel outside a particular radius, they may charge an additional price.
Hive thermometers are not installed by a large percentage of plumbers. You may need to seek a quote from a contractor further away, depending on where you reside.
Hive Smart Thermostat Prices
The table below will show the price to have a hive smart thermostat installed in your home:
| Hive Thermostat Installation | Cost |
| --- | --- |
| Installing a hive thermostat | £150 - £280 |
| Installation per day | £150 - £250 |
| Hive thermostat | £250 - £300 |
What are the Supply Costs of a Hive Thermostat Installation?
If you are looking on installing your hive thermostat DIY, then you will need to know the supply costs to do so. Therefore, here we will talk about the materials and the supplies needed to complete the job.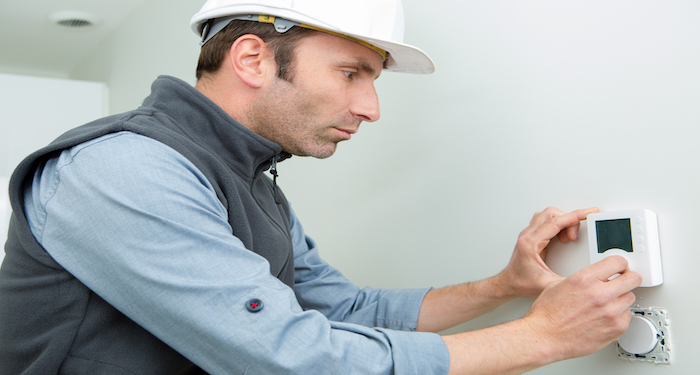 A hive smart thermostat can cost between £150 - £280 depending on the make. They are cheap to install once you have bought the thermostat itself.
The tools needed are standard; however, if you do not own them, then it is probably best to purchase them to install them by yourself.
It's also worth noting that there's a distinction to be made between smart metres and smart thermostats. Smart metres will provide you with information on your gas and electric metre readings, while smart thermostats will allow you to regulate your heating from your phone while you are away from home.
Therefore, if you want a better hive thermostat, then you should expect to pay more.
There is a lot of screwing involved and wires when installing a hive thermostat; therefore, you should make sure you have a screwdriver handy which usually cost around £7 - £15.
You will also need batteries to turn the thermostat on, which cost £2 - £10 depending on the batteries needed. 
You will also need a drill to take your old hive thermostat out or install your new one in the wall. Drills usually cost around £20 - £80. The table below will break down the supply costs needed to install a hive thermostat.
| Supply | Cost |
| --- | --- |
| Hive Smart Thermostat | £150 - £280 |
| Screwdriver | £7 - £15 |
| Batteries | £2 - £10 |
| Drill | £20 - £80 |
What are the Additional Costs of Installing a Hive Thermostat?
Many households are adopting smart thermostats because of the numerous advantages they provide. You can control your heating system from your phone by installing a smart thermostat that allows you to have easy access to the temperature of your home.
However, once the thermostat is installed or the decision to have one installed has gone through, then there are usually additional costs that you should expect. Here we will go through the additional costs to install a hive thermostat as they could have an impact on your budget.
New Radiator
If you want to install a hive thermostat, then you should make sure your radiators are in good condition with no problems. However, if they do, then you should consider having new ones installed. But how much does a new radiator cost?
In 2021, the average cost of installing a new radiator will be between £110 - £470. A single panel radiator is the cheapest choice, costing roughly £110 - £210 in the UK.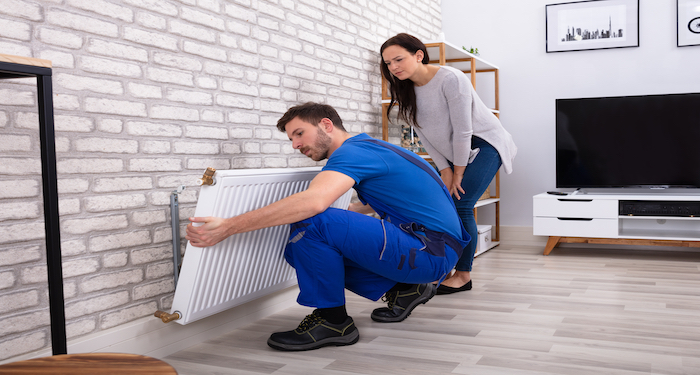 Installing a new radiator will cost you between £30 - £70 per hour, with a day rate of around £240 - £320.
However, your location in the UK will have a considerable impact on this. This means that a professional installation of an average-sized radiator should cost between £90 - £150.
Installing a new radiator in your home often takes 1 to 2 hours, depending on the size of the radiator (small, medium, or large). However, two elements might have a considerable impact on the time it takes to install a new radiator.
This involves determining whether an old radiator must be removed and the condition of the location where a new radiator will be installed.
You may decide to have a radiator removed to clear up space in a room so that you may install a new, modern radiator in its place - or simply because your home already has too many radiators!
A modest radiator will cost between £70 - £90 to remove. A medium radiator will cost between £90 - £110 to remove, while a large radiator will cost between £110 - £130 to remove. Therefore, if you are thinking about moving your radiator, then this will also add to your budget.
For more information on installing a new radiator, visit https://www.homehow.co.uk/costs/new-radiator.
New Boiler
If your boiler is in bad condition, you should also consider having a new boiler installed, as this is what runs the whole system. The cost of installing a new boiler is determined by the type of boiler you select.
A new combi boiler, for example, costs between £1,500 - £3,500, whereas a conventional boiler costs between £1,300 - £3,700.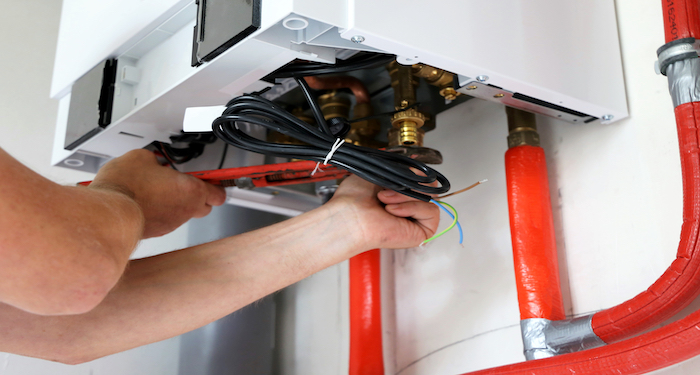 Other boiler types include system boilers, which cost between £1,500 - £2,800. Biomass boilers, which cost between £4,000 - £9,000, and condensing boilers, which cost between £2,000 - £2,500.
The type of boiler they are installing has an impact on the installation process. The cost of installing a combi boiler ranges from £2,000 - £2,600.
A whole new boiler installation with new plumbing, on the other hand, can cost up to £3,000 or more. Tradesmen often charge between £1,700 - £2,200 for a heat-only boiler.
The cost of a new boiler is also determined by the length of time it takes to install it, as tradespeople typically charge a daily or hourly rate, though this varies depending on the project.
Regular and combi boilers are typically installed in one to one and a half days, whereas system boilers can take up to two and a half days.
If your old boiler must be replaced, or you wish to go from a gas to an electric boiler, you'll need to have it removed. The cost of having your boiler removed, as well as any associated pipes, is often between £600 - £800.
Power Flush Cost
Sometimes, your radiators don't need to be replaced. They need a power flush; however, if they do, then this will create a problem for your hive thermostat to work. A power flush usually must be done around the radiators throughout your home.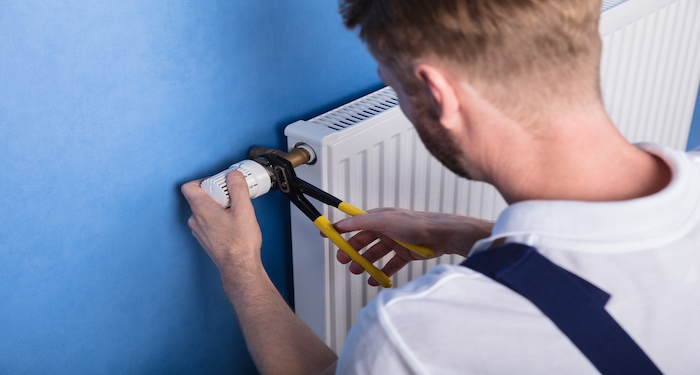 The cost of power flushing is determined by the property's size, number of radiators, kind of central heating, number of heating engineers engaged, the convenience of access, and location.
If you live in a two-bedroom house, the cost of having your central heating system power flushed will be roughly £385 - £425; if you live in a three-bedroom house, the cost will be £475 - £535; and if you live in a four-bedroom house, the cost will be £510 - £590.
A heating engineer may charge a minimum fee, which is either added to your total bill or factored into the overall prices. This could be in the form of a daily labour cost for the latter. If a power flushing task takes a day and a half, but you're only charged by the day, you'll still be charged for two days of labour.
Power flushing is often done by a single heating engineer. The hourly or daily labour costs will be much higher if two or more professionals are working on the job. The labour cost is determined by the length of time it takes to power flush. You'll pay extra if the job takes longer. Except for a few circumstances, of course.
Smart Home Appliances
Smart thermostats are frequently used in conjunction with other smart home equipment. You can link a Hive smart thermostat to an Amazon Alexa device, for example, and control the heating with your voice. Lighting, TVs, speakers, and doorbells may all be controlled using the same devices.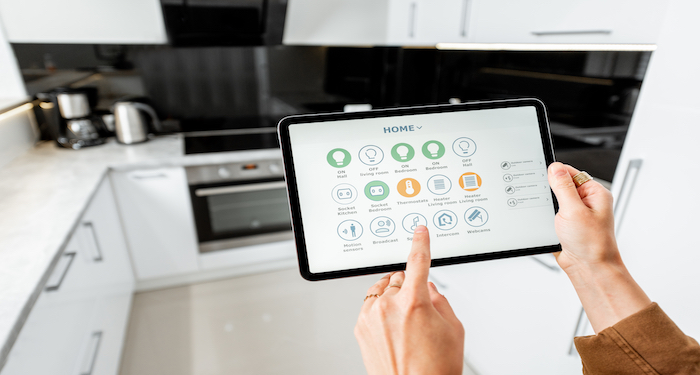 Smart thermostats and appliances are designed not only to make consumers' lives easier but also to improve energy efficiency in the home. Let's say you forget to turn off the lights and the television before leaving for work.
In that scenario, you may turn them off from your smartphone as soon as you notice them, preventing yourself from wasting electricity during the day when no one is home.
From £10 for a voice-activated plug to £500 - £600 for a CCTV system, smart home products come in all shapes and sizes. For less than £100, you can equip your home with several useful features that control lights and other gadgets.
Tradesmen Costs for Installing a Hive Smart Thermostat
Usually, having a tradesman come in and install something in your home can add the overall price. However, if you aren't the best at DIY, then it is highly recommended that you hire a professional to come in as wires and drilling are involved.
Here we will go through the tradesmen costs to have a hive smart thermostat installed without any material or supply costs.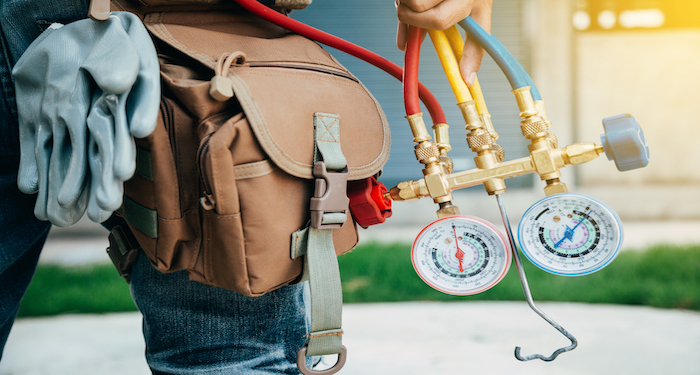 A plumber can usually install a hive in under an hour. These are the prices for a typical installation (for example, a combi boiler). If you have an older system with different wiring, this could take a little longer.
You must also consider the builder's daily wage, which might range from £150 - £250 per day depending on the labourer.
You should compare up to three estimates from labourers if you want the best price for installing a smart thermostat. When you choose a professional to install your smart thermostat, you can rest assured that you will receive high-quality service.
If you only need labour, you'll have to purchase the Hive thermostat on your own. The Hive will set you back between £140 - £180.
How Long Does It Take to Install a Hive Thermostat?
When having something installed in your home, most people worry about the timescale and need a time of work to fit in the installation. Therefore, in this section, we will go through the process of installing a hive thermostat and how long the process takes.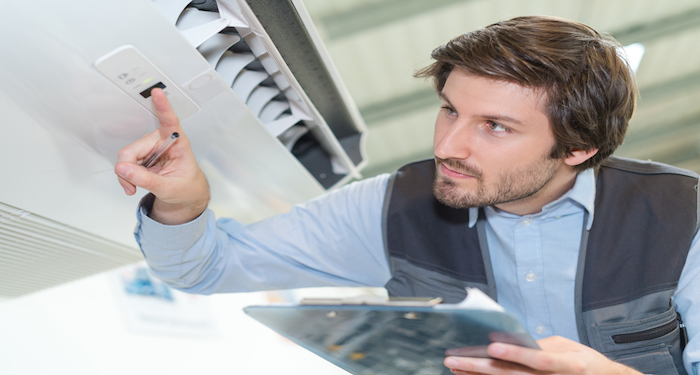 The ideal individual to install a Hive in your home is usually a plumber or a boiler engineer. They'll need to double-check that your Hive unit is properly attached. Hive installation is usually a short job that may be accomplished in under an hour for a standard boiler setup.
If your home has an ancient boiler or a complicated heating system, it's a good idea to seek help from local plumbers or boiler specialists. Given that they'll already be charging to build a new boiler and adding a Hive unit should be quick and easy for them to accomplish, this could save you some labour time and therefore lessen the cost.
If you're handy around the house, setting up a Hive thermostat shouldn't be too difficult. You'll find thorough instructions in the box, but in general, you'll need a screwdriver and about 90 minutes to complete the project.
| Labour Installation | Cost |
| --- | --- |
| Average | £75 - £100 |
| Standard Range | £60 - £120 |
| Min – Max Range | £50 - £150 |
Types of Hive Thermostat
There are multiple types of hive thermostats, so finding the perfect one for your home is a big choice to make. This is why we have created this to go through the different types of giving thermostats as well as the pros and cons.
So, if you are looking to have a hive thermostat installation in your home, you should know the correct one to buy.
A Hive heating installation can be used just like a regular thermostat; simply turn the dial on the wall or the stand to the desired temperature. You can also access the settings by pressing the appropriate button and configuring it for future use.
You can use the app from both inside and outside the house if you have a Hive Hub of any sort installed and an internet connection on your device of choice. However, as there are plenty of options, there is a wide variety to choose from, which is why we are here to help.
Manual Hive Thermostat
This is the most basic thermostat available, sometimes known as a non-programmable or analogue thermostat. Most come with a simple dial that you spin to adjust the desired temperature. Once set, it maintains the same temperature in the room until you turn it off.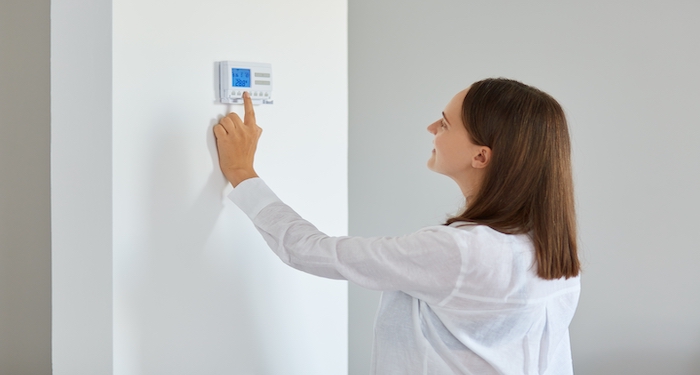 To function effectively, a manual thermostat must be mounted on the wall. It works by detecting changes in room temperature with a mechanical component. When this happens, a metal coil inside the thermostat moves, connecting or disconnecting the electric circuit.
Consider it the light switch of the heating world: you can turn it on and off, but that's all there is to it.
Pros
Affordable option
Easy to use.
Cons
No smart features included.
Basic
Electronic Room Hive Thermostat
If you don't have a smart thermostat, your home is likely to have an electronic room thermostat. They can be hung on the wall or moved from one area to the next.
The thermostat will turn on the heating when the temperature falls below a pre-set level — and then turn it off once it has warmed up.
They're also known as programmable thermostats because, as the name implies, they allow you to create schedules ahead of time.
Pros
Automatic off and on.
Can create a schedule.
Cons
Smart Thermostat
A smart thermostat uses the internet to connect your central heating to your smartphone. This means that no matter where you are, you have complete control over the temperature in your home. It makes setting and adjusting schedules a breeze, and it's also perfect for heating individual rooms.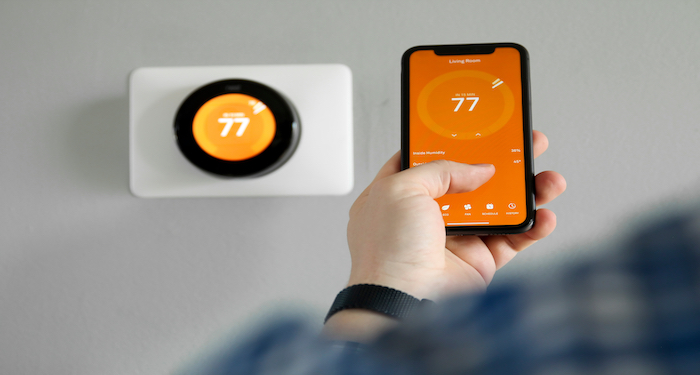 This is the bare minimum of what a smart thermostat can accomplish, but most of them also have a slew of other valuable capabilities. Many, for example, have a geo-location feature that will give you an alarm if you leave the heating on while you're gone.
Some will also track your movements and create heating plans based on your day-to-day activity.
A hub, a receiver, and a smart thermostat are the three main components of most smart thermostats. The receiver is then connected to the boiler via the hub, which is connected to your broadband router.
This links your boiler to the internet and allows it to communicate with your smart thermostat, allowing it to be operated remotely.
Many smart thermostats also have a weather-response feature. They'll keep an eye on the weather and change the boiler thermostat temperature accordingly. So, if it gets chilly outside, it will automatically raise the temperature inside without you having to do anything.
Pros
Can connect via app.
Weather response feature.
Automatic
Cons
Expensive
More likely to need a professional to install.
Electric Radiator Thermostat
This thermostat works in conjunction with an electric radiator to provide you with greater control over how the area is heated.
It's quite easy to set up. All you must do is plug it in, connect your appliance to the thermostat, and set the desired temperature.
It's ideal for rooms without central heating or for locations you don't need to heat frequently, such as a garage or a study.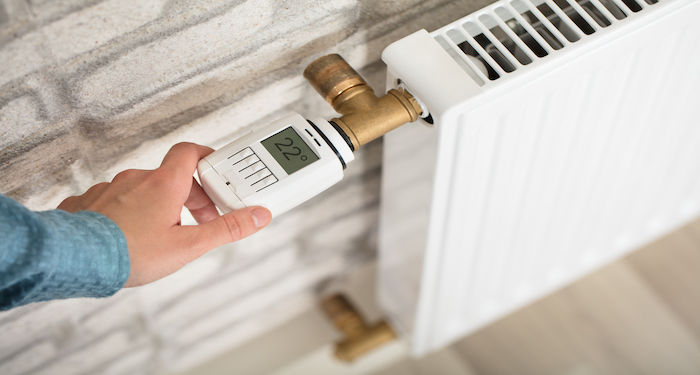 This sort of thermostat is extremely accurate, allowing you to always keep the temperature in your home at the perfect level.
Furthermore, the thermostat assists in regulating the appropriate amount of power required to maintain this temperature, ensuring that no energy is wasted within the home.
When you turn on the heater, it will use all its power to reach the desired temperature. It takes about 5-10 minutes on average. The radiator will stop supplying energy once the temperature has been reached.
The thermodynamic fluid within the house electric radiator will have rapidly expanded at this point, and the heater's surface will be completely heated.
Their thermostats can be set independently so that various temperatures can be set in different rooms. You will also be able to turn down the thermostats on your electric heaters when you leave the house for vacation, which will save you a lot of money in the long run.
Pros
Quick to heat up.
Different temperatures in different rooms.
Saves money.
Cons
Hard to set up.
Expensive
Benefits of a Hive Smart Thermostat
Getting a Hive smart thermostat is a terrific method to get more control over your home's temperature while also lowering your energy expenditures.
If you're seeking for a solution to get the most out of your home heating, we'll go over the many advantages of installing a hive thermostat.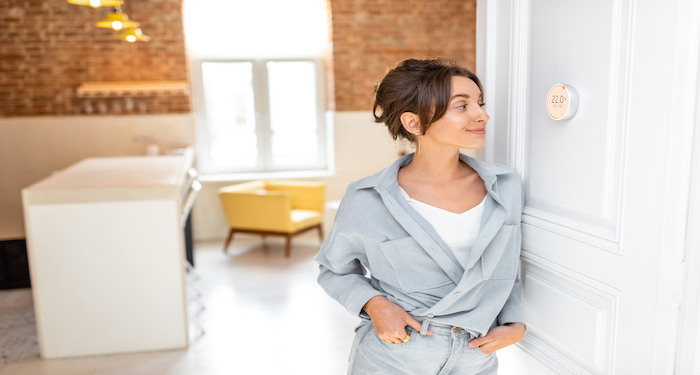 Easy to Use
Hive thermostats offer a very user-friendly interface that makes them simple to use right away after installation. When you receive your thermostat, you will quickly learn how to use it, putting them ahead of the competition.
The app makes it simple to see if your heating is on, so you can always know what's going on with your home heating. You may also perform other useful things with your app, such as turning up the heat from the comfort of your bed.
Hive Thermostats Adapt to Your Schedule
You can easily programme your Hive to recognise when and to what temperature you require home heating.
If your house is unoccupied between 9 and 3, for example, there is no need to turn on the heat. Simply tell Hive when you'll be home, and it'll make sure your house is warm and ready when you arrive.
This ensures that your home is always comfortable and warm, without wasting electricity when it isn't required. Therefore, you will benefit from lower energy expenditures with no drawbacks!
Easy to Program
If you're going on vacation, you can tell your Hive that you won't require your house heating for the duration of your trip. When you tell it, you'll be home.
Your typical routine will be automatically paused and resumed. In this manner, you can return home to a warm house without spending energy while away.
Minimise Energy Costs
The ability to save money on electricity is perhaps the most compelling argument to convert to a WIFI thermostat.
It's simple to plan your HVAC to run less while you're gone for the day with a hive smart thermostat, allowing you to save energy by cooling your home only when you're there.
You may set your digital thermostat to turn on just before family members arrive home, ensuring that your home is kept at a comfortable 72 degrees from the minute you step in the door.
The first incentive is that Hive claims you can save £130 a year on your heating costs, so that's the first perk — a year of savings will almost cover the Hive installation cost.
Aside from the 24-hour schedule on a simple repeat setting, you may add several different features to your central heating system. Hive offers the most adaptable home heating system available, allowing you to only heat your home when it is truly necessary.
Track Your Energy Usage
Users may track their energy usage using hive digital thermostats. You may create a home energy profile that shows you how your energy use has evolved, how that will affect your energy expenditures in the future, and how you can tweak your heating and cooling preferences to save even more money.
Easy to Install
If you have the proper thermostat wire, installing a hive smart thermostat is simple. Examine the wiring by removing the present thermostat cover. A thermostat C wire is required.
You should be able to install a smart thermostat according to the manufacturer's instructions if you find a wire marked with a C or the word common and additional wires labelled with R, W, Rc, or Rh.
Simply turn off the power to your hive thermostat, remove the old thermostat, connect the wires to your new hive thermostat, attach the new thermostat faceplate, turn on the power, and follow the programming instructions as directed by your manufacturer.
How Much Does It Cost to Remove a Hive Thermostat?
Sometimes you may need to remove your hive thermostat to install a new one, or if you no longer want it, you may have to pay to have it removed. So, if this relates to you, then here, we will go through the process of removing your hive thermostat and the cost of having it removed.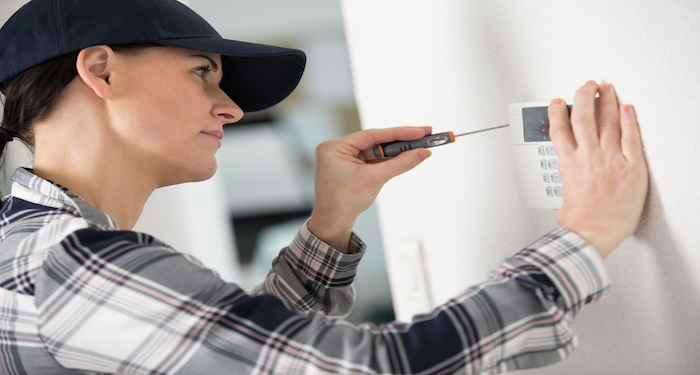 If you do not need the hive thermostat removed, but it is broken, you can get it fixed before needing it to be removed. Thermostats can be finicky at times, necessitating the intervention of a heating specialist to come out and repair the devices.
Most thermostats can be repaired in an hour or less for £70-£100 in labour costs, but you may be charged a call-out fee if you call an engineer out during non-business hours. This is typically the price of three hours of labour.
However, if you no longer want your hive thermostat and want it removed, then you will be paying for the labour costs only, which depends on the timescale as it can take over two hours, meaning you could pay £100 - £200 to remove a hive thermostat.
FAQs
Q: How do you reset a Hive thermostat?
A: To reset the thermostat, take it in your hand and turn it over, so the back is facing you.
Hold down the front of the thermostat's '+' and '-' buttons at the same time. Keep those buttons pressed in when replacing the battery and keep them pressed until the word 'FIND' shows on the screen.
Q: How do you pair a Hive smart thermostat with the app?
A: You may switch the power back on to your heating and cooling system using your electrical breaker box once you've connected all the proper wires and fastened the body of your Hive Thermostat to the back-plate.
The thermostat will display the word 'Search,' indicating that it is looking for the hub. The length of time the thermostat has been searching will be displayed on a timer. Then go to your Hive app and install the devices you need to couple your thermostat.
Q: Is a Hive thermostat worth it?
A: The thermostats are good enough that they could be installed in a home and utilised as the only control system with no problems. Most individuals, though, will want to download the app to their phones.
The Hive app makes it easy to use your heating system while still attempting to save money. It's compatible with both Android and iOS devices.
Q: How does a Hive thermostat work?
A: Hive Heating instructs your boiler to heat your hot water as well as your entire home.
The thermostat includes a Hive Receiver, which connects to your boiler's circuits and transmits the thermostat's commands as well as the temperature of the boiler back to the thermostat.
Q: What else does a Hive thermostat connect to?
A: Alexa, Amazon's smart assistant, is compatible with Hive. Connect your Hive devices to your Echo, and you're ready to use your voice to control your home. Simply ask Alexa to control your heating, lights, and plugs.
Sources
https://www.hivehome.com/discover-hive/smart-heating/how-to-install-and-position-your-hive-thermostat-stand