Introduction to Window Vacuums
It's not easy to remove condensation or debris from your windows but using a window vac will make it a lot easier. Of course, you could spend a weekend scrubbing windows with buckets, squeegees, and rags, or you could invest in a nice window vacuum and get a better result in half the time.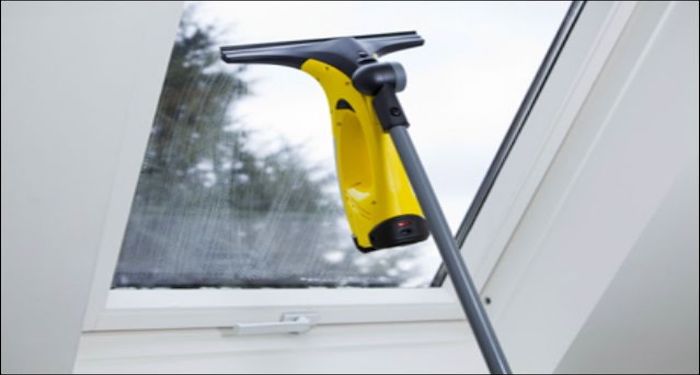 This article will help you understand more about window vacuums and why you need one for your home. Therefore, if you want to learn more about how they work and the different types of window vacuums as well as the best ones available for you then this article is exactly what you needed!
What is a Window Vacuum?
These relatively new cleaning aids are ingenious devices. They combine the functions of a squeegee and a vacuum cleaner for a dual-cleaning effect that leaves windows sparkling clean.
It's a straightforward device that makes the time-consuming, hit-or-miss task of washing windows a breeze, saving you hours upon hours of work and leaving you with sparkling clear windows.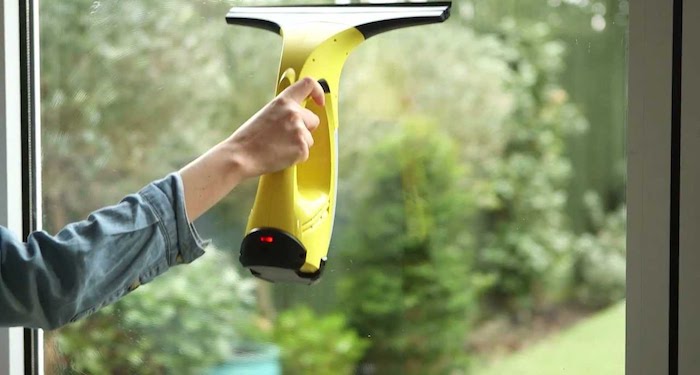 Simply spray a window with water or cleaning solution, turn on your window vac, swipe it up and down the window a few times, and you are done!
Keep in mind that a window vac isn't only for cleaning windows; it can also be used to clean many types of smooth surfaces, including mirrors, windshields, countertops, tiles, and shower screens.
A window vacuum will also remove moisture from windows and other surfaces, leaving them clean and dry. It's a multi-purpose cleaning tool that every house-proud homeowner should have.
How Do You Use a Window Vacuum?
Make sure you have everything you need for a thorough clean before using your window vacuum cleaner. It usually entails grasping more than your window vac. Therefore, you should make sure you have a spray bottle available, a microfibre cloth close by and ensure your window vacuum is fully charged.
Then, after you've prepared your microfiber cloth and suction system, it's time to fill your vacuum cleaner with your cleaning agent.
You can look up what kind of liquid or chemical you can use to clean various surfaces around your house online or in the instructions. Anything that could injure the tank should be avoided.
Scrub any rough spots with the scrubbing tools and attachments included with your window vac. After that, switch on the window vac. If you haven't charged it in a while, you may need to do so before getting started. Pull the blade downwards over the unclean water on your chosen surface using the window vac's suction and squeegee head.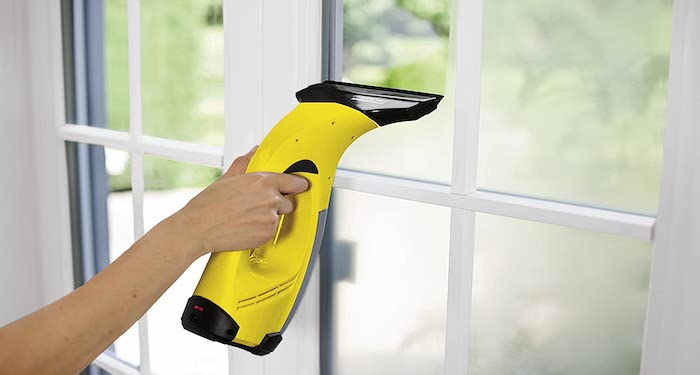 Continue cleaning the window, mirror, or table until the tank fills with dirty water since your cleaned surface should be practically dry by the time you've sucked all the water away. In a short time, the vacuum should have effectively removed all dirt.
Empty the water tank and store the blade attachment component of your window vac with the device when you've finished with the suction bit. There's a chance you'll have a streak-free window at this stage, you might need to boost it a little more.
Finally, buff the shower door, tiles, or glass you're cleaning in circular motions using a microfibre cloth.
Types of Window Vacuums
When buying a window vacuum there are many options to choose from which is why it is important to know the right one for you. Different types of window vacuums come with different features that will suit your home more or would be pointless to pay extra money when the feature wouldn't be used.
Here we have created a list of the different types of window vacuums that could be perfect for your home, to learn more carry on reading.
Cordless Window Vacuum
Traditional cylinder and upright window vacuums are losing market share to cordless window vacuum cleaners. Is a cordless cleaner appropriate for your home?
Cordless window vacs feature a slimline, portable design that makes them light and easy to manoeuvre around the house, but their tiny water capacity and battery life constraints mean they aren't suited for many homes.
Wet Window Vacuum
A wet window vacuum is used when your windows are wet, as the name states. Therefore, to have a spotless shine to your windows this is the best to use.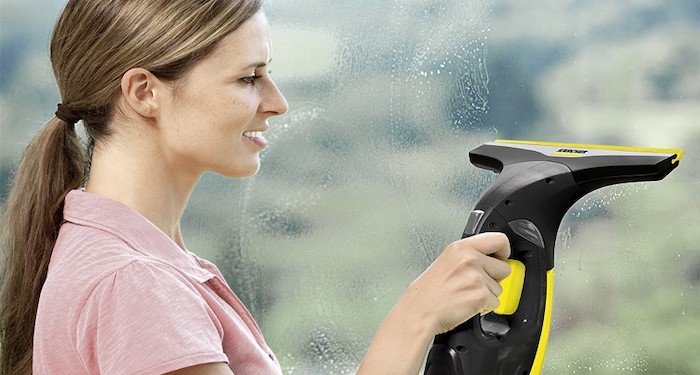 You just clean your windows and then this type of window vacuum will suck up all the excess water to leave you will a streaky free window. However, these vacuums are known to need more care as the dirty water can sometimes build up so you must make sure that it is cleaned out after use.
Handheld Window Vacuum
This is a simple to use window vacuum with the same dimensions as other window vacuums. It is meant to remove moisture and debris from windows without leaving streaks or smudges.
Rather than employing a motorised brush, this one concentrates its suction on any filthy water, ensuring that no dirt is left bending.
Robot Window Vacuum
Robot window vacuum cleaners are automatic vacuum cleaners that are meant to clean big, naked, and flat surfaces.
Robot window vacuum cleaners allow consumers to avoid taking needless risks when cleaning the exterior, tall or difficult-to-reach house and/or building windows. Most robot window vacuums include a lengthy, but relatively thin power connection to reduce the unit's weight to a minimum.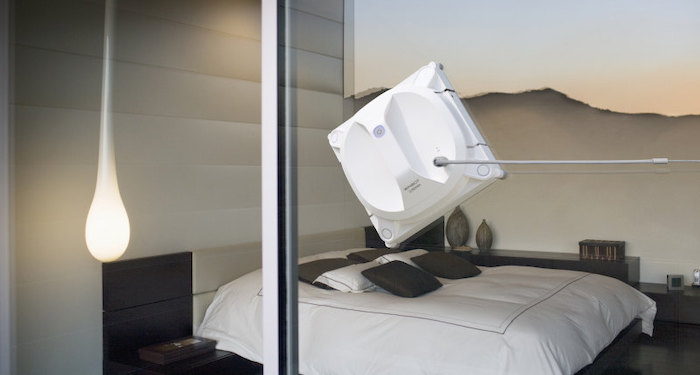 Most robot vacuums feature two motors: one to power the revolving microfiber pads and another to provide suction, which is necessary for extracting liquids from the glass and adhering to vertical glass surfaces.
Window robot vacuums frequently include safety wire, which prevents the vacuum from dropping down if there is a power outage of any type. Window robot vacuums are operated by an IR remote, WiFi, and smartphone Apps, among other things. It's worth noting that these robots may clean outside while the user is inside.
Telescopic Window Vacuum
The cleaning method is the same as with handheld units, but this model has an extending handle that allows you to clean windows on higher floors that would normally require a ladder.
These window vacuums make it easy and safe to clean high portions of your home from the ground level without putting the user under unnecessary strain.
Best Window Vacuum
Do you want to clean your shower cubicles, windows, and mirrors quickly and easily? Then you'll require the best window vac that your budget will allow.
In recent years, these basic but efficient technologies have grown in popularity. You can have a brilliant sheen in minutes if you use the correct portable cleaner.
However, as more people begin to purchase these products, a growing number of firms have begun to experiment with the technology. In a sea of available purchases, deciding which one is perfect for you might be challenging.
However, we've put together this list to assist you in selecting the best window vacuum for your home!
Best Cordless Window Vacuums
Karcher 6 Plus N
The Karcher 6 plus N is a powerful machine with a suction power of up to 240 volts. This easy-to-use window vacuum is ideal for clients looking for streak-free cleaning on a variety of surfaces, including windows, tiles, mirrors, and worktops.
The rechargeable battery has a 100-minute battery life and can handle up to 215 windows on a single charge.
The Karcher 6Plus N is a lightweight and uncomplicated window vacuum that is great for getting a streak-free shine on surfaces throughout your home. It is efficient and convenient. For folks who don't have a lot of wrist strength, the ergonomic and adaptable design is ideal.
Although the suction can be rather loud at times, it has a minimal noise level of 52dB. This window vacuum includes a lot of useful functions that will help you get the most out of your cleaning.
Unfortunately, for some people, achieving a completely streak-free finish might be challenging.
PROS
High-level suction performance.
Comfortable to hold.
CONS
Reviews say it came with a faulty battery.
Not always easy to eliminate streaks.
Vileda WindoMatic Power Window Vacuum
The Vileda is an outstanding piece of equipment for removing condensation from shower screens, tables, kitchen worktops, and other surfaces. It is designed to give you a vigorous clean on any surface.
The best feature of this product is its outstanding battery life. It claims that the rechargeable Li-ion battery can clean up to 120 windows on a single charge.
Furthermore, if you want to increase the power by 50%, there is a "max mode" accessible. This provides you with more suction for those pesky streaky windows.
It is durable and practical and has a flexible neck that allows it to reach into tight spaces. However, there is no wash bottle provided, and there is only one size of cleaning head.
PROS
Good battery life.
Two suction modes.
Easy recharge.
CONS
It can sometimes drip.
No spray bottle included.
Only one size of head cleaner.
Bosch 06008B7070
For those who are tired of wiping their windows and mirrors, this cordless vacuum might be the answer. This premium solution includes a unique detergent to help you clean your windows more efficiently.
Furthermore, the power protection plus wiper blade aids in the prevention of streaks on the window. There are several wiper heads to pick from, as well as an inbuilt LED light to show how much charge is remaining during cleaning.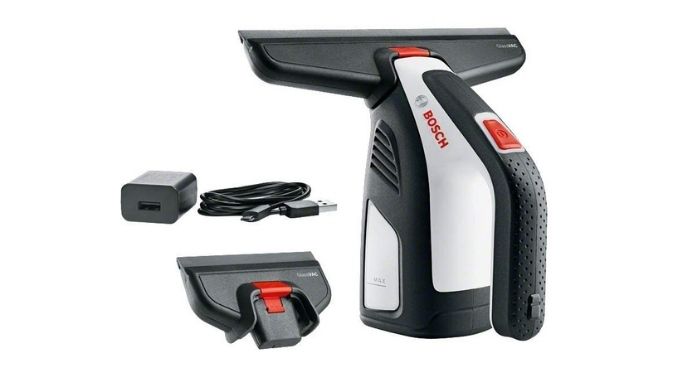 When it's time to recharge your Lithium-Ion battery, Bosch makes it simple with a simple USB connecting cable. The main issue is that the spray bottle does not carry a lot of water, but you can always replace it on a budget.
PROS
It can vacuum all kinds of glass.
LED indicator for the battery.
Easy to use and charge.
CONS
The water tank doesn't hold a lot of water.
Beldray BEL0749
The Beldray is a cordless and lightweight cleaner that is maybe the best way to clean flat surfaces including tiles, windows, countertops, and more.
The Beldray is both tiny and practical, and it claims to leave your basic home goods shining and streak-free. You won't have to buy fresh batteries because there's a rechargeable battery included.
This vacuum is only for removing dirty water from your windows; you must first clean the surface with warm water and detergent.
When the washing is done, however, you can use the cordless suction to quickly remove grease and filth. Mirrors and screens are sparkling clean after using the Beldray window vacuum.
PROS
Lightweight and easy to use.
Suitable for many surfaces such as tile and glass.
30-minute rechargeable battery.
CONS
Difficult to clean window seals and bottom of windows.
Loud.
Karcher 16332140
It's a lithium-ion rechargeable cordless model with a 35-minute run duration and great performance on a range of surfaces. The WV2 is the window vacuum to use if you need all-around cleaning on mirrors, tiles, windows, and even floors.
The vacuum comes with a spray bottle kit from Kärcher. A window cleaning detergent and a microfiber towel to avoid scratches are included.
With the vacuum, you also receive a smaller suction blade. This is very useful for reaching into window corners and other tight spaces, which is why I recommend the "Plus N Yellow" version over the regular WV2 Plus.
PROS
Charges within 35 minutes.
Comes with a spray bottle kit.
CONS
Reviews say it is overpriced.
Best Wet Window Vacuums
Vax H86-WV-B
This lightweight suction window cleaner is the least bulky of the vacuum window cleaners we tested, and it comes with a two-year warranty. The head pivots to let you get right into the corners of windows, and a trigger spray allows you to spray water or cleaner directly onto the glass.
PROS
Lightweight.
Two-year warranty.
CONS
Water tanks fill up quickly.
Tower RWV20
This window vacuum includes a 20W motor and a 2 KPA suction capability to remove water and dirt from any flat surfaces. It's also known to clean for up to 30 minutes on each charge, thanks to a long-lasting lithium-ion battery that recharges in only three hours.
The 150ml water tank, as well as the 300ml spray bottle and microfiber wiper attachments, make it simple to refill and empty the contents.
PROS
Remove dirt and water from flat surfaces.
Recharges in 3 hours.
CONS
Power on the suction is not as good as other window vacuums.
Karcher Window Vac Anniversary Edition
The vacuum is made of robust plastic and can resist normal wear and tear. The vacuum is largely black with some yellow pieces to emphasise its "anniversary" appearance.
When you turn on the rechargeable window vac, there is only one control button on the handle that becomes green. A full charge takes roughly two hours, which is slightly longer than WV5.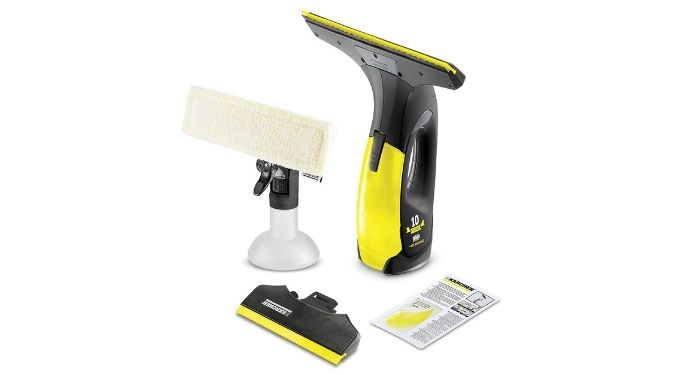 It's simple to clean windows or glass items using a Karcher window vac. To catch extra dirty water and dust, spray the area with water and wipe it clean with a microfiber cloth. Vacuum the field to remove any residue, leaving a bright, streak-free glass as the final step.
PROS
Good battery backup.
Includes microfiber cloth.
CONS
The water tank needs cleaning out a lot.
Prostormer Window Vacuum Cleaner
Cleaning and drying windows is far faster and more efficient than using a typical duster or sponge. It can assist you in cleaning big areas while leaving a streak-free finish, saving you time and effort in the cleaning process.
Any flat surface, such as tiled walls, shower mirrors, automobile windows, and so on, is sucked up by the vacuum cleaner wiper. Spills can also be cleaned up using it.
PROS
Lightweight.
Good suction.
CONS
Some reviews say it comes with missing parts.
Best Handheld Window Vacuums
Karcher Window Vac WV2
This great gadget is versatile enough to perform a variety of chores, including cleaning your automobile and removing spots from your windows. A rechargeable battery is included with the WV2.
It takes around 2 hours to recharge, and on a single charge, you should be able to clean roughly 25 windows.
With the help of its accessories, such as the microfibre cloth, the easy-to-use design allows reaching even the most difficult-to-clean sections of your windows easier.
When emptying the model, you won't have to struggle with removing an entire water tank thanks to the easy empty plug. Unfortunately, you may need to go over the glass several times to remove the stains.
PROS
Compact and easy to use.
Lightweight.
Quiet.
CONS
It can sometimes leak.
Need to go over the glass a few times to make sure there are no streaks.
Karcher WV 5
A smaller 170mm suction head for hard-to-reach regions and a microfibre attachment to disperse detergent on your windows are among the many offered accessories.
A built-in LED battery indication is included, and additional batteries may be purchased so that you always have a fully charged one on hand.
All of this would be irrelevant if the Karcher didn't clean windows so well - and this is where it shines.
You can clean and dry into the silicone seal around your windows since the suction is powerful and efficient right across the nozzle. Although you may want to give your glass a last polish with a dry kitchen towel, the finish is about as streak-free as a window vac can get.
PROS
Built-in LED battery indication.
Suction is powerful.
CONS
May have to polish it dry to make sure there are no leaks.
Beautural Window Vacuum Cleaner
A durable window vac, a large suction nozzle, a multi-purpose spray bottle, and a microfibre cloth are included in this stylish kit.
The window vacuum is made of strong ABS plastic polymer, which is a long-lasting material. You'll know that the window vac will come in handy for a while.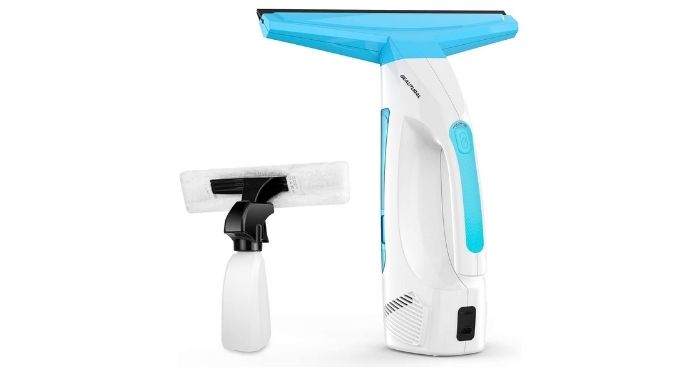 It uses a 12W motor to give all your surfaces a streak-free deep clean. The unit may be charged to full capacity in around three hours and will last for 35 minutes when used continuously.
The included spray bottle and microfibre cover make the entire cleaning process operate as easily as possible, according to several customers.
PROS
Comes with a two-year warranty.
The water tank is easy to move and clean.
CONS
Doesn't do well with dusty windows.
TECCPO Window Vacuum
TECCPO is a corporation dedicated to merging technology and power in their equipment to improve the quality and ease of human existence. This model includes all the main functions as well as a few extras. Peek at the massive battery.
The cleaner has a 30-minute run time, which means you may clean around 33 windows before it needs to be recharged.
A spray bottle is also included, which is connected to a microfiber mop cover. You won't have any trouble adapting and adjusting to your cleaning demands because the nozzle can be adjusted to three different modes.
PROS
Long-lasting battery.
The spray bottle is included.
CONS
Reviews say you need to go over windows a few times to remove streaks.
Karcher 1.633-201.0 WV1
With this window vacuum, you can clean flat surfaces like windows, tiles, worktops, condensation, and mirrors quickly and easily, giving a gleaming, streak-free appearance.
On a single charge, the rechargeable lithium-ion battery can clean up to 70 m2, or 45 windows.
The design is versatile, ergonomic, and lightweight, and may be utilised on any smooth surface. Simply open the tank and pour the contents down the sink - it's quick and easy, and there's no dirty water involved. It is up to three times faster than traditional approaches.
PROS
Easy to an empty container.
Easy to use.
CONS
Best Robot Window Vacuums
Ecovacs DEEBOT U2 Robot Vacuum Cleaner
You may choose between Eco, Max, and Max+ suction settings with the Ecovacs Home App, according to your cleaning needs. For sucking up obstinate dirt and debris, the Max+ Mode increases suction by more than 2.5X. The Ecovacs Home APP can be used to control the vacuum cleaner.
When you leave home, you can also configure the app to start at a specified time. This robot vacuum cleaner is also compatible with Amazon, Alexa and Google Home.
Vacuums and mop your floor at the same time to thoroughly clean your property. It can cover nearly 2,000 square feet with a 300ml water tank. For specific cleaning needs, you can use a mobile APP to set different water flow levels.
PROS
Does all the work for you.
Works via an app.
CONS
Robot Window Cleaner Auto Electric
This 360° rotating wiping includes a clean suction cup that rotates repeatedly, allowing more stains to be removed. Vacuum adsorption can endure 2.5kg vertical gravity and has an adsorption capacity of up to 2700Pa.
It's a multipurpose window vacuum that can clean all types of glass, walls, ceramic tile, and mirrors while leaving no hair or water stains behind. Designed for the elderly, mobility-impaired folks, pregnant ladies, and anyone who cannot clean their windows with their own hands.
PROS
Good for elderly people.
Multi-purpose.
CONS
Some reviews say it is loud when in use.
Mamibot W120-T
Clean your high-rise windows more securely and conveniently; Gives you a fresh approach to clean your windows; Third general square robot window cleaner with good performance and an attractive look.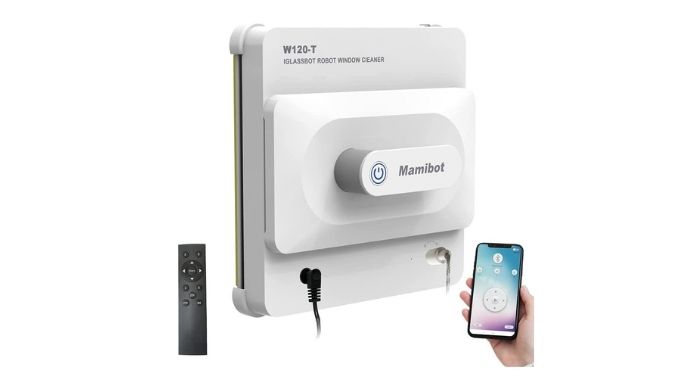 There are three basic ways to control your robot: APP\ Key Remote with a single touch. Cleaning Modes with Artificial Intelligence (AI): Multiple intelligent modes: in Z, N, or Z-to-N patterns, more than efficient, more than you thought.
PROS
Good suction.
Easy to control the robot.
CONS
Reviews say the app is a bit confusing.
Thin Smart Vacuum Window Cleaner
There are zigzag, N-shaped, and N/Z routes available for intelligent route design. There are three different window cleaning modes to choose from, each with a wide range of coverage.
It is a brushless motor imported from Japan, high power, high speed, huge suction, low noise, and long-life Low voltage, high efficiency, powerful penetration, 360-degree long distance, no dead angle remote control mode are all features of the 2.4G wireless remote control.
Vacuum adsorption does not drop when a large vacuum suction is used. To be able to do truly borderless work.
PROS
Three different cleaning modes.
Quiet.
CONS
Reviews say the quality of the job is not as good as it should be.
Cecotec Conga WinDroid 907
The Conga WinDroid 970 glass cleaning robot is ideal for both framed and frameless windows. It calculates the cleaning zone and selects the ideal cleaning route using artificial intelligence. As a result, the window robot is not only very efficient but also extremely quick.
The Conga WinDroid can be controlled easily with the included remote control, which can be used not only on windows but also on glass doors, mirrors, and tiled walls. In the event of a power outage, Cecotec Conga is kept safe by a safety rope and an emergency battery.
PROS
Easy to use.
Great for any windows.
CONS
Best Telescopic Window Vacuums
MVPower 10W Rechargeable
The MVPower window vacuum is a 10-watt rechargeable vacuum cleaner kit that has been created with the home user in mind. This simple equipment has a huge water tank for wastewater collection and a telescopic rod for reaching hard-to-reach regions. A spray bottle is also included with the kit.
This device is small and light, and it is made of high-quality materials such as stainless steel and durable plastic. However, the handle is a little fragile in comparison to the rest of the device, so be careful not to snap the extension pole.
Another disadvantage of this window vacuum is that it can take up to 3 hours to charge completely.
PROS
High-quality materials.
Extension pole to reach difficult spots.
CONS
The handle is quite flimsy.
Monzana Window Vacuum
With this extendable window vac, you can easily clean full walls of tiles. Even when the telescopic pole is completely extended, the item is light enough to be controllable, however, a few users have reported water pouring out both ends of the silicone nozzle blade.
PROS
CONS
Water might pour out of the silicone nozzle blade.
Intey Window Vacuum Cleaner
INTEY's rechargeable cleaning kit, which is as convenient as it is functional, is also among the top window vacs of 2021. The 12 W window vacuums are lightweight (about 800 grammes) and feature a user-friendly design that allows for quick and easy cleaning.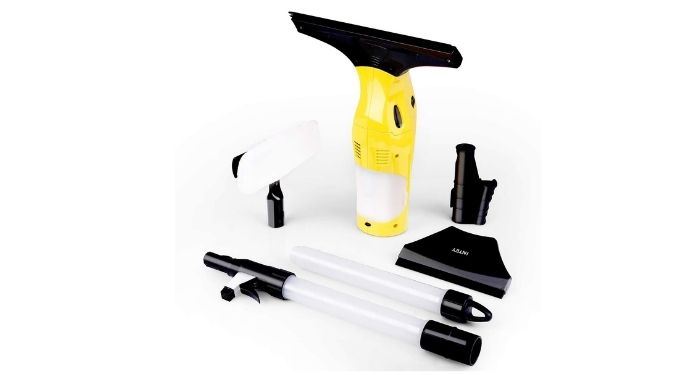 The rechargeable window vac set includes two suction outlets, one of which has a 17-centimetre narrow nozzle. This is great for cleaning the margins of shower screens, windows, or tiles, and when used in conjunction with INTEY's microfibre cloth, produces streak-free results.
Its 2000 mAh lithium-ion battery can be fully charged in around 2.5 hours and can last for 40 minutes on a single charge.
The streak-free runtime is further enhanced by INTEY's enormous dirty water tank, which allows you to run if your stamina allows. That won't be an issue, either, because this incredible window vac will cut your cleaning time in half, allowing you to enjoy the rest of your day.
PROS
Can be used on horizontal or overhead surfaces.
Easy to clean.
Removable water tank.
CONS
Not the best suction force.
3-in-1 VonHaus Window Vacuum
The window vac has a spray container that can be filled with any cleaning product or detergent that has been mixed with water. Spray soapy water on a target surface and wipe it clean with the attached microfiber head. Finally, use the vacuum to get a streak-free, grime-free surface.
VonHaus has an easy-to-empty water tank. To throw the dust, remove the rear secure plug. You can also watch the dust tank filling and empty it suitably thanks to the transparent water tank and fill marks. A telescoping pole is also included.
PROS
Transparent water tank.
Spray bottle included.
CONS
Reviews say the quality isn't the best.
Karcher 16332200 WV2
The fast and easy way to clean flat surfaces including windows, tiles, worktops, condensation, and mirrors, leaving them shining and streak-free. The WV 2 Plus includes a spray bottle, microfibre cloth, and a 20ml window cleaning concentration packet.
Two telescopic rods are included: one with a flexible joint for holding the window vacuum cleaner, and another with a single microfibre cloth wiper.
PROS
Lightweight.
Comfortable handle.
Cheap.
CONS
The charging port is flimsy.
Prone to leave rubber stains on the window.
Best Budget Window Vacuums
Tower Cordless Window Vacuum
A high-grade lithium-ion battery in the 770-gram window vac can be fully charged in three hours. This battery life is good for a 30-minute run duration, so you should be able to complete your large windows, shower screens, and kitchen tiles in one sitting.
The window vacuum comes with a 300 ml spray bottle, allowing you to use your favourite detergents to achieve the best results. This window vac also includes a 150 ml water tank that is not only readily detachable but also highly useful for cleaning.
If the stated streak-free results aren't attained, the accompanying microfibre towel can be used to easily wipe away any remaining stains.
PROS
Fast and easy to use.
Includes a spray bottle.
CONS
AEG WX7 Narrow Suction
The AEG Rechargeable Window Vac features a 60-minute operating duration, so you can get a lot of cleaning done on a single charge. It takes two hours for the battery to fully recharge after that.
It's a touch heavier than some vacuums, but it's worth it for the long run time. It's also light enough to wear for long periods without tiring your arms. A rubber blade in the head produces a streak-free shine.
This vacuum is simple to operate and produces excellent results; however, it just has one blade and does not include a spray bottle or cloth. It isn't as powerful as some other models, but it has long battery life. This is, once again, one of the best budget window vacuums.
PROS
Simple to use.
Two hours to charge.
CONS
Doesn't include a spray bottle or cloth.
Weighs more than other window vacuums.
Addis Cordless Window Vacuum
The Addis Window Vacuum is simple to use and provides streak-free cleaning around the house. This multi-purpose household cleaner effectively cleans windows, mirrors, and shower screens while also combating dampness.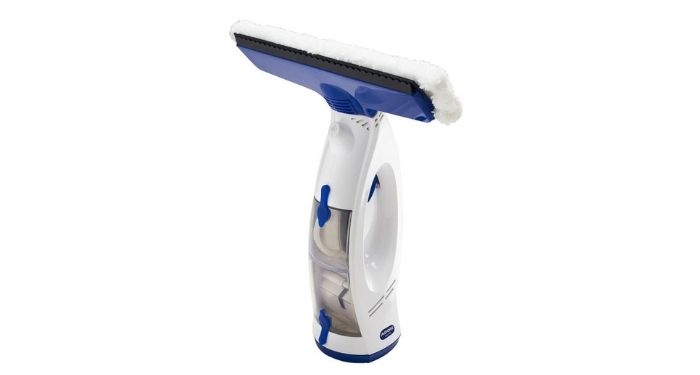 It features an inbuilt spray; simply add water or detergent for a quick and easy clean, and the microfibre head is soft and super-absorbent, leaving no streaks.
PROS
Easy to use.
Streak-free cleaning.
CONS
Reviews say the nozzle sometimes leaks.
Titan TTS765VAC
Hand-held vacuum with an integrated spray bottle and powerful Li-ion battery that is lightweight and rechargeable. Cleans flat surfaces including windows, tiles, countertops, and mirrors quickly and streak-free.
Each charge cleans up to 120m2. Emptying is simple and quick. A microfiber cloth is included.
PROS
Lightweight.
Included spray bottle.
CONS
Reviews say the head attachment is too big.
FAQs
Q: What cleaning solutions can you use with a window vacuum?
A: The cleaning products you use will depend on the window vacuum you have. Before purchasing anything make sure you check the manufacturer's instructions.
Another effective cleaning solution is one part distilled vinegar with 10 parts warm water, which will ensure your windows are sparkling.
Q: Can window vacuums help with condensation?
A: Window vacuums are ideal for removing condensation from windows, and can even be used on induction hobs and worktops to prevent condensation and damp problems.
Q: Do robot window cleaners really work?
A: Robot window vacuums make window cleaning much easier, as there is no need for ladders or any manual work whatsoever. If you do not have the time or the capacity to clean your windows, then a robot window vacuum is a great investment.
Q: Can you clean high level windows with a window vacuum?
A: If your window vacuum comes with an extendable pole then it is possible to clean higher level windows.
Q: Can I use a window vacuum on any window?
A: Yes, you can use a window vacuum on any window, as long as it in good condition and is robust enough to support the pressure of a window vacuum.
Sources