Types of Wallpaper Removers
So, let's start at the beginning, what types of wallpaper removers are there? Well, you can adopt the timeless method of rolling up your sleeves and scraping from dusk to dawn, you can steam the paper into submission, or you can use a strong solvent to render the wallpaper old news. But which is better? Let's find out.
Steam Wallpaper Remover
A steam wallpaper remover is a machine that emits hot steam through a plate that is pressed against a wallpapered wall. Thus softening the paper, melting the glue and making it a lot easier to remove with a scraper, but in most cases, the paper will simply fall off the wall.
If the wall you're tackling consists of several layers of wallpaper added over time, wallpaper that has been painted over, or wallpaper that had been applied to an improperly sealed surface, a steam cleaner will be your best bet.
It's also a time-efficient way of removing wallpaper when you get into the rhythm of steaming one patch while you scrape the previously softened patch.
Scraping Tools
This tool doesn't need much of an introduction nor an explanation. Simply, it's a sharp metal plate that scrapes the wallpaper from walls with ease.
That's not to say it's easy work, however, as scrapers tend to remove wallpaper in small amounts at one time, leaving you scraping like a mad person, with aching arms to strip an entire room's worth of wallpaper.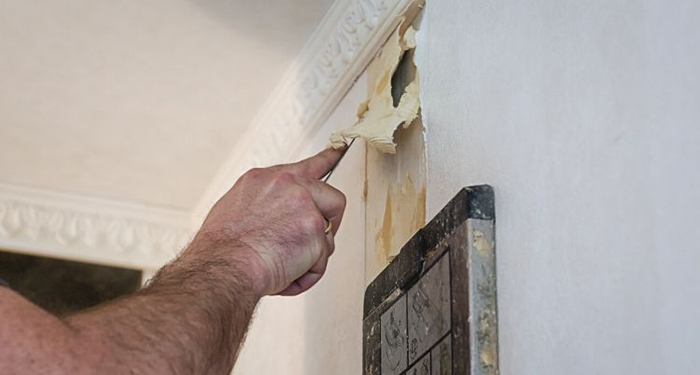 Handheld scrapers do have some benefits. For one, you can be more accurate, you're your scraping if you need to reach any hard to access places.
They're also a cheap and simple method for scraping wallpaper, and with some time and elbow grease, they will certainly do the job on most projects.
Wallpaper Stripper (Solvent)
A wallpaper stripping solvent is simply a stable liquid made from chemicals that you apply to your wallpaper covered walls to help break them down, ready to be scraped off.
They often come in ready to use solutions in spray bottles so that they can be applied quickly, accurately and easily.
The solution works to break down and dissolve the paste or glue used to hang the wallpaper, thus releasing it from the wall.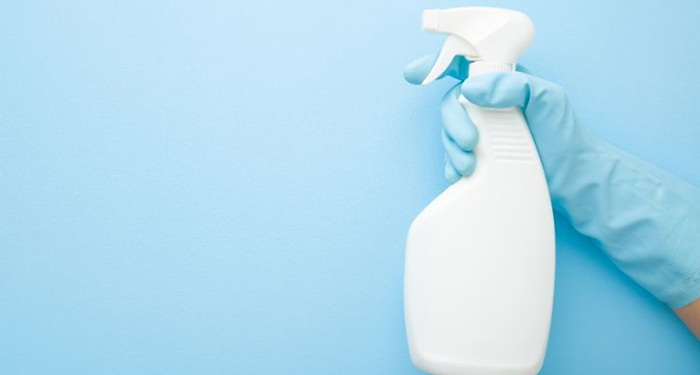 Chemical solutions made explicitly for stripping wallpaper are ideal for layers of one or two papers, or if you're planning to remove a smaller area of wallpaper, like on an old feature wall.
Some wallpapers that are thicker, have been hung for many years or attached using super-strong adhesive can be tough for chemical solutions to breakthrough. In this case, you'd be best using a scoring tool, which brings us to our next section.
Scoring Tools
Scoring tools are handheld products that have small, protruding razors on the bottom. You use this tool to score or mark the tough to remove wallpaper, making several small cuts into the wallpaper and giving the chemical solution a way through to the adhesive.
These products are really effective when used in conjunction with the stripping solvent, however, you should be careful not to set the depth on the razors too deep, or you may damage the wall underneath the paper.
The trick with scoring tools is to start small, and slowly increase the depth until you reach the optimal length.
Best Wallpaper Removers
It's evident that there are different options available to you for wallpaper removal, depending on your circumstances.
So, the question now is, what products are the best? Well luckily for you, we've listed what we think are the best products for wallpaper removal, including steamers, strippers, scrapers and scorers!
Zinesser DIF Wallpaper Stripper
This stripping solution is designed to penetrate and loosen the adhesive underneath wallpaper, making the scraping stage a walk in the park.
DIF's enzyme-based formula has proven to be extremely popular in the market, and the results speak for themselves.
It's also wonderfully cost-effective, meaning you actually get many more litres for your money. It's perfect for those walls with only a few layers, and there's no need to score the paper first.
Pros:
Fast acting formula
Powerful enough for Woodchip or Wallpaper
Mess-free
Lots of solution for your money
Non-toxic once diluted
Cons:
Not suitable for more than 3 layers of wallpaper
Must be diluted first
Must be applied with a roller or sprayer
Earlex Wallpaper Steamer
With over 8 million sold worldwide, the Earlex wallpaper steamer is one of the most popular wallpaper removal tools of all time, which is a testament to their longevity and quality.
The lightweight machine holds up to 4litres of water which is turned into steam by a 2kw heating unit, giving you 70minutes of steaming action to rid your walls of any paper. It also benefits from a 3.7m hose, allowing you to reach all places high and low.
The steamer takes a meagre 12 minutes to steam up and then it's ready for action.
Pros:
Long steam time
Long hose
Uses little electricity
Lightweight
Large steaming plate
Bestselling product
Cons:
12-minute wait before you can use the machine
Cables and hose can get in the way
Black and Decker Wallpaper Steamer
Acting as a real rival to the Earlex steamer, the Black and Decker steamer matches it in almost all areas.
It also holds 4l of water, features a 3.7m hose and a large steaming plate. However, it does run for 10 minutes less than the Earlex and is a little more expensive.
The B&D steamer has some wonderful safety features such as an automatic shut off if any overheating occurs and a safety valve to ensure no hot water escapes during use.
Pros:
4L tank capacity
Large steaming plate
Great safety features
Cons:
Hard to find in stores
Runs for less than the Earlex
Costs a little more than the Earlex
Wagner W16 Wallpaper Steamer
The final non-industrial steamer on the list is the Wagner W16. This model is a brute with a tank capacity of just 3.5L but with a huge runtime of 80minutes.
It too features the safety cut-offs seen in the Earlex and the Black and Decker models, and also the large steaming plate. However, the Wagner model is slightly more expensive than other models.
Pros:
Large steaming plate
Long runtime of 80 minutes
Lightweight with a smaller tank of 3.5L
Great safety cut-off features
Cons:
Much more expensive than other models available
Takes a long time to warm up to operation level
Harris Wallpaper Scraper Set
A steamer is nothing without a reliable scraper to land the fatal blow to haggard and outdated wallpaper.
This scraper set comes with three tools of varying width, giving you a narrow scraper for behind radiators and along skirting boards, through to a large scraper for removing large chunks of wallpaper in an instant.
These tools are strong, reliable and sharp and not to mention cheap. While it may be tiresome work using these scrapers without a steamer or solvent, if any will do the trick, it's the Harris set.
Pros:
Strong and reliable
Varying sizes
Cheap
Cons:
Will be time-consuming and tiresome to strip wallpaper without a steamer or solvent
Long Handled Heavy-Duty Scrapers
While standard wallpaper scrapers have a single sheet of sharp metal, a heavy-duty scraper comes with a sharp blade attached to the end of a long piece of sturdy metal.
These brutes are designed for wallpaper, woodchip and just about anything else that is refusing to budge.
The long handle provides extra strength and extra reach for those spots that are harder to get to. They are an excellent asset for tough jobs.
Pros:
Strongest tool available for hard to remove materials
Cheap
Blade is removable for replacement once blunt
Cons:
Time-consuming to strip entire walls with
Requires a lot of effort
Zinsser Paper Tiger Scorer
If your solvent isn't quite breaching the paper enough, you'll need to score the paper first. The Zinsser scorer is easy to use, safe from accidents and can score a lot of paper quickly.
Once scored, your chosen solution will seep directly into the adhesive, loosening it incredibly fast. It's also pretty inexpensive for what it provides.
Pros:
Easy, safe and quick to use
Scores a large amount of wallpaper fast
Cons:
Can be hard to reach awkward areas
Wagner Steamforce Pro
If you're working on a huge job, or if you're a decorator by trade, it may be worth investing in the Wagner Steamforce Pro. This is an industrial level steamer that still maintains a fairly small footprint.
It benefits from a 5m cable and hose, an extra-large steaming plate and its 7.5L tank allows 90 minutes of steaming action. Due to its increased power, it takes longer to warm up at 18 minutes and is more expensive.
Pros:
Powerful steamer designed for big projects
Built within a protective cage for industrial environments
Long cable, hose and plate
Long runtime
Cons:
Very expensive
Heavy at 9.4kg
Wallpaper Steamer Hire
If you're only planning to use a wallpaper steamer for a small job, or only plan on needing it briefly, you may be better served to rent a steamer for the day, instead of investing in one of your own.
When you rent a steamer, you will get an industrial version, meaning it will perform much better than usual household steamers.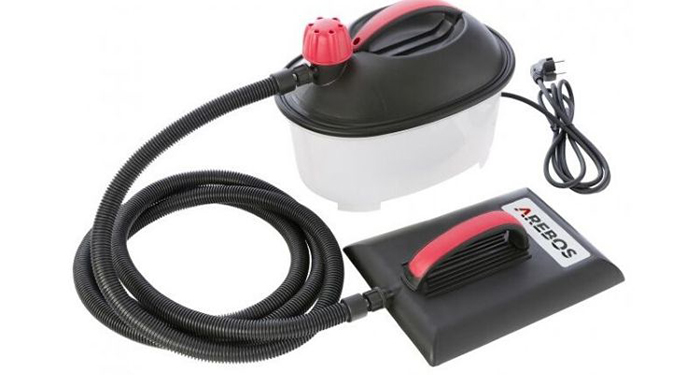 On average, it will cost around £18 per day to rent, and you can find a whole host of places that offer the service online. Big-name DIY retailers also offer wallpaper steamer hire services.
Of course, the total cost may differ from company to company depending on the model they lease, how quick you need it and on what days. But if you shop around, you should find something that suits your needs and your budget!
Cost to Remove Wallpaper
Another way to remove wallpaper from any room you want, quickly and professionally, is to pay a professional to do it instead!
Hiring a contractor to carry out preparation work before decorating, or in fact, the entire redecoration itself is a sound choice.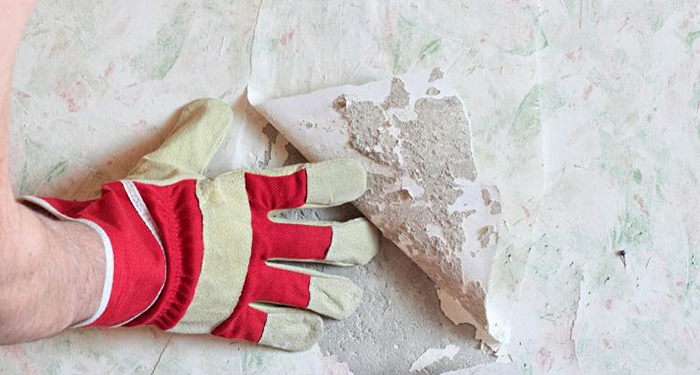 Now, the actual pricing depends on a variety of factors such as the size of the room, the type of walls you have, the location of your property and of course the materials you want adorning your newly decorated room.
As a guide, the average cost for stripping and hanging new paper in a medium-sized room is around £350.
What is the Best Homemade Wallpaper Remover?
Some people, in a bid to save money, opt to create their own wallpaper remover. While this isn't the recommended method (it's always preferable to buy a product designed to strip wallpaper) there are some great guides for making your own wallpaper remover. Here's the best one:
Equal parts white vinegar and warm water.
That's it. Really.
The warm water will dampen and start to break down the wallpaper while the acidic vinegar will loosen the adhesive, producing the desired result!
As with all the other products mentioned in this article, different walls and wallpapers may take longer for this to work, but with enough effort, it will eventually breakthrough.
FAQs
How does wallpaper stripper work?
The chemicals in the solution seeps through into the adhesive that is keeping the paper attached to the wall and begins to break down its sticky qualities, rendering it completely useless in keeping anything attached to the wall.
Can I put solvent inside a steam cleaner to help it work faster?
No. The solvent can not only react badly to heat, but it will be vaporised into the air you breathe. Do not put solvent inside a steamer.
Can you use a wallpaper steamer for anything else?
Steamers are great cleaners. You could use a wallpaper steamer on bathroom tiles to steam stains and limescale from them. Some wallpaper steamers come with other attachments to make them useful around the house.
Is stripping solvent harmful to pets?
While most solvents are non-toxic, it's best practice to keep children and pets away from them until you're finished stripping the walls, and everything has been cleaned and put safely away.
How can I prepare the room prior to stripping wallpaper?
Stripping walls can be tiring, humid and messy affairs. You should empty the room of any furniture, lay down plastic sheeting on the floor to catch all the pieces of wallpaper and wear clothes you don't mind ruining!
Sources