What is Laminate Flooring?
Laminate flooring is a material constructed by fusing High-Density Fibreboard, decorative paper and a finishing layer, and it is used worldwide as a substitute for wooden or stone flooring.
There are many benefits to using laminate flooring instead of wood or stone, ranging from the affordability of it compared to other materials, the ease of installation, the durability of laminate and the low ongoing maintenance.
Laminate is also so popular as it has so many different colour, pattern and shade variations, meaning you can get any effect for your flooring and stay within your budget no matter what that is.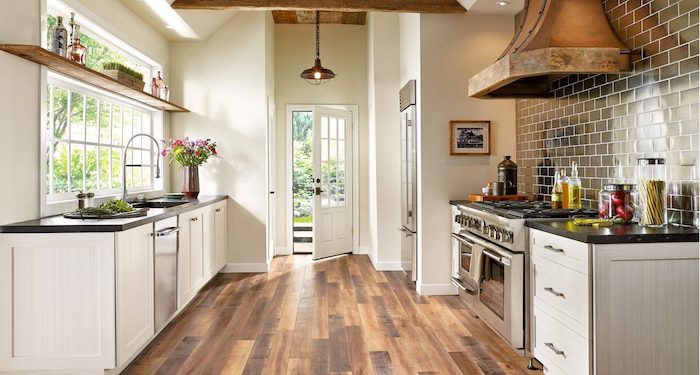 For example, oak is a very expensive wood to purchase for your flooring due to its scarceness on the market. With that in mind, people will opt for an Oak style laminate, meaning they get the same dark colour and impressive grain, but at around one-fifth of the price.
Early laminate could only be glued to the floor, but as the technology surrounding laminate flooring has improved over the years, more installation options have been made readily available.
In fact, laminate is so easy to install, many people opt to do the job themselves, instead of hiring a floorer.
Types of Laminate Flooring
As we have mentioned throughout the guide so far, there are four main laminate types, and this refers to the boards' installation method. We're going to explore each here:
Glued Laminate Flooring
Glued laminate flooring will come in bare boards that must be glued to the floor. These can still come with padding and lining attached to them; however, some don't so make sure you check which version you have.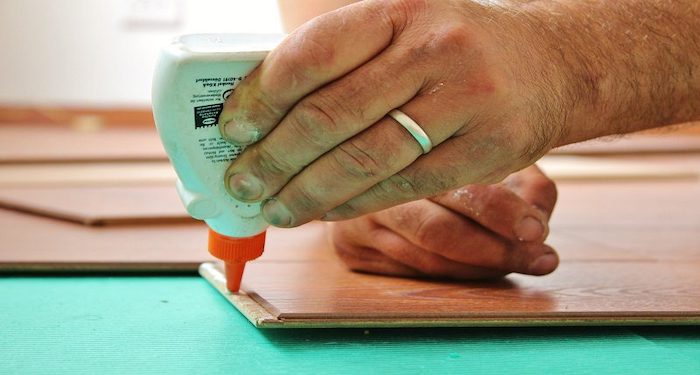 For this type of laminate flooring, you can use a simple flooring adhesive, which is available in either a tub or spray version.
This is a lot less popular than it once was considering the ease of installation with glueless or pre-glued versions of laminate, but it can still be found on the market.
Glue-less or Click Laminate Flooring
This is by far the most popular type of laminate flooring. To install this type of laminate, you simply secure the baseboards along the longest wall and attach the rest of the boards to them previous one by clicking them together.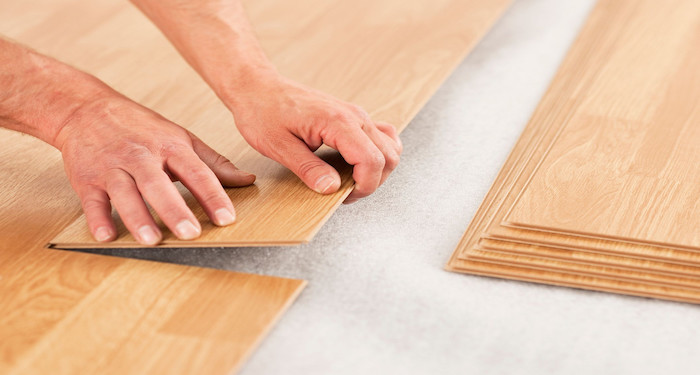 These boards have peculiar ridges carved into the side to allow for either a male or female connection, to allow the boards to be connected.
This is the easiest to remove, change and install, and it's also the quickest to install. All of those features make it the most popular type of laminate flooring.
Pre-glued Laminate Flooring
Pre-glued laminate works in the same way that glued laminate does, however instead of laying the glue down yourself with a spray or tool, you simply peel away the sticker on the back of the panels and lay them on the floor.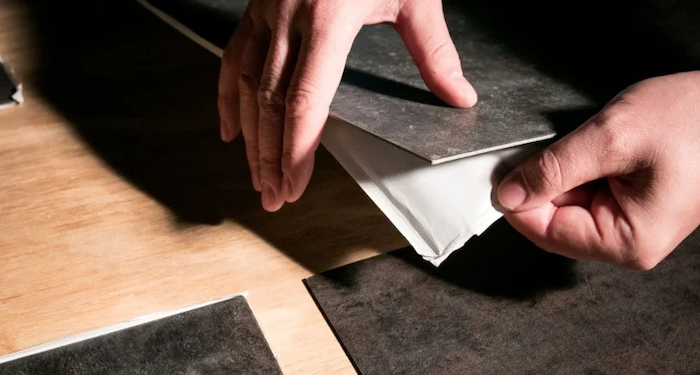 Again, this is a very easy, simple and quick way to install laminate flooring, and this is the best option for a self-installation.
Be aware though, there will be a requirement for some cutting of laminate planks, so ensure that you have the tools required for the job.
Underlay Attached Laminate Flooring
We mentioned earlier that some laminate floorboards have the lining and padding, or underlay, attached to them already.
If they don't, you will need to install this yourself, however more recently, many boards come complete with underlay.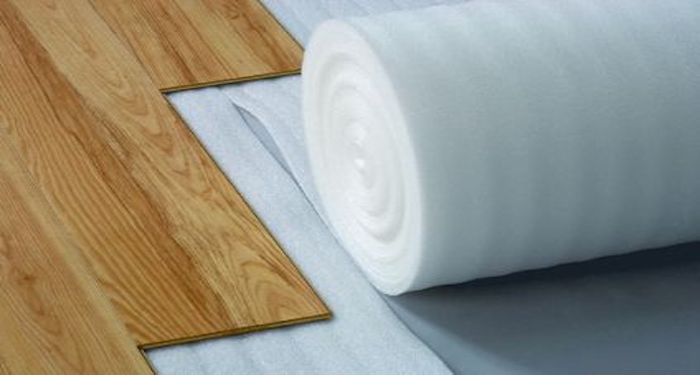 They are still installed in the same way, you just need to be aware that these options are available and can save you a considerable amount of time by opting for these boards.
Best Laminate Flooring Brands
Here is a list of well-know lamiante flooring brands that offer good quality laminate flooring:
Egger Laminate Flooring
Egger was founded as a family business back in the early 1960s, with manufacturers across Europe. Egger pride themselves on using 80% recycled wood and PEFC approved forests for their laminate and flooring products.
Egger is famed for their attention to detail on designs and patterns, combined with a focus on providing good value for the price.
Egger flooring is incredibly popular in the UK, and the feedback from customers is almost entirely positive.
Egger provides both high-end and budget options for their flooring, making their products accessible to everyone. Egger has a few options at the AC-4 rating.
Faus Laminate Flooring
Faus started life in a small building in Spain, focusing on producing a premium product to release to the masses.
Much like Egger, Faus have a stern commitment to sustainability by using only raw materials approved by the FSC.
Faus has always focused on realistic designs for their products, aiming to get as close to the real thing as possible with its laminate flooring.
Faus is a high-end option, but they are the only supplier to have an accredited AC-6 rated laminate flooring, making their flooring perfect for high traffic areas around the home without the worry of wear and tear.
Lamett Laminate Flooring
Lamett is the new kid on the block, so to speak, considering it only started in 2005. However, despite being late to the party, Lamett has garnered a great reputation for producing premium laminate options.
All of Lamett's laminates are 12mm thick, which is fantastic for the durability of the laminate, something which is heavily weighted when deciding the AC rating, of which Lamett has reached AC-4.
Swiss Krono Laminate Flooring
Swiss Krono has had many monikers over the years from Kronotex to Kronoswiss. Still, their laminate flooring is very impressive if you can avoid the confusion.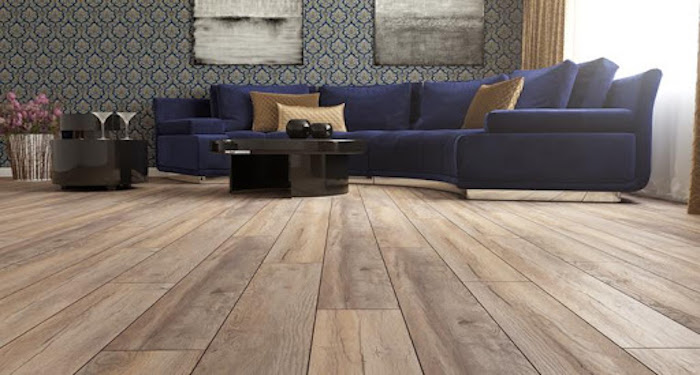 Considered a mid-range brand, they produce everything from entry-level laminate to premium flooring with competitive prices throughout and a massive choice of selection.
They have flooring at the AC-4 rated standard similar to that of Lamett, Egger and Faus.
Balterio Laminate Flooring
Balterio is a mainstay in the flooring industry, and its extensive collection of options only continues to grow each year without any sign of slowing.
Balterio love to experiment with the newest laminate flooring technology, allowing them to create incredibly varied patterned and textured selections, and realistic designs on their laminate.
Elka Laminate Flooring
Elka focuses on cost-effective laminate flooring options available in 8mm and 12mm boards. Despite being cost-effective, their laminate is just as good as any other, with natural looks of oak and walnut heavily influencing their designs.
Elka's flooring comes with the click in installation style, and they are designed so that underfloor heating is still an option with their flooring.
Quick-Step Laminate Flooring
As one of the leading laminate flooring specialists globally, Quick-Step has an astoundingly large range of options suiting all budgets and desires.
They also focus on producing a durable laminate that will stand the test of time with its water, scratch and wear resistance. In fact, Quick-Step's laminate comes with a huge 10-year waterproof guarantee.
Woodpecker Laminate Flooring
Affordability, combined with class is the target for Woodpecker as their realistic laminate proves.
Despite being lower on the price scale, the quality doesn't fall at all, and their laminate is a real contender for looking most like real wood.
The embossed texture of Woodpecker feels fantastic underfoot, making it a great option for bathrooms. Woodpecker also comes with a 25-year guarantee, which is almost unheard of.
AC Rating for Laminate Flooring
The AC rating for laminates is awarded to laminate boards independently and is graded on several factors.
Essentially, the AC rating is to decipher how much traffic the board can withstand, and therefore where it is most effective to be used.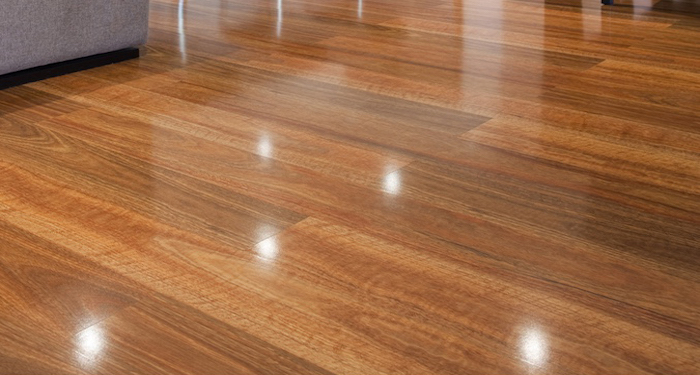 The AC rating is essentially a durability rating, so if you have a board rated AC-1, it wouldn't be good to use for high-traffic areas like hallways. Instead, you'd need something around AC-3 or AC-4.
The flooring's thickness does impact the AC rating, and usually the thicker the board, the better the AC rating, but it's also graded on other things like its scratch and water resistance. Here are the grades in an easier to understand format:
AC-1/2 – Low to moderate areas like bedrooms.
AC-3/4 – Moderate to high traffic areas like living rooms or hallways.
AC-5/6 – Commercial ratings for offices and workplaces.
Best Laminate Flooring for Kitchens
Kitchens are pretty high traffic areas, withstanding a lot of footfall and its fair share of spills.
So, it's important to invest a little more money into laminate flooring for kitchens to ensure that the AC rating or durability is enough for the area.
Good quality laminate will cost a little more, but that will also bring with it more realistic looking designs and a more scratch and damage-resistant surface for when you drop that odd bottle of wine after work!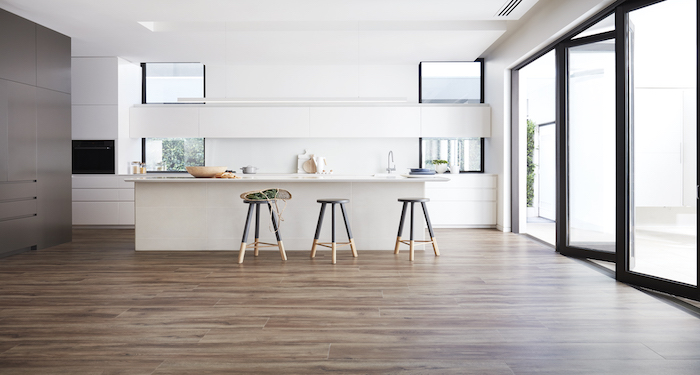 The textured finish on more expensive laminate floorings looks wonderful in kitchens. If you're planning on hosting parties or get-togethers in your home, they usually centre around the kitchen, so you'll have flooring to be proud of.
Any of the brands we mentioned in our best brands list would be more than adequate for your kitchen, so take your pick!
Best Laminate Flooring for a Bathroom
Bathrooms are considerably less worn in terms of footfall than kitchens, but of course, they are in very damp and humid rooms.
With this in mind, it is integral that the laminate flooring you pick is fully waterproofed to ensure that it doesn't lift and warp over time with the warm moisture in the bathroom.
Lighter stone designs tend to look the best in bathroom settings, so take a look at some of those designs.
Quick-Step may be the best place to start considering they have that huge 10-year guarantee on waterproofing, and if that isn't confidence in your product, I don't know what is!
Bathrooms are places of relaxation for many of us, so when you're relaxing in a nice hot bath at the end of the day, you'll want to look at quality laminate when you do.
You'll want an AC rating of around 3 for a bathroom, but of course, check that waterproofing first!
Best Laminate Flooring for a Living Room
Dark, intimate wood styles are the best for living room spaces, and you'll want one that is very durable with a high AC rating to make sure there isn't any quick degradation.
Of course, living rooms have units, TV's, sofa's, coffee tables and much more decorating the place, so you'll want a laminate flooring that is very scratch resistant, especially if you opt for a dark shade.
Living rooms are also fairly high traffic areas, and when you have guests over, that's usually the place you'll entertain them.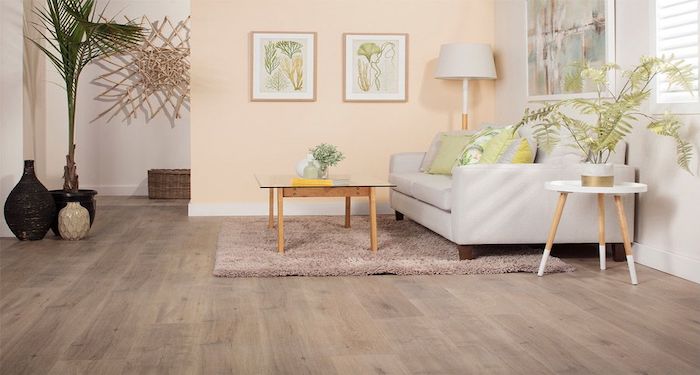 Again, any of the brands we mentioned in our' best of' list will be wonderful in your living room.
Still, a special mention must be given to Faus and Balterio, as their premium models look wonderful in beautifully decorated living rooms.
Woodpecker must also be highly considered, given they have a massive 25-year guarantee, which can't be understated for a space like a living room, and that is a lot of peace of mind to be confident in investing in a premium laminate flooring.
Best Underlay for Laminate Flooring
What is the best underlay money can buy? This question is a tough one to answer. The underlay you choose needs to match both the laminate you plan on installing and the subfloor materials and state.
For example, suppose your subfloor is bare concrete, and you're installing click in laminate in your bathroom.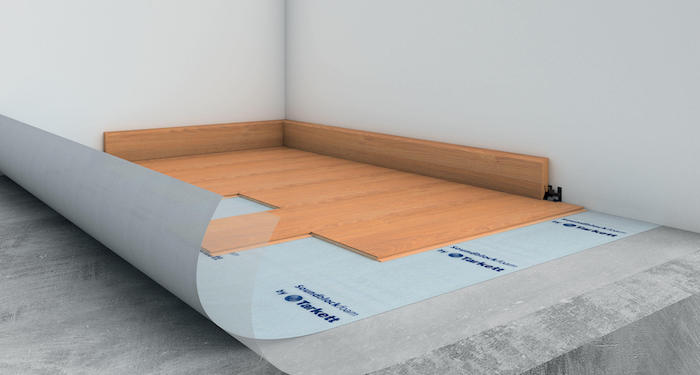 In that case, you're going to need an underlay that has some serious moisture resistance properties to it. Contrastingly, if you're installing laminate onto a timber floor in your living room, a moisture barrier simply isn't required.
While you can install an underlay design for concrete on a timber floor, you could never install underlay designed for a timber floor on a concrete floor because the lack of a moisture barrier would be detrimental to both the laminate and the subfloor.
When you are looking for your underlay, review these things and see how important they are to you:
Sound Proofing
Floor Levelling
Insulation
Compatibility with Underfloor Heating System
Moisture Barriers
Decide on how important each of those things are to you and your home, and then search for an underlay that meets your needs.
Here are some of the most popular brands for you to take a look at and make a decision:
Vitrex Underlay
Acoustalay Underlay
Duralay Underlay
Klima Underlay
Sources