Introduction to the Best Kitchen Worktops
Are you searching for the best kitchen worktops in the UK? This article will look at the top products on the market, discuss their prices and lay out their pros and cons.
We will also delve into other relevant topics such as the different kitchen worktop types and the cost of having a new kitchen worktop installed.
The following guide will prove very helpful if you're planning to buy a new kitchen worktop or if you're considering purchasing one down the line.
What is a Kitchen Worktop?
We'll start by breaking down what a kitchen worktop is. In this section, we will also explain what it's used for and its purpose.
Kitchen worktops sit on a horizontal plane, as a standout feature of a kitchen. They trail along the kitchen walls and surround fittings such as the cooker and sink.
They are primarily used to place items upon such as plates and bowls and to perform kitchen-related activities like cutting up food on a chopping board. Generally, kitchen worktops are utilised for preparing and serving food.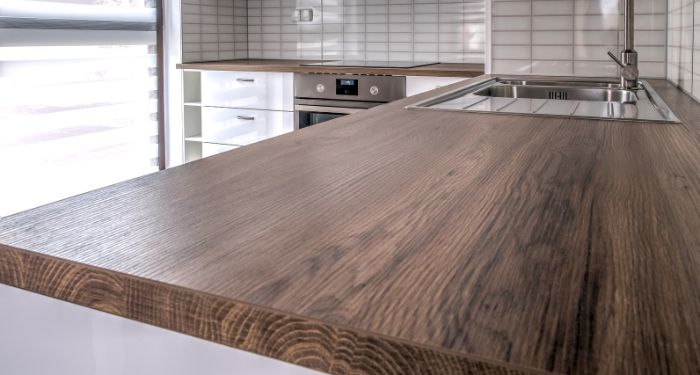 Of course, in practice, they are used for many other reasons ranging from putting the shopping bags down when unloading them from a car to acting as an additional space for children to sit at and play.
The main purpose is to carry given loads and make kitchen-related work easier. They also provide significant aesthetic value as a prominent kitchen fixture.
Types of Kitchen Worktop
There are many types of kitchen worktop to choose from. In this section, we will lay out the details of each type and list the pros and cons.
Before choosing the right kitchen countertop, it's important to sift through kitchen worktop ideas while considering the various types and brands that you could go with.
Wood Worktops
Wood worktops are a durable, eco-friendly and aesthetically pleasing option. Wood worktops can generally provide a great match to any kitchen design and colour scheme.
Since every piece of wood has a distinct look, you can be certain that your worktop will provide a unique visual to your kitchen.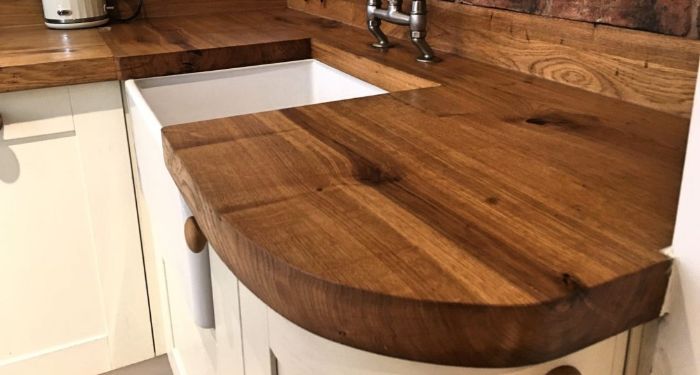 You should oil a wooden countertop every six months, and so long as you do, you can expect this type of worktop to have an indefinite lifespan. Wood should be sealed correctly with a non-toxic mineral oil to maintain its hygiene which will be aided by its inherent antibacterial qualities.
A chopping board must be placed atop the surface for cutting as these worktops are prone to damage if you were to cut directly onto them.
Wood worktops may be made from a range of different wood types such as walnut and iroko although oak is arguably the best wood for a kitchen worktop.
Wood worktops tend to cost around £120 to £250 per square metre.
Pros:
Natural antibacterial qualities.
Age well, if correctly maintained.
Solid and durable.
Damage can be fixed with sanding.
Provide a unique aesthetic.
Cons:
Regular maintenance is needed.
Must be oiled twice a year.
Hot pans will damage a wooden worktop.
Prone to cutting damage.
Laminate Worktops
This type of worktop is generally made from high-density wooden particle board and plastic.
Laminate worktops are especially popular in the UK right now, and they are available in a wide range of designs from matt to riverwash.
They are also a relatively inexpensive type of worktop. Laminate worktops can resist heat, staining and scratching better than most worktop types.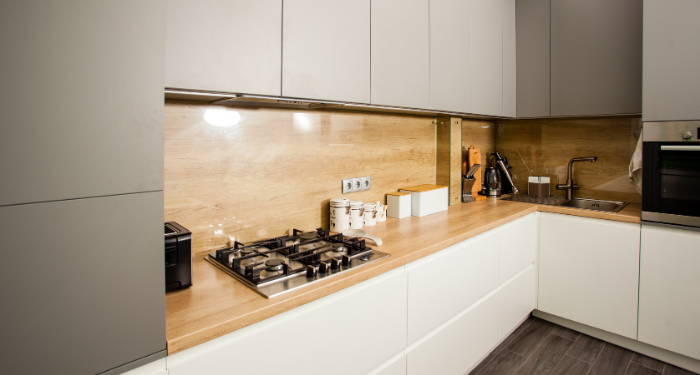 Laminate worktops can be designed to accurately mimic wood or stone worktops in terms of appearance. You can purchase laminate worktops with thinness as little as 12mm.
Laminate worktops also work well with flush-fit sinks to create the look of a designer kitchen without needing to spend several thousand pounds. A nylon brush or light detergent can be used to clean the surface of a laminate worktop.
You should expect to pay around £35 to £150 per square metre for laminate kitchen worktops
Pros:
Easy to install.
Affordable.
Offer a water-resistant surface.
Can mimic the appearance of wood or stone worktops.
Cons:
Heavy objects may cause damage.
Under mounted sinks or Belfast sinks may not be well suited to laminate worktops.
Solid Surface Worktops
A solid surface worktops are typically made from various composite materials
A solid surface worktop may be made of materials such as acrylic, resin, stone and mineral dust. Each product will have its own mixture of materials and material ratio.
Solid surface worktops are available with curved features to help make integrated sinks undetectable. You should not place extremely hot cookware on their surface as this could result in melting.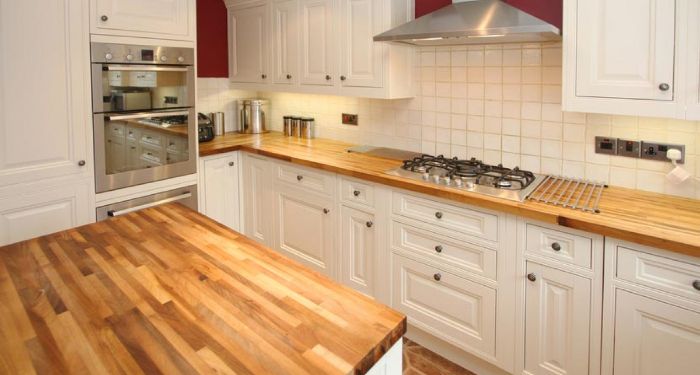 Solid surface worktops are also unsuitable for cutting directly onto.
You should, as with a wood worktop, use a chopping board. Scratches can be repaired by a professional if they appear.
Solid surface kitchen countertops are typically priced at £300 to £450 per square metre.
Pros:
Can be moulded into various shapes.
Available in many different colours.
Solid surface worktops can be cleaned with ease.
Cons:
Prone to heat damage.
Can be scratched relatively easily.
Quartz Worktops
Quartz worktops are another type of composite worktop. They generally contain resin and quartz as primary ingredients. Some quartz worktops may have colours, glass or mirrored pieces to add to their aesthetic value.
You can purchase quartz worktops with a range of matt and glossy finishes.
They are also available in many different shades. Quartz is one of the best kitchen worktop materials as these countertops are resistant to scratches and stains and do not require much maintenance.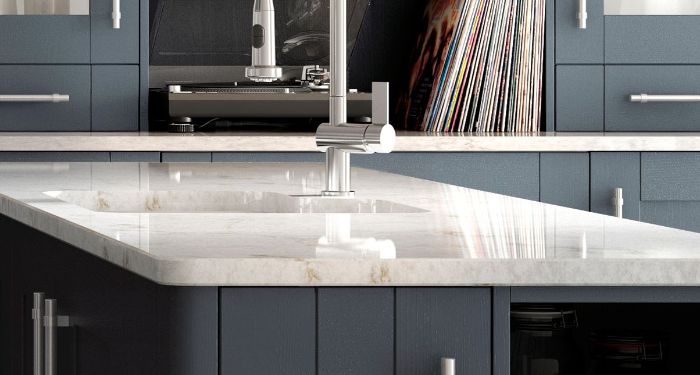 However, you should still use a chopping block on their surface to avoid any accidental chippings.
You should still avoid placing a very hot pot or pan atop its surface too.
They are also sensitive to harsh cleaners such as those that contain ammonia or bleach. These cleaners may damage your worktop kitchen surface and gradually remove its shine.
The average cost to install quartz worktops ranges from £220 to £900 per square metre.
Pros:
Low maintenance.
Highly durable.
Resistant to stains and scratches.
Quartz worktops are non-porous.
Available with many different glossy and matte finishes.
Cons:
Cannot be installed outside.
Sensitive to chemicals.
Stainless Steel Worktops
Stainless steel countertops are the strongest type. They are highly durable and heat resistant. Stainless steel worktops are especially popular because of how hygienic they are.
They are also easy to clean, which can be achieved with the use of a cloth, mild cleaning solution and soapy water. However, there must be no bleach in your cleaning mixture.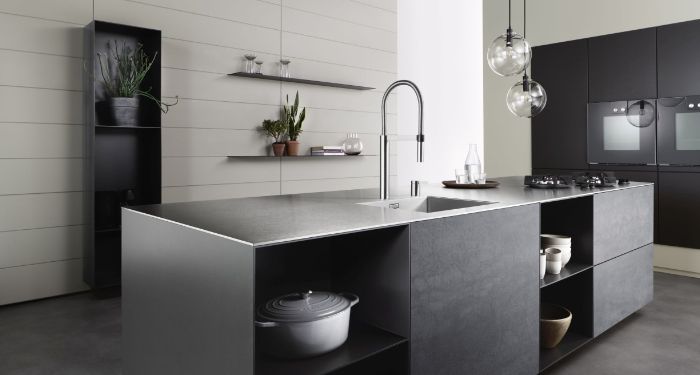 These worktops are vulnerable to scratching and dents.
Whether or not you like stainless steel worktops will depend on your preferences. Some may find them aesthetically appealing, while others may find them too cold and clinical.
Stainless steel kitchen countertops tend to cost anywhere from £150 to £300 per square metre.
Pros:
Very strong and durable.
Resistant to heat.
Stainless steel worktops can be easily cleaned.
Cons:
Prone to dents and scratching.
Not everyone's cup of tea.
Glass Worktops
This type of worktop provides a modern and unique design. Glass worktops are glossy, stylish and available in many different colours and designs. Some providers will offer the option of highly customised glass worktops.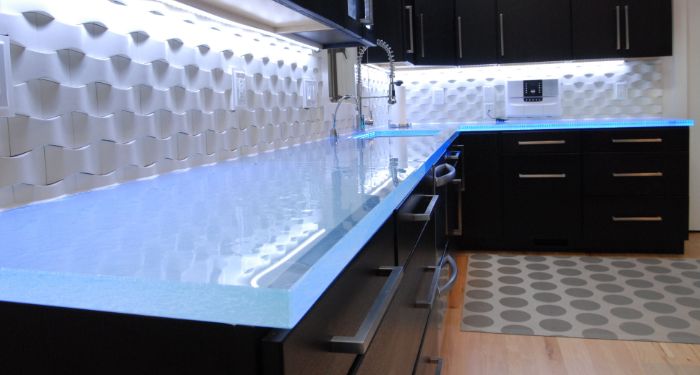 A regular glass cleaning product can be employed to get rid of stains. Acidic foods or harsh cleaners left on its surface for too long can result in damage.
You should expect to pay around £250 to 350 per square metre.
Pros:
Highly durable.
Water and heat resistant.
Can be customised.
Mould and stains will not easily accumulate on a glass worktop surface.
Cons:
Extreme weight atop the corners can result in cracking.
Prone to damage due to prolonged acidic food or harsh cleaner exposure.
Can be quite expensive.
Glass worktops tend to weigh a lot.
Granite Worktops
Another popular choice for worktops is those that are granite-based. They can offer a luxurious and stylish appearance to a kitchen.
Granite worktops are long-lasting and available in many different patterns and shades.
Detergent and warm water can be used to clean their surface. You should avoid any acidic cleaners.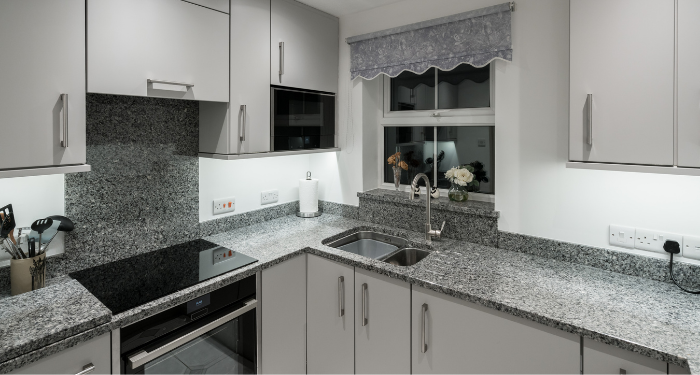 Due to its weight, granite worktops require cabinets that can provide the necessary level of support to keep them firmly in place.
Unlike some other worktop types, granite worktops are porous. As a result, you need to seal a granite worktop at a minimum, every two years.
Granite worktops are generally priced at £270 to £450 per square metre.
Pros:
Durable.
Heat-resistant.
Easy to clean and hygienic.
Cons:
Damage cannot be fixed.
Granite worktops are quite heavy.
Porous.
Best Kitchen Worktops
We'll now analyse the best kitchen worktop brands. The prices given for each brand are in reference to a single countertop unless otherwise stated.
Caesarstone
Caesarstone is a popular brand which produces premium quartz countertops.
They were founded in 1987. The sharp, simple and yet exceptional designs have helped to make i products particularly popular.
The brand provides a range of collections such as the Motivo Collections which features lace textures and crocodile skin and the Concetto Collection which includes surfaces such as dumortierite and petrified wood.
They have been labelled "the original quartz surface manufacturer".
Their worktops come in a range of styles & colours including Sleek Concrete, Frozen Terra, Moorland Fog, Noble Grey and Vanilla Noir. Caesarstone's quartz worktops do not require the use of a wax or sealant due to the materials used.
They are non-porous and can be cleaned with ease. However, Caesarstone is not ideal if you're looking for a natural look. While they may handle temperatures of anywhere up to 340°C, anything hotter will cause damage.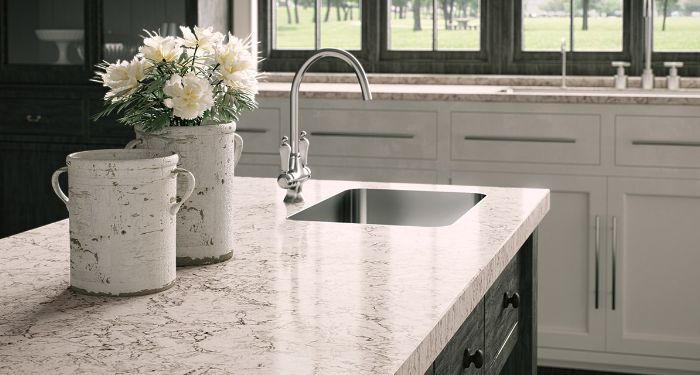 They are arguably some of the best countertops due to the company's production process, the fact that sealing is not required, the wide range of choices and prices to select from and the various positive qualities offered by these worktops such as the resistance to scratches and stains.
Caesarstone worktops may cost as little as £215 to as much as £1629.
For example, Caesarstone Noble Grey costs between £536 and £780, Caesarstone Woodlands is available for £784 to £1037 while Caesarstone Statuario Nuvo will set you back anywhere from £1246 to £1629.
Pros:
Do not require sealing.
Top-quality production process.
Resistant to stains and scratches.
Provide a great aesthetic.
Cons:
Poor heat resistance.
Do not offer the appearance of natural stone.
Somewhat expensive.
Not suited to the outdoors.
Sensitive to various chemicals.
Corian
While expensive, Corian worktops are perhaps the best composite worktops on the market due to how seamless they are, the ability to prevent stains, design flexibility and how easily they can be repaired among other positive qualities.
Corian worktops are solid surface worktops, containing a solid sheet surface made from a combination of acrylic resin, pigments and bauxite filler and a timber section.
During production, the solid sheet is bonded onto the timber section. Corian worktops are available in 54 colours and can be bought in pencil or shark's nose profile.
Among the colours you can choose from are Limestone Prima, Arctic Ice, Sandalwood, Platinum, Deep Night Sky, Gray Light and Rain Cloud.
These countertops are designed to be resistant to bacteria, mould and mildew. Corian is a DuPont brand and was established in 1967. Corian worktops are NSF certified for safety and cleanliness.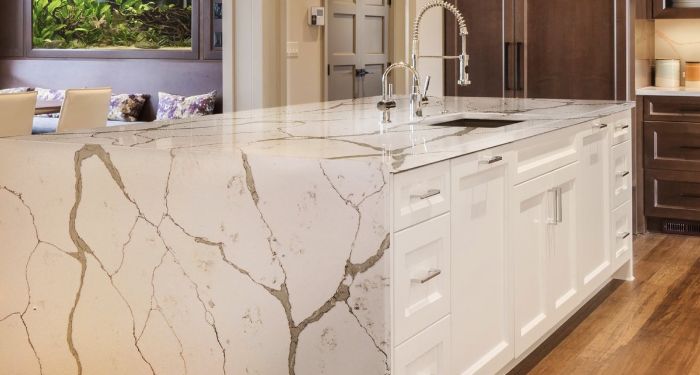 They do not come with visible joints, and you can buy a Corian sink alongside a worktop which can help to create a very neat and seamless design.
The fact that they are non-porous helps to make them highly resistant to stains.
Corian worktops can be customised, and the design flexibility is, according to many reviewers, second to none. Corian will design your worktop based on the preferences that you have if you wish to have it customised.
If any cracks appear in a Corian worktop, sanding should easily fix the issue. Such a solution would not work on quartz or granite worktops. One disadvantage of this brand is that the heat resistance of their countertops is less than that of granite or quartz countertops.
Corian products tend to cost between £385 and £516.
Pros:
Resistant to stains.
Seamless.
Wide range of colours to choose from.
Incredible design flexibility available.
Easily repaired.
Cons:
Low heat resistance.
Vulnerable to scratching.
Prone to water damage.
Encore
Another brand of solid surface, composite worktops is Encore. The manufacturer behind these countertops is Bushboard, who are the largest independent producer of worktops in the UK.
The worktops are designed to provide a high performance and great aesthetic value.
Reinforced acrylic is moulded with compression technology in order to provide a sturdy and durable work surface.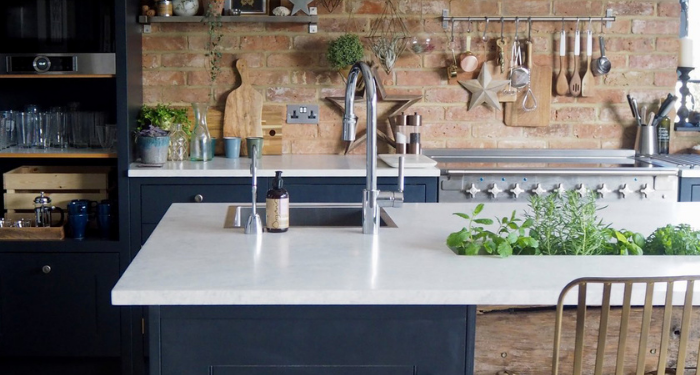 Encore worktops are available in many different colours & designs such as Crystal Black, Ivory Glass, Mountain Haze and Pearl Gray. Every Bushboard product comes with a 10-year warranty.
Encore is one of the best brands of countertops out there due to the strength, aesthetics and durability of these products as well as heat and water-resistant capabilities. Encore worktops are available for around £300 to £500.
Pros:
Sturdy and durable.
Resistant to heat and scratches.
Comes with a 10-year warranty.
Non-porous.
Low maintenance.
Cons:
Some online users have reported issues with having Encore worktops fitted.
Tristone
Tristone is a very popular worktop brand. Tristone's products, which are made entirely of acrylic, are comparable to Corian worktops although Tristone is generally cheaper.
These countertops are some of the best available to buy due to the versatility, affordability, functionality, performance, durability and how hygienic they are. Tristone worktops can be cleaned with ease through polishing.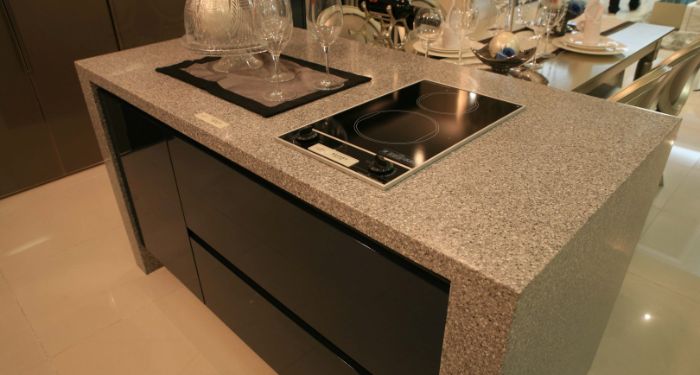 Examples of Tristone colours & designs are Beige Sands, Pure White, Gold Twilight and Frost Land.
Tristone's worktops are also made to resist impacts and prevent the growth of mould, mildew and bacteria. They are also resistant to UV rays. Tristone countertops are NSF-51 certified.
These worktops, depending on the design & colour, are available from £230 to £490.
Pros:
Versatile and durable.
Relatively cheap kitchen worktop.
Great performance quality.
Especially Hygienic.
Resistant to mildew, mould and bacteria.
Cons:
Potentially prone to damage from solvents.
Silestone
Silestone, like Caesarstone, is a brand of quartz worktops. They contain a ratio of 94:6 of quartz to resin.
This brand is currently rising in popularity in the UK. What makes this brand one of the best is its aesthetics, durability and low maintenance.
They are also bacteria and scratch-resistant. Some of Silestone's worktop products include Charcoal Soapstone, Amazon, Coral Clay, Snowy Ibiza, Eternal Calacatta, Ariel and Silver Lake.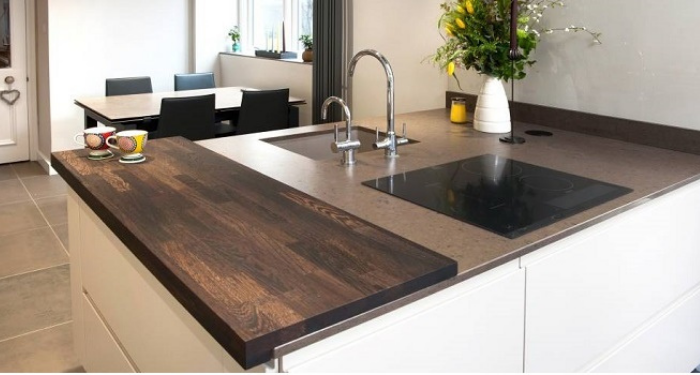 The price of Silestone worktops starts at £99 per square metre plus VAT. Factors such as the thickness of the countertop, its design, type and size will determine the total price you can expect to pay for a Silestone worktop.
Pros:
Durable.
Low maintenance.
Non-porous.
Resistant to bacteria and scratching.
Provides a high-quality aesthetic.
Can be customised.
Cons:
Sensitive to various chemicals.
Not suitable for outdoor installation.
Cambria
Another popular brand of quartz countertops, Cambria despite being a relative newcomer to the global market has surged in popularity over the past two decades.
They are one of the best on the market as the variation of kitchen worktop edging, course slab sizes, colours and designs offered by Cambria is substantial.
Furthermore, the products they provide are highly durable and low-maintenance.
The worktops offered by this brand include Cambria Torquay, Cambria Laneshaw, Cambria Wentwood, Cambria Oakmoor, Cambria Ella and Cambria Brightstone. Cambria's worktops can be easily maintained. They can be cleaned with a cloth and some warm water.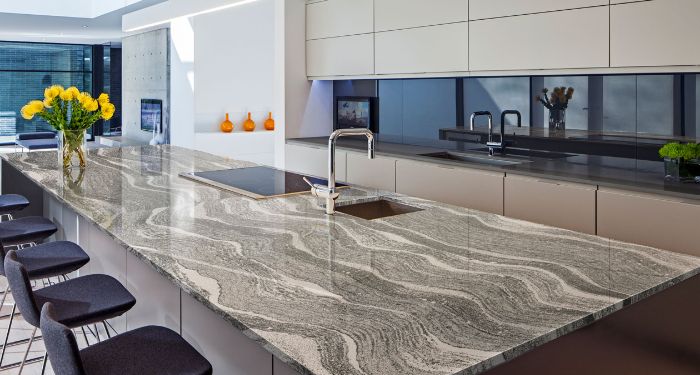 You may also choose to use a mild soap. Cambria worktops, being made of quartz, are more durable than say granite or marble-based worktops. They are also non-porous and stain-resistant.
Most Cambria products cost between £375 and £530 although Cambria Ella is priced at £500 to £700.
Pros:
Very durable.
Low-maintenance.
Varied product choices.
Easy to clean.
Stain-resistant.
Non-porous.
Cons:
Not suited for the outdoors.
Sensitive to various chemicals.
Viatera
Viatera was previously a division of the world-renowned South Korean company LG. The brand is formally known as Hi-Macs.
Viatera is one of the top brands of acrylic worktops due to its exceptional beauty and the wide array of designs & colours to choose from. Other advantages to this line of countertops are that they are versatile, durable and very hygienic.
Among the products featured in this range are Coral White, Intermezzo, Everest, Juniper Trail, Snow Storm, Octave and Thunder Storm.
You can seamlessly joint upstands, window reveals and wall cladding to these worktops. They are non-porous and sturdy. LG also sells complimentary bowls and sinks that you can purchase alongside a Viatera worktop.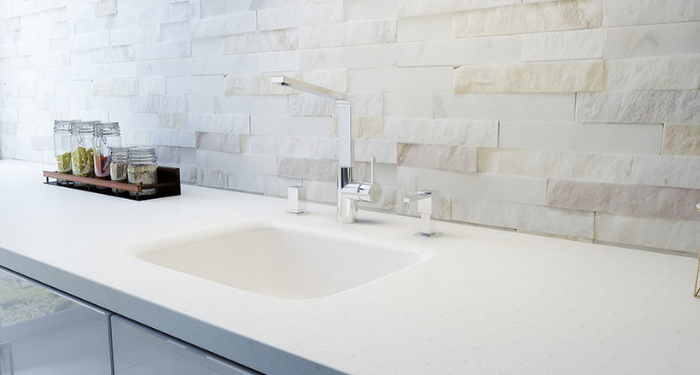 Any scratches that appear can be polished away. Hi-Macs quality club members can avail of a 15-year warranty with the purchase of a worktop. Viatera worktops have been certified for low chemical emissions as well as being NSF certified.
It will likely cost you between £500 and £750 per linear metre to purchase Viatera worktops.
Although, when on sale, some providers are selling them for only around £150 to £225 per linear meter.
Pros:
Durable and sturdy.
Eco-friendly.
Hygienic.
Non-porous.
Easy to fix if any issues arise.
Cons:
May be vulnerable to solvent damage.
Cost to Install Kitchen Worktops
Once you've found your brand of choice, you'll need to purchase the worktop, and have it installed. The cost of installation for a regular mid-quality solid wood countertop will likely end up around £200 in labour costs with an additional £40 for waste removal.
Each worktop's type, the intricacies of its design and its size will influence how long the job will take and therefore, the total labour cost involved.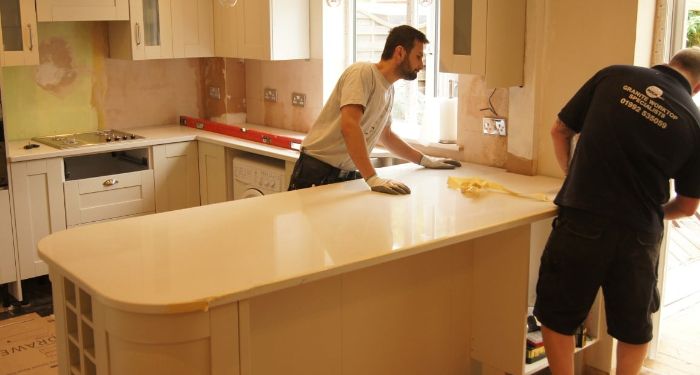 The overall cost will primarily be decided by the expense of the kitchen worktop itself. Contractors tend to charge between £150 and £200 for a day's work.
Before having a worktop installed, you should consider if you'd like to any additional fittings such as complementary sinks or even if you wish to have a kitchen island worktop installed.
FAQs
Q: What is the best way to cut a kitchen worktop?
A: For this task, you should use a circular saw. The blade must be sharp and suitable for fine cuts.
Q: What is a standard kitchen worktop height?
A: On average, they have a height of about 900mm.
Q: What is a standard kitchen worktop depth?
A: The depth of a regular kitchen worktop is generally between 600mm and 650mm.
Q: How long do kitchen worktops last?
A: Considering that most people have their kitchen updated every 10 to 13 years, a kitchen worktop replacement may end up being a part of this job.
However, kitchen countertops can potentially last for decades.
Q: What is the strongest type of kitchen worktop?
A: Stainless steel worktops are the strongest type.
Sources