Introduction to Grout Sealers
Grout sealer can make all the difference when you're tiling, and will stop the absorption of water, staining and bacteria, it protects your grout making it last longer and keeps it looking brand-new.
A few things need to be considered when choosing a grout sealer, including water resistance, application process, and durability. We've covered it all in this complete guide to cut out any extensive research on your behalf, making it easier for you to decide which grout sealer is best.
There are a variety of grout sealers available and we'll be reviewing the numerous types and brands, so you know exactly what to buy. Whether it's your shower surround or your kitchen floor, we'll be directing you to the best grout sealers for the job.
What is Grout Sealer?
Defining a grout sealer and why it's relevant in your home or workplace is never a difficult task as it is a vital component of any tile, floor, shower, and wall installation process. The primary reason why grout sealers are used is that they help prevent moisture from working into the grout spaces, found beneath your tiles.
Moisture can fill up the seams between tiles and prevent your tiles from staying attached for long and when a grout sealer is applied first, it helps keep all liquids and moisture away for the longest time.
Types of Grout Sealer
Like every other product out there, the grout sealer doesn't come as a single entity. It is broken down and designed into different varying kinds of sealers to help fulfil different purposes around your home or office.
In this article, we highlight the common types of grout sealers, including the penetrating, spray, applicator, and membrane sealers.
Besides these four types of grout sealers, we also lay emphasis on the two significant kinds of grout sealers, namely the hydrophobic and oleophobic sealers. These are under the penetrating sealer, also called the impregnator model, which is famously used for showers.
Spray Grout Sealer
The first grout sealer type under discussion is the spray grout sealer. This is a very common sealer used by many professionals around the world. However, spray-on grout sealers must be used with a lot of caution, such that they are not over-sprayed.
Another thing to note about the spray-on sealer is that it must be cleaned after application which is done in the event that the liquid spills on tiles.
More so, the grout sealant spray is a common choice for professionals because it helps save time during the application process. The only downside experts claim, is that even though it saves you time, that saved time is often used for cleaning the spills that have been caused.
Best Spray Grout Sealers on Amazon
Penetrating Grout Sealer
This second type of grout sealer is also a popular choice. This is the penetrating grout sealer (sometimes known as the impregnated grout sealer). As the name suggests, this is a grout sealer that penetrates the grout and is applied such that it soaks and changes the chemical properties of the grout.
Penetrating grout sealers often come in a dark colour, so the appearance of your grout may be altered.
Impregnated grout sealer, unlike the spray-on version, prevents staining. The two types of this sealer include:
Best Penetrating Grout Sealers on Amazon
Oleophobic Sealer
This sealer is made up of chemicals that help it repel both water and oil. This means once applied, water-based substances, oils, lard, and even cooking fate will be prevented from entering your grout.
Hydrophobic Sealers
Hydrophobic sealers are great for blocking water and water-based chemicals. They help say goodbye to coffee, tea, and other drinks, keeping as far away from your grout as possible.
Applicator Grout Sealer
This is a grout sealing product that is less labour-intensive than the spray-on version. With this sealer, you only require a brush or an applicator to help you seal the grout.
Some manufacturers design and include rollers to their sealer products to help make the application a breeze as much as possible.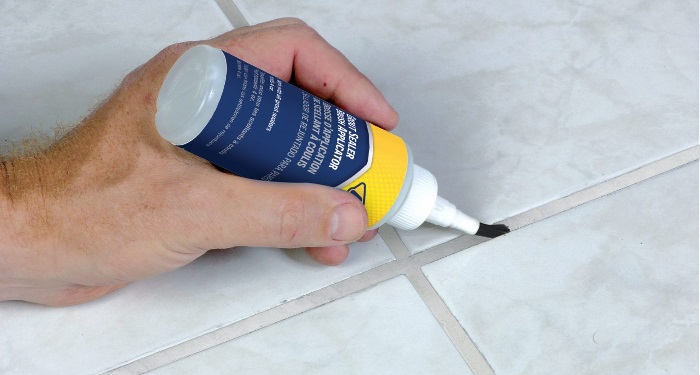 More so, the rollers, applicators, and brushes included in the packaging help make the job easier, with a shorter duration. The applicator grout sealer often comes in a white colour, and as such, they're the preferred choice for tile cleaning.
Best Applicator Grout Sealers on Amazon
Membrane Grout Sealer
The membrane grout sealer is the perfect option for people living in damp areas or homes with existing humid conditions. They were manufactured and formulated for two significant reasons; to add colour to your grout and give it an elegant outlook and also to inject a harsh pigment.
The addition of colour is done such that you're able to hide any defects your tiles may have without looking out of place. However, the membrane grout sealer isn't advised for application in areas such as bathrooms since they don't dry easily and quickly in such environments.
Best Membrane Grout Sealers on Amazon
Best Grout Sealer for Shower
We mentioned earlier that there are different grout sealing products for varying portions of your home, office, or any other place that requires sealing.
We will now present a list of trusted grout sealers currently on the market, starting with those that are best for the shower.
Manufacturers of these bathroom and tile grout sealers have formulated their products such that they can cater for your shower grout needs, without compromising on quality, beauty, or functionality.
The listed products below help protect your grout from water, dust, and all other harmful chemicals and materials you can think of.
Vitrex Grout and Tile Sealer
First on the list is the Vitrex sealer for tiles and grout. This product is one of the few VOC compliant units in the market today, which is why it comes highly recommended among our list of top sealers.
The Vitrex Grout Sealer features a solvent-based formula that allows for the deep penetration once applied. More so, it seeks to offer the best protection to your tiles before the grouting process, so as to extend their lifespan.
Also, the Vitrex grout sealer is oleophobic in nature, keeping both oils and moisture away from your grout without compromising the surface's ability to breathe.
This grout sealer is also very user-friendly and often dries within the hour. For a full cure, you only have to wait for 24 hours.
UniBond RE-NEW, White Silicone Sealant for Kitchen & Bath
Next on our list is a product from a leading manufacturer in the industry. UniBond Re-New is quick and easy to use and is perfect for sealing shower tiles.
This white silicone bathroom grout sealer is ideal not only for your shower and bathroom but also for your kitchen too. It's a quick fix product that can be applied in less than ten minutes.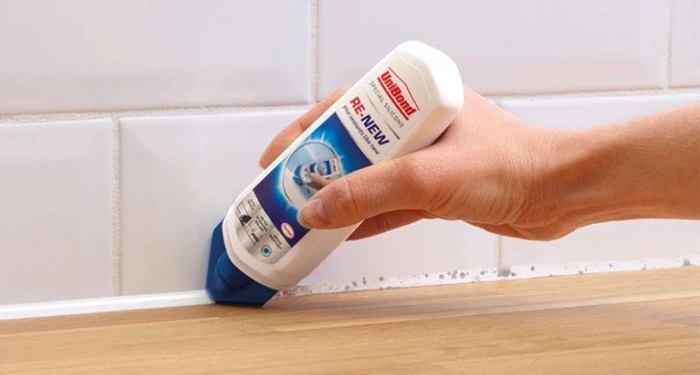 The UniBond Re-New sealer offers a triple threat; it helps to repel, prevent and kill mould and mildew. It provides good adhesion to sealants already applied, such as silicone, and with its ergonomic cap design, the application is clean and easy.
Its anti-mould formula and clean finish, making it one of the best grout sealers for showers.
Showerwall Silicone Sealant
Up next is the Showerwall Silicone Sealant, a fast curing sealer, which is user-friendly.
The Showerwall has a silicon-based formula that helps seal and fix tiles into place and can be applied using any standard applicator gun. It has two colour options, clear and white, depending on what finish you want.
It also has a mould resistant feature to help keep your shower mould and mildew free.
Apply the sealer following the manufacturer's steps, and you'll prevent any water or debris absorbing into your grout.
Best Grout Sealer for Tiles
In order to install the best tiles, you must invest in the best tile grout sealant. Having such a product by your side allows you to keep dirt, debris, and moisture away from your grout to prevent any form of damage.
What's more, a well-formulated grout sealer often features chemicals that keep the sand in your grout dry and safe, since it is excellent as acting as a filler.
Consider every grout sealer as your lifesaver and the most effective resistant layer you will ever have. Below, we list the best grout sealers for tiles on the market today.
Tile Rite RDA339 Grout Seal aerosol, 250ml
Tile Rite is a high quality, and rapid drying tile grout sealer made for use on tiles. It is one of the best because of its fast track formula, which helps you save time during the application process. A single can be used to cover up to 6.2 square of space, making it a worthy investment.
We love this Solvent-Based Sealer because it offers an extra deep penetration into your grout to ensure its protection from moisture. Not only does it work with grout, but it can also be applied to some natural stone tiles for the same effect. Save time and money, with no waiting time in-between thanks to Tile Rite.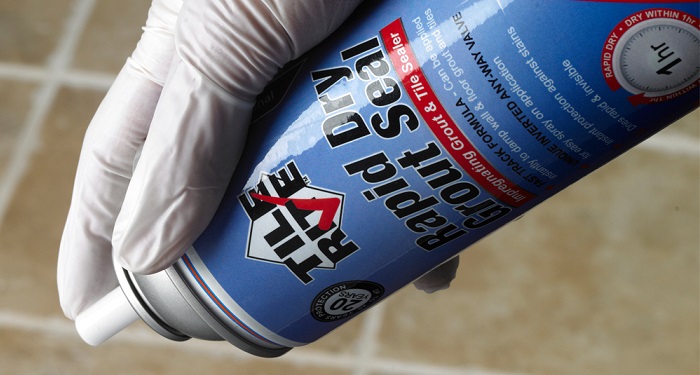 Tuff Duck Granite, Grout, and Marble Sealer
The Tuff Duck grout sealer works well with grout, granite, and marble surfaces, which makes it a great product to use with tile, notably natural stone.
The formula is a non-acidic mix and has no harmful chemicals; it can penetrate the grout without changing the natural appearance of soft stone and is safe to use with most materials.
If you have dark coloured tiles, it's advised you test a small portion of grout before using it on a large area.
Additionally, you only need to use one coat to seal the grout correctly, and it will prevent the grout from deteriorating from moisture, mould and staining.
LTP Grout Sealer Tile Protector Spray Can Aerosol
Are you in need of the best spray-on grout sealant for your tiles? Look no further as the LTP Grout sealer is here to save you.
This is a tile grout sealer made in spray form to allow for quick application. It's spray-on formula is very famous in the market today, especially since It offers long-lasting protection against water, dirt, mould, and others.
You can apply the LTP grout sealer spray on both tiles and natural stones without any issue since it dries and becomes invisible to the naked eye. For further protection of your rocks and masonry surfaces, you can apply the LTP sealer as a topcoat in all your wet rooms and shower enclosures.
Best Grout Sealer for Walls
From showers and tiles, we talk about walls and the best grout sealers for them. Walls are everywhere; they create enclosures for our home and all spaces within them. To protect these surfaces from unwanted material and chemicals, a wide range of grout sealers exists in the market.
These sealers work to resist moisture and all it's companions such that your grout stays in good shape.
HG Super Protector for Wall and Floor Grout
If you're looking for a brand that delivers high-quality protection, cleaning, and beautification products for your home and around it, we recommend that you take a look at HG. They launched their HG Super Grout Sealer, a sealing product designed for your walls and floors.
This grout sealer is a very unique product that offers high repellence to water, oil, grease, and dirt. It is colourless, and as such, you're not left with any stains or marks that are uncomfortable to the eye.
More so, for all your cleaning problems with the home, you don't have to look any further; HG is here to help you deal with them effortlessly.
Aqua Mix Sealer's Choice Gold
TThe best grout sealers for walls are undoubtedly water-based formulas, and for this reason, the Aqua Mix Sealers Choice is an excellent grout sealer for walls.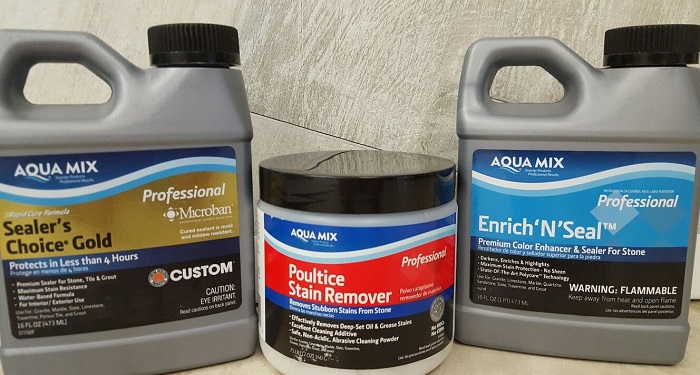 Their gold sealer is a no-sheen product, which can be used on natural stone and tile. It has a rapid cure formula and can be used both internally and externally.
Black Diamond Stoneworks Ultimate Grout Sealer
The Black Diamond Stoneworks sealer is a long-lasting product that is very easy and quick to apply.
The Black Diamond grout sealer is a water-based product, and as such, it doesn't have a strong odour. The lack of colour saves you the stress of hiding its use on your walls and can be used for both white and coloured grout.
This grout sealer is free from harmful solvents and helps to deter the growth of mould and mildew.
Best Grout Sealer for Floors
Every floor is different, thanks to the choice of materials. But finding the best grout sealer for your floors ensures that no matter the material, your floor stays in good shape visibly and internally.
The best options for your floor are listed below, with each product option being affordable, highly effective, and at the top of its grout protection game.
The Floor Guys Grout and Granite Penetrating Sealer
A popular option for floor grout sealing is Floor Guy Grout Sealer. It keeps grout clean and prevents it from looking faded and discoloured.
This penetrating sealer works both on unsanded and sanded grout and improves the durability of the grout while maintaining its natural appearance.
The application is quick and easy as you can use a brush attached to a broom pole, so you won't need to kneel on the floor and can apply the sealer while standing.
It's a long-lasting water-based sealer, and increases the durability of floor grout, even in heavy traffic areas.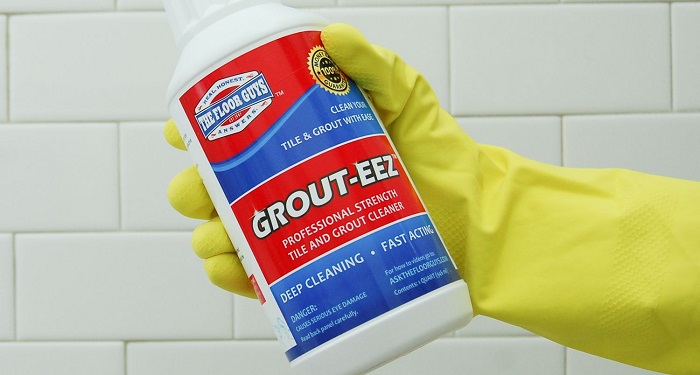 StoneTech Heavy Duty Grout Sealer
Meet the Stonetech Grout sealer, another high-quality, heavy-duty sealer manufactured to offer the best protection against oil and water-based stains. Using this on your grout helps to make the cleaning process easy while protecting your grout for the longest time. It features a water-based formula that is meant for application on cement-based grout.
Besides grout, you can apply this sealer on all-natural stones, porcelain, and ceramic surfaces with ease. Using it regularly ensures that all surfaces are well protected and preserved for long periods, saving you the need for repairs and maintenance. The Stonetech grout sealer is one impressive product that is ideal for use both indoors and outdoors.
Aqua Mix Grout Sealer Dual Protection
Another product from Aqua Mix is in our article as an impressive product for your home. This is the Aqua Mix Grout Sealer Dual Protection. The formula employed in this grout sealer simplifies your maintenance routine while stopping mildew and bacteria in their tracks.
A single application on your walls will help repel all dirt, food, and grease, which are a few of the unwanted materials we all dread sticking onto our floors.
The Aqua Mix sealer is water-based and colourless by design; thus, it will not change the appearance of your grout or cause unsightly stains you will regret. This unit from Aqua Mix is your best bet if you're looking for a sealer that allows moisture vapor transmission.
Best Coloured Grout Sealer
Grout sealers come in varying types, for varying places. In many cases, the sealers are white or colourless. Colour adds a touch of elegance to your grout, and in some cases, it can help you hide unwanted markings and stains.
If you're looking to invest in a grout sealer with colour, brands like Mapei and Universal Grout offer some of the best options in the market today.
Mapei Grout Refresh
The Mapei Grout Refresh is one of the best-coloured grout sealers out there. Experts love that it helps you restore the old look of your tile grout, with little to no effort required from your side; all you need do is apply it.
What's more, the Grout refresh comes in many colours and seals that are easy to use and clean as and when needed. When choosing a colour from their catalogue, it is best to choose physically, since the colours online may differ from the real thing.
Additionally, the Mapei Grout refresh is a colour grout sealer that was manufactured to help preserve your grout while making it look good at the same time.
In many instances, we have come across grout sealers that leave stains behind after their application which can be very unsightly and disturbing for us. The best solution to such cringe-worthy instances is the magic product from Mapei.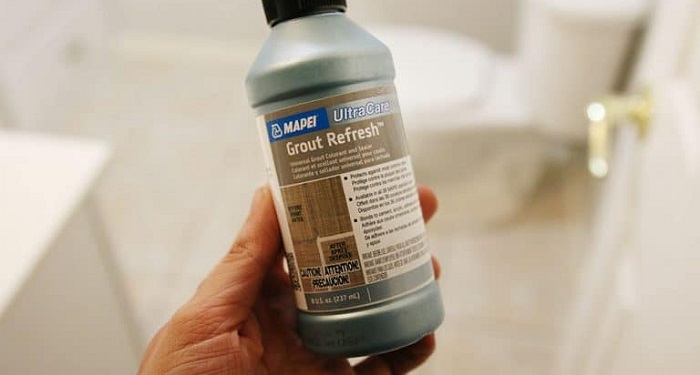 Universal Grout Rescue Colour & Seal Limestone
This specialist sealer is a best option for indoor and outdoor use, and it's become a popular choice.
It restores the most damaged, dirtiest, and ugliest grout, making it look brand new. It's available in a range of colours and should be easier to match with any grout colour.
It's a very user-friendly and safe product that can be used anywhere within your home. It easy to apply and will get rid of staining by recolouring the grout.
Smartseal Grout Magic
Our last ideal grout sealer for your walls, floors, and tiles is from Smartseal. It is the Smartseal Grout Magic, which seals and recolours your grout in a single application.
Transform your grout from a pale, old looking entity to something of beauty you will love to stare at for decades. This grout magic product hides all grout stains and colours them such that they look more elegant than they were.
This sealer also comes with several benefits besides protection from moisture and renewing your grout. Firstly, it enhances the grout, inhibiting the growth of mildew and mould. Users recommend it over the Grout Pen, saying it offers higher quality and better value for money.
Best Waterproof Grout Sealer
We all know grout sealers to be products that help keep unwanted materials and substances at bay. Some of these substances include water, oil, dirt, and mildew.
The next set of products highlights the relevance of waterproof grout sealers and how great they are at keeping such elements away from your grout.
Miracle Sealants Grout Sealer
The Miracle Grout Sealer is the world's best waterproof sealant for all grout. One might think that its water resistance is the best thing about it; wait until you hear that it comes in an applicator bottle! Yes, the Miracle Grout Sealer comes with a convenient applicator bottle to make your application process flawless and less time consuming with as few stains as possible.
Users of this grout sealer can use it in and out of their home, and still reap all its benefits. The application of this sealer is safe and comfortable and can be done without any professional help. Enjoy this entry-level product in your garages, patios, driveways, and all other places where it might be needed.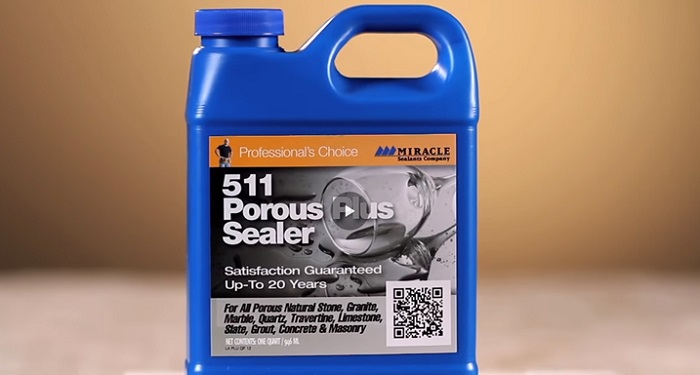 Everbuild 402 High-Performance Water Seal
Another water-resistant grout sealer is the Everbuild Water Seal. This is their Everbuild 402, which is currently their highest performing grout sealer. If you require a sealer that works in less than an hour, this is the best option.
The Everbuild 402 is a quick curing sealer that comes in a clear, solvent-free formula. The clear nature of this sealer ensures that no stains come onto the substrate or your grout.
We recommend Everbuild 402 not only because of its water resistance but also because it possesses a very high strength as compared to many competitors.
Miracle Sealants TSS QT SG Stone/Tile and Grout Economical Sealer
Miracle Sealers for grout are some of the most economical options anyone can ever consider for their homes and offices. Their latest addition to the collection is the Miracle Sealant Tile and Grout Sealer. This product offers you an easy application process, thanks to its cool applicator bottle that comes along in the packaging.
You can make use of this sealer in all-weather conditions without fear, because of its weather-resistant formula. Another thing about this sealer is that it is suitable for use both indoors and outdoors.
Best Tile and Grout Sealer
Our final set of products is the best option for tiles and grout simultaneously. These are economical options that help you kill two issues with one product, efficiently and in record time. We study brands like Vitrex and Tile Rite to find out how effective their products are at keeping our grout in good form.
Vitrex Grout and Tile Sealer
The Vitrex Grout and Tile Sealer is a favourite option for both tile and grout. This solvent-based formula will penetrate deep into your grout and protects it from everyday spillage. Porous tiles will also be protected from damage and stains.
This grout sealer prevents water and oil absorption, which keeps grout from staining and discolouration. One can should be enough for up to 25 square metres of coverage.
Tuff Duck Granite, Grout, and Marble Sealer
Our last product consideration for grout and tiles is from the camp of Tuff Duck. They introduced their Tuff Duck Granite, Grout, and Marble Sealer in a bid to provide maximum protection to all surfaces, no matter the material it's made of.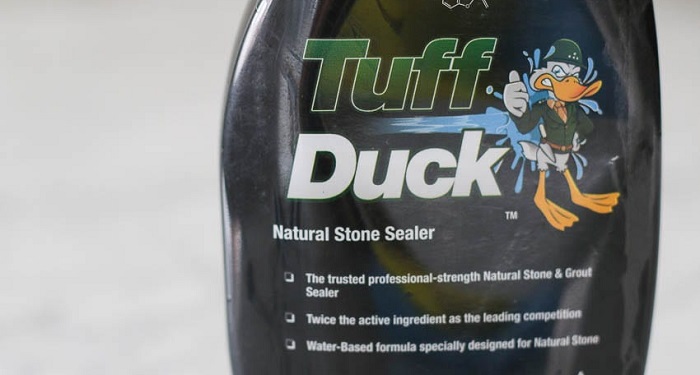 The Tuff Duck Sealer covers up to 800 sq. Ft and it delivers twice the protection competing brands promise your grout. There's no better deal than this, trust us!
Tile Rite RDA339 Grout Seal aerosol, 250ml
Tile right with the Tile Rite Grout Seal Aerosol, is a solvent-based, impregnating grout sealer, which has a rapid drying formula to help with any tile and grout issues, such as protection from staining.
It can be applied instantly, even to damp grout, and dries clear so won't affect the appearance of any surfaces, which is great for tiles. It also won't yellow over time and gives long-lasting protection. It is suitable for use on floor grout, damp walls, and tiles and should cover six square metres per can.
Applying grout sealer is certainly worth it as it'll protect your grout, prolonging its appearance and consistency. There are so many grout sealers available it can be overwhelming deciding which one is the best option, that's why this guide was created and we hope it's made it easy to understand what grout sealer is best for you.
FAQs
Q: How can you remove grout sealer from a tile?
A: If grout sealer is spilt on to a tile, it should be cleaned up immediately with a sponge and warm water. Then you can use white vinegar mix with the same amount of water to scrub any left-over grout sealer residue.
Q: How long does grout sealer last?
A: How long your grout sealer lasts depends on which grout sealer you use, but on average, most grout sealers last up to five years.
Q: What kind of grout doesn't need to be sealed?
A: Epoxy grout doesn't need to be sealed due to it being water-resistant.
Q: How many coats of grout sealer is needed?
A: This depends on the grout sealer manufacturer's instructions, but most grout sealers will need two coats.
Q: How often should I seal my grout?
A: It's recommended that you reseal grout every time new tile work is being completed or every one to two years.
Sources