Introduction to Carpet Steamers
The article aims to help anyone with stained carpet, or their carpet just requires a deep clean. Carpet steamers are perfect for anyone with kids or pets, as it will help to reduce or remove any marks or damage from a carpet.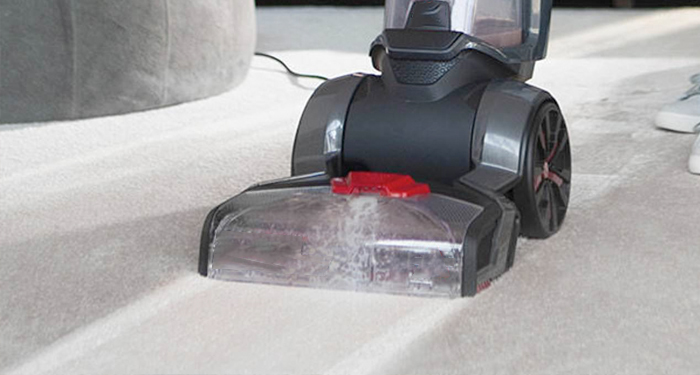 They are also ideal for anyone who wishes to save money on professional carpet cleaning services or equipment, as carpet steamers are much more affordable than floor and carpet cleaners.
What is a Carpet Steamer?
A carpet steamer is an advanced cleaning device which is designed to eliminate any stubborn stains that cannot be removed with an average hoover. It is typically used in high traffic areas where spillages or accidents are more likely to occur.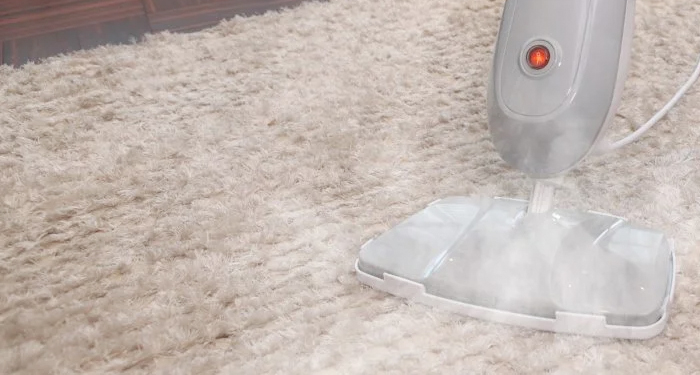 How do you Use a Carpet Steamer?
When buying a carpet steamer, it is essential that you understand how it works and how to use it. To ensure you are using your carpet steamer properly, you should read the manufacturer's instruction thoroughly.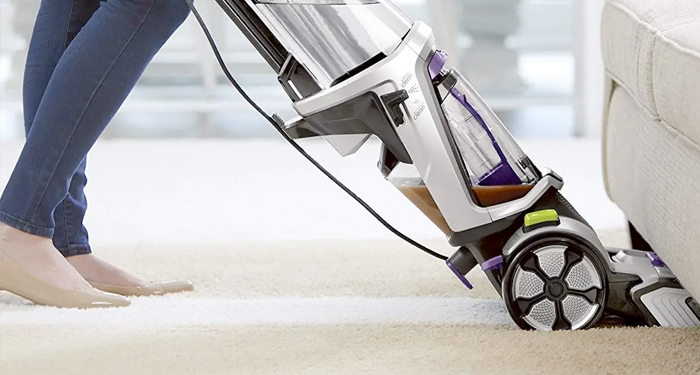 The way you use a carpet steamer will depend on the product, for instance, using a steam mop will involve the following processes:
If you have a cordless steam mop make sure it is charged.
You should then attach mop pads with the connectors provided and keep any spares close by.
The water tank should then be filled up to the maximum mark.
Move any objects out the way, such as furniture or plugs.
Brush or vacuum any loose debris.
You should then turn on the mop or plug it into an outlet to do so if it is not cordless and let it warm up for around 30 seconds.
When using a steam mop, you should start near a doorway to prevent walking on the clean floor and work in straight lines.
You should then wait for the carpet to dry completely before putting back any furniture or other objects.
Types of Carpet Steamer
When buying a carpet steamer, it is important to understand which type is best for you. There are various types of carpet steamer which are ideal for different uses, such as:
Handheld Carpet Steamer
Handheld carpet steamers are compact devices which are usually cordless and can be carried around the home and are ideal for small areas of damage. Handheld carpet steamers typically come with various attachments which are not just great for carpets but can also be used on hardwood floors, appliances and even sofa stains.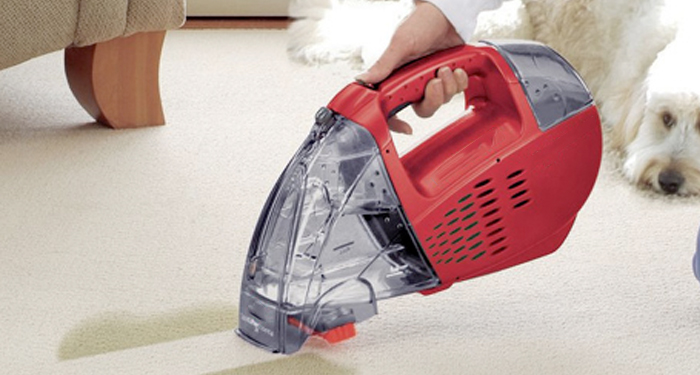 This type of carpet steamer is not the best option for a full carpet clean, as it would take time to cover an entire carpet with a handheld carpet steamer.
Cylinder Carpet Steamer
If you wish to deep clean multiple carpet flooring in your home, then cylinder carpet steamers are probably one of the best options.
This is because they typically feature a large water tank which enables you to steam carpets in various rooms in your house for up to 50 minutes. They also come with several attachments which will allow you to use the carpet steam on additional surfaces.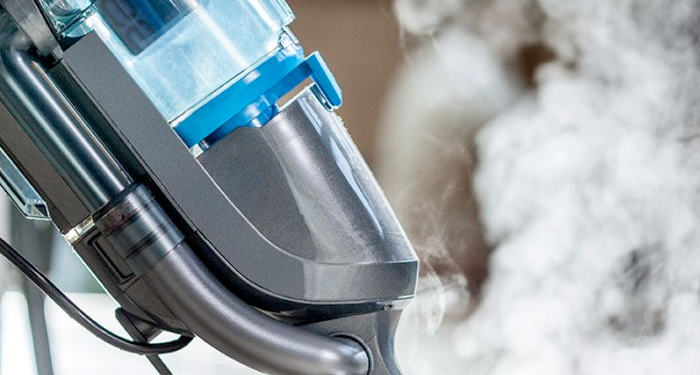 The issue with cylinder carpet steamers is that they are harder to use due to the bigger water tank, making it much heavier than other carpet steamers.
Vacuum Steam Cleaners
Vacuum steam cleaners or carpet cleaners use a combination of hot water and cleaning products to remove any stains or odours from carpets. This is ideal for large areas as they can cover an entire carpet quickly and easily.
They are also a lot more powerful than other carpet steamers, as they are strong enough to suck any trapped dirt or water from the carpet which will allow the carpet to dry quickly and will also prevent a build-up of missed dirt.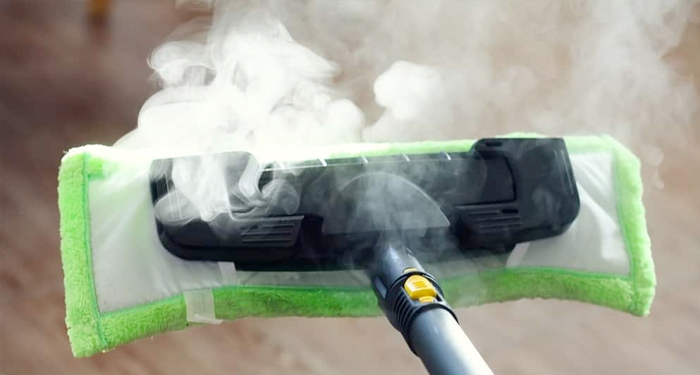 The main problem with vacuum steam cleaners is that they are much more expensive than other carpet steamers, so if you have a low budget in mind, it may not be the best option.
Best Carpet Steamer
To help you choose the right carpet steamer, take a look at the following products:
Vileda Steam Mop
The Vileda Steam Mop has been voted the best steamer mop and is favoured by many due to its high-quality carpet performance and its ability to kill 99.9% of bacteria on carpets and other surfaces.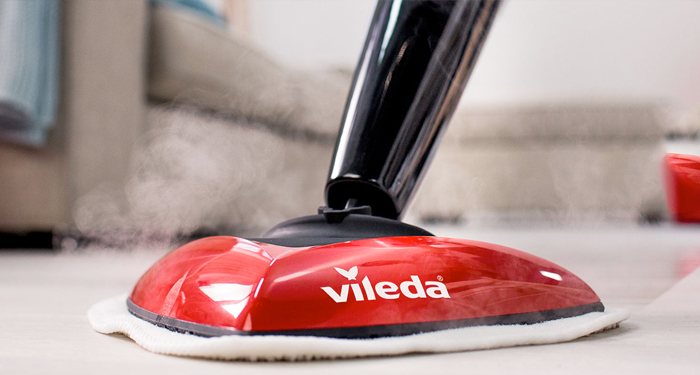 This mop must be plugged in during operation, which can be restricting although it does last a lot longer than cordless models.
This steam mop features:
0.4-litre tank
Steam power variations
Pivot and tilt head functions
Carpet glider attachment
1550watt steam heater
Two additional mop heads
The Vileda Steam Mop costs around £99.99.
Pros:
Two-year manufacturer's guarantee
Includes carpet glider for carpet refreshing
Can be used on hardwood surfaces
Cons:
Short cable limits movement
The steam mop's body tends to get hot
Will not switch off when upright
10-in-1 Multifunction Hot Steam Mop Cleaner
This lightweight steam mop cleaner is designed to clean a wide variety of surfaces including carpet, hardwood, ceramic, stone, linoleum and more. It also features various attachments including handheld functions which allow it to be used in any room in a home.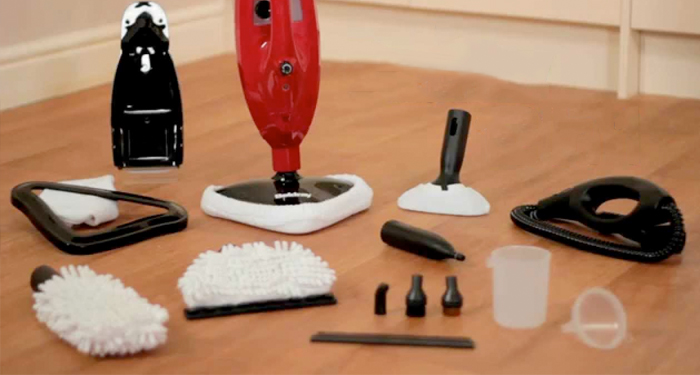 The 10-in-1 Multifunction Hot Steam Mop Clean costs around £42.99. This steam mop cleaner features:
1300Watt power
450ml water tank capacity
Ten accessories – glider, jet nozzle, scraper tool, nylon brush, measuring cup, slender brush, carpet tool, small brash brush, window cleaner and microfibre cloth pad
Triangle shaped head design
Adjustable steam control
Pros:
The warm and dry indicator informs you when it's ready to be used
Easy to use minimum and maximum settings
Cleans multiple surfaces
Cons:
Takes longer to dry
Excessive water
Russell Hobbs RHSM1001-G Steam and Clean Steam Mop
The Russell Hobbs Steam and Clean Mop is a plastic, lightweight cleaning tool with a capacity of 0.38 litres which offers twenty-five minutes of cleaning time. It comes with a steam mop unit, a handle, two microfibre pads, a carpet glider, a cooling tray and a filler cup.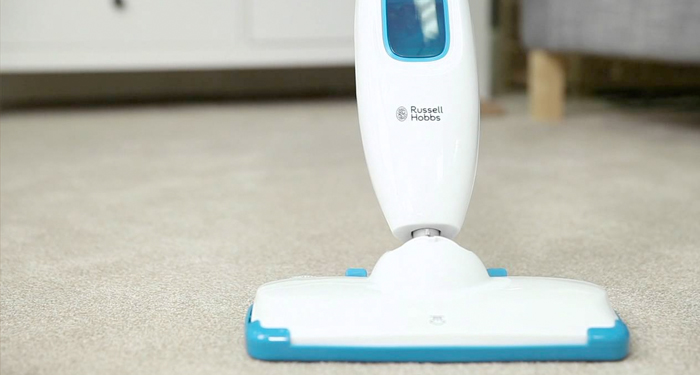 The Russell Hobbs Steam and Clean Mop costs about £34.
Pros:
Two-year free manufacturer guarantee when the product is registered
Chemical-free cleaning
Chemical-free cleaning
Cons:
Difficult to assemble
Quite hard to manoeuvre
Dupray NEAT Steam Cleaner
This steam cleaner product is ideal for all surfaces and products low-moisture superheated steam which prevents excess water. The Dupray Neat Steam Cleaner also features an extra long 5m power cord and built-in funnel to avoid mess.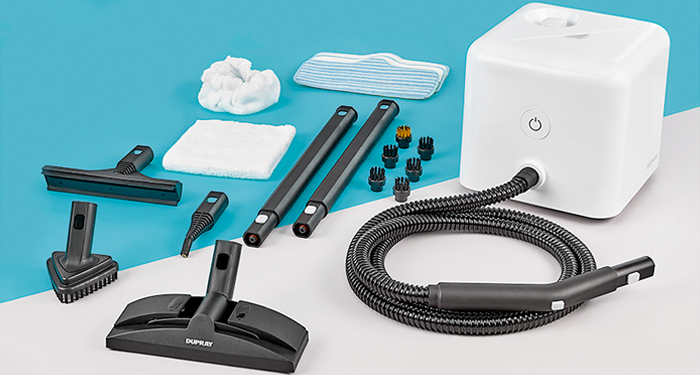 The Dupray Neat Steam Cleaner is priced at £144.99.
Pros:
Offers 50 minutes of cleaning time
Portable cleaning
Works on multiple surfaces
Cons:
It takes 7 minutes to heat up
Lack of water-level indicator
MLMLANT Multi-purpose Handheld Pressurized Steam Cleaner
The MMLANT handheld steam cleaner is perfect for cleaning hard to reach areas in the home due to its streamlined design. It also comes with nine attachments including an extended nozzle, spray cup with a brush, measuring cup, towel sleeve, brush plate, long spray cup, funnel, and a spray cup for windows and doors.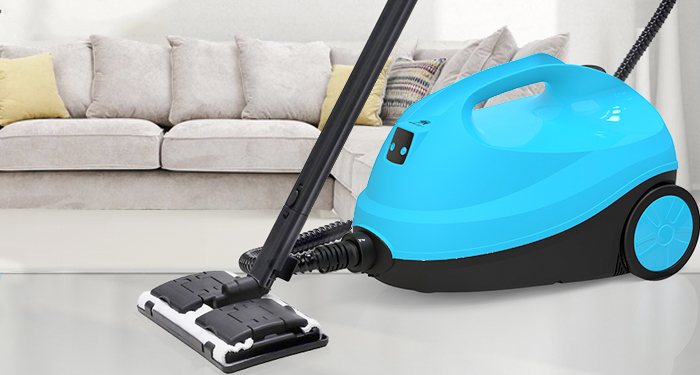 Costs for the MMLANT Pressurized Steam Cleaner start from £30.
Pros:
Chemical-free
Features a safety lock
1050w of powerful steam
Cons:
Provides just 20 minutes running time
Small brush wears out easily
Moolan Steam Mop 12-in-1 Multi-functional Steam Cleaner
The Moolan 12-in-1 Steam Cleaner is a 1500W powerful steam mop which produces 100 in just 15 seconds. It also features a 180-degree triangular swivel head which is great for hard to reach areas. It also works well on carpet, vinyl, hardwood, tiles and more floor surfaces.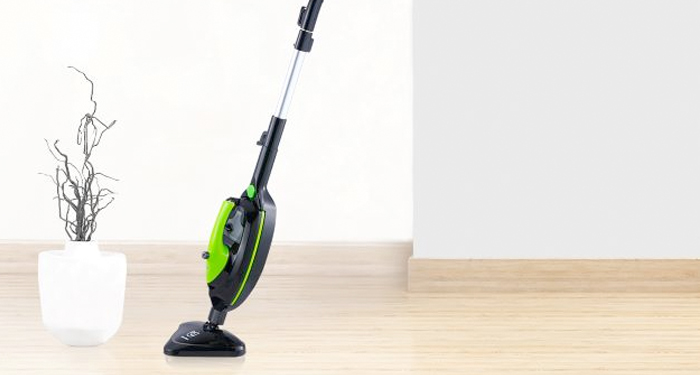 The Moolan Steam Mop costs around £72.99.
Pros:
Ready to go in 15 seconds
Ideal for multiple surfaces
Does not require chemicals
Cons:
Care required to avoid steam burns
Produces a significant amount of hot steam
Vax S86-SF-CC Steam Fresh Combi Classic Multifunction Steam Mop
This Vax Steam Mop features a mixture of steam cleaning technology and detergents which freshens up carpets and other surfaces as well as removing tough stains. It also features three head options for stain scrubbing, cleaning hard floors and carpet gliding.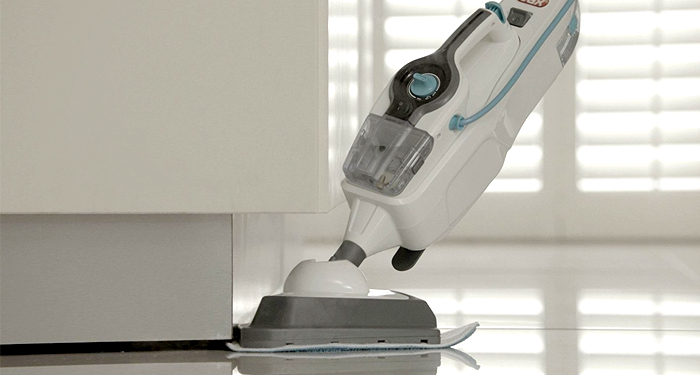 You will also find ten tools that are ideal for additional surfaces such as tiles, ovens and grout.
The Vax S86-SF-CC Steam Mop is priced at £59.
Pros:
Built-in handheld cleaner for higher areas
Washable cleaning pads
Kills up to 99% of bacteria
Cons:
Handheld unit is heavy
Detergent release issues
Karcher SC3 EasyFix Steam Cleaner
The Karcher EasyFix Steam Cleaner is a lightweight model which uses chemical-free steam to clean carpets and other surfaces. It provides a heating output of 1900W, and its maximum steam pressure is 3.5 bar.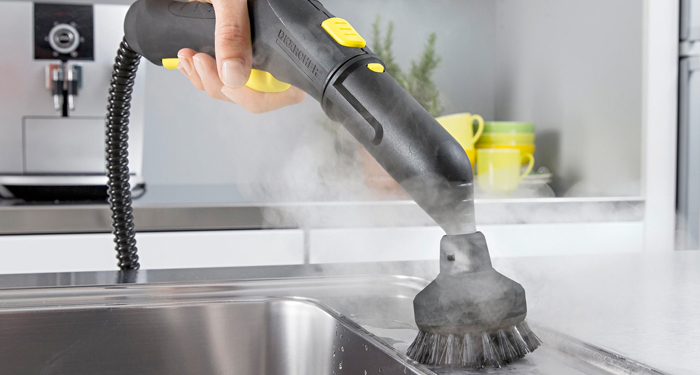 It also features extensions including an integrated funnel, hand nozzle and microfibre cover, a 2m steam hose with a gun and a descaler cartridge.
The Karcher SC3 Steam Cleaner costs around £148.
Pros:
Child safety lock
Steam flow regulation
Very easy to use
Cons:
No measuring equipment provided
The cable is short
Shark Lift Away Steam Mop
The Shark Lift Away model is a steam mop and cleaner which doubles up as a handheld steam cleaner. It has a 0.3 litre tank capacity and heats up in just 30 minutes.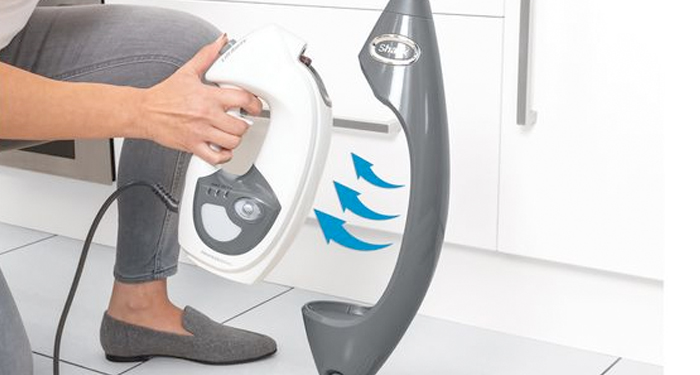 It also comes with two scrub pockets, a direct steam nozzle, an accessory house, rectangle mop head, window squeegee, detail brush, carpet glider, flat scrubber and filling flask.
The Shark Lift Away Steamer is typically priced at £100.
Pros:
Can be used on wall surfaces
Versatile application
Cable reaches up to 7m
Cons:
Only provides 8 to 10 minutes of cleaning time
Difficult to remove stains from hard flooring
Thane H20 X5 Mop 5-in-1 Portable Steam Cleaner
Thane's Portable Steam Cleaner is a two-in-one product featuring a steam mop and handheld cleaner. It has a tank capacity of 471ML which provides ten minutes of steam time.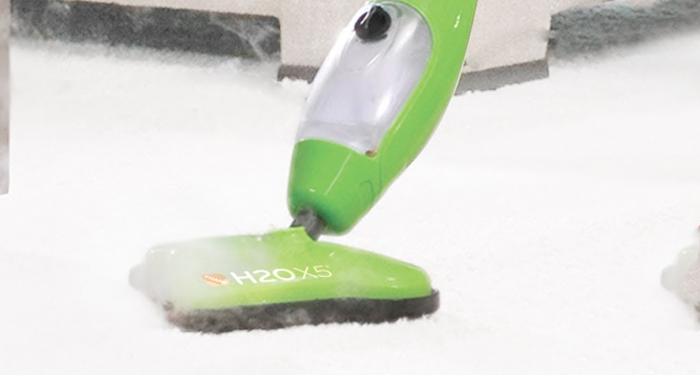 It also comes with a carpet glider, adjustable steam settings, a removable water tank, a water jug, squeegee, brush and nozzle.
The Thane H20 5-in-1 Steam Cleaer is priced at £89.99.
Pros:
Offers continuous fill
Heats up in just 20 seconds
Cons:
Only provides 10 minutes of cleaning time
Does not have a limescale filter
Sources